Privacy & disclaimers →
Hum Croatia, The World's Smallest Town
I've been back home from my recent #ShareIstria adventure for just 24 hours, and I am so excited to share with you this little discovery. By little, I don't mean figuratively; I mean literally small – so small the locals have declared Hum 'The Worlds Smallest Town.'
Although reading (and hearing) repeatedly that Hum is listed as the Guinness Book of Records holder, I can not find proof. Nor can I find any other town in the world so small. The Vatican City is smaller, but it's also a country, so you decide. Either way. I introduce to you the teeny tiny town of Hum.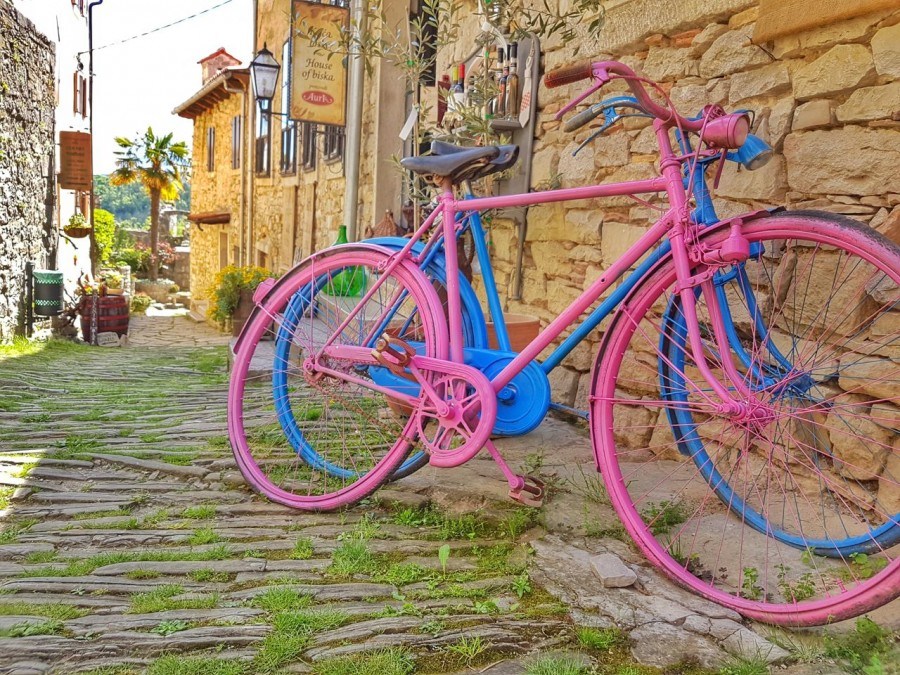 Hum (pronounced hh-um) is located in central Istria, approximately 2.5 hours drive from Croatia's capital Zagreb. When I last wrote about this medieval hilltop town, I thought it had 21 inhabitants (2011 census), but it seems that between 2011, and 2016 there has been a baby boom. There are now 27 people who call Hum home – including four little ones.
I always shout about how safe Croatia is for kids and how we love that part of our life as expats here in Croatia . But this little town must be the quietest and safest town to live with children. That is if you discount the cobblestone streets. Of which there are just two. Yes, only two streets.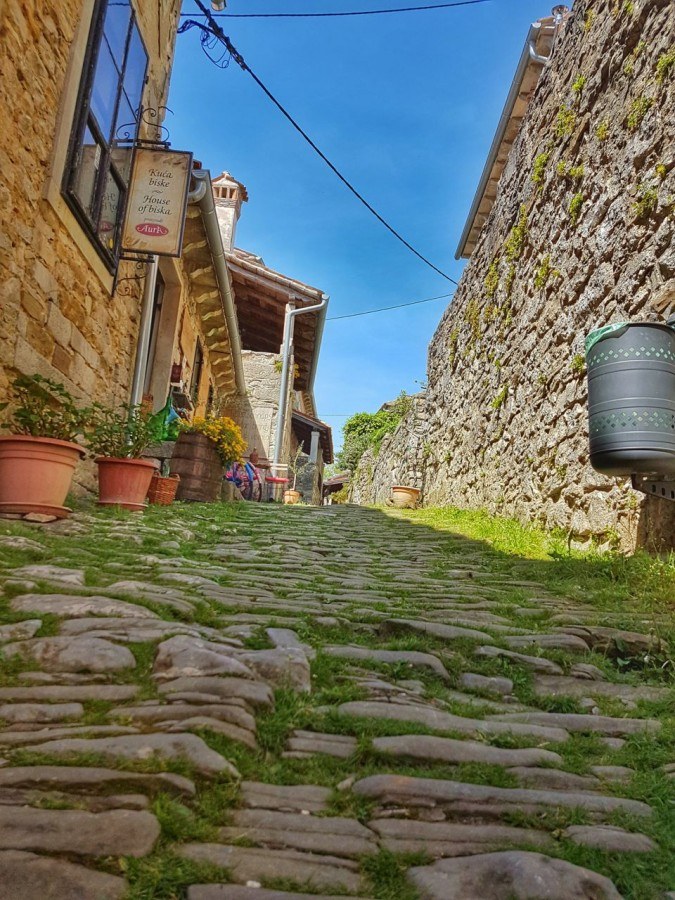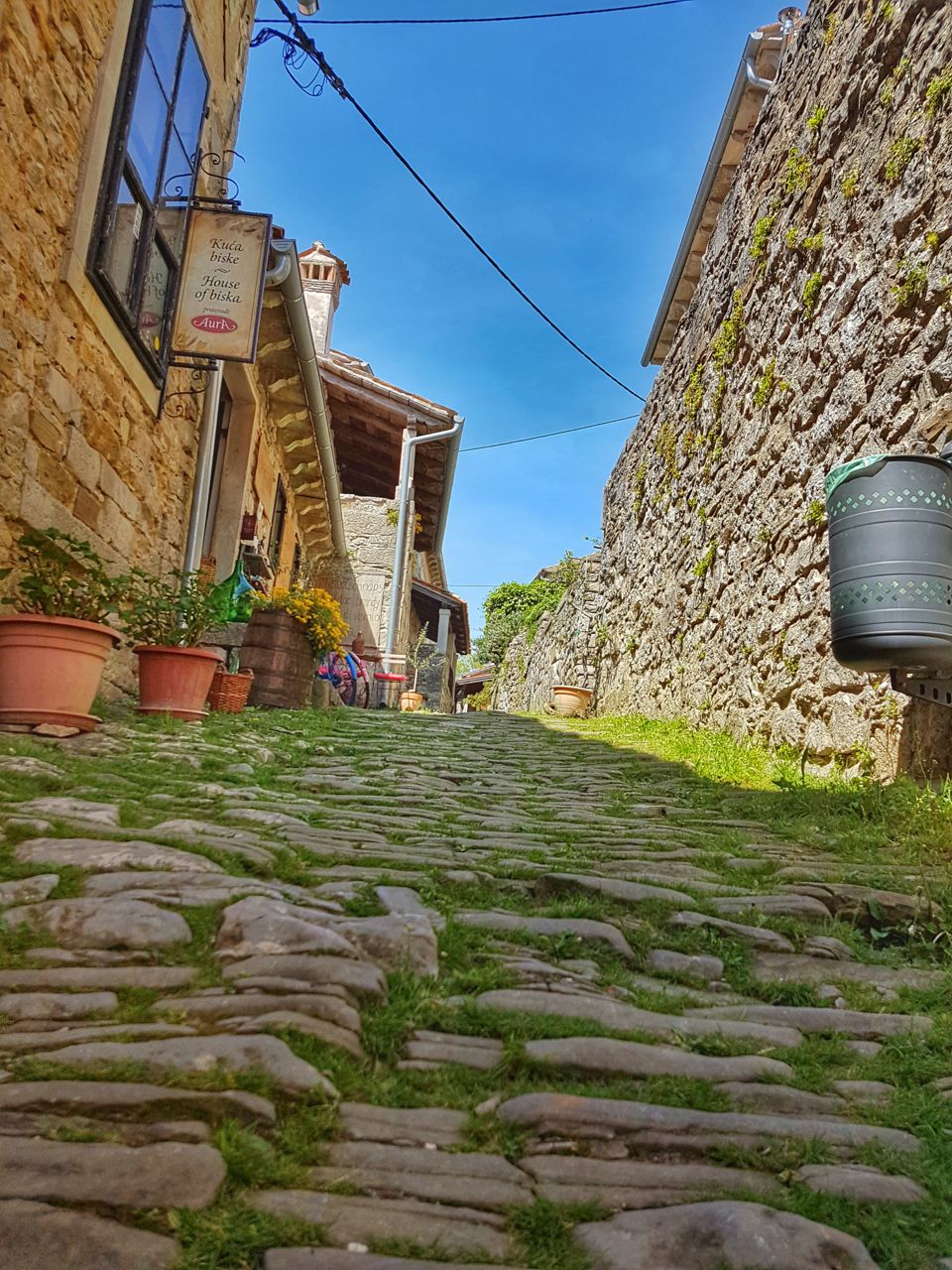 Surrounded by nature, Hum is beyond charming. We drove up to the town gates, and I could tell instantly that it had a unique appeal. An enormous copper door shields the entrance to the town, which has striking handles adorned with Glagolitic Script (more on that later)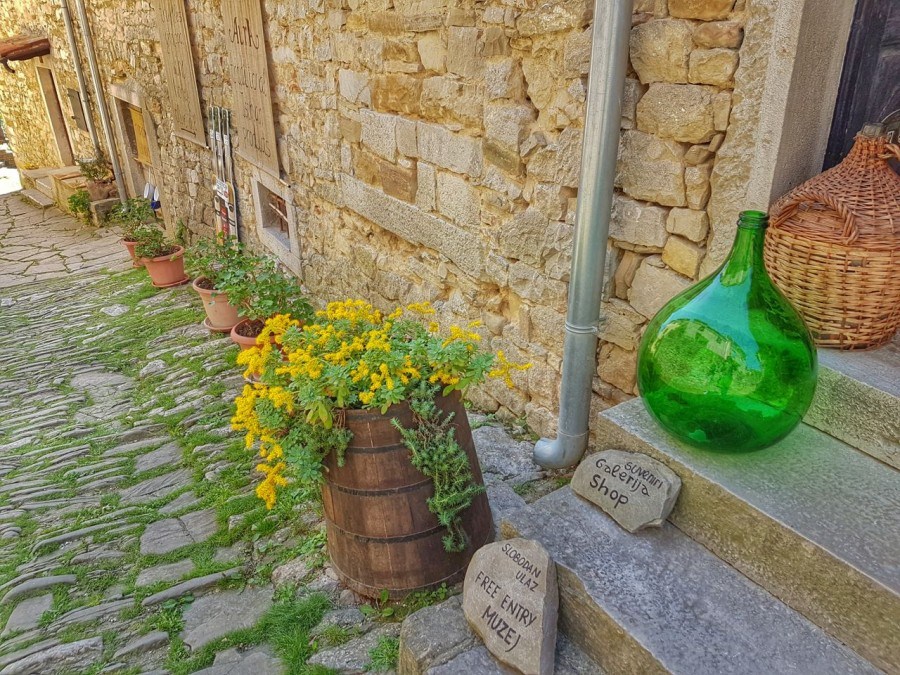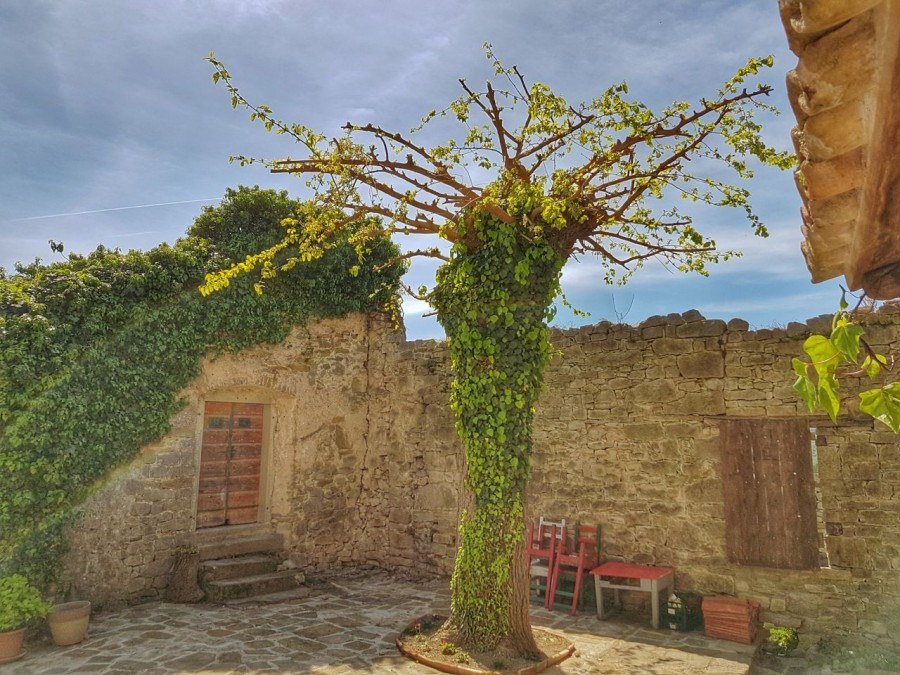 My guide suggested we close to the doors to get a better look at the boškarin (Istrian Ox) horns that protect the entrance. It was a great idea; I suggest you try it.
Located in central Istria, Hums is a tiny town built in the early Medieval age and has survived all this time. The architecture of the town is second to none and is intoxicating to anyone who visits.
PLAN AHEAD TO GET THE BEST DEALS
What To Do In Hum
While there isn't a lot regarding touristic attractions in Hum town, simply due to its size, it is surrounded by some of the most beautiful scenery you will set your eyes on and has a tavern which serves traditional Istrian meals.
Admire the frescos in the Romanic chapel of St. Jerolim.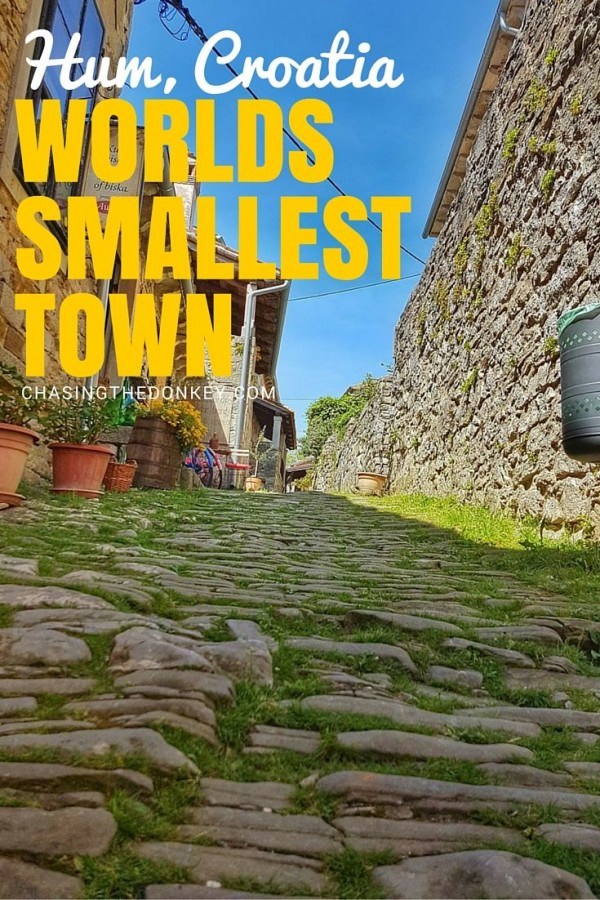 Once you have wandered the two streets – be warned it will take longer than you think as you'll stop and take a million photos along the way; you should stop at Humska Konoba, a tavern that serves traditional Istrian meals.
We sat for some 2 hours overlooking the vineyards and olive groves, eating, drinking, and chatting. My suggestion is to plan your arrival at Hum around 10 am, wander the streets, and be seated before the crowds arrive. You'll want to claim your table overlooking the delights below.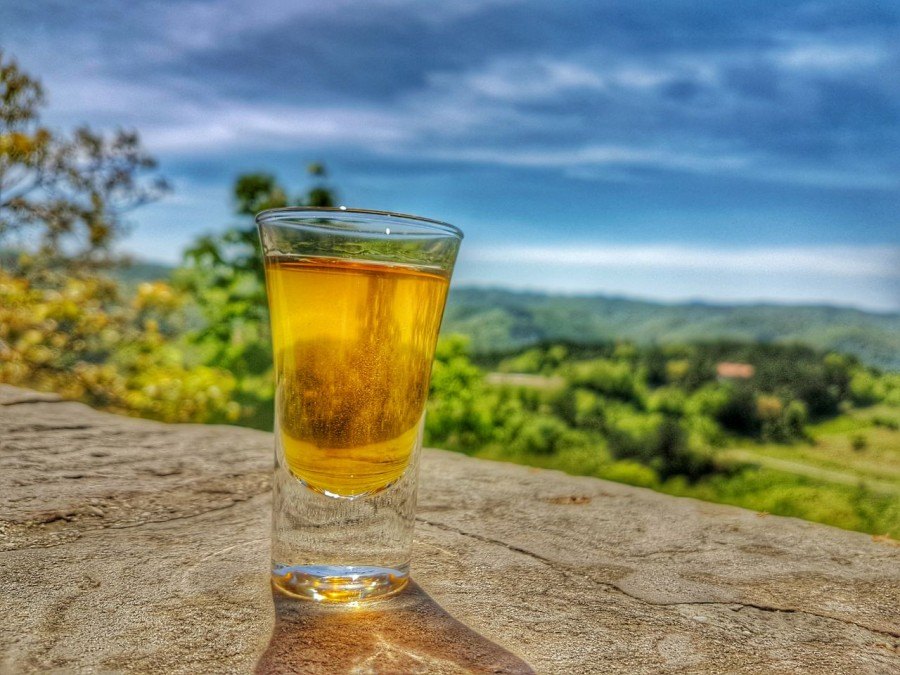 Along with your meal, you must try the Humska Biska, a brandy made from an ancient recipe made with mistletoe.
Speaking of brandy, each October, the Town of Hum holds the Grappa Festival. Local brandy producers from all over Istria come to show off their concoctions to win prizes.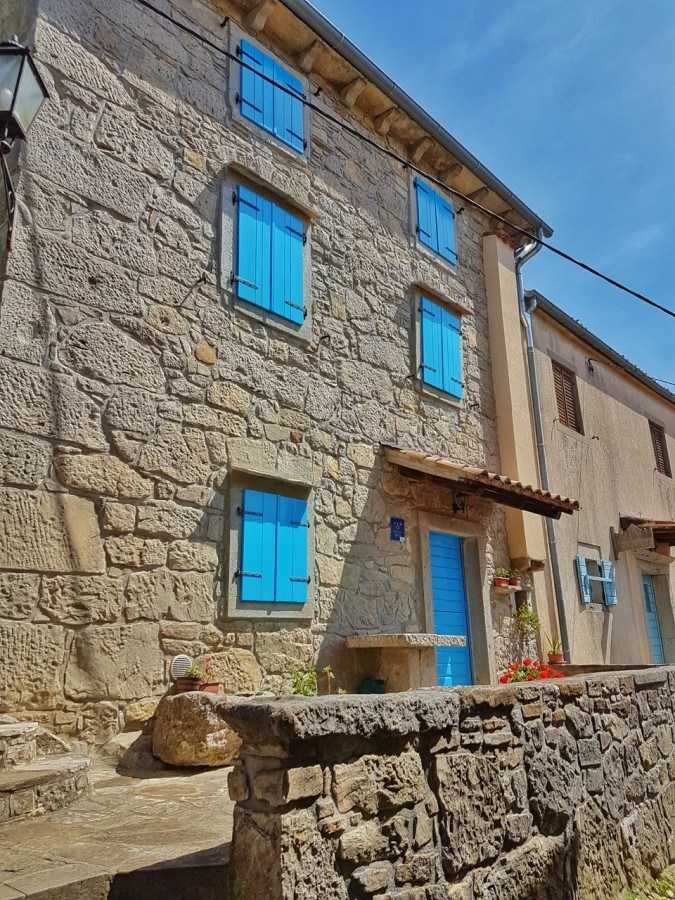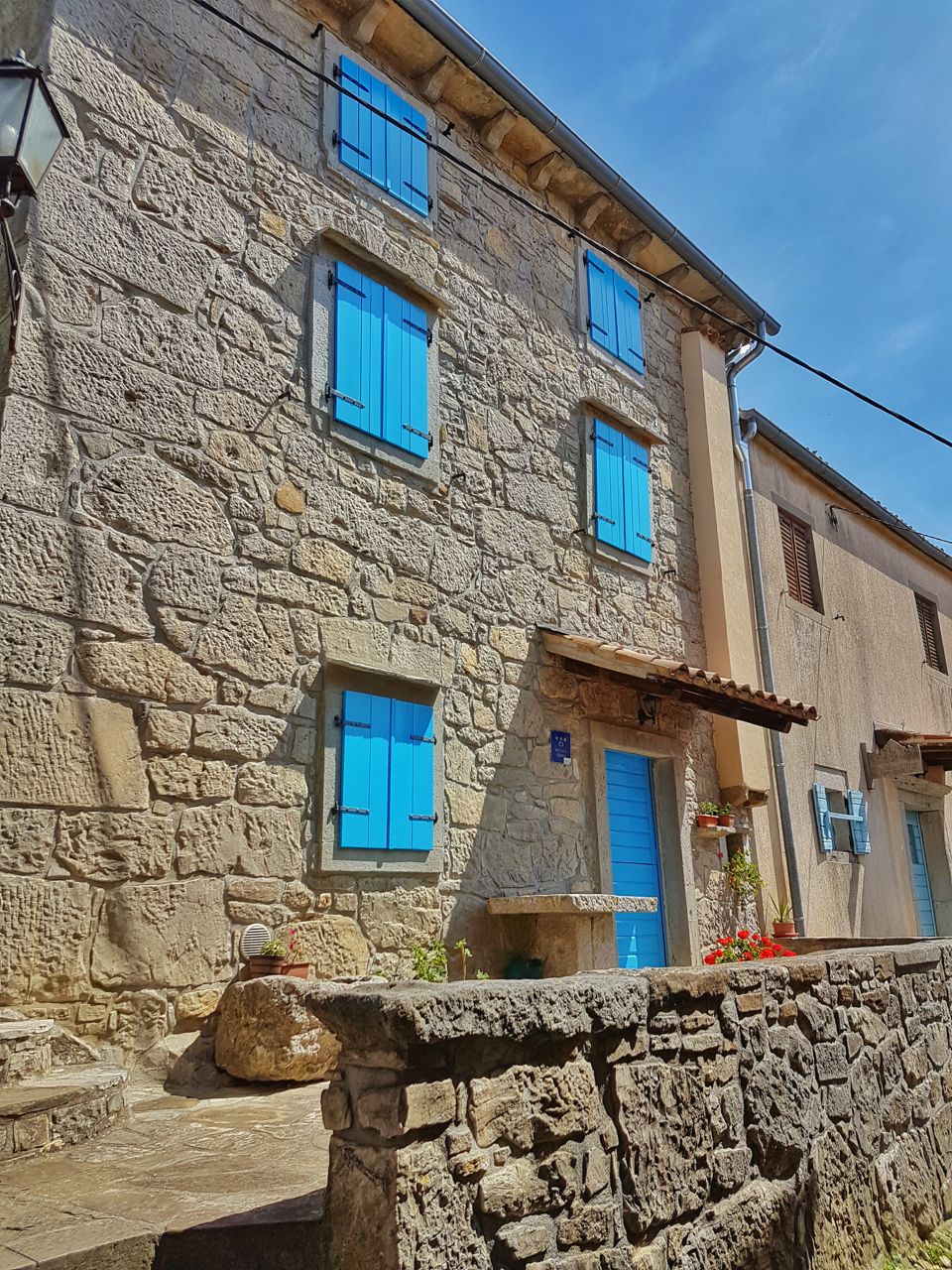 Another fun thing to do in Hum is to attend the yearly election of the Mayor. It's quite likely that the world's smallest town has the most elections of any town in the world. Each year the town elects a new mayor – but only the men can vote. It's an old tradition, dating back hundreds of years.
Voting takes place, unlike anything I have ever heard of – each of the 11 men voting is given a wooden-like spoon. On one side is a mark for candidate number one, and on the other hand, is an identifying mark for the second candidate.
The elections are held here – doesn't this scene remind you from a movie set? Heck, the whole place reminded me of a Hollywood film set.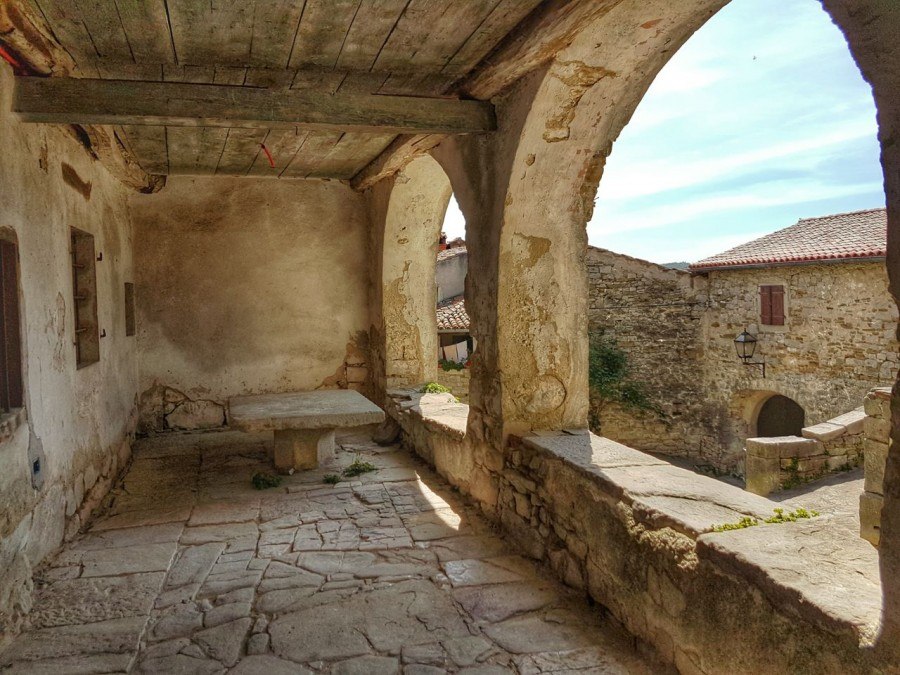 Hum has a certain charm, much like other destinations in Istria.
Have you ever been to Hum Croatia? What's the smallest town you've ever been to?