Croatia makes a new 'must-see list' each week, and I agree – you must see it for yourself. Here are the best historic, active & fun things to do in Istria, Croatia.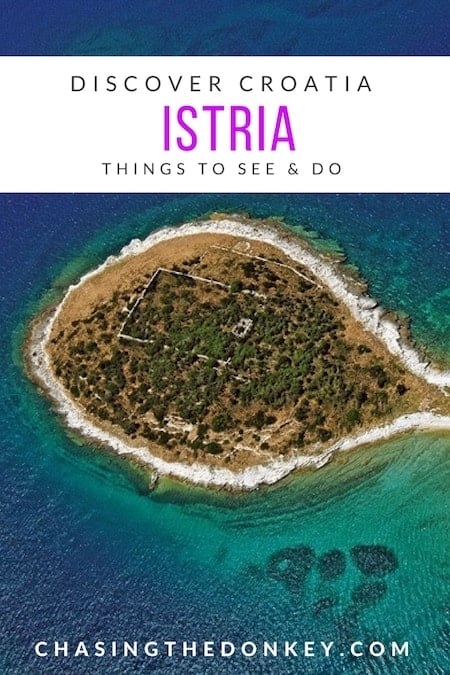 Croatia makes a new 'must-see list' each week, and I agree – you must see it for yourself. While here, let me show you the astonishing beauty and color that awaits you when you visit Istria, Croatia.
Istria is a very popular region with foreign sunseekers who flock to this peninsula to swim in the crystal clear Adriatic sea throughout summer.
Towns like Rovinj and Poreč are teeming with holidaymakers sunbathing along her shores – but let us for a moment pack up the beach towels and head inland – to green Istria, where fertile lands abound, charming medieval hilltop towns keep watch. Idyllic villages maintained their character from centuries ago.
If you haven't heard of Istria, you should check it out. This is Croatia's little slice of heaven, with an Italian twist thrown in for good measure!
Packed with tiny towns, beautiful hidden beaches, fragrant roses, delicious wines, and some of the cheapest truffles anywhere else in the world, Istria is a big contender for one of Croatia's best-kept secrets.
I know you're also planning to head to Dubrovnik or the Dalmatian Coast, but take note of this. Flights to Pula Airport are becoming increasingly frequent, and after summer, Istria is still open and jam-packed with things to do.
Check out this fun list of ideas to give you a little glimpse into what is a must-see in Istria, Croatia.
So, let's get to it; here is what to do, Istria…
Bewitching Bale
Picturesque Bale is a small town made entirely from stone. It reminds me very much of one of the sets from Game of Thrones or Harry Potter. Located in the southwestern part of Istria, just 20km away from the city of Pula, you will find one of my newest favorites, Croatian towns – a town made up of 48% Italians and is officially bilingual.
Once in Bale, it's hard to believe that the maze of cobblestone streets and neatly restored houses are just 7km from the Adriatic Sea.
What To Do In Bale
Paleontologists should head to the town museum, where fossils of the remains of the histriasaurus dinosaur are on display.
Wander up along the cobblestone streets to the recently restored Gothic-Renaissance-style castle of the Bembo family and shoot photos of the town below.
Keep your eyes peeled for the 400-year-old olive tree
If churches and old frescos are of interest, be sure to find the key to the Holy Spirit Church, built in the 15th Century
Check Out The Lighting Of The Giants
An age-old Croatian legend says real-life giants used to call the Istrian region home. Some people believe the Giants have returned to the area but in a slightly different life.
Hit the streets of Pula at night, and you will surely see the giant cranes of the Uljanik shipyard – one of the oldest docks in the world – in many colors and special effects.
It is a spectacular light show in the heart of the city that is worth staying up late. It is a work of art called "Lighting Giants" by Croatian designer Dina Skiri, who grew up in front of the shipyard's cranes that dominate the Pula horizon. The show goes on two or three times per night after the sun goes down, depending on the season, and each display will last roughly fifteen minutes.
Smell The Roses In May
May is when the roses around Istria are in full bloom, and how fragrant they are! You will see every color imaginable practically everywhere you look!
Historic Hum
I introduce to you the teeny tiny town of Hum. Despite reading (and hearing) repeatedly that Hum is listed as the Guinness Book of Records holder for being the smallest town, I can not find proof. Nor can I find any other town in the world so small. Vatican City is smaller but also a country, so you decide—either way.
Located in central Istria, the walls around the outside of Hum are still intact and display the former defenses that once protected the town. There are now 27 people who call Hum home – including four little ones. All 27 live on one of Hum's two streets.
What To Do In Hum
While there isn't a lot regarding touristic attractions in Hum town, simply due to its size, it is surrounded by some of the most beautiful scenery you will set your eyes on and has a tavern that serves traditional Istrian meals.
Admire the frescos in the Romanic chapel of St. Jerolim
Try the local Humska Biska, a brandy made from the town's mistletoe. If you enjoy brandy, plan your visit in October when the Town of Hum holds a Grappa Festival. Local brandy producers from over Istria come to show off their concoctions to win prizes.
Jam At Vsar's Annual Music Festival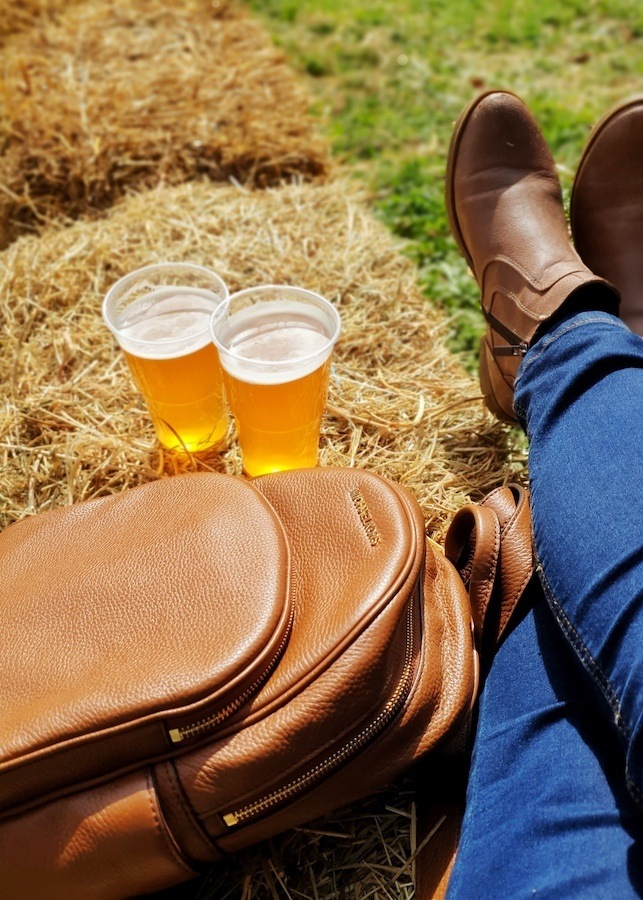 The main attraction of the annual live music concert in Vrsar is its location. It takes place in the abandoned seaside quarry of Montraker, on the city's outskirts.
The cliffs offer excellent natural acoustics and waves touching the coast are accompanied by sounds you have never heard. The event focuses on rock, jazz, and blues performers from Croatia and the surrounding countries.
TRAVEL COMPANIES WE USE AND TRUST
Head Underground In Cave Baredine
If you have always been fascinated by what lies beneath the surface, you should head to Cave Baredine, where you can check out impressive stalactites and rare wildlife. Visitors venture 60 meters below the surface close to Porec to explore the five chambers.
Explore The Underwater World Of Verudela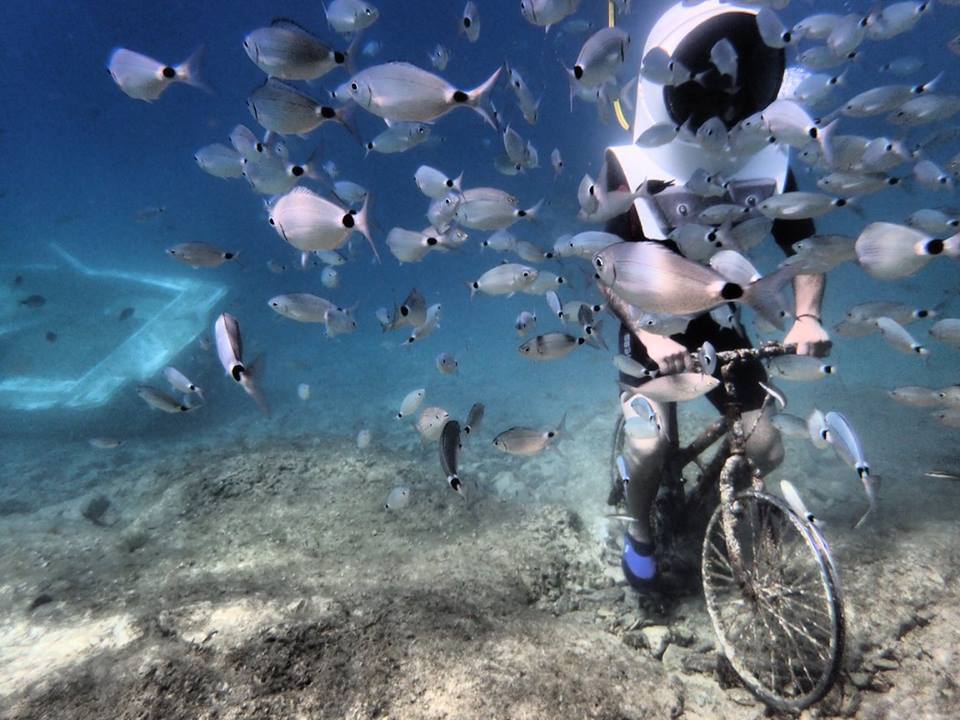 Istria is known worldwide for its spectacular beaches and glistening waters. However, the eye can see only half the magic in Croatia. If you want to explore the other half of the world, you must explore this mystical underwater city.
Located on the Verudela peninsula, this park is as unique as it sounds. You must wear a special helmet to maintain oxygen, and it will allow you to walk up to four meters below sea level and explore the 200-square-meter park underwater.
A guide can accompany up to five people at a time. Meanwhile, you can hug sea urchins, feed fish, hold shrimps, and see wartime shipwrecks. And if you want, try cycling at the bottom of the sea!
Everything can be filmed with the help of a guide, so you will have a memory that lasts for a lifetime and a hell of a video to make your family and friends envious. The only thing is – if you are traveling with children, you must note that kids under ten are not allowed.
Discover The Hilltop Towns Of Istria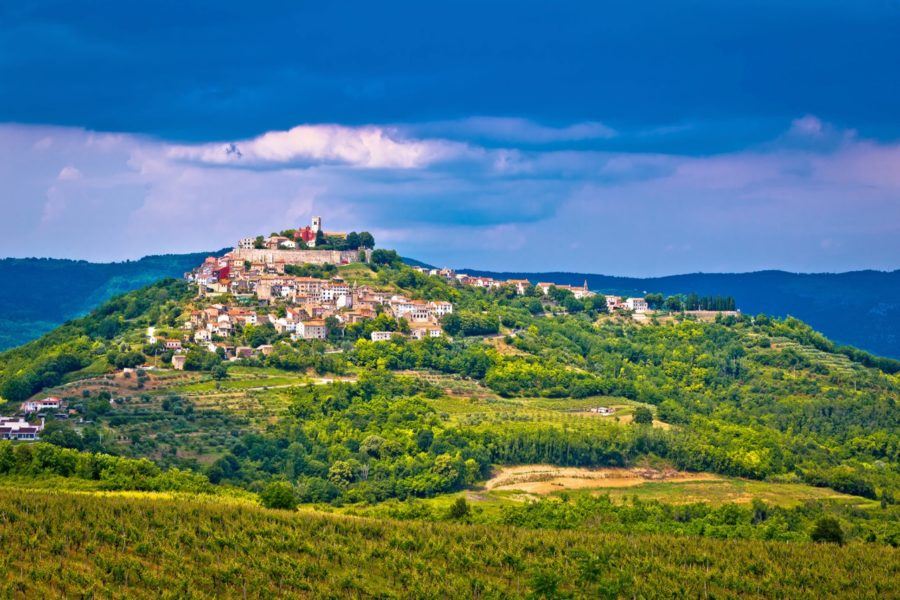 Just as so many secret treasures are waiting for you on the coast, the same could be said about the mountains in Istria. The spectacular landscape of the hills of central Istria is easily comparable to that of Tuscany in Italy.
Walk along the cobblestone streets of unknown gems, such as the towns of Groznjan, Motovun, Oprtalj, Buje, Završje, and Labin. It is guaranteed to take you on a journey back in time and show you the side of Croatia that isn't fancy resorts and tourist get-ups.
It is a wonder more people don't visit this unexplored oasis. Surrounded by walls and towers, many of the old buildings of these medieval fortified cities date back to Venetian and even Roman times.
Motovun, a medieval fortified town on a hill, might be the most popular because of its picturesque view of the surrounding countryside, where you can sit, drink, and enjoy the view.
Here are a few hilltop towns that I love:
Memorable Motovun
Many of Istria's most beautiful destinations are not large touristic towns with loud nightlife; they are small, quaint villages overflowing with nature and beauty. Motovun is one of these destinations.
Motovun, Croatia, is perched on a hill, which means you get incredible panoramic views of the surrounding areas. The village is lapped by the River Mirna, which flows at the bottom of the hill, almost creating a 'moat' feel, adding to its charm. One of the village's claims to fame is that this region is home to some of Croatia's best truffles in the Motovun Forest. This in itself is a beautiful destination, packed with flora and fauna to explore, as well as endemic wildlife, and is home to the black and white Croatian truffles coveted by many foodies around the globe.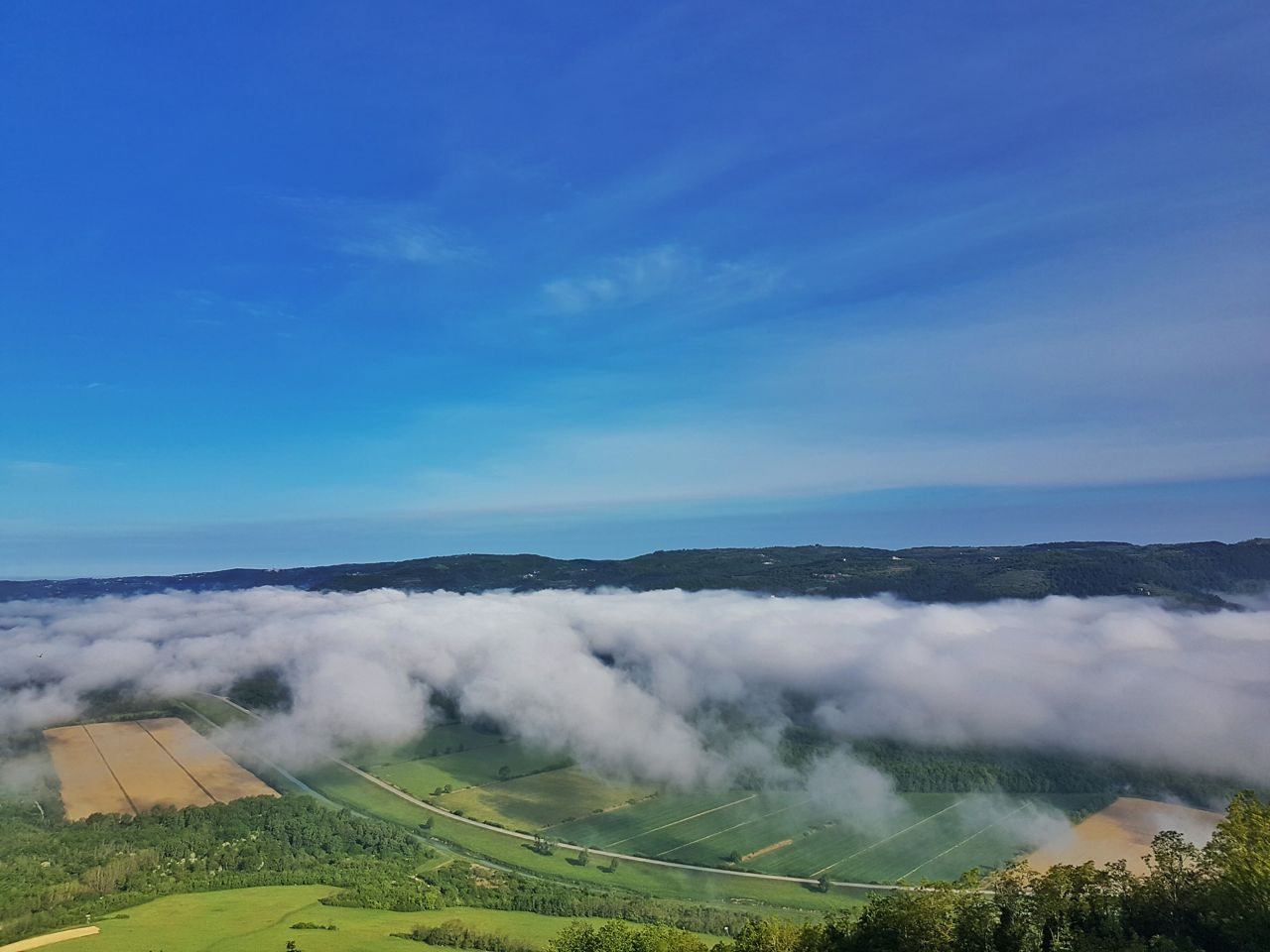 Things To Do In Motovun
Take a nature walk in the Motovun forest, or try your hand at truffle hunting.
Head into the Church of the Virgin Mary. Inside is a 16th-century wooden hand-carved Renaissance-style gold-plated altar.
Kick back and watch the killer sunsets while you enjoy a refreshment at one of the bars.
Stay at Hotel Motovun. You won't regret it.
Tour A Village Home To Many Artists
The village of Groznjan dates back to the 12th Century, and the surrounding architecture shows that. Its age gives the village a character, unlike many places in Istria, and because of that, it has attracted a nice population of creative, artistic people.
Enjoy visiting the friendly village where many artists live and sell handicrafts in their quaint, family-owned galleries and shops. If you happen to be traveling to Istria in July, the village hosts a jazz festival which you should not miss!
Paraglide In Buzet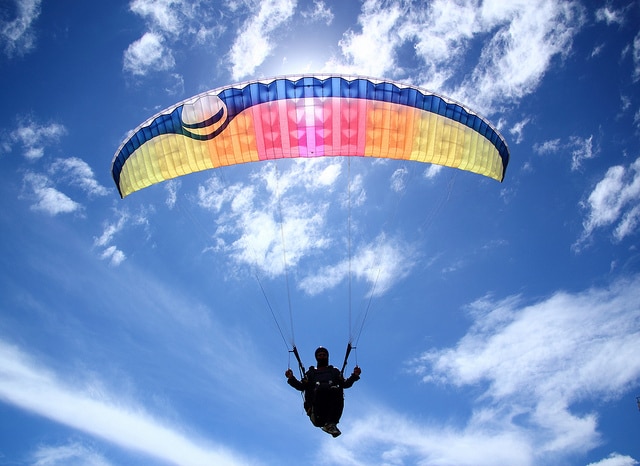 The Istrian peninsula offers some of the most spectacular, underrated scenery in Croatia, and one of the best ways to enjoy the views is undoubtedly parachuting, paragliding, or flying.
It is a great way to spice up your vacation in Istria and admire the breathtaking beauty from a bird's eye view. In Istria, there are several paragliding spots, most of which are located near the mountains of Ucka and Buzet.
Visit The Beaches Of Rabac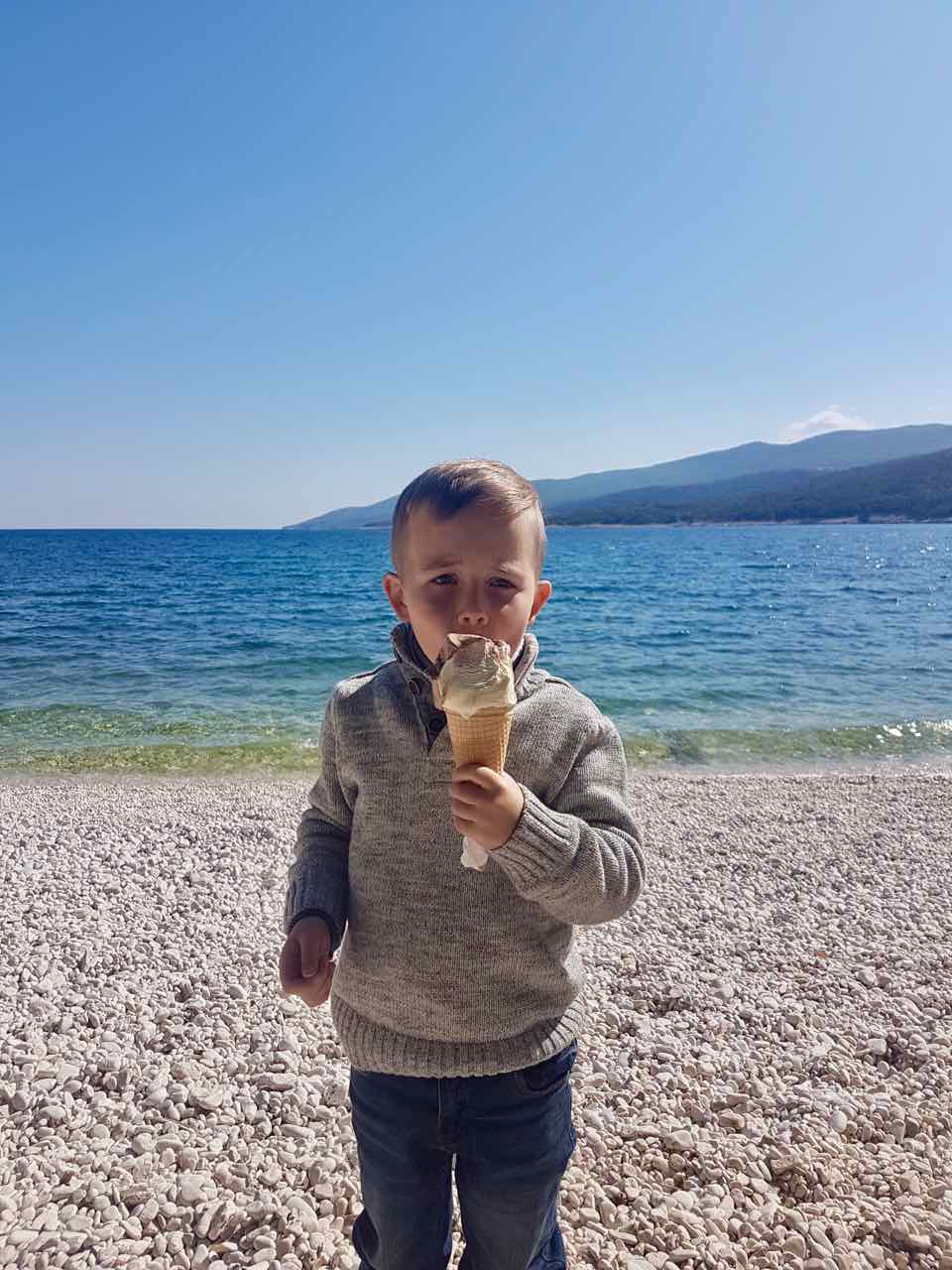 The beautiful beach, the "pearl of the Adriatic," has a Blue Flag (a globally recognized symbol of quality service and cleanliness of the sea and coastline) and all the necessary beach equipment for a nice relaxing day in the sun.
St. Andrea has a stony beach and is popular among all tourists, especially those who like to swim and eat ice cream. On the beach, you can rent sun loungers, umbrellas, and various equipment for water sports and snorkeling.
Visit James Joyce's Former House
You'll find the bar where the famous writer James Joyce drank in Pula. There's even a life-size statue of Joyce himself!
Rock Climb In Istria
The popularity of climbing has just started to boom in Istria. Toward the end of the 20th Century, climbers systematically discovered new routes across the peninsula and decided to hang out.
With the emergence of new routes, Istria attracted more and more climbers worldwide who wanted to conquer some of the most challenging routes in Europe.
Now, the region offers about 1,200 routes to explore and is well worth the time spent on your vacation – especially for the adrenaline junkies out there.
Brijuni National Park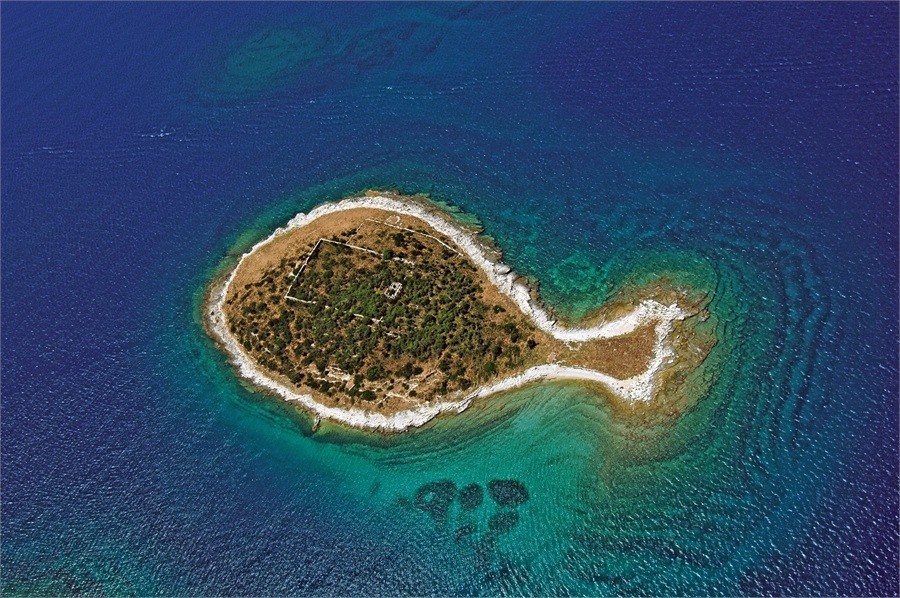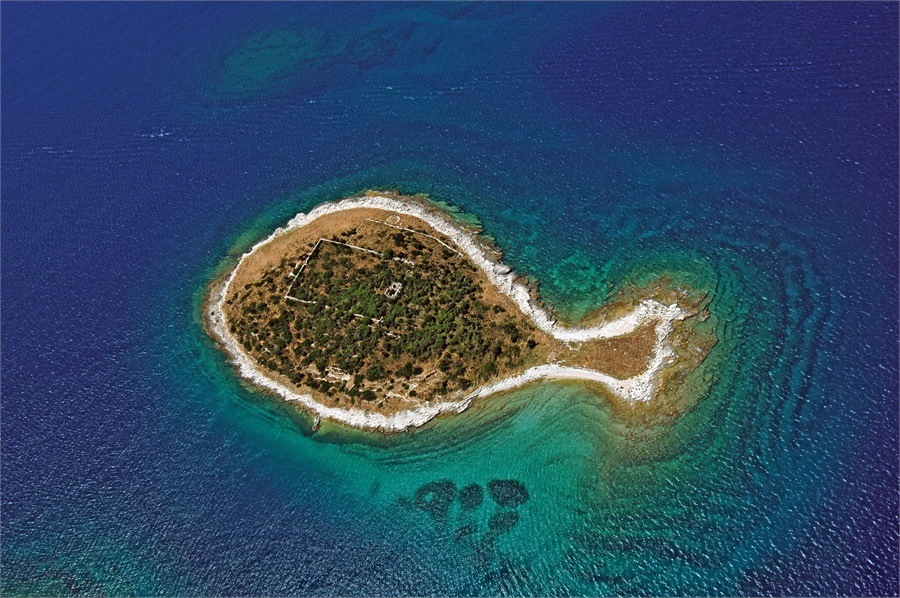 Here you will find 14 islands; the most visited are Veli Brijun and Mali Brijun; both are easy to reach. The landscapes on the island differ on each one, and they are so beautiful that they were declared protected in 1983.
Eat Croatian Truffles (No Need To Break The Bank)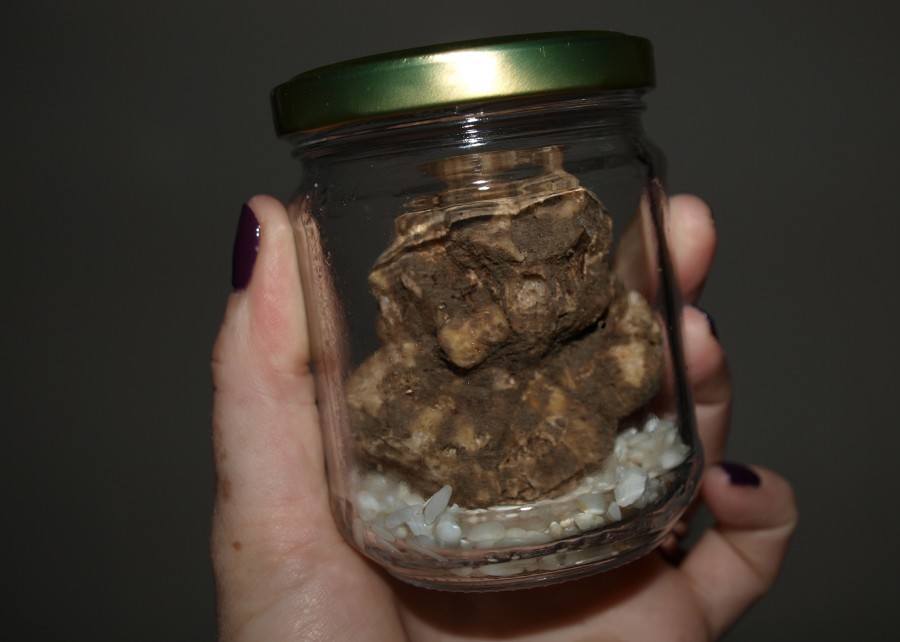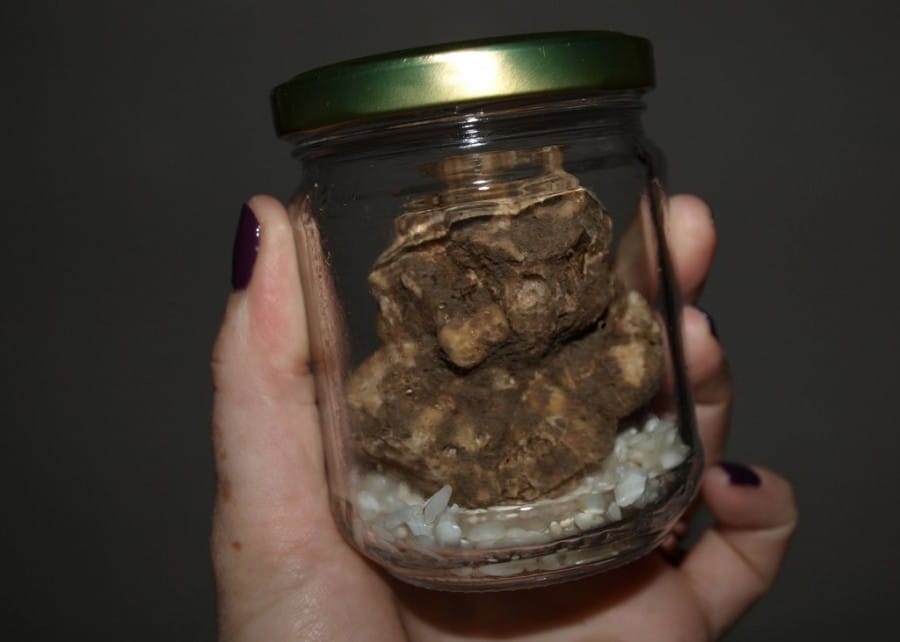 Istria is one of the world's cheapest places to enjoy this luxurious dish; you will find them everywhere! Motovun and Livade (amongst others) are where you will find pasta dishes laced with truffles for a fraction of the price tag you would expect.
I didn't know much about truffles until 2010 when Mr. Chasing the Donkey, and I went to a white truffle festival in Alba, Italy. I will never forget walking up to the building's entry door and being overwhelmed by the pungent aroma.
I was pulling faces and looking for an explanation for the smell. Initially, I was baffled. I had never smelt anything like it before; I soon realized it was the scent of white truffles. Now I am a total convert. I get my truffle fix any chance that I get.
Those of you who have not had the pleasure of tasting a white truffle are probably wondering what is so special about them. It comes down to two things:
The scent and taste. It really is unique. Some people describe the smell of that of dirty socks, others of newly-plowed soil, fall rain, or burrowing earthworms. The fact is you can't explain it, or at least, I can't
White truffles are extremely rare and can only be collected from September to January yearly. Put together something unique and rare, and you have a precious product. So valuable, in fact, that the prices range from 900 -5000 euros per kilo. Now that's more than the cost of gold!
Each year you can plan to get an overdose of truffles at the 'Zigante Truffle Days' in Livade (close to Motovun). This event transforms Livade into the center of Istrian truffles. Each weekend you can attend the truffle fair, an international exhibition of wine and other indigenous Istrian products (such as Istrian prosciutto, sausages, cheese, olive oil, and rakija), truffle hunting, and cooking demonstrations.
Go On An Adventure In The Mountains
Učka is protected as a nature park and acts as a divider between central Istria and the popular Kvarner region. In Učka, there are many opportunities for spending free time, such as mountain biking, hiking, rock climbing, parachuting, caving, and much more.

It is also an ideal place to visit families with children and an educational trail for children. The Nature Park has eight marked cycling trails of various difficulty levels, totaling 180 km.

Visit the highest peak of the mountain, Voyak (1402 m), where since 1911, you will find Voyaktorien with a breathtaking view of Istria, Kvarner Bay, and the islands.
Discover A Baby Dragon. . . Kind Of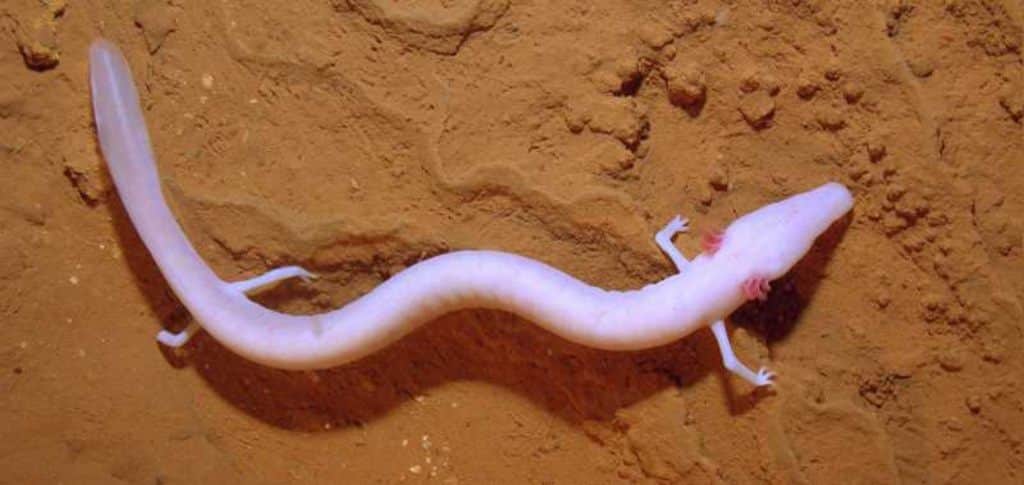 Some creatures look like they could grow into dragons in the Baredine Grotto's remote waters, tucked away in caves. The people who first discovered these creatures thought the same because they are called "baby dragons."

We are sure there is a more scientific name. You must hire a boat to take you there and learn their real name! Still, we prefer to keep our imagination open to interpretation rather than learn the actual scientific facts about this mysterious creature that lurks in the dark caves.
Fly Through A Cave
Want an adrenaline rush? The Zipline Pazin Cave will take you on four different routes through Pazin Cave's unique landscape, a natural phenomenon caused by the Pazincica River.
The first two lines are 80 meters long, and the third is a whopping 220 meters long. The fourth and last line is 280 meters long and has a maximum speed of over 40 miles per hour! However, that's not even the longest ride.
Through your screams and fears (see Mr. Chasing the Donkey in the video above), you can enjoy a beautiful view of the cave and the famous castle right above the cave.
The entire tour happens under the watch of two professional guides and lasts anywhere from half an hour to an hour long, depending on the group's size. This will give you enough time to spend the rest of the day at your discretion (perhaps checking out some of the other great things on this list).
Go On A Semi-Submarine Exploration
This small boat looks like a real submarine and is half-submerged while the other half remains above the surface, so it's aptly called half-submarine.
From inside, you will have the most intense look at below-sea depths you have possibly ever had. The boat travels across the water, and you get the opportunity to see a lot of sea life.
The submarine travels near Rovinj and all the nearby islands and offers tours during the day and night time. You would be surprised by how much life and magic happens under the sea in the dark! The special optical glass allows you to get closer to exotic fish, protected coral, and all kinds of the marine bio like you have never imagined.
Afterward, it will be worth your time to go up the deck hatch to enjoy panoramic views of the coast and the unbelievable Old Town of Rovinj. The trip under the sea lasts 45 minutes and runs every hour nearly all day long. If you are spending your day in Rovinj, you should consider it one of the top things on your list to do.
Test Some Authentic Olive Oil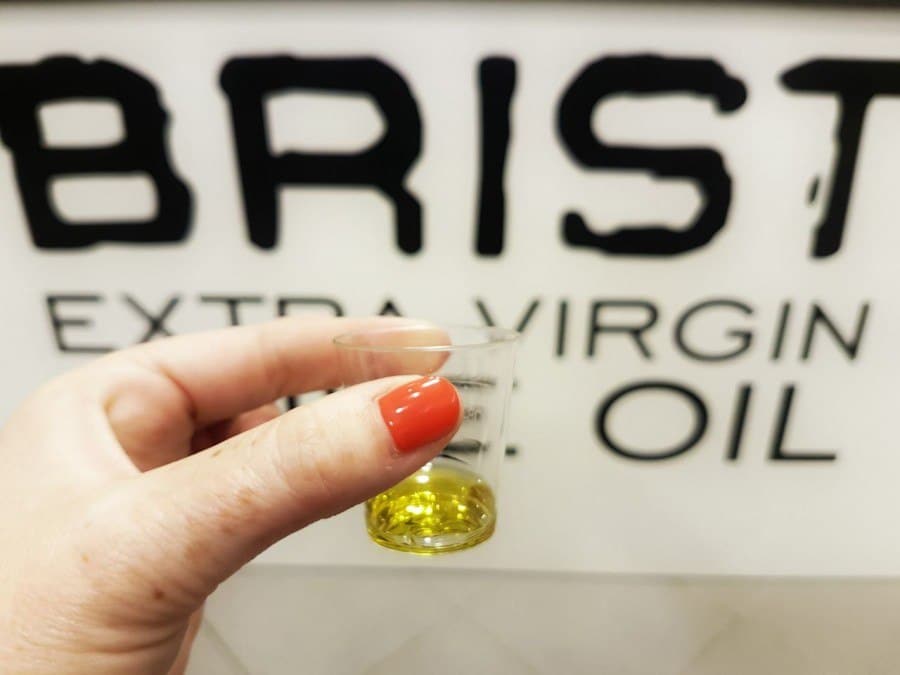 Istrian olive oil is famous for its quality. There is no shortage of olive oil in Istria. In Poreč, you can head to the Agrolaguna tasting room and taste some delicious olive oil and learn about how it is made.
One experience you will enjoy is to head to the super sleek BRIST Olive Oil tasting shop in Vodnanj near Pula. I loved this experience with the Puhar family, who run BRIST. They make extra virgin olive oils produced from traditionally grown native olive varieties from their six-hectare grove. They also hand-pick all the olives – no machines are used in picking. Yikes, that's hard work.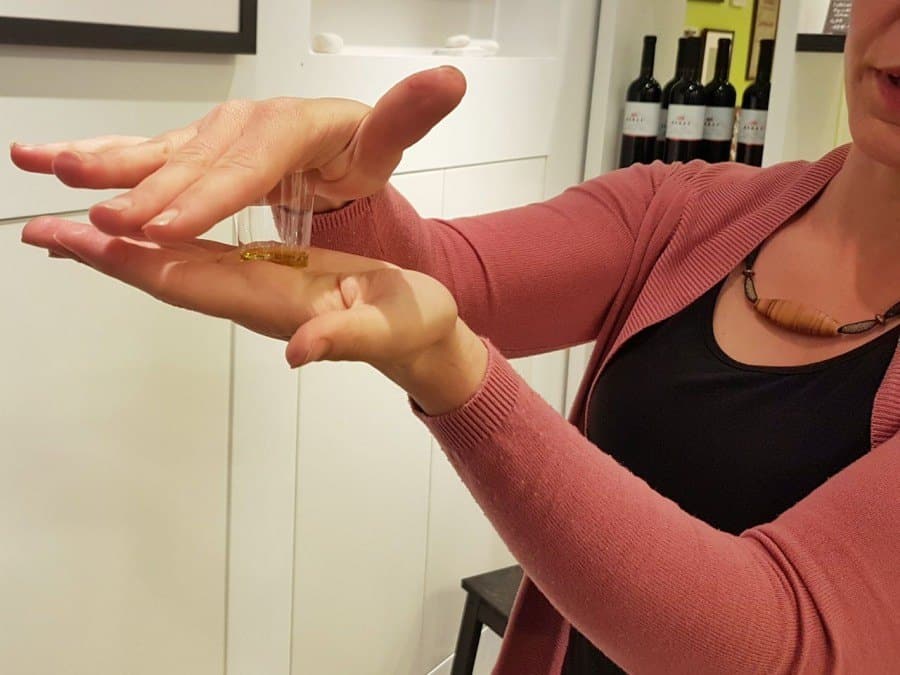 While at BRIST, buy a bottle of the BRIST Intenso Olive Oil! And, if you want to be daring when you get home, drizzle some of the oil over premium vanilla ice cream – I know it sounds odd, but trust me, it's a real treat.
If neither of these olive oil suggestions are on your route, you can also look into the following:
Chiavalon Olive Farm in Vodnjan
Agrolaguna in Porec
Ipsa Olive Oil Tasting Room in Livade
More Information

Address: Trgovačka 40, Vodnjan 52215
Spend An Afternoon At A Winery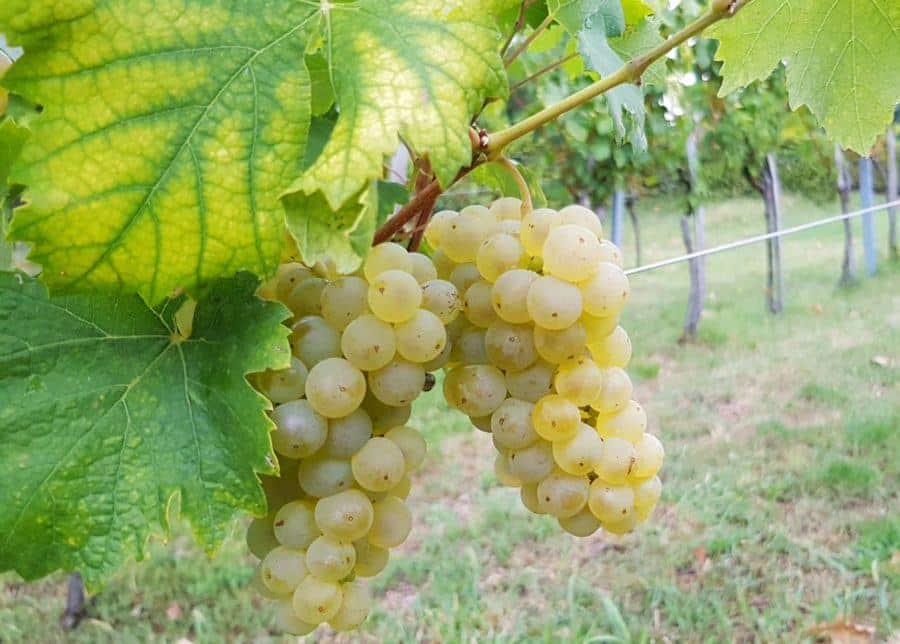 While we mentioned the open door policy of wineries during a weekend in May, it doesn't matter what time of year it is to enjoy a day at a winery, learning about how they are made and testing them out too. Istria is packed with wineries, so you certainly have plenty to enjoy. Just be sure to call ahead; they are not always open, so you need to ask when to come by.
Enjoy The Open Wine Cellar Day
Oh, and if you love wine. Be sure to be in Istria during the last Sunday of May, the wineries around Istria open their doors, and all visitors to check out free wine tastings and learn how local wines are made.
Visit The Roman Arena In Pula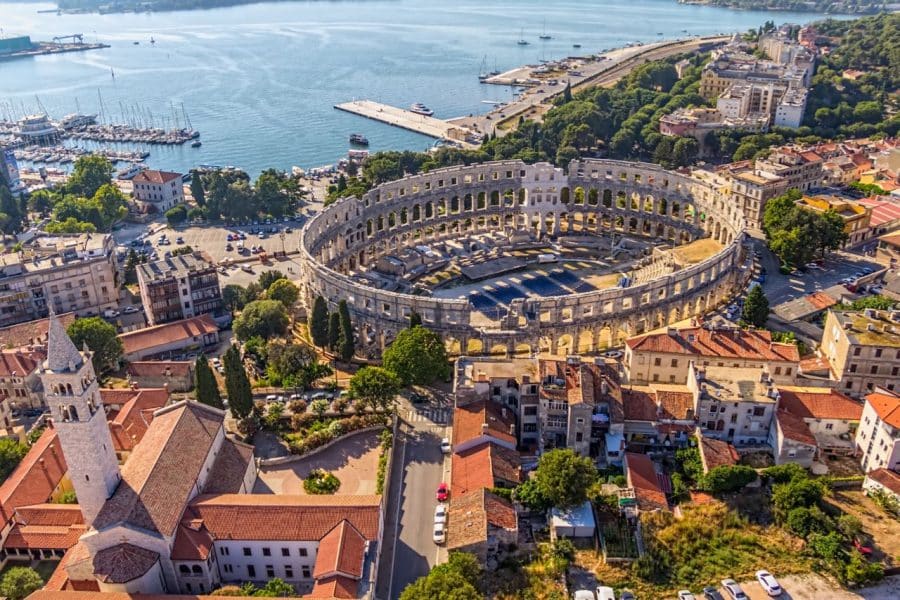 This is the 6th largest amphitheater dating back to Roman times, and it is indeed breathtaking. You can check out the Colosseum and the caves under the surface and the audio tour, which will help you learn more about it all.

You can head to the Roman Arena each July and enjoy the Pula Film Festival.
See One Of The Largest Truffles In The World
When you are in Istria, you have to view what was, for a long time, the largest truffle in the world. Obviously, the truffle has been eaten, but Mr. Zigante, who found the truffle had a cast made of it and is now on display at his restaurant.

The legendary truffle weighed nearly five pounds and held the Guinness Book of World Records as the largest truffle ever found for a long time.

When you visit Zigante restaurant to see the mold, be sure also to eat lunch or dinner there – the food is ah-may-zing!
Scuba Diving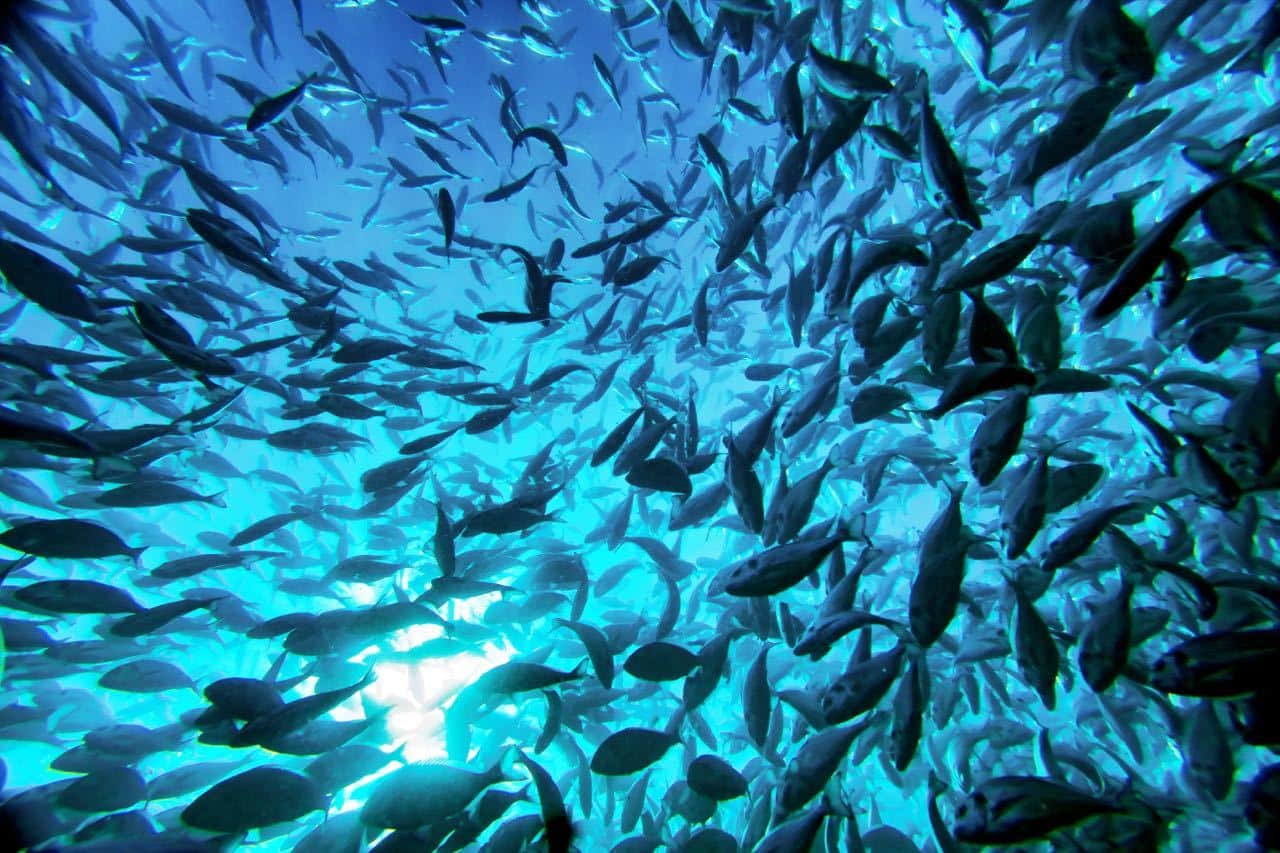 Around Pula, you will find several spots for scuba diving and the Brijuni National Park. You can earn your PADI certification here, also. The waters around Rovinj are also popular spots, with several shipwrecks to explore, including Baron Gautsch.
Enjoy Porec Old Town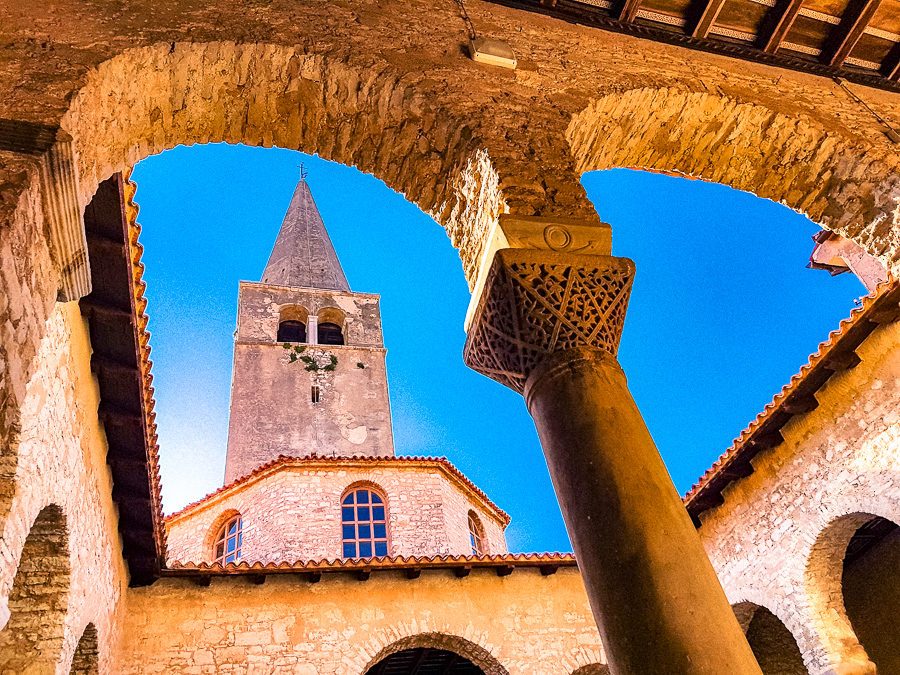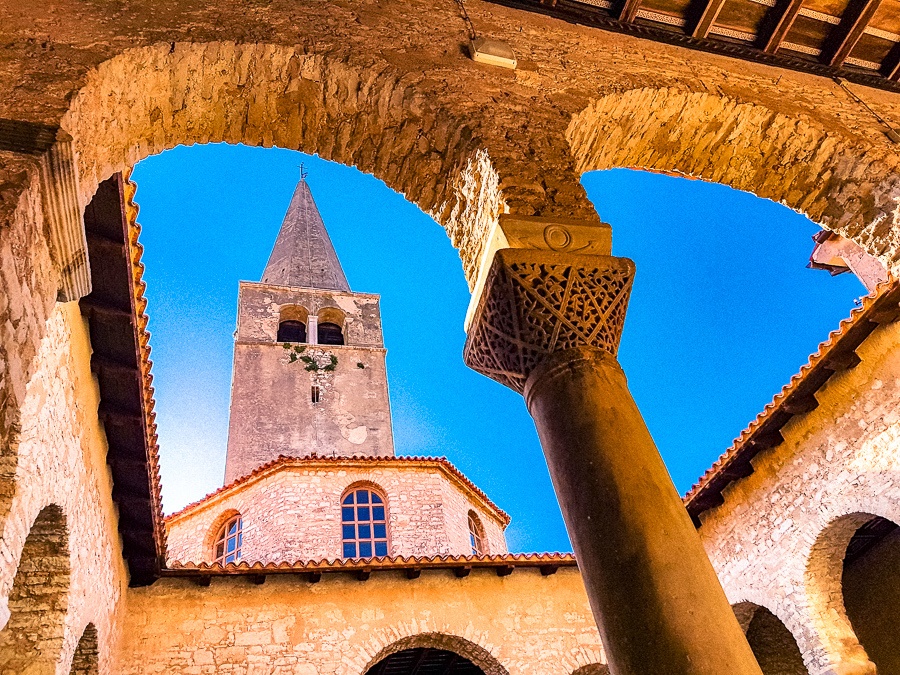 A little like heading back in time, Porec Old Town is well-preserved and has various types of architecture to enjoy, including Roman, gothic, baroque, and Renaissance.
Head To The Sea Shore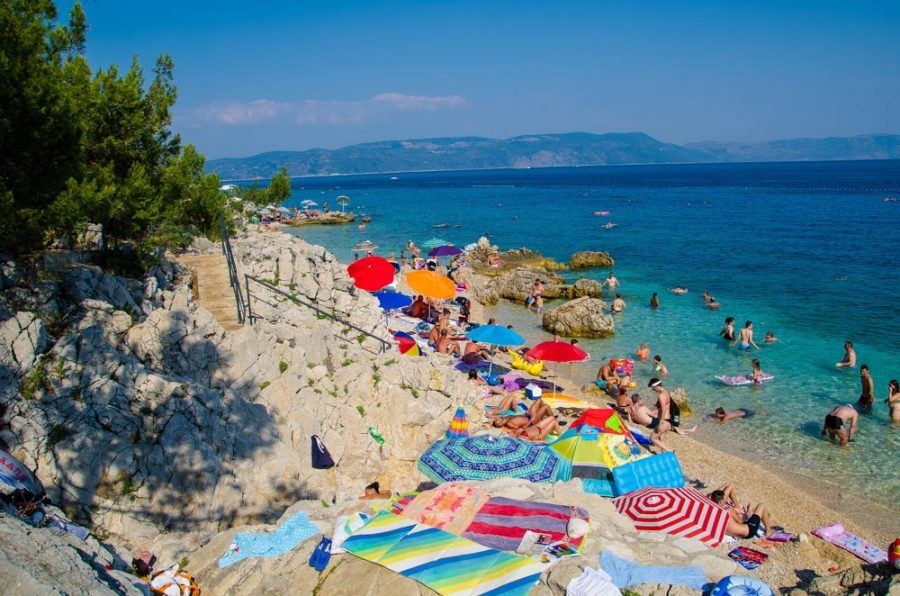 The beaches in Istria are dramatic and beautiful, and while many head to the Dalmatian coast instead, they are missing out!

You've heard of Rovinj, no doubt, but you can also look at seaside entertainment such as Vrsar, Pula, Rabac, Poreč, Umag, and Novigrad.
We made a list of amazing beaches in Istria that have the clearest of clear waters, great food, and plenty of all-year-round festivities.
Listen To Summer Music In Goznjan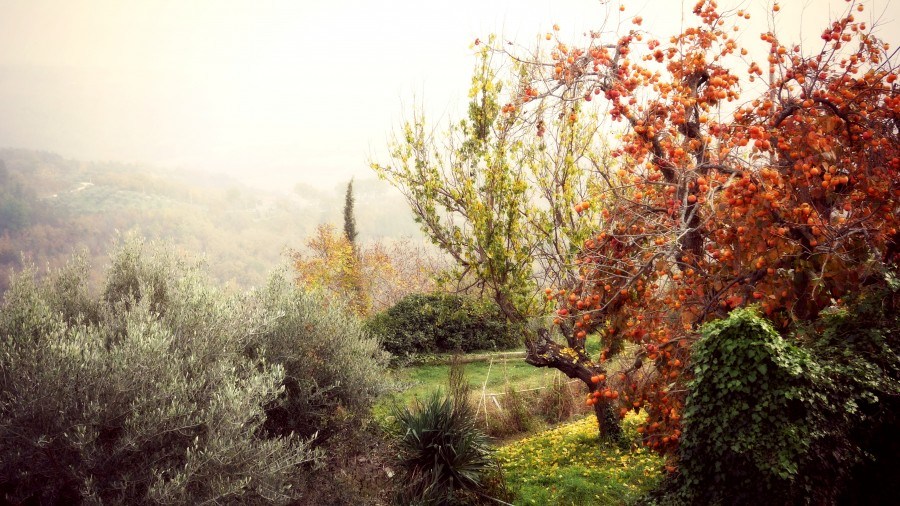 During July and August, musicians flock to the small town of Goznjan for the School for Musicians. This isn't a touristy place at all, and it's pretty hard to get to on public transport, but if you hire a car, you can really enjoy the off-the-beaten-track vibe and the authentic way of life.

During the off-season months, you can find fabulous fall (or Spring) foliage and cafes to sit back and watch the world go by.
Enjoy The View From Rovinj Bell Tower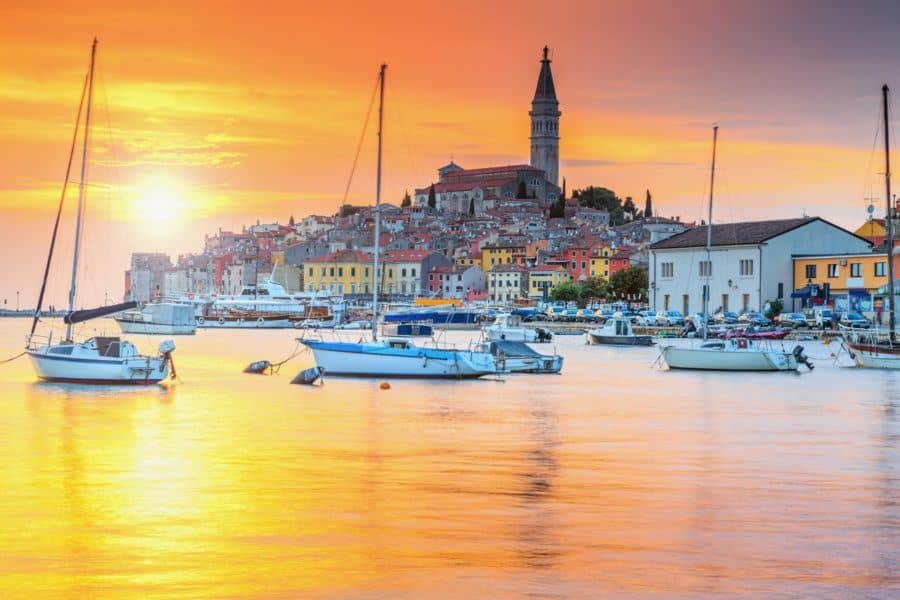 Rovinj is an entire blog post of its own – you can see everything to do there here. There are lots to keep you busy in this charming seaside town – though each year I feel it becomes much more touristy. So head there quickly.

This town makes for a great place to celebrate a birthday, and you must try climbing the bell tower. It is famous, and you can climb to the top for amazing views over this historic town. Be warned, though – it's not for the faint-hearted (or chubby!); the stairs are narrow and rickety.
Take A Dip At Lone Bay Beach
Most Croatian beaches are not sandy (there are some), but they still have a lot to offer! The coast of Lone Bay, near Rovinj, is part of a protected forest park and one of the most popular beaches in the region. The water is filled with beautiful green and blue shades and is a haven for photographers.

A few dozen feet from the coast, you can relax in the shade of centuries-old trees and take something to eat in the bar. You can rent paddle boats from the shore and take them out to the pristine turquoise waters whenever you want. If you like fish, there is no shortage of restaurants to choose from nearby.

Not only that, if you take the green path into town, it is just a short walk from the beach, and there you can find even more in Rovinj to have fun with.
Other Things To Do In Istria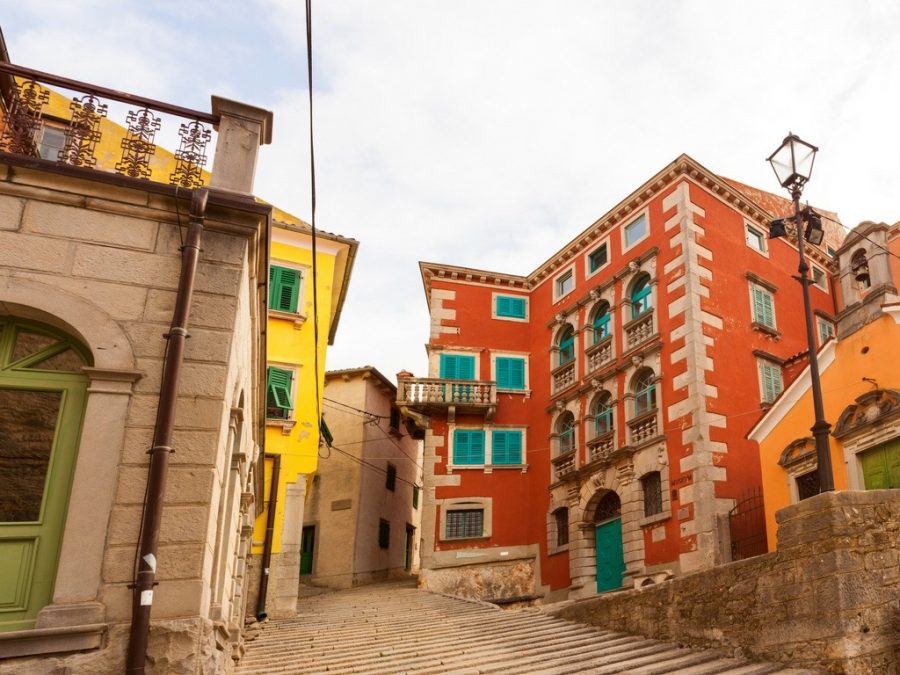 Porer Lighthouse or Savudrija Lighthouse
Visit St. Andrew's Island
Mountain Biking In Motovun: An old railroad runs from Trieste to Porec, and it goes through Motovun, where some of the most dramatic scenery can be found. There is an excellent cycling path here, and this is a popular activity to enjoy.
Rent a bike and sightsee on four wheels: You can use 'Next Bike' in Poreč, 'RM Group' in Rovinj, or Pula contact' Malupe'
Take a foodie tour: Most are walkable, which means you can also see the local sights. Start looking at these two Flavors of Istria or Pula Walking Food Tour, and if they do not suit
Things To Do In Istria With Kids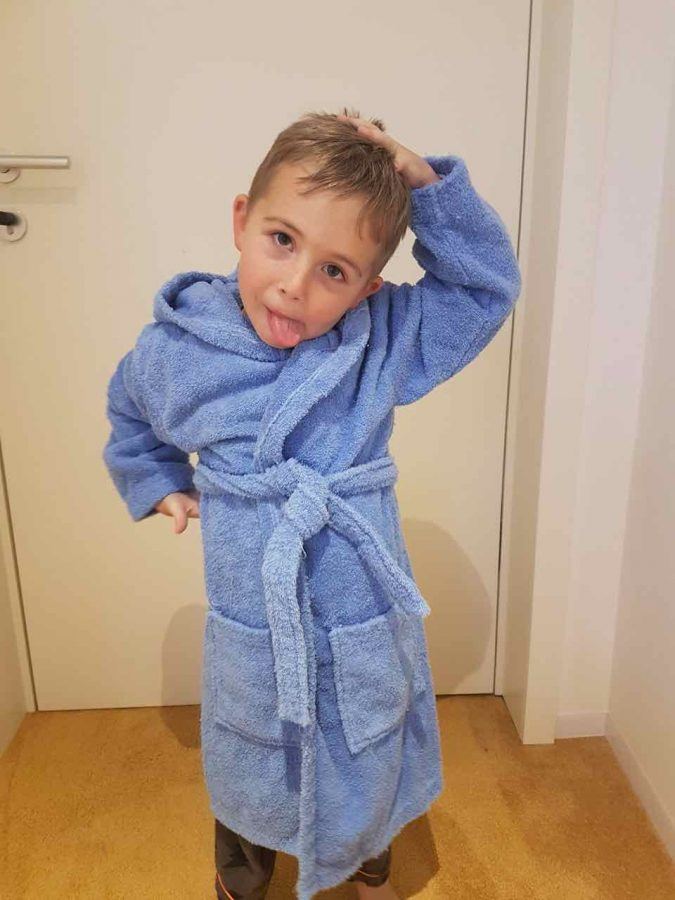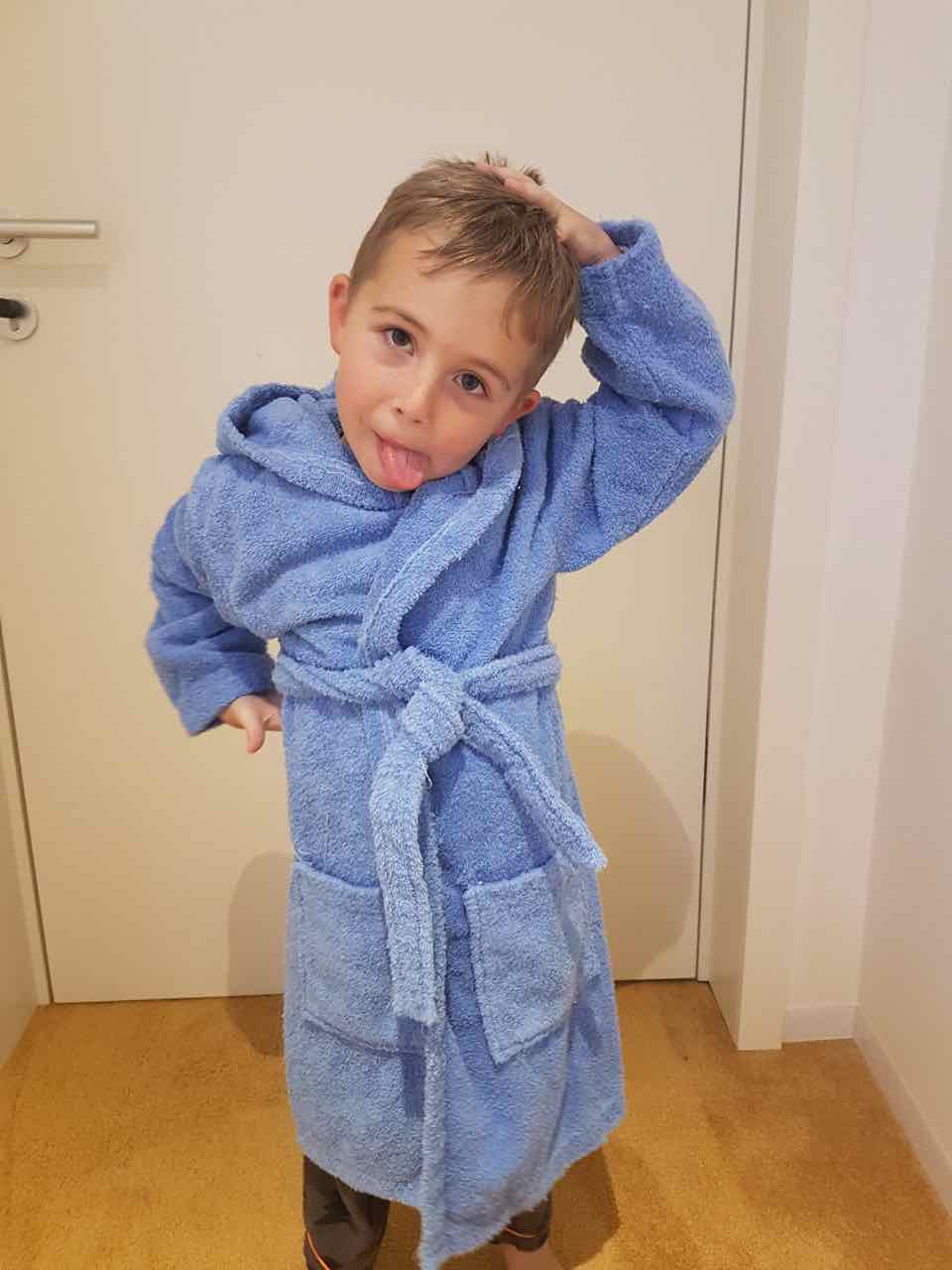 I need to sit down and write a detailed post on this – but to get you started with fun things to do in Istria with kids – that you'll all enjoy, start off with one (or all) of these fun ideas:
Glavani Adventure Park
For those searching for local adventure in the great outdoors, Glavani Park is your place to be, especially if you're traveling to Croatia with kids.

Here you will find Croatia's largest tree rope climbing park and a few more neat attractions. While kids can climb a few feet high, there are more advanced routes for older, more experienced climbers that reach nearly twenty feet. If you feel brave, some can even reach over thirty feet high.

After you finish, you can take on the course known as the Devil's Causeway. There are tons of new experiences to take on, including a 35-foot drop on the 3G High Swing, a climbing wall, a tall tower, and even a human catapult.

There are plenty of things to do for the whole family. And in the evening, check out the nightly shows the park hosts in the performance venue.

Other cool things to do in Istria with kids are:
Dino Park in Funtana: If you're with children or are simply interested in prehistoric creatures, check out Funtana. There is an old quarry which is covered with thickly wooded areas. There are rides, paths, and plenty of dinosaur fun.
Punta Corrente Forest Park: Just 15 minutes from Rovinj, you will be submerged in nature, and you can enjoy plentiful outdoor activities, such as swimming, jogging, and cycling
Pazin Castle: The Castle of Pazin is the biggest and best-preserved fortress in Istria
Pican: Check out the 14th Century St. Nicephorus Cathedral
These are just a few activities and experiences you can have in Istria; there are plenty more besides. The region is downright beautiful and as natural as you will ever find anywhere, meaning that visitors who choose to check out the Dalmatian Coast rather than Istria are missing out in a big, big way!

ISTRIA FAQs
What are the must-visit attractions in Istria?
Istria offers a wealth of attractions, including the ancient Roman amphitheater in Pula, the picturesque town of Rovinj, the Brijuni Islands National Park, and the beautiful beaches along the coast.
When is the best time to visit Istria?
The best time to visit Istria is during the spring and early autumn when the weather is pleasant, and there are fewer tourists compared to the peak summer season.
What are some traditional Istrian dishes to try?
Istria is known for its delicious cuisine. Some traditional dishes to try include "istrska supa" (fish soup), "fuži" (pasta with truffles), and "maneštra" (a hearty vegetable stew).
Is it necessary to rent a car to explore Istria?
While renting a car provides flexibility, it's not necessary to explore Istria. There are public transport options, and many towns and attractions are accessible on foot.
Are there any music festivals in Istria during the summer?
Yes, Istria hosts several music festivals during the summer months, including the Outlook Festival in Pula and the Dimensions Festival in Štinjan.
Can you visit Istria on a day trip from Zagreb?
While Istria can be visited on a day trip from Zagreb, it's recommended to spend at least a few days to fully experience the region's attractions and culture.
What are some outdoor activities to do in Istria?
Istria offers various outdoor activities, such as hiking in the Učka Nature Park, cycling along the Parenzana trail, and water sports on the Adriatic coast.

Where will you go? What will you do? You'll need to plan your visit, and you'll need to do your research so you don't miss out on the good stuff!

#ShareIstria - In Partnership With The Tourist Board Of Istria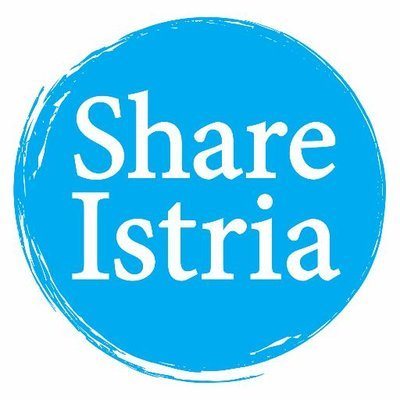 This post is part of a series #ShareIstria. Part (but not all) of the costs of transport, accommodation, meals, and local guides required to bring you the Istria Tourist Board provided this guide. But all opinions are mine. All recommendations are given wholeheartedly and without bias.