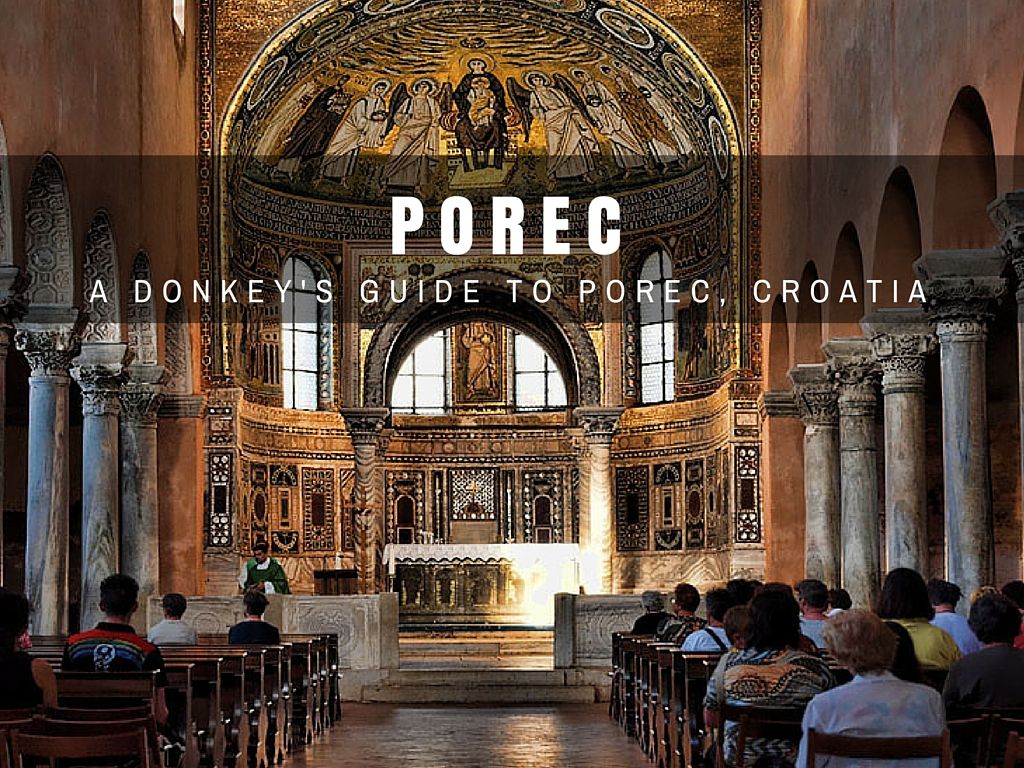 Poreč Travel Blog: Things to do in Poreč
If you're looking for a small and charming coastal town, which still has plenty to see and do, whilst also enough to entertain you for an evening, then Porec is the ideal choice.
Situated on the pretty Istrian coastline, ideally placed to explore further afield too, Porec is picturesque while also being packed with sightseeing options. It's a strange combination, but it's one that works fantastically!
It's virtually impossible to get lost in Porec, which is ideal for those who enjoy wandering around to their heart's content, seeing what they can find along the way. The beaches in and around the town are also typically idyllic and crystal clear which is what the Adriatic sea is so famous for. There is also plentiful history around the town, including the famous Euphrasian Basilica, which dates back to the 6th century, and a UNESCO World Heritage Site. Nature is also plentiful, with walking trails and endemic flora, fauna, and wildlife to explore.
Of course, if you feel the need for a good night out during your stay, there are also more than enough bars, restaurants, and lively spots to entertain you!
Things to See and Do in Porec
The Episcopal Complex of the Euphrasian Basilica
History fans will love this particular sight in Porec, dating back to the 6th century, built during the Byzantine Empire. This site is UNESCO world heritage listed, and the architecture is just stunning, with history echoing around every corner. The church itself is very well preserved, with beautiful murals on the walls and ceiling to check out. Of course, the view from the top is also breath-taking, with the impossible blue of the sea just a stone's throw away. Do be sure to check opening times when you visit, at certain periods of the year, e.g. Easter and Christmas, the church itself is closed to visitors.
Bardine Caves
Around 6km inland, easily accessible by bus or car, you can find this natural wonder. You can take a tour through the caves, which lasts for around 40 minutes, and you descend a pathway until you are 60m underground. Here you will find a shimmering underground lake with intricately decorated chambers. There is also some endemic wildlife, with blind white salamanders and the cave olm worth trying to spot. Of course, there are the typical stalagmite and stalactite formations, which give the caves a weird and wonderful feel. You will find many tour excursions which go to the caves, making them easily accessible, without fuss.
Poreč Old Town
A wander around the cobbled, narrow streets of Poreč's old town is a must do, and something which can easily fill half a day if you take your time. There are many small cafes and restaurants to stop off at if you fancy a pitstop or a refreshment, and the old buildings will offer you a window to the past. The church inside the Old Town is very well preserved, and basically this area gives you a feel of times gone by, away from mass tourism.
Day Trips to Nearby Towns
Porec is very well placed to allow you to venture further into the Istrian Peninsula, and explore the diversity of the region. Buses leave the station in Porec regularly to nearby Pula and Rovinj, or you can hire a car and drive yourself, through the Tuscany-esque countryside.
Rovinj has a stunning Old Town, with artists showing you their talents on Grisia Street. Or head to Pula and visit the massive Roman amphitheater. You should certainly take advantage of the ease of travel around the region, and when basing yourself in Porec, you can have the holiday experience we all know and love.
The Round Tower
This interesting and historic building gives you something a little different regarding stopping for a coffee! The restaurant inside the tower is fantastic for refreshments, and as you climb the narrow curved steps to the top of the tower, you can be sure of a stunning view over the town and distant peninsula. Be aware that the steps are quite steep, so take your time.
Decumanus Street
This is another historic part of Poreč, which hints back to the former Roman Empire, with buildings and structures still very well preserved. A modern twist is evident here too, with many shops, cafes, and restaurants. This is a busy part of the town, especially during the peak summer season, and you will get a real taste of modern Croatian life here. As a hint to take into account, to see the best of the architecture, you need to look upwards, as the buildings are very tall, and are so intricate that you need to crane your neck to see the best of it! This is a straight street, so it is impossible to get lost.
Best Beaches in Porec
Zelena Laguna
Much of the coastline around Poreč is rocky and pebbly, so wearing water shoes is a good idea. Zelena Laguna is around 5km south of the main town, and there are countless small bays and coves to explore, making it easy to find your ideal spot for the day. There are many cafes and restaurants around, so you will be able to have a refreshment or meal halfway through the day. The nearby wakeboard park offers active holiday enthusiasts water-sports. There is a small pebbly beach which is shallow making it ideal for children.
Delfin Beach
This is a very favorite spot on the coastline around Porec, and this rocky beach is very picturesque, backed by a dense pine forest, giving you plenty of shade if you want to escape the hot summer sun. This particular fact also makes this a good beach if you are traveling with children. However, there are some steep drops when you enter the water, so do be aware and don't let your little ones head out unaccompanied. There are many different water sports on offer, as well as kayak rental, for those who want to explore from the sea.

Brulo Beach
Around 2km from the town center you will find this very famous beach. Again, there is plentiful natural shade, as the pine forest runs to the back and around the beach itself. The beach is rocky, pebbl
y and concrete with adequate space for sunbathing. Children will enjoy the natural pool, which is formed to one side of the beach, with shallow water for splashing, as well as the playground. Facility-wise there are changing huts along the beach, and plentiful water-sports on offer. Do be aware that in peak season this particular beach can get very busy.
Pical Beach
If you are staying in central Porec, then this will be your most convenient choice of beach, located around 15 minutes' from the resort on foot. Locals head to this particular beach on weekends, so do be aware that you might encounter crowds. This is a good choice of beach for a good old-fashioned beach day, i.e. splashing, and generally having fun. There is a picturesque promenade running along the length of the beach, and a children's playground at one end too. The beach is pebbly, and there is a Jet Ski Centre for those who feel the need to be adventurous.
Spadici Beach
Continue walking along the promenade past Pical Beach and you'll reach Spadici Beach. This is another rocky and concrete beach but also has a nice grassy area. There isn't any natural shade on this particular beach, so perhaps not the best choice if you are visiting with children. There are however many facilities for changing and showering, and there are cafes and bars within a stone's throw for refreshments.

Best Accommodation in Porec
Best Hostels In Porec
Hostel Alma 2
This hostel is very highly rated and is located right in the heart of town. The feel is basic but comfortable, with the beach and entertainment options just a stone's throw away.
Futurum
Another hostel choice which is located in the heart of the Old Town; this hostel offers apartments which are budget-worthy but certainly clean and comfortable. Again, the hostel is close to everything you will need during your stay.
Great Apartments in Porec
Studio Apartments Laguna Bellevue
This four-star apartment offers a home away from home feel to your accommodation. Located very close to Spadici Beach and all the other major points of interest in and around Porec, the complex has a restaurant and bar on-site if you don't feel like cooking. There is also an outdoor pool and children's pool, with a Kid's Club on-site. Basically, this has everything you need for a homely holiday, but with the chance to get a holiday village feel.
Apartment Laguna Park
This is another home away from home feel, with apartments which are set out like bungalows, feeling very residential, but very close to everything. The apartments are actually beach-front in location, and there is everything you could need close by, including entertainment lots of entertainment. The apartments themselves are fully equipped with all kitchen facilities, and they are vast and spacious overall. While this apartment doesn't have the holiday village feel of our previous choice, it does give you a more authentic Istrian feel to your break.
Urban Premium Apartments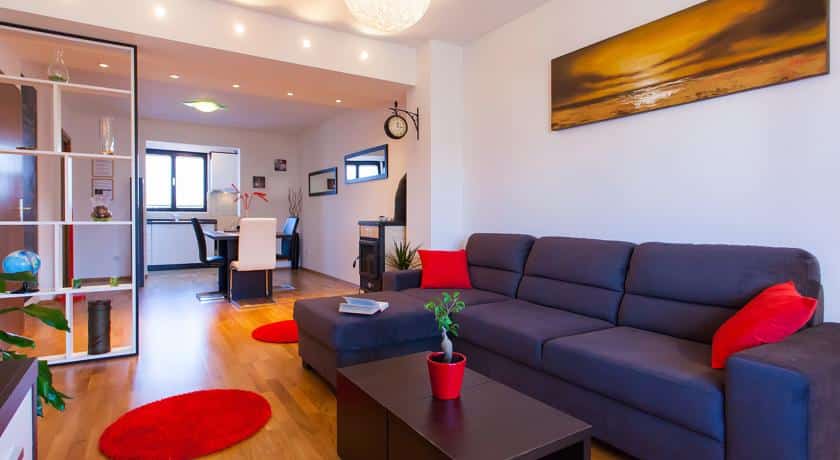 Photo Credit Urban Premium Apartments Porec
This is your go-to apartment if you're looking for an ultra modern accommodation.  Located just 20 minutes away from the center of Porec, there is a bus station nearby, so you can easily get around without any fuss. The apartments themselves are modern, minimalist, but colorful, and all come equipped with a DVD and Home Cinema System, for your entertainment. The terrace is wonderful for sitting and soaking up the sun's rays, and the gardens are very well-kept, adding to the beauty of the complex.

Three Star Hotels in Porec
Hotel Laguna Mediteran
If you're looking for a mid-budget range hotel which isn't too far away from everything you need, then this is a great choice. Located around 15 minutes' walk from the centre of town, surrounded by fragrant oak and cedar trees, giving you plenty of natural shade. The hotel has a large pool, which is heated during the off months, and plenty of leisure activities to keep everyone busy, such as miniature golf, and pedal boats for hire. The outdoor terrace restaurant is perfect for those warm summer evenings.
Laguna Park Village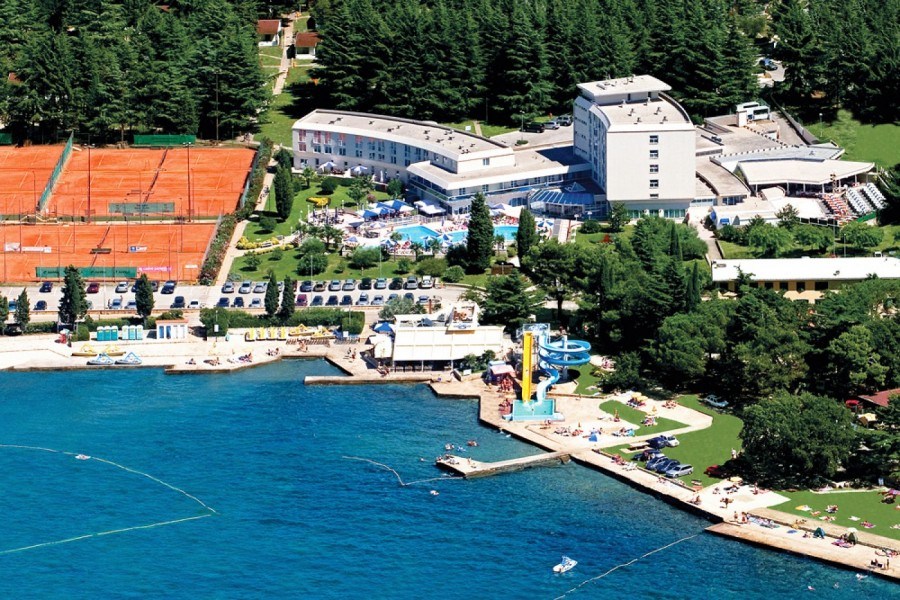 Photo Credit Laguna Park Village Porec
You can take your pick from room only, half board or all inclusive basis at this hotel, and you can have a sea view if you pay a little more for your room. The hotel is located very close to the beach, and is within walking distance of all the major tourist attractions. The on-site restaurant serves a buffet breakfast and dinner, and the outdoor pool, with separate children's section, is fantastic for those summer days.
Laguna Gran Vista Hotel 
This hotel feels much more expensive than it actually is, which is ideal for those who seek luxury on a budget. You can choose from B&B or half board basis, with a sea view if you so wish. The outdoor pool is large, and has a separate children's section, with comfortable, spacious, air-conditioned rooms for those hot sunny days! The hotel is centrally located, within a stone's throw to the beach, and the main tourist attractions around it.
Four-star hotels
Valamar Diamant Hotel
Located just ten minutes' walk away from the center of town, this particular hotel is luxury without having to travel to far out of the center of Poreč. This hotel is ideal for those scorching summer temperatures. There are many recreational activities to enjoy on-site, as well as informal buffet dining, and a wellness and beauty center. This is an excellent choice for an adults-only break.
Grand Hotel Palazzo
Opulence comes as standard with this choice! Pick from premium or superior room, on a B&B or half board basis. The hotel is located on the beach front, right at the far end of the Old Town, so it's set in a quiet location, without being too far from everything you need. The wellness center and outdoor pool cater for your relaxation efforts, and there is free Wifi throughout so you can stay in touch with everyone back home. The restaurant also serves local and international cuisine so that you can try something a little authentic. Again, this is a good choice for adults.
Laguna Molindrio Hotel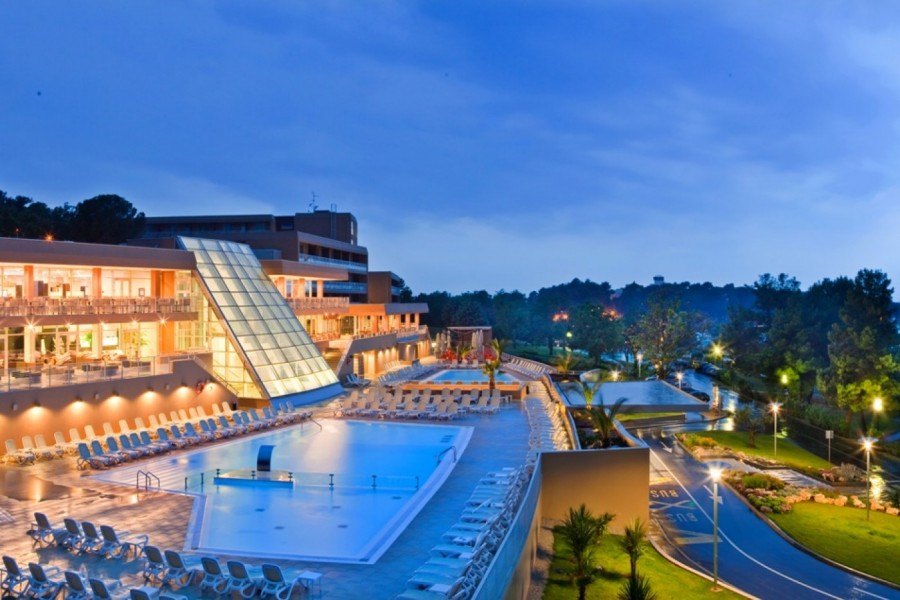 Photo Credit Laguna Molindrio Hotel Porec
Located close to the marina, with beautiful views out over the Adriatic Sea, the Laguna Molindrio is a great all-rounder, with two large outdoor pools, and plentiful entertainment on-site, so you don't really need to venture out, however, it is recommended as there is plenty of fun to be had around Porec itself. There is a gym and massage center on-site too, for relaxation needs, and the on-site restaurant is fantastic in quality.
Best Places to Eat & Drink in Porec
Luna Beach Bar
If you're looking for a cheap eat on the beach,  this is for you. Considering the setting, the prices should probably be higher, but the menu is large and low in cost. This is a great place to chill out during the day time without spending a fortune, and somewhere for a pitstop snack while exploring the town.
Kantun Grill Corner
Located in the Old Town, this café is bright and colorful, with a fresh yellow and green décor to greet you. The café actually feels modern and funky, despite its location, and the food is delicious, especially considering the low prices. Check out the burgers, which are grilled to perfection and certainly large enough to fill you up.
San Mauro
Located in the city center, this particular restaurant looks like it is more expensive than it actually is. The pasta dishes are to die for, and the staff are very friendly and attentive. This is a restaurant that has a lot of return guests, which should tell you something about the delicious food and fantastic ambiance.
Konoba Daniela
It's always a good idea to try some local dishes wherever in the world you visit, and this restaurant has a large menu which incorporates local cuisine with more international dishes, so everyone can find something to munch on. The steak tartar is a very popular favorite, which is prepared in front of you to prove its freshness.
Restaurant Mauro
For a seriously special night out with some delicious food and a beautiful setting, look no further than Restaurant Mauro. Located on the marina with a stunning view of the sea, it's advisable to book your table in advance to avoid disappointment. The menu is eclectic, serving local and Mediterranean dishes, and the presentation is second to none.
Cotton Club Restaurant
While being a high-end restaurant, the prices here are at the lower end of that bracket, which makes it a fantastic choice for a special night out. The dishes on the menu are international and Mediterranean, and the presentation is certainly very artistic. Located on the main square, this is an easy one to find.
Coffee Bars
Epoca Cafe
This café is a very popular for a daytime chill out, with a great range of light snacks and coffee on the menu, as well as alcohol if you fancy something with a little more kick! The café is located on the promenade, which makes is the perfect pitstop as you walk from one end of the town to the other, with stunning views over the beach and out to sea.
Gelati & Baci
This is quite an upmarket coffee shop, but if you want quality coffee and ice cream, this is the place to go. The café has a unique feel to it, which is evident in its décor. It's located in the Old Town so that you can head there for a break while you wander around the narrow streets of Poreč.

Bars in Porec

Villa Club
Located on the seafront, with its own section of beach, this is a very popular spot for chilling out by day and partying by night where resident and guest DJs play their tunes. The club is spread over two floors, with a terrace on the ground floor. This is open during summer season only, from May to October, but it is certainly a hotspot during that time.
Byblos
This is one of the oldest nightclubs in Porec, dating back to 1967, and it's also the largest place to head for a party. There is an admission for entry, but it's certainly worth it, with a promise of a fantastic night out, with popular DJs playing here regularly.

Key Festivals & Events in Porec

100 Miles of Istria Ultratrail
Are you a running enthusiast? Do you feel the need to run even though you might not be that experienced? If you said 'yes' to any of the above then, this event is for you. This trail run takes you through some of the most amazing scenery and terrain around the Istria region, including Porec. The event every year in mid-April, and is a fantastic opportunity to see the area and keep fit at the same time.
Parenzana
If the thought of running brings you out in a cold sweat, this event might be more for you. The Parenzana is an old railway line which has been transformed into a path for walking, running, and cycling. At the end of April ever year, countless families, couples, groups, and singles take to the path to enjoy the 10km journey, which takes in Istria's stunning scenery.
Mediterranean Folklore Encounters
The beginning of July sees something traditional and unique in the Porec. Here you will learn about the culture of the region, with performances, parades, musical concerts, handicraft markets, workshops, and food tastings.

Travelling to Porec

Porec from Split or Split to Porec
Air. To reach Split from Porec, or vice versa, you can fly, to cut down on time. To do this, you will need to take the bus from Porec to Pula, which takes around one hour. The flight from Pula to Split is about 40 minutes.
Bus. There are daily services to Split from Rijeka so you will need to first get a bus to Rijeka from Poreč. 
Car. Of course, you could cut all this public transport out and hire a car and drive yourself, which would indeed show you the sights. To drive will take you around five hours.

From Porec to Dubrovnik or Dubrovnik to Porec
Air. There are no direct flights between Pula and Dubrovnik. However, you can fly via Zagreb, which takes around 5 and 1/2 hours including layover time or via Split on a sea plane.

Bus. As with most buses, the bus from Porec goes to Rijeka first and takes around 15 hours to reach Dubrovnik. This is a long trek. However, the passing coastal scenery is stunning.
Ferry. If you want to combine amazing experiences, then why not get the ferry over to Venice for a day or so, and then fly to Dubrovnik from there? This is quite affordable, and you get to see two places. The ferry from Porec to Venice takes around 2 hours 45 minutes, and the onwards flight from Venice to Dubrovnik takes around 1 hour 20 minutes. 
Car . Again, hire a car and you can be in Dubrovnik in around 8 hours, although obviously the more you stop, the longer it will take.

Traveling to Porec from Zadar or Zadar to Porec
Bus. Your options when traveling from Porec to Zadar are bus or car. The bus will first take you to Rijeka, and then onwards to Zadar. In total, the journey will take around 6 hours 45 minutes.
Car. Hiring a car and driving to Zadar is the quickest option, taking around 4 hours 20 minutes, depending on traffic and stops.

 



Traveling to Porec from Zagreb or Zagreb to Porec
Air. To reach Zagreb from Porec, you will need to go to Pula airport and catch the direct flight to Zagreb. There are daily departures for this flight.
Bus. There are multiple daily services to Zagreb from Rijeka so you will need to first get a bus to Rijeka from Poreč. 
Car. Getting to Zagreb by car is easy and will take you around 3 hours.