Some posts contain compensated links. Please read this disclaimer for more info.

Best Travel Blenders On The Market For 2022
Are you looking for the best travel blender? Let us point you in the right direction; we have found the best travel blenders.
When you travel, are you an everything but the kitchen sink kind of person, or do you prefer to travel light?
There are absolute essentials we need regardless of where we are going and why we are heading there in the first place, but there are also other luxuries, if you will, which can help make our lives that little bit easier.
If you're a juicing enthusiast, you love to make healthy smoothies, or you simply like the free and easy feel of being able to blend your own ingredients to make delicious snacks, then a travel blender could be that go-to item you need in your luggage.
If you're not sure what a travel blender is, it basically does what it says on the tin – it is a compact mixer designed to be taken on the road with you to give you total control over your dietary needs.
Travel blenders are ideal for business or pleasure and perfect for camping trips or road trips. Of course, you can also take a travel blender with you on another field trip, although do bear in mind that you will need to pack it in your suitcase for check-in because of the included blade.
Best Travel Blender Comparison Chart 2022
We took a look at travel blenders are best and compared the features & price, and made this easy-to-use table to help you review and decide what blender will suit you best.
Click on any heading to sort the table accordingly.
Best Travel Blender Reviews 2022
Okay, let's get to it. Which travel blender is going to be best for you?
Ninja Fit 700 Watt Personal Blender For Travel
This handy and ergonomic travel blender is an excellent option if you'd like to keep your vitamin levels topped up during your trips. The 700-watt power pod is only the size of a coffee cup, so it won't take up much space in your luggage, while the 16-oz Nutri Ninja cup is large enough for a healthy and filling nutrient-packed beverage.
This travel blender comes with two cups and two sip-and-seal lids for secure and convenient transportation. Thanks to the 700 watts of power, this tool can quickly and smoothly blend the hardest chunks of food, such as frozen fruit and ice cubes. On top of that, it also includes a useful 50-recipe cookbook filled with ideas for juices, milkshakes, and smoothies. It's dishwasher-safe, too.
BELLA 12 Piece Rocket Blender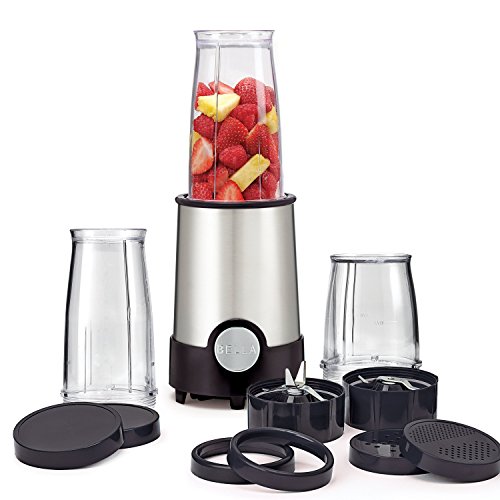 BELLA is a big name in the food equipment world, making sense that there is a travel blender to go alongside its vast range. This particular choice comes with a recipe book to give you a few different ideas, as well as a one-year warranty, just in case. This is a mid-priced range blender, at around $30, and it comes with two tall blending cups, as well as a smaller one, so you can quickly drink on the go or use them to store your produce.
Cross blades mean you can carry out various tasks, such as blending whole fruit, cutting nuts, spices, and seeds, as well as grinding coffee and pureeing soup. Multi-function means you get much more for your money.
Hamilton Beach Personal Blender With Travel Lid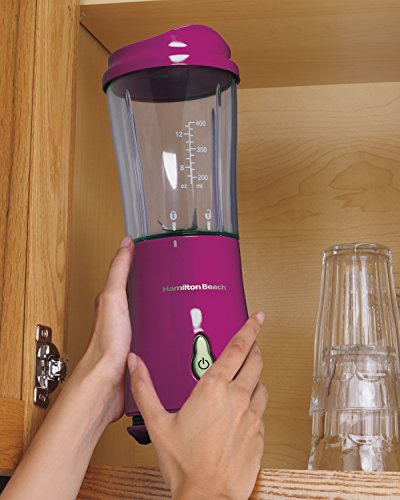 The primary function that makes this particular blender stand out from the rest is that it has a one-touch pulse, making for super-easy blending. Smoothies, milkshakes, baby food and formula, salad, and meat marinades, are all easy to make on the go with this particular product. There is a blending jar included with this product, which you can also use as a travel cup, fitting easily into your car drink holder.
We mentioned previously that you might have to drop your wattage to compensate for size, and this particular product has a 175 watt, which means it might not be ideal for frozen goods, but is sufficient for everything else. However, the bonus is that it is cheap, at just $15, as well as being super small and compact, with a sturdy rest on most flat surfaces.
Oster My Blend 250 Watt Blender With Travel Sport Bottle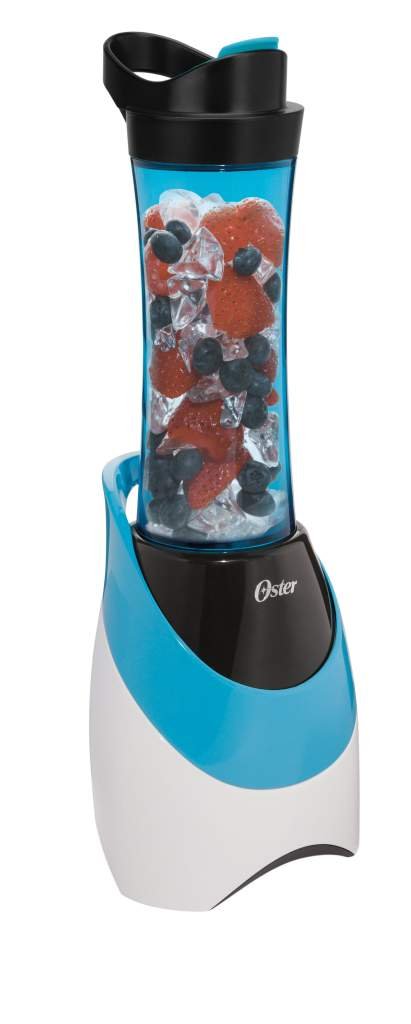 This particular blender is super-funky in that it doubles up as a travel sports bottle and comes in a few different colors to match your luggage! Again, this is a cheap option, but the 250 wattage means it can serve many other purposes, aside from merely blending the odd ingredient. Another plus point is the built-in fuse, which brings the motor back to life in around 15 minutes if it overheats. You also get a free recipe book with the product.
This is a blender and sports bottle in one means you can remove the blade from the bottom of the cup, drink, and go!
MaxiMatic Elite Cuisine 300 Watt, 17-Piece Personal Drink Blender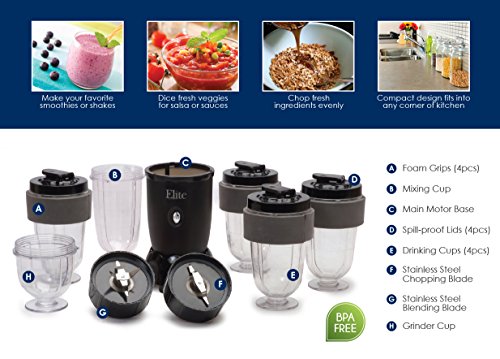 Super-powerful, the MaxiMatic Elite Cuisine has everything you could need, spanning over 17 different pieces, including a reusable, spill-proof cup with foam grips. This particular product can make smoothies, milkshakes, chop nuts, grind coffee beans, grate different types of cheese, and mix up formula drinks, amongst many other suggestions. Easy to wash and clean, the 300-watt motor means you have a massive range of options available to you without running out of power.
This isn't the cheapest on the market, but it is arguably worth it.
Magic Bullet Speed Blender Mixer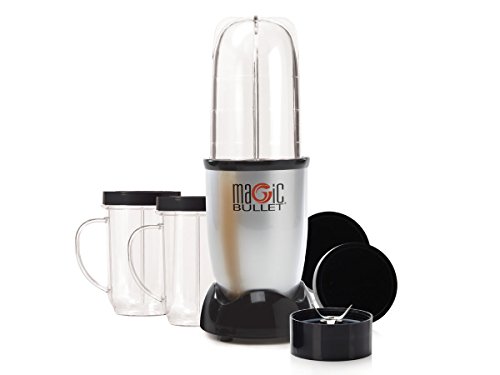 A mid-budget blender that is small and compact is exactly what you get when you purchase the Magic Bullet Speed Blender Mixer. The blender mixes smoothies in around 10 seconds, and again, comes with a range of recipe ideas. If you've ever used the Magic Bullet before, this is the travel, compact version and easily fits into a backpack for travel ease.
Chopping, mixing, whipping, grinding, these are all easily achieved, and the six-piece set includes a comfort mug and re-sealable lid for comfort and versatility on the go.
Conair Cuisinart 350 Watt Portable Blender/Chopper System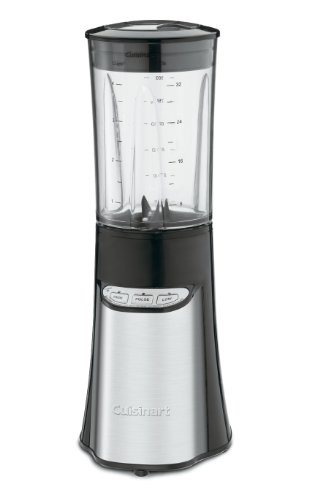 If you're looking for serious quality, then you need to be prepared to spend a little more than you usually would; this particular choice is the most expensive on our list, at around $60, but it has a powerful 350-watt motor to give you some serious food for thought, with an electronic touchpad, and LED indicators. The standby mode saves you time, as well as the auto-stop features. This one is packed with extras.
Take your pick from the high blend, low blend, or pulse, and the sharp steel blend cuts through anything you take your preference from. Easy to clean, and with a cord storage facility, there's not a lot this particular choice doesn't do.
If you feel the need to blend, whip, cut, crush or mix on the go, check out our travel blender suggestions and add this piece of equipment to your travel armory.
AUZKIN Cordless Mini Personal Travel Blender
Without question, one of the best travel blenders out there, this small cordless blender is super-convenient. It doesn't have a cord but instead is pre-charged with a USB adapter makes it perfect for short trips, including travel and work. Its USB charging port also means you can charge it anywhere globally, from airports and hotels to even cars.
Additionally, it weighs only 1 lb, so you can easily throw it in your backpack, purse, or bag for convenient transportation. Its integrated seal design makes it 100% waterproof and prevents leakage. It also fits perfectly in your car's cup holder!
When fully charged, this great blender for travel can blend about ten times. However, note that this depends on which ingredients you use for your smoothies, shakes, or even salad dressings. If you use only soft ingredients like bananas, berries, and leafy vegetables, you'll be able to use it longer on the road.
Sboly Portable Mini Blender For Travel And Office
This tiny portable blender is explicitly designed for away-from-home use. This is a cordless blender, which can be charged via its included USB cable (usable with power bank, outlet adapter, car charger,…), allowing for ultimate portability. You can make shakes, baby food, smoothies, and juices anywhere you are!
It comes with two BPA-free 15-oz blender cups. Thanks to their wide-body design, ingredients won't get stuck while blending, ensuring a smoother consistency of your smoothie or shake. After replacing the blade assembly with the spill-proof sipping lid, you're ready to hit the road.
What To Look For When Buying A Travel Blender
If you don't know what you're looking for, you could find yourself buying the wrong type of kit! You'll find countless travel blenders on the market, but there are particular areas which you need to be au fait with to ensure you get the best for your money.
Overall, travel blenders aren't too expensive, and you will probably find them for around the $30 mark. Unmistakably some are more expensive than others, but you shouldn't have to break the bank to find quality.
On top of the budget, check out the following areas:
Size and weight. To be travel-worthy, a travel blender needs to be compact and lightweight. Most blenders targeted for travel are both of these things, however, do check to ensure you're not picking up a full size one by mistake.
Wattage. Because a travel blender is smaller than a regular one, it will be slightly less powerful. This shouldn't be too much of a problem provided you look for products that are around 250 watts plus; this will give you performance high enough to suit your needs, especially if you're going to be blending anything frozen.
Battery or cord. Most travel blenders on the market are cable operated, i.e., they work from the mains. However, there are a few which run on battery. A battery-operated travel blender isn't going to be as powerful, so do bear this in mind.
Added extras. Some blenders come with a blending jar, which can be used as a mug on the go. This is an excellent extra to have because it saves you from using two different cups or containers and is a portable way to drink your newly blended smoothie, for example. When traveling, a dual-purpose one is always the way forward!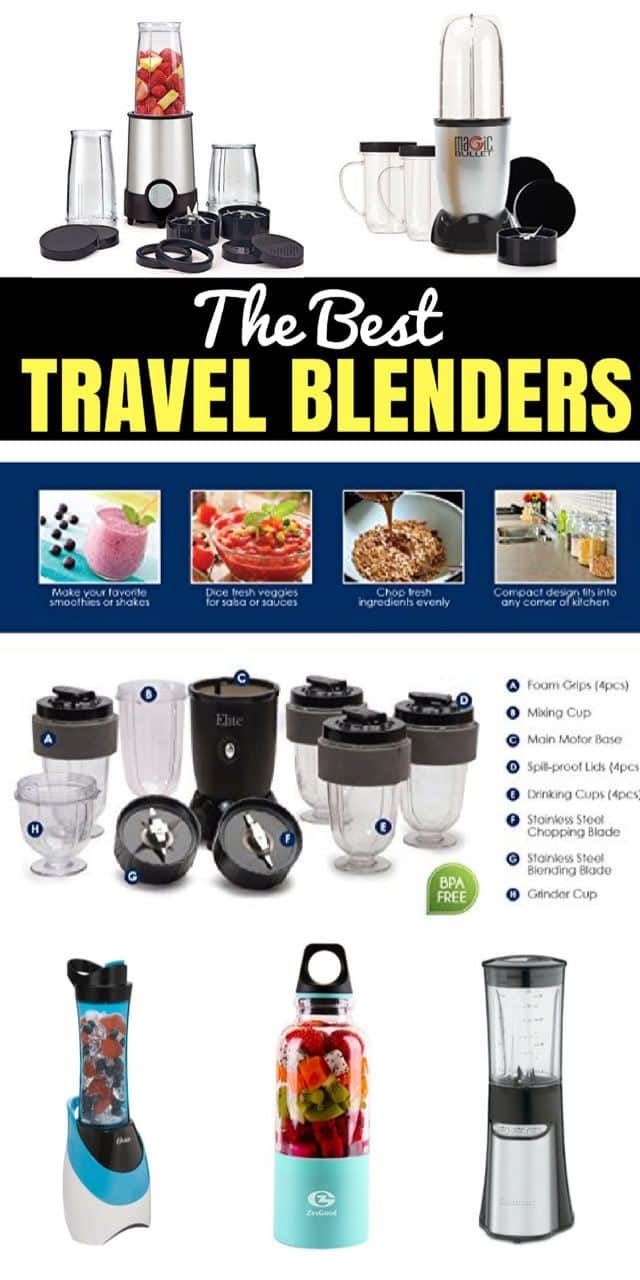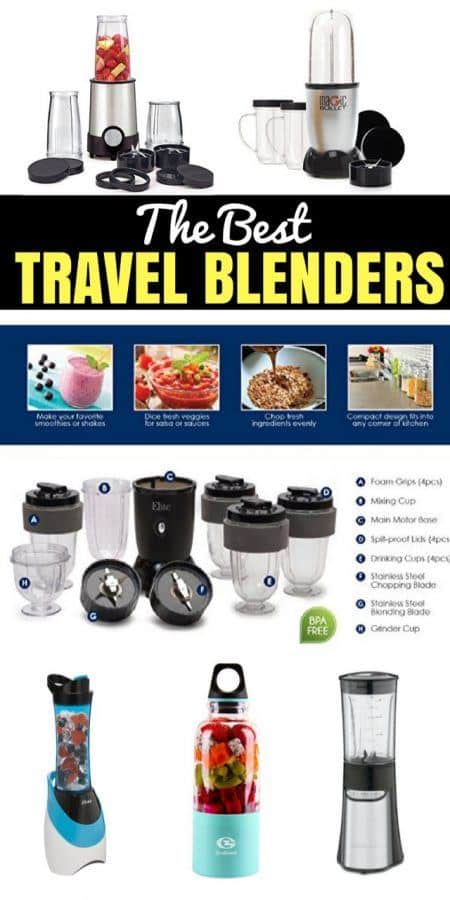 Tips For Travelling With A Blender
Book a room with a fridge. This means you can keep your ingredients fresh, ready to throw into your blender, and create whatever it is you want, such as a delicious milkshake or fresh smoothie.
Put a towel underneath the blender. If you want to reduce noise, which can sometimes occur when you place the blender on a hard surface, put a blanket or towel underneath to absorb some of the sounds.
Put your blender in your checked-in luggage. If you're traveling by plane, you will need to put your blender in your checked-in suitcase, again, because of the blade.
Remember a plug adapter. If you are traveling to an area that requires a different voltage plug, make sure you don't forget to take an adapter, to change the plug type over.
More Packing And Travel Products Tips
`