Best Luggage Scale Reviews & Comparison Chart
If you've traveled lately, you will certainly know about the stress of packing and trying to stick to a luggage allowance. It's stressful! If you go over, then you're risking a huge fee at the airport for excess luggage, but if you're under, you could be regretting the fact you could have packed more!
How can you answer this problem?
Get a Luggage Scale – luggage scales are a good option to solve it all. There are several on the market, and you will need to know which are the best for your particular needs. First things first, however, what are luggage scales exactly?
What is a Luggage Scale?
The clue really is in the title! Luggage scales are designed to weigh your suitcase or your bag, rather than a pair of scales that you stand on. The most common design is a hook type of scale, e.g. you hook your suitcase onto the scales, and you lift, giving you an accurate measurement of how much your case weighs. There are other designs, e.g. ones which you place on the floor and balance your case on top of. However, these are much less common because they don't give you the same amount of accuracy for this important job.
Why Should You Buy a Luggage Scale?
We actually answered this question in our first paragraph. You should purchase a pair of luggage scales to keep you within your luggage allowance, and to stop you packing too much and falling foul of excess baggage charges – leaving you more cash for cocktails. These are also a good idea to take with you on your travels, purchasing a lightweight set, because if you plan on doing any shopping while you're away, your case is going to weigh more when you come back than you did when you left.
These scales are also designed to be long-lasting and durable, so once you buy a good quality set of scales, these should last you for many years, and many trips.
Best Luggage Scale Reviews & Comparison Chart
We took a look at luggage scale options and compared the features & price and made this easy-to-use table to help you review and decide what luggage scale will suit you best. Click on any heading to sort the table accordingly.
What to Look For When Buying a Luggage Scale
Compact
How large are the scales? If you're planning on taking them with you, you need them to be small and possibly even fold up so that you can put them in your case without issues.
Weight Capacity
It's always worth purchasing a set of luggage scales that have a larger weight capacity, because these will serve more purposes over time. For instance, if you have a 15kg weight allowance on your flight, it's no good buying a pair of scales which have a 15kg weight capacity, because how will you know if your case has gone over that amount? More is always better in this case.
Scale Accuracy
Check reviews in terms of how accurate the scales are. If you buy a cheap pair, the chances are that they won't be ultra-accurate, and then you're basically wasting your money, and potentially putting yourself at risk of going over your weight allowance and having to pay excess charges.
Measurement Type
Different countries have different ways of presenting measures, e.g. imperial and metric, so make sure the scales you pick give you the right measurements that you can understand.
Durability
It's important to check reviews to see how durable the scales are; you don't want them breaking the moment you place a heavy bag on them, and you need them to be able to comfortably handle the weight you are asking them to handle.
Ease of Transportation
Do the scales fold up for easy travel? This is an important thing to consider if you want to take them with you, as well as being lightweight themselves too.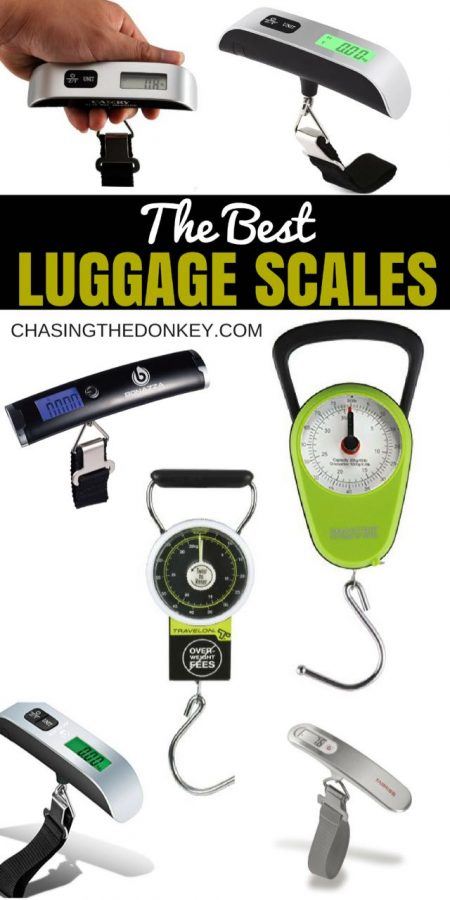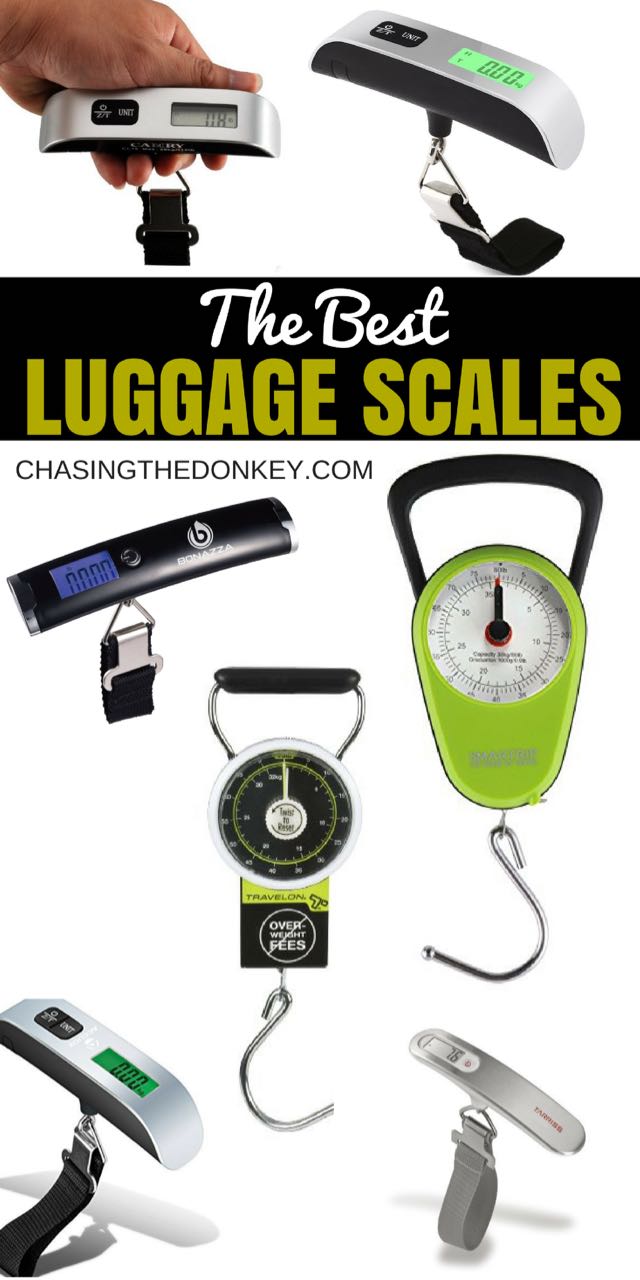 Best Luggage Scale Reviews
Take a look at these luggage scales and our reviews will be sure to help you narrow down the best one for you!
Tarriss Jetsetter Digital Luggage Scale w/110lb Capacity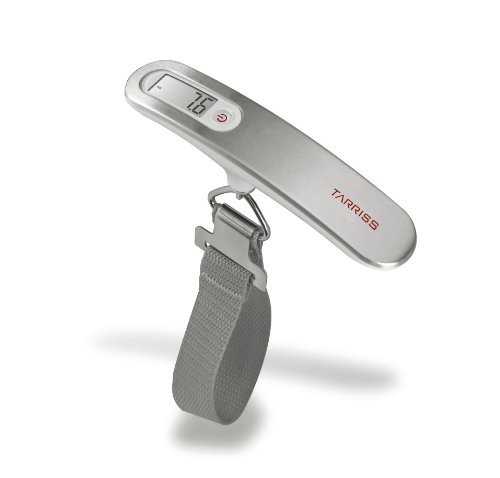 This super-lightweight set of luggage scales comes with a very high capacity, to 50kg, which is more than enough for your average suitcase! The accuracy is high, with a precision rate of 0.2lb/0.1kg, and the LCD display is easy to read and doesn't need a battery, which makes life much easier on the go! The scales come with an auto shut off feature, and auto-lock display too, to ensure that they last the test of time once you have purchased them.
Travelon Stop and Lock Luggage Scale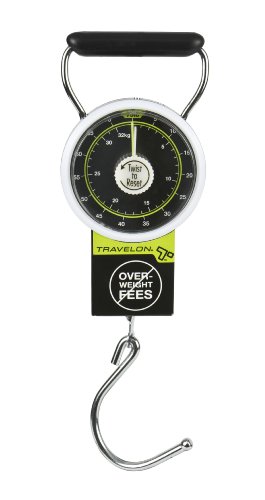 If you are looking for a low cost and basic set of luggage scales, these are ideal, and they also come from a big named brand in the luggage world. Made of robust and durable metal, the scales have a stop and lock mechanism to keep them in place, and they have a high capacity, up to 75lb, with an easy reset function for high accuracy. The dial stops when it has come to a measurement and locks in place, so you can quickly read the result. There is no LCD display on this set of scales, but for the cost, this set of scales is good quality.
Tacklife Luggage Scale with Rubber Paint Technology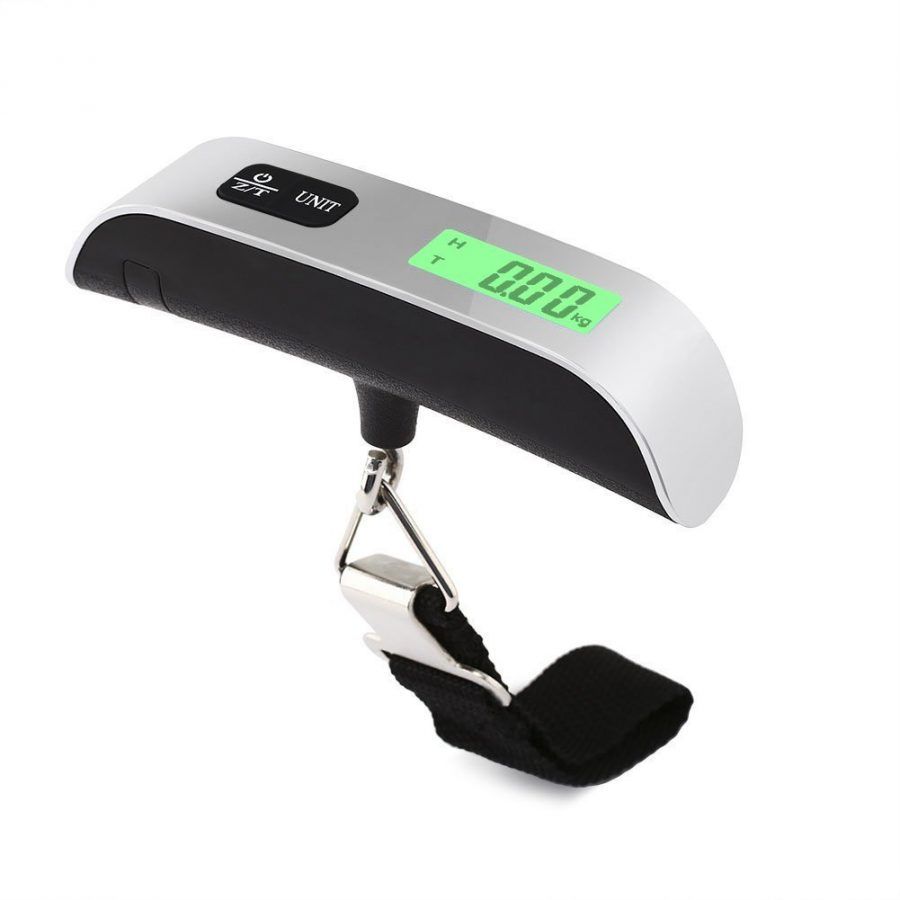 This set of scales is very accurate and very highly rated amongst previous users, and has a capacity of up to 50kg, which is certainly more than enough for the regular user! This set of scales is actually very multi-functional as it can convert lb to kg, and temperatures of C to F also! The battery indicates when it is low or overloaded and the lightweight nature of the scales means that they pack up small and compact and don't affect your overall suitcase weight once packed away.
Digital Luggage Scale Dunheger 110lb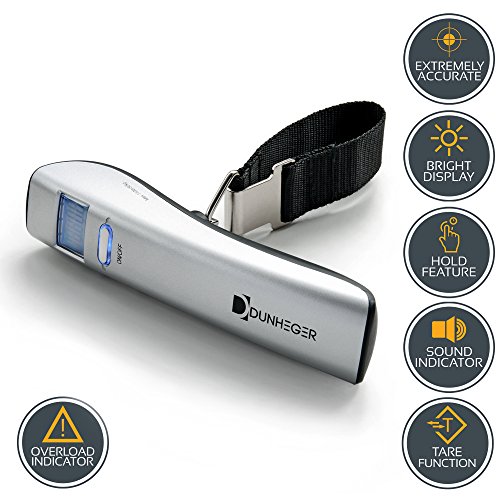 These scales are built to last, and they seriously look the part too! Very accurate, the scales have a capacity up to 50kg, and the bright backlit display means that you won't have any trouble reading the final weight amount. Instead of a hook to attach your luggage to the scales, this particular set comes with a strap and buckle, and is ergonomically designed to fit more comfortably in your hand whilst weighing. The auto shut off features kicks in after 60 seconds, to save your batteries also.
SwissGear Manual Luggage Scale with Built-in Tape Measure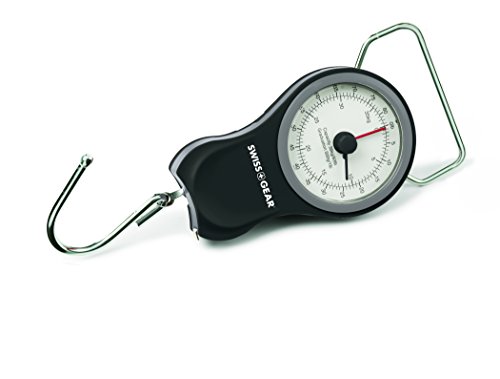 This set of manual luggage scales comes from a very highly rated and well-trusted brand, which gives you confidence in your purchase. Made of plastic, this set of scales is very easy to use, with the traditional hook mechanism, and can handle up to 83lb in weight. There is an added in tape measure to give it dual functionality, and this extends up to 40" also. The dial locks in place once a measurement has been taken, so you can easily read the numbers, without having to do any guess work!
Dr. Meter 110lb Electronic Balance Digital Postal Luggage Hanging Scale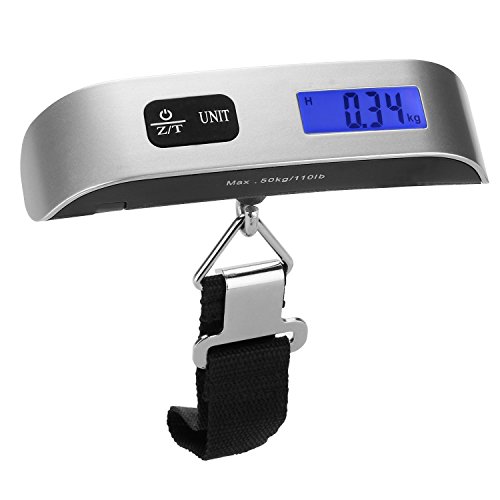 This set of scales comes with a belt which attaches to your luggage, rather than a hook, and that gives you more peace of mind that your luggage is secure and accurate while measuring. Lightweight and with an easy to read backlit LCD display, these scales can handle up to 50kg and are very highly rated. The compact design means they easily fit into your case after weighing, so you can check your case again on the way back!
Accuoz Digital Luggage Scale w/LCD Backlight Portable Best for Travel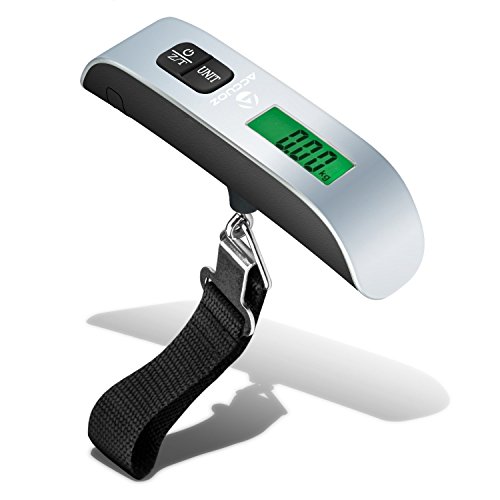 This is one of the most lightweight luggage scales around and a very accurate set at that. Able to handle up to 50kg, the accuracy rate is to 0.02lb/0.01kg, and you can also switch them to measure temperatures too, to give you extra functions. The LCD display indicates when the battery is low, and it has a green backlight to help you read the number easier. There is an auto lock feature, and instead of a hook, there is a belt attachment, to hold your case much more securely while weighing.
Camry Luggage Scale 110lbs Capacity Large and Blue Backlight LCD Display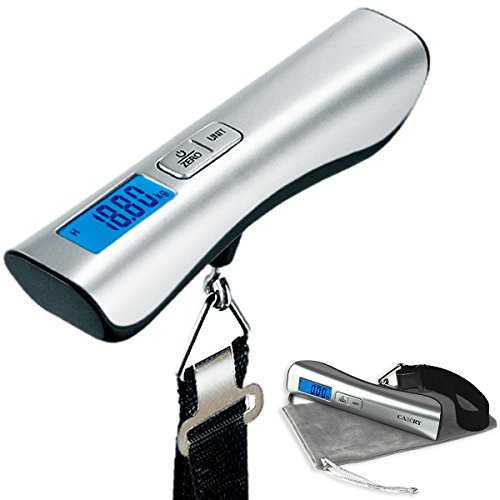 This set of small and compact luggage scales give you a massive 50kg weighing capacity, and the amount graduates up in 1lb/50g amounts, so you get a high accuracy on your final result. The large LCD display is backlight and easy to read, and there is an auto data lock function which beeps when the weight is set and ready to read. This set of scales as a belt attachment, rather than a hook, and is very highly rated amongst previous users.
Smartrip Stop and Lock Manual Luggage Scale Mechanical Hanging Scale with Built-in Measuring Tape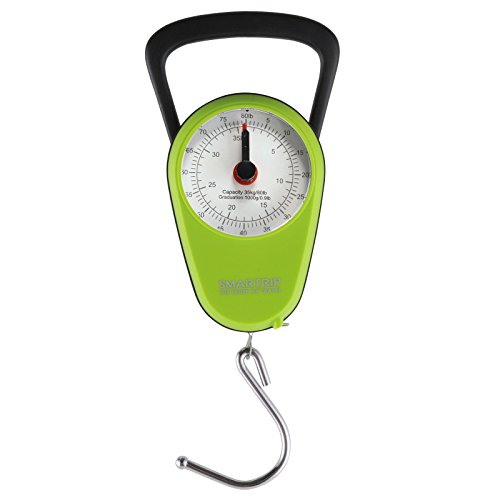 This set of luggage scales is very accurate, even considering it is a mechanical type, as it has a graduation accuracy amount of 1000g/0.9lb. The maximum weight is a massive 80lb, and there is a built-in measuring tape so that you can check the size of your suitcase at the same time. The hook fits into your luggage with ease, and when the dial is ready to be read, it locks in place so you can get an accurate reading. These scales are also very compact and have an easy grab handle for holding, both when carrying and weighing.
Etekcity Digital Hanging Luggage Scale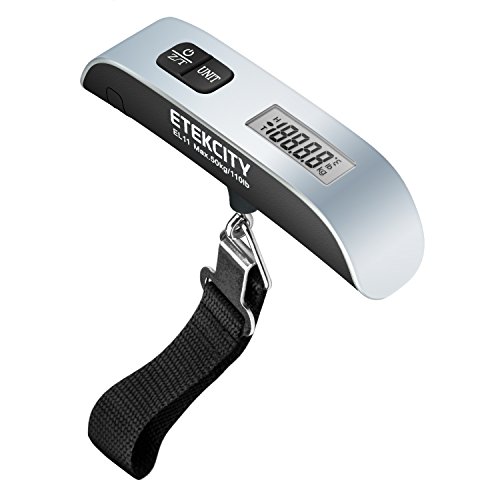 This is a very low-cost set of scales for the high quality, and it comes with an easy to read LCD display, and a high capacity, of up to 50kg. The suitcase/bag attaches to the scales by a belt, and the scales overall are compact and lightweight, so they can easily be packed into your case after weighing, and taken with you. The dual function of this scales means that you can also measure temperatures, and the LCD display will tell you when the battery is starting to run low, so you have plenty of prior warning.
Camry 110lbs Luggage Scale with Temperature Sensor and Tare Function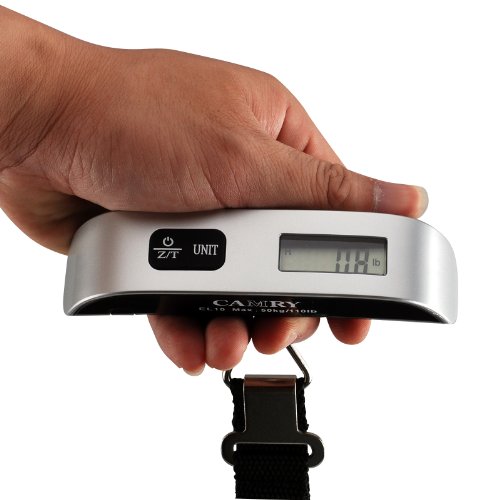 This is one of the most lightweight sets of scales on our list, and it is also dual function, as it not only weighs your luggage but measures temperatures too. There is a large weight capacity, of up to 50kg, and this measured in small increments, to give you a higher accuracy level. The battery indicator will tell you when the power is beginning to diminish, and overall the scales are easy to carry, hold, and store, with a belt attachment for your luggage, rather than the traditional hook.
110lb Electronic Digital Portable Compact Luggage & Suitcase Weighing Scale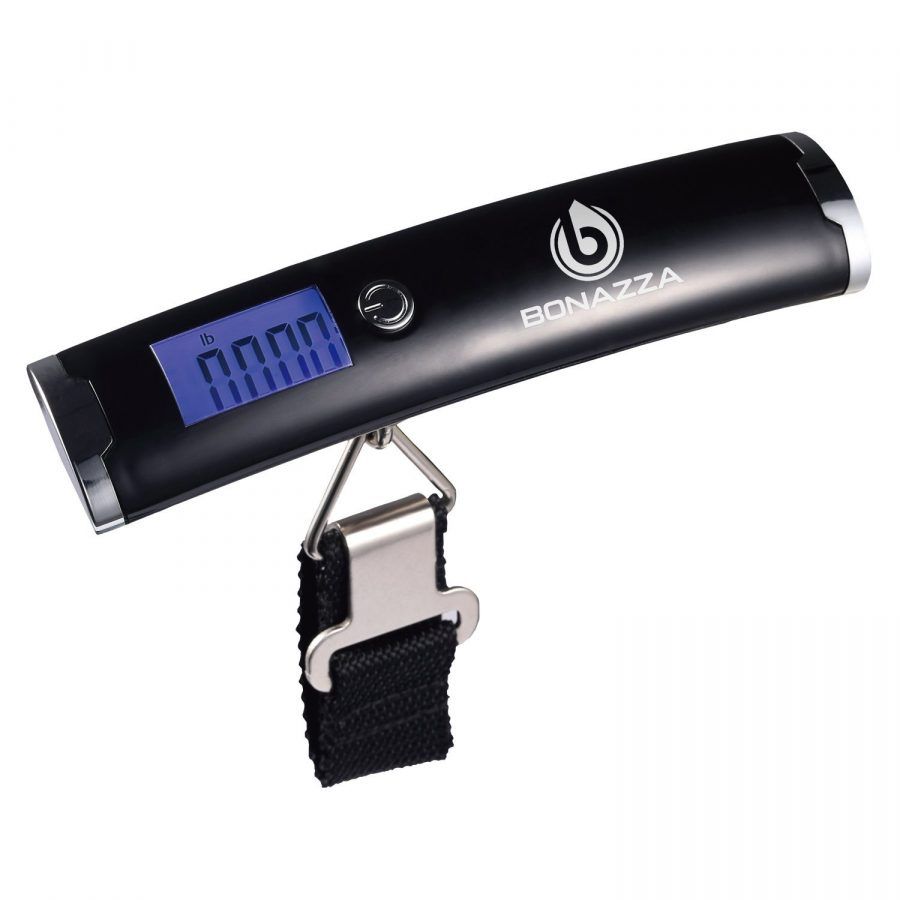 This very highly rated set of luggage scales is ideal for taking with you on your travels. Low price and high quality, the scales are known to be very accurate and come with a strain gauge sensor system, which means that you are getting the correct weight displayed. The maximum weight capacity is a large 50kg, and this shows in graduations of either lb, g, kg, or oz. The LCD display is backlit for ease of use and the overall construction is sturdy and very durable.
We also have lot of packing and travel products tips including
Comfortable Flat Shoes For Travel Reviews
Best Travel Hair Dryer
Best Compression Socks For Flying
Best Family Passport Holder
Best Spinner Luggage
Best Travel Umbrellas To Keep You Dry
Best Toddler Travel Bed Reviews (aka Travel Crib)
Best Baby Carrier For Travel Review
Long Haul Flight Essentials: Carry on Packing List to Travel Lighter
Best Travel Pillow for Long Haul Flights:
The Best Travel Flat Iron Reviews
Travel Cross Body Bag: The Best Cross Body Bags For Travel
Ultimate Guide to Buying The Best Travel Wallet
Ultimate Guide to Buying Packing Cubes
Smart Luggage Tracker Tags
Best Noise Canceling Headphones For Kids
Best Anti Theft Backpack
Best Backpack For Travel