Privacy & disclaimers →

Best Zipperless Luggage Options
We need to be so careful about our luggage. We need to check that we don't go over the airline baggage allowance, but we also need to make sure the case isn't too large in dimensions; we need to be careful what we put inside it. We also need to ensure that it isn't going to get broken while in transit. Another area we need to be careful of is security. I'd say that's the #1 factor while traveling abroad in 2019.
Some unscrupulous people may be too happy to smuggle something inside your case or even try to break in and steal your belongings.
What is the world coming to? To counteract that issue, the zipperless suitcase was invented.
Zipperless Luggage
Zipperless Luggage
Zipperless Luggage
Zipperless Luggage
Zipperless Luggage
What Is A Zipless Bag?
Precisely as the name would suggest, a zipless bag doesn't have a zip to close it. You might then ask how it closes securely, but this is via a lock. Such luggage without a zipper is typically hard-sided, which means that they click down and snap shut, and the lock keeps everything secure.
To confuse matters slightly, some no zipper luggage does have a zip, but they appear hidden, tucked away, so the case looks zipperless.
Best No Zipper Luggage Comparison Chart
We looked at a load of zipperless hard shell luggage, compared their features and price, and made this easy-to-use table to help you review and decide what suitcase without zippers will suit your travel style best. Click on any heading to sort the table accordingly.
Best Zipperless Bag Reviews
Here are the best of the best when it comes to zipperless bags. The reviews are non-biased, and we tried to think about all aspects of buying a bag without zippers. If we missed anything, please let us know.
PLAN AHEAD TO GET THE BEST DEALS
Zipperless Luggage Suitcases
Andiamo Elegante Hardside Aluminum 24″ Zipperless Luggage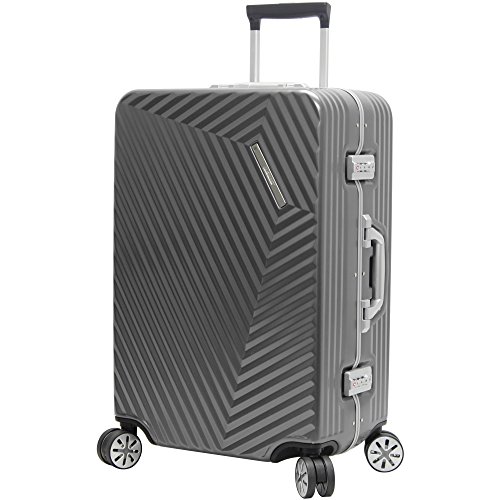 This is another fantastic hardside zipperless luggage bag that'll make traveling more convenient and safer. This carry-on bag's easy 8-wheel spinner system glides smoothly across most surfaces, while integrated TSA locks offer optimal protection. This bag also comes with a 5-year warranty, so you can sleep soundly knowing that your bag and its contents are protected.
This zipperless travel bag's sturdy hard shell is made from 100% polycarbonate and has a stylish metalline finish. Its frame consists of aluminum-magnesium, which makes everything lightweight yet extremely strong.
If you're someone who appreciates a sleek appearance, this bag is perfect for you. There are also two streamlined handles, at the top and on the side, while the dual locking and unlocking handle makes it super-easy to wheel this zipperless luggage around.
.
Lojel Octa Medium Hardside Zipperless Spinner Suitcase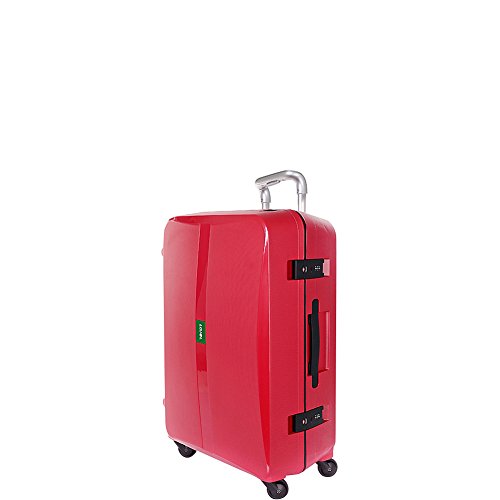 This particular case is medium in size, so perfect for weekends away or short vacations, and it is a traditional zipperless suitcase that fastens with a lock. Available in three shades, including black, purple, and red, the case is made of high-quality, tough Advance Polypropylene, designed to be ultra-strong and absorb any bumps' impact.
The material is also scratch-proof, so your case will be durable and last the test of time after purchasing it. You can also rest easy regarding whether the case will crack because this material is built to stand low temperatures, e.g., when in the plane's hold, and therefore won't break.
The lock is a four-point TSA lock, which is secure, durable, and tamper-proof. The TSA approval also means that it won't be broken beyond repair if airport security staff want to spot-check your case. The case again closes flush, so there are no raised areas or bumps when the case is closed completely, and this keeps your belongings in place and safer.
The wheels are multi-directional (spinner) and offer a smooth, bump-free journey wherever you take your case. There are four wheels to ensure no stress while maneuvering through crowds at the airport!
.
Andiamo Aluminium Frame 28″ Large Hardside Zipperless Luggage With Spinner Wheels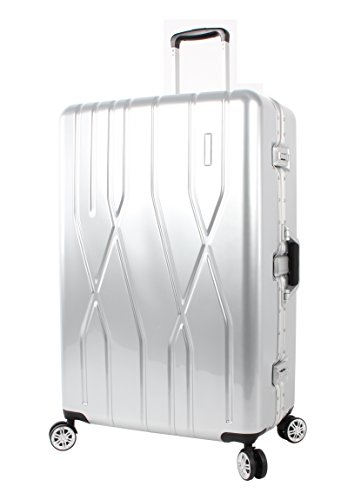 If you are looking for large and reliable hard case luggage without a zipper for your travels, this particular option is an excellent choice, with very high standard reviews. Choose between eight colors, from pink and purple to silver and black.
Additionally, the spinner wheels also mean that you won't have any issues moving the case through any terrain, which is handy when getting to the airport on public transport, for instance.
The price is not as high as some other hard shell luggage with latches of the same standard, making it an excellent choice for those on a budget who still want top quality. The case has integrated TSA-approved locks, so there are no worries about damage to the case if it is spot checked by airport staff, and the aluminum frame means that it will handle impact and strain without breaking or cracking.
There are handles on the top so you can easily lift the case at the check-in desk. As we mentioned, the spinner wheels are top quality, with eight wheels ensuring movement in all directions.
This is a large case, which can hold up to 84L, and despite its sturdy frame, it is relatively lightweight for its type, at just 13.2lb in weight.
.
Pathfinder Recon Luggage Aluminium Frame 28″ Large Non-Zipper Luggage Case

This is a big-name brand in the luggage world, which gives you instant peace of mind in your purchase. Again, the product's price isn't as high as some other cases of a similar size and quality, which is a great bonus for anyone looking for sturdiness on a budget.
The case comes in four standard colors: black, blue, red, and white, and it is made of a polycarbonate shell designed to absorb any impact and not crack under pressure. This adds to a secure and robust luggage case that will stand the test of time.
The wheels are 360-degree spinner variety, which means you don't have any issues with movement and mobility, and there are reinforced handles on the side for lifting the case when needed. The telescopic handle is also molded for comfort when pulling the case.
TSA locks are integrated into the design, so your case will not be damaged if it is spot-checked, and overall the design is beautiful. The case can hold up to 84L of belongings, which is undoubtedly more than enough for any long trip, and again, it is a relatively lightweight choice for its type, at 13.5lb in weight.
.
Lojel Octa Large Spinner Hardside Luggage No Zipper

If you're looking for a sturdy, durable, and attractive suitcase, which can fit more than you will ever need for one trip inside, this is for you.
Available in seven bright color choices, including dark gray, navy blue, yellow, red, black, orange, and purple, this case can hold 100L of belongings and only weighs 11lb when empty, which is less than many cases of its size and type. The case also comes with a 10-year warranty, which gives you peace of mind that your purchase will stand the test of time.
The case is made of an advanced PP polypropylene shell designed to absorb impact and remain scratch-free when on the move or in the airplane hold. The wheels are spinner, which means they give you the ease of mobility and are also designed to be ultra-quiet when you're on the go. This makes it one of the most secure luggage cases available.
The case has a four-point latch closure system and integrated TSA locks for peace of mind if your case is spot-checked. Inside the case, there are also organizational pockets for your belongings too.
Overall, this is a fantastic zipperless suitcase for longer journeys when you need to take more things with you, and one which, although it has a higher price tag, is worth the extra cost for quality.
.
Bluesmart One – Smart Non-Zip Suitcase: GPS, Remote Locking, Battery Charger

This case is almost like a computer on wheels! Although you will pay a little more for this case, it has more than enough extras to make up for that extra cost, and as it is carry on size, you don't have to worry about running out of anything!
The case has two USB charging parts where you can charge up your phone, laptop, tablet, etc., and if you happen to, unfortunately, lose your case, there is a GPS tracking device that lets you find out its location, no matter where you are in the world.
If you're someone who worries about going overweight, this case can be weighed with the help of your smartphone too! The case also has a remote digital lock, which allows you to open your case using your phone.
This is an ingenious suitcase! Made of sturdy, water-resistant polycarbonate, the case is designed to stand up to impact and bangs without scratching or denting, and it meets all major carry on requirements so that you won't have any issues taking it with you in the plane's cabin.
The case is also surprisingly lightweight for its number of extras, at just 8.8lb in weight. The wheels are also spinner so that you can move around easily.
.
Delsey Zipperless Luggage Belfort Plus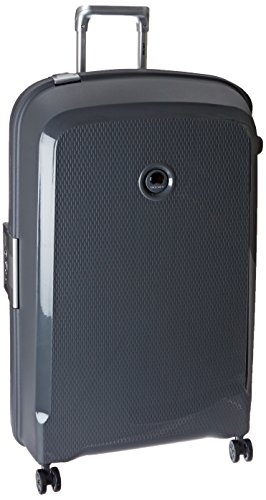 This zipperless suitcase is undoubtedly attractive, and you won't have any problems spotting it when your luggage is loaded off the plane! Made of high standard polypropylene, the case is a traditional zipperless design, e.g., it closes with a lock rather than a zip.
The inside of the case is lined with nylon to protect your belongings, and as the outer is a hard shell, it is highly waterproof. Designed to be lightweight as far as hard shell cases go, this zipperless case is also flexible, absorbing any impact that may occur while moving around from A to B or while in the aircraft hold.
The lock is a clasp-lock mechanism, and the case closes flush when fastened to keep everything flat, secure, and in place. It has two wheels at the front, while the back section is molded where the feet fit to protect the bag when placed on its side and keep it clean. Double-spinner wheels allow for a smooth journey without bumps. The bag opens like a book, with clips to keep clothing in place, which helps you organize your items much easier. Telescopic for ease of use, the top handle locks at two positions.
The lock is a TSA-approved combination lock, and the case overall has a 10-year limited warranty worldwide, so you have peace of mind in your purchase in the event of any issues which may arise.
.
Samsonite Zipperless Suitcase Flite GT 31

This is an ideal carry on case, available in four brightly colored designs, to minimize the chances of losing your case at any point during your journey!
Samsonite is a huge name in the luggage world, so you're getting instant peace of mind that you're buying a top-quality product, and even though the price is potentially a little higher than some other cases of a similar type, this case does come with very positive reviews time and time again.
You can opt for different sizes in this particular Samsonite suitcase without a zipper. Still, the carry on version is undoubtedly high quality for travel. Made of polycarbonate, the case absorbs any impact without damaging your belongings inside the case, and the nylon lining keeps everything in place and organized.
The case closes with side latches and a TSA lock to give you extra peace of mind that nobody will tamper with your belongings, and the hard shell material also means that no one can puncture your case that way. The four spinner wheels make travel easy for a smooth journey, and the handle is telescopic and lockable for your comfort and security.
Overall, this is a very high-quality zipperless bag for weekends away or carry on luggage.
.
Lojel Groove (Hidden Zipper) Secure Travel Luggage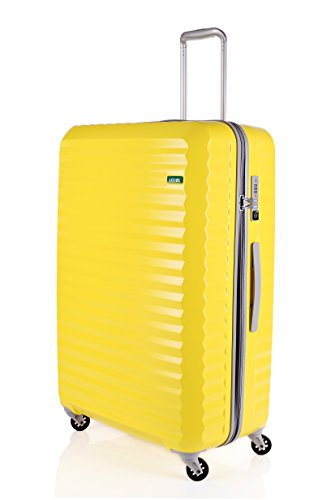 This bright, colorful case will be straightforward to spot on the luggage carousel! Available in bright green, coral, and yellow, this case is made of 100% Virgin Pure Makrolon Polycarbonate and Polycarbonate Shell.
This means that this is a very secure suitcase. Nobody will be able to puncture the case to access your belongings, and it will also absorb any shock or impact the case undergoes at the airport.
Inside the case, you will find a large interior compartment and organizer pockets to keep everything in place. The casters are quiet, multi-directional, and smooth to ensure a comfortable ride from A to B. This case does have a zip, which is hidden away, and it is proven to be a tamper-proof and double coil for security.
The weight of the case when empty is 4.2kg, and the capacity is 95L, which is certainly large enough for an extended trip. The TSA lock system also means you don't have to worry about broken locks beyond repair. These locks can be opened without breakage by airport security staff only and aren't be tampered with by anyone else.
.
Samsonite Cruisair DLX Hardside Zipperless Spinner 26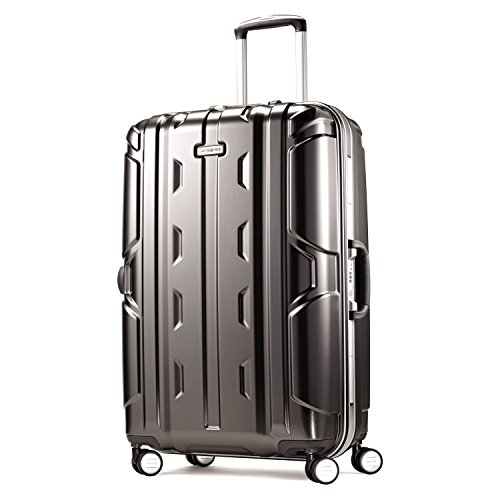 This Samsonite Cruisair DLX review will tell you why this is one of the best zipperless suitcases on the market. This top-quality spinner case is available in four muted colors.
The outer is shaped to look tough, and this is ideal for business journeys or when you want to know that your belongings are ultra-safe in an ultra-tough case.
Made of 100% Polycarbonate, the case has a nylon lining and is aluminum-framed to give you extra strength. The lining has zippered compartments and cross straps to stop your garments and belongings from moving while in transit, also helping you to stay organized. There are four multi-directional wheels and a spinner, and they are designed to roll over any terrain without snagging or bumping simply.
The Samsonite hard case luggage with no zipper is traditionally zipperless, with a TSA-approved lock to keep your items secure. Because the lock is TSA-approved, the airport security staff can quickly spot-check your case if need be without causing any damage to the case or the lock itself.
For those who travel regularly, it is worth paying a little more for luggage and perhaps investing in a big named brand like this one. This case may cost slightly more than some others, but the security elements of it are very high quality.
.
Delsey Lightweight Carry-on 4 Wheel Spinner Hard Shell Luggage No Zipper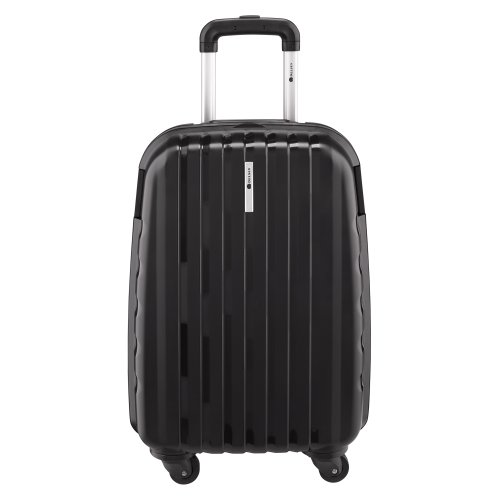 This is another stylish carry-on case ideal for weekends away or air travel. Available only in black, Delsey is a big named brand in the luggage world, so again, you're getting instant peace of mind that your purchase is a good one, and reviews on this case are always positive.
The case of this secure carry on luggage is made of high-standard polypropylene, and it has a fabric lining to keep items safe and secure. There are four spinner wheels to give you a smooth journey across the airport or wherever you go while keeping the case stable and upright.
The lock is TSA-approved, so again, you can rest safe in the knowledge that the case isn't going to be ruined by lock breakage or damage to the outer shell. The material is also designed to absorb any impact, so if you bump into something or you drop the case for some reason, you don't have to worry about your belongings inside being damaged.
The interior has cross-straps on both sides, opening up like a book, which helps you keep everything organized, and if you're taking a laptop or tablet, you can be sure that it isn't going to move around inside and get damaged.
.
MOIERG Vintage Trolley Suitcase Carry-on Luggage TSA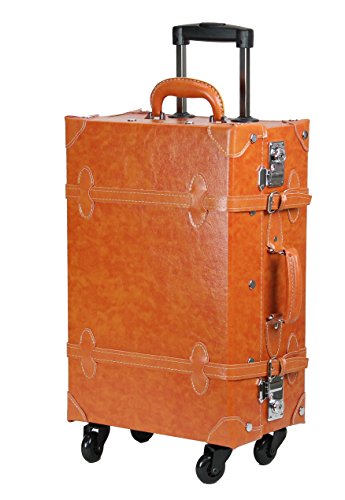 This is a seriously funky-looking suitcase, which is genuinely vintage in appearance and design; if you want to stand out from the crowd, this is the one for you. Choose between black and tan, and the case is made of PU material, making it stand out from other cases in a similar v. Despite its appearance, this case is very secure, safe, and zipperless.e
Although the material isn't the regular hard side type, the case is reinforced and unyielding, so you can rest assured that everything will be in place.
There are four multi-directional spinner wheels on the case, adding a touch of the modern to the case itself, and the lock is TSA-approved, so you don't have to worry about breakages if your case is spot-checked by the airport staff. There are two pockets inside the case to organize your belongings, and the material is designed to be lightweight and waterproof.
This particular piece of luggage also comes in small, medium, and large, so you can choose a size that suits your travel needs. The sizeable telescopic handle locks into place, so you can easily transport the case from A to B, with the smooth wheels aiding your journey.
.
EDDAS ETHOS PVC Vintage & Retro Style Carry-on Luggage And Cosmetic Tote Bag Set With 3 Dial Lock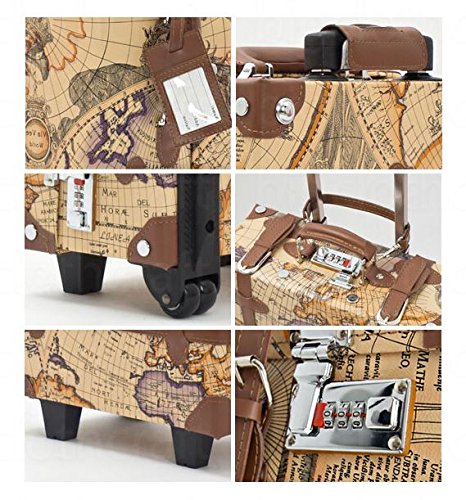 This brightly colored, vintage appearance case set is a fantastic investment if you truly want to stand out from the crowd, and the design is what really sets it apart. Despite the vintage look, the case is modern in many other ways, including the locks and the wheels.
The set comprises a 22″ or 20″ case and an accompanying cosmetic bag, which is 12″ in size. Both cases are made of synthetic leather and have a reinforced frame to give you a sturdy set to travel with. The wheels on the primary cases are four wheels in design and spinner so that you can get from A to B with much more ease and comfort than a two-wheel type of case.
The case closes with a three-dial lock and two buckles, which fasten over the case – these, however, are purely for design rather than safety. The lock is TSA-approved, which means it will not be ruined if your case is spot-checked.
There is also a vintage-look grab handle at the top and the side so that you can lift the case with much more ease and comfort. A luggage tag is also attached to the case for extra style and security.
.
Ambassador Polycarbonate Hardside Luggage Without Zipper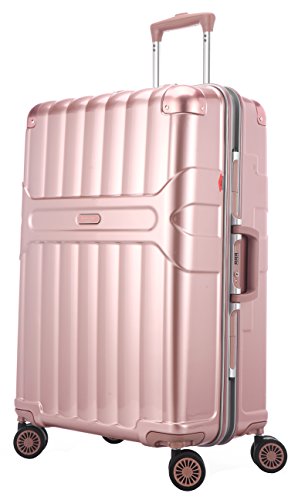 This case looks seriously modern and edgy, and the brightly colored orange outer means that you won't struggle to see it coming around the luggage carousel on arrival.
Made of 100% pure Bayer polycarbonate, the outer is designed to absorb any shock which the case is subjected to during the traveling process while keeping your belongings safe and damage-free inside. The case fastens with a TSA-approved combination lock and closes flush, so everything is kept flat and secure.
Additionally, made of aluminum and magnesium alloy, the frame won't dent or scratch.
The wheels are a double spinner, which means you can move around quickly, and the telescopic handle is lockable and molded for comfort when pulling the case. There are also grab handles on the sides, and at the top, so you can lift the case up or down without any problems. The case inside has organizer pockets and a mesh zipper pocket to hold all your garments in place without creasing.
Despite the hefty construction of the case, it is surprisingly lightweight, at just 12lb, which means you can pack a little more into your luggage allowance without worrying about excess luggage charges at the airport.
.
Samsonite S'Cure Hardside Luggage With Double Spinner Wheels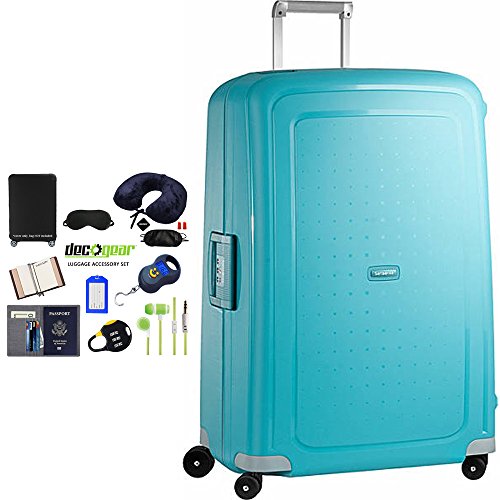 This sturdy zipperless suitcase with dual spinner wheels features scratch-resistant materials and a strong structure. Made of 100% polypropylene, this carry-on luggage bag will look like new even after you've gone on 100 trips. It's also an objectively well-designed piece of equipment with a contemporary and visually appealing look.
A side-mounted TSA lock protects all your stuff and ensures its safe arrival at your destination. You don't need any keys to lock it either, which is good if you're prone to losing something on the road! In terms of safety, you won't have to worry a second about your belongings, thanks to the 3-point lock system.
On the inside, you'll find straps to keep your clothes in place. Additionally, the integrated, multi-stage pull handle is made from aluminum, reducing the bag's weight while keeping the handle strong and secure. An interior zipper allows you to create different packing compartments.
Thanks to its beautiful design, lightness, and sturdiness, this Samsonite zipperless travel bag is highly recommended.
.
Pros And Cons Of Non-Zippered Bags
To help you make an informed decision, let's check out the pros and cons of non-zippered (zipperless) bags.
Reasons Why Zipperless Luggage Is So Good
You can be sure that nobody is getting inside your bag other than you
Zipperless bags have a hard shell outer, and this means they absorb the impact of being thrown around in the airport, and this protects your belongings inside the case
You aren't going to suffer zipper malfunctions because there are no zips!
Most zipperless cases have handles and often have multi-directional wheels, making them easy to pull around and maneuver.
Downsides Of Owning And Buying Zipperless Luggage
Zipperless bags tend to be more expensive than regular bags
This type of bag may also not be as widely available
Some people don't like hardshell cases, as a cheaper version of this kind of case can easily split or break
You can't fit as much inside a hardshell case, which means you have to be more packing savvy
Hardshell cases are often heavier
What To Look For When Buying Zipperless Bags
Handle
Does the bag have a telescopic handle to enable you to pull the case around easily? Does this handle lock into position? Are there side handles to help you lift the case onto the conveyor at the airport or into the overhead locker on the plane?
Material
What material is the case made of? We mentioned that zipperless bags are made of hard material to enable the lock to work, but what type of material is this? Check for durability here, as cheaper hardshell cases have a habit of splitting or breaking.
Safety
What sort of lock does the case have? Does the patient have other safety features? Is there a backup function in case you forget the code? These are all things you need to consider. If the case has a hidden zip, how hidden away is it? The whole point of choosing a zipperless case over a regular one is the safety side of things, so this needs to be high on your list.
Access
How do you access the case? Is the lock a spring open mechanism, or is there another way to get into the case? This overlaps with the security function, but what backup is there if you forget the code or if the lock malfunctions? If the bag has a hidden zip, is it a dual coil? How easy is it to access?

More Packing And Travel Products Tips