Best Spinner Luggage For
When you're heading off on a travel adventure, whether it's a long-haul jaunt or something a little closer to home, you will want the most comfortable luggage to take with you, to minimize all the stress that travel can bring.
You can choose to travel with only a carry-on or book a case into the hold. Whichever option you gchoose there are a few luggage subcategories to bear in mind: how many wheels do you want your case to have?
Here we have the top-rated spinner luggage options on the market. If you've never heard of spinner luggage or wondered what it is, let's enlighten you a little. Let's start by answering a few critical questions, shall we?
What Is Spinner Luggage?
Spinner luggage is a suitcase on four wheels rather than two. These wheels move in all directions, whereas two-wheeled cases must be tipped up onto the wheels and pulled to move at all. A spinner case moves only by gently nudging it without needing to be 'tipped up.'
Best Spinner Luggage Comparison Chart
We looked at all of the best four-wheel spinner luggage reviews, compared the features and price, and made this easy-to-use table to help you review and decide the best spinner luggage to buy for your type of travel.
Click on any heading to sort the table accordingly.
TRAVEL COMPANIES WE USE AND TRUST
Here Are Our Picks For The Best Spinner Bags On The Market
If the spinner luggage comparison chart was not enough info for you, we have detailed spinner suitcase reviews for you below.
American Tourister Aero Racer Spinner
This is the one I personally own, in cute-ass rose gold. I'd definitely say this is one of the best rolling checked luggage options on the market right now.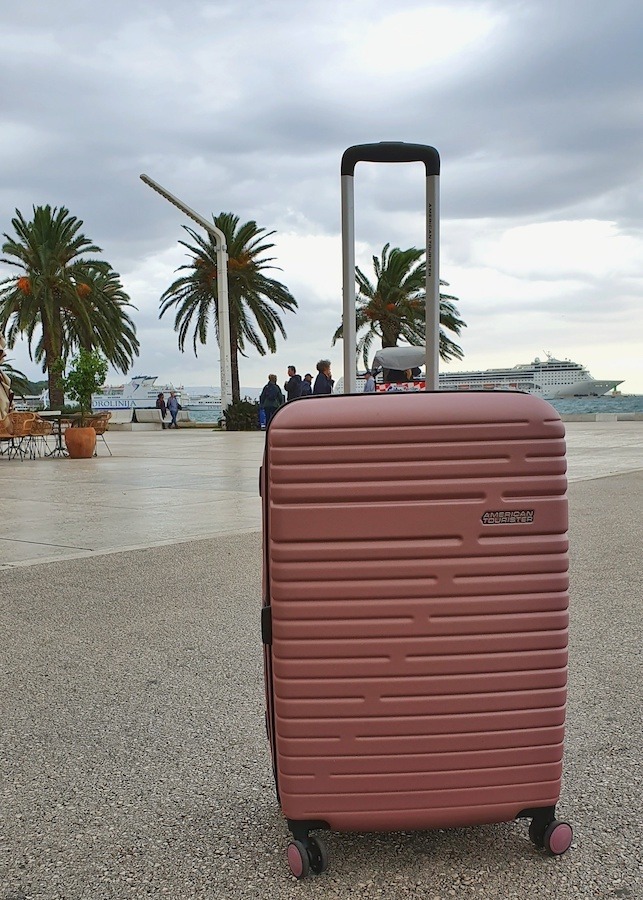 If you're looking for a bright and colorful spinner case with high quality and seriously looks the part, this is the ideal option for you. With four spinner wheels and a molded, telescopic handle, this case is comfortable to pull around with you too. The side section has an expandable handle, so you can easily lift the case manually also. I promise I have arthritis, and it's so easy to push or pull, even filled with 25kg of crap inside.
The double zipper is reliable and durable, and the outer polycarbonate means no breakage or cracks in the hold. The case also has a 75.5-liter capacity, so there is plenty of space for whatever you need to take with you for a trip away for a few days or even weeks.
Tourister – Soundbox Spinner Expandable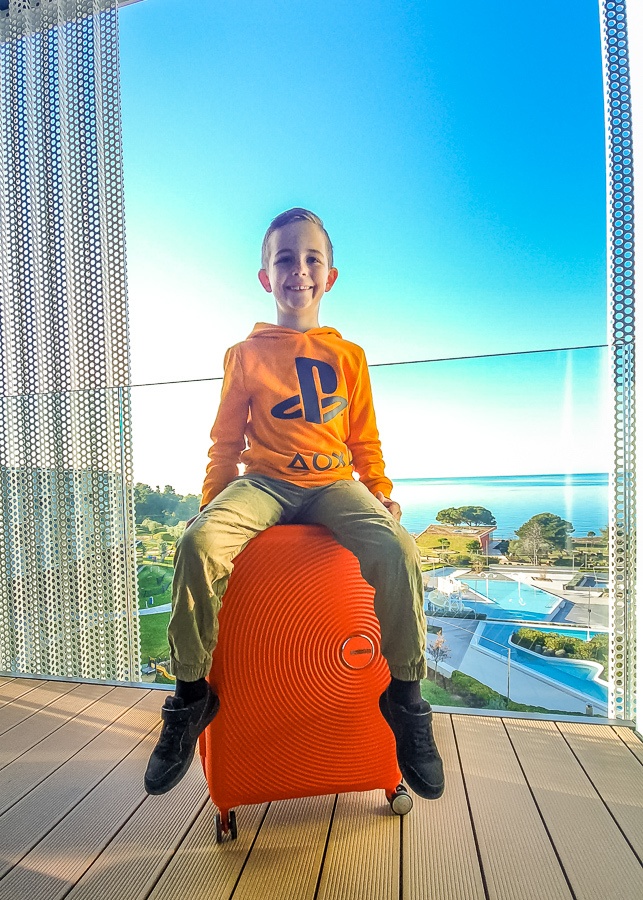 This case is the one that my two children own (one orange and the other emerald), and it's so much like the one I own above, though it has an extra pocketed zipper inside.
You know you're getting quality when you purchase any American Tourister product. Still, this particular expandable spinner is the perfect choice for anyone who wants to look the part and travel in the most effective possible way.
Available in a vast range of different colors and designs, you'll have no problems spotting your case on the luggage carousel! At 67cm, the case is classified as medium and can accommodate 81 liters of belongings – that's more than enough for a reasonable length of time!
This case is the ideal choice for families, as kids will love the huge range of colors available, and it's the perfect size for all their bits and bobs while on the go.
The case has a three-digit TSA lock as standard, and it's super-lightweight and made of polypropylene for extra durability over time. There are four spinner wheels so that you can move however you want to without picking the case up and re-adjust.
Super-stylish and ideal for families, children, and adults alike.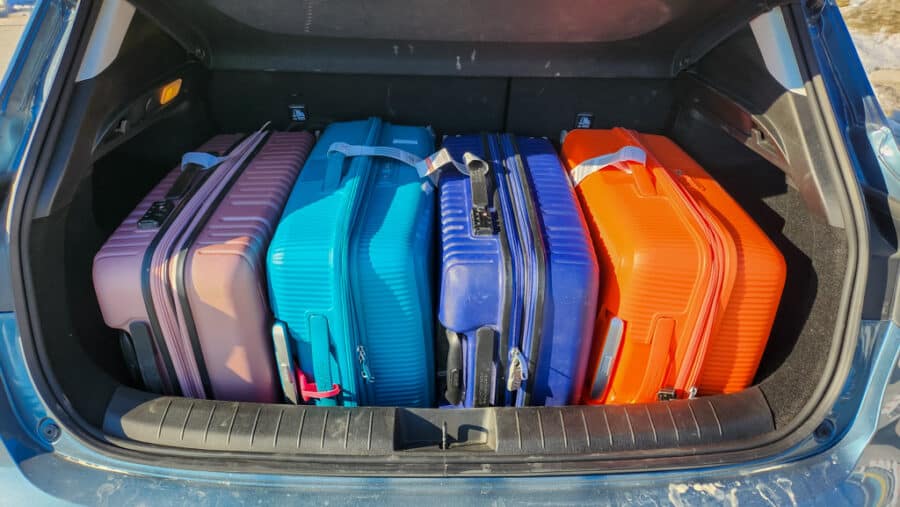 American Tourister Moonlight Hardside Expandable Luggage With Spinner Wheels
You know you're getting quality with American Tourister, and this version is no different. Available in various colors and patterns, this spinner case has four wheels and is lightweight for use. It has a ten-year limited warranty and plenty of space to arrange your belongings. There is also the option to expand the case by 1.5 inches, so you can head off shopping and still fit your new items inside!
American Tourister Pop Max 3 Piece Softside Luggage Set
This three-piece soft luggage set is high quality and seriously looks the part too. With four spinner wheels on each piece, the set comprises a large, medium, and small case in a vibrant teal color – it won't be hard to see this set rolling around the luggage carousel!
The cases all have padded carry handles on the top and side and the telescopic handle. The inside sections are large and spacious, with a mesh section for accessories.
Briggs & Riley Torq Hardside Carry on Luggage With Spinner Wheels
This 22-inch carry-on luggage with four spinner wheels is a fashionable choice, and it comes in three different color options. The case is hard and has a hinged for, which means you can get into the case while you're on the go without having to stop and open the whole thing. There is also a USB port on the outside for charging your electricals.
This is a strong case made of polycarbonate, making it strong yet lightweight at the same time. This is ideal for all your items; this is a quality case for carry-on luggage.
Rimowa Spinner Bag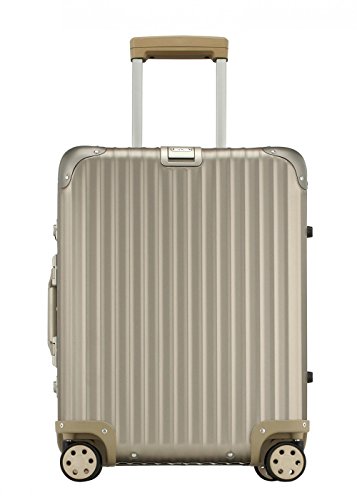 This is a genuinely fashionable choice. It is, however, often out of stock, so grab it while it is available! Available in a beautiful color, this case is ideal for carry-on baggage and has a mesh zip pocket inside the main compartment to keep any essential items or documents flat when you are moving around. This is also a lightweight case, and the lockable telescopic handle means there are no transportation issues.
Samsonite Neopulse Spinner
Samsonite is a big brand, so you know you're getting high quality from your purchase. This might not be the cheapest spinner luggage you'll find, but it's undoubtedly one of the best in terms of durability and style. You can also choose between several different colors too.
There are several different size options, but the medium has a 74-liter capacity. This heavy-duty rolling luggage bag is usually enough for most travelers trying not to take too much with them on their trip. The outer is made of polycarbonate, and that means it's a very durable and long-lasting luggage case, which isn't going to crack or break while moving from A to B.
American Tourister Jetglam Spinner
This is a stylish and durable spinner case with the iconic four spinner wheels that allow you to move around with ease, wherever you're traveling to or from. You can choose between six different color options, and the medium case will enable you to take 77.5 liters of belongings with you.
The case is made of strong polycarbonate, which means less chance of cracks or breakages while traveling. The top handle is telescopic and has molded handles for ease of movement.
Samsonite Black Label Firelite Spinner Bag 55/20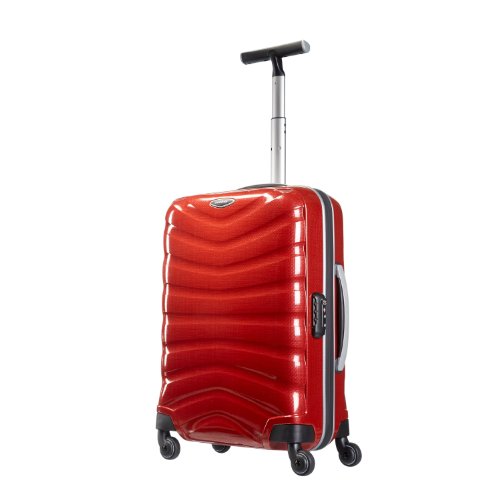 If you want extreme quality and you're happy to pay for it, this Samsonite hard case spinner is for you. You can expect to pay big for it, but it is a super-effective carry-on luggage case made of curved polycarbonate, which means it is lightweight yet keeps your case safe from impact.
The case closes with a durable zipper and has two mesh pockets inside for keeping everything organized and in place. This is without question one of the best lightweight suitcase spinner wheels.
Rimowa Classic Flight 20″ Carry-On Luggage Cabin Multiwheel IATA 33L Suitcase Silver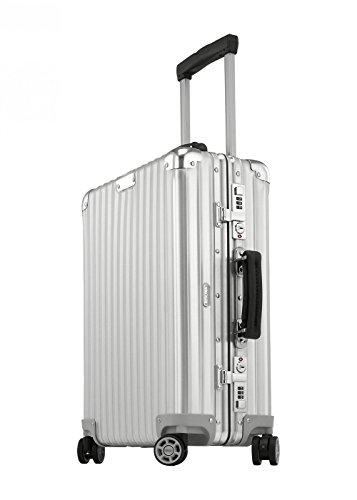 This large and attractive spinner case is ideal for your carry-on luggage and is certainly a strong choice, made of silver aluminum. The case features two TSA approved combination locks, which means that if your case needs to be spot-checked by airline staff, the lock can be opened without damage or force, and it, therefore, won't need to be replaced.
The case also has leather hands on the top, and at the sides, so you can lift it into the overhead compartment with ease, as well as a telescopic handle that extends upwards for your comfort when pulling the case.
Inside the case, you will find a Flex-Divider system and straps for packing, which keeps your clothes where they are intended to stay. The four multi-directional spinner wheels round up the quality of this top-rated hard side spinner luggage bag. Absolutely one of those strong suitcases to look for!
Samsonite Hyperspace Spinner Boarding Bag Hyper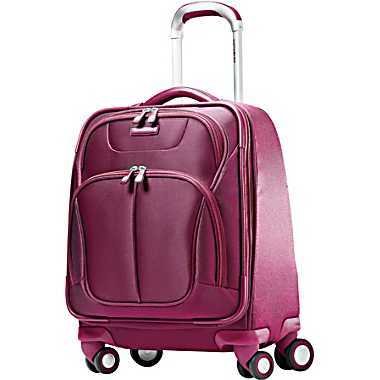 The bright, eye-catching color of this bag is certainly attractive, and we also know that Samsonite is a huge brand, which gives you purchasing confidence. The bag is ideal for use as carry-on luggage, and it has three different compartments – the large main compartment, a shock-absorbing padded laptop compartment (fitting a laptop up to 15.4″). It also has a smaller front compartment for small items.
The spinner wheels are larger at the back than at the front, which gives you more control when moving the case around, while the poly-nylon blend fabric helps keep the case cleaner for longer. The handle of this Samsonite soft-sided luggage with wheels that rotate is ergonomically designed to eliminate strains when pulling. There is a molded comfort grip on the handle as well.
If you're looking for the best soft-sided rolling luggage, this would be a great choice.
RIMOWA Topas Titanium 21″ Carry-On Luggage Cabin Multi-Wheel IATA Spinner Suitcase Light Bronze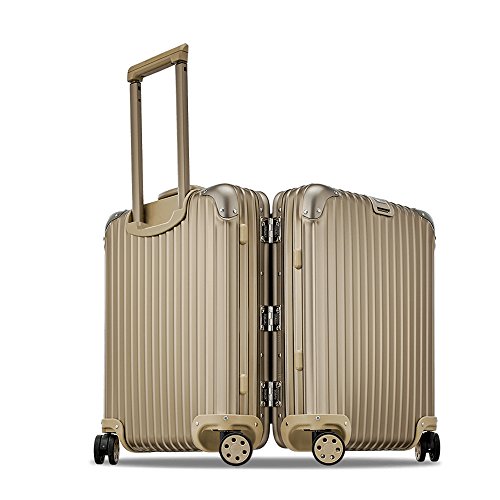 This is certainly not the cheapest carry-on spinner luggage around, but it is among the best hard side spinner luggage on the market, which gives you quality for your cash. The case of this heavy-duty suitcase is made of the highest quality aluminum-magnesium alloy with grooves on the outside to set it apart.
The bronze color looks almost gold, and this extends to the telescopic handle with molded grip also. The wheels are quiet and smooth, and there are four multi-directional wheels on the case. Inside you will find organizer sections and straps to keep your belongings in place. Overall, this is one of the best luggage spinner sets you'll find, which will serve you for countless trips over the years.
American Tourister Elite Max Softside Spinner Carry-On Luggage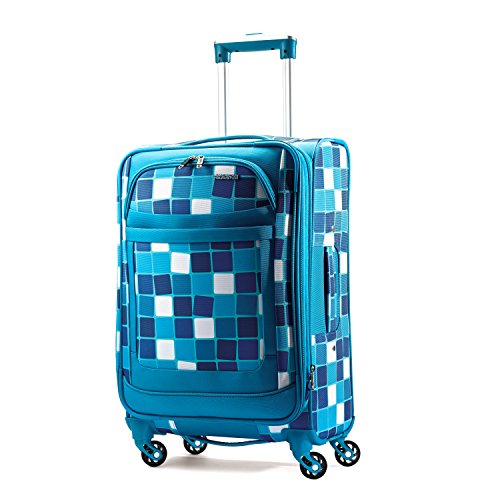 This is another big-name brand, although slightly less in cost compared to our last option. This American Tourister spinner luggage cabin size case is available in five attractive colors, so you can easily keep tags on your luggage while you're on the go. This is made of polyester, a soft-sided case with four multi-directional wheels, allowing you to roll the case upright without having extra weight on your arms in the dragging position.
The telescopic handle has a push-button locking handle, and two handles are integrated into the case top, so you can grab and lift when needed. There are various pockets included, keeping everything organized, as well as a larger central compartment. If you're looking for the best soft suitcase with four wheels, this is a great one.
Traveler's Choice Tasmania Polycarbonate Three-Piece Spinner Luggage Set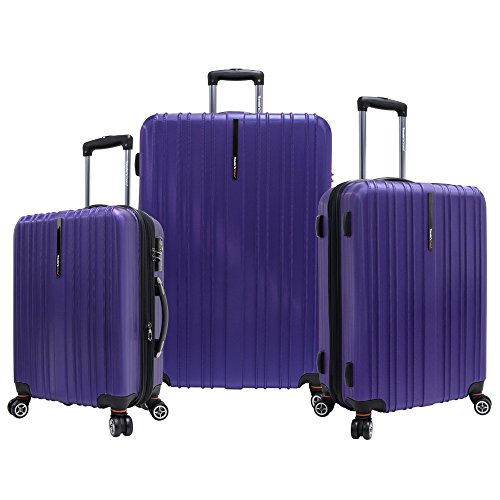 This is a three-piece luggage set, which is why the price is much higher than the other choices on our list of the best carry on spinner luggage. Choose between seven different color choices, all muted, to allow you to easily spot your case on the carousel when it comes around.
These are hard cases, each fitted with multi-directional spinner wheels. The polycarbonate material is designed to flex when it hits an impact, to absorb stress, rather than allowing it to cause any damage to the case. This hard side spinner carry-on luggage set consists of a carry-on case, a large suitcase, and a medium one. If you are traveling as a family, this is the ideal set to go for.
Lucas Hy-Lite 3 Piece Lightweight Luggage Spinner Set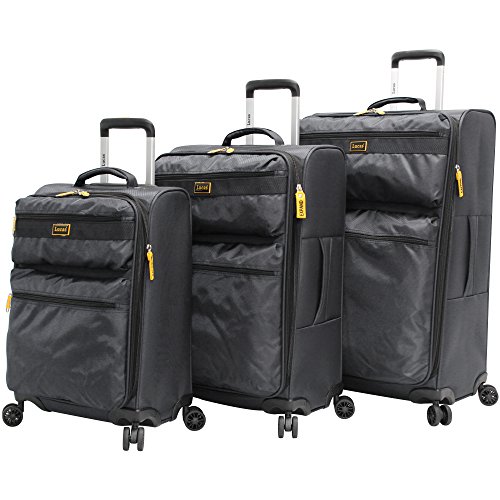 This three-piece lightweight spinner carry on luggage set is ideal for traveling families, equipped with a carry-on-size case, a medium case, and a large one. Available in just one color, gray, you may need to add something bright to differentiate your case on the carousel, but this is a lightweight choice, so you can get more inside to fit into your luggage allowance.
There is also a five-year warranty on the cases, and there is an expandable section, which gives you an extra 2″. The interior is fully lined, and there are interior pockets within the large compartments to keep everything organized.
So, in case you're trying to find the best large spinner luggage, the fact this includes two smaller bags, too, makes it a value-for-money option that's hard to ignore.
Biaggi Contempo Foldable 28″ Spinner Luggage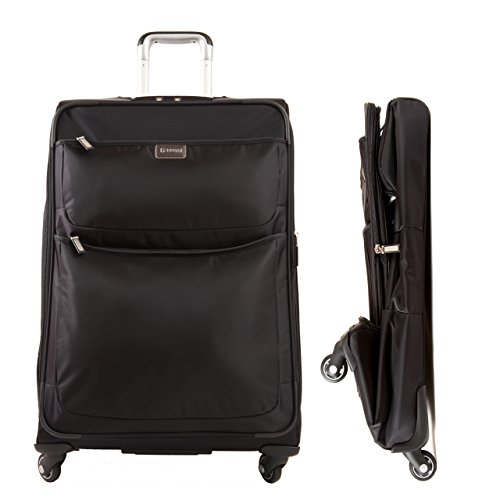 This particular case is a stand-out option because it can be folded up to half its size to store away when you don't need it. This is a carry-on baggage sized case, and it comes in three different colors. There is a retractable handle for gliding and two zippered pockets on the outside, and two mesh pockets in the main interior compartment.
This is a lightweight carry on luggage spinner, which is ideal if you want to pack a little more or if you're not sure how much shopping you're going to bring back from your trip!
Lucas Vortex Ultra-Lightweight Collection 24″ Spinner Case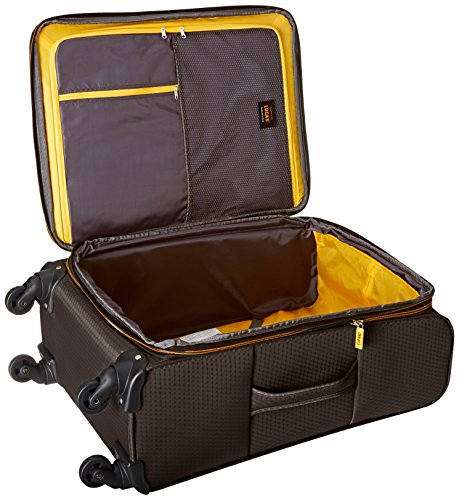 This is a stylish piece of carry-on luggage, which comes in a chic brown color with a soft, quilted design on the outside. Made of polyester, this is one of the lightest carry on spinner bags. A fashionable case that is ultra-lightweight for ease of use allows you to take that little bit more away with you.
There is a multi-staged handle that locks and has an ergonomic grip. The expanding section gives you even more space. There are two external zipping pockets, one larger than the other, and a spacious interior pocket.
iFLY Carbon Racing Hard Sided Large Spinner Suitcase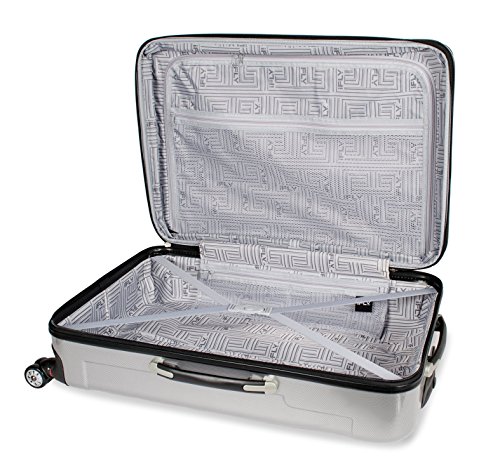 This hard-side heavy-duty suitcase on wheels is large in size, so it is ideal for checking into the hold and transporting your belongings safely and in style, thanks to its silver shade.
The expanding section gives you 2″ of extra space for packing, and the inside has a large spacious interior pocket and then two mesh pockets to organize the smaller items you want to take away with you.
Delsey Luggage Helium Aero Carry-On Spinner Trolley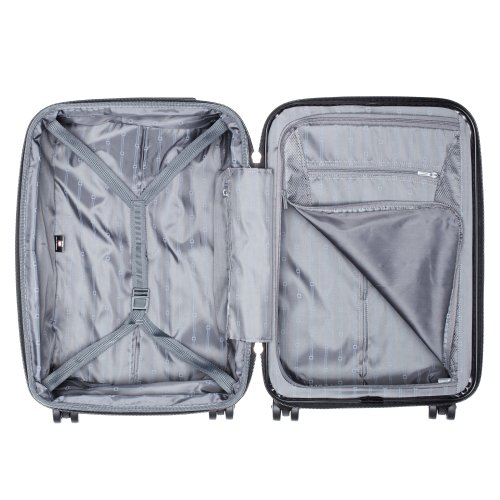 This carry-on spinner case is super-fashionable and available in five different colors, from blue, navy, and purple to red and silver. This 100% polycarbonate carry on luggage with spinner wheels is designed to absorb any impact to avoid breakage.
However, it isn't the lightest case around because of that material. The case closes with a sturdy zipper and has one large compartment with two mesh pockets to keep smaller items in place and safe. There is also a TSA lock on the hard-side of the case, which means your case won't be damaged if airport staff need to spot-check your case.
Samsonite Xenon 2 Spinner Case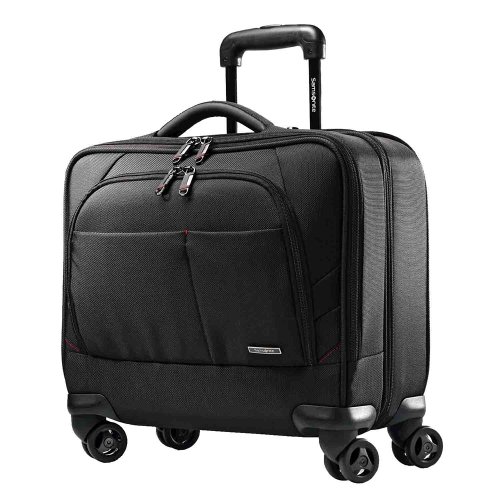 Business travelers will find a lot of use in this particular case, and the fact it is a huge brand also gives you extra confidence in its quality. This case is part of a collection, so you can go for the other collection cases if you want a full set. The design is ultra-modern and business-like and weighs 9lb with nothing inside.
You can easily fit a laptop inside, ranging to the biggest laptop size, and there is an 'accordion' style of opening to organize your other belongings. The telescopic handle makes gliding the suitcase beside you easy. Obviously, however, because we are dealing with Samsonite spinner cabin luggage, you will pay a little more for this case.
Coolife 3 Piece Hardshell Lightweight Spinner Suitcase Set
With this set of hardshell spinner suitcases, you don't hit two birds with one stone, but three! This set includes three separate luggage bags of different sizes (20″, 24″, and 28″ when standing upright), which fit into one another for convenient storage.
So, no matter what trip you're going on and for how long, one of these bags will be suitable. Whether you're looking for the best 20-inch luggage, the best 24-inch luggage, or the best 28-inch spinner luggage, you'll find all of that in this set! How awesome is that?
All three bags have smooth and silent 360-degree turning wheels, as well as a TSA-accepted lock. They're lightweight, too, and an aluminum telescopic handle makes for easy transport. Additionally, they're made with 100% ABS material, and the outer shell is impact-resistant.
This is one of the best spinner luggage options for frequent travelers and families.
Travelpro Expandable Lightweight Checked Luggage With Spinner Wheels
This ultra-lightweight spinner bag measures 21 inches in length and meets most airlines' carry-on size restrictions (do check before boarding, though!). Its stylish design and superb maneuverability make it an ideal piece of travel gear for both business travelers and casual weekend trippers.
The bag can expand by 2 more inches to reach its maximum packing capacity. Simultaneously, there's also a side accessory pocket, a full-length interior lid pocket, and adjustable hold-down straps. In addition to the lightweight yet sturdy telescopic handle, there are side, and top carrying handles as well.
Why Choose A Spinner Bag?
There are many advantages to a spinner bag, and we'll talk about them in more detail shortly, but for now, you simply need to know why you should choose this type of luggage. A spinner bag is much easier to maneuver than a two-wheeled type, whether you go for a carry-on case or a more massive in-hold case. You can also shop around for the deals on the best four-wheel luggage to save you a little cash.
You should opt for a spinner case if you have any problems with pulling cases, e.g., you have an arm injury or a back problem, because simply gliding the case beside you, rather than pulling, will be much easier for you.
Features To Look For When Choosing The Best Spinner Luggage
We're all looking for something different, but here is what I suggest you look for to find the best four-wheel luggage with spinning wheels.
Hard Case Or Soft Case
As with all other regular luggage types, spinner cases are available in both a hard shell type of material and a regular fabric. If you choose a hard case, you can expect to pay a little more. And while your luggage will be kept in place, some argument states that these types of bags break easier than fabric ones.
Lightweight Options
You can get lightweight spinner luggage, just like two-wheeled cases, and while you will pay more for this feature, it is something you might like to look at if you're not someone known for packing lightly!
Price
There is a large price bracket available, so you need to pick a case that fits in with your price budget. The best affordable spinner luggage is cheap and doesn't lack sturdiness, space, and other required features.
Reviews
Because this is an essential part of your travel kit, it's essential to check out the best spinner wheels on luggage bags reviews before deciding on a purchase option.
Size
Will you be using a set of luggage? If so, you can find spinner luggage sets at a higher price, but you can also buy cabin-sized cases, medium cases, and large cases of this type.
Benefits Of Spinner Luggage
There are lots, but here are just a few of our fave reasons to buy spinner luggage.
Spinner Cases Are Super-Easy To Maneuver
This is the obvious one, and it is also the main selling point of this type of luggage. A four-wheeled spinner case moves extremely easily, so if you're moving between train stations or bus stations, or perhaps there is a slight walk from the airport to where you need to go, you can easily have the suitcase traveling beside you, without having to drag it and cause yourself possible injury and stress!
Spinner Bags Are Available In Both Carry-On Size And Full Size
You can have a spinner bag as your hand luggage, so you can just whizz around the airport departure lounge, rather than carrying a heavy bag. Additionally, you can also easily move your hold suitcase by choosing the spinner variety.
Negatives Of Spinner Bags
There are a few things you should consider:
No Extra Space
Even the very best spinner luggage bags do not offer more space. They simply offer a more natural way to move the case.
The bag doesn't stay still easily. The wheels on spinner luggage are very sensitive indeed, and while this is a plus because it can be moved easier, it can also be a negative because the case moves without much effort at all. If you're stood waiting in line for something, and there is a slight incline to the ground, you're going to have to hang onto your bag!
Often More Expensive
Spinner cases are thought to be premium pieces of luggage. You can, therefore, expect to pay a little more than a regular two-wheeled case. That's not to say you can't find bargains, however.
Often A Little Heavier Than Two-Wheeled Cases
The fact there are two extra wheels means that the case is slightly heavier than its two-wheeled cousin. You can find lightweight carry on luggage with spinner wheels, but these are still a little heavier than the other type.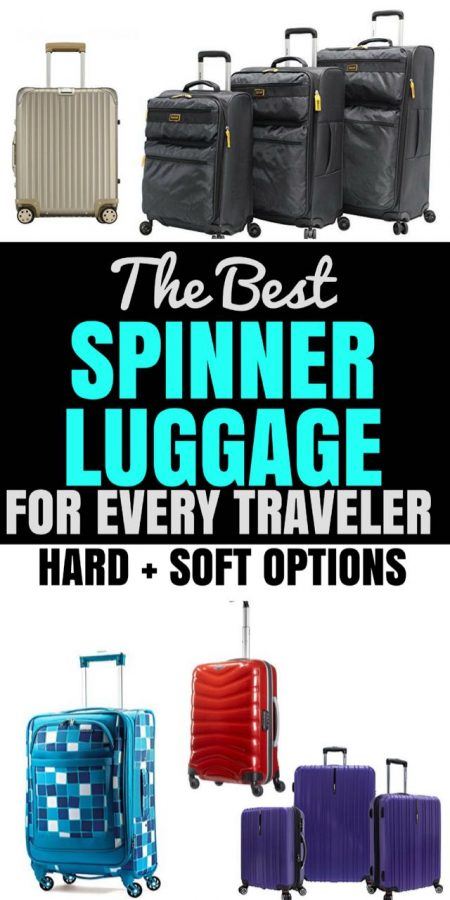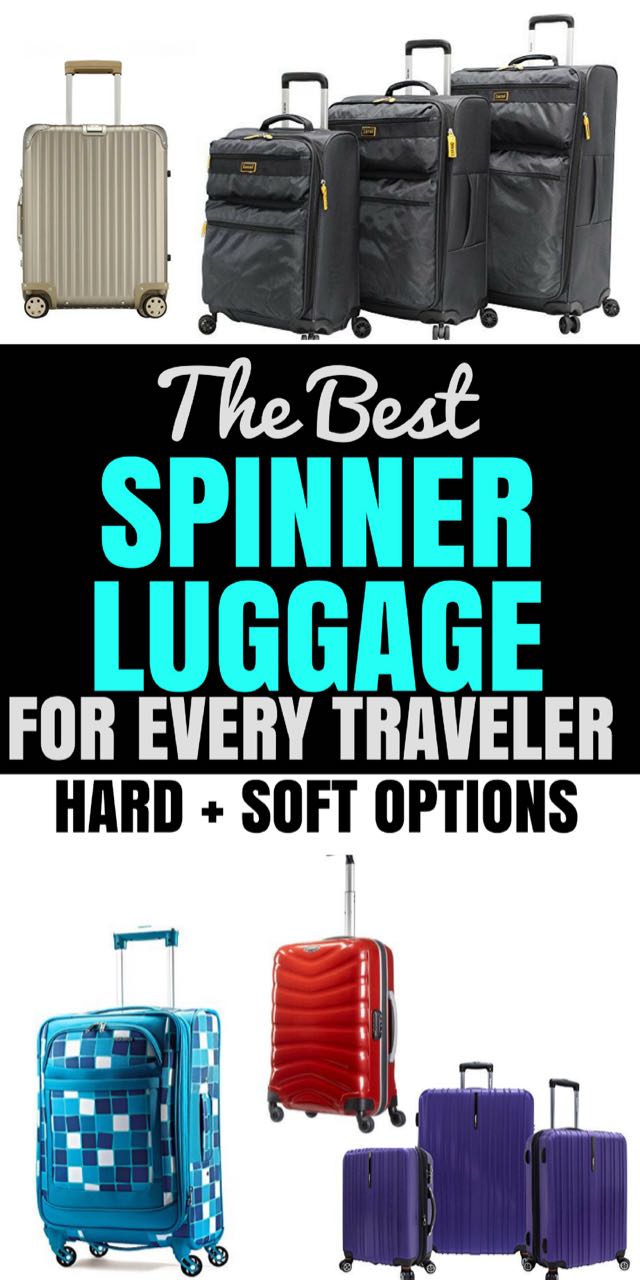 More Packing & Travel Products Tips
Chasing the Donkey - Balkan travel blog includes affiliate links. If you decide to make a purchase through these links, we receive a commission without any additional cost to you. We appreciate your support helping to keep this site free. Find our disclaimer & privacy policy here.