Best Spinner Luggage Reviews & Comparison Chart
When you're heading off on a travel adventure, whether it's a long-haul jaunt, or something a little closer to home, you will want the easiest luggage to take with you, to minimize all the stress that travel can bring.
You can choose to travel with only carry on, or you can book a case into the hold, but whichever option you go for, there are a few luggage subcategories to bear in mind within it, namely how many wheels do you want your case to have?
If you've never heard of spinner luggage, or you've been wondering what it is, let's enlighten you a little – here we have the top rated spinner luggage options on the market.
What is Spinner Luggage?
Spinner luggage is a suitcase on four wheels, rather than two, and these wheels move in all directions. Whereas two-wheeled cases need to be tipped up onto the wheels and pulled in order to move at all, a spinner case moves only by gently nudging it, without needing to be 'tipped up.'
Why Choose a Spinner Bag?
There are many advantages to a spinner bag, and we'll talk about them in more detail shortly, but for now, you simply need to know why you should choose this type of luggage. A spinner bag is much easier to maneuver than a two-wheeled type, whether you go for a carry-on case or an in hold case. You can also shop around for the best deals, to save you a little cash.
Another reason you should opt for a spinner case is if you have any problems with pulling cases, e.g. you have an arm injury, or you have a back problem because simply gliding the case beside you, rather than pulling, will be much easier for you.
Best Spinner Luggage Comparison Chart
We took a look at all of the top rates spinner luggage sets and compared the features & price and made this easy-to-use table to help you review and decide which is the best spinner luggage for your type of travel.
Click on any heading to sort the table accordingly.
Benefits of Spinner Luggage
Spinner Cases Are Super Easier To Maneuver
This is the obvious one, and it is also the main selling point of this type of luggage. A four-wheeled spinner case moves extremely easily, so if you're moving between train stations or bus stations, or perhaps there is a slight walk from the airport to where you need to go, you can easily have the suitcase travelling at the side of you, without having to drag it and cause yourself possible injury and stress!
Spinner Bags Are Available In Both Carry On Size And Full Size
You can have a spinner piece of luggage for your hand luggage, so you can just whizz around the airport departure lounge, rather than carrying a heavy bag, and you can also easily move your hold suitcase by choosing the spinner variety.
Negatives of Spinner Bags
No extra space
Spinner bags do not offer more space; they simply offer an easier way to move the case.
The bag doesn't stay still easily – The wheels on spinner luggage are very sensitive indeed, and while this is a plus because it can be moved easier, it can also be a negative because the case moves without much effort at all. If you're stood waiting in line for something, and there is a slight incline to the ground, you're going to have to hang onto your bag!
Often More Expensive
Spinner cases are thought to be premium pieces of luggage, and therefore you can expect to pay a little more than a regular two-wheeled case. That's not to say you can't find bargains, however.
Often A Little Heavier Than Two-Wheeled Cases
The fact there are two extra wheels means that the case is going to be slightly heavier than its two-wheeled cousin. You can find lightweight spinner cases, but these are still a little heavier than the other type.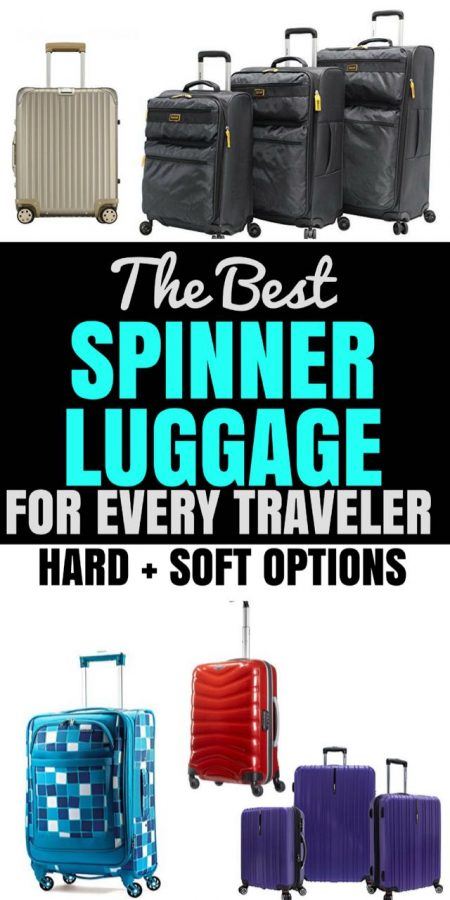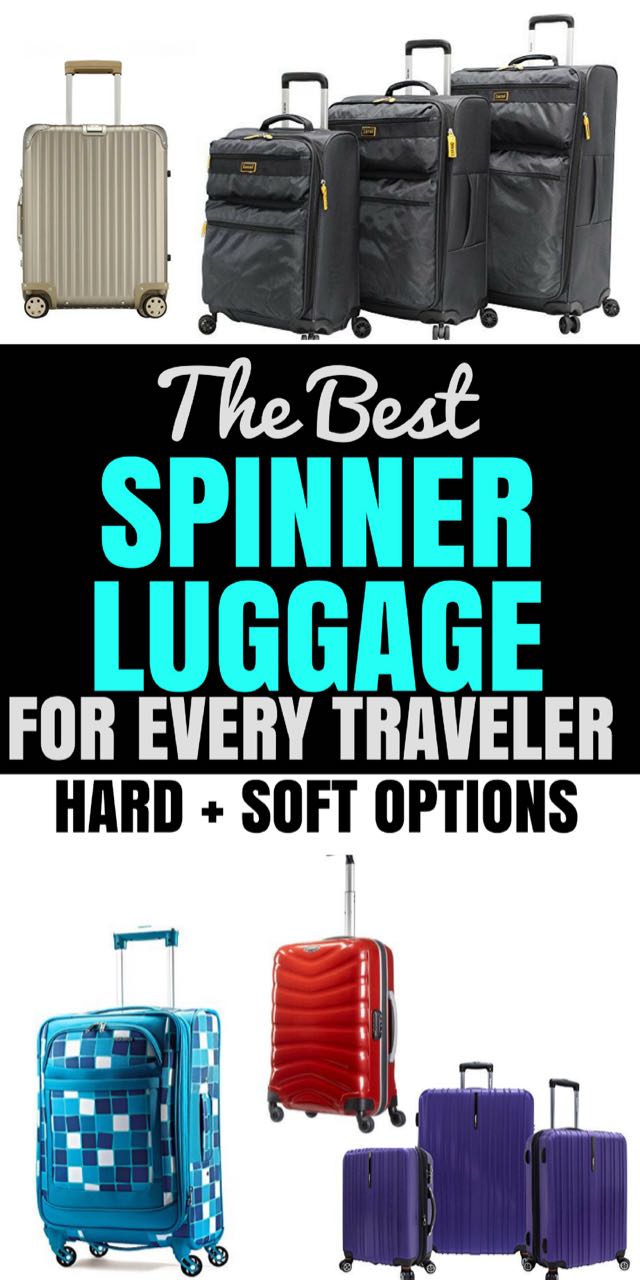 Features to Look for When Choosing The Best Spinner Luggage
Hard case or soft caseAs with all other types of regular luggage, spinner cases are available in a hard shell type of material, and a regular fabric. If you choose a hard case, you can expect to pay a little more, and while your luggage will be kept in place, there is some argument to state that these types of bag break easier than fabric ones.
As with all other types of regular luggage, spinner cases are available in a hard shell type of material, and a regular fabric. If you choose a hard case, you can expect to pay a little more, and while your luggage will be kept in place, there is some argument to state that these types of bag break easier than fabric ones.
Lightweight Options
You can get lightweight spinner luggage, just like two-wheeled cases, and while you will pay more for this feature, it is something you might like to look at if you're not someone known for packing lightly!
Price
There is a large price bracket available, so you need to pick a case which fits in with your price budget.
Reviews
Because this is an important part of your travel kit, it's essential to check out reviews before you decide on a purchase option.
Size
Are you going to be using a set of luggage? If so, you can find spinner luggage sets at a higher price, but you can also buy cabin sized cases, medium cases, and large cases of this type.
Here Are Our Picks For the Best Spinner Bags on The Market
If the spinner luggage comparison chart was not enough info for you – never fear we have detailed spinner luggage reviews for you below.
Rimowa Spinner Bag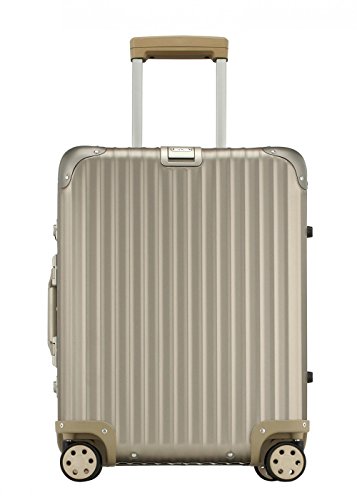 This is a truly fashionable choice, and one which is often out of stock, so grab it whilst it is available! Available in a beautiful color, this case is ideal for carry-on baggage, and has a mesh zip pocket inside the main compartment, to keep any important items or documents flat, while you are moving around. This is also a lightweight case, and the lockable telescopic handle means there are no issues with transportation.
Samsonite Black Label Firelite Spinner Bag 55/20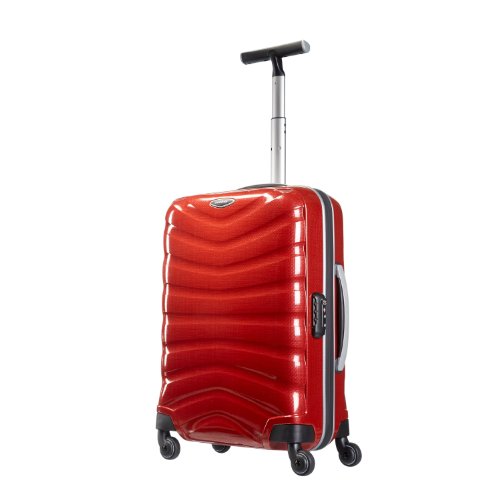 If you want extreme quality, and you're happy to pay for it, then this Samsonite case is for you. You can expect to pay big for it, but it is a super-effective carry-on luggage case, which is made of curved polycarbonate, which means it can be lightweight, yet keeps your case safe from impact. The case closes with a durable zipper and has two mesh pockets inside for keeping everything organized and in place.
Rimowa Classic Flight 20" Carry-on Luggage Cabin Multiwheel IATA 33L Suitcase Silver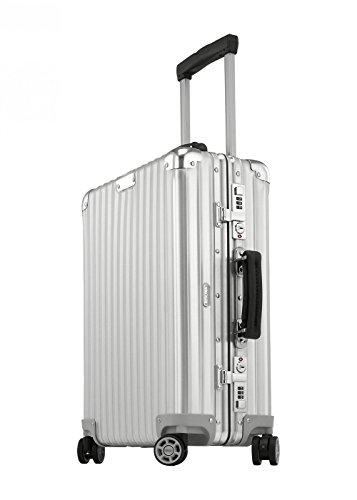 This large and attractive spinner case is ideal for your carry-on luggage and is certainly a strong choice, made of silver aluminum. The case features two TSA approved combination locks, which means that if your case needs to be spot-checked by airline staff, the lock can be opened without damage or force, and it, therefore, won't need to be replaced. The case also has leather hands on the top and at the sides, so you can lift it into the overhead compartment with ease, as well as a telescopic handle which extends upwards for your comfort when pulling the case. Inside the case, you will find a Flex-Divider system and straps for packing, which keeps your clothes where they are intended to stay. The four multi-directional spinner wheels round up the quality.
Samsonite Hyperspace Spinner Boarding Bag Hyper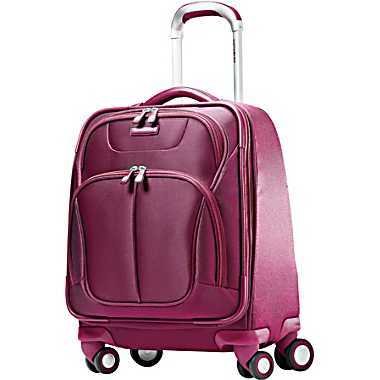 The bright eye-catching blue of this bag is certainly attractive and we also know that Samsonite is a huge brand name, which gives you purchasing confidence. The bag is ideal for carry-on luggage, and it has three different compartments – the large main compartment, a shock-absorbing padded laptop compartment (fitting a laptop up to 15.4"), and a smaller front compartment for small items. The spinner wheels are larger at the back than at the front, which gives you more control when moving the case around, and the polynylon blend fabric helps keep the case cleaner for longer. The handle is ergonomically designed, to eliminate strains when pulling, and there is a moulded comfort grip on the handle also.
RIMOWA Topas Titanium 21" Carry-on Luggage Cabin Multi-wheel IATA Spinner Suitcase Light Bronze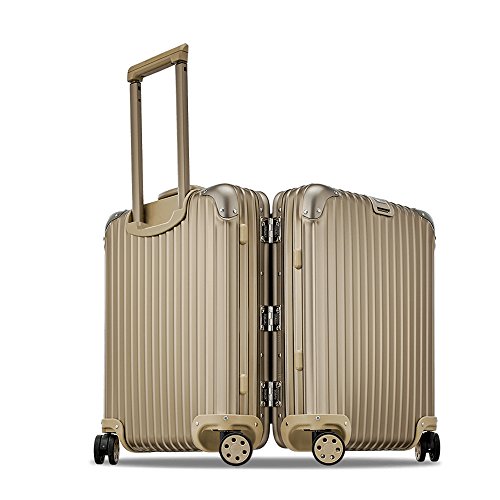 This is certainly not the cheapest carry-on spinner luggage around, but it is one of the highest quality, which gives you quality for your cash. The case is made of the highest quality aluminium-magnesium alloy with grooves on the outside to set it apart. The bronze colour looks almost gold, and this extends to the telescopic handle with moulded grip also. The wheels are quiet and smooth, and there are four multi-directional wheels on the case. Inside you will find organizer sections and straps, to keep your belongings in place. Overall, this is a top class carry-on spinner case, which will serve you for countless trips over the years.
American Tourister Ilite Max Softside Spinner Carry On Luggage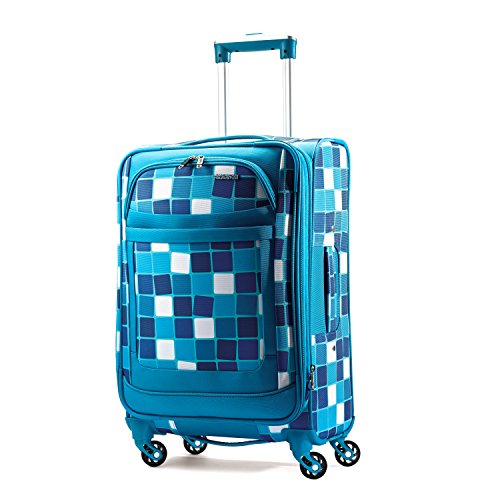 This is another big named brand, although slightly less in cost compared to our last option. This spinner case is available in five attractive colors, so you can easily keep tags on your luggage while you're on the go. Made of polyester, this is a soft sided case which has four multi-directional wheels, allowing you to roll the case upright, without having extra weight on your arms in the dragging position. The telescopic handle has a push-button locking handle, and there are also two handles which are integrated into the case top, so you can grab and lift when need be. There are various pockets included, to keep everything organized, as well as a larger central compartment.
Traveler's Choice Tasmania Polycarbonate Three-Piece Spinner Luggage Set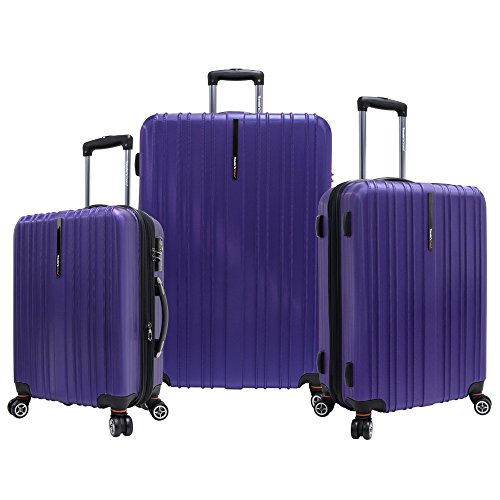 This is a three piece luggage set, which is why the price is much higher than the other choices on our list. Choose between seven different color choices, all muted, to allow you to easily spot your case on the carousel when it comes around. These are hard cases, each fitted with multi-directional spinner wheels. The polycarbonate material is designed to flex when it hits an impact, to absorb stress, rather than allowing it to cause any damage to the case. The set is made up of a carry-on case, a large suitcase, and a medium one. If you are traveling as a family, this is the ideal set to go for.
Lucas Hy-Lite 3 Piece Lightweight Luggage Spinner Set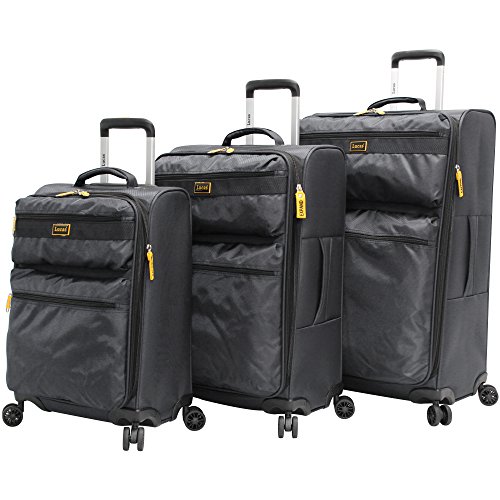 This three piece luggage set is ideal for traveling families, equipped with a carry on sized case, a medium case, and a large one. Available in just one color, gray, you may need to add something bright to be able to differentiate your case on the carousel, but this is a lightweight choice, so you can get more inside, to fit into your luggage allowance. There is also a five-year warranty on the cases, and there is an expandable section, which gives you an extra 2". The interior is fully lined, and there are interior pockets within the large compartments, to keep everything organized.
Biaggi Contempo Foldable 28" Spinner Luggage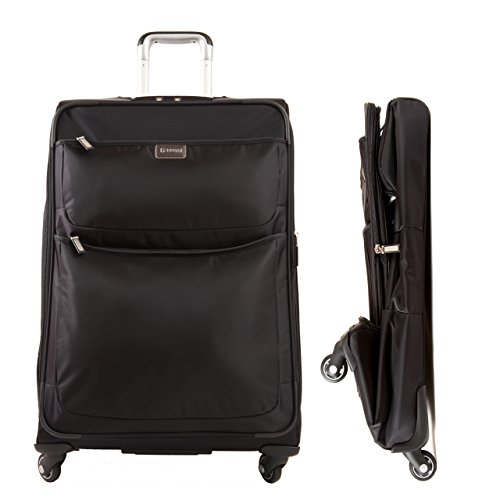 This particular case is a stand out option because it can be folded up to half its size to store away when you don't need it. This is a carry-on baggage sized case, and it comes in three different colors. There is a retractable handle for gliding and two zippered pockets on the outside, as well as two mesh pockets in the main interior compartment. This is a lightweight choice, which is ideal if you want to pack a little more, or if you're not sure how much shopping you're going to bring back from your trip!
Lucas Vortex Ultra Lightweight Collection 24" Spinner Case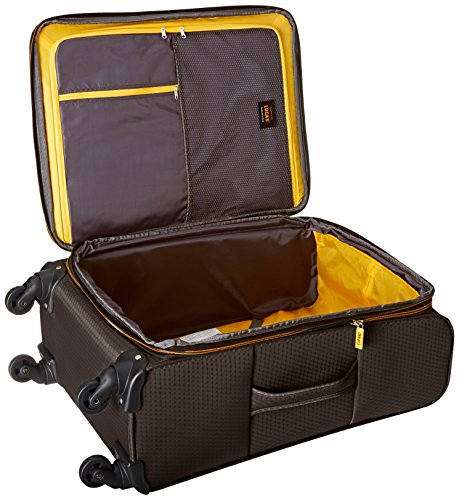 This is a stylish piece of carry-on luggage, which is in a chic brown color with soft, quilted design on the outside. Made of polyester, this is a fashionable case, which is ultra-lightweight for ease of use and to allow you to take that little bit more away with you. There is a multi-staged handle which locks, as well as having an ergonomic grip. The expanding section gives you even more space. There are two external zipping pockets, one larger than the other, and a spacious interior pocket.
iFLY Carbon Racing Hard Sided Large Spinner Checked Luggage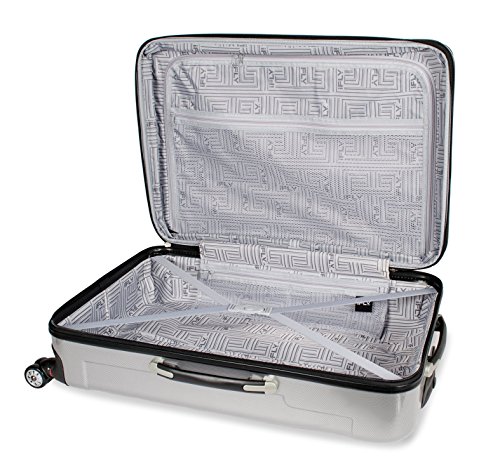 This hard sided case is large in size, so it is ideal for checking into the hold and transporting your belongings safely and in style, thanks to the silver shade it is available in. The expanding section gives you 2" of extra space for packing, and the inside has a large spacious interior pocket, and then two mesh pockets to organize the smaller items you want to take away with you.
Delsey Luggage Helium Aero Carry-On Spinner Trolley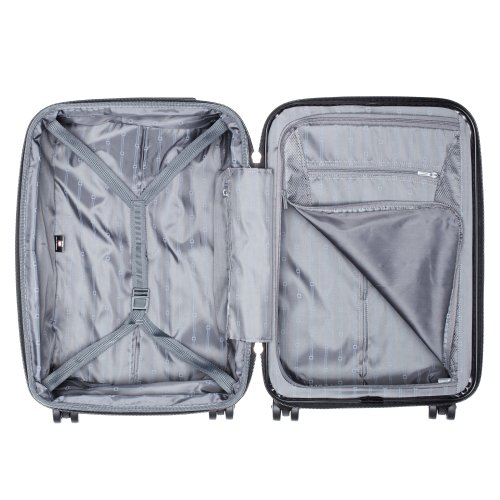 This carry-on spinner case is super-fashionable, and available in five different colors, from blue, navy, purple, red, to silver. Made of 100% polycarbonate, this is designed to absorb any impact, to avoid breakage. However, it isn't the lightest case around, because of that material. The case closes with a sturdy zipper and has one large compartment, with two mesh pockets to keep smaller items in place and safe. There is also a TSA lock on the hard-side of the case, which means your case won't be damaged if airport staff need to spot-check your case.
Samsonite Xenon 2 Spinner Case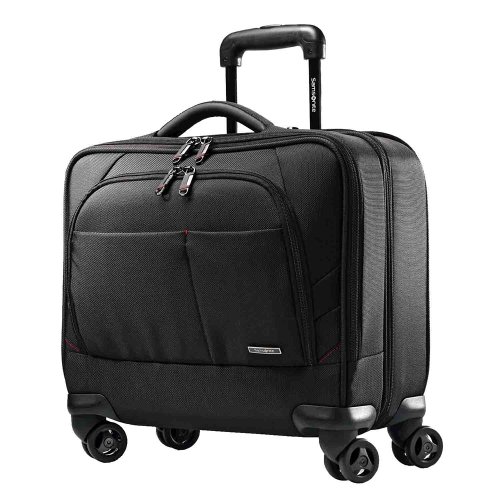 Business travelers will find a lot of use in this particular case, and the fact it is front a huge brand name also gives you extra confidence. This case is part of a collection, so you can go for the other cases in the collection if you want a full set. The design is ultra-modern and business-like and weighs 9lb with nothing inside. You can easily fit a laptop inside, ranging to the biggest laptop size, and there is an 'accordion' style of opening to organize your other belongings besides. The telescopic handle makes gliding the suitcase beside you easy. Obviously, because we are dealing with Samsonite, however, you are going to pay a little more for this case.
We also have lot of packing and travel products tips including
Best Travel Hair Dryer
Best Compression Socks For Flying
Best Family Passport Holder
Best Travel Umbrellas To Keep You Dry
Best Toddler Travel Bed Reviews (aka Travel Crib)
Best Baby Carrier For Travel Review
Best Packable Ultralight Down Jacket + Bonus Ultra Light Winter Packing List
Best Travel Blenders on The Market
Long Haul Flight Essentials: Carry on Packing List to Travel Lighter
Best Travel Pillow for Long Haul Flights:
The Best Travel Flat Iron Reviews
Travel Cross Body Bag: The Best Cross Body Bags For Travel
Best Travel Pants For Women
Best Shoes For Travel
Ultimate Guide to Buying The Best Travel Wallet
Ultimate Guide to Buying Packing Cubes
What to Wear on a Long Haul Flight
Croatia Packing List: What to Pack for Croatia
Our Guide to Travel Necessities
Comfortable Travel Flats