Privacy & disclaimers →

Best Day Trips From Zadar, Croatia
You have just arrived in Zadar from one of the many cruise ships that come in the Port of Zadar, or perhaps you have explored the old town of Zadar, and now you want to take a day trip from Zadar to explore some more of Croatia's treasures.
Zadar is ideally situated between all the major Croatian national parks and historical cities. The absolute best way to visit these destinations is using a private transfer. This makes a day trip from Zadar very easy. The best part is that you won't spend excessive time traveling in a vehicle.
The Best Day Trips From Zadar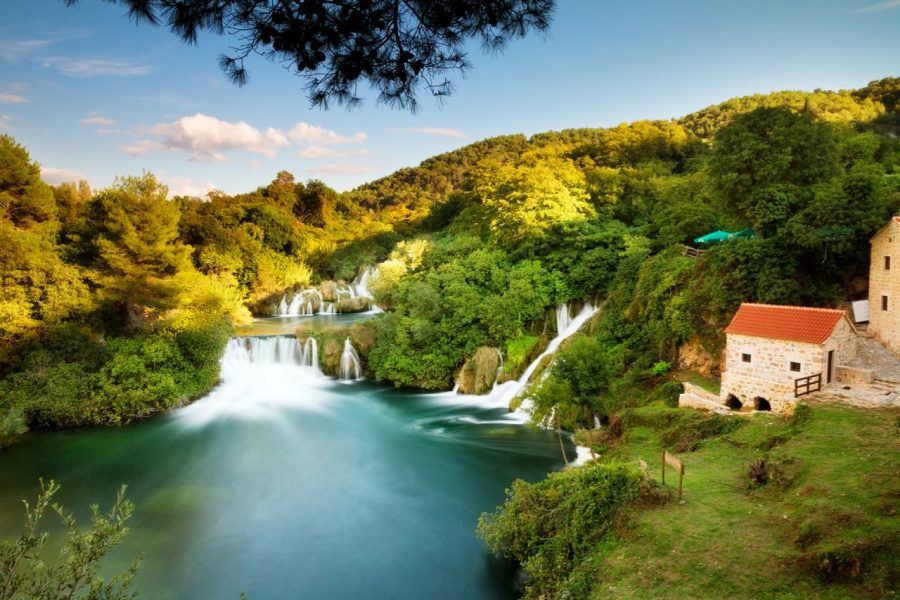 You've decided you want to take a Zadar day trip, but where should you go? Croatia has numerous cultural, historical, and natural treasures and gorgeous national parks like Plitvice Lakes or Krka, which are unique and worth visiting. But let's face it, who can see them all? So, here are what we think are the best day trips from Zadar:
Zadar to Krka National Park – You will see the Krka River's beauty and spectacular waterfalls here. You can even swim under a waterfall and in the river's natural pools!
Zadar to Plitvice National Park – This UNESCO World Heritage Site is the most popular national park in the country. Its waterfalls, cascading lakes, and pristine nature make this a bucket list item you need to check off your list. If you are in Croatia, it would be a mistake to miss this breathtaking park.
Zadar to Šibenik – An hour south of Zadar, you find Šibenik, the stone city. Visit its four fortresses, the UNESCO-listed Cathedral of St. James, and have lunch at Croatia's best restaurant Pellegrini.
Zadar to Paklenica National Park – This place is for those active holiday enthusiasts. Paklenica National Park has some of Croatia's best hiking trails, which take you through a massive gorge, Veliki Paklenica. From there, you ascend the Velebit Mountains, where you can take your pick from numerous hiking trails. Also, this national park is a climbers' paradise, particularly in the Veliki Paklenica Gorge.
Zadar to The Island of Pag – Head to Pag and try the best cheese in Croatia, Paški Sir. This sheep milk cheese has won numerous international awards. You can tour Gligora Dairy and sample their excellent products. While on Pag, pay a visit to the ancient Olive Groves of Lun and have a little wine and lunch at the beautiful Boškinac winery.
Zadar to Split – The first thing you need to know is that the distance from Zadar to Split is 158 kilometers. The journey can take anywhere from 1 hour to 40 minutes, or up to 4 hours if you go by bus along the old coastal road. Here is what to do in Split.
Rafting and Kayaking the Zrmanja and Krupa Rivers – We always recommend rafting or kayaking on the crystal-clear waters of Croatia's most beautiful rivers, especially if you are traveling to Croatia with your kids. Rafting will get you up close and personal with nature, and you can even go swimming under the Krupa waterfalls. A karst canyon surrounds the rivers; the best part is anyone can do this activity. No experience is necessary.
Kornati Islands – Despite some lousy information online, there is no Zadar to Kornati Islands ferry. Sorry!
PLAN AHEAD TO GET THE BEST DEALS
Choose Octopus Transfers For Your Day Trip From Zadar – Here Is Why
We pride ourselves on our exemplary service, which we believe is the best in Croatia. Our Croatia Transfer service is safe, reliable, professional, and affordable. Our vehicles are modern, well-kept, and will exceed your expectations.
We speak English, so if you have any queries or need assistance, we are happy to help.
Our drivers are very experienced, qualified, and professional. We have thorough local knowledge and will provide you with information and tips about your destinations.
Our Zadar day trip prices are affordable and very cost-effective when traveling with a few passengers.
We are Zadar's No 1 transport provider on TripAdvisor.
But, Before Heading Off On Your Zadar Day Trip, Here Is What To Do In Zadar
Zadar isn't as well-known as its coastal neighbors like Split, the famed walled city of Dubrovnik, or even the capital Zagreb. In the past, it has been overlooked as a destination by many people traveling to Croatia, but that's now changing. And let me tell you that this ancient seaside city is jam-packed with incredible sights.
Zadar is the second-largest city in Dalmatia and one of Europe's oldest continuously inhabited cities. Here is our guide on the things to do in Zadar, what to see in Zadar, including all the major Zadar sights. It also contains suggestions on where to lay your head after all of the sightseeing. Below are a few ideas to give you a taste.
Things To Do In Zadar Croatia
The Sea Organ
Greeting To The Sun
Gold & Silver Museum
Museum Of Ancient Glass
St. Anastasia's Cathedral
St. Donat's Church
Archeological Museum
The Forum
Narodni Trg (Peoples Square)
Foša Land Gate Zadar
Zadar Pijaca
The Museum Of Illusions Zadar
The Sphinx
Places To Visit Near Zadar – Day Trips From Zadar
Benkovac Farmers Market
Asseria
Rafting / Kayaking The Zrmanja And Krupa Rivers
Kolovare Beach
Borik Beach
Diklo Beach
Best Zadar Beaches – Zadar Region
Petrćane Beach
Zaton Beach
Pisak And Kulin Riviera