We may earn commission from affiliate links →
Kornati Islands Day Trip
Have you ever dreamed of sailing the Adriatic's beautiful turquoise waters? Meandering through a network of islands, waving at other yachts passing you by, and stopping in secluded bays for a dip, to cool off, snorkel, or just relax? Couple that with some fantastic Croatian cuisine, and you have the perfect day.
If you're looking for that memorable experience in Croatia, come and Chase the Donkey with us – we will take you on a cruise of the Kornati Islands National Park on a luxury boat.
We'll get up close and personal with the Kornati Islands, show you secret swim stops, pour you a glass of boutique wine and craft beer, and serve up some of the Zadar Region's best gourmet produce, as well as take you for an unforgettable lunch experience.
The Kornati Islands are are a true gem in the Adriatic and we would like for you to join us on this day trip & experience two of the things we love most about Croatia, cruising the Adriatic and savoring Croatia's finest food.
Kornati Islands

The Kornati Islands National Park consists of 89 islands, islets, and reefs spread over 217 square km. The Kornati Islands are a dense cluster of islands meaning there are numerous small coves, beaches, and bays where you can stop and just take a swim and take in the pristine environment, all within close proximity to each other. Kornati National Park is perfect for those looking to experience unique natural landscapes, soaring cliffs, and barren rocky, mostly uninhabited islands; it has to be seen to be believed. The Adriatic is at her glorious best in the National Park, and with the backdrop of the Kornati Islands, you will be stunned at the natural beauty of the area. If you're in Croatia, this is an experience not to be missed.
Your Personalised Tour Description
We'll greet you in Zadar at 9:00 am and welcome you aboard your luxury boat for the day. Kick back, relax, and settle in.
We'll conduct a tasting showcasing Zadar's best wine, craft beer, award-winning cheeses from a local island, award-winning local charcuterie, and more.
Our tour will take in the sights of the Kornati islands, including; Mala Proversa, Mana Cliffs, Levrnaka Bay, and, of course, we'll stop to swim in the Kornati's most pristine locations.
After cruising and swimming at the Kornati National Park, you're going to get hungry, so it's time for lunch. This is not just any meal but an authentic regional Croatian experience.
Back on board, we will make our way back to Zadar – but not before taking in more of the sights and another swim stop – there are a few choices, and we'll decide together. That's the beauty of being on a small private tour.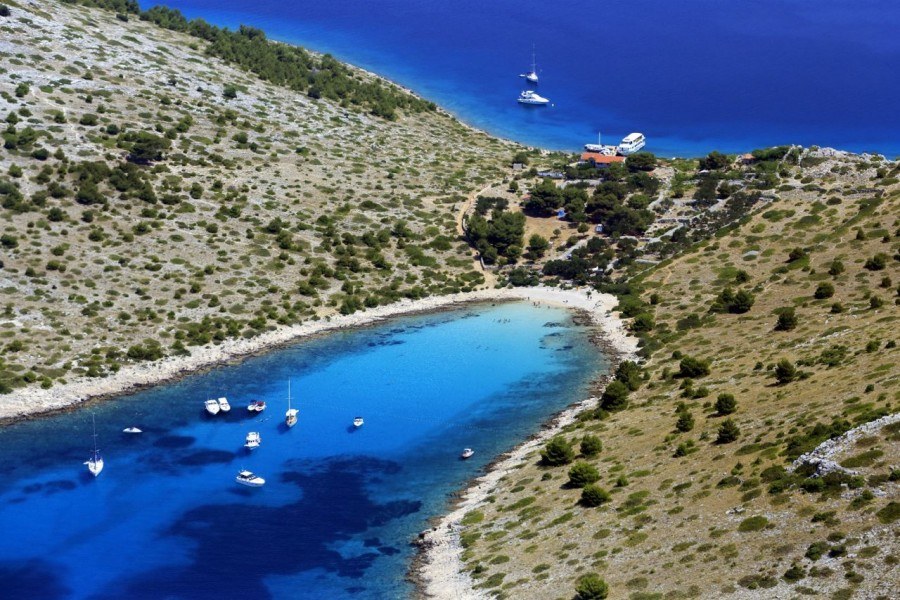 What Makes Our Tour Great?
You won't be jam-packed with dozens of others – our full-day tour is on a luxurious Sessa 42 Hard Top with a maximum of 8 other donkey chasers. No crowds here!
You will not only see the best the Kornati Islands have to offer, but we will take you to secluded swim stops in the most pristine azure waters in the Kornati National Park.
We get the day started with a gourmet tasting of food and beverages.
We want you to experience what we love about food from the Zadar region, so we always find and prepare the best local delicacies.
Your lunch stop will be an experience to remember.
Personalized service from your host (that's us) and a dedicated captain with years of experience in the Kornati Islands archipelago.
We supply snorkeling equipment and towels, so you don't have to lug those about.
Bonus: If we're lucky, we may run into some Dolphins. Your Captain knows where they like to hang out!
What Separates Our Tour From The Other Kornati Island Tours?
You get to the national park in just 45 minutes instead of the long 2+ hour journey it takes on the big tour boats.
The tour is actually within the National Park – don't be fooled; many trips don't actually go into the National Park.
You're are not jam-packed onto a boat with large numbers of other people – we accept just eight guests.
Our boat is fantastic, and you're guaranteed a personalized private boat experience. See for yourself
We have the flexibility to deviate from the plan.
The tasting menu and lunch are authentic Dalmatian food experiences.
What You Need to Bring
The usual gear like bathers, sunscreen, and your camera.
Cost
We like to call it an investment in yourself – this fantastic day would typically cost you 200 euro per person, however, we are offering a discounted price of 180 euro per person for our first three tours – all you have to do is pay a 60 euro deposit to secure your place below.
Book Now
Sorry, we are not taking bookings. Instead, you can try one of these other providers for experiences around the area.
Share