Privacy & disclaimers →
Istrian Food Experiences Not To Be Missed!
If you are just landing on this blog for the first time, you may not know how much food (and wine) plays a role in our life. If you're a long-time reader, you know… you get it. Food often dictates our travels, and my recent week on the #ShareIstria trip was surrounded by fabulous foodie experiences celebrating Istrian food.
At first, I planned to update this traditional Croatian food post with a few new meals, but then as I looked back through the photos and I started writing, I realized it just would not be enough and that I just have to share much more with you.
You deserve a whole post about the food I enjoyed in Istria – the problem is that I ate so much that an entire post still needs to be done on the sweets, drinks & wine that went into my belly. For now, it's just food!
Istria is a wonderous peninsula along the Adriatic Sea – and also happens to be the biggest. Istria has a long history and association with Italy, and you can really see that connection when traveling through Istria, including many of the food experiences.
Parts of Istria are sat in the Mediterranean climate, and others parts fall under a Continental climate of Croatia – mix with that the huge Italian influences from the past. It's got to be the best place in all of Croatia to eat and drink!!!
Yikes, did I just say that? I am sorry to the rest of Croatia; it's so true. If you are a foodie, book a vacation in Istria.
My week in Istria was not my first visit, and by golly, I sure hope that it won't be my last – but I did find some new must-go-to-restaurants.
In no particular order, here goes my recent Istrian food experiences you gotta try for yourself when you visit Istria.
Green Istria: Food in The Countryside
I love inland Istria; it's lush and green, and with many hilltop towns, it's like they are out of a Hollywood movie set. You don't have to travel very far from the coast to get to parts of green Istria to enjoy great food (or anything for that matter) so let's go eat in the countryside:
Truffles (Tartufi)
Let's get the most obvious Istrian food must-have out of the way. Truffles. I didn't know much about truffles until 2010 when Mr. Chasing the Donkey and I went to a white truffle festival in Alba, Italy. I will never forget walking up to the building's entry door and being overwhelmed by the pungent aroma.
I was pulling faces and looking for an explanation of what the smell was. Initially, I was baffled. I had never smelt anything like it before; then, I soon realized it was the scent of white truffles.
For those of you that have not had the pleasure of tasting a white truffle, you're probably wondering what is so special about them. It comes down to two things:
The scent and taste. It really is unique. Some people describe the smell of dirty socks, others, newly-plowed soil, fall rain, or burrowing earthworms. The fact is you can't describe it, or, at least, I can't.
White truffles are extremely rare and can only be collected from September to January each year. Put together something unique and rare, and you have a precious product. So valuable in fact, that the prices range from 900 -5000 euro per kilo. Now that's more than the price of gold!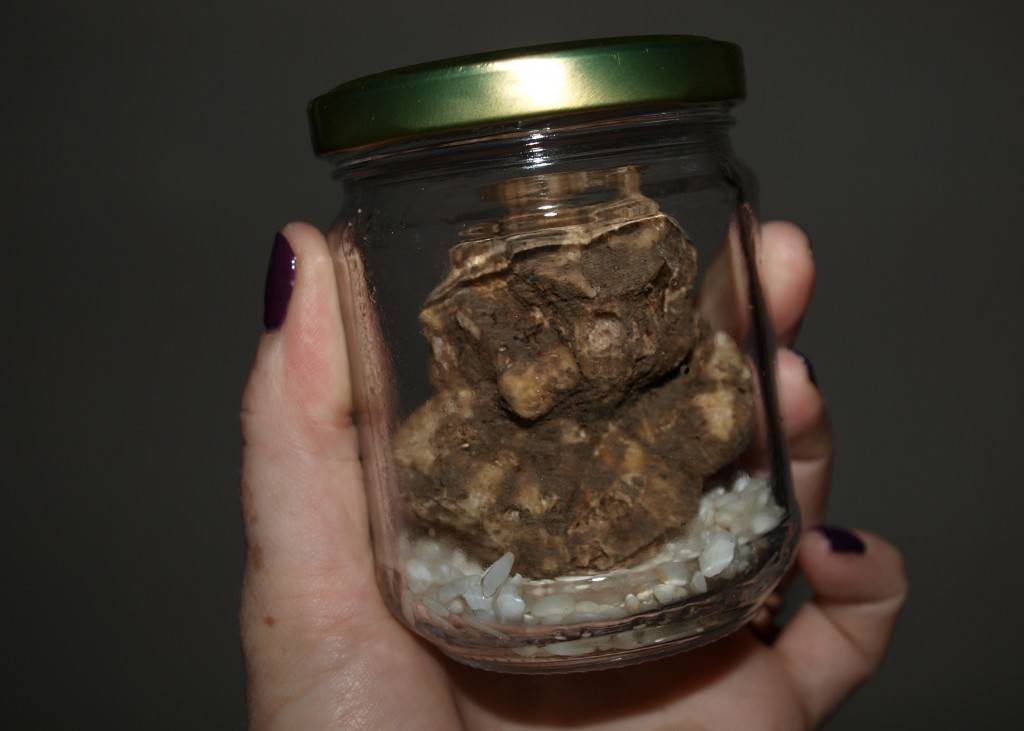 You don't need to lash out so much money on white truffles if your budget is tight, as Istria is blessed with the black truffle variety too. They are available year-round and are a celebrated local delicacy. While they cost less (300-500 euro), they are still not cheap, but you can get a few grams of black truffle shaved over pasta so that you can try it for less than 14 euro a plate.
Homemade pasta is a well-known Istrian food (see below for my favorites). Although they serve it with so many sauces and toppings, shaved truffles over pasta is the one dish you have to try when traveling across the famed green peninsula.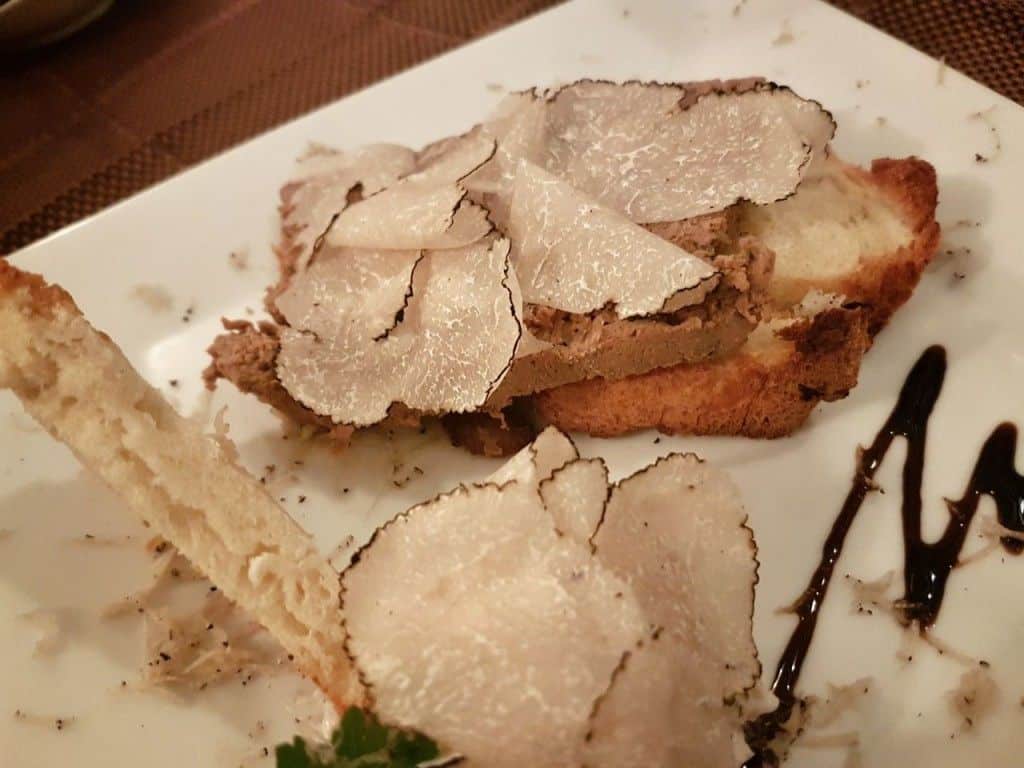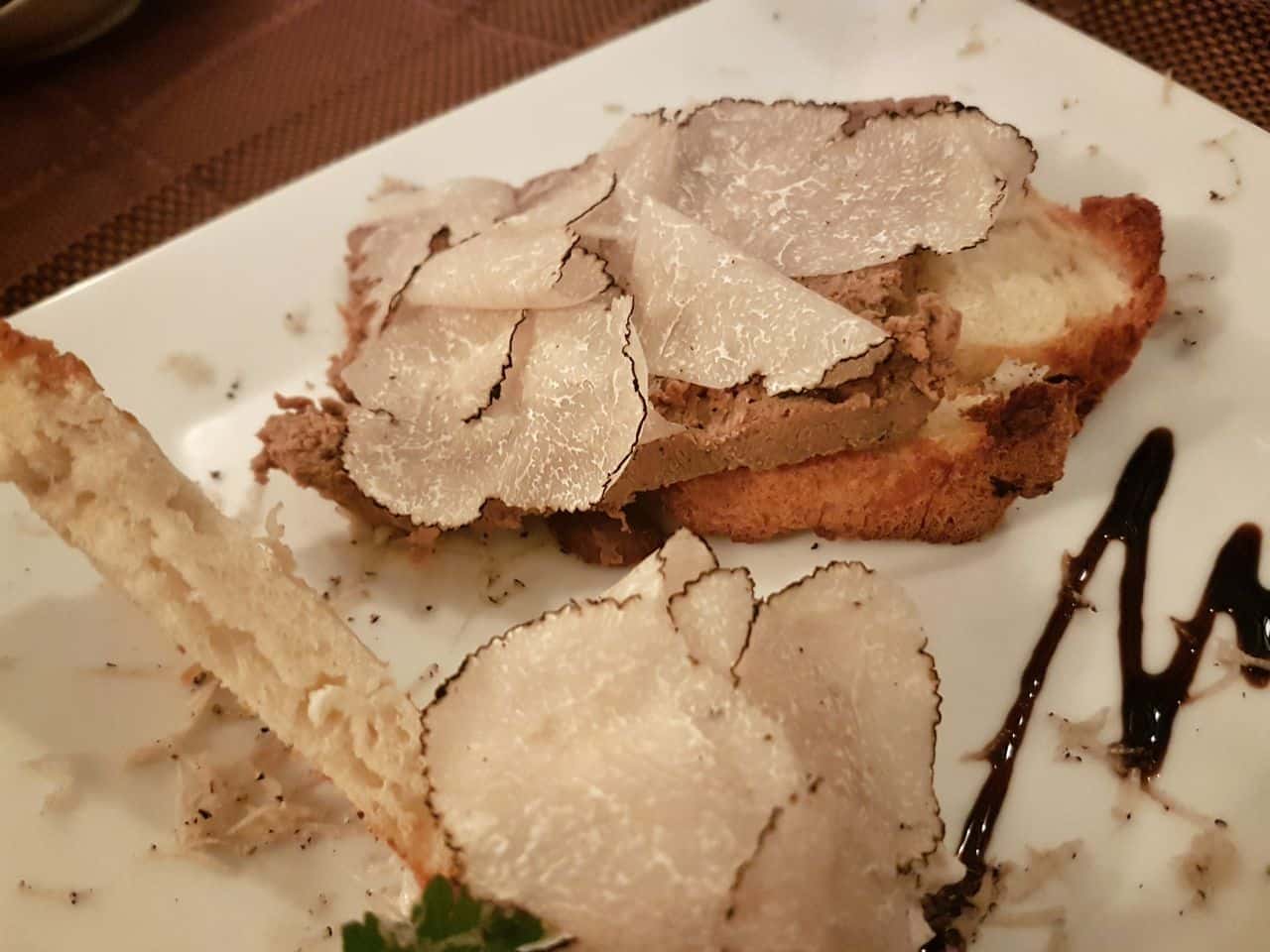 If pasta is not your thing, try shaved truffles over a chicken-liver pâté on crusty bread. Though not for all tastes, this dish was a tastebud tingling standout for me in Motovun, where I ate it at Konoba Mondo.
Mondo dished up truffle dishes in all kinds of ways – including creamy polenta sat in a crispy cheese basket topped with lashings of truffles, served with a wooden spoon. It's melt-in-your-mouth creamy.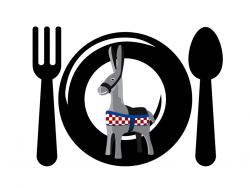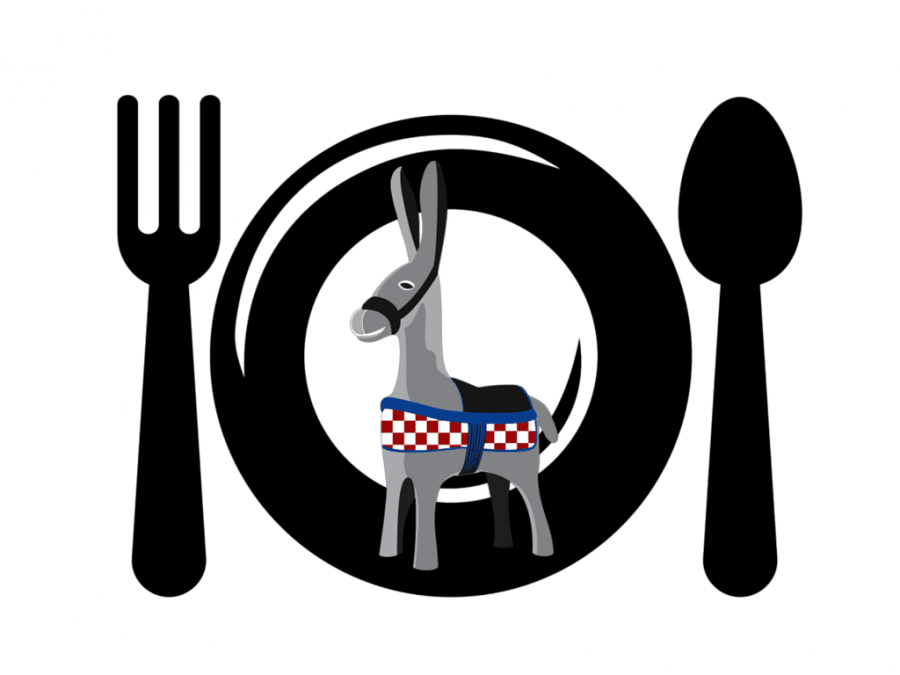 Mondo is located just outside the large gate in the medieval hilltop town of Motovun. Easily spotted thanks to the bright green shutters.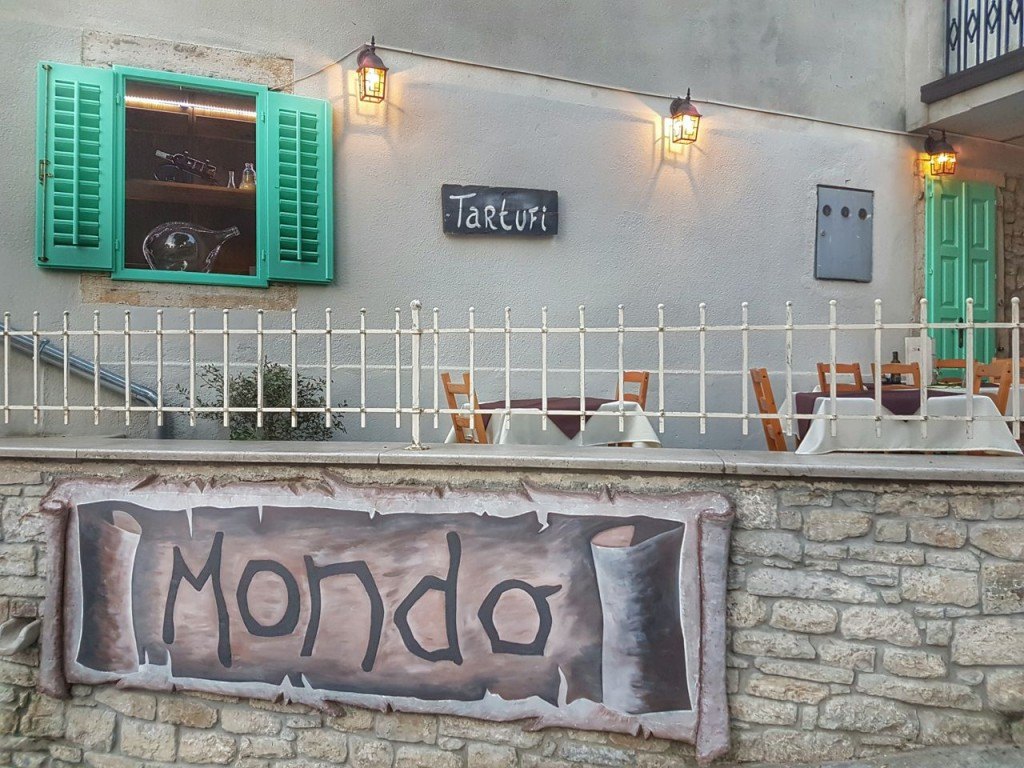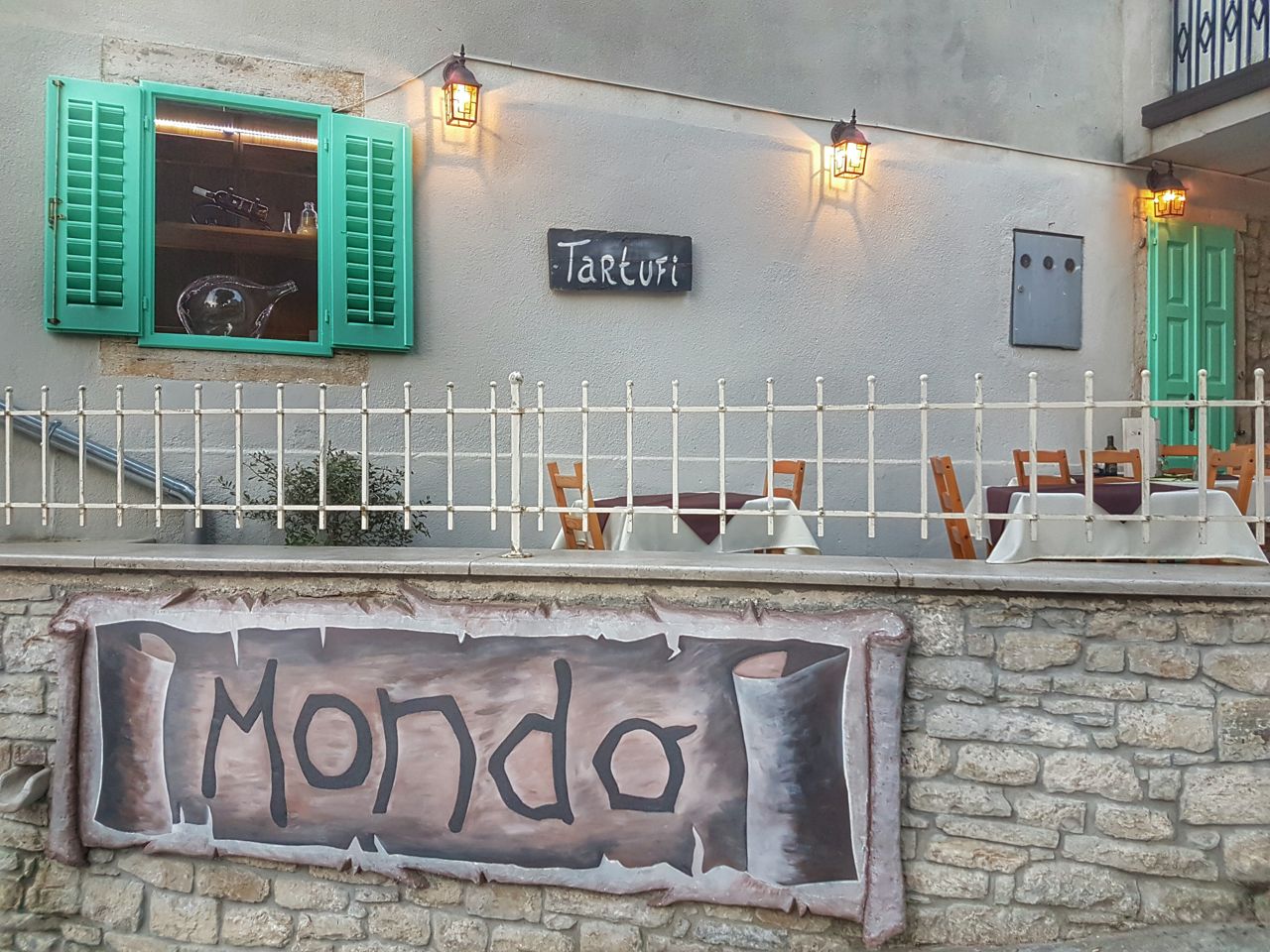 If you are like me, you'll fall in love with truffles and want to take them home with you. Lucky for you – you can! In the hilltop town of Buzet, you'll find Natura Tartufi. There you can sample a tasting plate of truffle products FOR FREE; after your tasting, you can purchase any of the items you tasted to take home with you.
My faves were truffle honey (med sa tartufom) and cheese with truffles.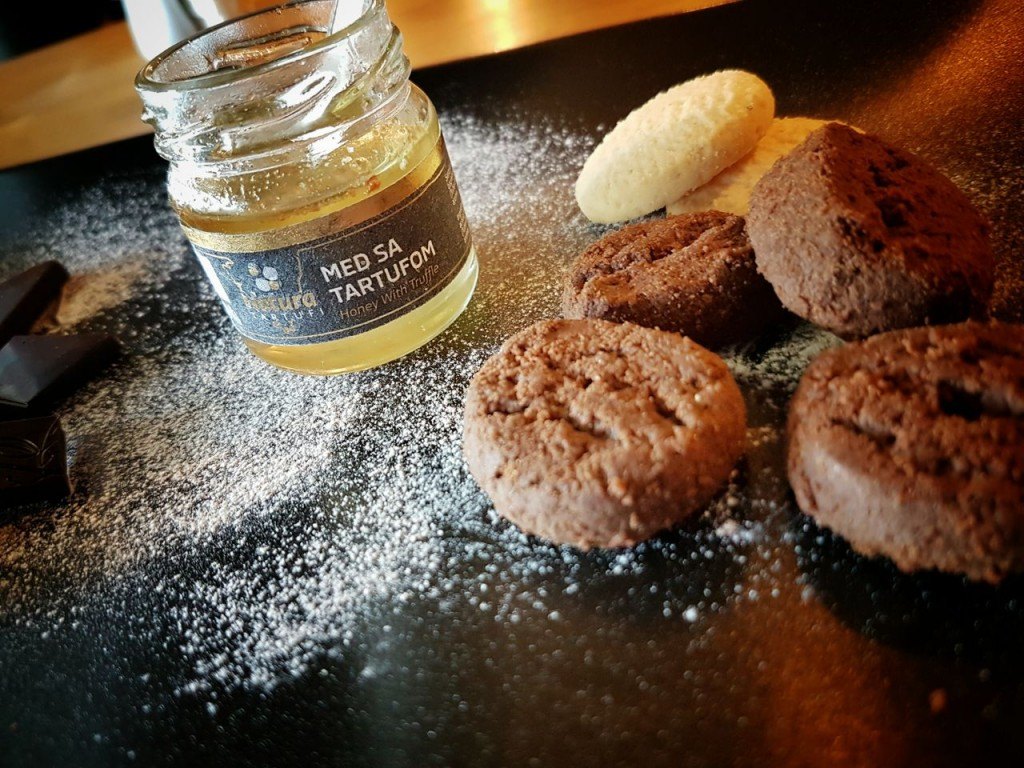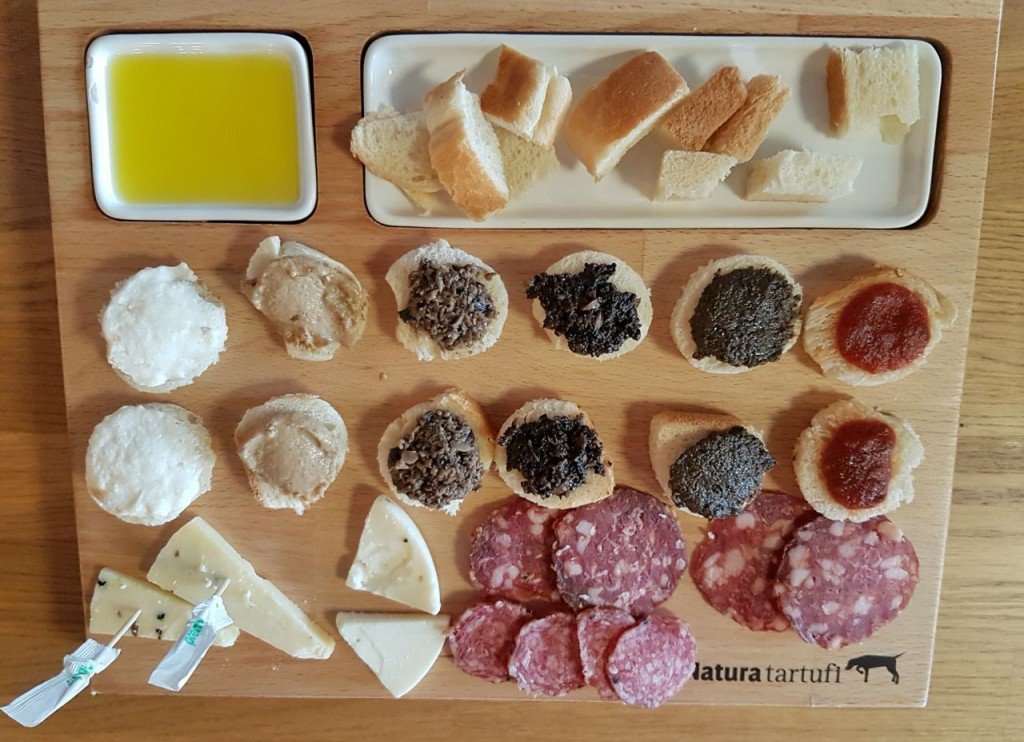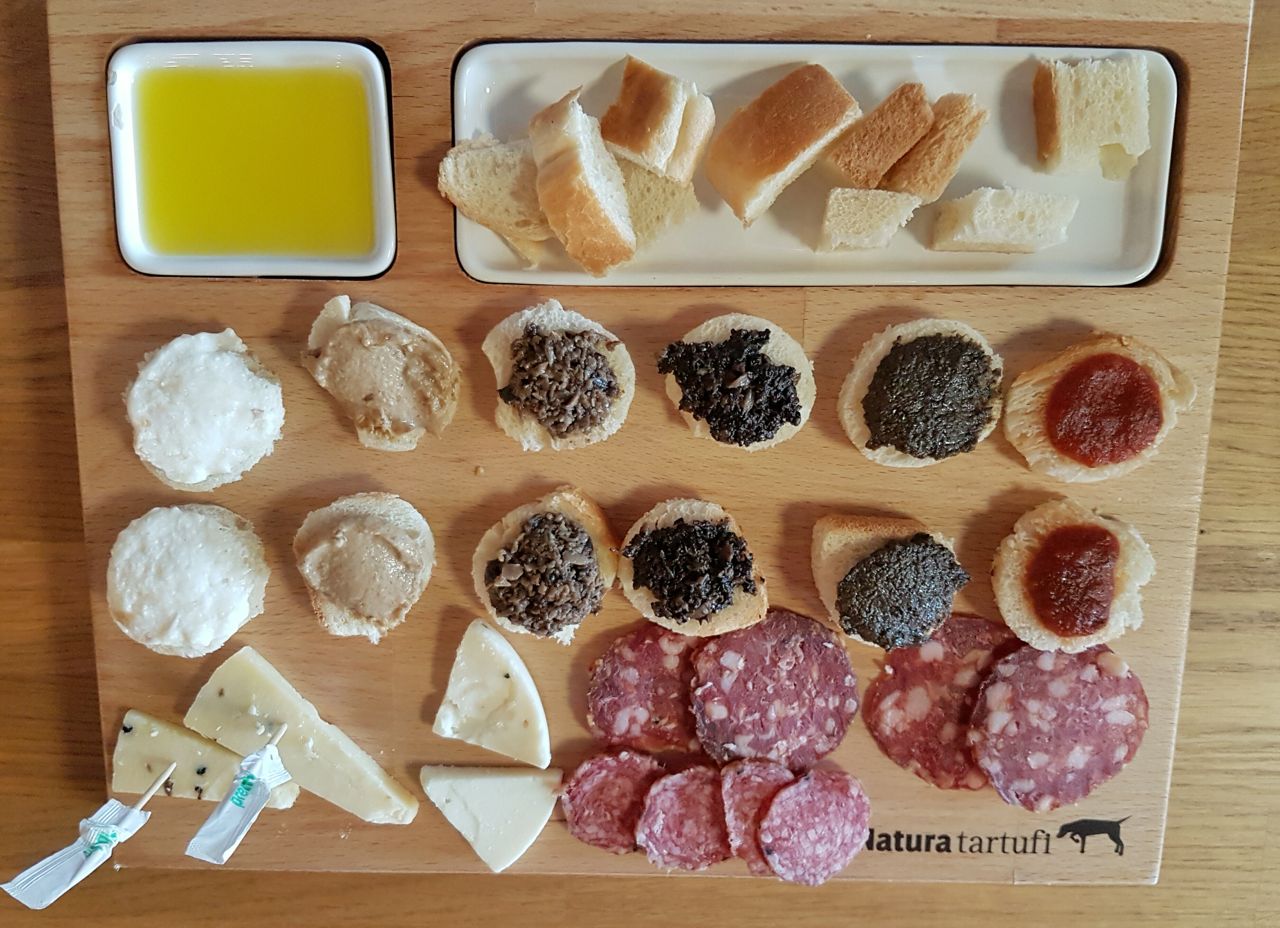 If you are adventurous while in Istria, take the plunge and try truffles with ice cream – yeah, ice cream. Sounds odd, I know. I almost did not try it – but, boy-oh-boy am I glad I did.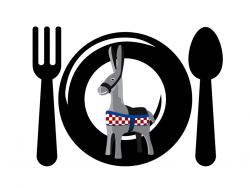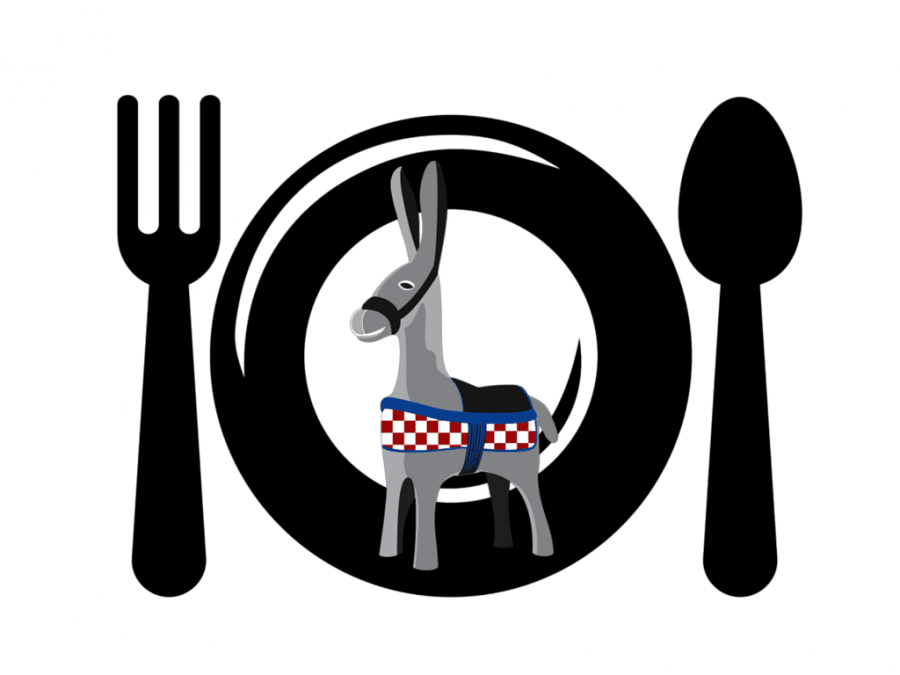 Truffles with ice cream can be enjoyed in La Grisa Restaurant in Bale, one Istrian town. I plan to write a blog post about it very soon as it's a delightful place worth a day trip.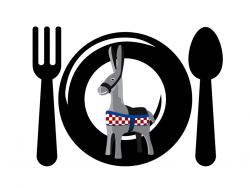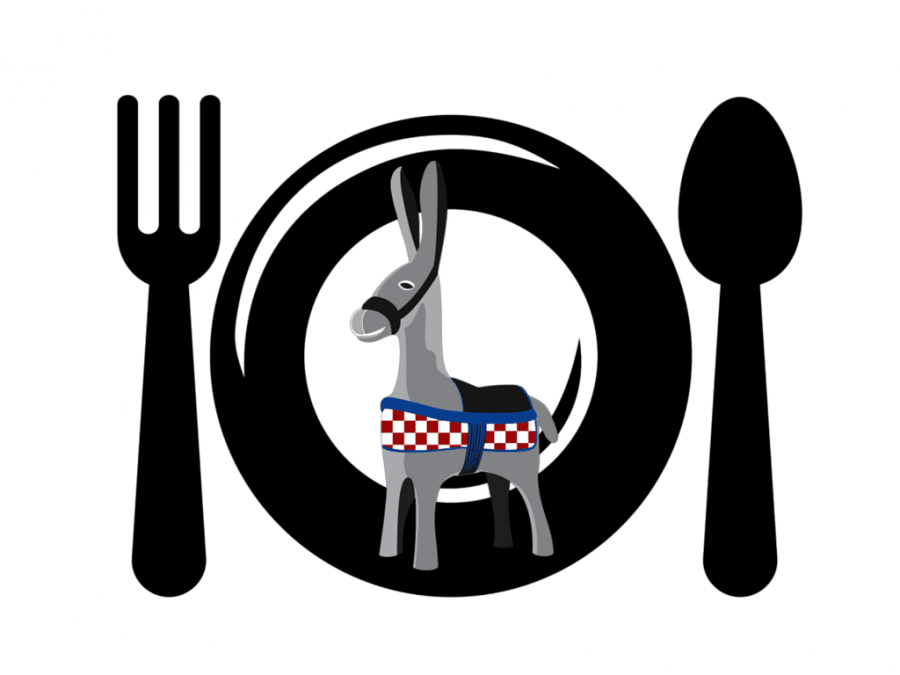 You can also experience truffle ice cream on Zabaione cream, with slices of fresh black truffle at Zigante – a restaurant in Livade not far from Motovun.
And, if you want a truffle upon truffle experience lasting several hours where you'll be served plate after plate of truffles served to you in art form – the number one place to go is Zigante Restaurant. Not only do they do ice cream, but they also make some artistic truffle dishes like:
Duck ravioli served with vegetable tagliatelle with scampi and a mousse of saffron and black truffles.
Millefoglie with Istrian curd cheese, Istrian ox, a young salad with fresh black truffles.
Sous-vide egg cooked at 63°C for 75 minutes, with truffle caviar.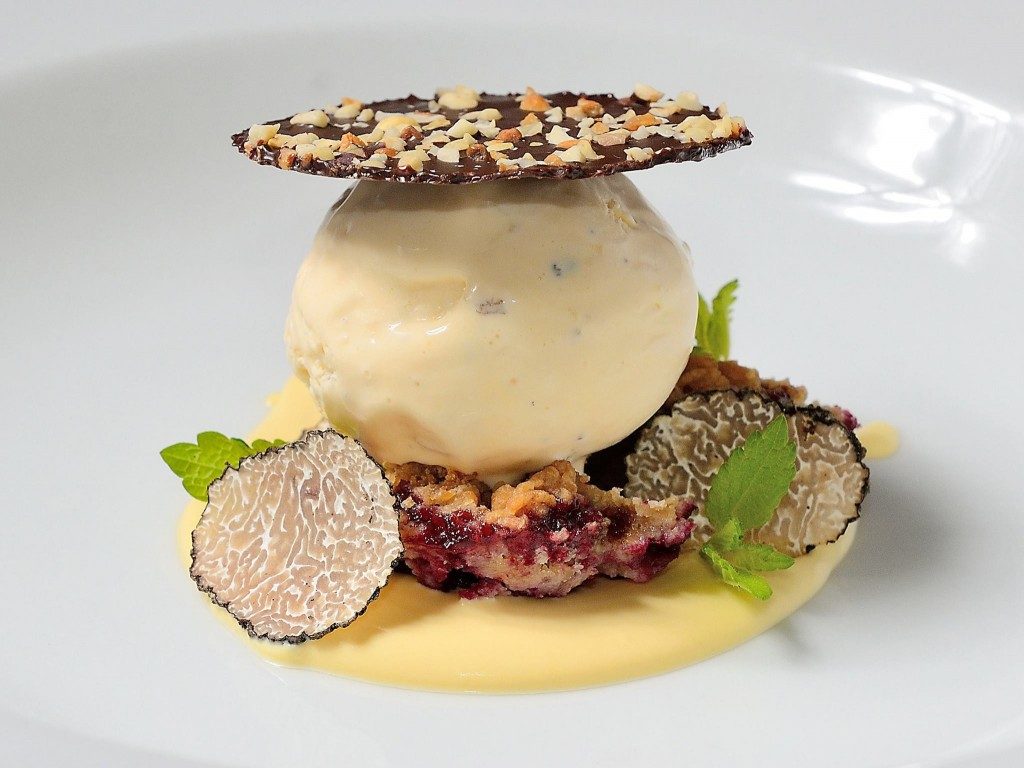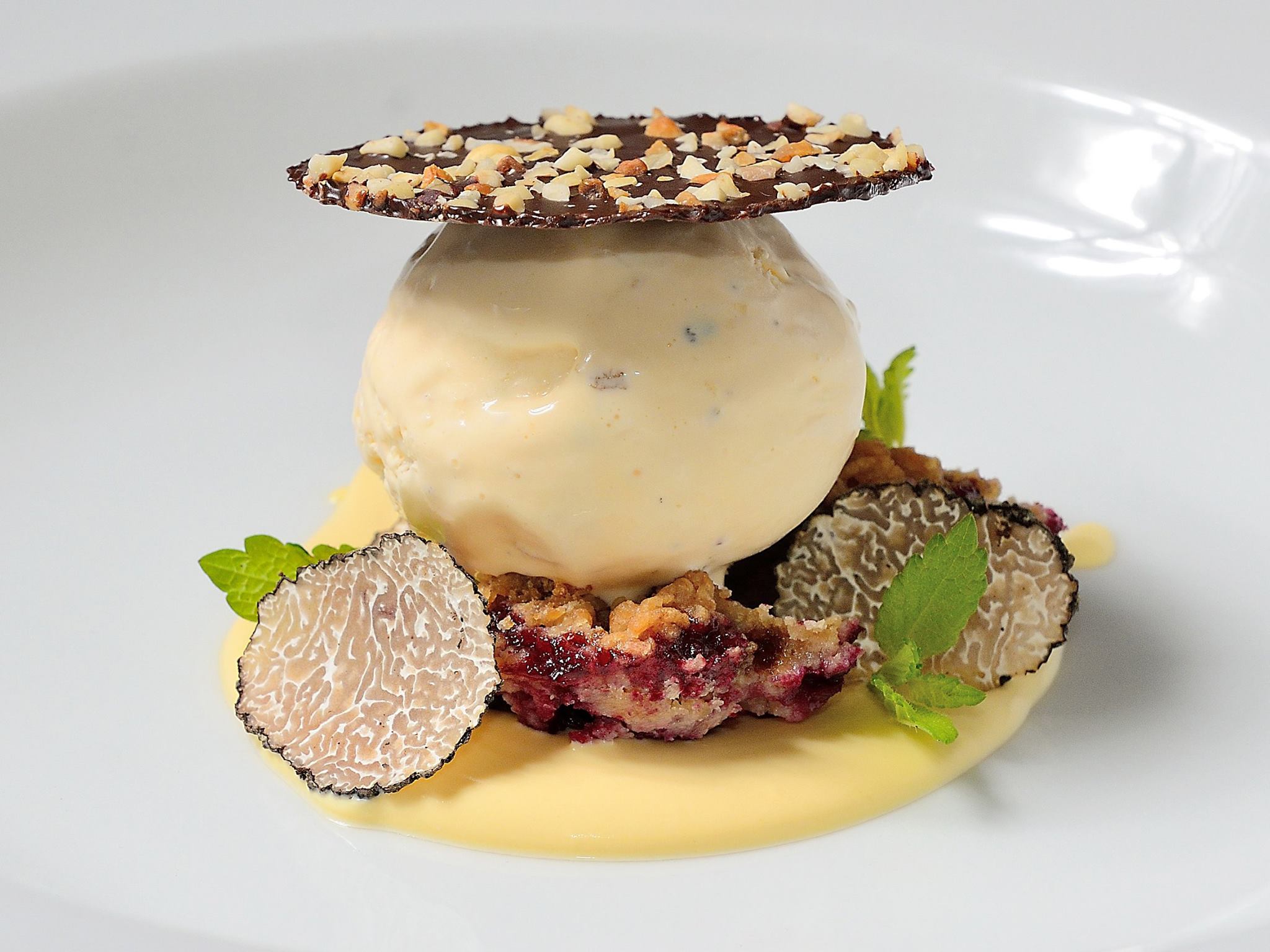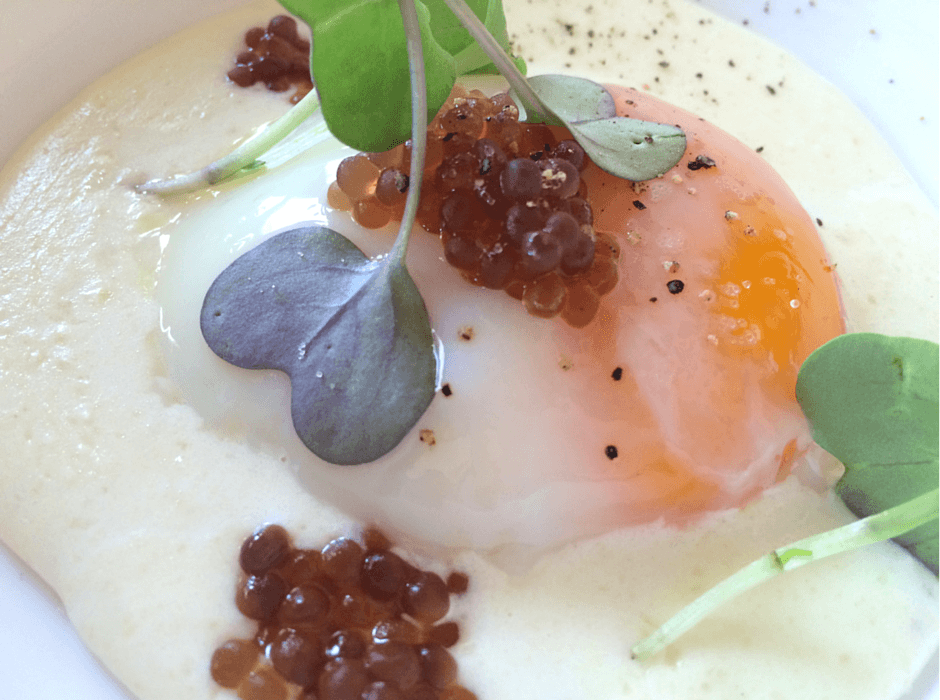 Istrian food fact: One of the biggest truffles found was over one kilogram and was found in Istria by the owner of Zigante Restaurant & his sweet dog, Diana, in 1999. In his restaurant, he has a mold of the gigantic truffle – and it's HUGE!
As if all of this truffle-ness was not enough, what about an Istrian food experience that gets the heart pumping? Truffle hunting!
Now, I never actually took part in a real hunt, but I was lucky enough to see the dogs in action in a demonstration at the Karlić Tartufi farm – so now, of course, I REALLY want to go deep into the forest with the puppies and truffle hunt like a boss. Look how much fun this looks.
You can try your hand at hunting truffles all year round, but if you plan it between September and November, the weather is still beautiful, and you can hunt the elusive white truffle. Maybe you'll find the next big 'joker.' The largest truffles found each year go up for auction and are called 'jokers' – one year, an 800 gram Joker sold for $25,000. Please remember me if you find one – I can arrive in Istria in 3-hours to share the joy with you.
The Karlić family have been truffle hunting in the Motovun forest for over 40 years, so they know a thing or two about the most expensive food globally – well, at least I can't find anything more expensive per kilo; than truffles – can you?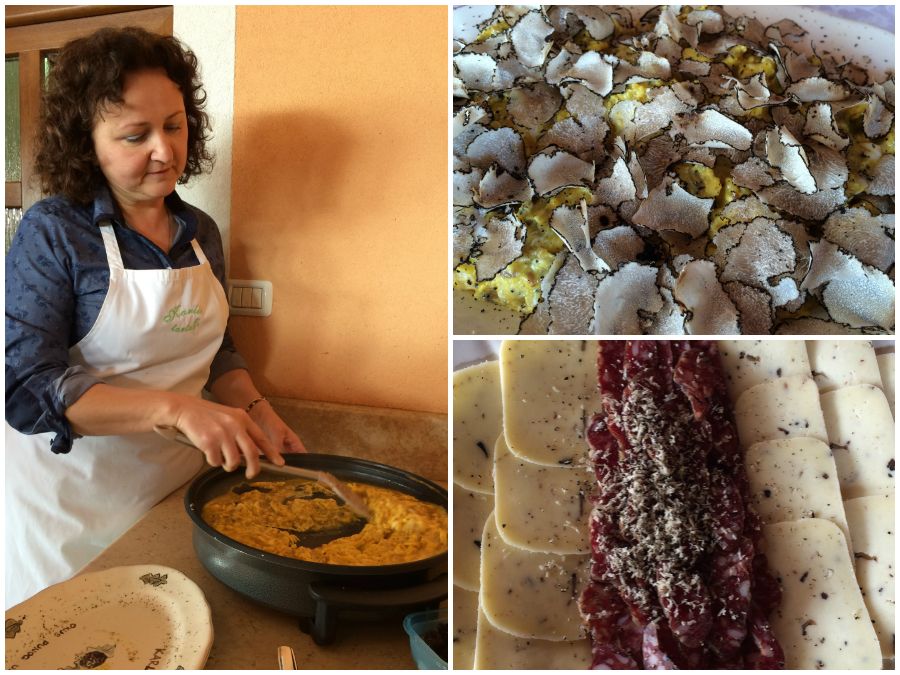 While I was at the Karlić family estate, I was treated to a truffle degustation, which included eggs, sliced meats, and chocolate truffle cream – yes, now you can spread your truffles onto your morning toast in either white chocolate or a Nutella-like form. It's called Trufella.
Geez-Louise what will they think of next?
TRAVEL COMPANIES WE USE AND TRUST
Olive Oil
There is no shortage of olive oil in Istria. One experience you will enjoy is to head to the super sleek BRIST Olive Oil tasting shop in Vodnanj near Pula.
The Puhar family who runs BRIST makes extra virgin olive oils that are produced from traditionally grown native olive varieties from their six-hectare grove. They also hand-pick all the olives – no machines are used in the picking process. Yikes, that's hard work.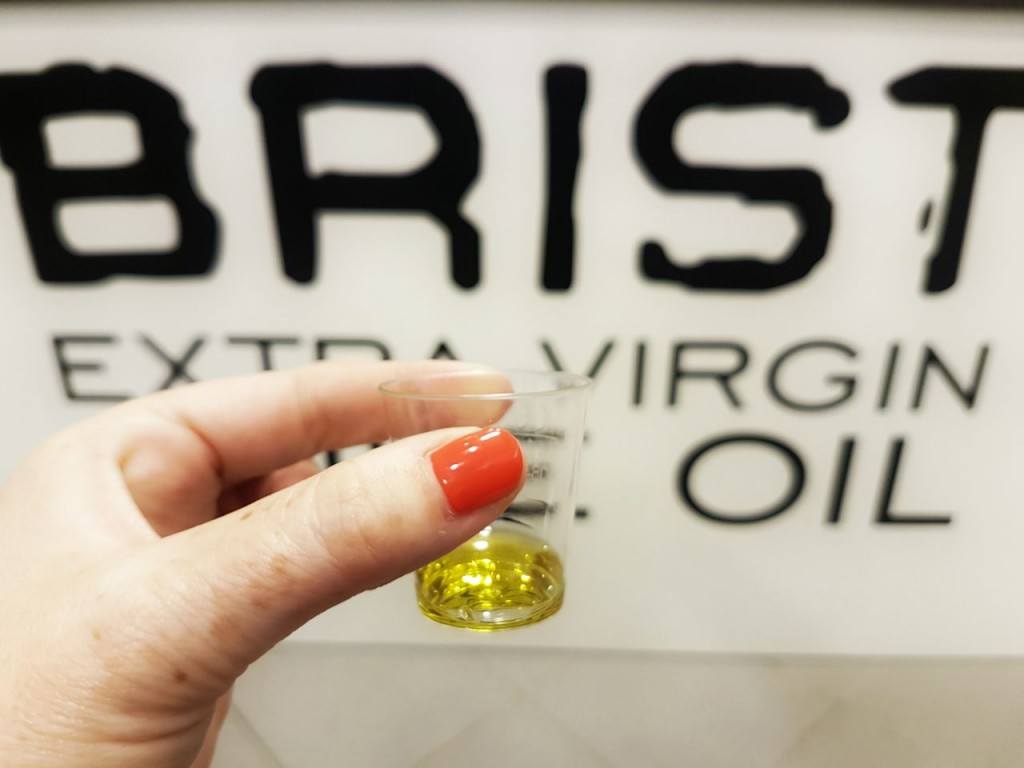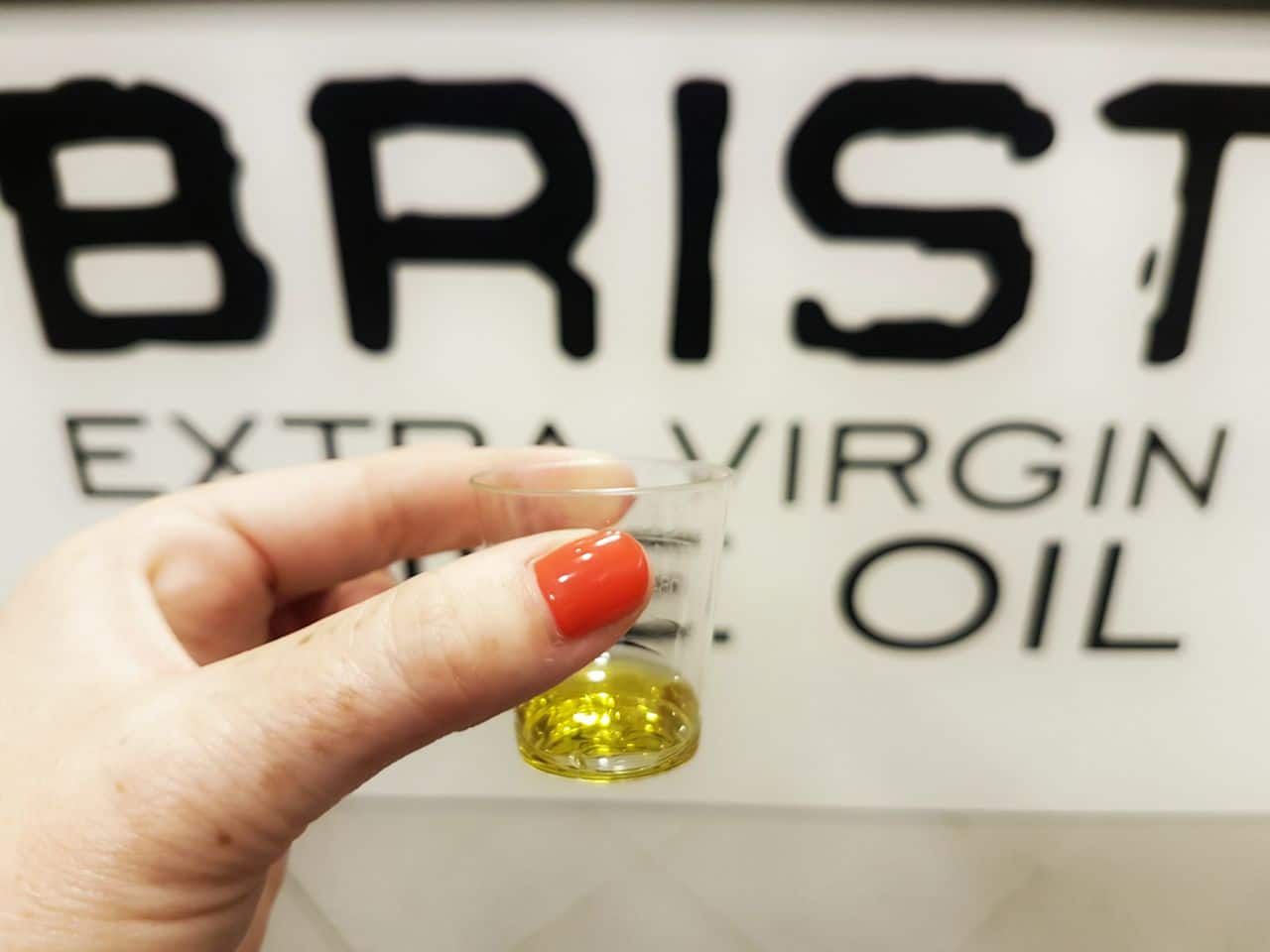 While I was there, I met Paul ( a fellow expat) and his Croatian wife Lena, who, along with the rest of the family-run the company. What an excellent story they have (I'll be sure to write about it in detail for you all down the track). I tried two types (and subsequently took home two bottles) of their olive oil.
If you want to be daring, drizzle some of the BRIST Intenso Olive Oil over premium vanilla ice-cream – I know it sounds odd, but Lena told me about it, and I have to say it was a real treat.
They also offer sunrise and sunset olive grove tours which make for a great social distance activity in Istria!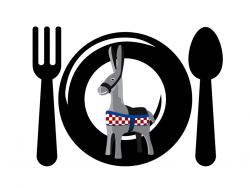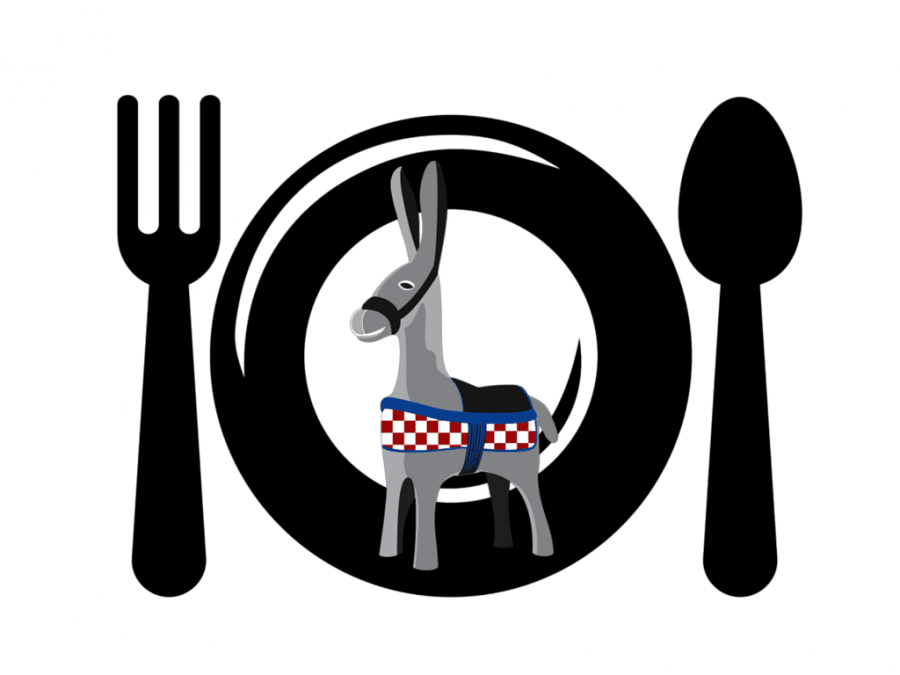 The BRIST Olive Oil tasting room is within walking distance to Vodnjanka, a tavern we totally have to mention that makes traditional Istrian food. So we suggest you plan your trip to visit both places one after the other.
Istrian food fact: Well, less an Istrian food fact, and more just a food fact – did you know that the best way to try olive oil is 28 degrees. To do that, Paul and Lena suggest we hold the little golden cups of oil in our hands before we tried them.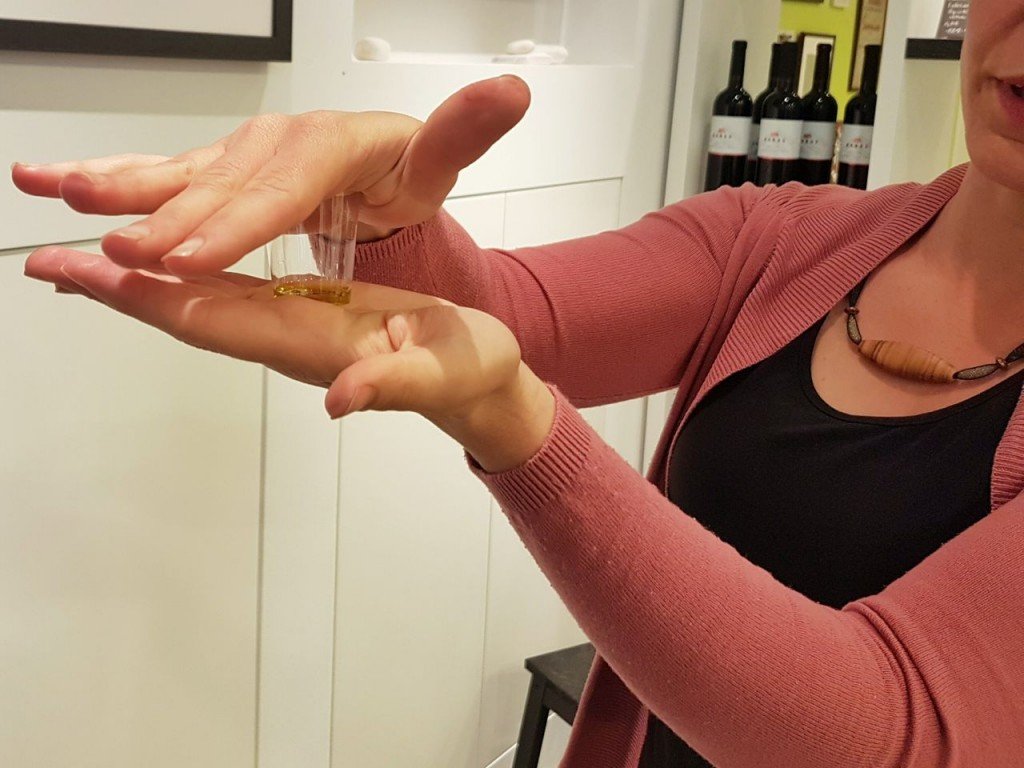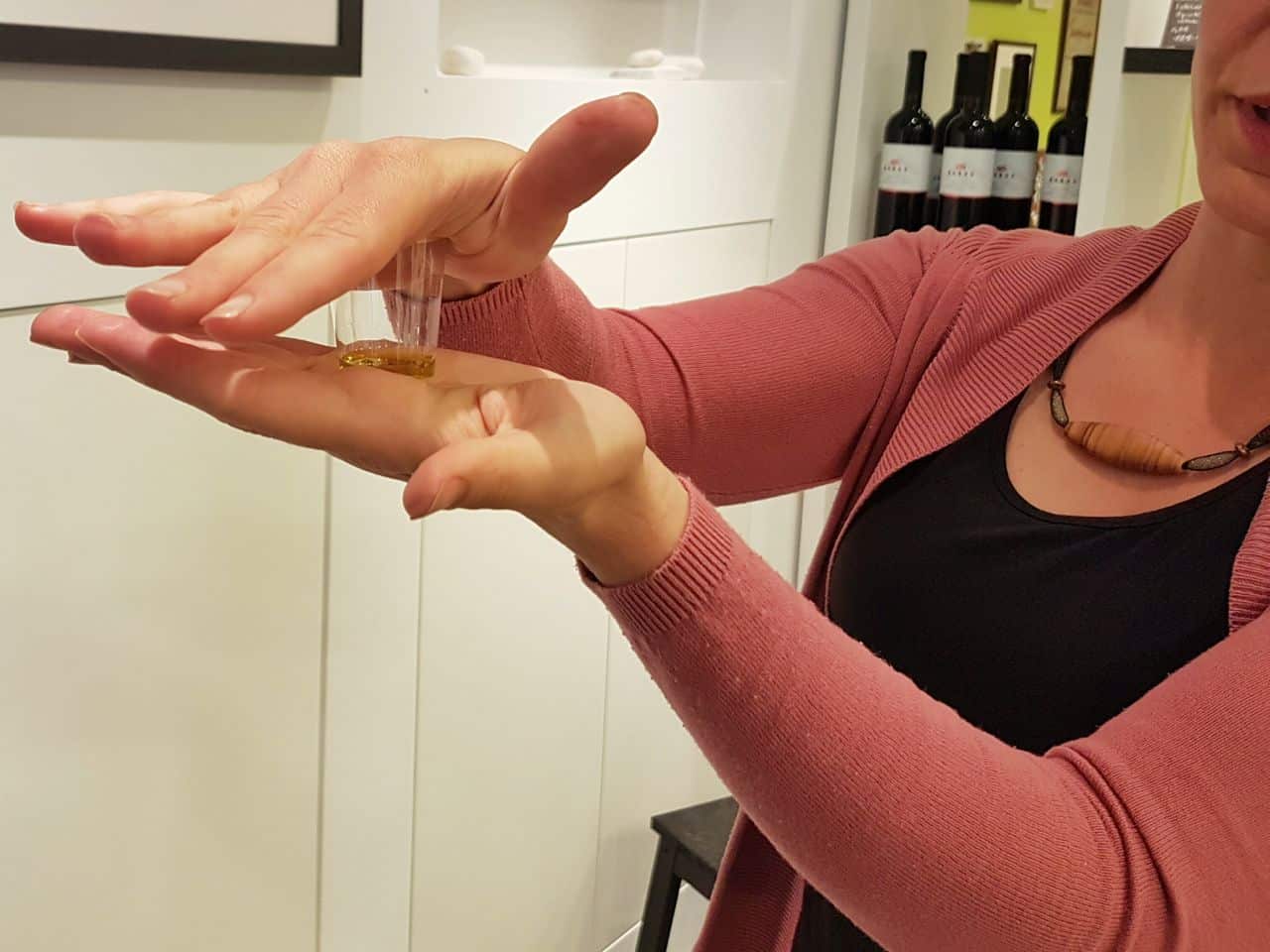 Cheese (sir)
What! Cheese in Istria? Who would've thought, huh? A local family who ran a dairy for 15 years decided to get into the cheese-making game, and they've developed an excellent product and a tasting room that they should be proud of.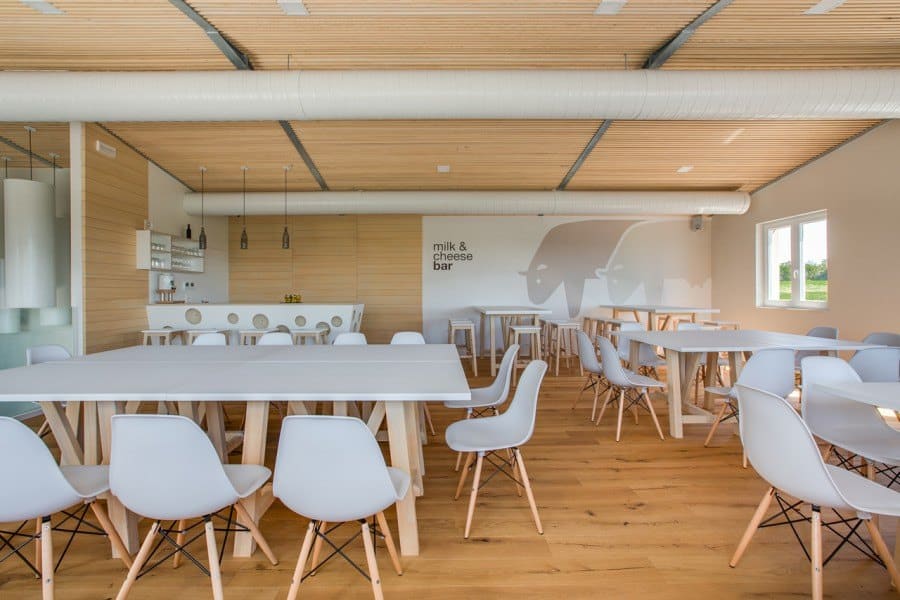 Latus Milk Bar (Mljekara Latus) is where it's all at. The family had a dream of preserving and maintaining the pure indigenous scents and flavors of Istria, and so they went to ask local cheesemakers 'how to make cheese.' Maja, the owner, said that they learned things that can't be taught in cheese-making school.
I ate my way through the whole cheese spread:
Fresh yogurt – served in a glass on arrival. Ohh-lah-lah!
Young cow milk cheese
Žminjski – a semi-hard cheese with no crust that is left to ripen (perfect for melted cheese on toast)
Istrian cheese – a semi-hard cheese ideal for everyday consumption and my favorite
Cheese with truffles – I loved this so much I purchased a massive block to take home
Veli Joze – a full-fat cheese that ripens in a year
Škuta with homemade jam – A fresh cheese kind of like ricotta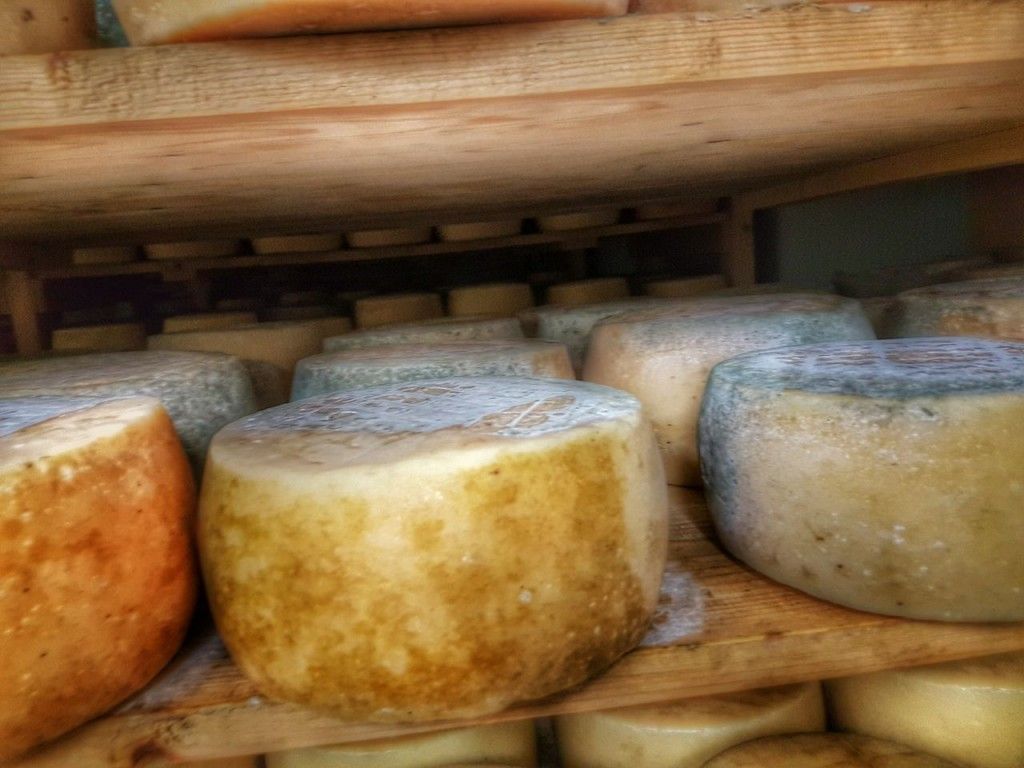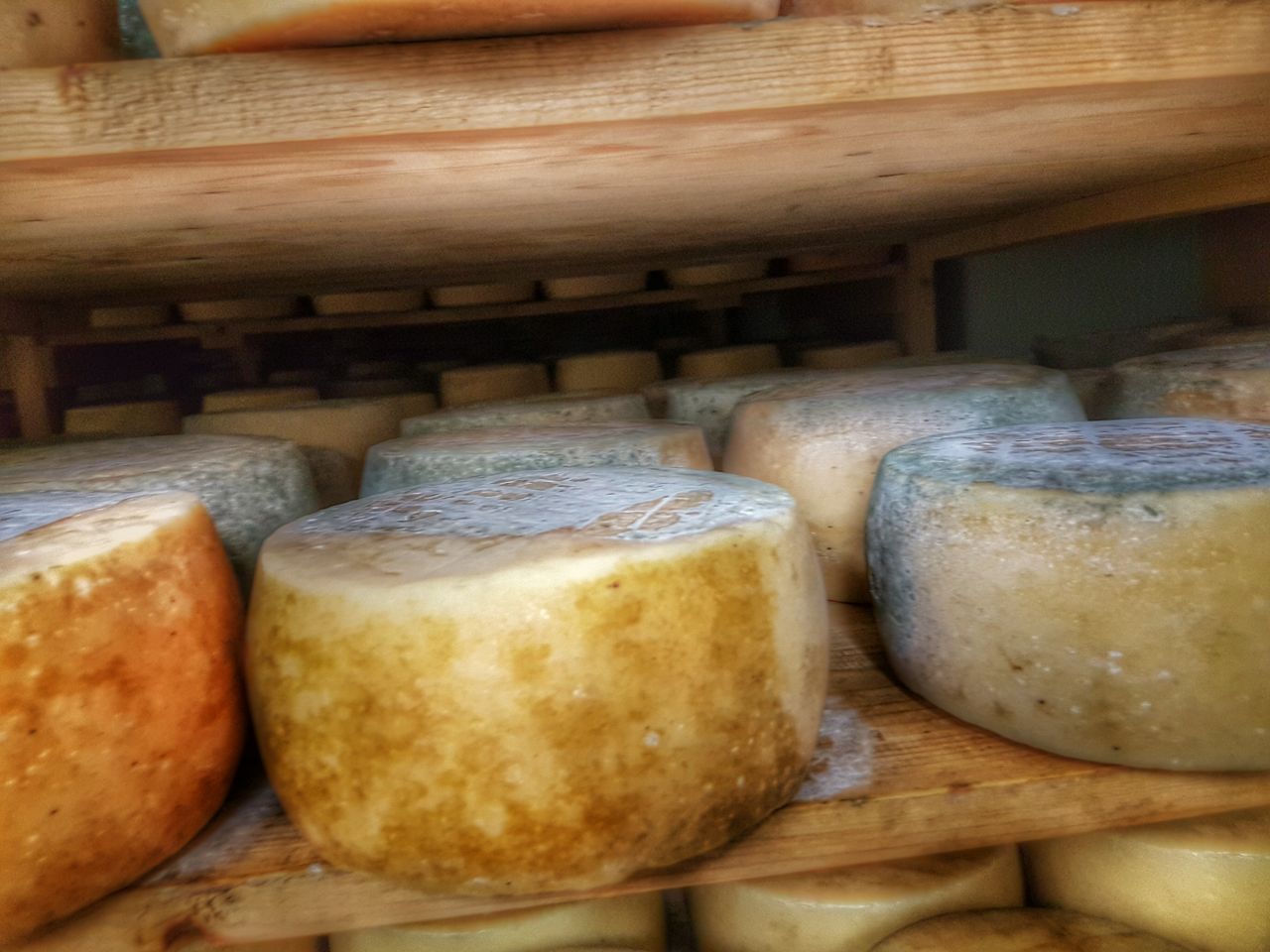 Mljekara Latus just opened their tasting room in March; even though it's new, they know cheeses, so don't be shy. They are located in Žminj, not very far from Rovinj. The tasting room is one kilometer from the main road to Pula – Pazin, so it's easy to make a stop to or from Pula.
Wild Asparagus (divlje šparoge)
Mr. CtD picks wild asparagus each spring – but he serves his with eggs like this. In Istria, they take the wild green spears and serve them in many ways, and I have to say that the best way is in the soup. Sluuuuuurp, I love me some soup, especially when it's served with crusty homemade bread and olive oil.
I can vouch for two places that make this with REAL wild asparagus. So good, you can see the pieces of asparagus inside the soup.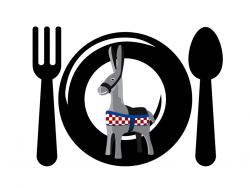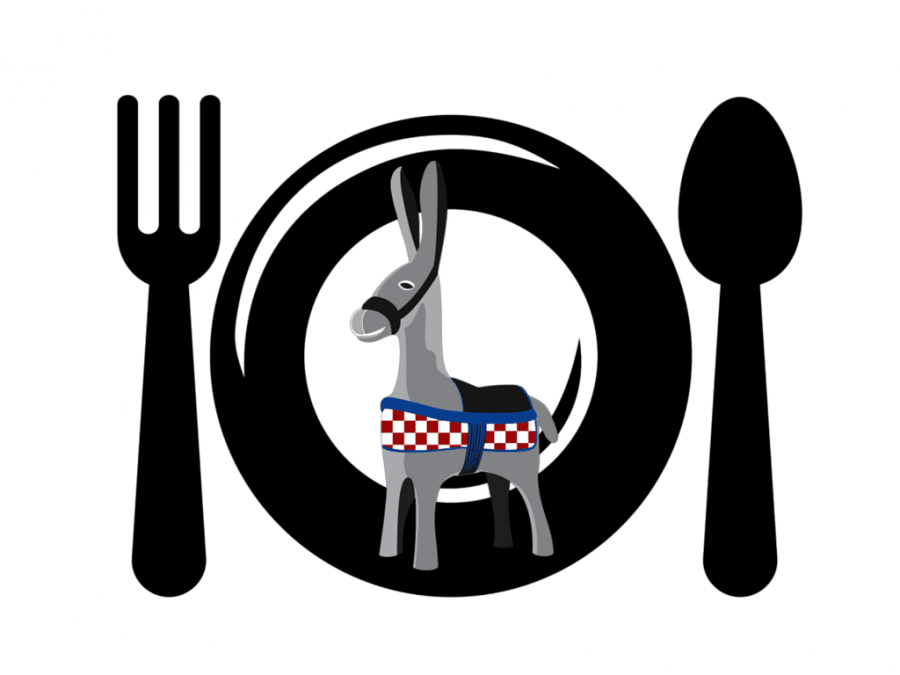 Stari Podrum in Momjan has a wide variety of local dishes available, depending on what ingredients are fresh that day. Bonus: it's right next door to Kozlovic Wines.
Alla Beccaccia in Valbandon has a rustic decor with an open fireplace and loads of meaty dishes on the menu.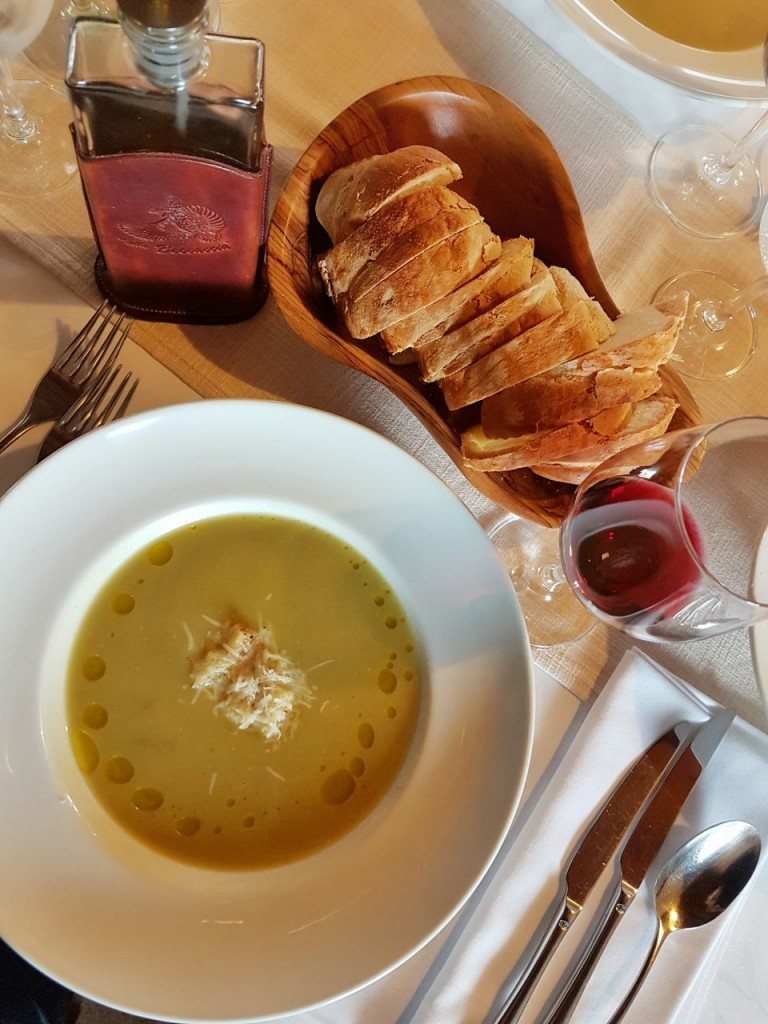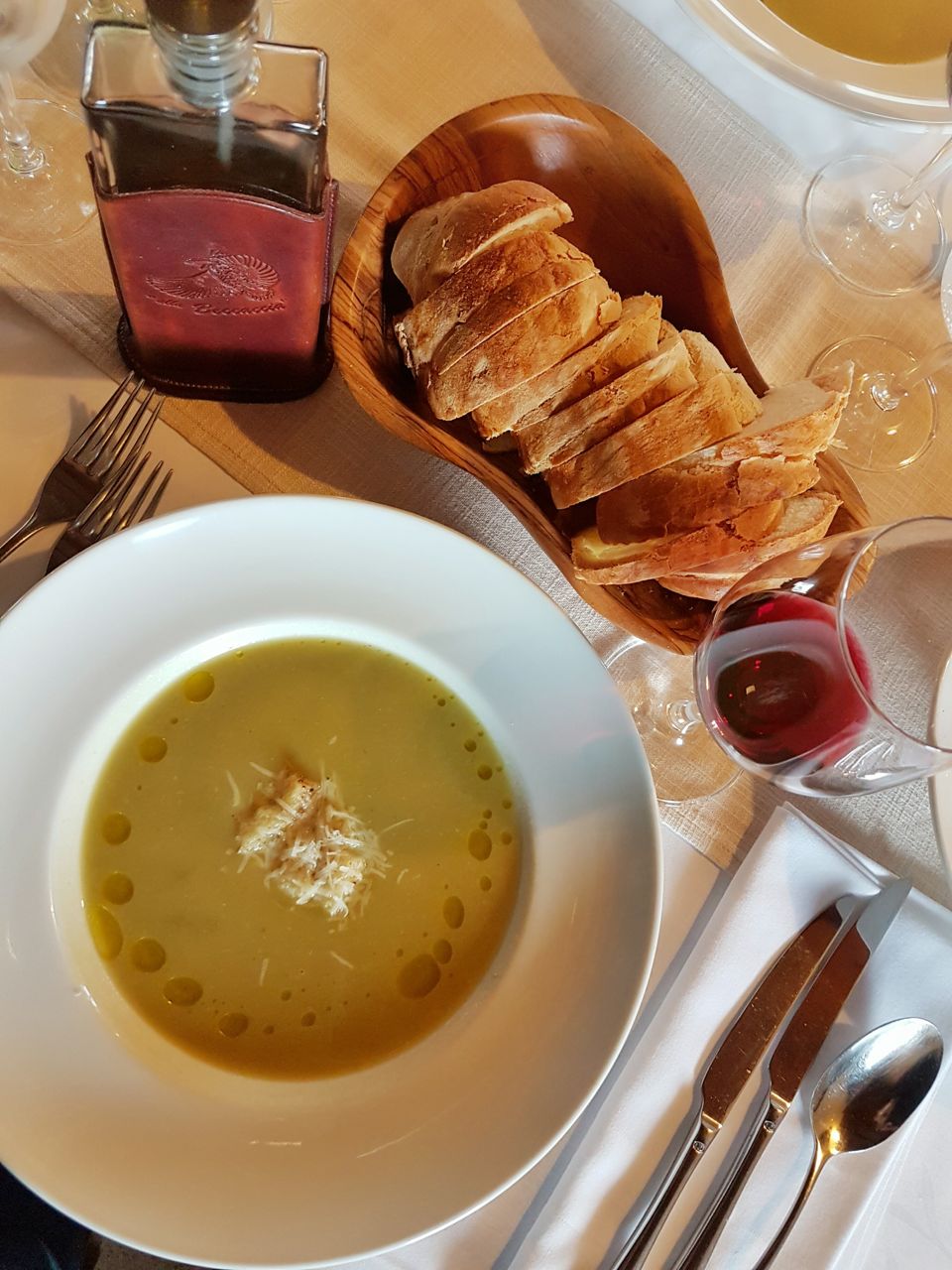 Another killer way to eat asparagus is with smoked ham in a dish called nadeva. This was a massive highlight for me – I had never tried anything like it. It's local to the Buzet-Hum area in Istria, often eaten at Christmas and Easter.
The base is almost like a dumpling-come-gnocchi. It soaked up all of the sauce from the dish and was kind of soggy – but in a good way. Nadeva is made with dried bread made into breadcrumbs, mixed with parmesan cheese, butter, and eggs. I need to find a good recipe for this to add to my collection.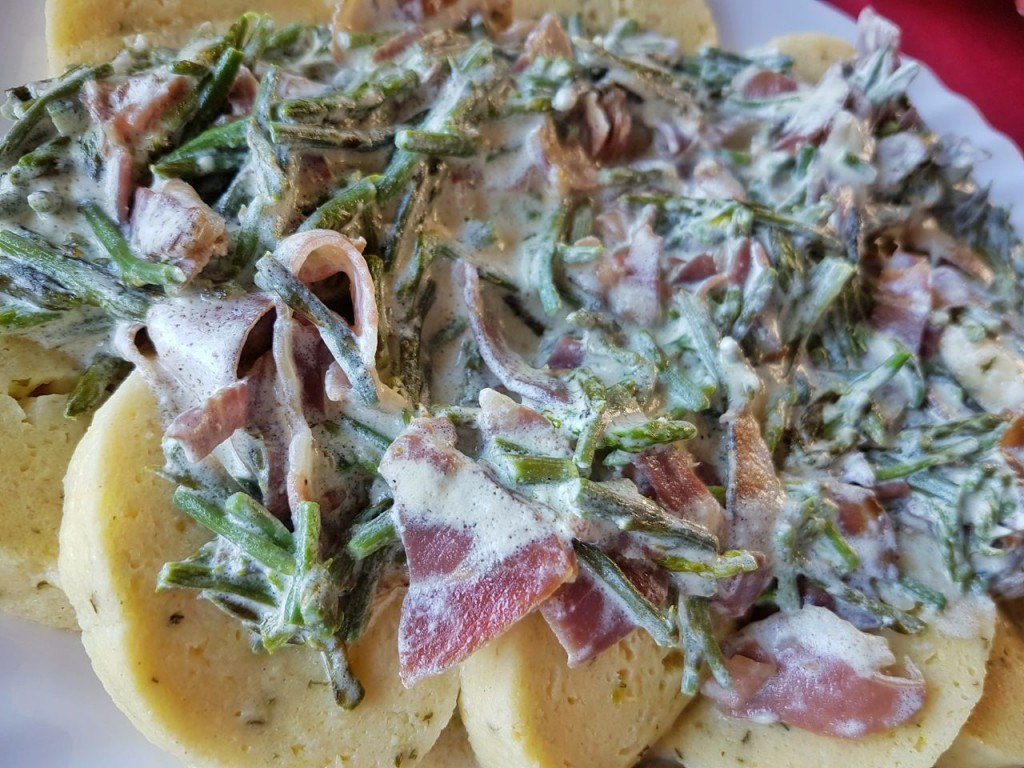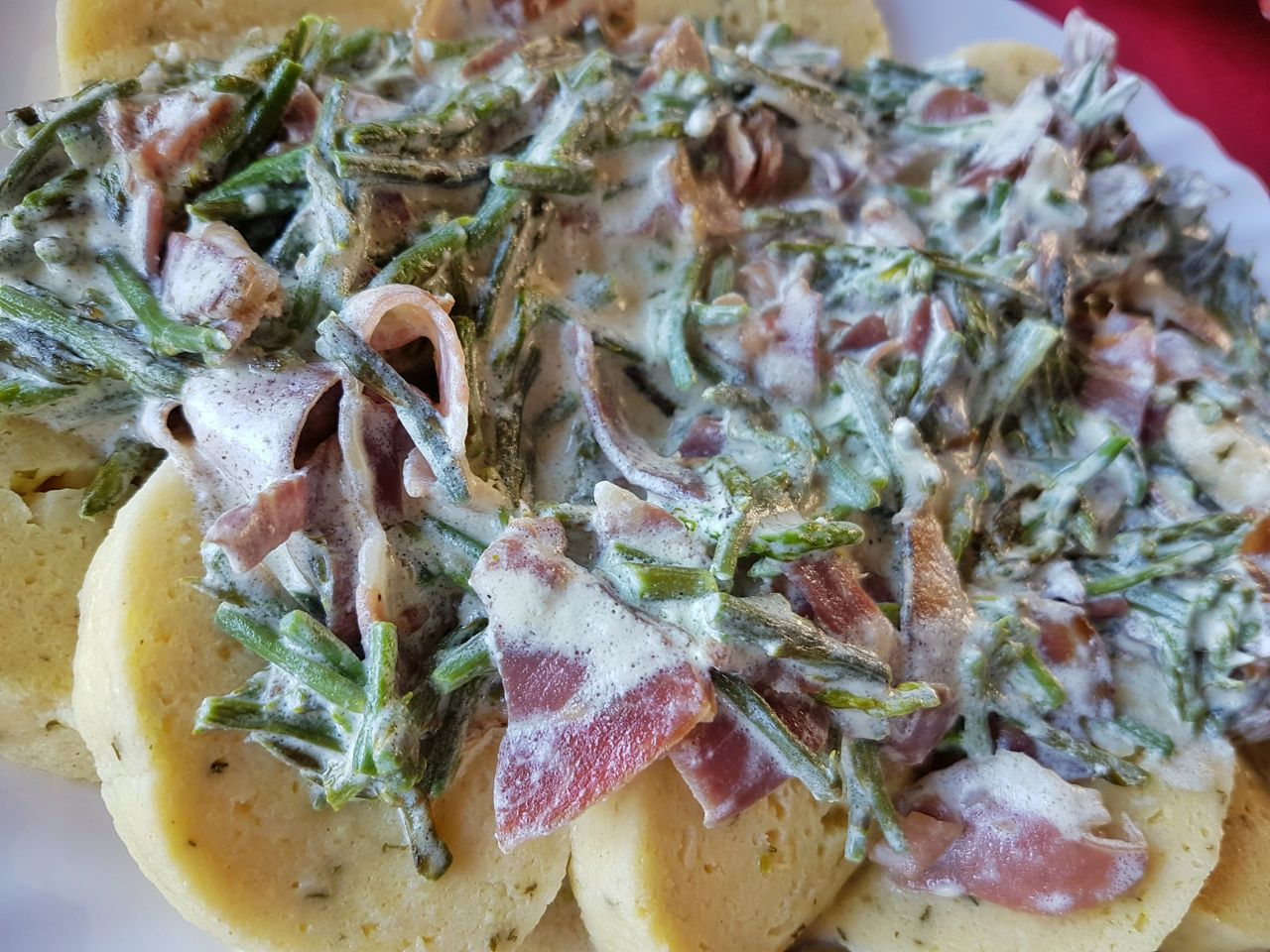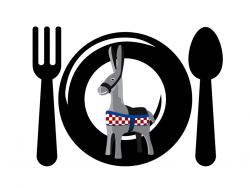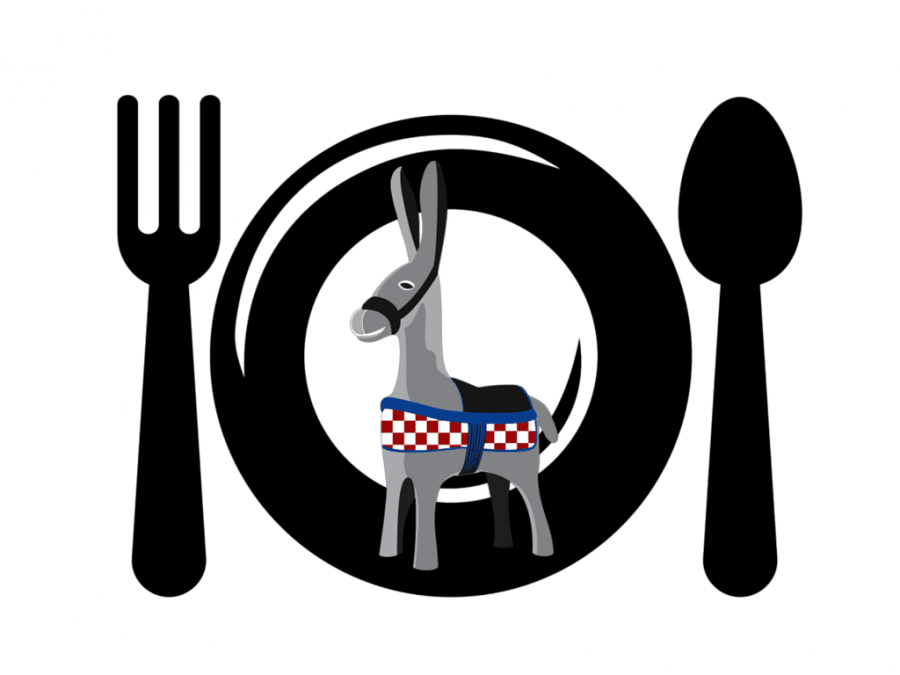 The best place to eat Nadeva and a stack more Istrian dishes are at Humska Konoba, a tavern in "The Worlds Smallest Town – Hum. We sat for two hours overlooking the vineyards and olive groves, eating, drinking, and chatting. My suggestion is to plan your arrival at Hum around 10 am, wander the streets, and be seated before the crowds arrive. You'll want to claim your table overlooking the delights below.
Istrian Pasta – Pljukanci
Several homemade made pasta options you have to try in Istria – but of all of the Istrian pasta, my favorite is pljukanci.
Pljukanci are hand-rolled, somewhat chewy, and just the thing for soaking up all kinds of pasta sauces. The pasta dough is just flour and water, and they kind of look a bit like string beans.
I ate pljukanci several times during the week; you can find it served at all traditional restaurants. My suggestion is to try it with boškarin (Istrian ox) – the meaty-saucy goodness is a match made in heaven.
If you're on the coast, you can try it with seafood – I particularly enjoyed it served with tomatoes, shrimp, and škampi.
Try pljukanci at one of these top restaurants that make their own pasta and other Istrian delights:

Vodnjanka a tavern located in Vodnjan that serves traditional Istrian dishes in a home-like setting.
Amfiteatar Restaurant, you can eat here after a long day of sightseeing in Pula. You can't miss it. It's right next door to the big Roman Arena.
La Puntulina is the best place to get seafood in Rovinj – oh, and it has killer views to boot.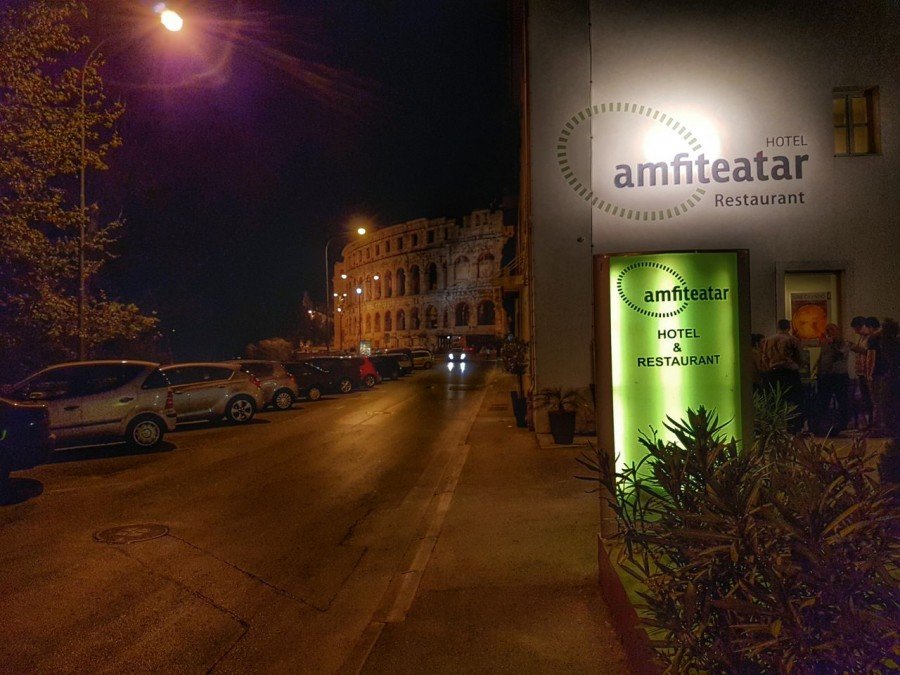 Istrian Ox (Boškarin)
The Istrian ox, known as boškarin, is a native Croatian breed of cattle. The oxen reach a weight of up to 1300kg and are used in remarkable dishes. Back in the 1980s, there was a tremendous decrease in the native population numbers. In the last 25 years, a group of Istrian cattle breeders has worked to protect and preserve the remaining population of this unique breed of cattle.
Boškarin can be found in Istria served with pasta, dried, boiled, fried in a pan with seasonal wild herbs, and local olive oil.
Istrian food fact: to be sure you are eating genuine boškarin, look for restaurants that display a distinctive sign – one with a picture of a boškarin!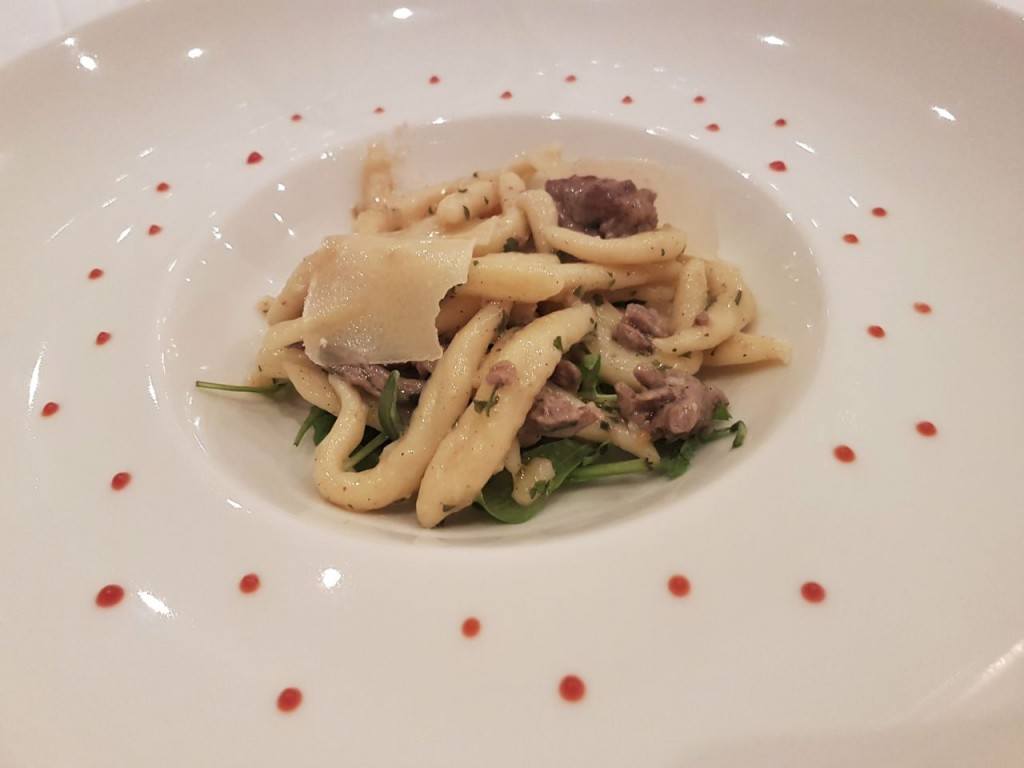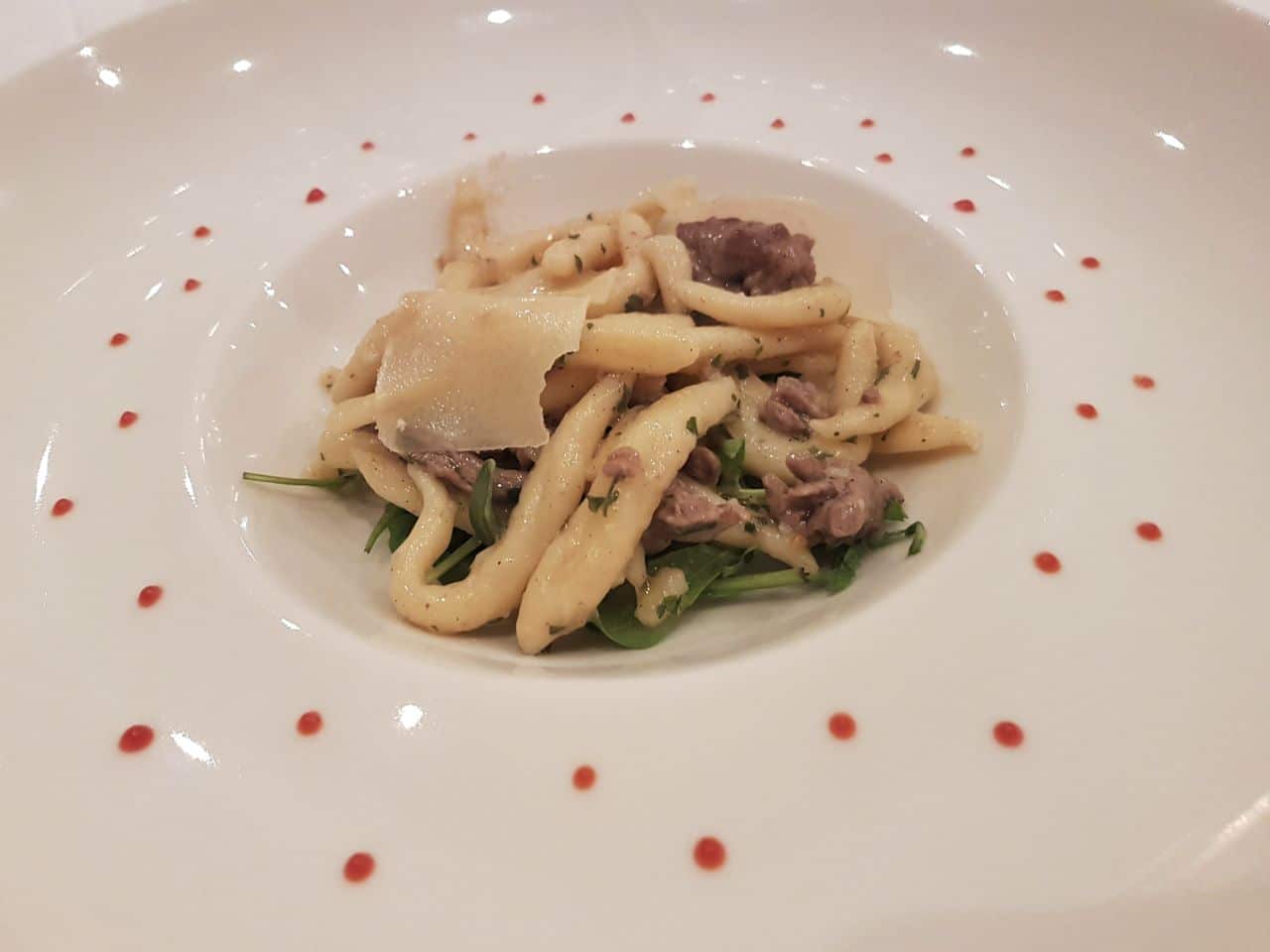 The boškarin with pasta was the winner for me. I am not a big meat eater, but if you are, then you should try the steak – even I enjoyed it.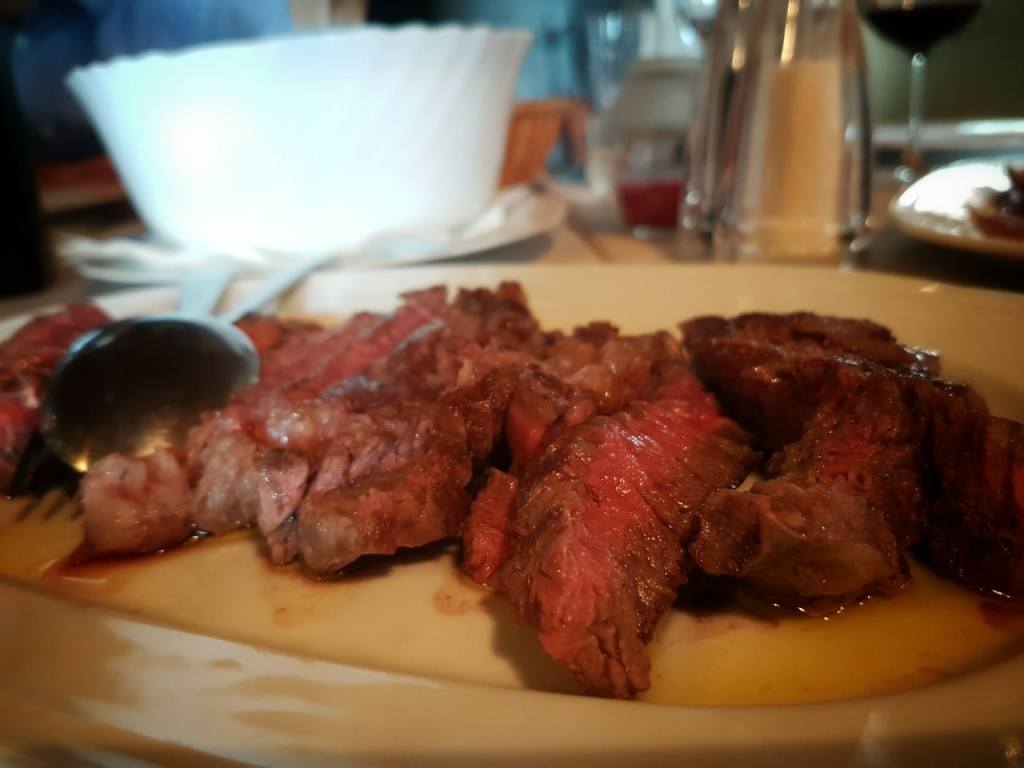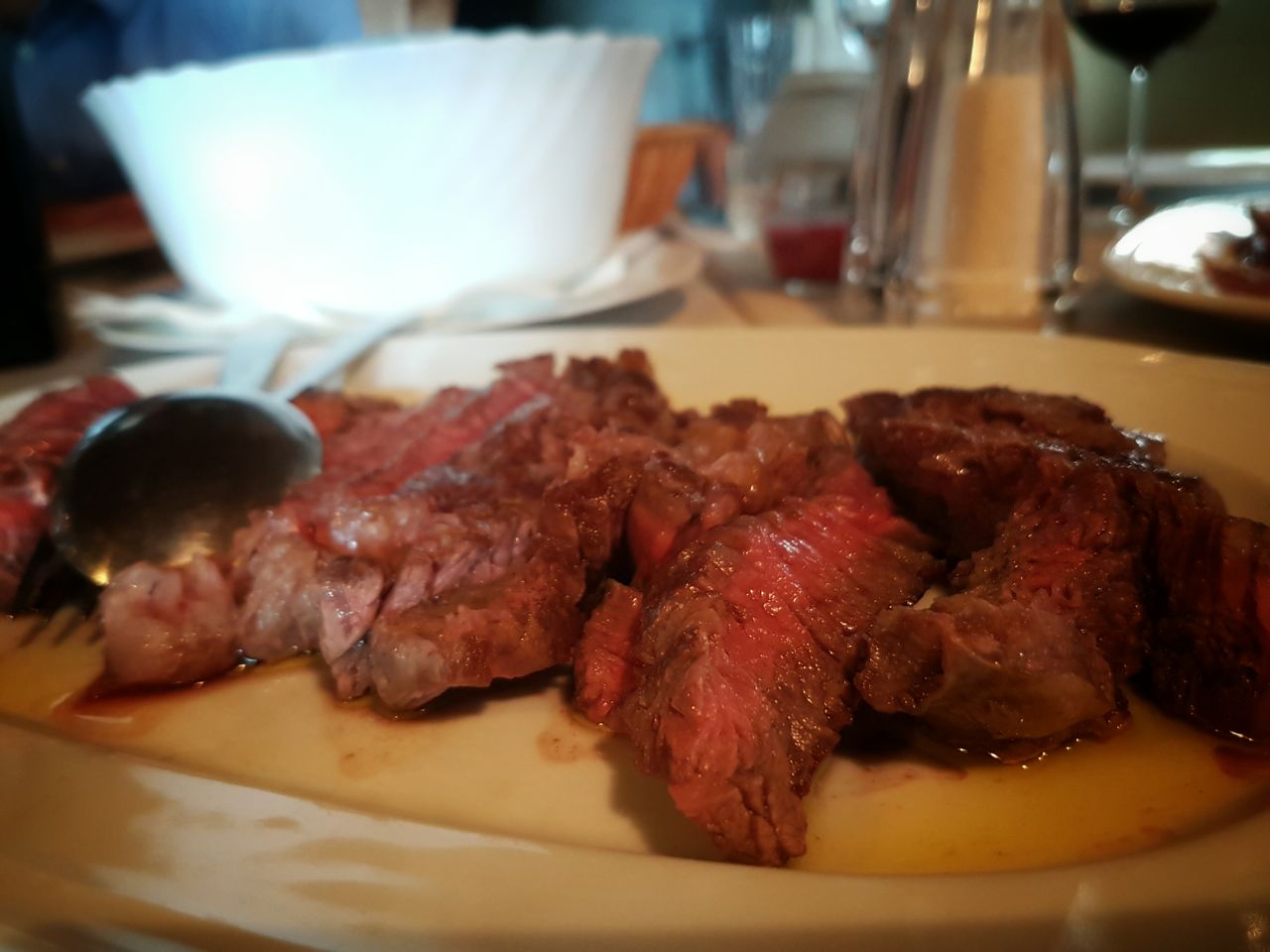 You can try Istrian Ox and other mouth-watering traditional dishes in a semi-fine dining setting at Hotel Kaštel in Motovun. Or at Konoab Puli Pineta in Żminj, their specialty is meat, meat, and more yummy meat.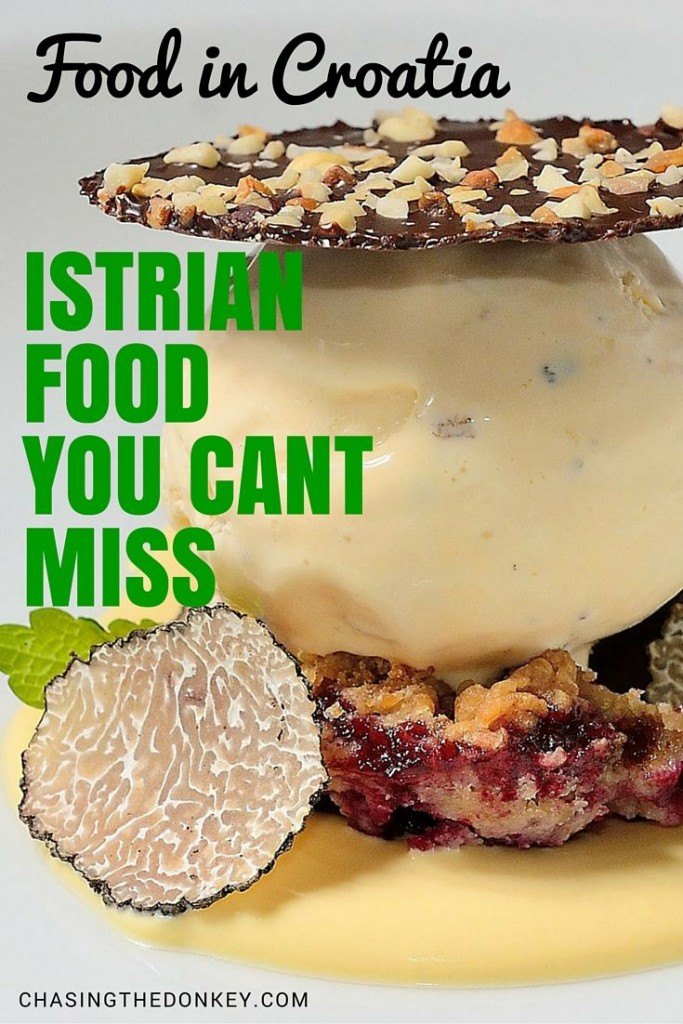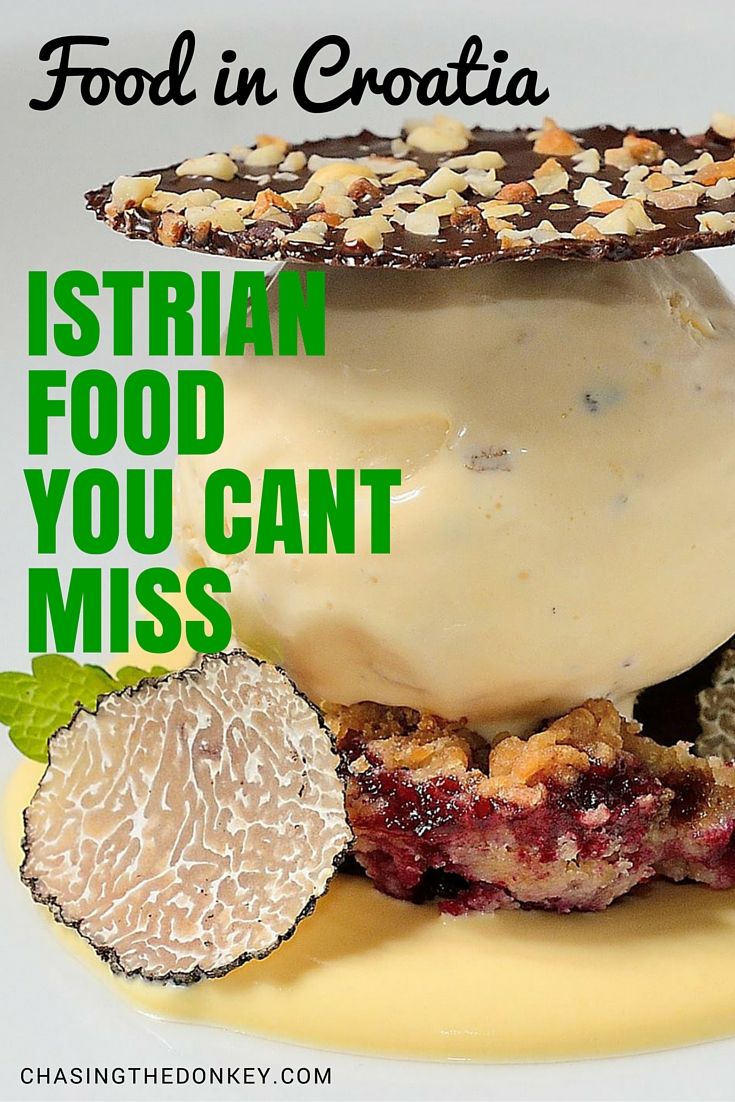 Blue Istria: Food By The Beach
I get loads of seafood in Dalmatia, but I had seafood with a twist in Istria.
Oysters (Oštrige)
Ain't nothing better than fresh seafood, and you can't get fresher than straight from the sea. We pulled up to Emil's spot along the Lim Fjord (a bay in Istria that no seafood lover should skip), and I was taken back by the barking dog – those pesky things had scared me since one bit me on the butt in Zagorje two years ago. But after making my way past the beast, I went into sensory overload with the view of the stunning green bay and the delightful scent of salty fresh seafood.
The Limski Kanal or Lim Channel or fjord, as it's also known, has a low salinity, which makes it perfect for oyster and mussel farming. I plan to write more about Emil's operation, so stay tuned!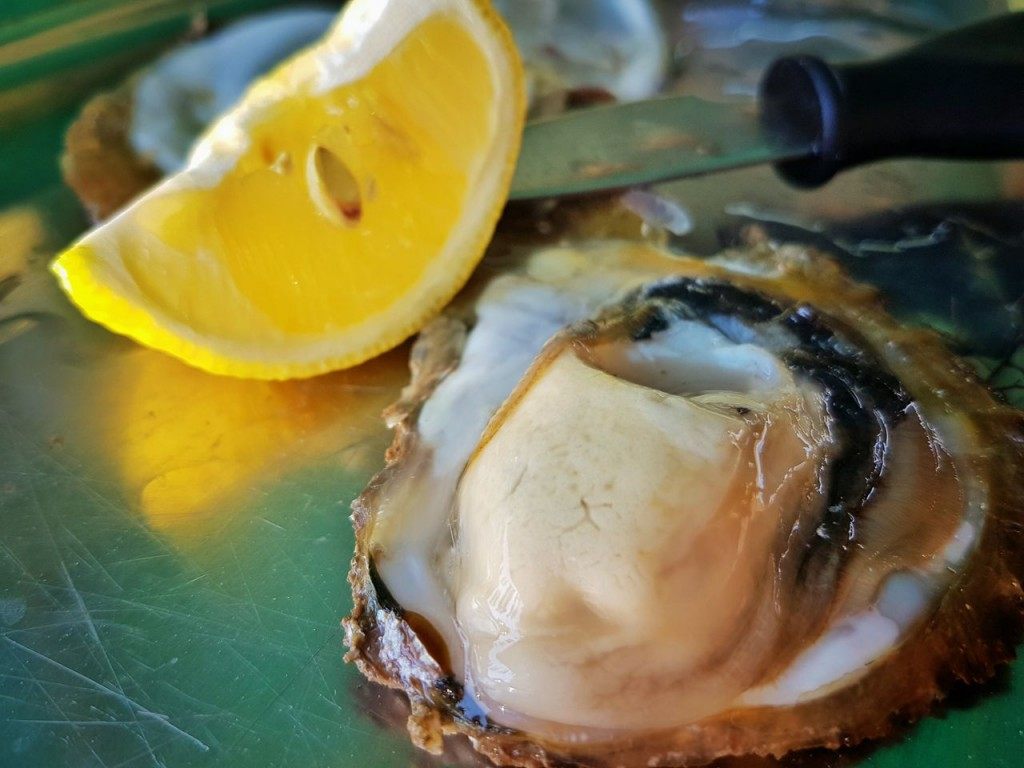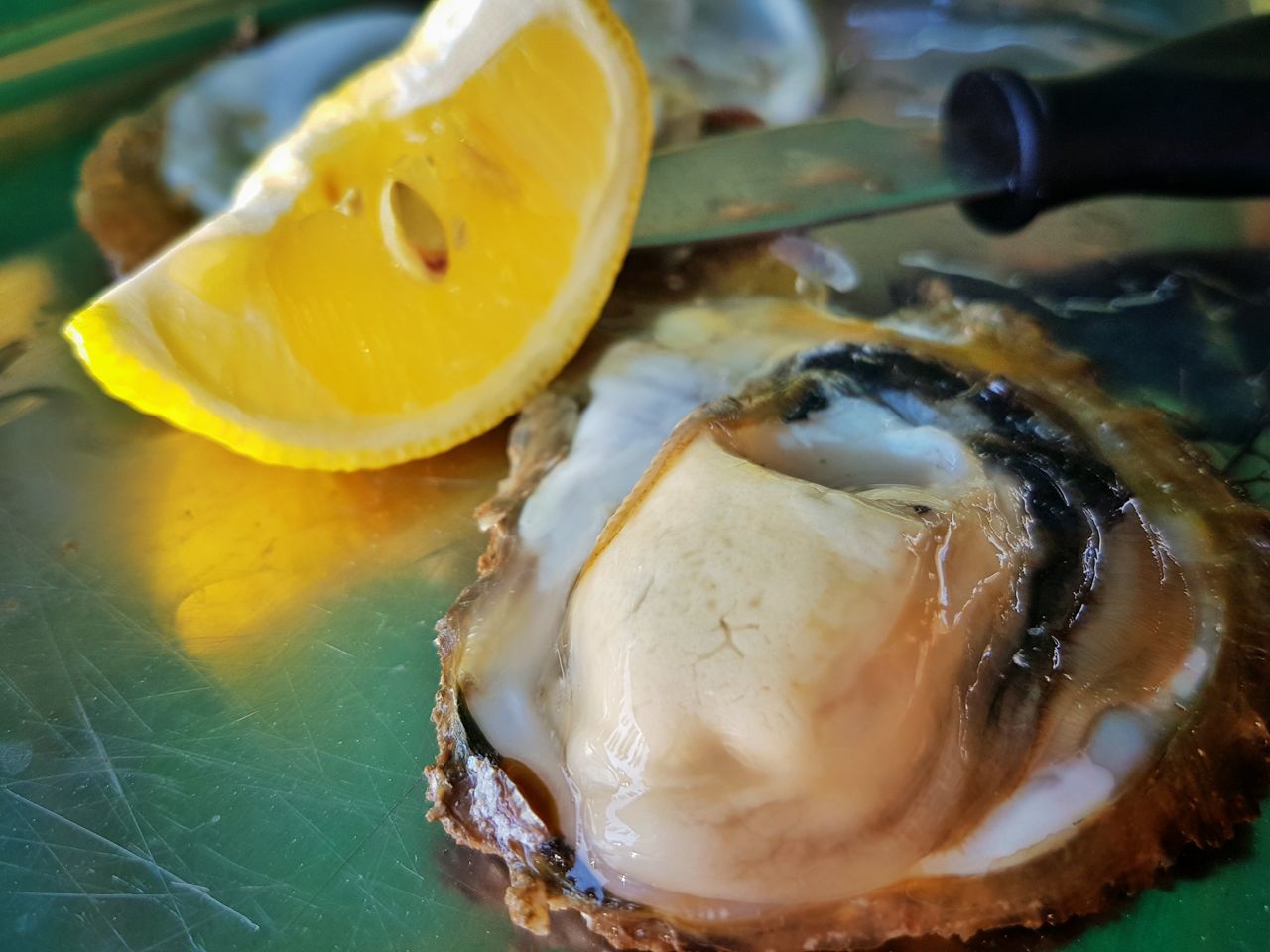 Skampi, Fish & All Seafood Delights
I know, I know seafood is available in Dalmatia, but you gotta try the skampi at Restaurant Trošt in Vrsar. This restaurant has a massive terrace overlooking the Vrsar Marina. Be warned – pack on some sunblock and a hat if you sit in the sun. I didn't, and my arms were a lovely shade of scorched red!
We enjoy the flavor of skampi cooked to perfection at home, but at Trost, they serve you skampi carpaccio – I have eaten many raw foods but never skampi. Don't tell Mr. CtD. He would be so jealous – he loves anything seafood, and especially raw.
As well as loving pasta, I love rice. Risotto is on the menu at my place at least once a week. This seafood risotto needs to be on my menu.
The other way to eat seafood in Istria is a mixed plate. The perfect thing when you can't decide what you want. A tasting dish with anchovies, shrimps, bakalar, octopus, sardines, & smoked salmon is right up my alley. Especially when served with a big glass of white wine.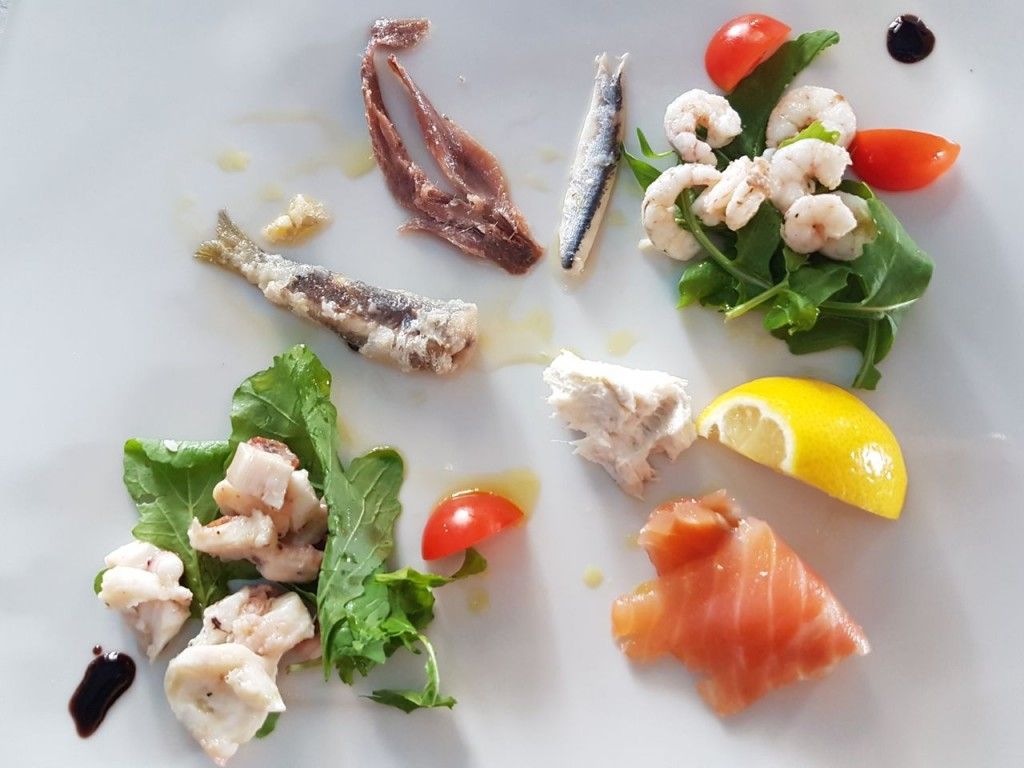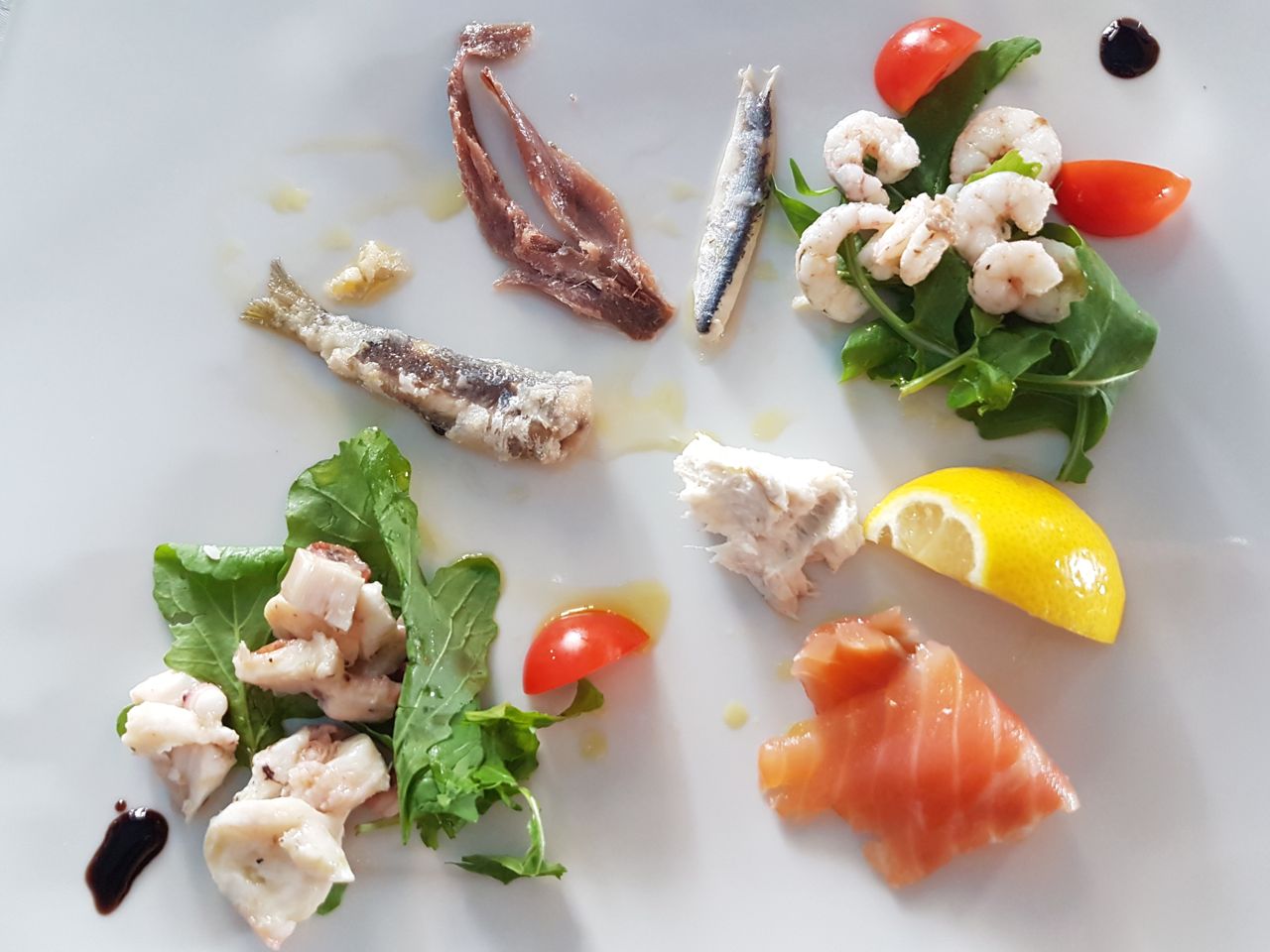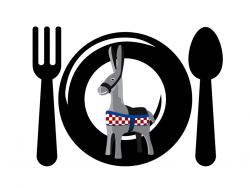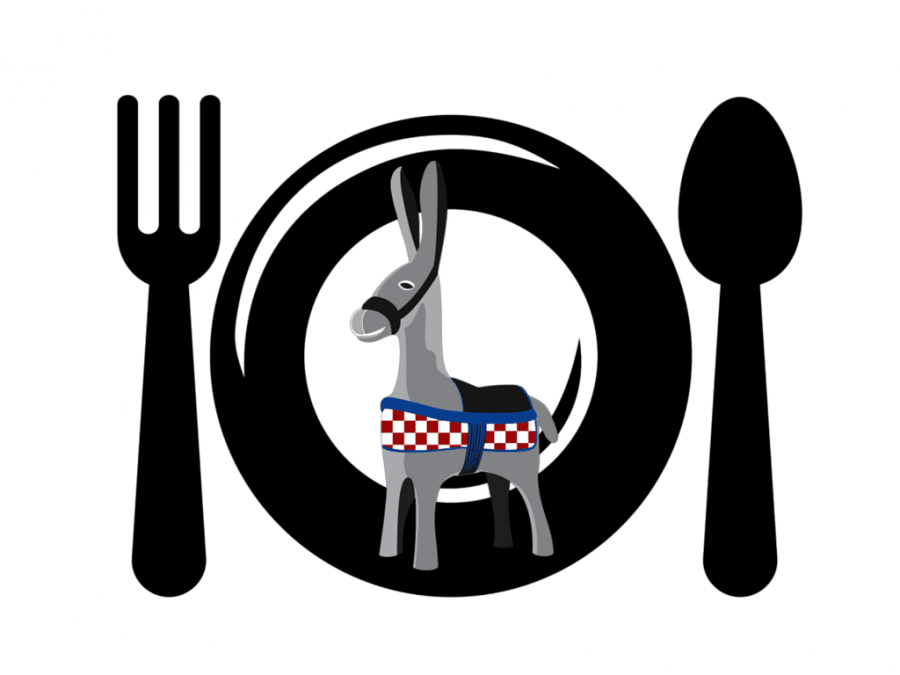 Try the seafood plate at one of Rovinj's finest places to eat. Run by a marathon runner; La Puntulina is the place to get seafood in all kinds of ways. You can enjoy your meal inside or one of the small terraces overlooking the Adriatic Sea.
So, what do you think? Would you enjoy any or all of these Istrian food choices?
#ShareIstria - In Partnership With The Tourist Board Of Istria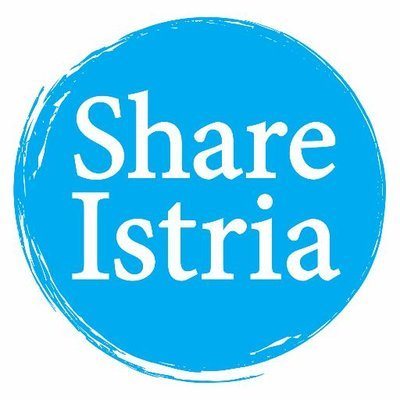 This post is part of a series #ShareIstria. Part (but not all) of the costs of transport, accommodation, meals, and local guides required to bring you this guide were provided by the Istria Tourist Board. But, all opinions are mine. All recommendations are given wholeheartedly and without bias.