Written By Lotte, who blogs about her family adventures on a Phenomenal Globe.
The islands in the Central Dalmatian Archipelago are spectacular. Wonderful clear water, beautiful bays for snorkeling, green islands, and the prettiest little villages you'll ever see. The best way to explore this splendid region of Croatia is by renting a (sailing) boat and going island-hopping!
This itinerary includes the islands Hvar, Budikovac, Vis, Biševo, and Brač; more details can be found further on in this article.
Sailing Itinerary And Approximate Travel Times
Please note that sailing times are dependent on the direction and strength of the wind. The travel times below are based upon an average speed of 6 nautical miles per hour (motoring speed):
Travel time per day
Day 1: Split ⇒ none
Day 2: Split – Stari Grad ⇒ 4.5 hours
Day 3: Stari Grad – Budikovac ⇒ 5 hours
Day 4: Budikovac – Vis ⇒ 2 hours
Day 5: Vis – Biševo – Vis (town) ⇒ 7 hours return (3.5 hours single trip)
Day 6: Vis – Vrboska ⇒ 6 hours
Day 7: Vrboska – Lučice ⇒ 3 hours
Day 8: Lučice – Split ⇒ 2.5 hours
One Week Croatia Sailing Itinerary
Here is a day-by-day guide to sailing Central Dalmatia.
Day 1: Check-In (Split Marina)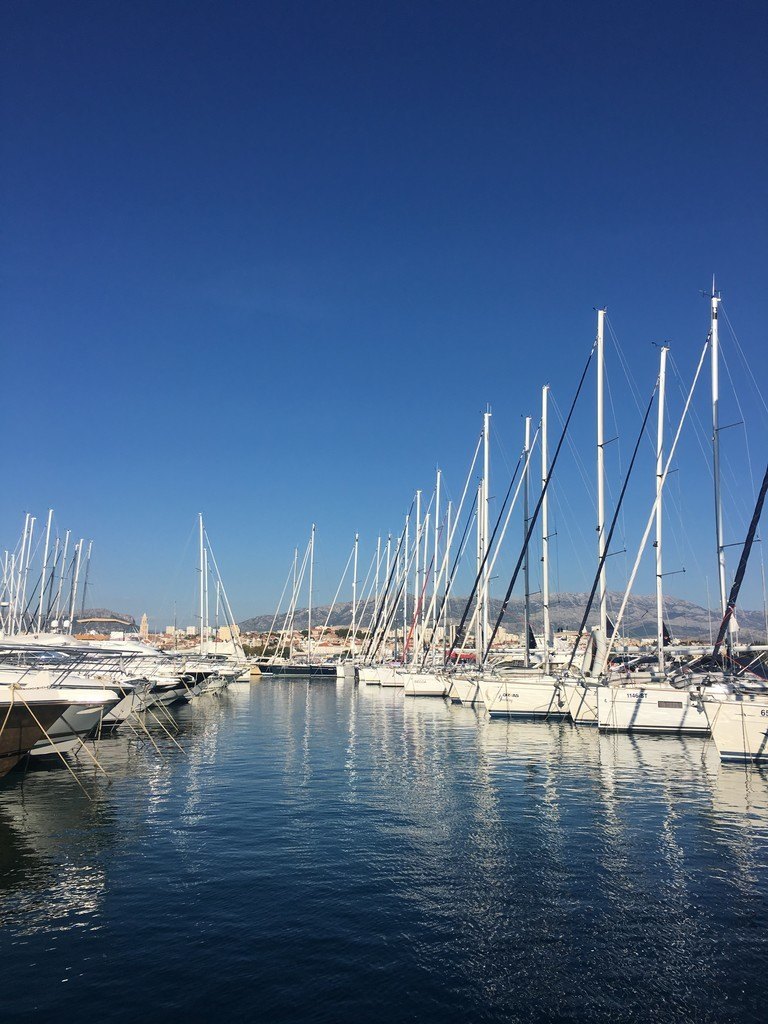 Most people chartering a boat for a week arrive on Saturday, as boats are usually booked from Saturday (afternoon) to Saturday (morning). Don't expect to do much sailing on the first day; first, you'll have to get all the administration done, familiarize yourself with the boat, and if you're smart, you'll also do some shopping.
While there are (little) supermarkets on the islands, they are not always that well-stocked. Plus, you may decide to anchor in a random beautiful bay you come across, and it would be a shame if you don't have anything to eat on board.
Important documents to bring:
Passport
Credit card
Boating license
Day 2: Split To Stari Grad (Hvar) ⇒ 4.5 Hours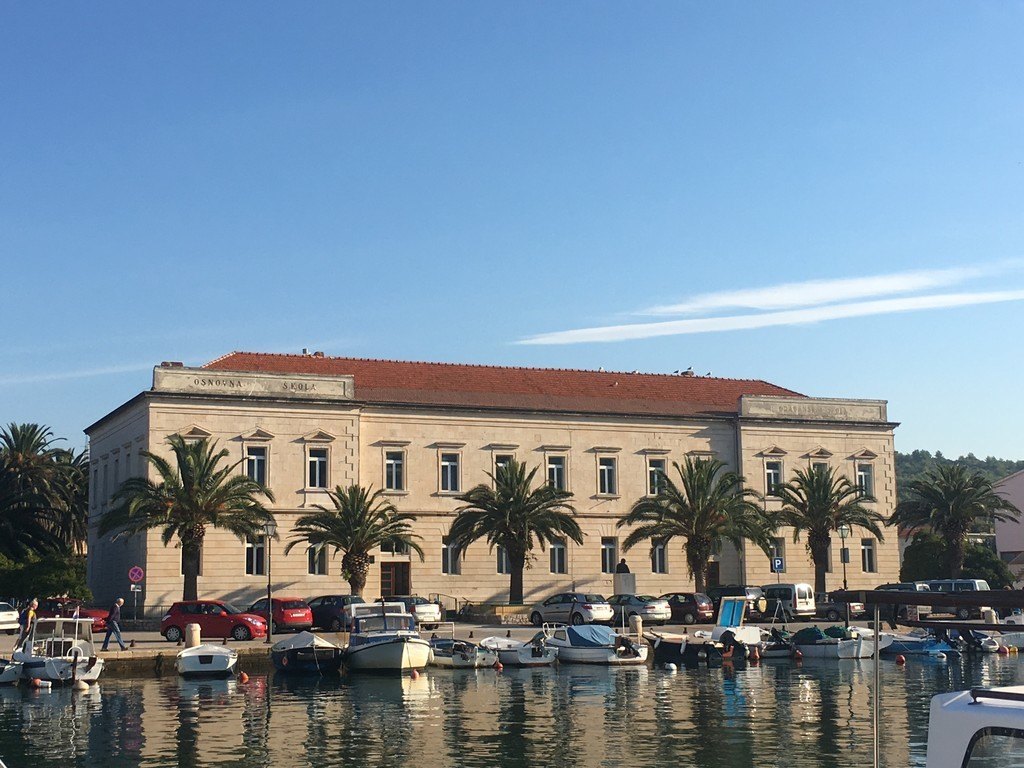 Hoist the anchor, loosen the ropes, and set sail for the Island of Hvar .
"In my opinion, one of the best things about sailing is being outside all day and gazing over the water without feeling the need to do much else (besides adjusting the occasional rope, manning the steering wheel, and other things that need to be done to keep the boat moving forward)."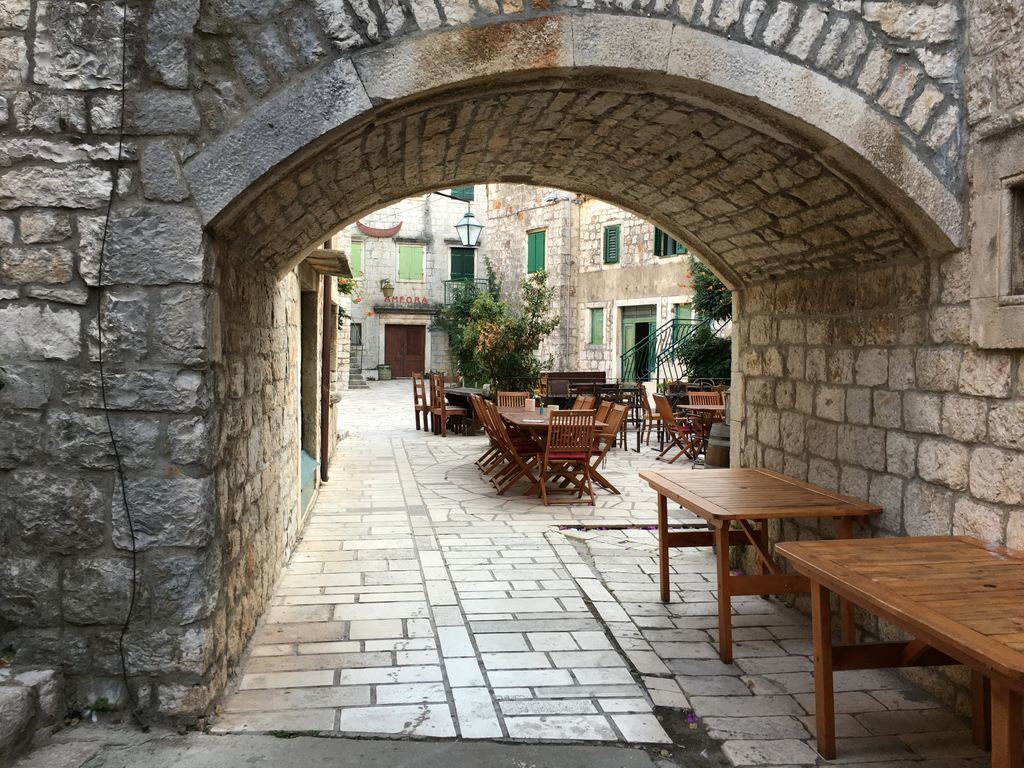 On the north side of Hvar, there are several beautiful bays suitable for anchoring (which I strongly recommend you do!). The crystal-clear water offers excellent swimming and snorkeling opportunities. You can easily spend your entire afternoon lazing about in one of the lovely lagoons…
If you can manage to peel yourself away from your VIP spot, continue to the village Stari Grad to spend the night.
Harbor fees at Stari Grad are dependent on the length of your ship. Read more about the costs of renting a boat below.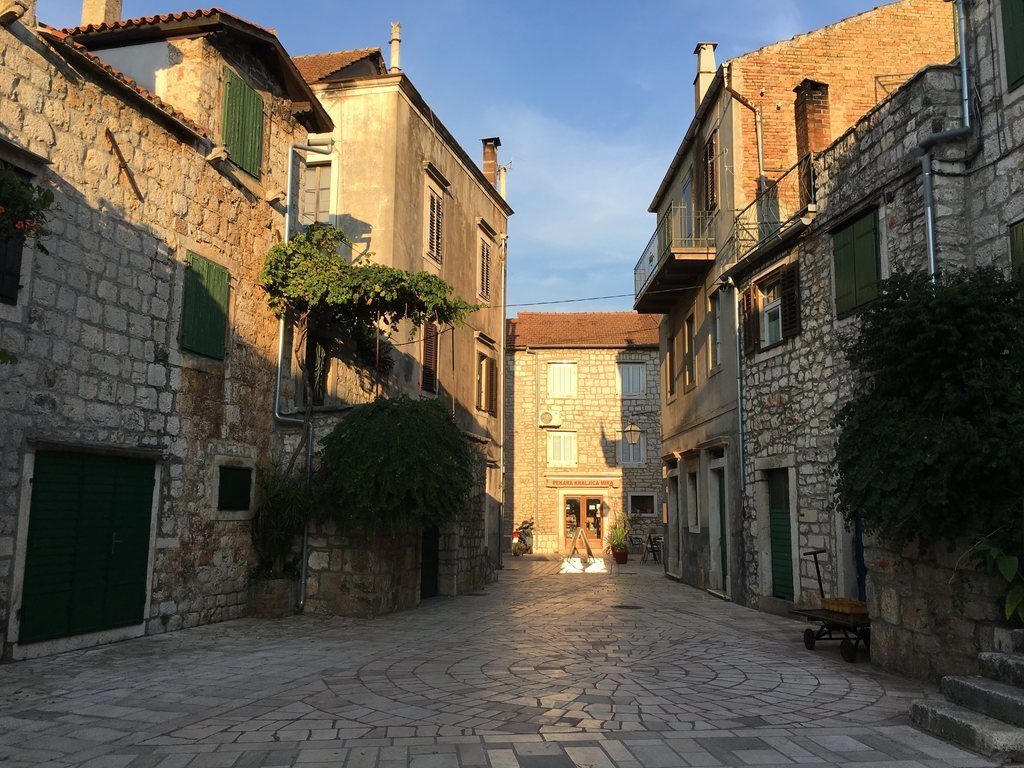 Depending on the time you arrive in Stari Grad, I would either head out straight away to explore this beautiful town or find a nice place to eat (there are many) and explore the town the next morning. But exploring you must, as Stari Grad is one of the prettiest towns (perhaps even the prettiest town) I have ever seen!
I had no idea Stari Grad is one of the oldest towns in Europe; it was founded 400 years BC! The ancient town is a UNESCO Heritage site and remarkably well-preserved. There are cute cobblestoned streets, beautiful stone houses, pretty plazas, and quaint little shops. Spend at least a couple of hours exploring Stari Grad; it's really a unique little place.
How To Get To Stari Grad If You Don't Have A Sailing Boat?
You might be wondering how to get to this cute as a button town on Hvar island. No worries, you don't need your own sailing boat. To get to Stari Grad, you can take a direct ferry from Split. The journey takes about 2 hours and costs about 5 euro.
Day 3: Stari Grad – Budikovac ⇒ 5 Hours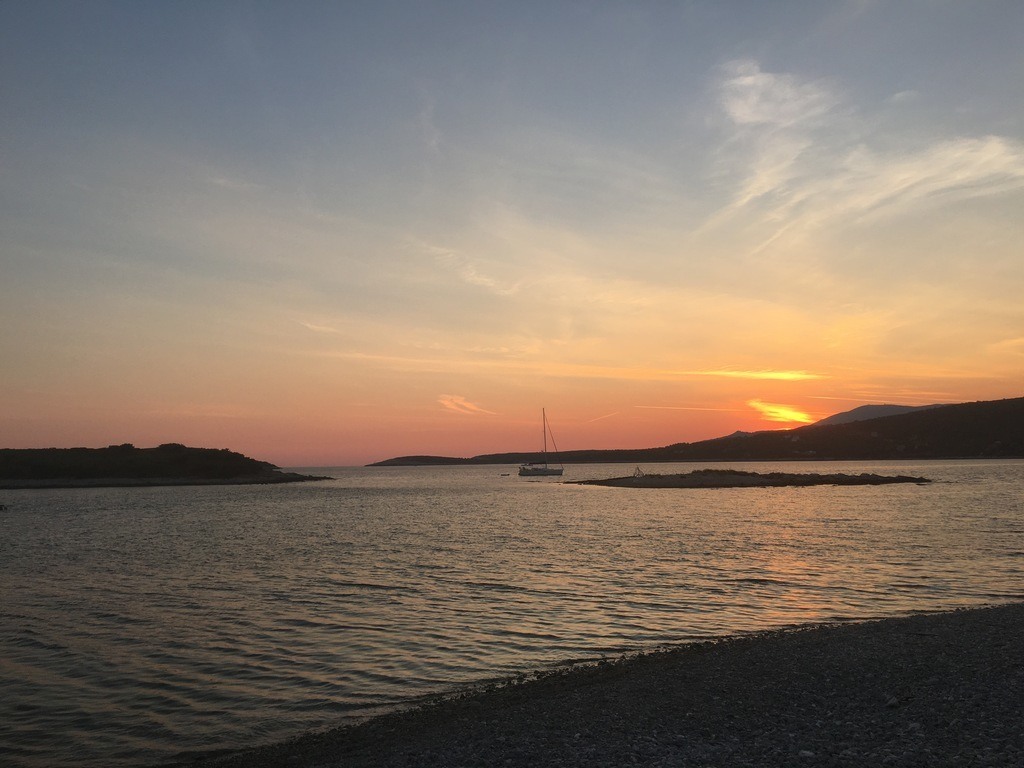 Wake up slowly, explore Stari Grad some more, have a cappuccino in one of the cute cafes, and when you can finally tear yourselves away from stunning Stari Grad, set sail to your next destination: the tiny island Budikovac on the southeast side of Vis.
There are several anchoring options near this little island; it depends on the direction of the wind, which one is the most comfortable place to spend the night. There is nothing on Budikovac except some sheep, so make sure you are well provisioned if you decide to anchor here. Alternatively, you can spend the night in the harbor of Vis.
However, this location is an excellent place to admire the many stars and the Milky Way, as there is barely any light pollution!
Important: when anchoring, make sure to check every hour if the boat is still safely anchored and you haven't drifted somewhere you don't want to be (aka near rocks/shallow water).
Day 4: Budikovac – Vis ⇒ 2 Hours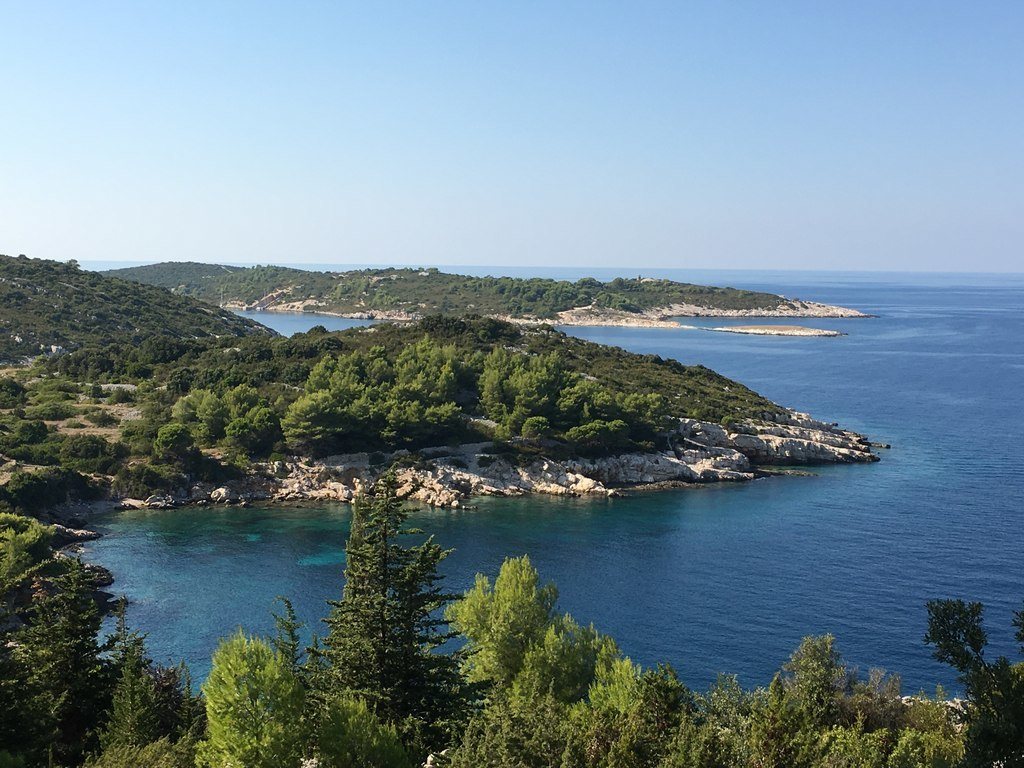 If you are up for it, dive into the water for a morning swim, it's very refreshing and a great way to start the day! Have breakfast and set sail to the village of Vis, on the equally named island Vis.
Vis is another pretty town, with scenic streets and historic buildings. Be sure to make the short hike to Tvrđava Sv. Juraj, also known as Fort George. This 200-year-old fort was built by the British, inside you can find an Art Gallery, restaurant, and sunset bar. It's a very popular wedding location as well, which is understandable as the views are pretty spectacular!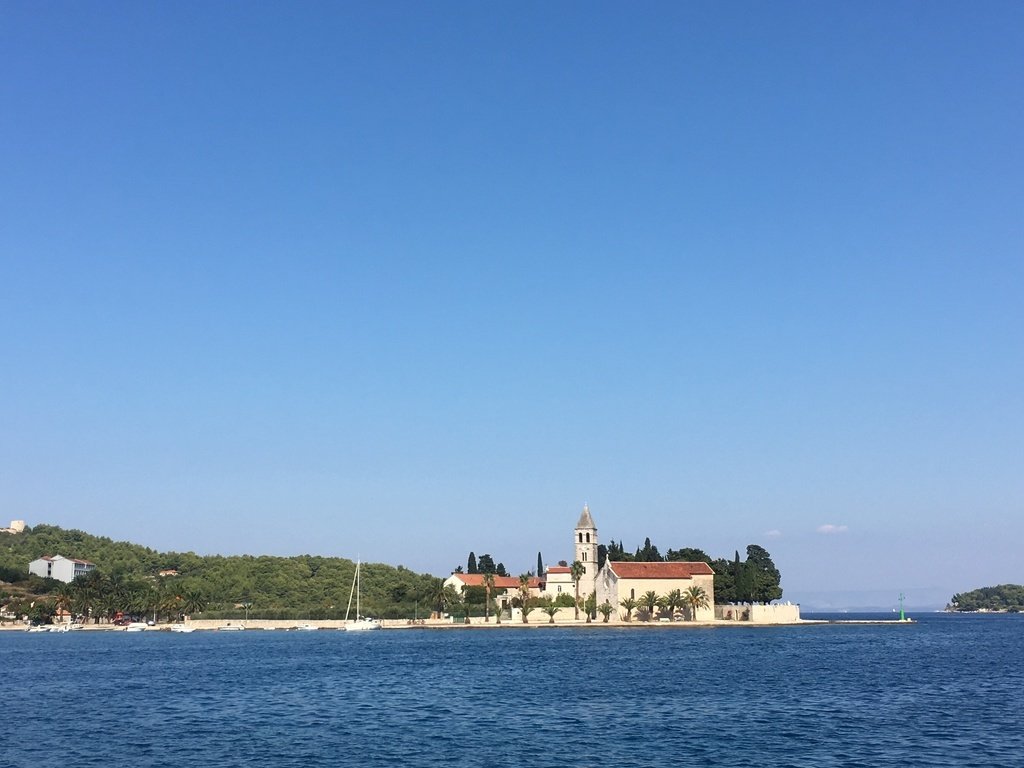 Also, visit the Crkva Sv. Jeronima on the Peninsula jutting out into the bay, though the best view of the Peninsula is during sunrise!
Get up early to depart to your next destination: Biševo, a little island southwest of Vis. The island is most famous for the Blue Grotto (Modra Spilja). Between 11 am and 1 pm on a sunny day, sunlight passes into the cave via an underwater opening, bathing the cave in an eerie blue light which is a spectacular sight!
Day 5: Vis – Biševo – Vis ⇒ 7 Hours Return (3.5 Hours Single Trip)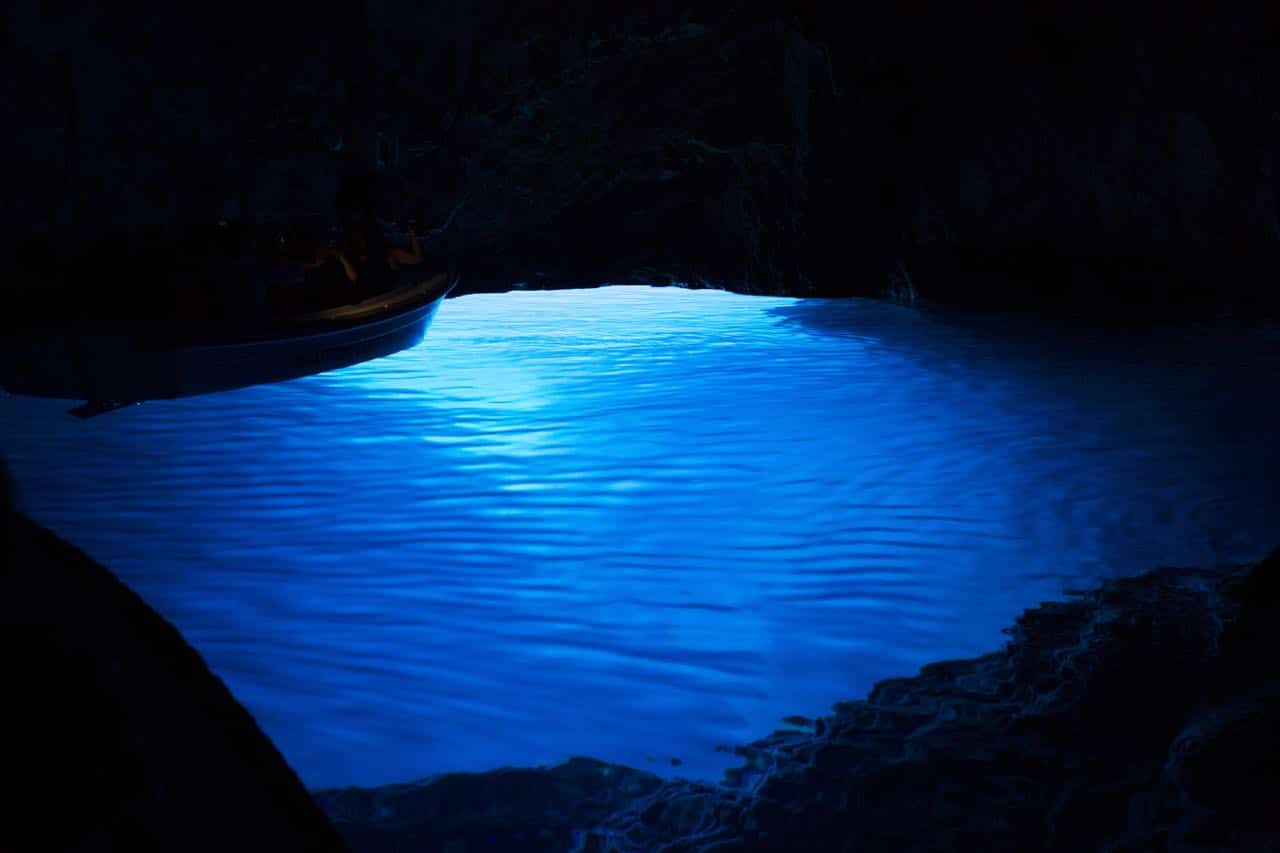 While you cannot visit the cave with your own boat, but you can dock at one of the moorings nearby. Small boats operated by enterprising locals are circling around the harbor, picking up passengers from the sailing boats to go into the cave.
"Keep in mind it will be extremely crowded during July and August, and you may have to wait in line up to three hours for a 5-minute visit to the cave."
The bays around Biševo absolutely stunning and perfect for snorkeling, a great place to spend the afternoon!
Please note that it's challenging to spend the night at Biševo. There is no marina, and the anchoring ground is said to be of 'questionable' quality. With so many cliffs, rocks, and reefs around, we didn't want to risk it, so we returned to the harbor of Vis for the night.
Day 6: Vis – Vrboska ⇒ 6 hours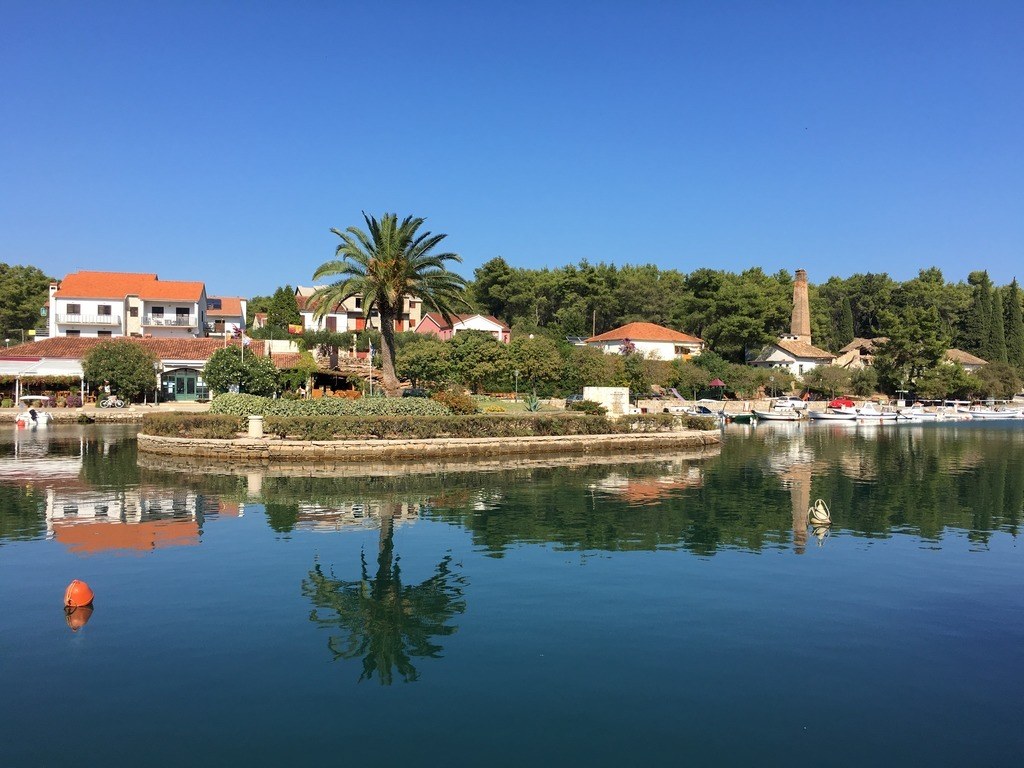 Depart early from Vis and set sail to Vrboska on Hvar, a bit further east than Stari Grad. Vrboska is another picture-perfect village, and while it isn't nearly as old as Stari Grad, it was 'only' founded in the 15th century, it still has heaps of character.
Vrboska is a little less polished and rougher around the edges than Stari Grad. In Stari Grad, all the historic houses are in perfect condition, while in Vrboska, there are several dilapidated buildings slowly falling apart or left unfinished. However, that doesn't take away any of the charms of this enchanting village!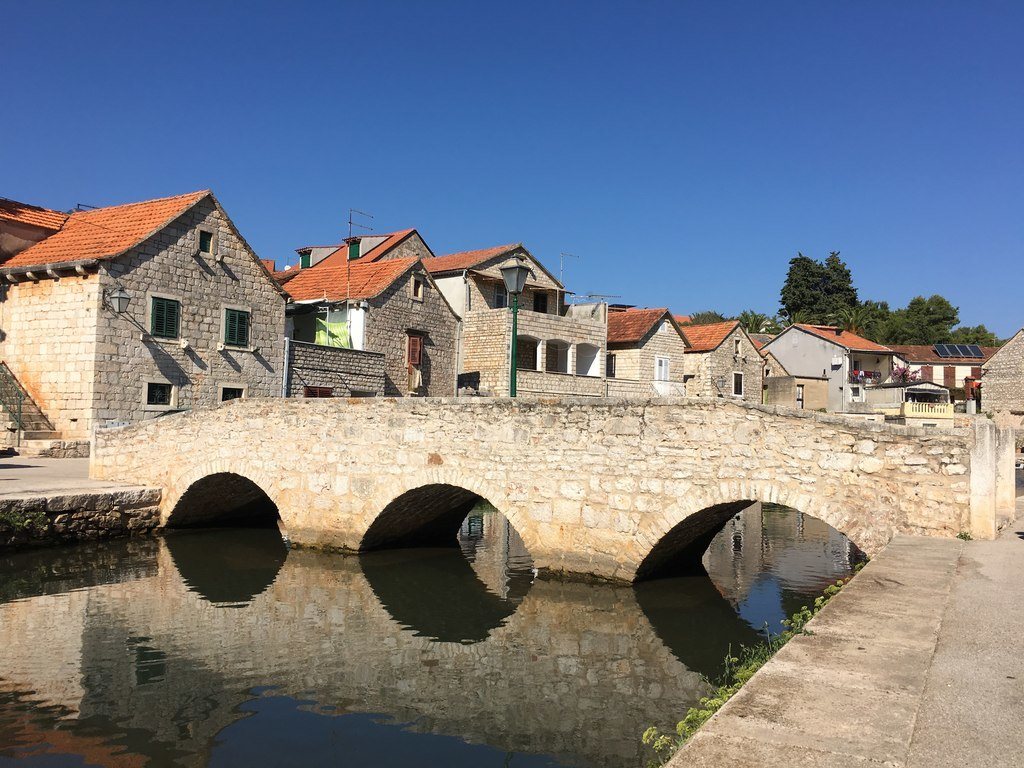 Vrboska can rival Venice when it comes to pretty bridges, and it has an impressive fortress, too, the St. Mary Church! This imposing building is a so-called church fortress; it offered refuge for the people of Vrboska in times of war.
Three fun facts about Vrboska
Croatia's first revolutionary, Matija Ivanic, was born in Vrboska.
There are two UNESCO-protected hereditaries in Vrboska: the 400-years old Easter Cross Processionandthe oldest, continual farmed wine field in the world.
The Saint Peter church in Vrboska is the oldest church on Hvar Island.
Day 7: Vrboska – Lučice ⇒ 3 Hours

Say goodbye to Vrboska and Hvar the next morning and set sail to Brač, the island opposite to Hvar. On the southwest side of Brač, there is a bay called Lučice; there are several moorings inside the bay and a nice restaurant, making it a great place to spend your last night.
Lučice bay is also a beautiful place for swimming and snorkeling as the water is very clear, and there are no waves inside the bay.
"Nice to know: you can walk to the village Milna from Bay Lučice (about 2 kilometers). It's a nice little hike via a (deserted) paved road through the olive trees."
Day 8: Lučice – Split ⇒ 2.5 Hours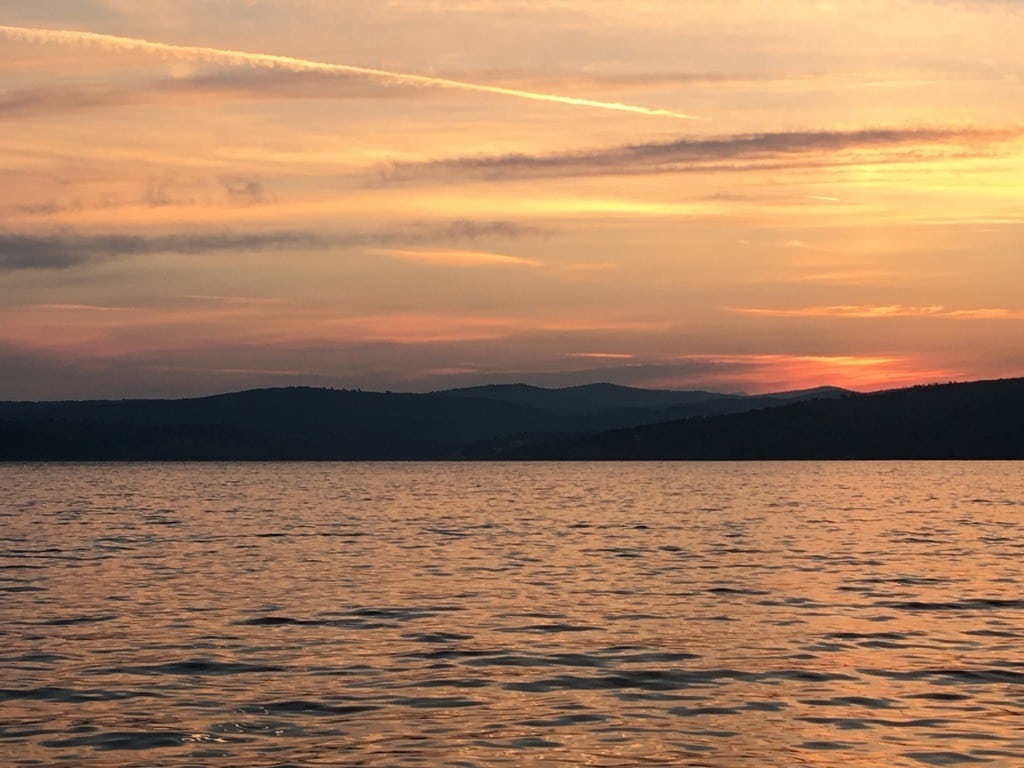 Usually, boats have to be back by 9 am, so that means another early start as it takes approximately 2.5 hours to get back to Split (motoring). The upside to getting up this early is you'll be able to catch the sunrise, and if you're lucky, it's a good one!
Please note that before returning your boat, you'll have to fill up the tank! The is a station in the Marina of Split.
Once back at the Marina, your boat will be checked for damage, and if everything is okay, you hand in your keys and get back your deposit.
If you have time, spend the rest of the day exploring Split, which is a beautiful city as well (though not as cute as the small villages on the islands!).
TRAVEL COMPANIES WE USE AND TRUST
How Much Does A Sailing Trip In Croatia Cost?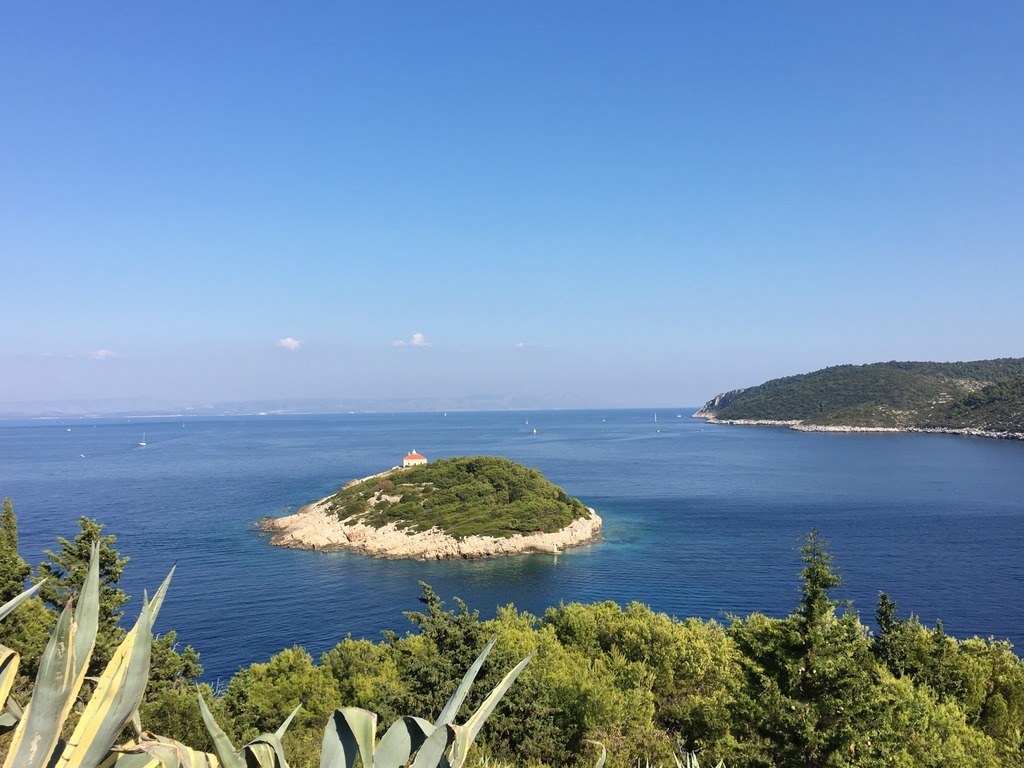 While renting a boat to go sailing in Croatia isn't a budget vacation, you don't have to be a millionaire to hire your own boat.
Boat Rental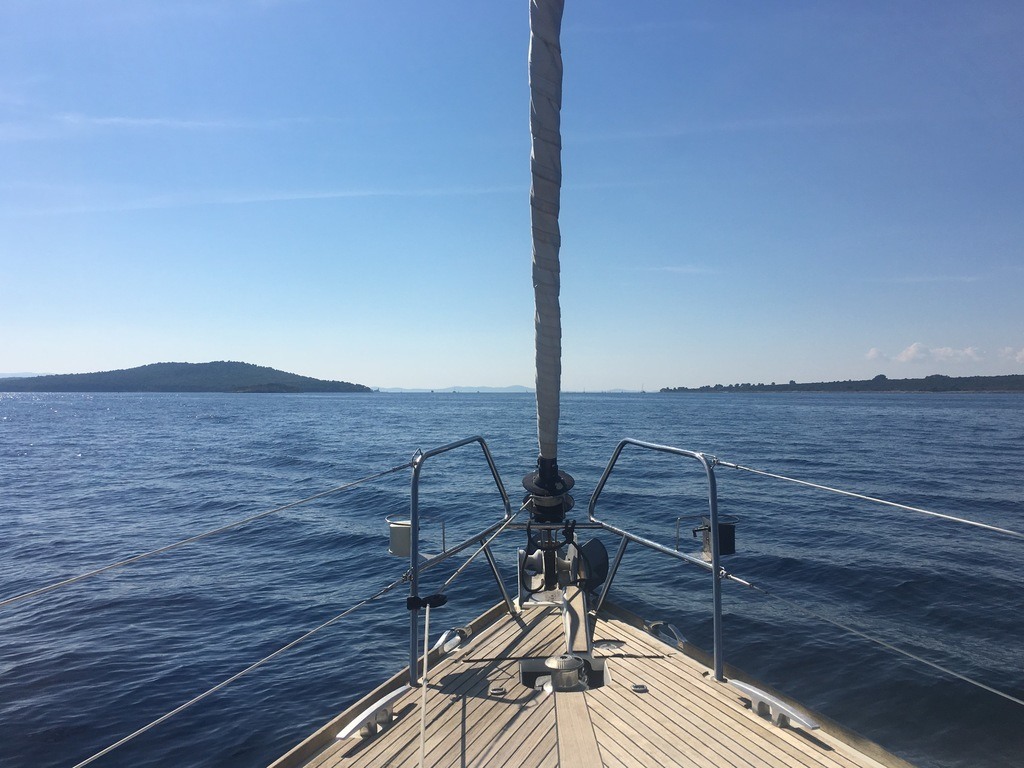 The biggest expense is the boat's rental fee, which depends upon the type of boat, the season, and whether or not you need a skipper.
Note: if you don't have a boating license, you will need a skipper!
We rented a Sun Odyssey 45 DS (no captain) during the last week of September for 1,765 euro. This spacious boat fits eight people in total, so if you were to travel with a party of 8, the cost per person would be 220 euro for a week.
Harbor Fees
Harbor fees are rather steep in Croatia! You are charged by the length of your boat and pay a set fee for each meter. We paid the most in the town of Vis; a night at the quay set us back 77 euro. Considering you already technically paid for your bed, that's quite a bit of money for a toilet and a shower.
Here are the fees we paid in the harbors included in the itinerary:
Night 1 ⇒, we stayed in Split, where the boat was moored in its home harbor, and there were no additional harbor fees we had to pay.
•Night 2 ⇒a night at the quay of Stari Grad cost us 68 euro.
•Night 3 ⇒, we anchored in the bay of Budikovac for free.
•Night 4 ⇒we docked at the quay in Vis town, 77 euro for a night.
•Night 5 ⇒we spent the night with our boat tied to a mooring in the bay of Vis and weren't charged a single euro… I'm not sure if that's always the case or if the harbormaster just forgot to collect his fees.
•Night 6 ⇒, we stayed at the marina of Vrboska, where we got a 20% discount because it was an ACI marina (as is the harbor in Split where the boat is usually moored). The costs for a discounted night were 60 euro.
•Night 7 ⇒, we docked in the Bay of Lučice and paid 33 euro for a night.
In total, we paid 240 euro on harbor fees during a weeklong sailing trip.
Petrol
For the itinerary above, you'll need approximately 70 liters of fuel (around 70 euro).
Motor For Inflatable Dinghy
This is definitely an optional expense; for 100 euro, you can rent a little motor for your inflatable dinghy in case you don't want to row.
Food, Drinks, And Groceries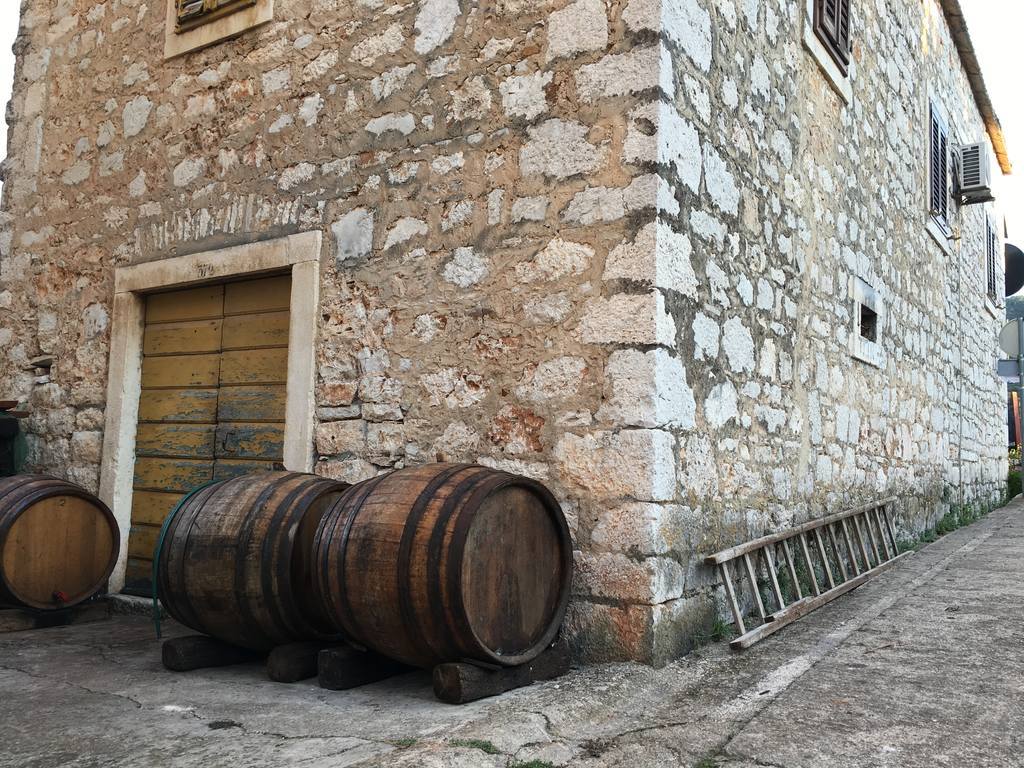 The cost of food and drinks is very much dependent on how often you eat in a restaurant and how often you cook your own food. We spent 125 euro on food per person in one week; this included dinner in restaurants in Stari Grad, Vis, and Vrboska and groceries for our homecooked dinners aboard the ship.
It also included freshly baked bread from the bakery for breakfast and lunch, the occasional ice cream, coffee, or beer on the terrace, and all our other grocery shopping (including wine, cheeses, and so on…).
Total Costs For A Week
We were with six people and paid around 500 euro per person for a week, included all the expenses mentioned above (excluding plane tickets).
Not that bad, right?!
Budget Saving Tips – How To Save Money Sailing Croatia
While renting a boat in Croatia isn't cheap, there are some ways to reduce the costs of a Croatia sailing trip:
Use the maximum capacity of your boat. For example, while our boat was suitable for eight people, we were only six, so the average per person was higher than it would have been had another couple joined us
Anchoring in secluded bays is free, harbors in villages on the islands are generally expensive
Cook your food instead of eating out (every day), this will save you lots of money
We opted to rent a small motor for the inflatable dinghy if you choose to row instead; this will save you around 100 euro
Have fun sailing around the Central Dalmatian Archipelago!
For more adventure tours in Dalmatia, click here!
More Posts About Sailing In Croatia
Horizon Sail Itineraries – Packed With Cultural Experiences