Are you looking to take an out-of-season vacation in Croatia, skip the summer tourist hotspots and leave behind the big city? If you answered yes, I have a few suggestions, but if you also love wine, truffles, and exceptional food, I have the perfect escape for you. Keep on reading.
I am always keen to experience a slower, more authentic way of Croatian life, and I saw glimpses of this in Motovun when I was there on a whirlwind trip with Share Istria two years ago. I noted Motovun, Istria, as a place to return – Rick Steves called Motovun idyllic, and he wasn't wrong.
Sadly it took two years, but last week I was back in Motovun and dug a little deeper with the boys – and we had a fun and food-filled three days.
Located in central Istria, Motovun is perched high on a hill overlooking the stunning natural landscape below. It is a town that dates back to Medieval times, and like all Medieval towns, it has an impressive wall that circles the town and provides some great panoramic views. It's small, quiet, and never heaving with people (except during the Motovun Film Festival) like the Dalmatian cities I am used to.
If you're yearning for some R&R mixed with easy-going outdoor activity and loads of food, then you'll love this post about what to do in Motovun. So, what should you do if you're sold on the idea of Motovun, and you've got three days (or more if you can spare them!) to spend in Istria?
I can help. I packed up the kids and set off in exploration to make this list of the best things to do in Motovun over three days.
Things To Do In Motovun: Day 1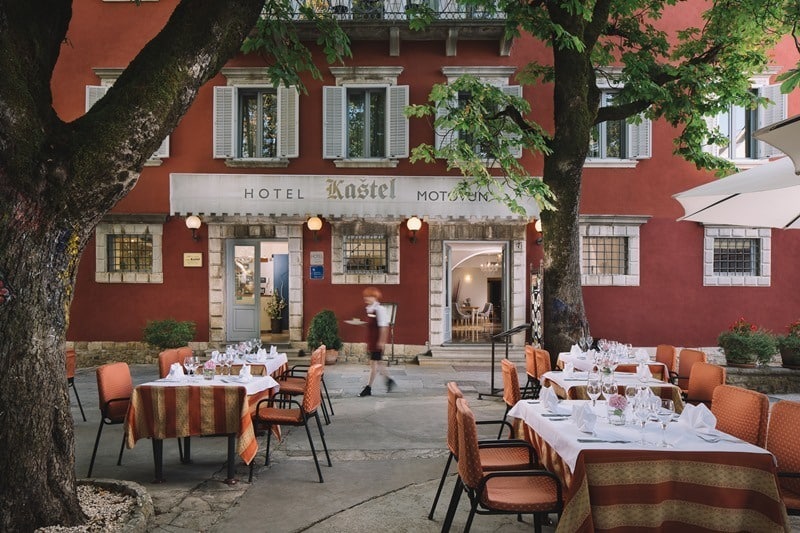 In keeping with the chilled-out, slow-paced vibe of this weekend in Motovun, I suggest you take your time reaching Motovun. There are several stops close by you can make before you can check in to your accommodation in the afternoon.
Most hotels and guest houses don't allow you to check in until after at least midday – and I found many in the area which had 3 pm or 4 pm check-in times. So why rush?
Take a peek at some of these lesser known-spots in Istria as an example – all of which are safe enough to leave your bags in the car as you explore. Many people think that Motovun and the surrounding area are a little like Tuscany, so see if you can spot the similarities during your morning exploration.
Once you get to your accommodations (we have suggestions below), settle yourself in, shower, and get ready for dinner, because there's a treat in store.
It's now time for dinner, so head to Boutique Hotel Kastel (which has a famous onsite restaurant) to feed that rumbling stomach. I suggest you make a reservation, and if the weather is nice – sit outside beside the ancient chestnut trees; it's a glorious spot to watch the sun go down.
This old hotel has plenty of history, but it's also famous for some dangerously flavorful dishes, all made with the freshest local ingredients.
As I am sure you already know, the local delicacy in Motovun are truffles. We had the BEST EVER homemade fuži (a type of pasta) with truffles here – oh, my word! So on the menu, you'll find a range of truffle-luscious meals.
We did not stop at the pasta meal – we had four courses at Kaštel. So I suggest you eat a very light lunch if you plan to do the same. You'll find original ideas here—plates with creative combinations and plates that look like works of art.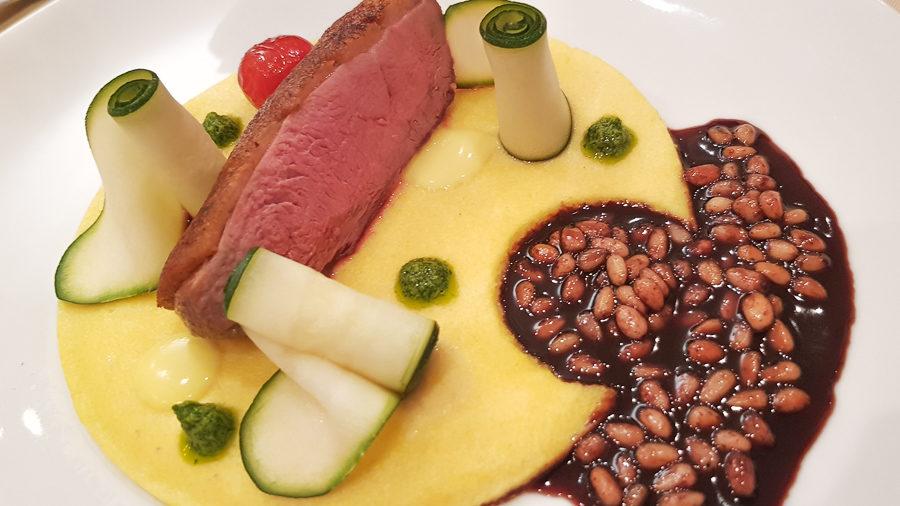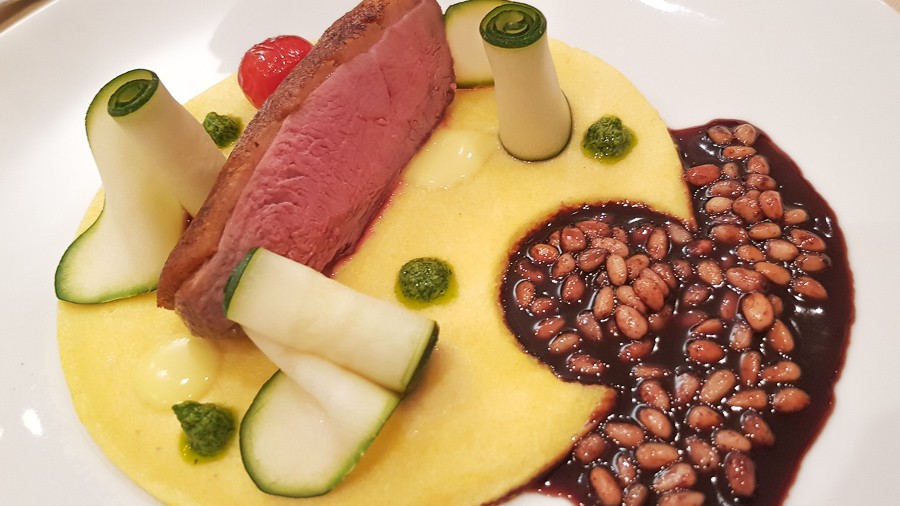 We enjoyed:
Kaštel Tris: A plate of Istrian Boškarin carpaccio, Boškarin pate, and an Istrian cheese plate
Truffle Fuži Pasta
Duck with Polenta
Mini Cheese Cakes With Shaved Truffles
That said, there were so many things that sounded yummy!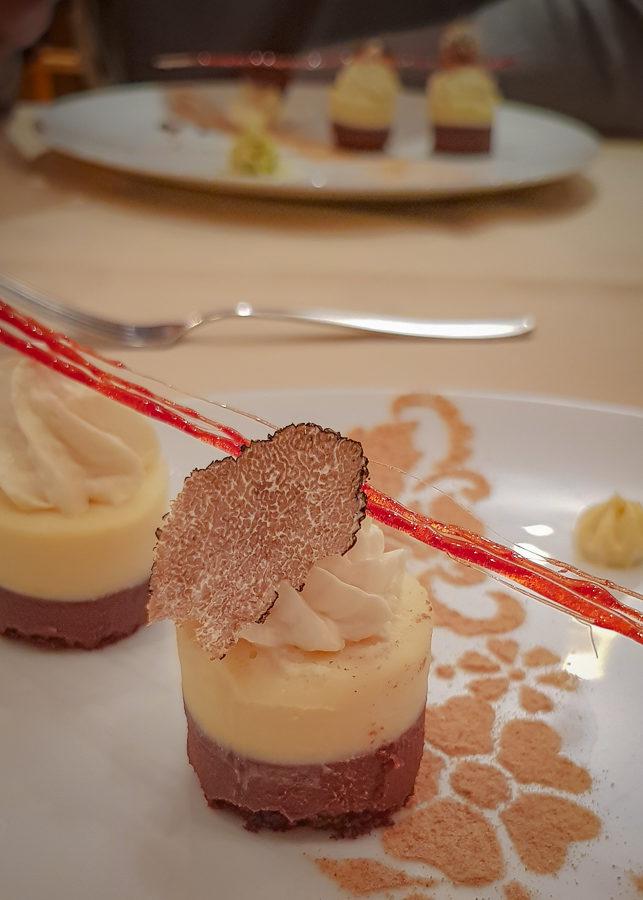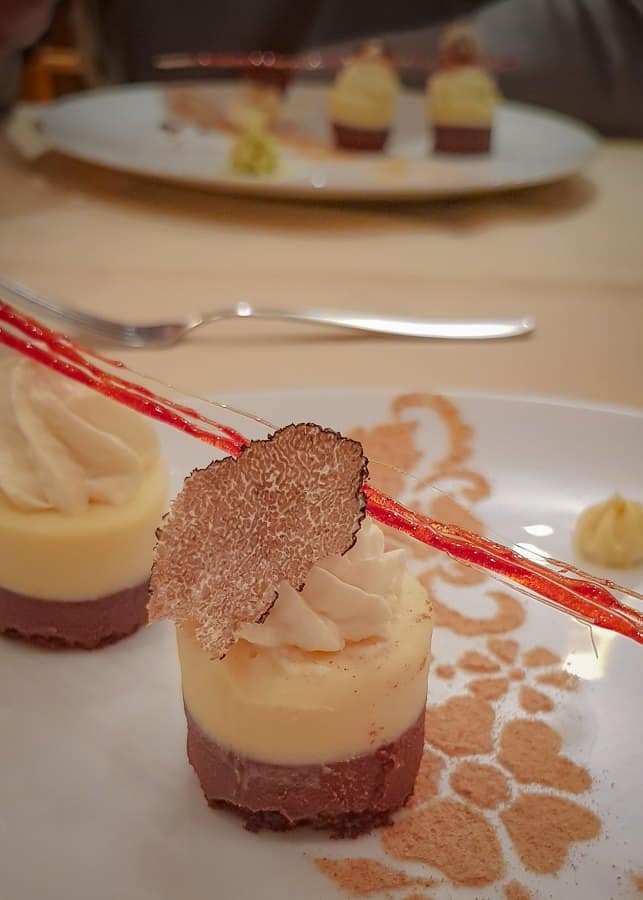 Are you traveling with kids? No worries, this restaurant caters to kids. Kids' meals were on the menu, and a high chair was available.
The chef made our sons a fuži pasta with white sauce and offered to cook up chicken or something else if we needed it. What a delight they were with the kids.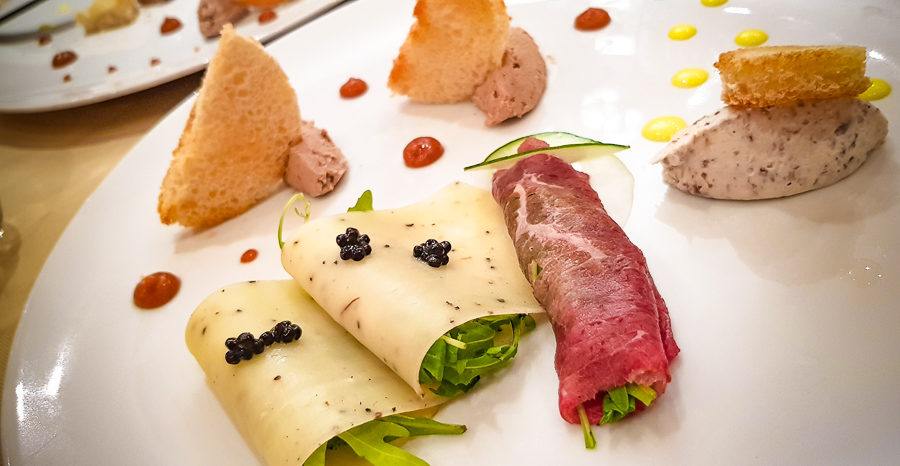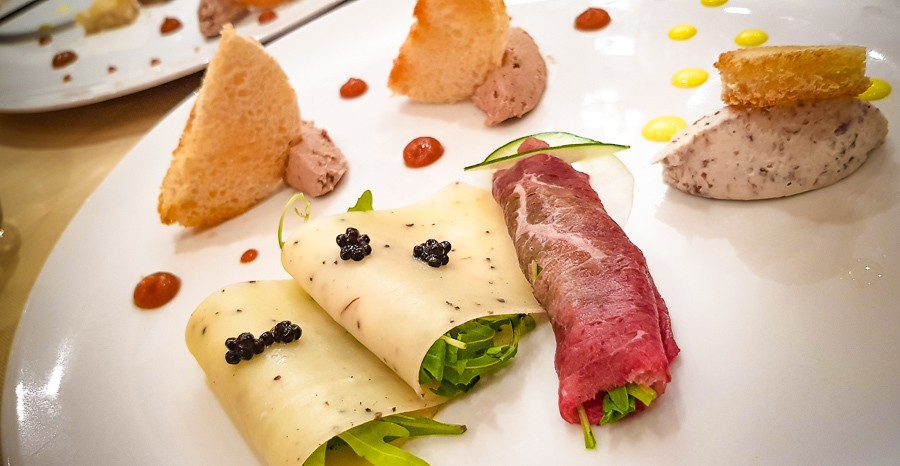 TRAVEL COMPANIES WE USE AND TRUST
Things To Do In Motovun: Day 2
You'll probably still be full after last night, so my advice is to have some coffee and a biscuit, and then it's time to put your walking shoes on and head out truffle hunting with Miro Tartufi!

I felt terrible as my Little Explorer wanted so badly to come with me. Still, he was sick with asthma, so instead, he went for a drive with Mr. Chasing the Donkey and the Baby Donkey while I took off exploring the elusive white truffle and promised to tell him all about it. This experience was so much fun, one of the best days I have had traveling in Croatia in my five years of living in Croatia.

Edit: I took the Little Explorer back to try the truffle hunt in fall 2019, and he loved it!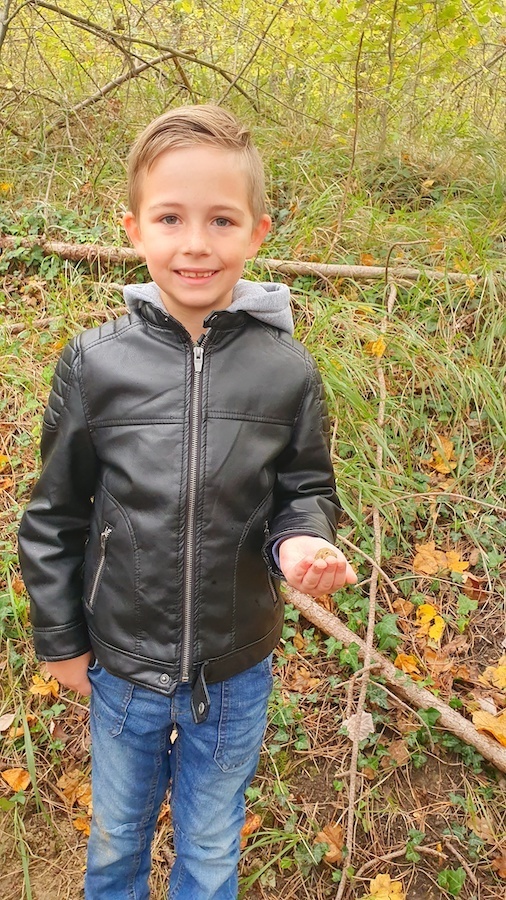 I was booked onto an Istria truffle hunt with licensed truffle hunter Miro, the owner of Miro Tartufi. I did not know what to expect; I knew that Miro offers guided tours through the Motovun forest, taking you through stunning scenery on the hunt for those famous black and white truffles. Beyond that, I had no idea what to expect.

Well, I was blown away. I was warmly greeted by Miro's wife, Mirjana – who coincidently reminded me of my mother-in-law; she offered us several types of drinks to get started – I chose rakija (Croatian brandy), of course! Five years of living and traveling in Croatia taught me that a shot of rakija is the best way to start any work!
There was a short wait until all of us, the participants, arrived – so I used that time wisely and enjoyed a few more shots of Croatian rakija, and I sat back and enjoyed the view of Motovun from their property. After all, I was alone, with no kids to look after!

Then it was go time – time to find the Istrian gold. We set off with Miro's two energetic hunting dogs, youthful and playful Nera and the experienced and steadfast Bela.

Truffles are famous worldwide, and the Istrian truffle is renowned for fetching some of the highest world prices. But those tiny fungi are not easy to find – truffle hunting is about patience and, of course, very well-trained dogs.
Truffle dog training starts when the puppy is just a few months old and takes more than two years. One of our dogs, Nera, was two years old, and Miro tells us that she is just now getting the hang of her job. Nera jumped enthusiastically, and I wondered if she would exert herself before it came time to find our Truffles, which we needed for brunch. But I should not have worried. She delivered.

We followed the dogs for over an hour – zigzagging over the forest. Miro had to keep calling the dogs back, they jetted off way ahead of us, and he was worried that they'd gobble up the truffles before he could get to them – he explains that during the training process, the dogs get to the truffles, so they've developed a love of them also. Be sure to wear good flat shoes on this hunt, and wear long pants if possible – as you are in the forest and are rummaging around nature. You'll be more comfortable that way.
I wanted to take some good photos to show you – but it was very hard, as the other 15 people on the tour also had the same idea; we were all beyond excited to photograph the very precious fungus. Thankfully I managed to capture the precious finds – two good-sized black truffles. Sadly, we did not find any white truffles, but that did not dampen our spirits. The team cheered as Nera found the biggest one of the day.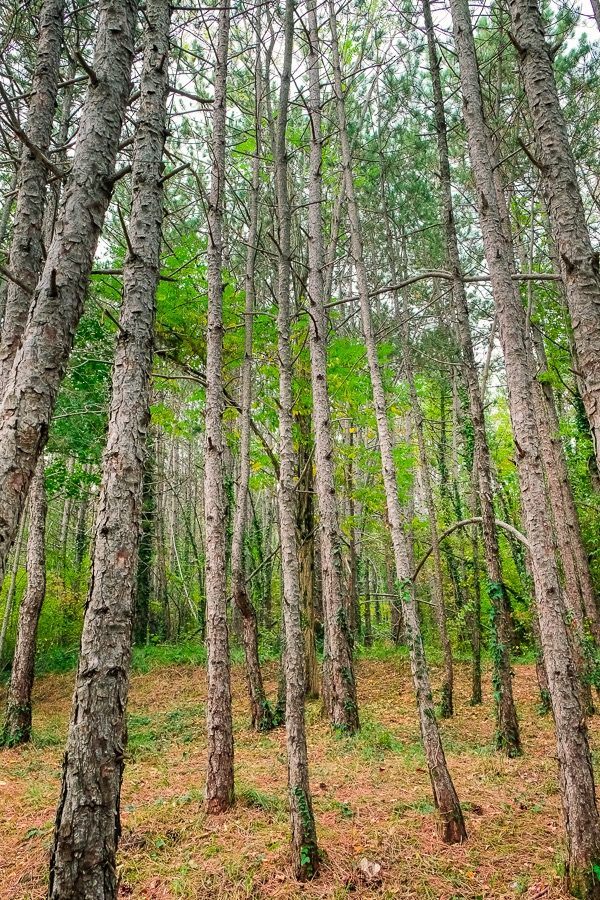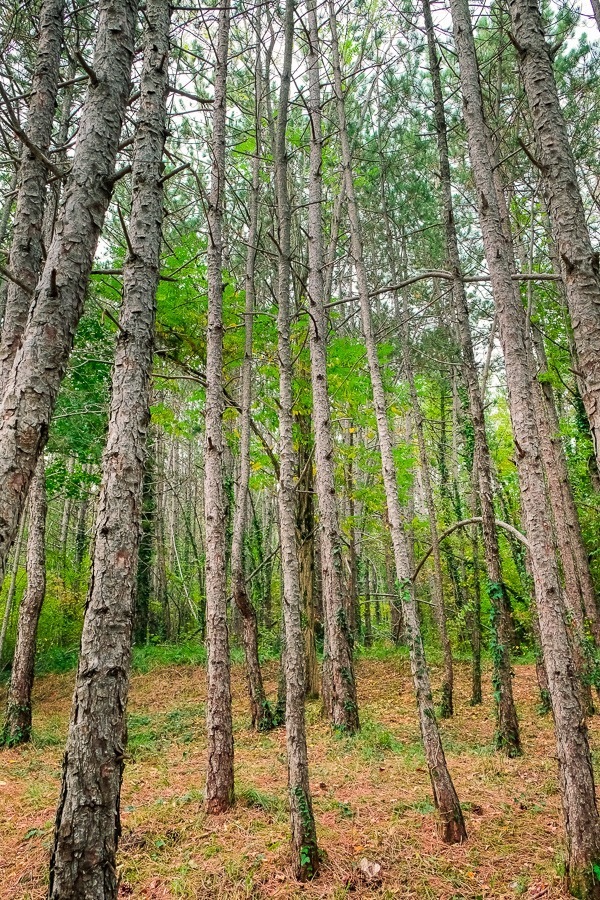 Now, if you have never smelled a truffle's musky and intoxicating aroma, you need to add it to your bucket list. You will either love – or – hate the smell. And, I can't think of a better introduction to the scent of truffles than a hunt with the warm and friendly husband and wife duo.
Once our truffle hunt was complete, we were driven back to the family property where the day had started, and what awaited us sent my taste buds into overdrive. Tables were decorated, and a full spread of truffle products awaited us. Do not stress, though, if you do not find many truffles on your hunt – the Miro family has plenty back at the house.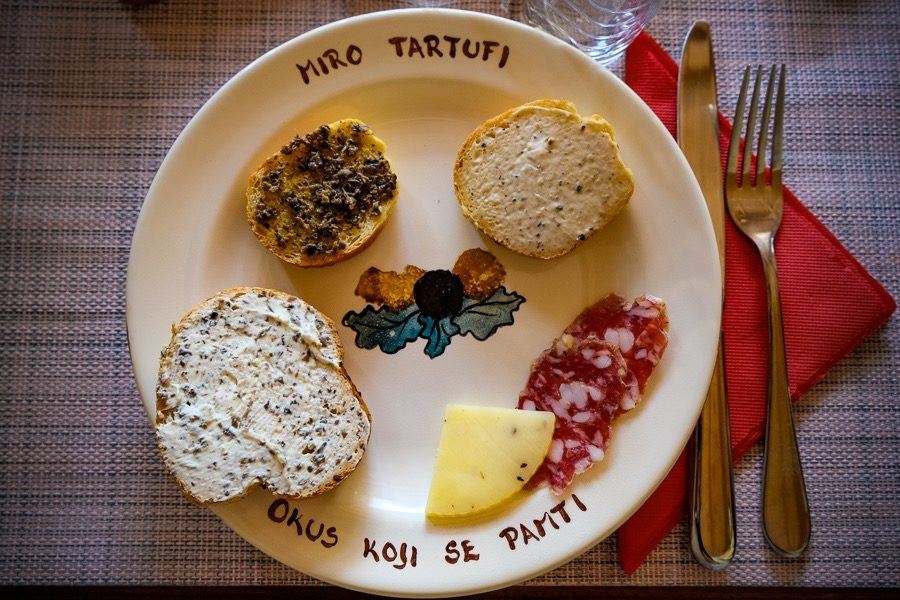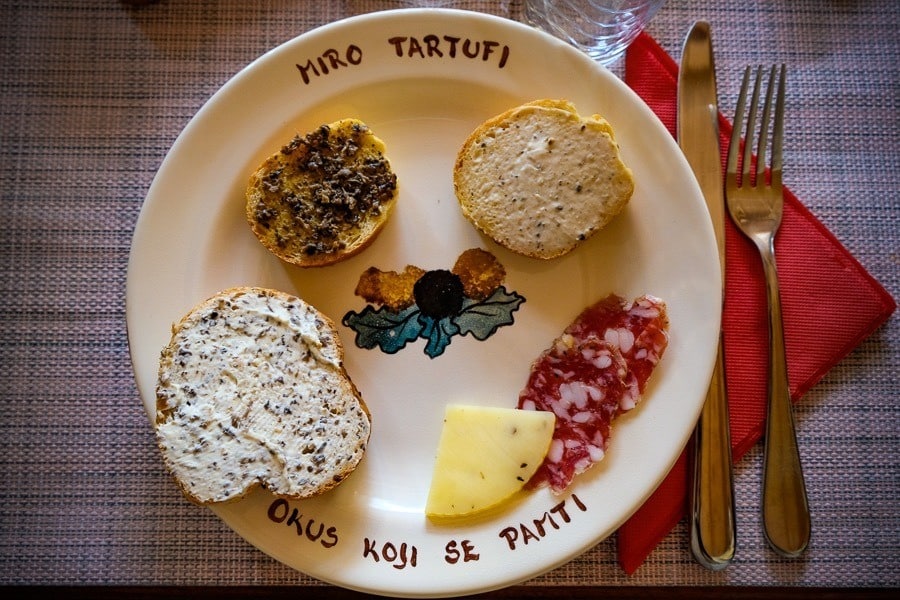 Truffle cheese, truffle salami, several truffle spreads, and a bottle of Istrian wine.

When you think it's all over, there is more. Mirjana asks us who is hungry and how many eggs we'd like. What? More?

"How about 2.5 eggs each?" she asks. Yeah, okay, sure, well say. Then she began to cook us the pièce de résistanc – truffle eggs. I have never seen so many eggs in a bowl—what a sight.
But Mirjana's eggs are really something else. I have eaten truffle eggs a few times, but nothing like this. Mirjana makes her eggs with a base of butter, oil, and truffle shavings – copious amounts of truffle shavings.

The eggs are stirred continuously until they form a frothy soft mixture – then they are quickly transferred to your plate – where Mirjana adds even more shaved truffles.

There is nothing shy about the amounts of truffles used here!
Still hungry? No, you won't be, but you'll need to try to eat the truffle cake. Yes, cake with truffles. Mirjana makes a chocolate cake and drizzles it with truffle-infused honey, and then adds – yes, you guessed it – shaved truffles on top.

Now, remember, that's why I told you not to eat breakfast! Really, do not eat breakfast before you do this tour.
After all the food, there is no rush to leave; you can head to the onsite deli and purchase all manner of delicious truffle products or sit back and relax while you digest the generous meal.

The Kotiga family will teach you all there is to know about truffles and how to find them. Of course, because the two hunting dogs that will accompany you will sniff them right out for you, all you have to do is keep up with the dogs to see the magic be unearthed and then sit back and enjoy the Kotiga family's hospitality.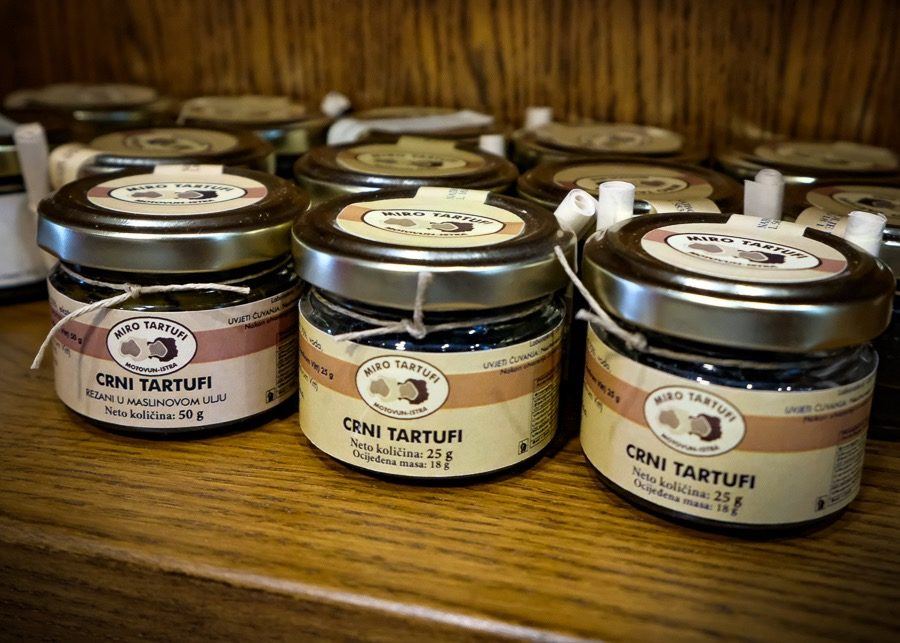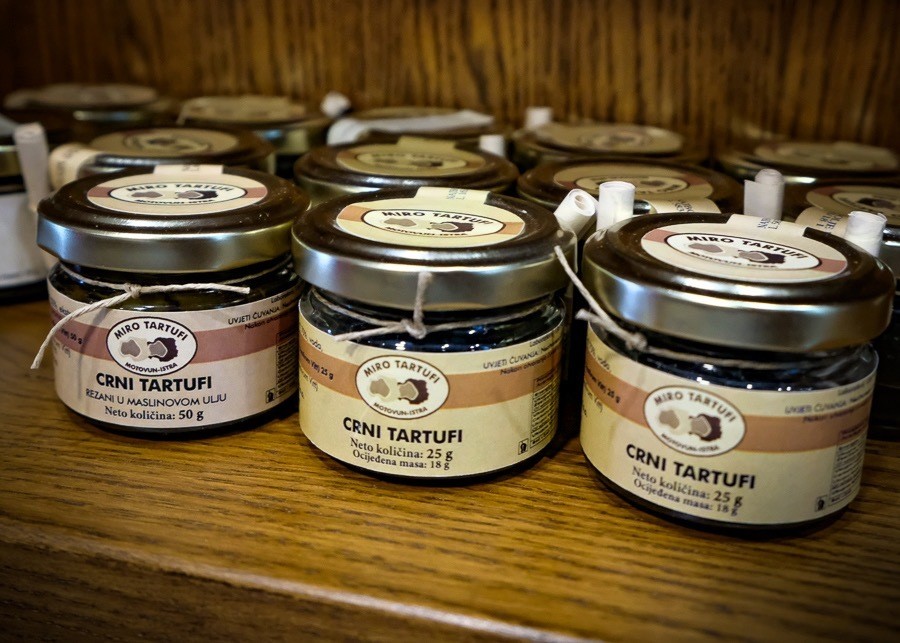 Now, you must want to know what to do in Motovun in the afternoon. Right?

The perfect thing about this tour starting early in the day is that you'll be set to start the second portion of your Motovun activities with a full belly and adrenaline pumping through your body.

Motovun isn't just about truffles! Those walking shoes will still be needed in the afternoon, as it's time to head off on a leisurely walk around the town. In addition to wandering the town, you should also head to the Cultural and Educational Centre Kaštel (where we suggest you eat dinner on night one). It serves as a center for visitors to learn about the region's history and culture. Open until 6 pm each day, the museum is interactive and has cooking classes and exhibitions for foodies and kids to enjoy!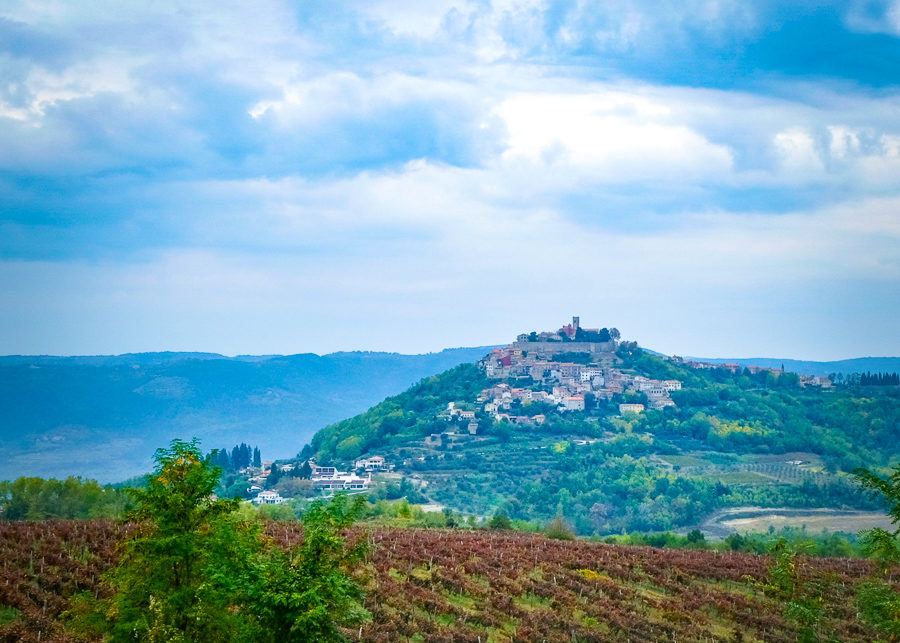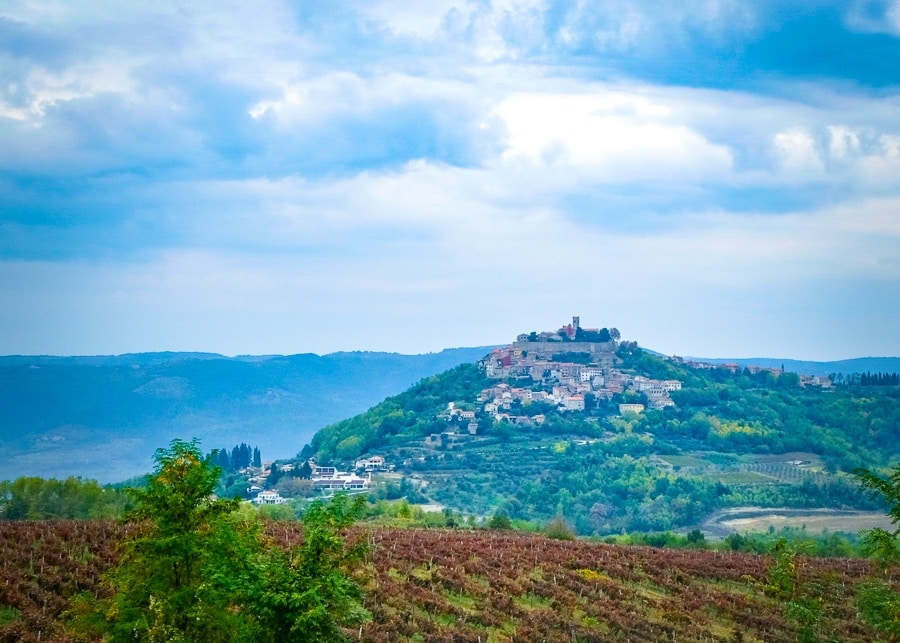 Motovun is a 12th-century medieval town, and I dare say it is the best-preserved and still used hilltop town in Istria. The village of Motovun is perched at the top of a round hill and currently has approximately 600 people. To get to the top, you need to walk a very steep cobblestone road – we pushed the stroller and partially carried the tired and sick 6-year-old, which was arduous work, so keep that in mind if you are traveling with small kids or the elderly.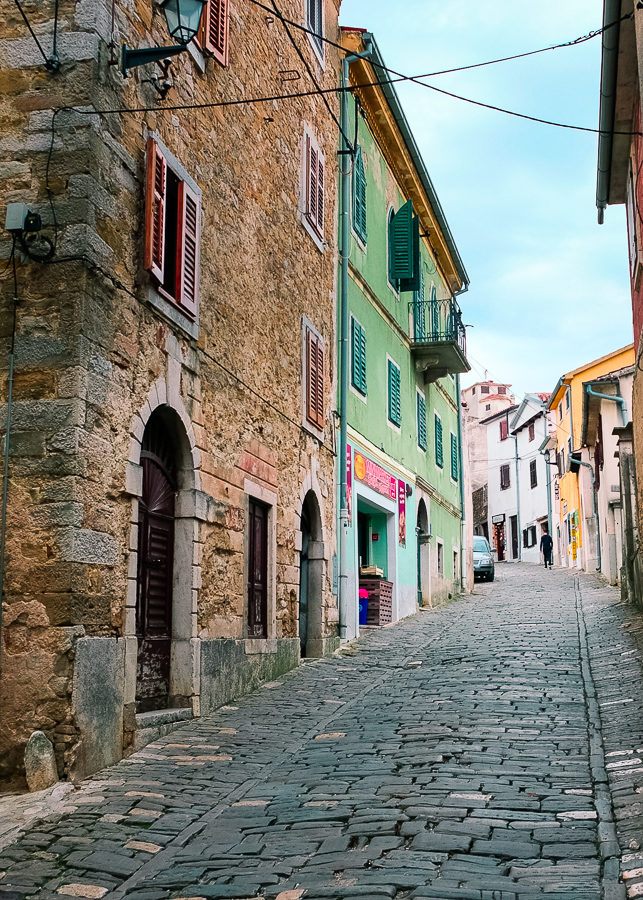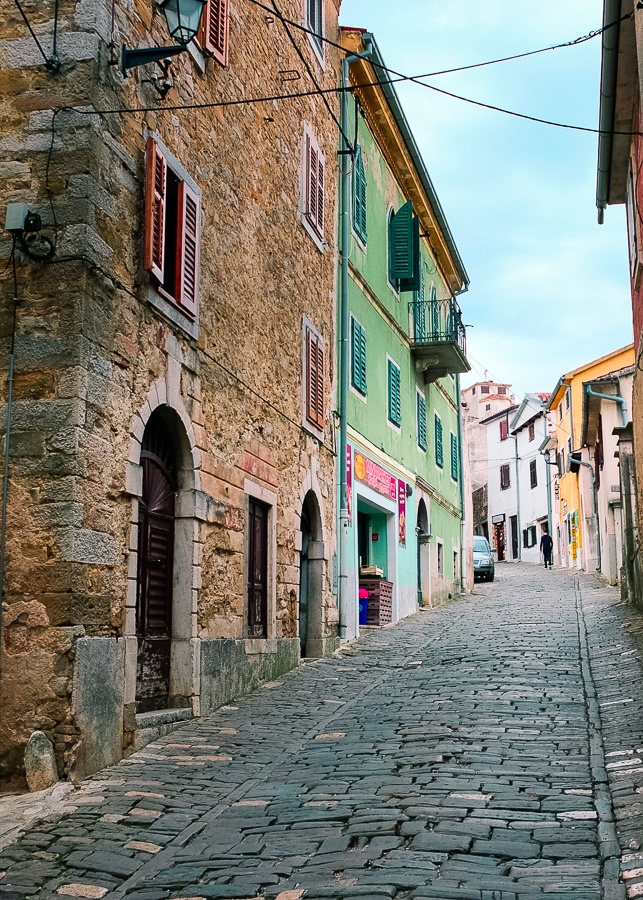 To get the best-unobstructed views of the valley below, you'll need to buy a ticket to walk the medieval walls. Once you enter, you'll be free of many tourists – as I found just one other couple with us the whole time we walked the walls. It seems so few people wish to pay the fee -score for us! From up there, you can peek over and look down to the house where Mario Andretti was born – you know, that famous race car driver. It's the one beside the chapel.
Keep in mind that Motovun is misty this time of year – the three times I was up top, it was overcast and foggy, so taking good pictures was harder. But the sun was trying to shine through, and the blue skies look much better in person than you can see in my photos.

It would help if you planned to spend at least an hour wandering around the cobblestone streets and then another hour wandering the shops – and there are a lot of gallery-style wares for sale. You can also find several places to try wine and truffle products and take home some local souvenirs.

I stopped in several fantastic stores – they do not allow you to take photos of the handmade items, of course, but look out for these storefronts to guide you.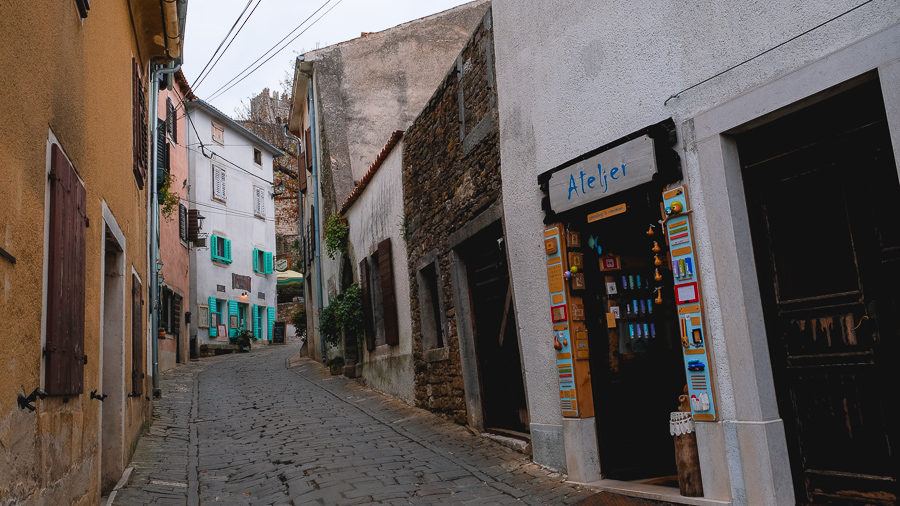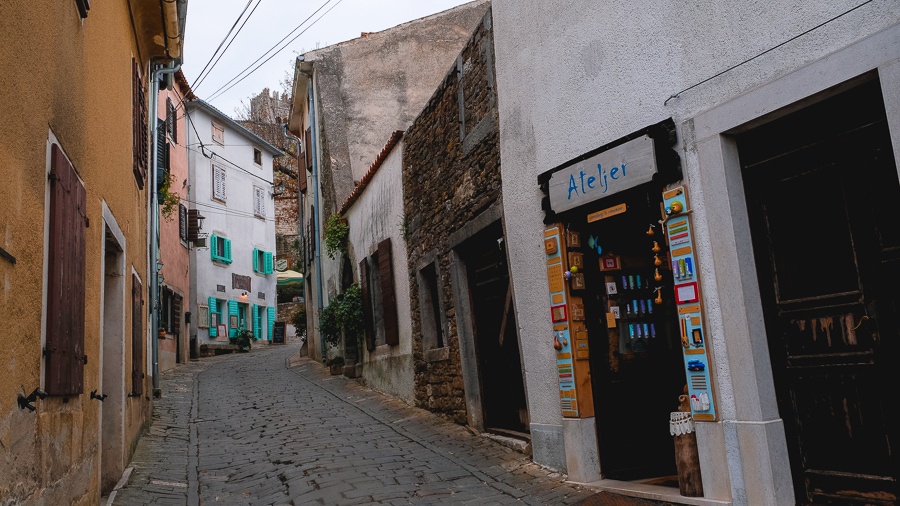 More Information

Walking The Walls: Costs 4 euro.

Parking: Cars are not allowed in the central part of Motovun, so you'll need to park midway up the hill, pay 3 euro (24-hour pass) and then walk the rest of the way up.

Website: You can book your truffle hunt here
Things To Do In Motovun: Day 3
Today is your final full day in Motovun, but don't be sad; there's still plenty to see and do!

You can learn more about truffles, the importance of truffles in the history of the region, how to cook them, how to choose them, and of course, try one too! If you're visiting during the Autumn, check out the Zigante Truffle Festival dates, which is a 5-minute drive from Motovun in Livade. This runs for ten days throughout the Autumn, and this year is from 15 September to 18 November.

Start your day at 10 am, and eat an eggy truffle breakfast – wander the festival, and then you can take your pick from a plethora of wineries surrounding Motovun.

On this occasion, we chose to visit one of the newer wine producers in Motovun, Bertoša Winery, located in Kaldir, about a 10 min drive from Motovun. Robi, the winemaker, and owner, is young and passionate and is more than happy to spend time with you to take you through his winery and talk to you about his wines. Robi & his family will greet you with open arms and let you try their wines.

Currently, he is producing Teran, Malvasia, and Pinot Grigio, and next year will be introducing a sparkling wine to their offer. Of course, we tried them and a couple of extra glasses, and we loved the wines.

Wine tasting here is not like your typical wine tasting experience. Robi's wife decorated the tasting room with a rustic touch to a modern space. They were warm and welcoming, and we were free to take our time. Be warned, the space indoors is so comfortable, and the views across the valley over to Motovun are so breathtaking you could find yourself staying for a few hours – as we did. Whoops.

As the winery is small and family-run, you need to phone ahead – but you can do that with short notice. To be sure you get a slot, I'd call a few days before you arrive in Motovun, but they told us that they could also often accept, say, day requests – you do not want to miss this stop.
The winery is well signposted, so it's easy to find – be careful of the steep driveway if you are in a hire car; you may want to park it up on the top level.

Reach the team at https://www.facebook.com/vinabertosa/via Facebook or via phone at +385 091 545 3519 (they speak English).

Now, if you are not into winery visits for the afternoon, I'd suggest you hire a bike and head off into the countryside. You can hire everything you need, including the bike itself, helmet, and safety gear, from various tour operators in Motovun. The companies will also give you ideas on the best routes to take and what to see, as well as maps and insurance. Another plus point? They'll deliver your bike to your hotel and pick it up too. Easy huh!

When you return to your hotel from your wine or cycling expedition, you'll no doubt be hungry. In that case, shower and change before heading out to eat. Choosing what to eat in Motovun is hard – there are so many excellent meals on offer – and deciding where to eat can be even trickier as some on Trip Advisor are rated highly – but are actually meh. I know as we ate at one and were very disappointed.

So, we suggest you try Pod Napun for a meal with a stunning sunset view. There is no better place to sit and watch the sky's colors change from blue to golden to black, all while sipping on a delicious glass of local wine and eating delicious food!

I will say that we did not get to eat here – as when we arrived, they did not have our reservation listed – and were jam-packed, and the kids were too hungry to wait. But as I left, I saw the meals, and they looked fantastic – plus a local friend of mine is the one who suggested we go there – so I know the quality won't disappoint.

It's time to check out of your hotel and return to your original destination. That's your three days in Motovun over. You'll undoubtedly have a grand and relaxing time, and you'll probably want to head back again. However, on your way, don't forget to check out some other wineries in the area (Fakin and Benvenuti are good options), or perhaps hilltop towns on the way, such as Buzet and Groznjan.

Buzet's history dates back to the Middle Ages, while Groznjan is a town of winding streets and a must for art fans.
Where To Stay In Motovun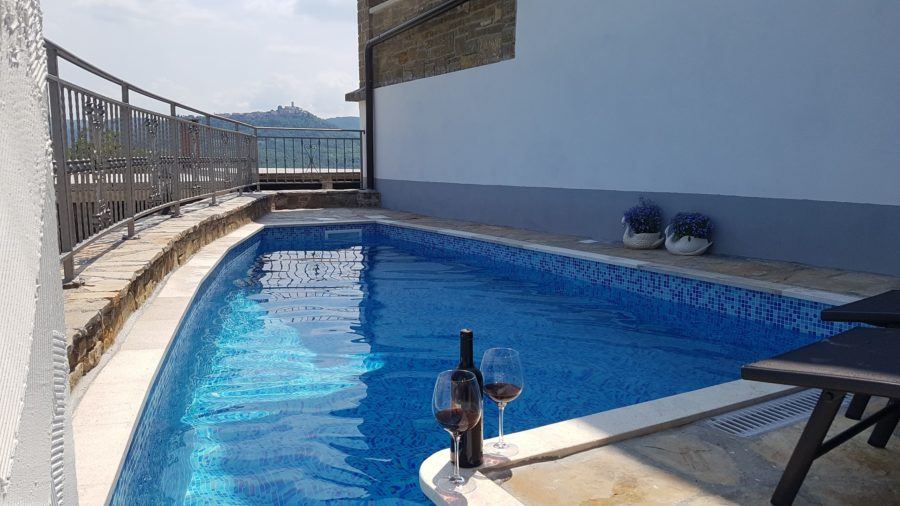 Private Accommodation
Accommodation is plentiful; you will not have difficulty finding a place to rest your head. We chose to stay in Livade – so we could see Motovun from the apartment. Also, I did not want to walk up and down the hill with the two kids.

Our choice was perfect. The host was exceedingly wonderful – he gave us fabulous local tips and provided us with a platter of local cheeses, salami, a bottle of wine, and rakija on arrival. There were also two baskets of local produce on the kitchen bench, ready to cook. The eggs were so orange – we made pasta on our last evening after a busy week exploring Motovun so we could sit back and relax.

But the pool. Oh, that is the joy; after being out all day, you come back to soak in the heated pool, sit on the outdoor seating, and relax while catching a glimpse of Motovun in the distance.

Livade itself is small, but it makes an ideal base for central Istria. There is a market, several coffee spots, and several excellent restaurants.
Hotel Kaštel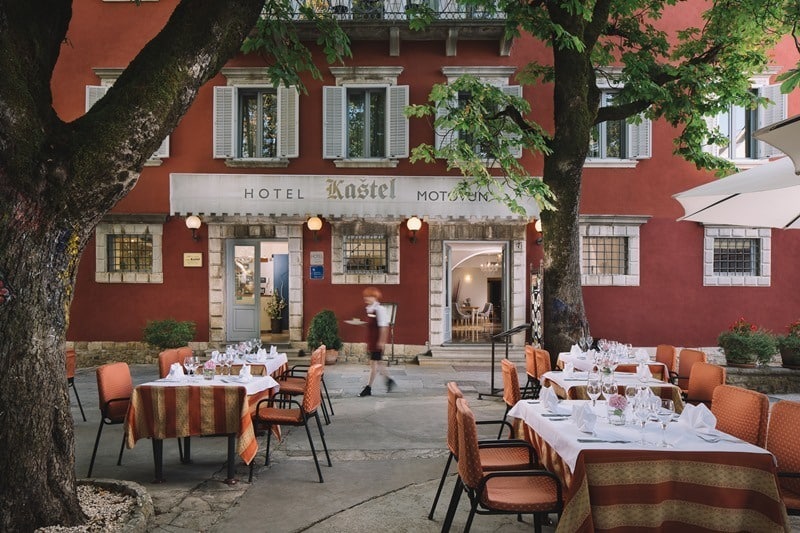 Now, if you'd prefer to stay on the hill, there is no better choice than Hotel Kaštel! It's located beside the main square and is small enough to get the personal touch, but it also has a full wellness spa and the restaurant I mentioned. I stayed here on my last visit and loved being within reach of the restaurants and shopping.
Places To Eat In Motovun
We suggested two places to eat, but if they do not suit you – here are a few more to consider
Zigante Restaurant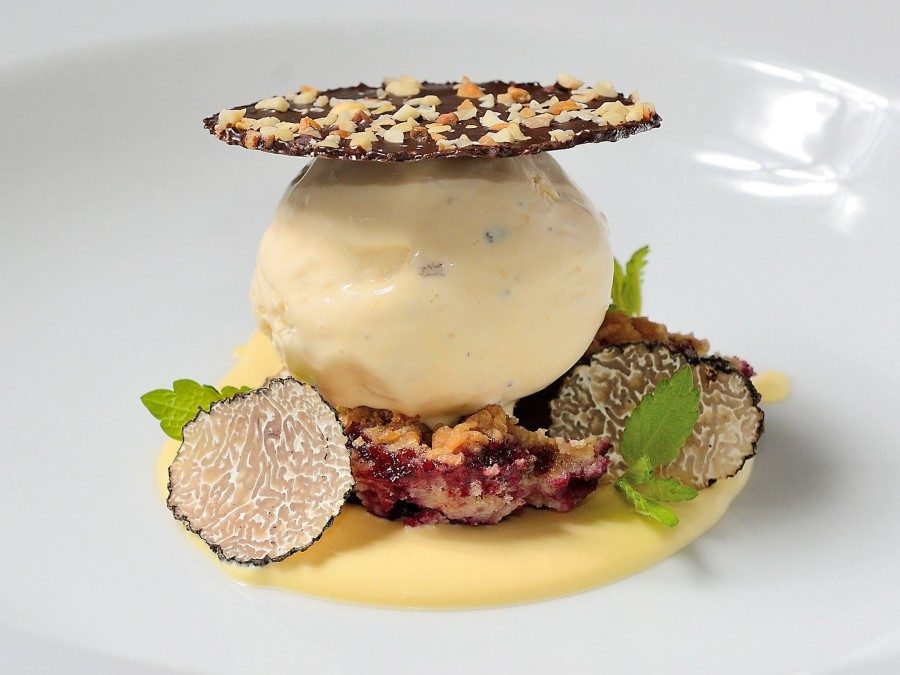 Zigante Restaurant is a place for foodies and those who love a view. Situated right on the edge of the Motovun forest, the restaurant is in the small village of Livade and is famous for its dishes made from fresh truffles directly from the woods next door! You really can't get much fresher than that. Motovun overall is renowned for truffles, as it is one of the few places where both white and black truffles grow. In 1999, the area hit the spotlight, as the world's largest truffle was found here.
Zigante Restaurant serves creative dishes prepared with the freshest ingredients, whether you want truffles or not. They also have an extensive wine list. A fantastic night out!
Konoba Dorjan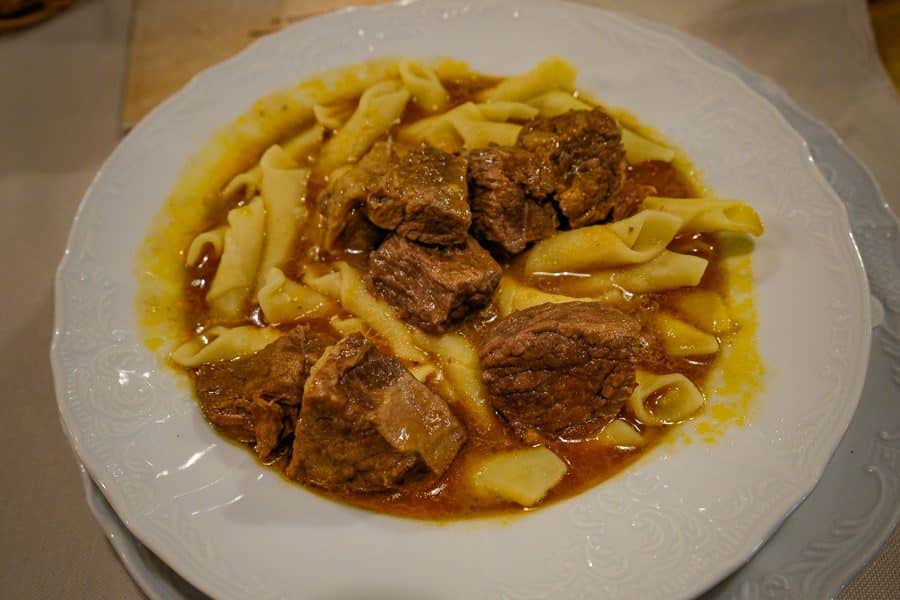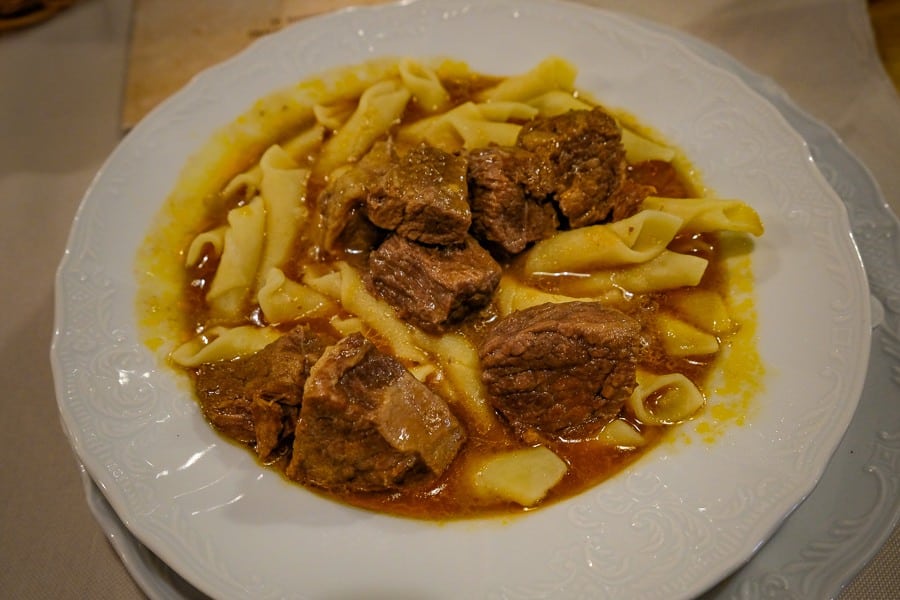 Livade is not far from Motovun, and while it is small, it makes an excellent base for central Istria – and that is where we slept. While there, we discovered Konoba Dorjana. A blog reader suggested it to me, and my host also gave it the local thumbs up – we ate two of our best meals there! Try the game fuzi as well as the homemade fuži with truffles.
Konoba Fakin Restaurant
You'll find this restaurant just inside the town's main gate; it looks over the Motovun forest below and serves a variety of options – including lots of choices with truffles.

Ahhh, see, I told you that Motovun would charm you – now what else do you need to know to book your Motovun vacation?

Of course, Croatia overall is a g country for exploring, with high-quality roads to rent a car – or bus connections to major cities so that you can add Motovun to any of your Croatian holiday plans. Or, make an entire vacation from the whole area surrounding Motovun, seeing the 'real' way of Croatian life.
Festivals & Events In Motovun
Teran and Truffle Festival
Festival Veli Jože
Motovun Film Festival
Other Activities In Motovun
Paragliding
Cooking classes
Check out the Motovun Tourist Website for more details.

#VisitMotovun - In Partnership With The Motovun Tourist Board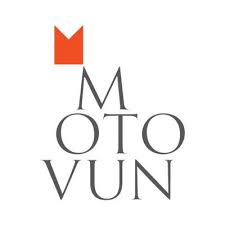 This post was developed in collaboration with the tourist board of Motovun. The Motovun National Tourist Board provided partial accommodation, meals, and guides, but all opinions are mine. All recommendations are given wholeheartedly and without bias.