Some posts contain compensated links. Please read this disclaimer for more info.
Things To Do In Rovinj Croatia
If you've seen postcards or advertisements of the northwestern region of Croatia, chances are you've seen pictures of Rovinj. It's the idyllic Istrian city with a tall bell tower standing over the seaside city like a knight in shining armor.
Rovinj, the beautiful port city, located in the north of the Adriatic Sea on a picturesque oval-shaped peninsula, was awarded the destination of the year for 2019 by the Croatian National Tourist Board.
Illyrian tribes settled the town before the Romans captured it and later incorporated it into the Byzantine Empire. Rovinj remains a large port and fishing center and has become a popular tourist destination.
If you're planning on visiting the picturesque city of Rovinj, Croatia, which was named one of the most beautiful coastal towns of 2014 by Travel and Leisure Magazine, and you want to make the most of your vacation but aren't sure where to start, keep reading. We've composed a list of the best things to do in Rovinj, Croatia, below.
We've wanted to share these ideas with you all since our very first visit. So, here is our list of what to do in Rovinj. Before heading off, make sure you have all the essential travel items, which will make your vacation that much more comfortable.
What To See In Rovinj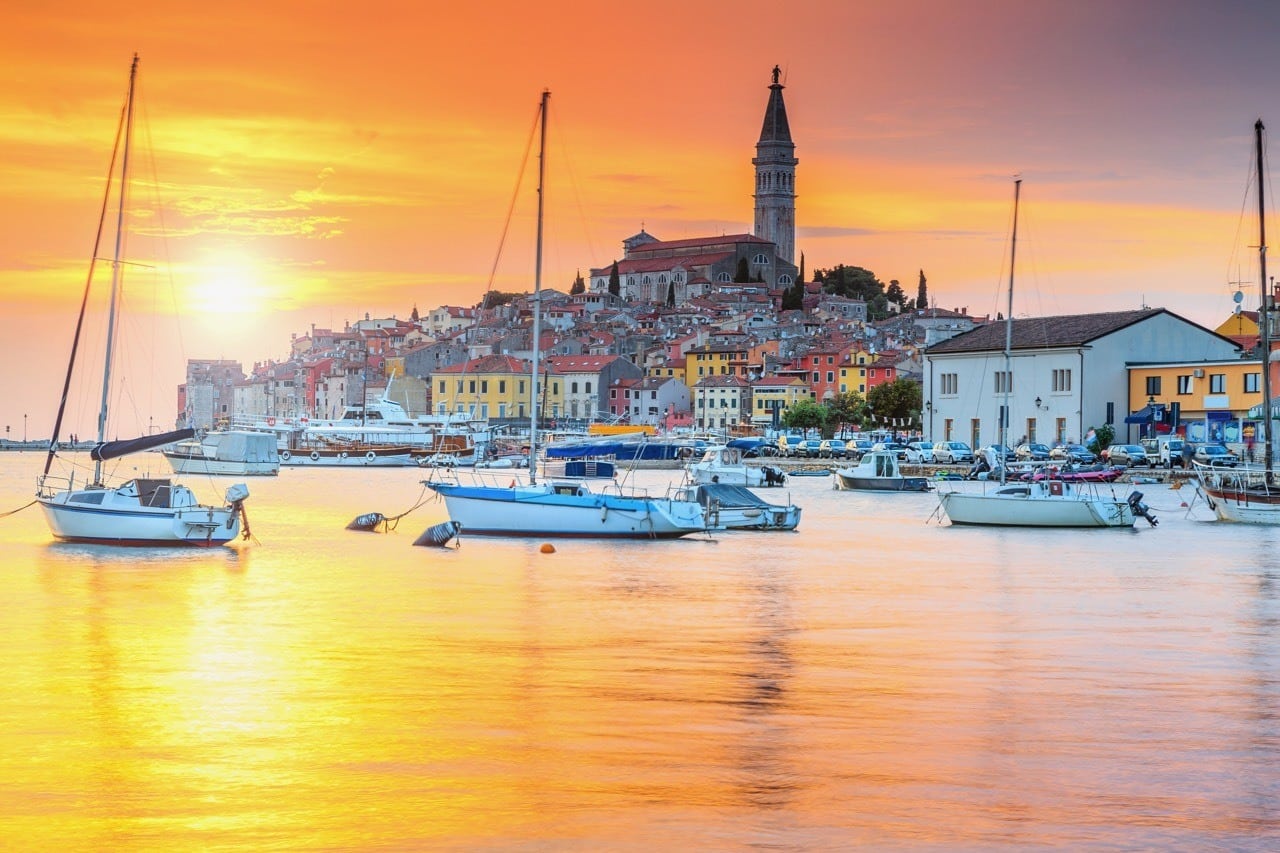 Take your pick from this list of top Rovinj attractions.
Visit Rovinj Old Town
One of the first things to do in Rovinj is wandering the cobbled streets of the Rovinj Old Town. It's one of my favorite Rovinj attractions. Beset by the remains of three town gates and remnants of the walls that used to protect this historic city, you'll get to enjoy beautiful architecture that dates as far back as the early 1700s.
There's a fantastic view from the town bell tower, while the small square is a regular tourist hotspot making this an ideal place to start off your holiday. Keep an eye out for Balbi's Arch, the original entrance to the town. We've stayed in a few hotels in the Old Town of Rovinj and love the vibe. The fact that there are no cars makes it an extremely kid-friendly destination.
While in Old Town, don't forget to pick up one of our all-time favorite souvenirs from Croatia.
St. Euphemia Church
The Church of St. Euphemia is the first thing visitors will see when they get to Rovinj. This church, built in 1736, stands on a hill in the middle of the peninsula overlooking the rest of Rovinj. The Church of St. Euphemia is a beautiful representation of the baroque architecture that dominated the era it was built in.
The tomb of sweet 14-year-old St. Euphemia is behind the altar. According to local legends, the patron saint was tortured and thrown to the lions by Emperor Diocletian for her Christian faith. Her body disappeared on a stormy night and washed up on the coast of Rovinj, from where a little boy and two calves moved the Saint to where she lies now.
Shop For Truffles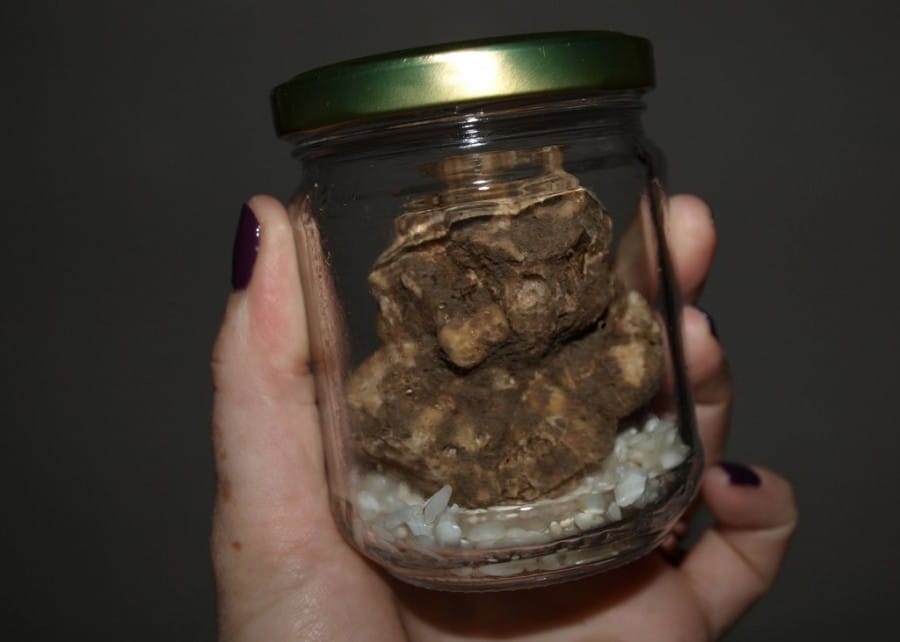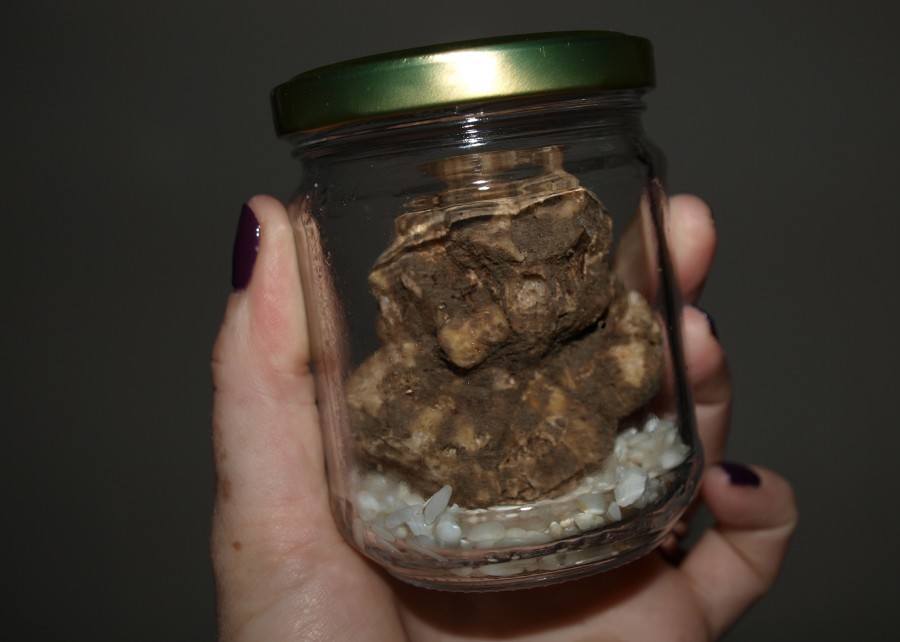 You simply can't be in Istria and not eat (over and over again) truffles. Istrian truffles are genuinely world-class, with Mr. Chasing the Donkey claiming he can't tell the difference between their Italian cousins. While you are shopping, also make sure to pick up some of Croatia's best olive oil at the open-air market.
Valdibora markets are open from 7 am to 4 pm daily. If you do grab a truffle, here is an exquisite truffle recipe to prepare, or try one of the local restaurants. Surprisingly (or maybe not), there are quite a few Croatian recipes that include the Istrian truffle.
Stroll Through Grisia
Quaint little shops and art galleries characterize this beautiful, old neighborhood. Visitors get a feeling of stepping back in time when they walk down the cobblestone streets of Grisia. The buildings that line the winding streets of Grisia show different styles of architecture from years gone by.
You'll see Gothic, Renaissance, Baroque, and Neoclassical styles. Most of the buildings were constructed when Rovinj experienced a population increase, and large families lived in one room with a fireplace.
Watch The Fishermen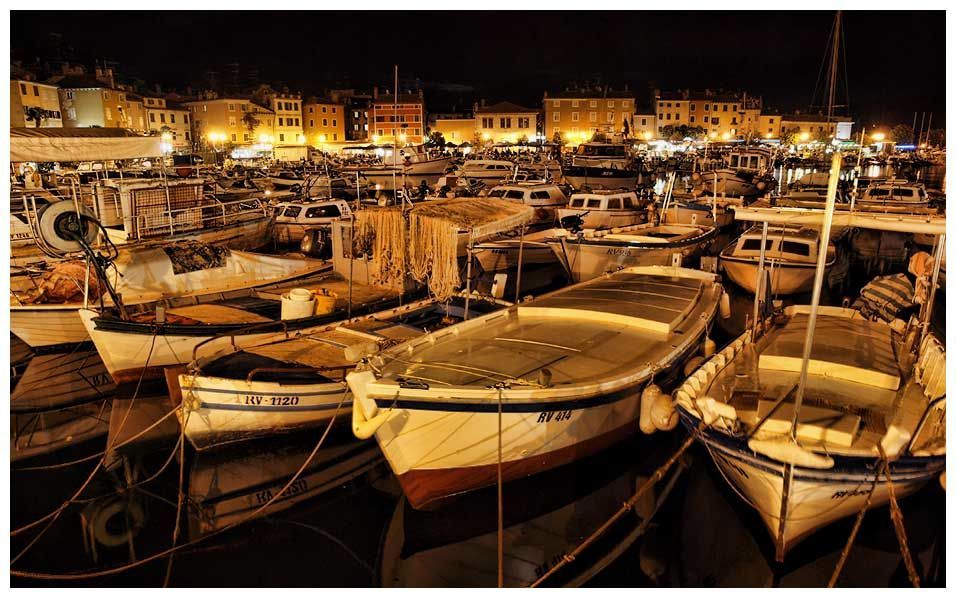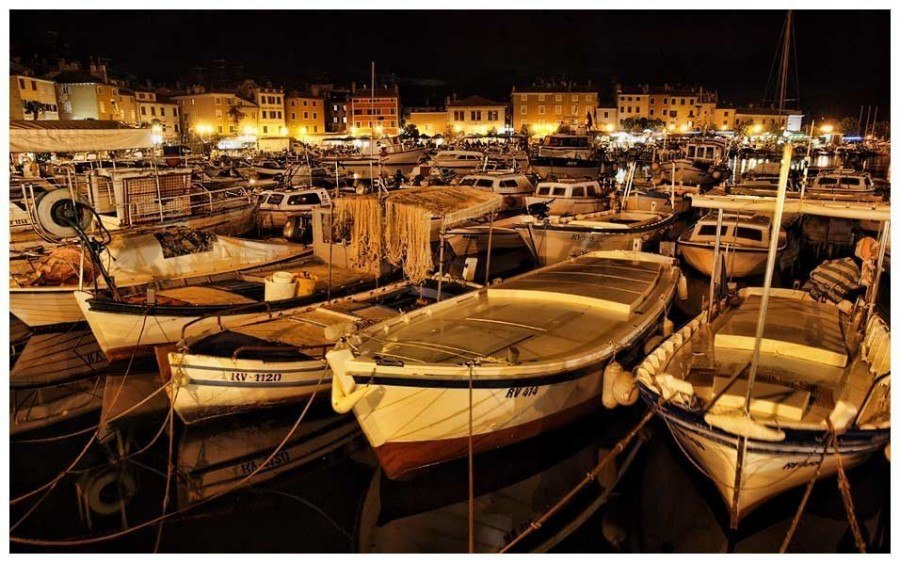 The fishing port is still active, which is surprising given Rovinj is such an enormous tourist destination. It's great to see that Rovinj has stayed true to its long history of fishing, and many families in the area are still making a living from it. I guess that that fishermen love the pastel colors of the city as their backdrop each day, too.
Punta Corrente Forest Park
Also known as Zlatni Rt to locals, Punta Corrente Forest Park is a lovely place for a walk, bike ride, or swim. It was founded by the Austrian Admiral Baron Hutterott in 1890 after he began keeping a villa on Crevni Otok. Ten species of cypress trees dot the park, which opens up to the waterfront where visitors can take a swim. Punta Corrente Forest Park also boasts a spectacular view of the islands off the shore of Rovinj.
A mere 20-minutes walk from the center of town; this area is pretty much perfect for anyone who wants a severe dose of nature. Located on a peninsula south of the Old Town, this is simply wonderful, almost fairy-tale-like woodland. On the peninsula, you'll find beautiful beach areas such as Golden Cape, Lone Bay, and Škaraba.
Scuba Dive The Baron Gautsch Wreck
If wandering around an island isn't your cup of tea and you want something a bit more action-oriented, you could scuba dive the Baron Gautsch Wreck. This old boat lies at the bottom of crystal clear waters, surrounded by numerous underwater flora and fauna species.
See The Islands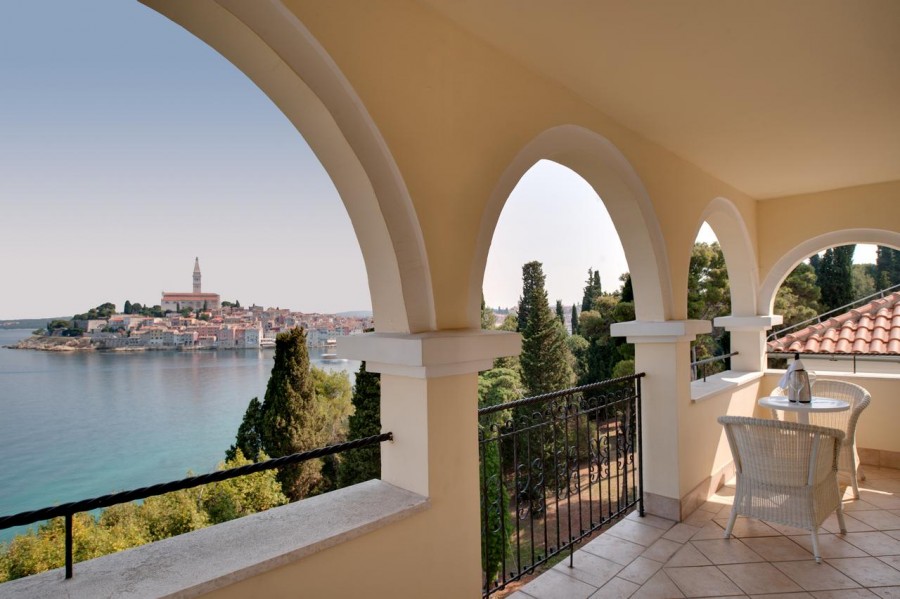 Fourteen islands make up the Rovinj Archipelago. Each one is full of lush, green grass, and each is a popular destination to visit. We suggest St. Andrews Island or St. Catherine Island, both situated just off the coast of the old town. These beautiful islands take between five and fifteen minutes to get to by boat. And best of all, they're car-free, so you can walk around the islands' beaches or visit the old cathedrals.
Local Tip: Hotel Katarina on St Catherine Island offers a unique view of Rovinj.
Go Big Game Fishing
You can't visit the Adriatic without at least going for a boat tour. For something a bit different from the traditional tourist excursions, considering going big game fishing. With the chance to hook a massive tuna, reef sharks, and marlin, you should definitely give this a try.
Although when you're waiting out on the boat for a bite, just remember to take something to kill time, like a book, for example.
Find The Best View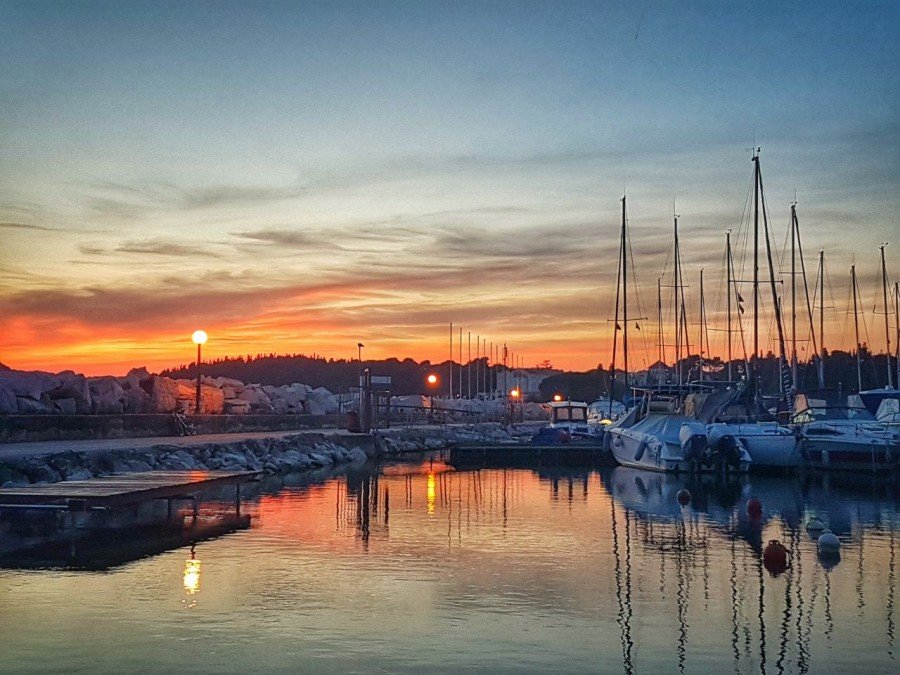 The absolute best place to get sweeping views over the colored buildings of Rovinj is to climb to the top of the bell tower. Set adjacent to the Cathedral of St. Euphemia in the middle in the heart of the old town, you can't miss it.
Kayaking
For anyone who loves sports or water activities, Adistra is the place to go. Adistra offers a variety of water tours around the archipelago on the coast of Rovinj. Their most popular is the kayak tours.
These tours vary from a 9-kilometer trip around the islands to a 14-kilometer trip to the Lim Fjord. The tours include lunch and rental snorkeling gear. Another popular tour of Adistra is the Sunset Paddle that includes wine, cheese, and olives, arguably the most fantastic way to end a day in Rovinj.
Cruise Through The Lim Fjord
We've briefly mentioned the Lim Fjord above, but it's worth expanding on it a little more. Although it's sometimes called a "fjord," that's not what it actually is, though. This is technically a "ria," a flooded river valley connected to the sea. As it's often also called, the Lim canal is a 10-kilometer-long estuary of the Pazinčica River.
The beautiful natural attraction lies just north of Rovinj. You can get there by car or boat tour from the port of Rovinj. There are plenty of hiking and biking opportunities along the river, while the water itself is great for boating of all kinds, from stand-up paddleboarding to kayaking.
Additionally, Lim is also well-known for its abundant fish and seafood like mussels and oysters. As such, you can find some amazing food in local restaurants. Definitely try some!
Istria Wine Tours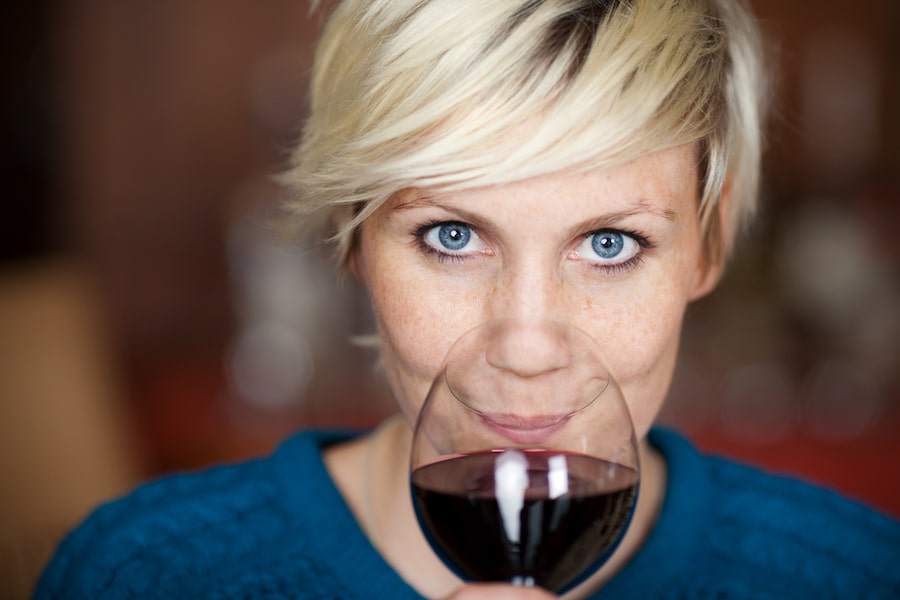 Anyone who loves fine wine and exploring historic locales will love the Best of Istria Wine Tour. This tour offers a full day of wine tasting. Starting in the morning at Groznjan, anyone who takes the tour will visit the best wine locations across Istria.
The areas are hidden and off the beaten path, true gems of the gorgeous Istrian countryside. Visitors tour wineries and cellars, all the while taking in the views that this beautiful land has to offer.
Rovinj Museums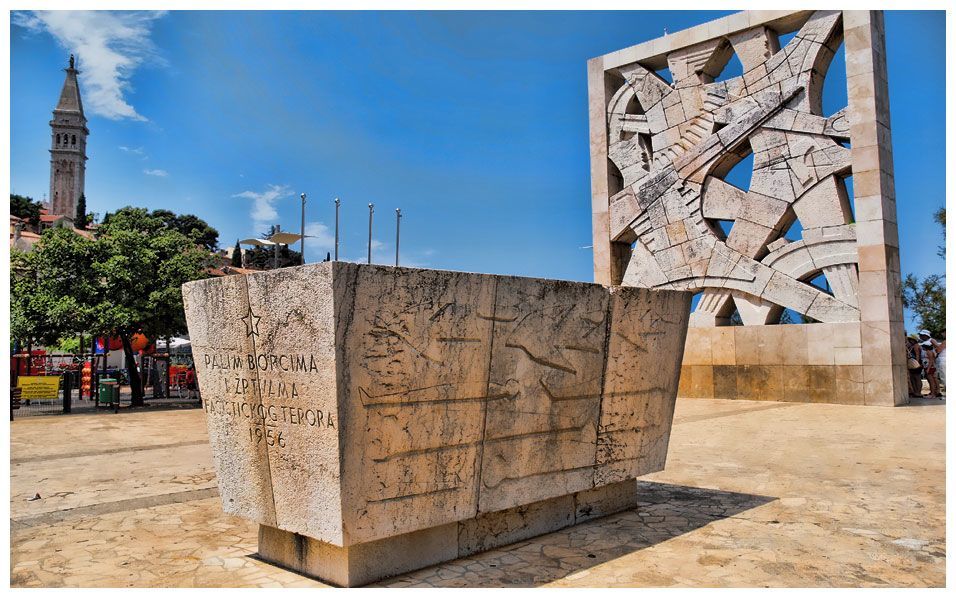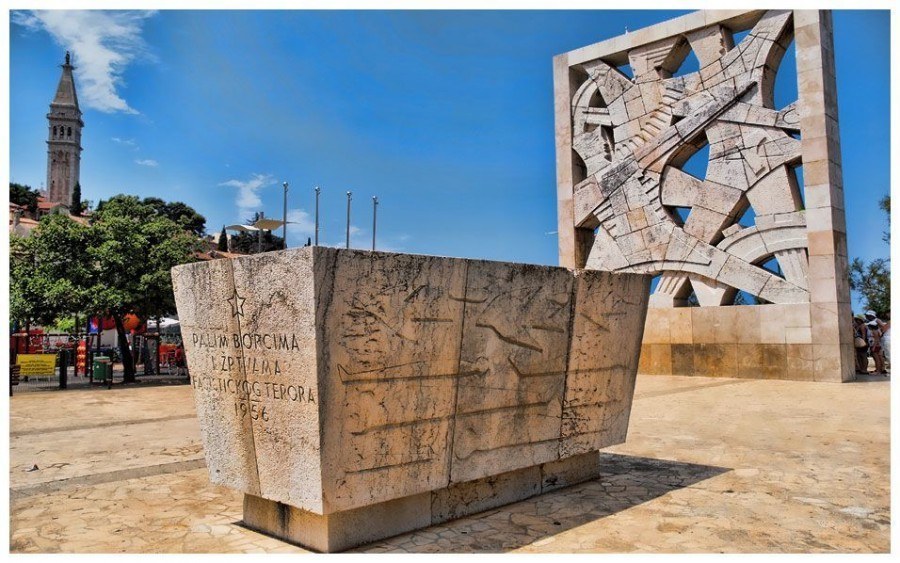 Batana Museum
The Batana House is a museum located in the harbor of Rovinj, documenting the Batana boat's impact on the people of Rovinj Town. A flat-bottomed fishing boat, the Batana and is a symbol of Rovinj's history and culture. Although the museum is small, it's positioned in a beautiful 17th-century townhouse.
There are occasional museum events where you can take a boat ride around the town in a Batana before having a traditional Croatian meal afterward. Some tours include visiting a local fisherman, who will demonstrate the art of fishing net repair. Great for those in Croatia with kids is that the museum has plenty of interactive displays, including captions and audios that appeal to all ages.
Cost: 10 HRK | Open: Daily June-September 10am- 2pm and 7pm-11pm
Rovinj Heritage Museum
You'll find the museum in the Baroque palace that once belonged to the Califfi counts in the 17th and 18th centuries. Founded by a group of artists from Rovinj in 1954, the Heritage Museum now serves as the town gallery with a rich collection of both temporary and permanent exhibits.
Website | Cost: 15 HRK | Open: Tuesday-Sunday 10am-6pm
Enjoy A Little Wellness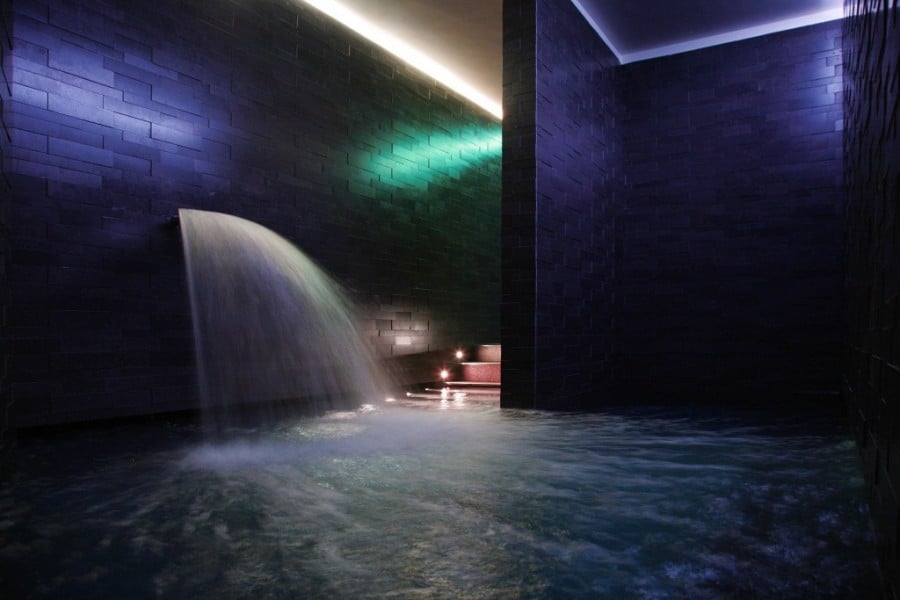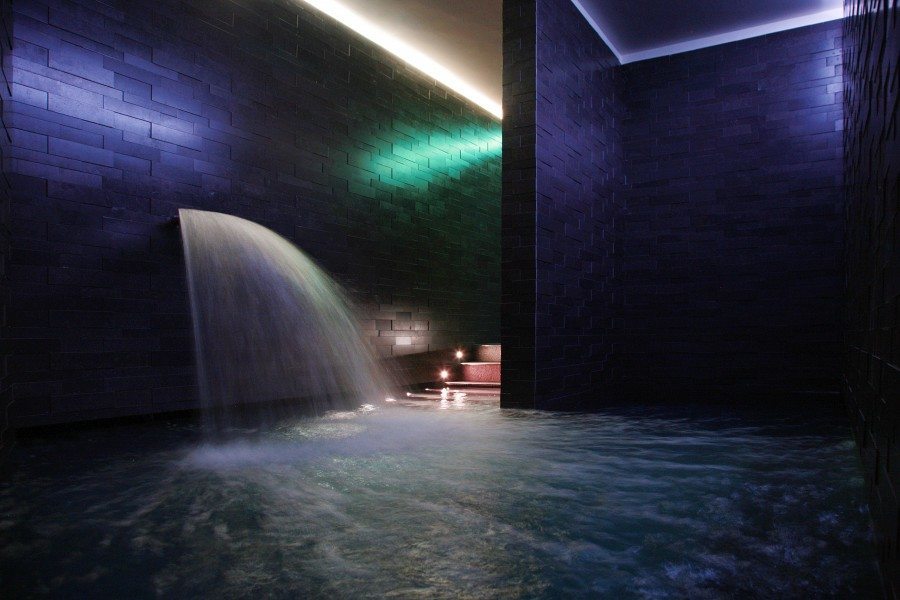 I was blown away by the look and feel of the Lone Hotel Spa. It's not only very welcoming and relaxing, but the "design" concept of the hotel continues to flow into this space and has a serious "wow" factor.
The wellness spa is quite large at 1,700 square meters and offers everything you would expect from a 5-star hotel. It features a swimming pool with hydro-massaging chairs, whirlpool rooms, saunas, and massage and treatment rooms.
Swoon Over The Sunsets
We were in awe of the shades of orange and blue the sky turned on our trip to Rovinj. There are several park benches to sit on while you soak up the hues yourself. You can also enjoy a stroll along the water's edge and watch as the fishermen ready their boats for the following day.
Explore The Monkodonja Archaeological Site
Located on a hill just outside of Rovinj, Monkodonja is a Bronze Age hill fort dating from 1,800 to 1,200 B.C. Nowadays, parts of this ancient settlement have been excavated, and you wander through them, exploring former houses and walking through the remains of millennia-old alleys. The information board explains the history of the site in both Croatian and English.
Jump On Two Wheels
There is no end to places you can cycle in Rovinj. Particularly famous is the coastal bike route. Easy enough for the whole family, including kids. However, if you want something a little trickier, you can find cycle routes in and around Rovinj with varying degrees of difficulty.
Day Trips From Rovinj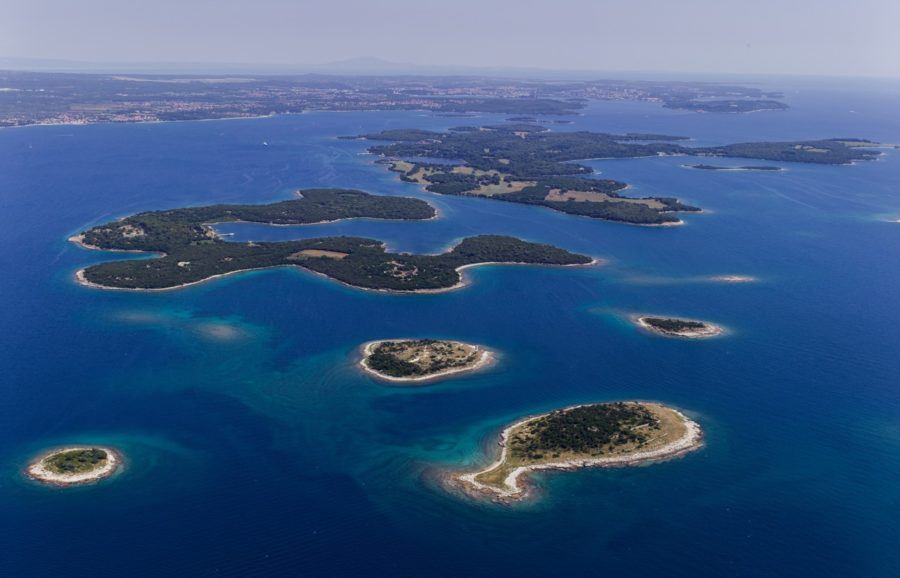 Got itchy feet and want to explore Croatia a little? There are many great day trips from Rovinj, such as the following.
These are just a few of the fun things you can do in this beautiful Croatian town. There are loads of other sights and fun things to do in Rovinj, so just make sure that you make the most of your stay when visiting this beautiful town.
Best Beaches In Rovinj Croatia
Amarin Beach
Amarin Beach is one of the most popular Rovinj beaches. It is a rock and pebble beach with plenty of visitor facilities, including cafes, swimming pools, lifeguards, showers, changing rooms, and campsites. Dogs are allowed on the beach in designated areas.
There is free parking on the front part of the beach, but there is a small entrance fee to use this beach because it is a part of the Amarin Resort. This is unquestionably one of the best beaches in Rovinj.
Valdaliso Beach
Another rock and pebble beach, Valdaliso Beach, has various cafes and restrooms for users. There are lifeguards on site, while there are also plenty of sports facilities. Dogs are not allowed on the beach. Valdaliso is located on the north side of Rovinj and offers a beautiful view of Old Town.
There is free parking in the campgrounds' reception area, and there is a playground for younger visitors. This beach is an excellent location to moor and dock boats for recreational purposes.
Porton Biondi Beach
To the north of and within easy walking distance from the Old Town, you'll find Porton Biondi Beach. This 700-meter-long pebble, rock, and concrete beach lies in a beautiful cove and is perfect for sunbathing and swimming. There are plenty of facilities in the area, ranging from beach bars and restaurants to a water sports center, public toilets and deckchairs, and umbrella hire services.
Borik Beach
Arguably the best beach in Rovinj, small and sheltered Borik Beach offers outstanding Figarola Islands and the Old Town views. Its crystal-clear water and green surroundings make it a fantastic spot for simply relaxing, soaking up some Adriatic sunshine, and going for refreshing swims.
This beach lies north of the town center in a quiet residential area. Amenities include free parking, restaurants, showers, chairs rentals, and a beach bar.
Zlatni Rt Beach
A long rock and pebble beach in Zlatni Rat Forest Park (see above), also known as Golden Cape or Punta Corrente, lies in one of the greatest coastal park areas in Croatia. This is the largest and most popular beach in Rovinj. Set in a calm bay, its waters are ideal for swimming and snorkeling, while on land, you can sunbathe, hike, bike, and do many other sports.
Best Restaurants In Rovinj Croatia
La Vela
La Vela restaurant has a delicious menu with very reasonable prices, focusing on classic Mediterranean and Italian dishes. You'll find tasty treats ranging from seafood to pizza at La Vela restaurant. All of the seafood used in their dishes is caught locally. Everyone falls in love after a meal here. The staff always treat everyone like family, making everyone feel welcome the second they step through the door.
Restaurant Dream
Restaurant Dream serves delectable dishes and unique Croatian wines. Located in the Old Town, this restaurant offers a mid-range priced menu of local dishes. They serve a wide variety of Mediterranean and Italian, as well as contemporary foods. There is no mistaking that the food is delicious. To top off the experience, the staff are amiable and will love to chat with you. From appetizers to desserts, no one leaves Restaurant Dream dissatisfied.
Puntulina
Puntulina Restaurant & Wine Bar is a very popular and well-rated eatery in the heart of the Old Town, located on the waterfront and overlooking the sea. Its kitchen is a mix of traditional Rovinj dishes and new culinary trends. All food is prepared with fresh and seasonal ingredients, its menu featuring everything from grilled scampi and seabass fillets to beef in truffle sauce and lobster pasta. Naturally, fish and seafood take up a prominent place in this elaborate menu.
Tipico
Another excellent Rovinj restaurant serving dishes made with Istrian ingredients and paired with Istrian wines, Tipico lies literally in the middle of the Old Town, just underneath the towering church. If you'd like to experience what Istria tastes like, this is one of the places you should go to. They grow their own herbs and mix spices, while all other ingredients are sourced locally. The menu is exceptionally extensive and also includes vegetarian and vegan options.
Monte
Monte is a contemporary restaurant boasting a fine-dining atmosphere. Every item on the menu is plated to perfection, and all dishes taste spectacular. The wines come from Croatian vineyards and offer a taste of Rovinj flavors. Located in the Old Town, Monte's unique dining experience on the cobblestone streets is one of a kind.
Rio Bar
Serving Mediterranean cuisine and the finest cocktails in Rovinj, the Rio Bar is a fan favorite. All the food served at Rio Bar is delicious, and all the wines are from local wineries. With reasonable prices, it's no surprise that visitors come back to Rio Bar time after time. This place is open for breakfast and stays open well into the night for all night owls.
Gelateria Italia
This cute little café is a great place to enjoy a cup of coffee on a rainy day or to take an ice cream break in the middle of a crazy day of family sightseeing. Gelateria Italia serves delicious coffees and ice creams as well as yummy snacks. Anyone who loves Italian-style ice cream should head here to satisfy their sweet tooth.
Essential Festivals In Rovinj, Croatia
Grisia Art Show
The arts are prevalent throughout Rovinj, and that becomes evident during the annual Grisia Art Show. Every second Sunday in August, the Grisia Art Show takes place. This open-air art exhibition attracts visitors from all over the country. Anyone can display their artwork during this festival, from professionals to amateurs and children to adults. Everyone is welcome to participate. The artwork is displayed in churches, studios, and even along the streets.
Avantgarde Jazz Festival
The Avantgarde Jazz Festival is a large festival celebrating jazz music. This festival brings audiences and performers from all over the world to honor and celebrate jazz music. From May to July every year, this annual event is held all throughout Rovinj. Festival-goers can find musical performances from the old tobacco factory on the waterfront to the main city square. Jazz lovers will enjoy this long-lasting celebration of a worldwide and highly popular style of music.
Rovinj Hotels & Accommodation
If your looking for accommodation in Rovinj, you've come to the right place. We compiled a list of Rovinj hostels, Rovinj apartments, and Rovinj hotels to make it easy for you to choose where to stay. We have a bigger list of where to stay in Rovinj here, but the overview below is a good starting point.
Rovinj Hostels
Roundabout Hostel
This new Rovinj hostel is located near the main roundabout when coming from the city Pola. A ten-minute walk from Old Town, the Roundabout Hostel offers an eight-bed dorm and a four-bed dorm with air-conditioning and Wi-Fi. It is within close distance to beaches, the hospital and located right across the street from excellent restaurants. Guests always enjoy the relaxing atmosphere of the Roundabout Hostel.
Rooms Montalbano
Rooms Montalbano is a guest house in the heart of Rovinj. It is only minutes away from the downtown and beach areas and is surrounded by lovely restaurants and shops on a quaint cobblestone street. Each room offered at the Rooms Montalbano can sleep two people has a refrigerator and portable fan, and has a bathroom with a shower and bathroom facilities. Cots are also available for guest rooms if they need to sleep more people.
3-Star Rovinj Hotels
Maistra Villas Rubin Resort
The Maistra Villas Rubin Resort is located on the beach in Rovinj. It is close to Golden Cape Forest Park and Monkodonja Hill Forest. Each room has a private patio and satellite TV. There are various amenities available to guests, including an outdoor tennis court, a water slide, and an outdoor pool. There is childcare, a game room, a gift shop, and a bar for guests' convenience. Additionally, the Maistra Villas Rubin Resort also comes with internet access.
Check Rates or Find More Rovinj Hotels Here
Vila Lili
This small hotel is located near the Adriatic Sea. With only 17 rooms, the Vila Lili offers a quaint, personalized stay. Even though it is small, this hotel does have many amenities. There is parking available on site and a shuttle to pick guests up from the airport. For guest's convenience, there is a spa and bar in the hotel as well, while each room is unique and offers different views of Rovinj.
Check Rates or Find More Rovinj Hotels Here
4-Star Rovinj Hotels
Hotel Arupinum
Hotel Arupinum lies close to Nature Park Zlanti Rt. Each room comes with a private balcony overlooking the city, a flat-screen TV, a safe, and a minibar, as well as air-conditioning. The hotel has Wi-Fi, parking, a restaurant and bar, and an outdoor swimming pool to enhance guests' experience. A short walk also brings you to shops, restaurants, spas, recreational areas, and hiking trails.
Check Rates or Find More Rovinj Hotels Here
Hotel Angelo D'oro
Hotel Angelo D'oro comes with a unique history. It was formerly a Bishop's palace in the 17th century, and the look of the hotel is supremely Venetian with vaulted ceilings and exposed stone walls. The small rooftop loggia gives guests breathtaking views of Rovinj from the heart of the city. Every room comes with a view of the garden, the sea, or the quaint cobblestone street. Amenities of the Hotel Angelo D'oro include air-conditioning, breakfast, and Wi-Fi.
Check Rates or Find More Rovinj Hotels Here
5-Star Rovinj Hotels
Hotel Monte Mulini
The Hotel Monte Mulini is ten minutes away from the center of Rovinj. Each room has a beautiful view of either the pool, the garden, or the sea. Rooms were created to be of luxury to guests with free Wi-Fi, air-conditioning, satellite TV, a minibar, and a walk-in shower. For guests' convenience, the hotel offers airport shuttles, a fine-dining restaurant, indoor and outdoor pools, and a sauna. The hotel even has beach access with changing facilities, showers, beach rental equipment, and a beach-side cocktail bar. This certainly is one of the best hotels in Rovinj.
Check Rates or Find More Rovinj Hotels Here
Hotel Lone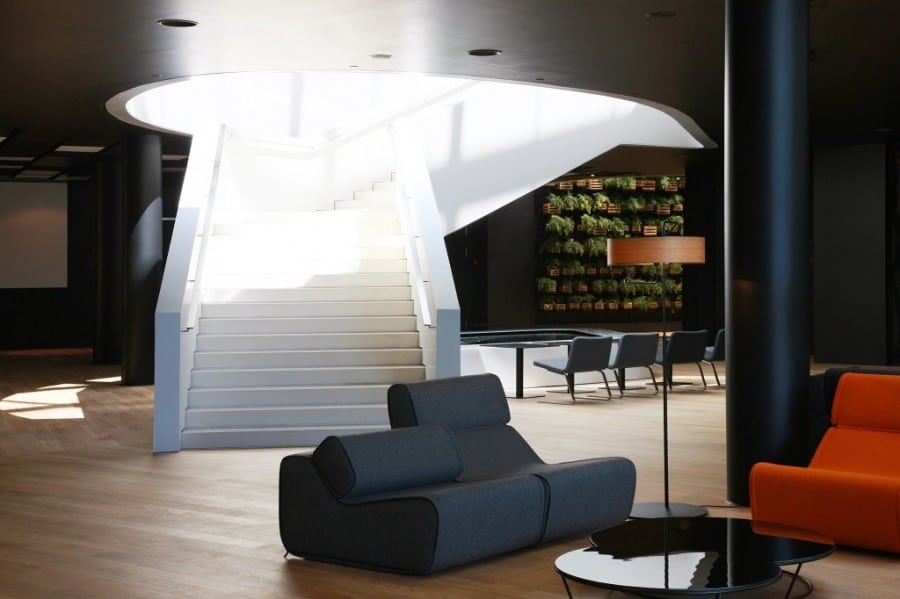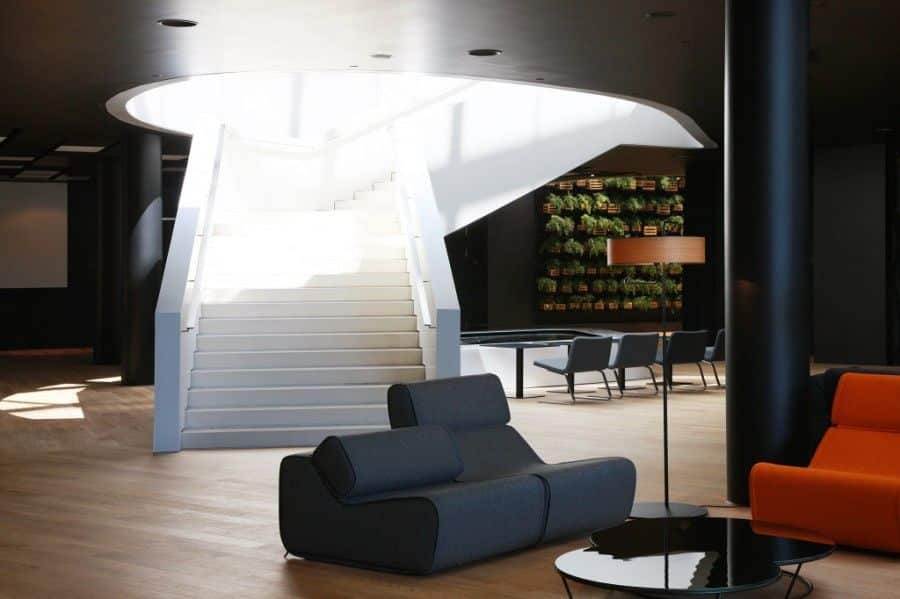 The modern Hotel Lone lies within the Golden Cape Natural Park and is dedicated to making guest experiences perfect. We know, we loved it. With hotel amenities including an indoor pool, a sushi bar, a night club, several restaurants, a spa, a garden, buffet breakfast, and airport shuttles, it is hard not to be satisfied with the Hotel Lone.
Each room comes with free Wi-Fi, a private balcony, a flat-screen TV, air-conditioning, and a laptop safety box. The best part is that this hotel is close to the sea and a 15-minute walk to the center of town. This is also one of the best hotels in Rovinj.
Check Rates or Find More Rovinj Hotels Here
Traveling To Rovinj Croatia
Air. Pula Airport is the nearest airport to Rovinj. It is a 40-minute drive from Pula to Rovinj. If you are looking for a large international airport, you will have to go to Italy or head to Zagreb. This guide will get you from Zagreb to Rovinj.
Bus. Bus stations all over Croatia serve buses that run to Rovinj. Rovinj to Zagreb is approximately 250 kilometers. Within the city, local buses are a very reliable form of transportation.
Ferry. Several ferries travel north along the Adriatic Sea. These ferries connect several different seaside cities and have various timetables to meet your needs, including ferries to Venice on Venezia lines Rovinj.
Train. There is a train station in Rovinj, although taking trains in Croatia is not the best option given the limited options.
Car: Road travel is, for us, the best choice in Istria. There are a series of roads that connect Croatia to other parts of Europe and great highways internally. Book your rental car in advance because during peak season, rental cars are limited.
Parking. There are several parking locations along the beaches in Rovinj, and many hotels offer parking as part of their amenities. Keep in mind; there are no cars allowed in the center of Rovinj, so plan your drive and parking accordingly.
What do you think will be your favorite thing to do in Rovinj?
Many photos by Mario Fajt
Share