Some posts contain compensated links. Please read this disclaimer for more info.
These Best Beaches In Istria Are Waiting For You
The largest peninsula in the Adriatic, Istria, is shaped like a triangle; the lower two sides have a coastline. Naturally, this means that there's plenty of swimming and sunbathing to be done in Istria. Below, we'll explore the best beaches in Istria, places where you can wind down and soak up some Istrian sun.
Istria is as close to the perfect beach destination as you can get in Europe. Many charming old towns—coastal and on inland hilltops—dot the peninsula, while perfect weather invites you to spend all day every day outside. Add to this superb, traditional cuisine and fun water sports, and you've got yourself your new summer vacation destination.
So, What Are The Best Beaches In Istria?
Define best? It's so subjective, but to get you started, here are the top-rated beaches in Istria as voted by us, your donkey-loving family.
Cape Kamenjak Beaches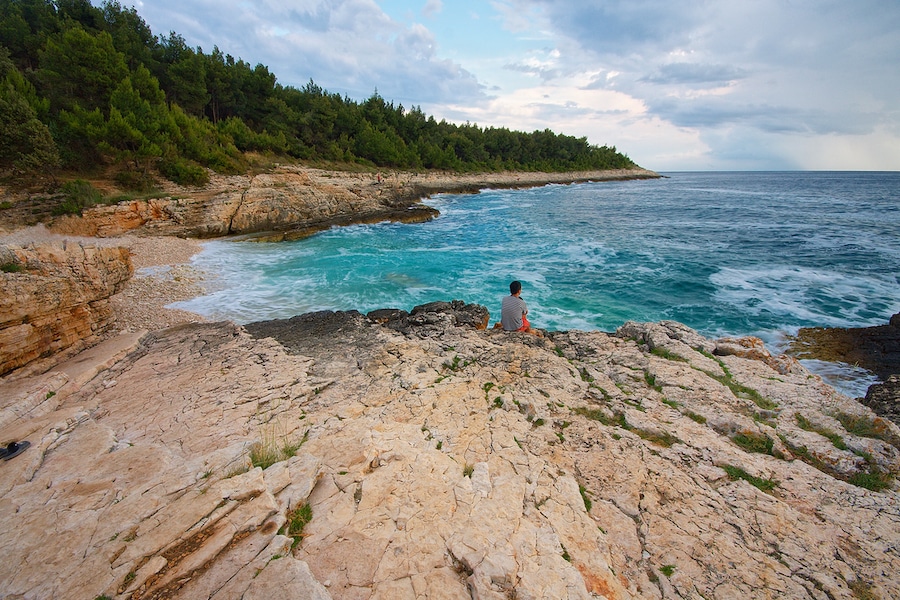 Cape Kamenjak is the wildest region on the Istrian peninsula. It lies to the south of Pula and consists of pastures and woods, rocky beaches, and a downright spectacular coastline. It comes as no surprise that this is a protected area.
Therefore, you won't find any urban distractions while sunbathing in Cape Kamenjak. Its coastline comprises countless inlets, bays, coves, and beaches; you're sure to find a spot you can claim for yourself here.
Although there are a few sandy beaches, most of them consist of pebbles or rocks. Those are often flat, though, so you can still put down a towel and soak up some sun.
Cape Kamenjak is also a great diving destination because of its crystal-clear water and rich sea life. Windsurfing and regular surfing are popular things to do as well. However, one thing to be aware of is that the currents around the cape can be strong. Don't get caught off guard!
Beach Njive, Premantura
Located on the western side of Cape Kamenjak, this dreamy bay provides ample calm swimming spots in the midst of its turquoise waters. The entrance to the sea is shallow, making this an excellent beach for families with young children. This natural pebble beach is surrounded by pine trees and rock formations, giving it a secluded vibe. A beach bar along with sunbeds and umbrellas are available for visitors.
Bay Pinizule, Premantura
Near the town of Premantura is the lovely little Bay Pinizule with a pebble beach. The beach is surrounded by pine forests, offering a break from the heat and a beach bar offering up cool sangria and beer for refreshment. The crystal clear waters make for some of the best snorkeling in Istria, so don't forget your goggles! Additionally, history lovers will enjoy the nearby dinosaur trail with footprints and fossils on display.
Sveti Nikola Island, Porec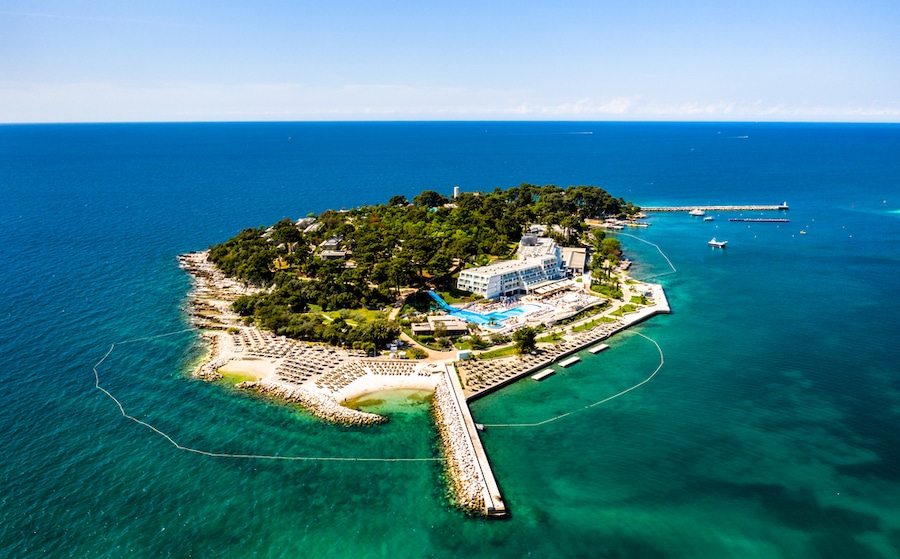 Less than half a kilometer from the mainland in Porec lies Sveti Nikola Island. This little island is home to black oak and pine forests, concrete and pebble beaches, breakwaters, and rocky pathways. It's a superb place to escape the summer crowds in town.
A park has sports facilities, while the beaches themselves have bathrooms and first-aid equipment. The main focus on this beautiful island is eco-tourism. Check out the island's luxury beach resorts and access the beaches straight after breakfast.
Beach Valbandon, Fazana
Along the western coast of Istria, in the village of Valbandon (part of the popular resort town of Fazana), is Beach Valbandon. It is the longest beach in the area, making it perfect for those who love to take a stroll during sunrise or sunset. The pebble beach with a white sandbank has ample space for sunbathers and amenities. These include shops, restaurants, a playground, and a promenade, making this particular beach popular for a family beach day.
Lone Bay, Rovinj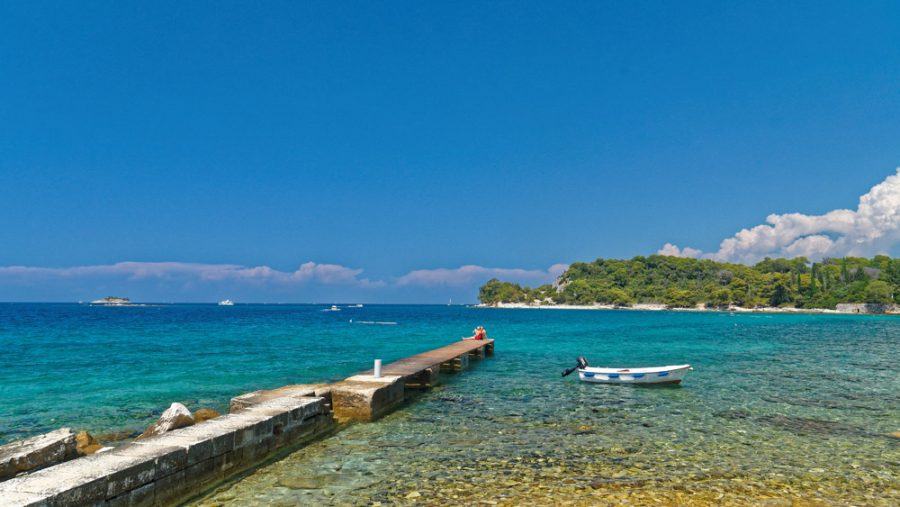 Arguably the most incredible beach in Istria is Lone Bay Beach in Rovinj.
Located in Zlatni Rt Park, a short walk from the Old Town, this narrow strip of pebbles is ideal for families with young children. Amenities include two nearby bars and a place where you can rent equipment for boating and windsurfing.
This bay consists of several coves and promontories, allowing you to pick a spot that tickles your fancy. Wherever you choose to lay down your beach towel, there'll be a great view of the Old Town in the distance.
Beach Mulini (Rovinj)
Located within walking distance of Rovinj Old Town, Beach Mulini is one of the most beautiful beaches in Rovinj city. The beach is found within a sheltered bay and is made of a combination of pebbles near the water and concrete further up the shore. The slope into the water is very gradual, and the waters are calm, making this a great place for swimmers of all ages and snorkelers looking for smooth, clear views underwater.
Amarin Beach, Rovinj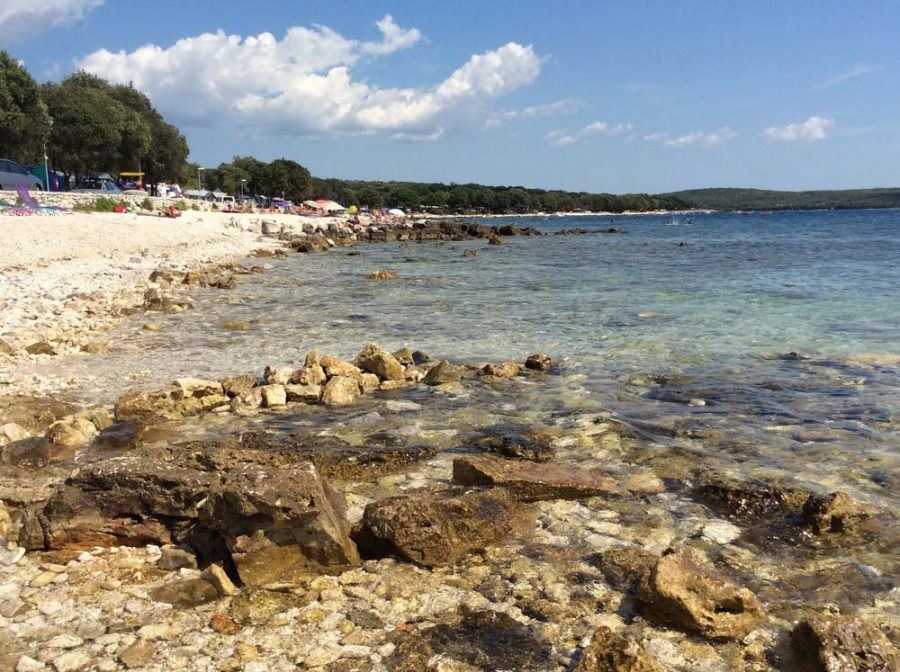 Another excellent beach in Rovinj is Amarin Beach, situated about 3 kilometers to the north of the Old Town.
This Blue Flag beach is beautiful, made up of pebbles and rocks, its water azure blue and perfectly clean. Just above the beach, you'll find a tourist resort with shops, bars, and restaurants. On the beach itself, you can rent beach chairs and umbrellas. Showers and changing rooms are freely accessible to all sunbathers.
Local Tip: Check here for rates and details on the Family Hotel Amarin. This beach is within perfect walking distance from the best family hotel in Croatia (as voted by the Little Donkey).
Beach Zambratija, Umag
If a naturally sandy beach is what you're looking for, this little gem is it! Beach Zambratija lies just north of Umag and features gloriously fine sand sloping into calm, crystal waters. It's a relatively quiet beachfront with a beach bar offering cool drinks and a lovely sea view. The beach is known to get busier during the high season, though, so arriving early is recommended if visiting during that time of year.
Ladin Gaj Beach, Umag
Although it's not the most comfortable beach—like many Croatian beaches, it consists of rocks and concrete—Lading Gaj Beach is still totally recommended despite all of the concrete. This Blue Flag beach lies about 8 kilometers to the south of Umag.
You can get into its exceptionally pure and clean water via a series of stairs. Nearby, a well-equipped campground has a swimming pool, restaurants, and recreational opportunities for both children and adults. The beach itself features outdoor showers and changing rooms, a public bathroom, and umbrella and chair rentals.
Local Tip: The southern part of this beach is reserved for naturists, so unless you like to bare it all, be aware.
Polynesia Beach, Umag
Located 2km from Umag, Polynesia Beach is perfect for swimmers of all abilities. The beach itself is a combination of pebble, stone, and sand and it features adapted sea access for those in need of assistance getting into the water. The crystal clear waters and surroundings are impeccable, which is why the Blue Flag award status of this beach. Along a narrow peninsula, beach go-ers can view Roman ruins, giving this beach a unique vibe.
Various rentals for water sports and recreation are available, along with food and toilet facilities nearby.
Girandella Beach, Rabac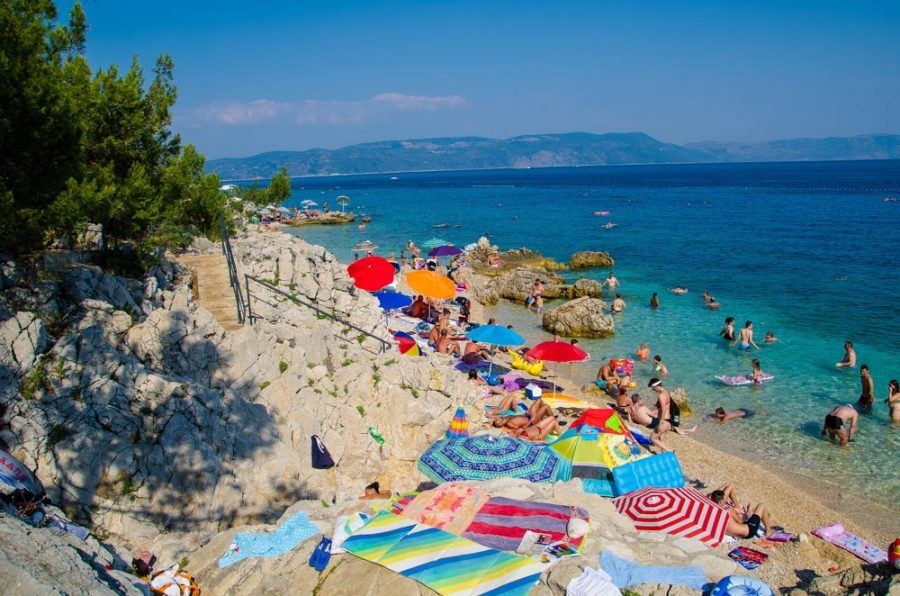 Another one of the beaches in Istria with Blue Flag status, Girandella Beach, lies near the small tourist enclave of Rabac. It's a great beach for everyone, from elderly sunbathers to young couples and families with kids.
Most of Girandella Beach is made up of pebbles, but some parts are paved or rocky. Activities on offer range from banana boating and tubing to playing beach volleyball, picnicking and enjoying a seaside stroll along the promenade.
Sveti Andrea Beach, Rabac
Incredible sea colors and impressive rock formations make this one of the most beautiful beaches in all of Istria! This Blue Flag awarded beach is a short distance from the town center but still walkable and is the place to go to for peace and quiet. Small pebble bays are scattered along the beachfront, forming many alcoves for sunbathers, and calm, shallow waters make for easy swimming. This is a narrow stretch of beach, but there is not much shade on offer here, so bring an umbrella or rent one upon arrival if you have small kids.
Groceries, cafes, and restaurants are all within walking distance, making it easy to spend the whole day here. There is also a public toilet and outdoor showers on the beach, a children's playground, and sporting equipment rentals.
Cyclon's Beach, Pula
West of Pula near Stoja, you will find this hidden gem. Cyclon Beach is made of pebble and stone, surrounded by pines. The azure waters are picturesque and transparent, making this a stunning location for snorkeling. Magnificent rock formations make for an impressive backdrop to a day at the beach. Don't forget your camera!
Nearby is the Pula Sea Cave – a definite must-visit site when in the area!
Hawaiian Cove Beach, Pula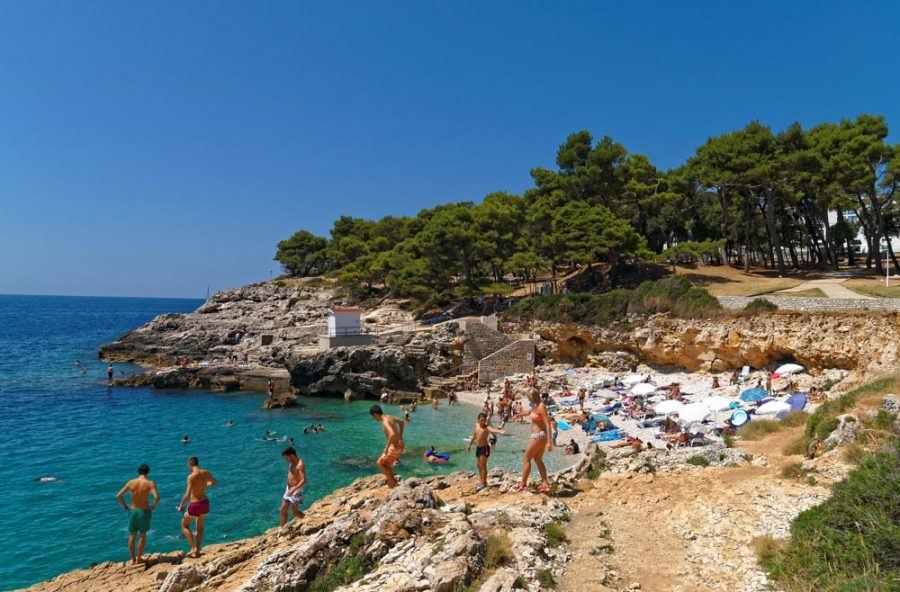 With its stunningly blue water, Hawaiian Cove Beach is one of the Pula area's best beaches. It's situated at Verudela Peninsula. This beach is ideal for children, consisting of a bright pebble beach, clear and shallow water, flanked and protected on both sides by small rocky promontories.
More adventurous (and older) beach-goers can often be seen jumping into the waters from the rocks. This fun and small beach are ideal for an afternoon of undisturbed sunbathing and swimming.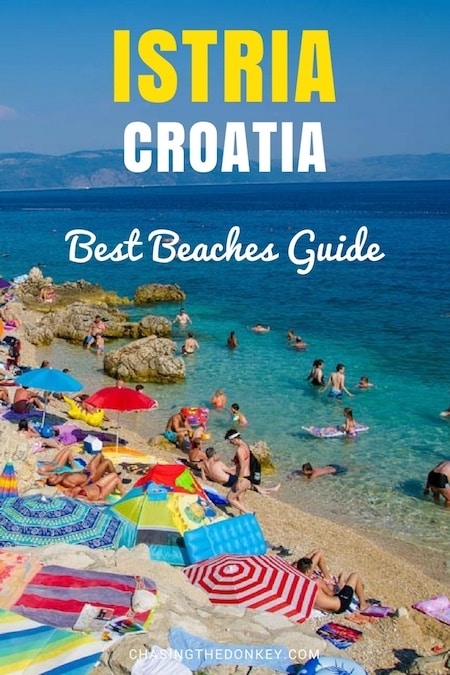 This is by no means an extensive list, and there are loads of other killer beaches in Istria ready for you this summer. But now that you know some, which of these beaches in Istria will you head to first?
MORE BEACH AND ISLAND TRAVEL BLOGS
Share