Finding the best spots for swimming in Dubrovnik ain't rocket science. If you are like me, though, you just want to head straight to the most incredible Dubrovnik beaches and not waste any time. Is that you? Yes, okay, let's roll on with the top beaches in Dubrovnik for swimming.
First, though, there are so many things to do in Dubrovnik, so don't skip a day of sightseeing just for the beach, be sure to wander and explore as well as swim!
Copacabana Beach Dubrovnik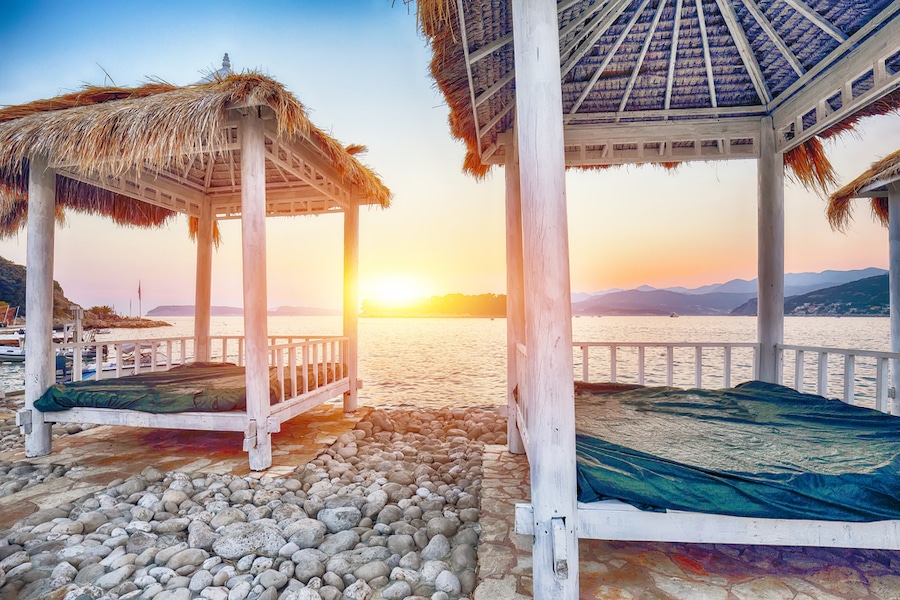 The Babin Kuk peninsula is where numerous hotels are located. A reliable bus line network connects this area with the Old Town, the Pile Gate. Basically, every hotel has its own beach or at least has access to some sort of beach. Arguably the best beach in this area is Copacabana Beach. With the same name as that world-famous beach in Brazil, Copacabana Beach Croatia lies below the Valamar hotels.
This concrete and pebble beach is exceptionally popular, facing the striking Dubrovnik bridge and offering Daksa Island views. The facilities are fantastic and varied. You can do everything from lazing away the afternoon on a lounge chair to renting jet skis and sea kayaks, parachute riding, banana boating, and enjoying cocktails on the beach. This beach gets busy in summer, and it's not hard to see why.
TRAVEL COMPANIES WE USE AND TRUST
Pasjača Beach Dubrovnik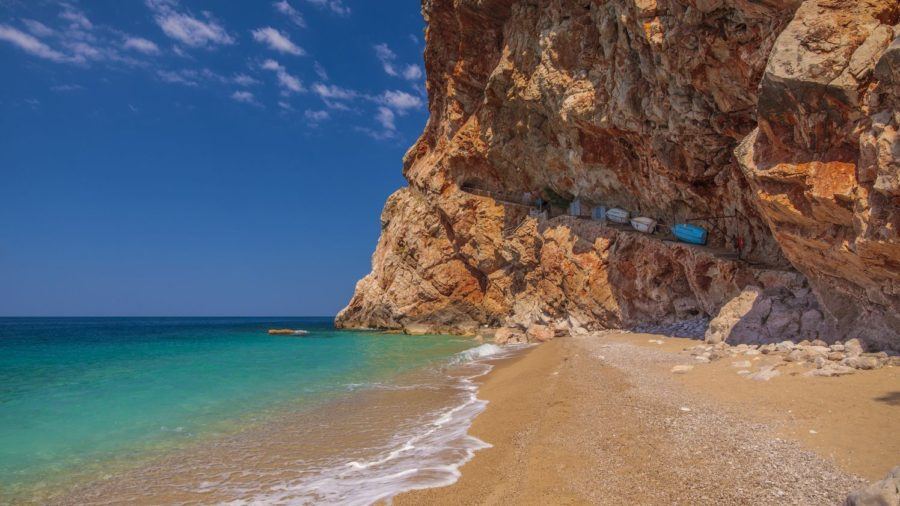 Pasjača Beach is a hidden beach in the Konavle region southeast of Dubrovnik. It's also a very small beach, located 250 meters down a steep coastal cliff—you get there by descending a flight of stairs. This is one of the best Dubrovnik beaches, a secluded stretch of small pebbles and azure-blue waters in terms of sheer beauty.
You can find shade against the towering cliffs or lay out a towel and soak up as many Adriatic sun rays as you want. A world away from the hustle and bustle of Dubrovnik, this beach does not have any bars or restaurants or any facilities at all, really. There is, however, an expansive parking lot at the top of the cliffs.
Unlike most other beaches near Dubrovnik, this is not a natural beach. In fact, it's almost entirely the result of human activity. After several tunnels were dug during World War II, the excess rock and sand were deposited by people, which created a human-made beach. Because the sea continues to reclaim the beach, it is occasionally maintained by locals who add additional pebbles and sand to ensure that this gorgeous beach continues to be enjoyable for all tourists and locals alike.
Uvala Lapad Beach Dubrovnik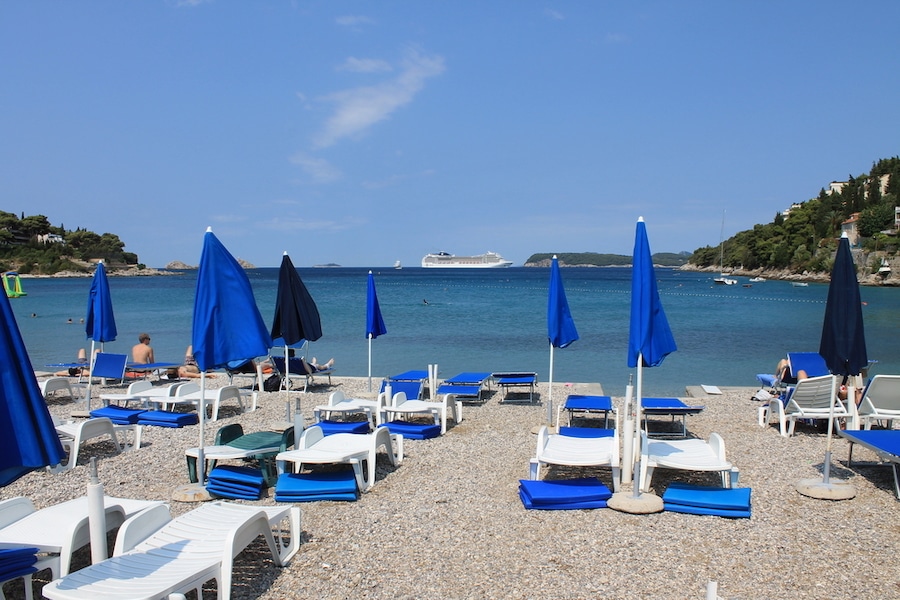 Lapad Bay Beach Dubrovnik, I bet it's not the first time you heard those four words, right? Lapad Bay is an area in Dubrovnik located on a peninsula and featuring a beautiful bay. It lies just south of the Babin Kuk peninsula, a short distance westward from the Old Town. It's easily reachable by bus. The main beach in this area—there are several beaches—is Lapad Beach, also known as Lapad Bay Beach or Uvala Lapad Beach.
This family-friendly public beach is said to be the largest of all Dubrovnik beaches. It has plenty of amenities to make it tremendously suitable for everyone, young and old, active and lazy. Lifeguards oversee the beach and bay's shallow waters, while the pedestrianized and shady walkway behind the beach is lined with coffee bars and restaurants. A bunch of Uvala Lapad Beach hotels makes this is an excellent base for your Dubrovnik vacation.
Banje Beach Dubrovnik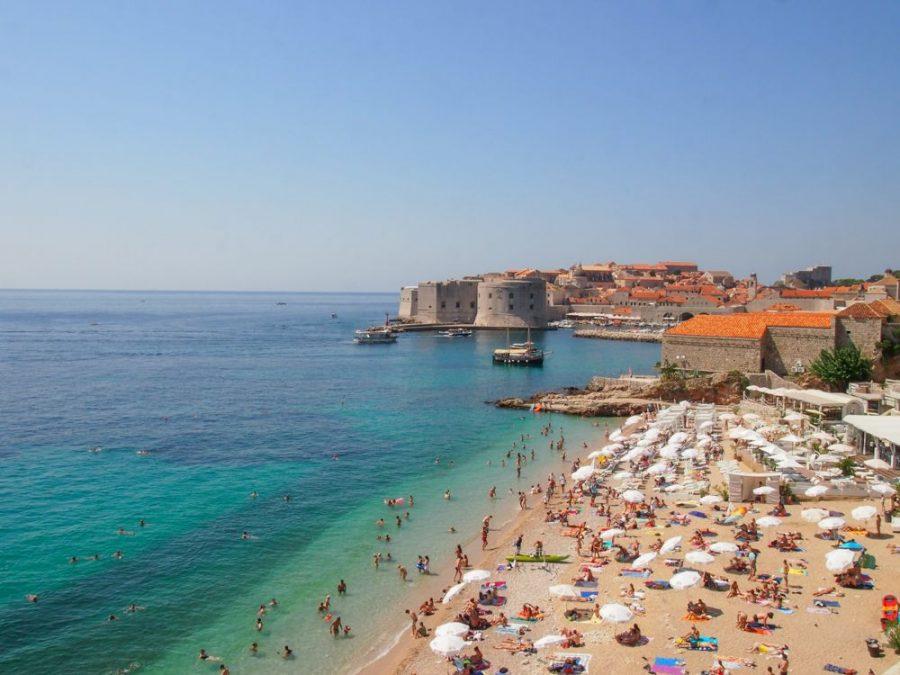 Without question, the most famous and arguably the greatest beach in Dubrovnik is Banje Beach. Tourists love it. It's often mentioned on lists featuring the best of Dubrovnik. With its spot-on location, this scenic pebble, and sometimes also a bit sandy beach, lies within easy walking distance from the Old Town. For your comfort, you're advised to wear slippers or sandals on this beach.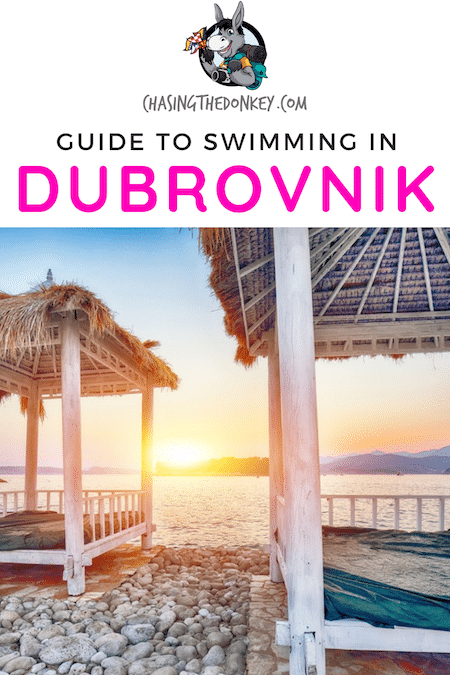 MORE BEACHES, ISLANDS & SUMMER FUN TRAVEL BLOGS