Some posts contain compensated links. Please read this disclaimer for more info.
48 Hours In Dubrovnik: How To Spend Two Days In Dubrovnik
One of the greatest travel treasures in the Mediterranean—nicknamed "the Pearl of the Adriatic" for a reason—Dubrovnik is a destination you really need to visit (even when it is crazy busy).
And, if you have scored a cheap flight to Dubrovnik, you may only have a short time to visit, right? (Get yourself quickly from the airport to the city centre using this guide). Okay, great, let us show you how to enjoy two fab days in this ancient fortified city.
Dubrovnik used to be its very own republic, known as Ragusa, which rivaled Venice in terms of military might and trade power. Massive city walls, among the most spectacular in the world, surround Dubrovnik's Old Town, still protecting this precious place. Nowadays, however, the walls don't protect against invaders any longer, but they stand guard against modern development.
While the rest of Dubrovnik caters more and more toward tourists, the Old Town is as quaint and charming as it ever was. And because it's protected by UNESCO as World Heritage, it will forever look the way it does now. This is why thousands and thousands of people visit Dubrovnik each year.
If you're planning to visit Dubrovnik too—and you really, really should—, you might be interested in knowing how you can spend two days in Dubrovnik. Two days is enough time to explore the relatively compact Old Town and then you can head to other amazing Croatian destinations from there. To go on day trips from Dubrovnik, though, you'll need to set aside one more day.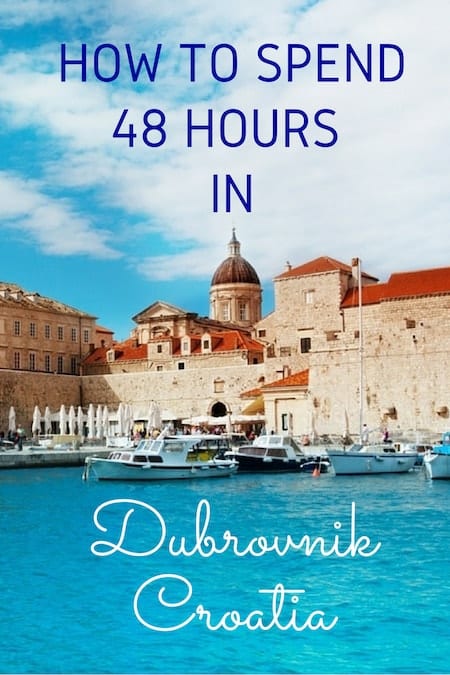 48 Hours In Dubrovnik
Day 1: Exploring The Old Town
The place to focus on when you visit Dubrovnik is its Old Town, an area that's chock-full with historic architecture, museums, restaurants and charming alleys. You'll need a full day to explore it properly, so take your time and prepare for a day filled with culture, architecture and history.
Morning – City Walls
Arguably the best-known attraction in all of Dubrovnik is the City Walls. Built between the 13th and 16th centuries, these truly enormous defensive walls were meant to protect the Republic of Ragusa from foreign attacks, notably by the Venetians and Ottomans. The entire complex includes five bastions, two round towers, a fortress and fourteen square towers. The wider defensive system of Dubrovnik encompasses the St. Lawrence Fortress, the Imperial Fortress and the Walls of Ston, among several other structures in the area.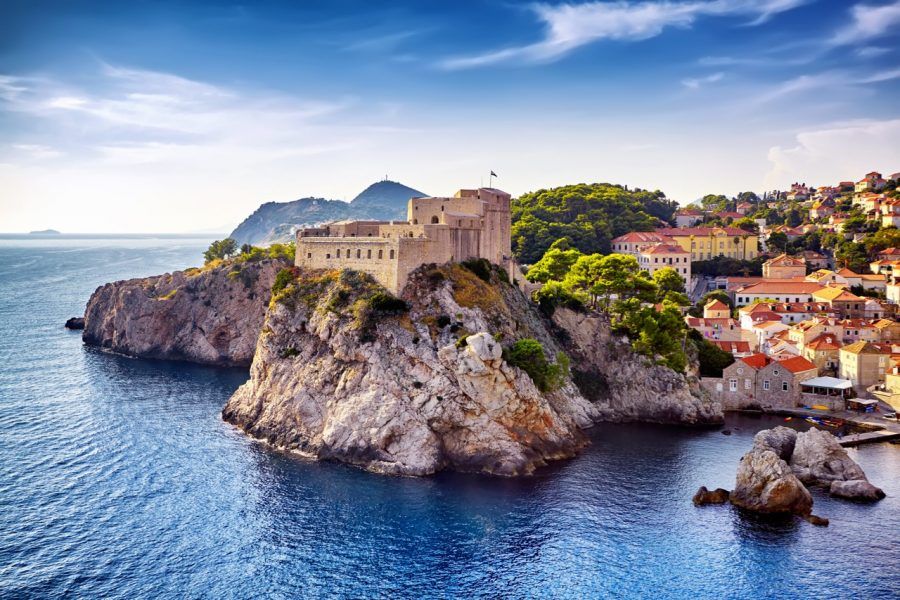 What's so exceptional about Dubrovnik's City Walls today is that, besides being perfectly preserved, you can walk their entire length. The walls are about two kilometers (one and a half miles) long, forming a rough circle around the entire Old Town and offering truly phenomenal views of the city and the coast. It's recommended that you walk the City Walls in the morning, especially in summer, because there's hardly any shade up there and temperatures can be quite high.
Afternoon – Old Town
Rest your legs at one of the restaurant patios that dot the Old Town. Stradun, the main drag, is an excellent spot for people-watching. For a quick lunch, you can pick any restaurant. They're all decent. Save the fancier places in town for dinner.
Spend the afternoon exploring the streets and historic buildings in the Old Town. You don't necessarily need a detailed schedule for this. The Old Town is so small you can easily cover everything in a few hours. Make sure to pick up a map at the visitor center, though. Navigating the maze of alleyways can be a challenge if you've never been there.
As mentioned before, Stradun is the main street in the Old Town. It's the widest street and lined with several interesting historic buildings, in addition to numerous souvenir shops, coffee places, bars, and restaurants. It's impossible to miss the highlights on this street.
Old Town is also where you can scoop up one of our fave Croatia souvenirs to remind you of this seaside town.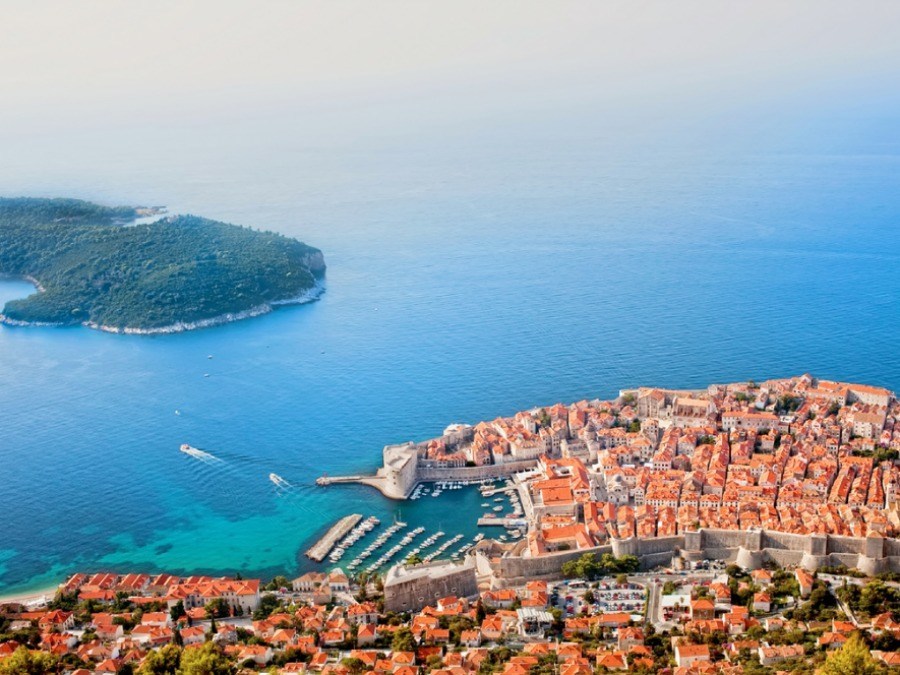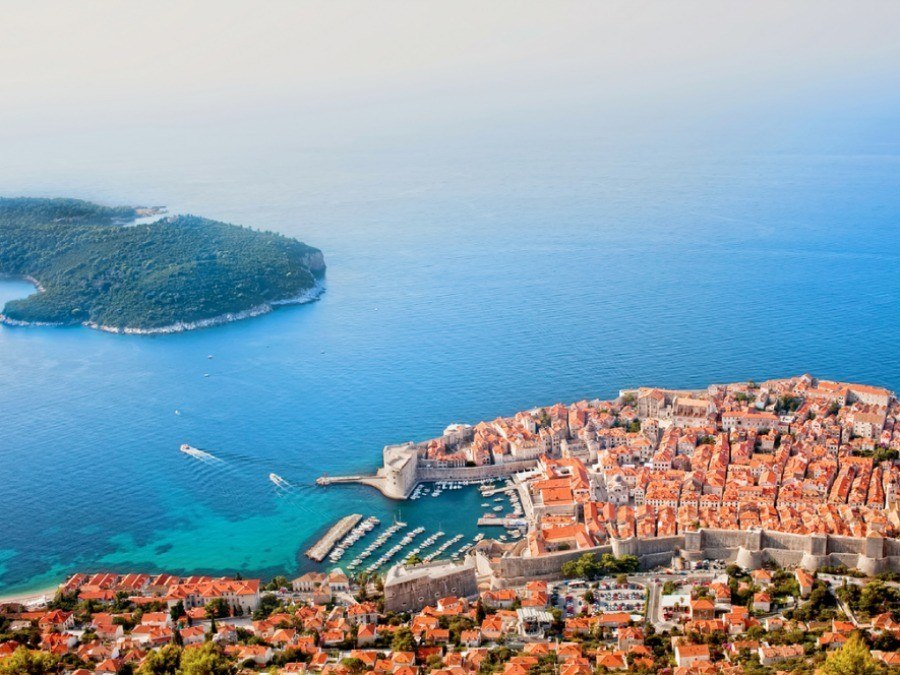 Dubrovnik
Near the Pile Gate, which is where you'll most likely enter the Old Town through the City Walls, you can fill up your water bottle at the iconic Large Onofrio's Fountain. Across from this fountain lies the Franciscan Monastery and Museum. As you stroll your way to the other end of Stradun, you'll find the Synagogue Museum, the Bell Tower, Sponza Palace and the Dubrovnik City Hall, all noteworthy buildings.
Turning right at the end of Stradun, you will pass the imposing Cathedral of the Assumption of the Virgin and the wonderful Rector's Palace, which dates from the 15th century. Also make sure to walk to the Old Port area, where small fishing boats bob scenically on the water.
The Old Town of Dubrovnik is packed with attractions, yet it's possible to see it all in one afternoon. Feel free to visit any place you like, spending as much time in them as you please. When you pick up your map at the visitor center, located just outside the Pile Gate, you can always ask for more information about specific attractions.
Evening – Cable Car Ride & Dinner
Finish off your first day in Dubrovnik with a fun and, frankly, must-do cable car ride to the top of Srđ Hill. This steep gondola runs between the Old Town and the hill just behind it. The ride doesn't take any longer than four minutes.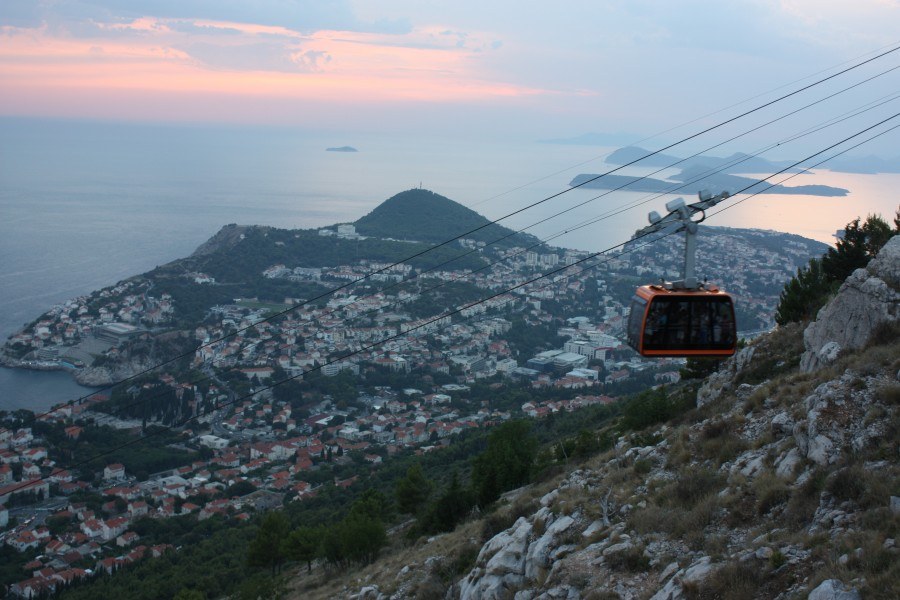 Dubrovnik Cable Car
From atop Srđ Hill, you'll have what can only be regarded as the absolute best view of Dubrovnik. This is a superb spot to watch the sunset behind the Adriatic Sea, painting the Old Town in wonderfully warm colors. To top it all off, there's a nice restaurant on the hill, the appropriately named Panorama Restaurant, offering cocktails, beer, wines and a wide selection of meals.
Day 2: Sunbathing And Excursion
After soaking up a wealth of knowledge and information during your museum visits and Old Town strolls, on the second of your two days in Dubrovnik, it's time for some more low-key activities.
Morning – Lokrum Island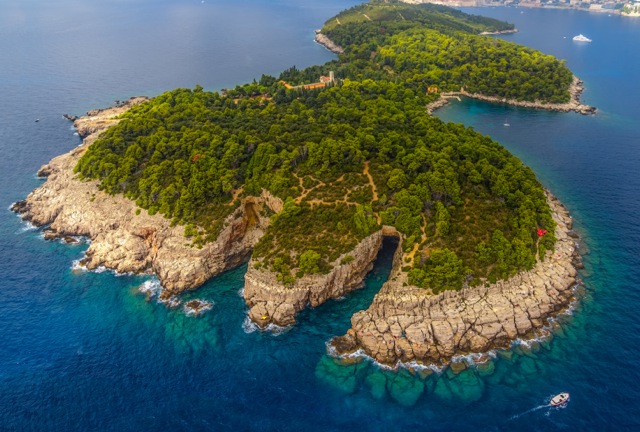 If you took the cable car to Srđ Hill, you've had a clear view of Lokrum Island, sitting peacefully in the Adriatic Sea just off the Dubrovnik shore. Today, you're going to visit this wonderful little island.
The ferry to Lokrum Island departs from the harbor in the Old Town several times a day. The ride takes about fifteen to twenty minutes max. On Lokrum Island, you can choose what to do. There are several hiking trails across the island and along its shores. A small snack bar serves simple dishes and various drinks. A number of beaches offer quiet sunbathing, while a historic botanical garden and monastery provide a dash of history.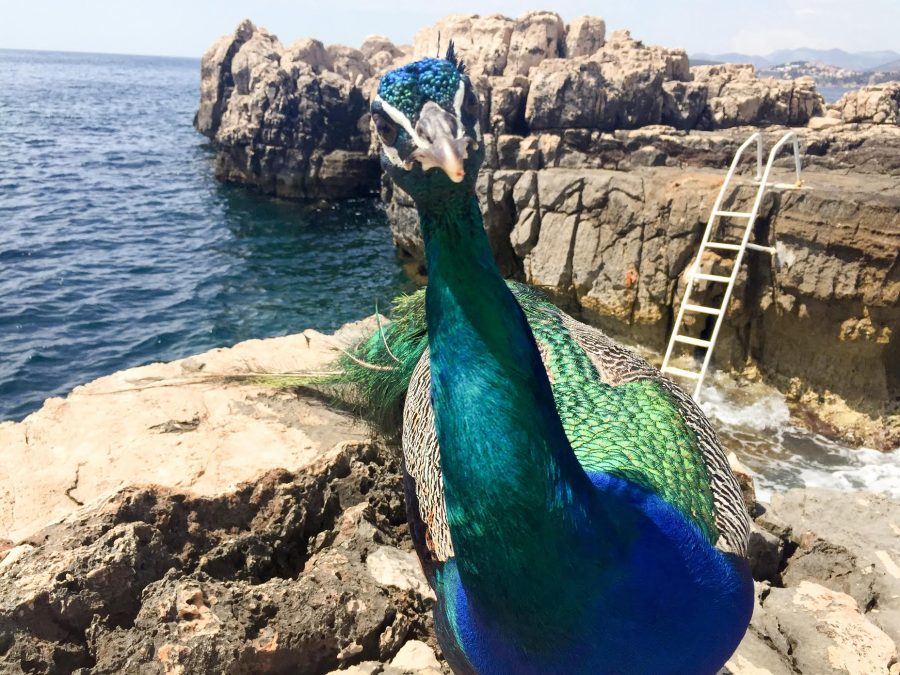 Local Tip: Make sure you spy the local peacocks that call the island home!
Afternoon – Relax On The Beach
Make your way back to the mainland in the afternoon. If you've spent the morning hiking, you'll relish the opportunity to relax on the beach. If you've already been soaking up the Mediterranean sun, you can continue to do so this afternoon.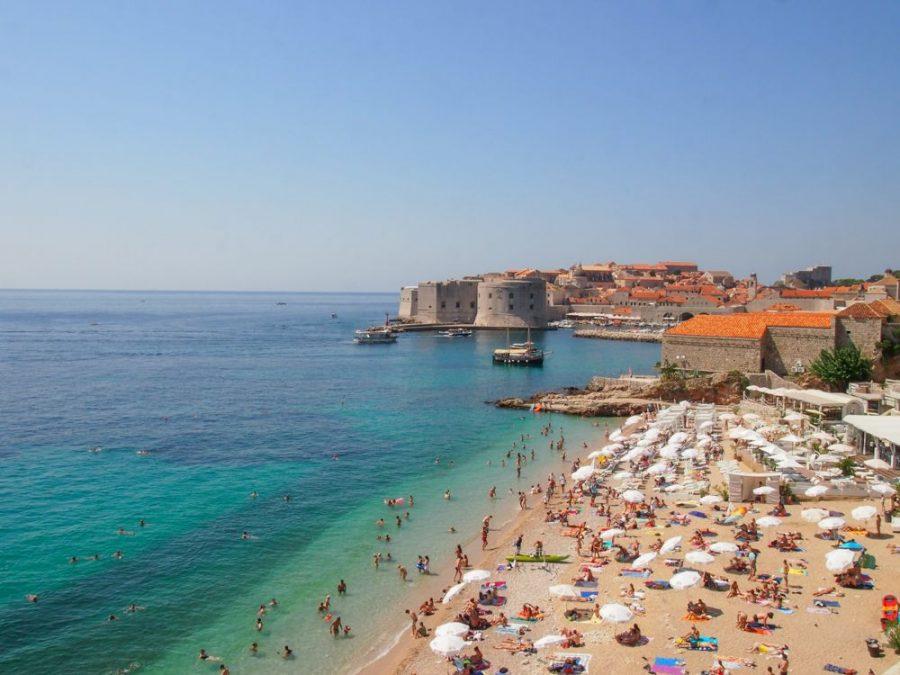 Banje Beach, Dubrovnik.
Besides the Old Town, Dubrovnik has another popular attraction—its excellent collection of beaches. The most scenic and arguably popular beach in Dubrovnik is Banje Beach, situated just south of the Old Town. From this beach, you'll have a spectacular view of the harbor and the City Walls.
Evening – Dine On Local Cuisine
End your 48 hours in Dubrovnik by indulging in great local food, followed by some drinks. A fantastic option for a restaurant in the Old Town is Proto Restaurant, a fish and seafood restaurant with a nice rooftop area that's been recommended by the Michelin guide.
For after-dinner drinks, you'll find a place that suits you by simply strolling through the alleys of the Old Town. No need to plan this, just go with the flow. You can also get cocktails-to-go at bars along Stradun.
Oh, and if you are in Dubrovnik in winter, check these tips out.
Share