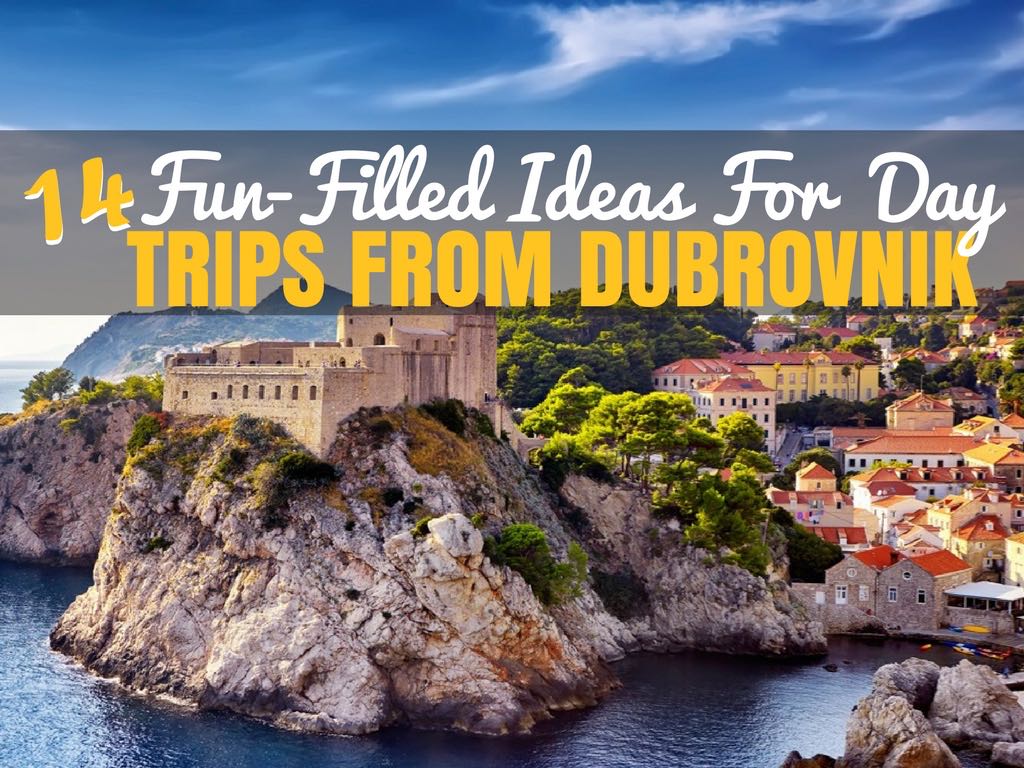 14 Ideas For Day Trips From Dubrovnik, Croatia
The perfect amount of time to spend in Dubrovnik is three to four days. That's plenty of time to explore the absolutely gorgeous Old Town inside and out, head up to Mt. Srd, go for a ferry ride to Lokrum Island and spend significant time on Dubrovnik's beaches.
However, if you have, say, a week to spend in this picturesque region, you might want to go on some day trips as well. From beaches to fascinating coastal towns, beautiful bays and national parks, there is plenty to explore in this corner of the Adriatic. Read on to find out about the best day trips to take from Dubrovnik.
Dubrovnik to Korcula
Croatia, and especially Dalmatia, is famous for its beautiful islands. They are numerous, but arguably the greatest one is Korcula. If historic villages, pebble beaches, azure water and seafood are what you're looking for, Korcula is where you should go. Coastal pine groves offer refuge from the hot summer sun and are great picnic spots while hidden bays are where you can go for a safe swim in complete solitude.
The island's namesake town, Korcula, is quaint, cozy and cute. It's extremely "strollable". Interesting, too, is that it's said to be the birthplace of Marco Polo. The island lies only two hours from Dubrovnik, by either car or ferry.
Dubrovnik to Peljesac Peninsula
The Peljesac Peninsula is a long and narrow promontory jutting out far into the Adriatic Sea. Its westernmost area lies mere minutes from Korcula Island by boat. Except for a narrow land bridge connecting it to the Croatian mainland, Peljesac is basically an island as well. With the only difference, of course, that you drive to it. Getting there from Dubrovnik is less than an hour. Driving across the peninsula takes another hour.
Once there, you're in one of Croatia's most relaxed and welcoming places. This is without question one of the best day trips from Dubrovnik, a great excursion for everyone who likes to explore Croatian wineries or wants to go for a swim at some of the country's greatest beaches.
Dubrovnik to Mljet National Park
Another island in the same region, Mljet is reached by ferry from the town of Prapratno on Peljesac. This crossing takes about 45 minutes, in addition to the one-hour drive to Peljesac from Dubrovnik.
This is where you can visit Mljet National Park, a large protected area encompassing the western third of the island. The park is home to a number of great natural attractions, from the cave where the nymph Calypso is said to have held Odysseus captive to Saplunara beach and two salt lakes. In the middle of the so-called Great Lake, the Islet of Saint Mary is home to a 12th-century Benedictine monastery. A network of cycling and hiking trails invite you to explore the park at your own pace.
Mljet National Park, in short, is a superb destination for people who like spending time in nature while also soaking up a bit of local history and culture.
Dubrovnik to Mostar
You can take day trips from Dubrovnik that cross borders – and leave behind (just for the day) dramatically beautiful Dalmatian coast. If you are prepared to shift your focus inland, we suggest a Dubrovnik to Mostar day trip.
Across the border with Bosnia-Herzegovina, Mostar is one of the absolute best day trips from Dubrovnik. If you don't have your own (rental) car, numerous tour and private transfer companies offer day trips to Mostar. If you do have a rental car, though, make sure that you're allowed to take it across the border, as Bosnia-Herzegovina is not a part of the European Union. Whichever option you choose, the drive from Dubrovnik to Mostar takes less than three hours.
Mostar is world-renowned for its Old Bridge, locally known as Stari Most, which is a UNESCO World Heritage Site. Straddling both banks of the crystal-clear Neretva River, Mostar was founded in the late Middle Ages and still features plenty of Ottoman architecture. This fascinating town feels more like a part of Turkey than a town in Europe. Its Old Town, the touristic focal point, is home to cobblestone streets, bustling Turkish-style bazaars, mosques, and countless coffee houses.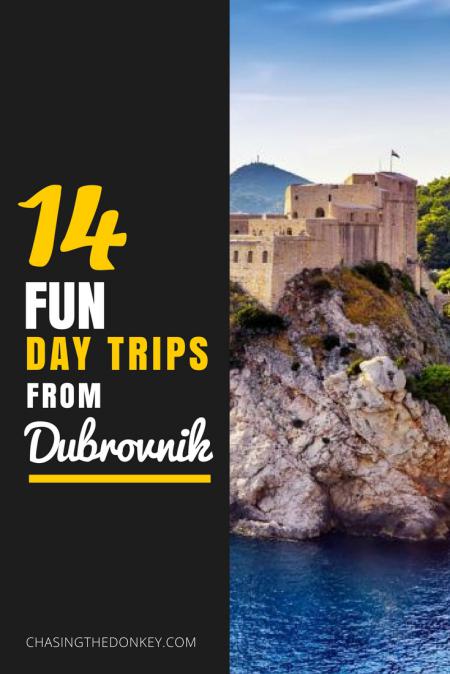 Dubrovnik to Kotor
Another cross-border day trip from Dubrovnik takes you eastward into Montenegro. The Bay of Kotor is one of the most breathtaking, underrated coastal areas in all of Southern Europe. A huge sheltered, fjord-like bay, it is home to impossibly pretty coastal towns like Perast and Kotor, a UNESCO World Heritage Site.
Again, you can opt to drive to Kotor yourself or join a bus tour from Dubrovnik. The direct drive takes about two hours one-way, not including the many possible scenic stops on the way. The Bay of Kotor truly is one of the star attractions of the Adriatic Coast. Try to include it in your itinerary. When you get there, you'll see why we recommend it.
Tour to Trsteno – Ston & Pelješac
Why not take a private tour which includes the Trsteno arboretum and finish off with some oyster & wine tastings. You'll leave your Dubrovnik hotel after breakfast, and head to Trsteno, a small seaside village. In Trsteno there is a 15th Century Renaissance Summer Residence – a fine example of period architecture.
On this tour, you'll be driven to Ston – and be greeted by the areas second set of famous walls. These Medieval stone walls surround the nearby town of Ston. The walls are a three and a half mile long fortification system. Complete with forty towers and five bastions. The tour isn't about walking the walls – save that for Dubrovnik. Instead, you'll head to the Ston Salt Pans – where salt is still harvested the old fashioned way.
To go with the salt, you also get to try oysters and mussels, which have been cultivated here for centuries. Oysters in your belly. It's now time to move to the Peninsula Pelješac. Famous for its vineyards and excellent red wines you'll get a chance to taste some of the wines in one of the finest local wineries before returning to Dubrovnik. This tour is 6 hours long – and you'll be well looked after.
There are numerous other day trips from Dubrovnik, far too many to list. Here are a few others you can check out (and book) and see what trip suits you best.
Elafiti Islands
Lokrum Island
Kravica Waterfalls
Vjetrenica Cave
Trsteno Arboretum
Konvale
More Day Trips From Dubrovnik
What about day trips in Dubrovnik itself? Yeah, we have a few ideas on that also,
Dubrovnik Private City Tour
Because there is so much more to Dubrovnik that just the famous UNESCO walls, a walk from end-to-end is a must while in Dubrovnik. It's especially great with a local guide. They can point out the nitty gritty details that you may otherwise miss.
Where will they take you?
Franciscan Monastery Gothic Cloister with one of the oldest pharmacies in Europe
Rector's Palace
Onofrio Fountain and the Bell tower just to name a few
They will also point out to other sights you should not miss, including:
City Walls
Cable ride to mountain Srđ – the views over Dubrovnik & the surrounding islands are beyond words
Game of Thrones Tour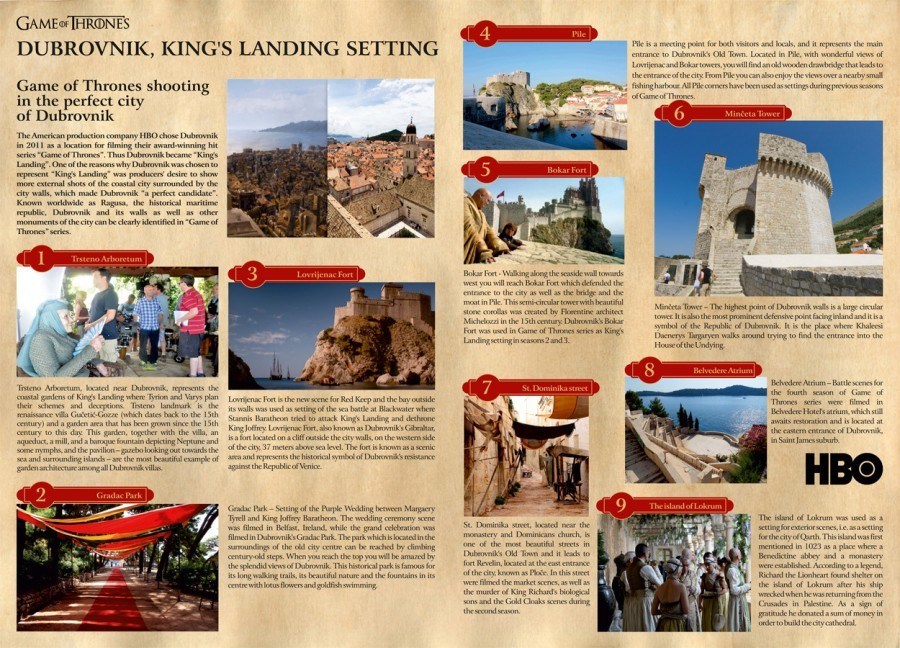 Anyone who is familiar with the popular HBO television series Game of Thrones will no doubt recognize significant portions of the Croatian landscape – without even knowing it. Much of the show was filmed in Dubrovnik – see here what was filmed in Croatia. There are tours which can take you to all of the major filming locations.
If you're a die-hard fan, you'll want to see this Croatia tour  – they have a tour which includes hotel accommodation, airport transfers and free time, and the full-day 'Game of Thrones' exclusive tour.