Privacy & disclaimers →

Where To Stay In Kotor Bay, Montenegro – Best Hotels In Kotor Bay Included!
Simply known as 'Boka,' meaning 'the Bay,' the Bay of Kotor winds along the Adriatic Sea in Montenegro. The 28-kilometer-long Bay has 107.3 kilometers of shoreline and has been designated a World Heritage site since 1979.
The medieval towns of Kotor, Tivat, Herceg Novi, Risan, Prcanj, and Perast are a must-add to your list of where to go in Montenegro. Some of them have been inhabited since Illyrian times.
The coastal mountains and spectacular landscape delight as much as the old Venetian fortifications and cobblestone pathways. If you're wondering about what to do in Kotor Bay, there's actually quite a lot. Incredible architecture, old houses, beautiful churches, rugged mountains, pebbled beaches, and tantalizing food will have you never wanting to leave.
Below, we offer you several answers to the question 'where to stay in Kotor Bay?' You'll find everything from 5-star Kotor accommodation to villages and apartments and budget hotels.
Where To Stay In Kotor Bay
Where To Stay In Kotor Bay, Montenegro?
Depending on what you plan to do while in Kotor, the best place to stay in Kotor Bay will differ. There's not just the town of Kotor, but Perast, Tivat, and more. Here are a few of the best hotels in Kotor Bay grouped by towns.
The best area to stay in Kotor is in the Old Town, where you'll be within walking distance of all the major attractions, but if you're driving, then a stay at the distant Kotor Bay villas and hotels will be great too.
Best neighborhood in Kotor for families? Take the kids to Risan
The best area to stay in Kotor for nightlife? Party on in Kotor Old Town
Where to stay in Kotor for first-timers? Look at Dobrota
The Coolest place to stay in Kotor? That has to be Perast
Where to stay in Kotor on a tight budget? Find cheap accommodation in Prcanj
Kotor Bay Hotels Map
5-Star Accommodation In Kotor
There are loads of 5-star hotels in Kotor. Here are a few we suggest you look into for your stay.
Hotel Forza Mare, In Dobrota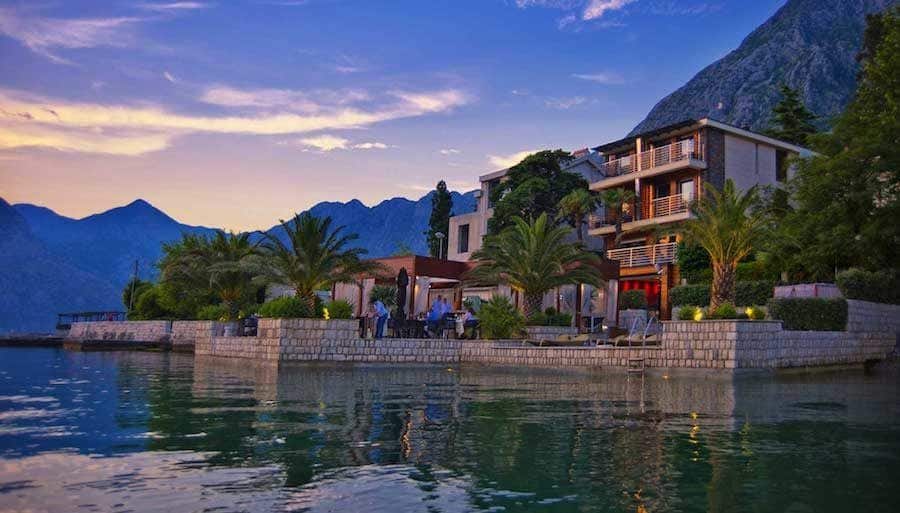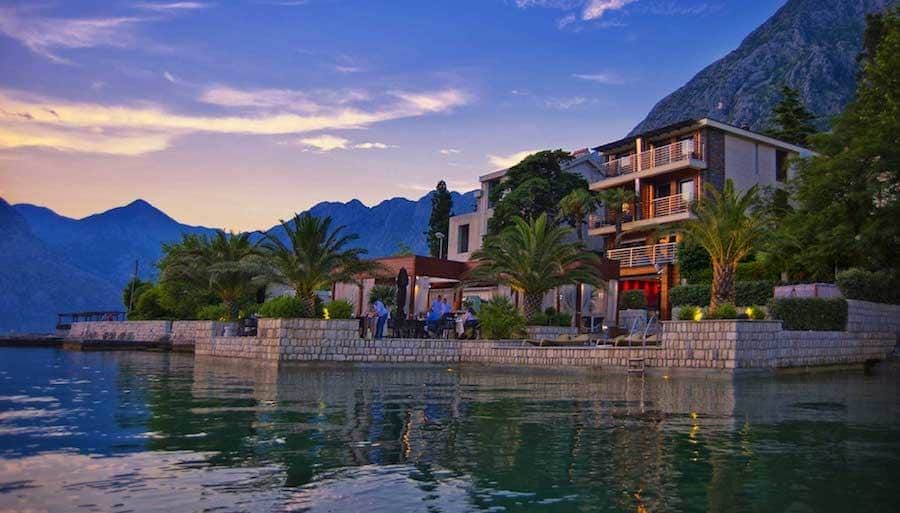 While searching for Kotor hotels, luxury may lead you to the Hotel Forza Mare. It sure made our list of top luxury hotels in Montenegro! With its own private beach, this hotel is located 3 km from the Kotor city center, far from the noise in Dobrota at the Boka Bay waterfront. Although Dobrota is another town, the residential area is considered a part of Kotor.
Guests here can enjoy French and Mediterranean cuisine at the chic on-site restaurant. The hotel has indoor and outdoor swimming pools, a spa and wellness center, a terrace, a sun garden, free parking, locker facilities, and free WiFi.
Each room reflects a different geographic location – Africa, China – and includes all the necessary amenities, a tumble dryer, laptop safe, balcony, hypoallergenic linen, and free WiFi. The luxuriously designed executive rooms are 35 m² and reflect India, Dubai, or Japan, while also having a fantastic sea view.
This Bay of Kotor accommodation is by far one of the best places to stay in Montenegro.
Corso Levante Luxury Suites, Dobrota
One of the most incredible accommodations in the Bay of Kotor, which in itself is one of the best places to stay in Montenegro, the Corso Levante Luxury Suites, radiate luxury and elegance. Set in Dobrota, this 5-star accommodation features a seasonal outdoor pool, complimentary private parking, and even its own private beach!
It is within easy walking distance from the area's top attractions, including beaches, churches, and other buildings. Various dining options are nearby as well. All units are well-appointed and come with a flat-screen TV, a fridge and kettle, air-conditioning, and a private bathroom with a shower. Additionally, each room also has a patio with sea views. WiFi is available for free to all guests, while in the morning, an excellent continental or vegetarian breakfast allows visitors to fuel up before a day filled with sightseeing.
TRAVEL COMPANIES WE USE AND TRUST
4-Star Accommodation In Kotor Old Town
There are several options for 4-star digs in Kotor Old Town, here are top choices:
Boutique Hotel Astoria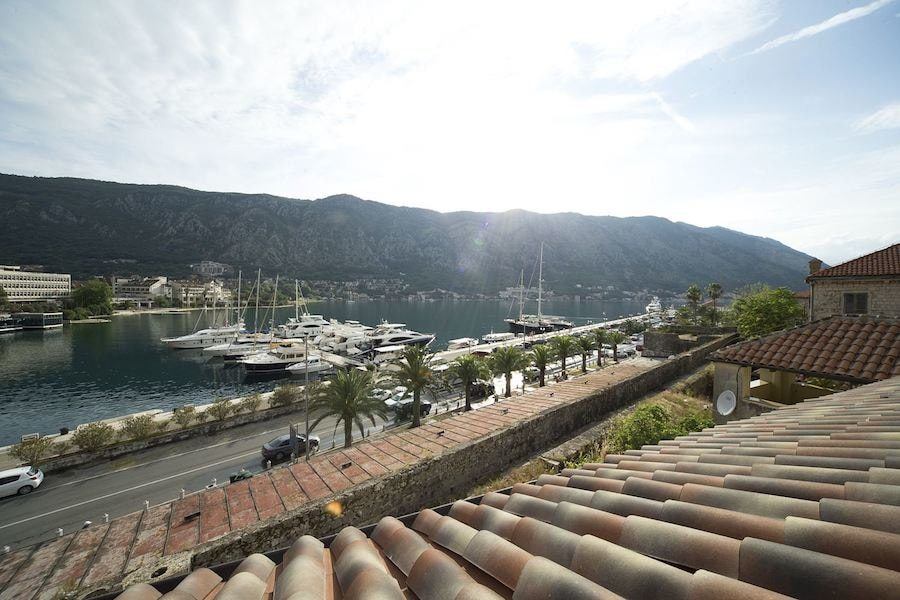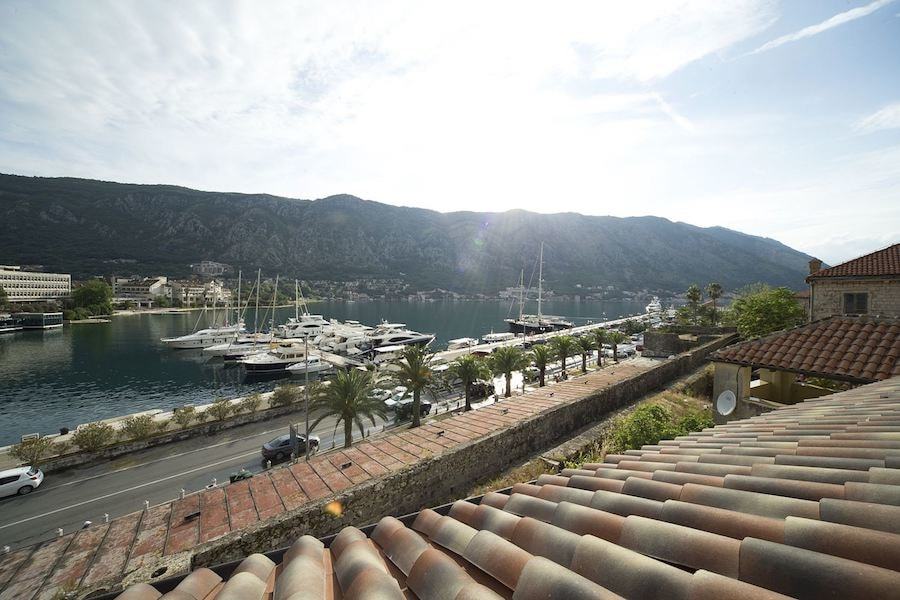 Boutique Hotel Astoria Kotor may be the best place to stay in Kotor's Old Town. It is located in the UNESCO-protected Buca Palace that was built at the start of the 14th century. Though originally Gothic, the palace suffered from earthquakes in 1667 and 1979. The old gothic palace mullion window can now be seen in the hotel's restaurant.
You won't forget your room number here at the Hotel Astoria Kotor. The rooms are numbered using the Greek alphabet – Alfa, Vita, Gama, Delta, Epsilon, Zita, Ita, Thita, and Iota.
The spacious rooms at this Boutique Hotel Kotor meld modern design with old stonework. They are equipped with minibars, cable TVs, air conditioning, telephones, safety deposit boxes, hairdryers, free WiFi, and small seating areas. The suites are elegantly decorated and have bay views.
The hotel is within walking distance of the Sea Gate, Northern Gate, Kotor Clock Tower, St Nicholas Church, Saint Tryphon Cathedral, Gurdic Gate, and Kamelija Shopping Centre, making it one of the best hotels in Kotor old town.
Hotel Vardar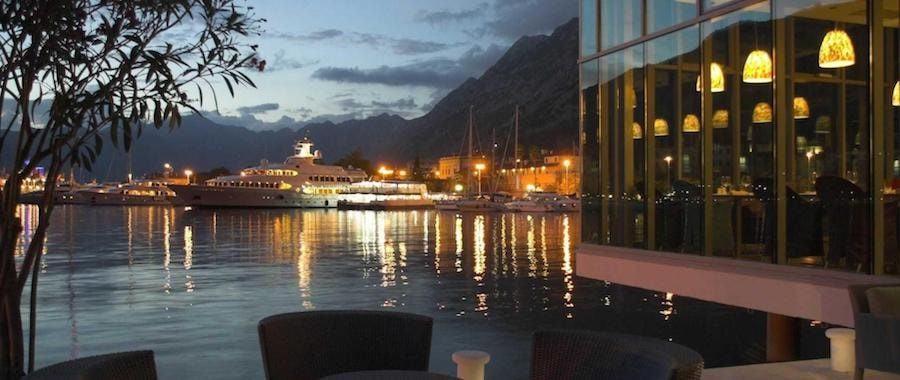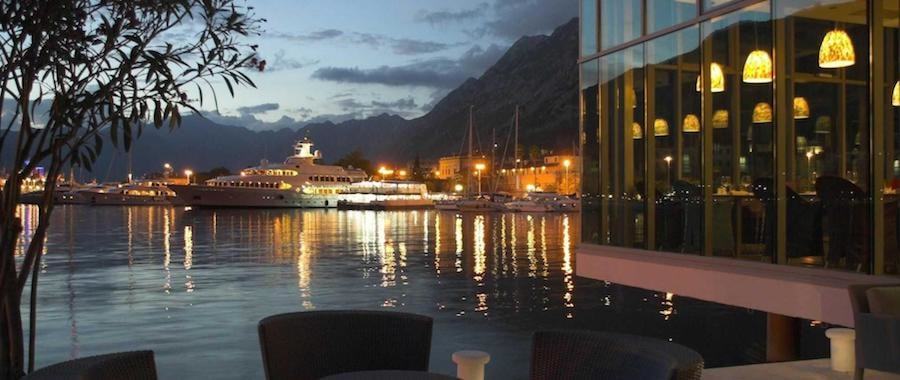 Kotor Stari Grad, aka Kotor Old Town, is perfectly preserved and a medieval delight. The Hotel Vardar is situated right in the heart of the Stari Grad, amongst the monuments on the main square. This elegantly furnished Kotor accommodation gives travelers access to history at its doorsteps. Just look out your window, day or night, and you'll have views of the attractions in the old city or the Adriatic Sea. While seeing the sights, you can pop back to your room for a bit to take a break. Isn't that perfect?
The carpeted rooms and suites at this boutique hotel Kotor are elegantly furnished and feature air conditioning, heating, satellite TV, telephones, hairdryers, desks, and free WiFi.
Public parking is available nearby at a charge. Restaurants and cafes are within walking distance of the hotel. Guests staying at Vardar Hotel, Kotor enjoy a 10% discount at the Restaurant Galion by the sea. The terrace of the restaurant has breathtaking views of the surrounding area.
Enjoy your stay in the best area to stay in Montenegro!
Kotor Villas And Apartments
Want to spread out and get a villa in Kotor? Then these are the ones you should look at first.
Residence St Oliva
Instead of staying in four or five-star hotels in Montenegro, you can also opt for private accommodation in Kotor. Located about a 5 km drive from Kotor city center, the Residence St Oliva is a villa that trumps all Kotor apartments. The 180 m² 5-star villa has a living room, well-equipped kitchen, free parking, lounge areas, and four bedrooms that can occupy up to 8 adults.
The rooms are spacious and decorated with a classy modern feel. There is also an outdoor seating area with a barbecue and an infinity pool that looks out at the Adriatic Sea.
Restaurant Baron Gauche and Cafe Oscar are within walking distance while markets are nearby. You won't miss anything in this luxurious home away from home!
Kotor Vista Apartments
The Kotor Vista apartments are self-contained 80 m² units with 2-bedrooms and a living room that can house up to 5 adults and two children.
The soundproofed apartments are well furnished and include radios, washing machines, hypoallergenic linen, dining areas, patios, TVs with cable channels, ironing facilities, children's high chairs, free WiFi, and access to a swimming pool.
The kitchen includes dishwashers, refrigerator, electric kettle, kitchenware, oven, stovetop, toaster, barbecue. Be prepared to encounter a lot of stairs, though.
These Kotor apartments are within a 1.5 km radius of the places to visit in Kotor – Sea Gate, Clock Tower, Kamelija Shopping Centre, St Nicholas Church, Northern Gate, Kotor Cathedral, River Gate, and Gurdic Gate. Saint Sava Church and Tivat Clock Tower are 5 km away.
For a reasonably priced holiday at a Bay of Kotor accommodation, the Kotor Vista apartments are a great deal.
Palazzo Sbutega, Prcanj
A small boutique hotel in a recently refurbished historic house on the waterfront of Prcanj, the Palazzo Sbutega is a superb Kotor Bay accommodation. Especially popular among couples, this bed and breakfast offer four beautiful suites, which have private bathrooms, a work desk, and a microwave, while both its interior and exterior feature contemporary designs and décor. There are only four suites, making this a great choice for people looking for a more intimate accommodation experience and personalized service.
A wonderful continental breakfast is served each morning. Other amenities include free WiFi, a lovely outdoor swimming pool, a lounge, and a sun terrace. Nearby, guests can enjoy local cuisine at restaurants and visit the top attractions around the Bay of Kotor.
Apartments Stella Del Mare, Risan
If you're looking for apartment accommodation in Kotor Bay, Apartments Stella Del Mare in Risan is a beautiful option. This top-rated accommodation is just 35 meters from the shore of the spectacular Bay of Kotor. All apartments also offer a view of the water, while guests can enjoy a private beach area with sun loungers and parasols. Other amenities range include complimentary WiFi and parking.
As far as accommodation facilities go, all apartments and studios have a private bathroom with a shower, a seating area, and a kitchenette with a dining area. Thanks to its strategic location in Risan, this is an excellent base from which to explore the greater Bay of Kotor area, including the Herceg Novi and Kotor nightlife, as well as its numerous architectural landmarks and hiking trails.
Cheap Accommodation, Kotor
If you want to explore the Bay of Kotor on a budget, here are a few options for cheap hotels in Kotor.
Hotel Rendez Vous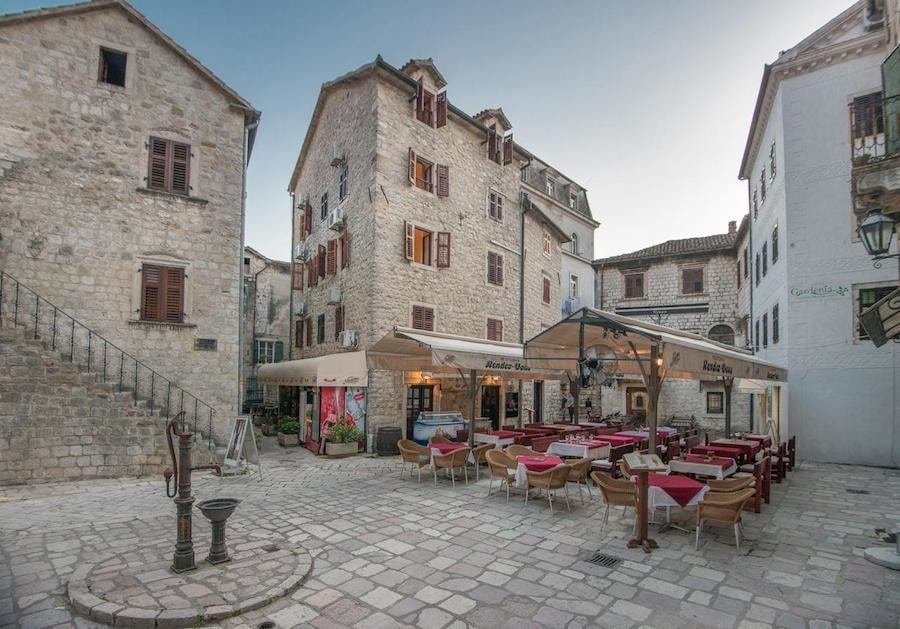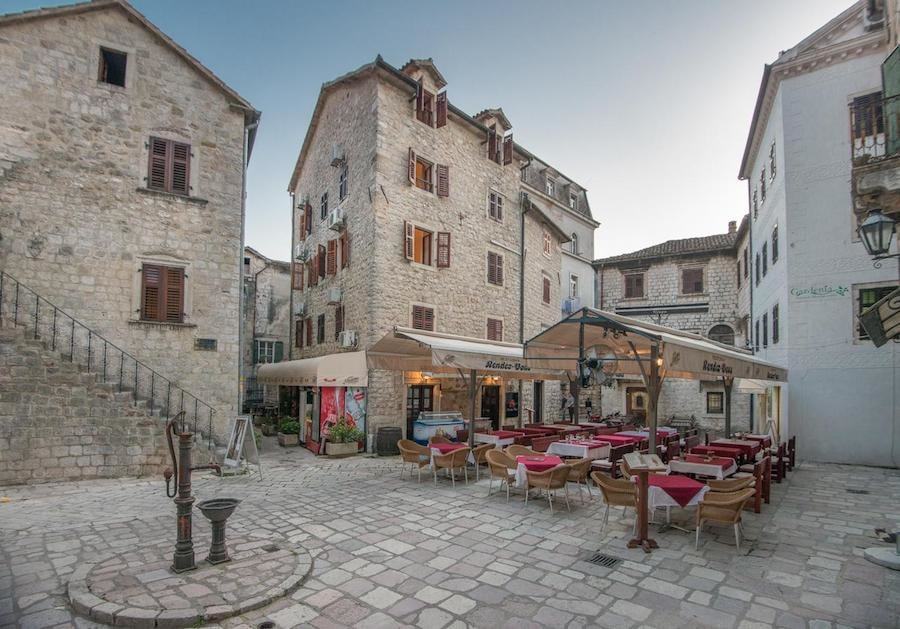 Looking like it jumped right out of a movie; the Hotel Rendez Vous sits in the main square of Old Town Kotor. San Djovanni Fortress is just a few steps from the hotel. It's also less than 200 meters walk from the Sea Gate, Northern Gate, St Nicholas Church, Kotor Cathedral, and Kotor Clock Tower, and less than 400 meters from the Kamelija Shopping Centre and Gurdic Gate. Kotor Bus Station is 500 meters away.
Supermarkets and restaurants are a stone's throw away. Still, the restaurant at Hotel Rendez Vous itself serves fresh Adriatic seafood and Montenegrin classics, while the bar terrace is set on the main square. Babysitting services and transfers are available at a charge.
Rooms at this accommodation in Kotor Old Town are decorated in well-coordinated and charming pastel shades. They come equipped with flatscreen TVs with cable and satellite channels, air conditioning, heating, irons, hairdryers, refrigerators, laptop safes, desks, child safety socket covers, and free WiFi. Pets are allowed in the hotel at an additional charge.
A single ten m² room is available for the lone traveler, while suites are available for families traveling with children. The suites include a kitchenette with a refrigerator and stovetop. Some of the rooms have great views of the church. Being right in the heart of the city, this is one of the perfect places to stay in Kotor.
Hostel Cent
Located in the heart of Old Town Kotor, the best things to do in Kotor are just a short walk away. The hostel has impressive views of the Entrance to the Fortress, a mountain that's one of the major Kotor attractions.
This Kotor hostel offers guests a shared kitchen, a shared bathroom with complimentary toiletries, and a patio. Bikes are available on hire. Travelers stay in bunk beds in a mixed dormitory that has air conditioning and heating. The shared kitchen includes kitchenware, an electric kettle, microwave, refrigerator, tea/coffee maker, and a stovetop.
With mountain views and budget-friendly prices, this Kotor accommodation is a perfect stop for cheap Kotor holidays.
Bay Of Kotor Hotels In Tivat
Another of the best places to stay in Montenegro in the Bay of Kotor is the old town of Tivat. There are plenty of great choices for Kotor Bay apartments and hotels here, especially in the beautiful UNESCO-listed Boka Bay.
Regent Porto Montenegro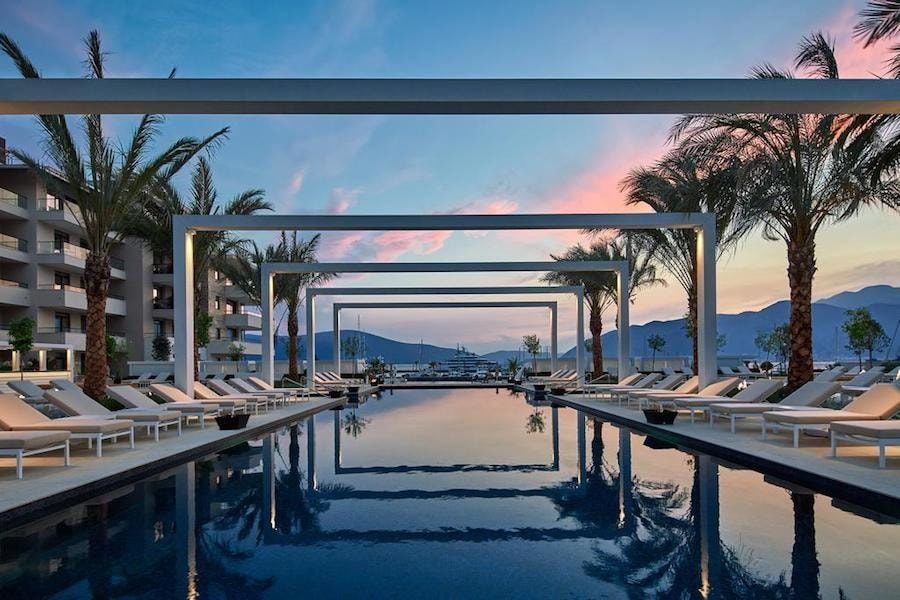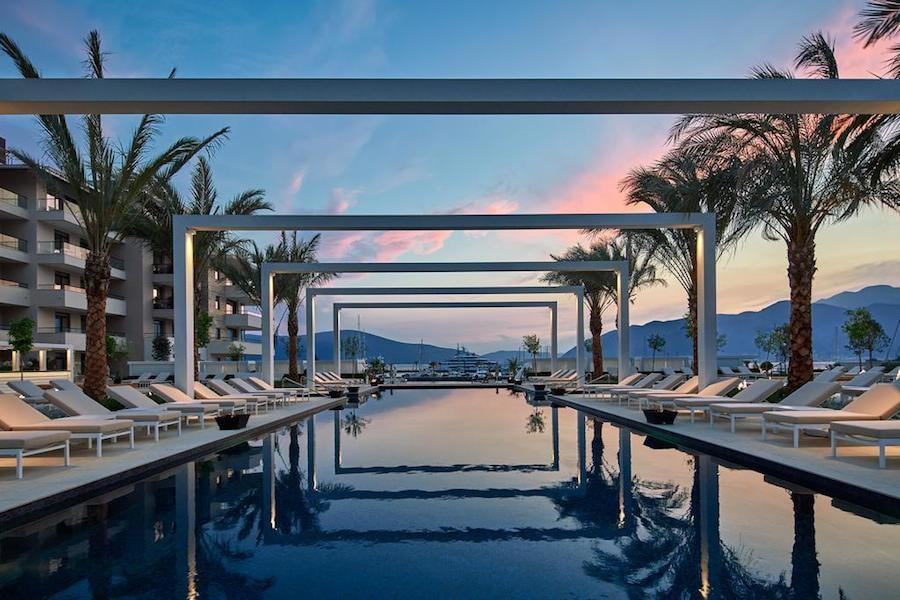 Right in Boka Bay, this luxurious Venetian-styled 5-star resort is one of the best hotels in Montenegro. Guests are pampered to the fullest with expansive views of the sea and the Porto Montenegro village, lavish facilities, and epicurean delights.
With its jacuzzi, sauna, swimming pools, and wet suite, the Regent Spa provides a place for holistic rejuvenation onsite. At the same time, the squash and tennis courts nearby are accessible for fitness lovers.
Guests at the Regent Porto Montenegro also have access to the world-class Marina, yacht club, and the secluded Dobrec beach that's only accessible by boat. Tivat Clock Tower and Saint Sava Church are within walking distance.
All of the rooms have either a balcony or a terrace, while some also have a kitchenette. Rooms feature minibars, safety deposit boxes, air conditioning, heating, hairdryers, flatscreen TVs with satellite channels, alarm clocks, free WiFi, and iPod docks. The 63 m² suites also have sitting and dining areas and either mountain or sea views. The 123 m² 2-bedroom has a dining area, living room, and a full kitchen, along with gorgeous views of the blue Adriatic from its three terraces.
The Regent Porto Montenegro is the Montenegro accommodation of choice for a dream vacation.
Hotel Pine Tivat
Right in the center of Tivat is the Hotel Pine Tivat. This 4-star hotel in Montenegro has splendid views of Tivat Bay and is a stone's throw from its own private beach.
Guests can enjoy local dishes at the terrace restaurant lined with palm trees and have incredibly stunning sea views. The hotel's patisserie serving sweets is a local favorite.
The Hotel Pine Tivat was refurbished in 2014 and boasts of luxurious rooms, a sauna and fitness center, and free WiFi in all the hotel areas. Rooms include air conditioning, heating, minibars, safes, hairdryers, cable TV, and electric kettles. Most rooms also have a seating area and access to a furnished terrace. The 2-bedroom suites can accommodate up to 5 people. 25 m² rooms with disability access are also available.
The hotel is a short 7-minute drive from the airport and 6 km from Kotor town. It is also within walking distance of Tivat Clock Tower, Porto Montenegro Marina, Saint Sava Church, and the local markets. The Pine Tivat is the perfect location to enjoy your holidays in Kotor Bay.
Tivat Star
If you're looking for cheap accommodation in Montenegro, the Tivat Star is a good choice. This economical hotel is located at the end of the Tivat promenade, near free parking and close to the Marina.
There is a small beach just 20 meters from the Tivat Star for swimming. The Clock Tower and Saint Sava Church are about 700 meters away, while the town of Kotor is 5 kilometers away.
This is one of the best cheap hotels in Kotor Bay and comes equipped with tea/coffee makers, TVs, air conditioning, refrigerators, electric kettles, hairdryers, dining tables, and clothes racks. Some rooms have sea views while some have mountain views, but all of them have a balcony. If you're on a strict budget for this trip, staying at this cheap hotel in Kotor Bay will give you ease.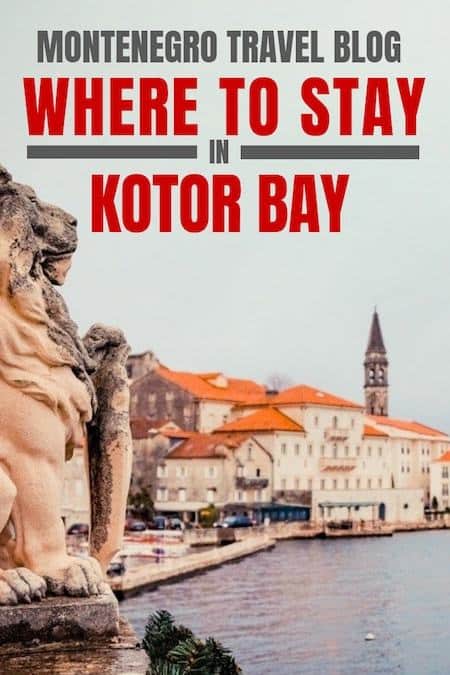 Perast Accommodation
Not far from Kotor is Perast, and here are a few Perast accommodations on offer:
Apartments David
Located in a part of an old 16th-century palace, the Apartments David has fantastic sea views and is also just 200 meters walk from the nearest beach. Restaurants serving local Mediterranean dishes, markets, bars, the boat marina, and the bus stop are within walking distance of the hotel.
The 90 m² 2-bedroom apartment accommodates up to 6 guests while the 1-bedroom apartment sleeps, four guests. The apartments are equipped with air conditioning, free WiFi, satellite TV, dining tables, irons, washing machines, mosquito nets, and sofas. Simultaneously, the kitchens include dinnerware, stoves, ovens, fridges, microwaves, and dishwashers. Guests also have access to a private yard furnished with tables and sun loungers. Guests liked the service provided by host David and his parents, and you will too!
Hotel Admiral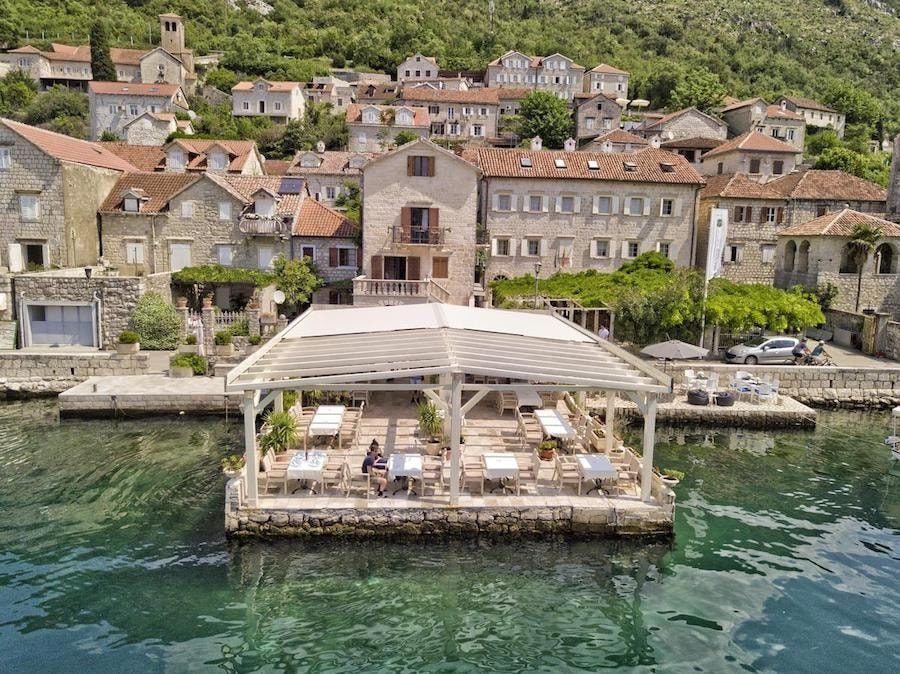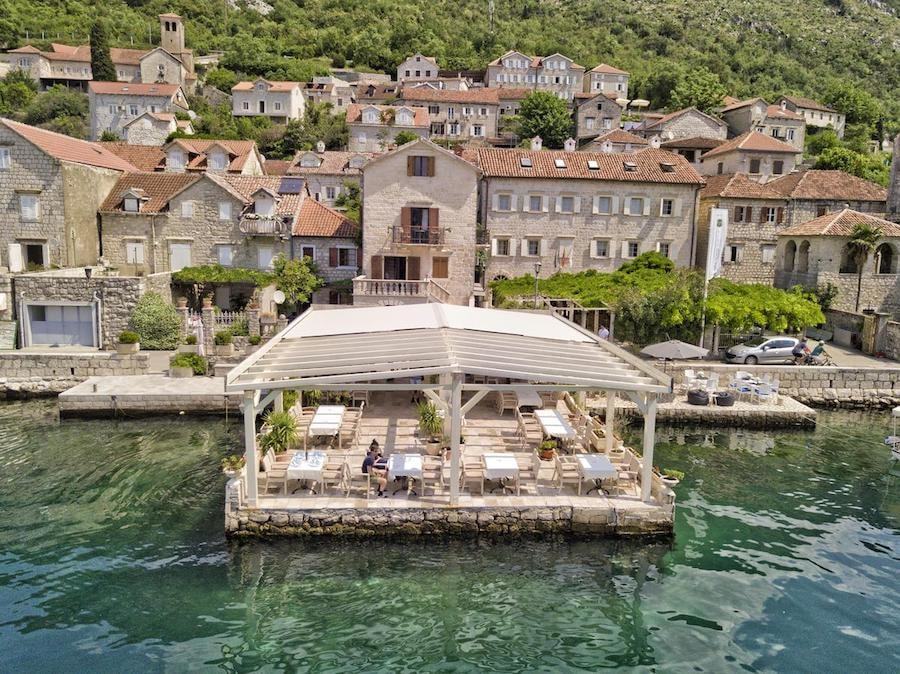 This 3-star Baroque mansion built in the 18th century is ideal for staying in Montenegro while visiting Perast on a budget. Local buses stop just in front of the hotel, so transport to other towns in Kotor Bay is easy.
This hotel has fantastic views of the Bay of Kotor and is just a few steps from where the ferries to Our Lady of the Rock and St. George depart. The Hotel Admiral Restaurant on the waterfront terrace opposite the road serves a la carte dishes.
The Hotel Admiral rooms include balconies, air conditioning, heating, flatscreen TVs with cable, minibars, safety deposit boxes, hairdryers, irons, refrigerators, and free WiFi. The larger rooms include sofa beds and can accommodate up to 4 people. Canoes, cars, and bikes can be rented at an additional cost.
Vila Perast Boutique Hotel
The Vila Perast Boutique Hotel is a lovely Bay of Kotor accommodation with stunning views of the Bay. Guests can hire bikes or cars from the reception. The hotel is 10 kilometers from Tivat airport, and shuttles can be arranged at a cost.
The rooms are tastefully decorated and come with air conditioning, heating, free WiFi, street parking, safety deposit boxes, TVs, clothes racks, and patios. Economic ten m² rooms are available for the single traveler, while family rooms are available for guests traveling in Montenegro with children. Opt for the sea views instead of the city view rooms!
Luštica Bay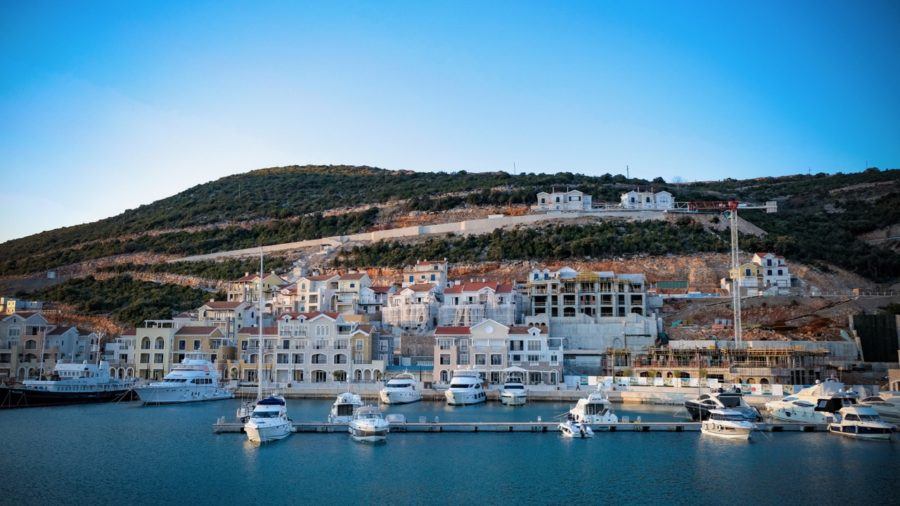 If you want to venture a little further away, you can also look at The Chedi Hotel in Luštica Bay. This 5-star luxury hotel has more to offer than anything you can imagine.
Top Things To Do In Kotor Bay
There are a lot of things to things to do in Kotor Bay when you visit Montenegro. Here are some of the best places to visit in Kotor
Take a boat to see Our Lady of the Rocks on Sveti Dorde Island.
Stroll through the streets of Perast
See the Old Town of Kotor
Ride a boat to see the blue cave
Hike up the ladder of Kotor
Spend some time at the Cat Museum of Kotor
See Saint Tryphon's relics in the Saint Tryphon Cathedral
See the brick fortifications of St. John's Fortress, aka San Giovanni Fortress
Visit the Orthodox Sveti Nikola or Saint Nicholas Church
Visit the Maritime Museum showcasing Kotor's history
Walkthrough the Piazza of the arms
See the monastery and church of St. Clare.