Some posts contain compensated links. Please read this disclaimer for more info.
Best Blue Cave Tour From Split, Croatia
We're bringing you the answers to the most common questions about going on the ridiculously amazing Blue Cave Tour departing from Split.
On the Croatian Island of Bisevo, in a bay called Balun, lies the Blue Grotto sea cave, also known as the Blue Cave. It's one of 26 caves on the tiny island and is without question one of the best caves in Croatia.
Bisevo Island is composed of limestone rock and is inhabited by just a handful of people all year round. The cave, which was formed by erosion from the Adriatic Sea, is best visited around 11 am and 2 pm each day, depending on the time of year you visit, to fully appreciate its beauty.
Once at the cave, you'll be struck by the piercing blue hues of the cave, caused by sunlight reflecting through the water and bouncing off the white limestone bottom.
With an increasing number of visitors heading to Split each year, many new tourist agencies have popped up. There are dozens of day trip agencies offering Blue Cave tours, and if you are even remotely thinking about taking a cave boat tour through the Blue Cave, here are a few things to know before you book a tour.
Understand Just How Far Away A Blue Cave Tour Is From Split
In Central Dalmatia, the most popular island destinations are Hvar, Brac – Bol, and the farthest island in Croatia, Vis. Located just five miles from Vis, there is Bisevo, an island with a spectacular natural phenomenon known as the Blue Cave.
There are so many trips that head to the Blue Cave from Split (or Trogir) each day. You will see the agency's signs offering a chance to look at the caves as a part of many day trips names:
5 Islands Tour

6 Islands Tour

Blue Cave Tour

Blue & Green Caves Tour

Hvar-Vis Island Blue Cave Tour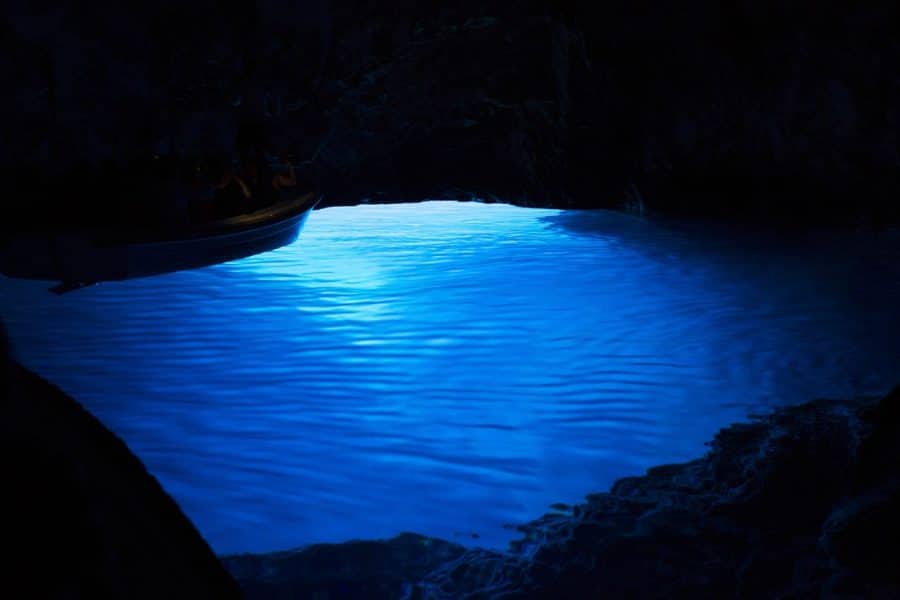 The core attraction on any one of these tours is, of course, the Blue Cave, and you are probably already wondering how you can find a tour to see just the Blue Cave only, right? Well, the thing to note here is that: the Blue Cave is located on the farthest territorial point on the Croatian Adriatic Coast, which is a long way to go just to spend 5 minutes in a cave and return.
Plus, to get to the Blue Cave and back in one trip from Split, you need to get there by speedboat, a journey that takes 1.5 hours one way. As you can imagine, going on a day trip on a speedboat uses a lot of fuel, which costs a pretty penny.
So, to give you an excellent return for your hundred-plus euros, the vendors arrange other stops along the way to help you feel like you are getting value for money.
If you don't want to be with other people on a Vis Blue Cave tour, you could book a private tour like this.
Be Sure To Check For Reviews Before Booking
Sadly, a few lame agencies in Croatia will make false promises, like promising you can go swimming with dolphins. As you know, dolphins are wild animals, so that can't be guaranteed.
Other day trip vendors will overpromise you the amount of time you can spend in the cave. One way to find a good agency is to read reviews using Get Your Guide or TripAdvisor.
You Can't Stay In The Blue Cave For Long
You should know that the length of time you can spend in the caves is decided, not by your captain, but by the concessionaire who limits the stay in the cave to just 5-15 minutes per boat. Do not be fooled by anyone selling you a tour package that with them you can stay longer. That is not true.
There Will Be A Long Wait Getting Into The Cave
Before you head into the caves, you will spend an hour waiting in a queue (of course, some days it will be much less, and on others more) on Bisevo for your turn to enter and enjoy the beautiful scenery of the Blue Cave.
The tickets will, in most cases, be bought on your behalf by your skipper. While you wait, you can enjoy the beautiful views of the crystal-clear sea, chilling out with a beer or cup of coffee at the cafe.
You Can't Swim In The Blue Cave
The Croatia Blue Grotto is protected, so the answer to the question "can you swim in the Blue Grotto?" is a firm "no." You will see some photos of people swimming, but trust me, you can't. Instead, you could swim close by while you wait your turn to enter the cave.
A Longer Tour Is Not Always The Best Tour
Many agencies in Split want to differentiate their offer from others, so they add additional destinations. But let's be honest, five stops are enough!
Don't be tricked into booking a tour with any more stops. All you will do is spend more time on the boat and less time exploring each destination.
Out of the 10+ hours a day trip like this takes, you'll spend about 4 hours in the speedboat and approximately 6 hours touring the destinations. So, any extra stops will reduce the time for swimming and exploring. Who wants to spend more time on the boat than at the destinations? No one!
Our advice is to choose a program that includes a maximum of five destinations. Some popular destinations on a Blue Cave tour from Split include the following:
The Blue Cave itself (of course!) on Bisevo Island
Monk Seal Cave on Bisevo Island
Hvar Town on Hvar Island
Paklinski Islands
Blue Lagoon on Budikovac Island
You Can't Take Your Own Boat Inside
Sorry, after reading all of this, I know you are probably thinking, stuff it – you'll just go on your own – but you can't.
How To Find The Best Blue Cave Tours From Split
The tours are all kind of the same, but with small differences. We suggest that you start with these below. Look to find one that meets your budget requirements AND also has a detailed review, so you know what to really expect.
How And When Was The Cave Discovered?
Explorer, painter, and adventurer Baron Eugen von Ransonnet first discovered the Blue Cave in the early 1880s. He stumbled upon it during a diving expedition and was immediately captivated by it. By then, the cave was only accessible by diving because its only natural entrance was below sea level.
The Baron suggested that an artificial opening be made to enable small boats to access the cave. A small entrance of about 2.5 meters wide and 1.5 meters high was created in 1884 after blasting off part of the rock using dynamite. It is through this entrance that people can access the cave.
When you come back from your Vis Blue Cave tour (or if you've already been), be sure to let us know any other tips we should add in the comments below.
More Travel Reviews
Share