Privacy & disclaimers →
How To Create Your Dream Croatia Island Hopping Itinerary
Written By Travel Writer Toccara & SJ Begonja
Ever dreamt of island hopping in Croatia but put those dreams on hold simply because you felt like you couldn't afford such a luxury? We want to share with you how you can do an affordable Croatian island-hopping holiday and, even better, how YOU can set your itinerary!
You decide which islands you want to visit and for how long. But, before you even consider a holiday, you need to ensure you have all the travel necessities to make your vacation comfortable. There is nothing worse than getting to a destination and realizing you're missing something.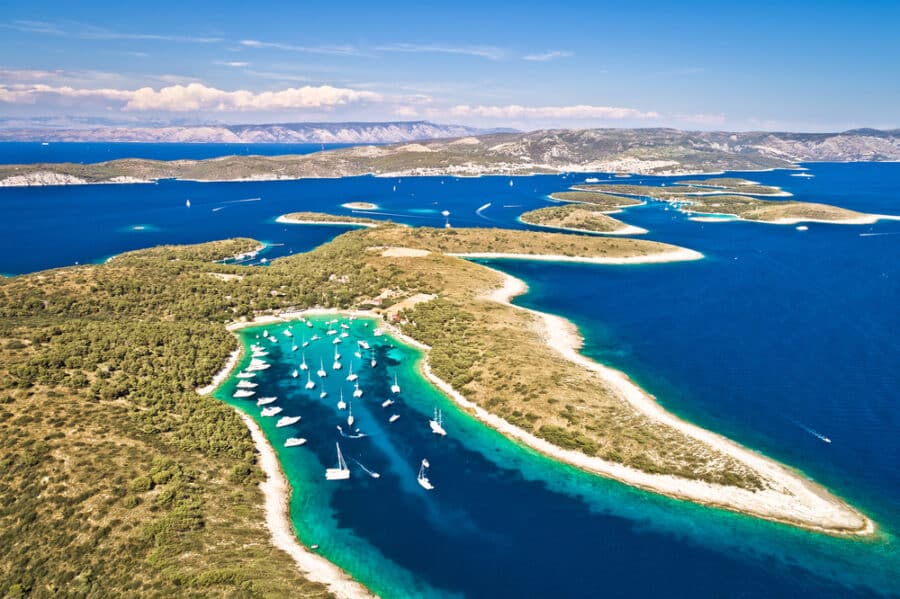 This past summer, we visited Dubrovnik, along with the islands of Vis, Hvar, and Korčula, for a fraction of the cost of many of the island-hopping sailing cruises we had looked into. Although we also dreamt of sailing along the Dalmatian coast, it became less appealing as we researched local sailing companies.
Sure, the price didn't seem so bad at first- USD 500 for a week of sailing, as the website advertised. That's fine until you see that price will get you a below-deck cabin in the off-season, requiring you to share a bathroom/shower with other passengers. No thanks!
If you want to sail when the weather's great (high season) and with the luxuries of an above-deck cabin, including a private bathroom, it'll set you back well over USD 1,200. And this is just the 'starting price.'
Don't forget to account for added port taxes, local tourist taxes, breakfast supplements and other meals not included, shore excursions/activities, and of course, alcohol. The more "affordable" sailing options were all geared toward party enthusiasts with an apparent focus on spending most of the week being hammered, blasted, hosed, wasted, loaded, obliterated, or, however, you say, DRUNK in your native tongue.
So, it is essential to note that these cruise prices obviously don't include beverages, which, as mentioned, seems to be the primary focus of many of the "more affordable" sailing options, causing the total price to be much much higher in the end.
Ok, so obviously, you can choose NOT to get drunk and save money on alcohol. Still, as we started researching the itineraries on some of these cruises, we realized that there wasn't much time built to explore the islands. You sail all day, get into port in the late afternoon/evening and then sail out the following day or early afternoon, again emphasizing partying all night in these port cities.
The distance between islands can be quite far; on a sailboat, it takes a reasonable amount of time to get from one island to another. So, if you desire to cruise the Adriatic's waterways and get a small sampling of the islands, these cruises might be for you. Or finally, getting to the purpose of this post, we'll share with you how we ditched the idealized sailing dream to create our own affordable Croatia island-hopping itinerary.
Utilize Affordable Ferries When Planning Your Croatian Island Hopping Holiday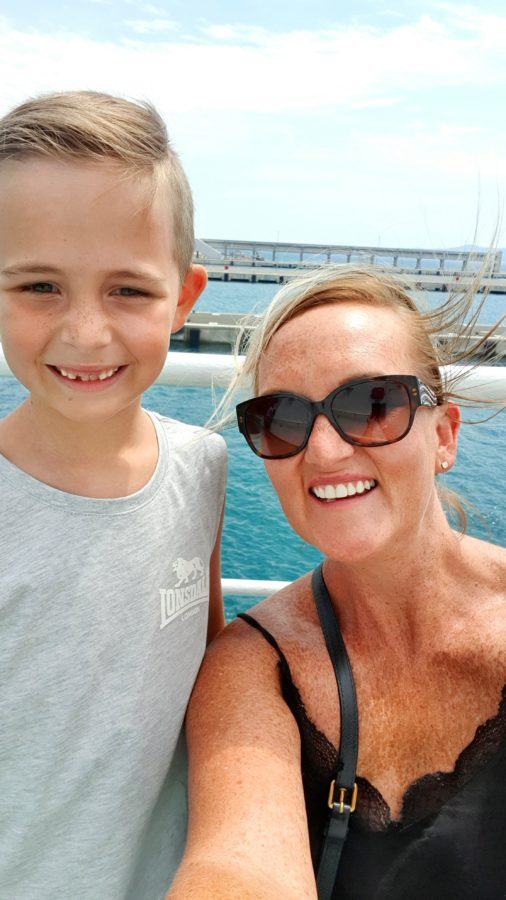 There is a network of ferries that conveniently runs between the islands. These ships are certainly not glamorous sailboats, to say the least, but it gets you to the islands at a very affordable rate, allowing you more time (and money) to explore the islands! We started in Split and first sailed to the island of Vis for just under USD 8 per person on a Jadrolinija ferry.
We didn't have to book in advance. We showed up at the port in Split, purchased our tickets, and walked on board.
The Jadrolinija fleet includes car ferries, classic passenger ships, and catamarans. They connect the mainland to the islands, provide service between the islands, and even transport passengers between Croatia and Italy – making it perfect for planning your Croatia island-hopping itinerary.
Local Tip: If you want to bring a car onboard the ferry, the price will be higher, and it is essential to note that the car ferries do not operate on all routes, and you will need to book early in peak season.
So, again the ferry wasn't glamorous by any stretch of the imagination. Food and drink prices on board were a little hefty. The (cigarette) smoke on the deck outside was unbearable, so we found a quiet corner on the ship's interior and gazed out the large windows at the other boats cruising the waterway as we made the 2-hour 20-minute journey from Split to Vis.
Local Tip: You can bring your own food & drinks on board, but, in reality, you'll probably survive the reasonably short ride without the need food or beverage.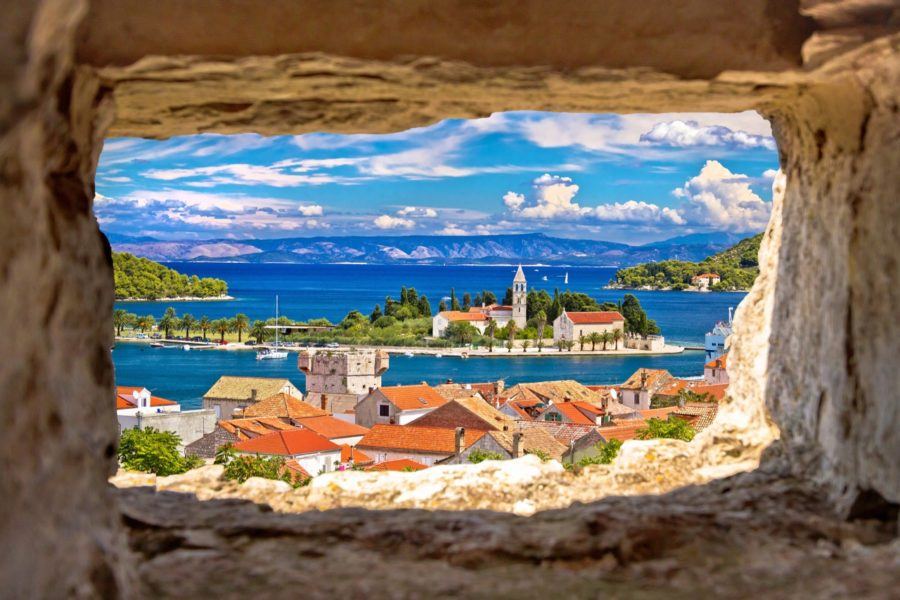 The journey to Vis was smooth and seamless. We ventured out to the top deck as we pulled into port. The views were just what we had hoped for! Gorgeous azure water, loads of boats, and charming brick buildings lining the coast.
We had a few affordable days on the island of Vis, renting an apartment, cooking many of our meals, and buying bottles of local wine at the supermarket to cut down on the cost of eating out.
When it was time for us to leave Vis, we hopped on an early morning Kapetan Luka high-speed catamaran to the Island of Hvar, costing us less than $6 per person for the 50-minute ride. Local Tip: Tickets could only be booked one day in advance at the local ticket office, and you want to be sure to reserve your spot, as these journeys can and do sell out.
Kapetan Luka has three high-speed foot-passenger catamarans (and one motor yacht) taking passengers to and from the mainland (Split and Dubrovnik) and between several southern islands.
The only disadvantage of the Kapetan Luka ferries is that they are enclosed. There is no deck on which you can go out and enjoy the scenery, and not all seats are next to a window.
It may not exactly be a scenic journey, but again it gets you where you want to go and allows for more time exploring the islands! In Hvar, we rented another lovely apartment, packed picnic lunches for the beach, and cooked many meals to save money.
After a few beautiful days on the island of Hvar, we again utilized Kapetan Luka to get to the island of Korčula. The ride was just over an hour and cost less than $12 per person. Local Tip: Again, tickets must be purchased one day in advance from the ticket office located right near the harbor's boat docks.
Just as with Vis and Hvar, Korčula did not disappoint. We found affordable accommodation through Booking.com. There was plenty to explore right around the main harbor town while providing options to explore the island further if you so desired, and time permitting.
And so, our time on the islands had come to an end, and so too, did our Croatian island-hopping experience. The trip from Korčula to Dubrovnik was the most expensive leg of our journey, but it was also our longest (in distance).
The two-hour high-speed ride with Kapetan Luka set us back at just over $16 per person. We could book our reservation days in advance, unlike on Vis and Hvar's islands, so we booked our final journey the day we arrived in port.
Croatia Island Hopping Costs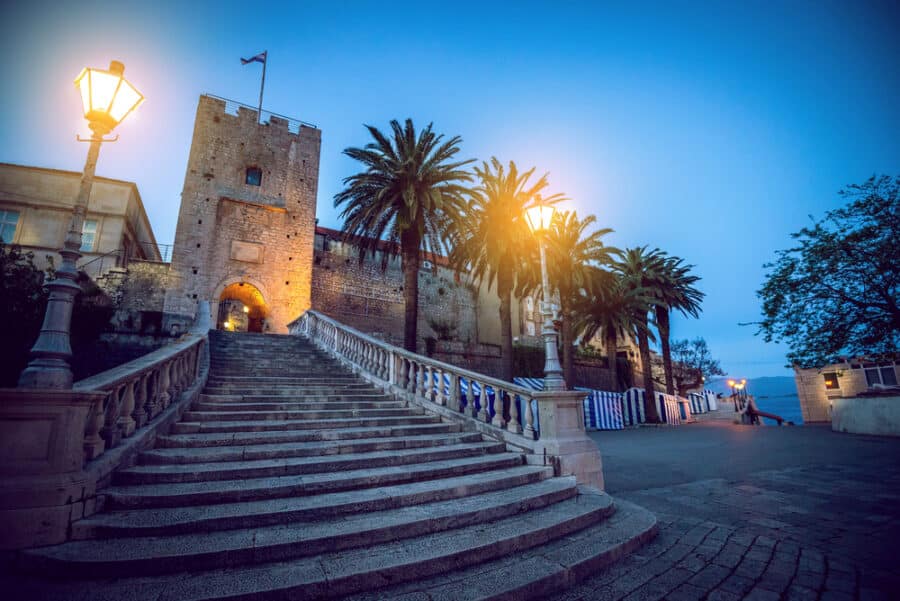 All said and done; we spent USD 41.95 per person to travel between Split-Vis-Hvar-Korčula-Dubrovnik.
We found affordable lodging options, spending an average of $50/night for the two of us.
TRAVEL COMPANIES WE USE AND TRUST
Other Ways We Saved Money During Our Croatia Island Hopping Holiday
We didn't eat out much, splurging on a local meal only a few times. We even purchased locally caught fish and prepared it ourselves instead of an expensive seafood meal out. Here is how you can eat on a budget in Croatia.
Rather than spending a ridiculous amount on a glass of wine at dinner, we'd visit the grocery store and pick up a bottle of local wine. Local Tip: The Pošip on the island of Korčula is AMAZING!
We'd pack picnic lunches for our days hanging out at the beach.
We occasionally relied on affordable bus transportation to get to other parts of the islands we visited instead of renting a car or scooter.
The great thing about the Croatian islands is that they are GORGEOUS! Just going outside and enjoying their beauty costs absolutely nothing!
How Can You Create Your Very Own Island Hopping itinerary?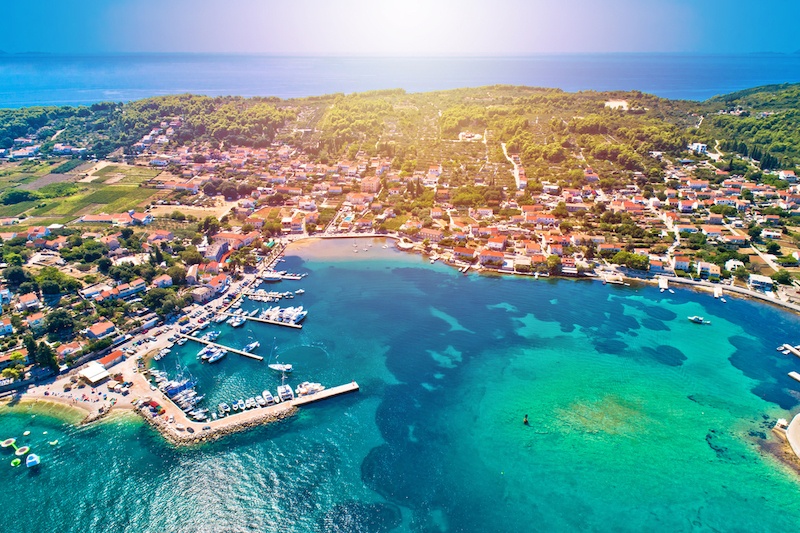 So, where will you start and end your Croatia island hopping holiday?
Toccara & Sam from ForgetSomeday.com focuses on small-town experiences and outdoor adventures. They are continually looking for alternative destinations and affordable methods of travel as they travel around the world. Be sure to check out their website for more alternative travel ideas.
More Ideas For Things To Do In Croatia
Are you traveling to Croatia? Great, we've got a stack of suggestions – here are just a few: