Some posts contain compensated links. Please read this disclaimer for more info.
Best Things To Do On Krk Island
The largest and most populous island in the Adriatic Sea, Krk Island is an exceptionally accessible island in northern Dalmatia. Tens of thousands of tourists find their way to this beautiful island each summer via a 1,430-meter-long concrete bridge from the mainland near Rijeka, said to be one of the world's longest concrete bridges.
Krk's popularity has much to do with this convenient location, as well as its proximity to Slovenia and northern Italy. The numerous things to do on Krk Island, which we will get to shortly, are of course a massive factor as well.
Referred to as the "Golden Island" for many centuries, Krk Island lies in the middle of gorgeous Kvarner Bay, a region blessed with supreme natural beauty and a wealth of cultural attractions. In fact, the island is sometimes also called the "cradle of Croatian culture," a status its justifiably very proud of.
A fun thing to know about the island of Krk is that locals believe the island is connected to the number seven. For example, Croatian people have lived there since the 7th century; pirates have attacked Krk seven times, the island every time surviving the assaults, and the island now has seven centers.
So, What Are The Best Things To Do On Krk Island
So, people don't just visit Krk Island just because it's the most accessible of all islands in Croatia. Its varied landscapes, charming centuries-old towns, fascinating local culture and beautiful beaches are why it's such an attractive summer destination. There are plenty of things to do on Krk Island. I know, as I was just there, spending time with the boys on our summer vacay and I was disappointed to leave as there was so much we did not get to experience during the week.
Let's look at the most popular activities on Krk Island.
There are many Krk Island attractions to discover and enjoy, from thousand-year-old monuments to art galleries, from bare limestone slopes to pine forests and beautiful, hidden coves. You can go on romantic sunset strolls along the coast or follow ancient shepherd paths in the hills. Sample homemade wine and enjoy typical Krk cuisine. Go on a boat cruise or spend the day basking on an Adriatic Sea beach.
With that said, here my top choices for things to do on Krk Island.
Taste Wine In Vrbnik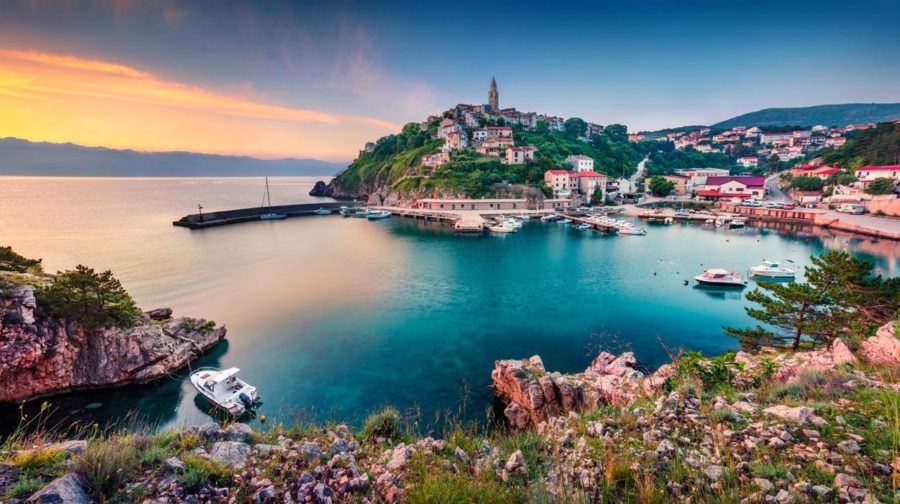 Located on the east coast of Krk Island, Vrbnik is one of the most famous towns in Croatia—perhaps not among tourists, but certainly among Croatians. It was made famous because of its Glagolitic heritage and the popular song "Vrbniče and morem."
This is an undeniably pretty sight, set on a rocky coastal hill overlooking the sea. Its main attraction, however, is the golden wine that's made there. Known as Žlahtina, this dry white wine is only made in and around this village. All local restaurants will have this unique wine on their menu, so make sure to go head over a raise a glass (or two).
You can find more Croatian wine here.
Explore The Biserukja Cave
The Biserukja Cave is a fascinating geological attraction on Krka Island. Although it's nothing compared to, say, the Škocjan Caves in Slovenia, it still makes for a beautiful place to visit during your time on the island, especially if you travel with curious children – as my son is.
A visit leads you through a part of the cave, including the so-called Great Hall, past collections of stalactites and stalagmites. Additionally, an excellent educational trail runs from the cave to nearby Slivanjska Cove, offering magnificent views of the Adriatic Sea.
Just be sure to get here early, to avoid the crowds. The caves have one way on and out – so your views are ruined with passersby if the cave is too popular. We arrived as soon as it opened, and were already one of 10 people in line.
Wander Around Krk Town
For local history, culture and architecture, you can't beat Krk Town. The island's namesake town, Krk's history goes back to Ancient Greece and Rome, but all its current buildings are much younger. The main attractions in Krka Town are Krk Cathedral of the Assumption of Mary, featuring a wide variety of styles, and the castle of the Frankopan family. This castle with its towers is the setting of a series of summer concerts.
There are a handful of excellent beaches in Krk as well, ideal to counterbalance all that cultural immersion with a casual, laidback time near the water.
Drink Cocktails In Ancient Catacombs
You can see how old Krk Town really is in the most unlikely of places. At Volsonis, you can sip cocktails and enjoy live music in an above-ground garden and, most notably, in 2,000-year-old Roman underground catacombs.
This is where two Venus altars and several tombstones were found, reminders of the long human history on this island. This is definitely one of the most extraordinary cocktail bars and nightclubs on the entire Croatian coast—one of the best things to do on Krk Island, for sure.
Visit Franciscan Monks
You can soak up even more history and culture at the Franciscan Monastery on little Košljun Island. This monastery dates from the 16th century and was built on the remains of a 12th-century Benedictine abbey. The boat ride from Krk Island is no longer than 15 minutes, but it does take you back in time. The boat leaves from the harbor in Punat.
The monastery contains several treasures, such as a "Last Judgment" painting from the 1650s, a pretty rare copy of Ptolemy's "Atlas" and a wonderful collection of Glagolitic artifacts. (Glagolitic was an ancient Slavic language, which is now extinct.)
Soak Up Some Sun At Baška Beach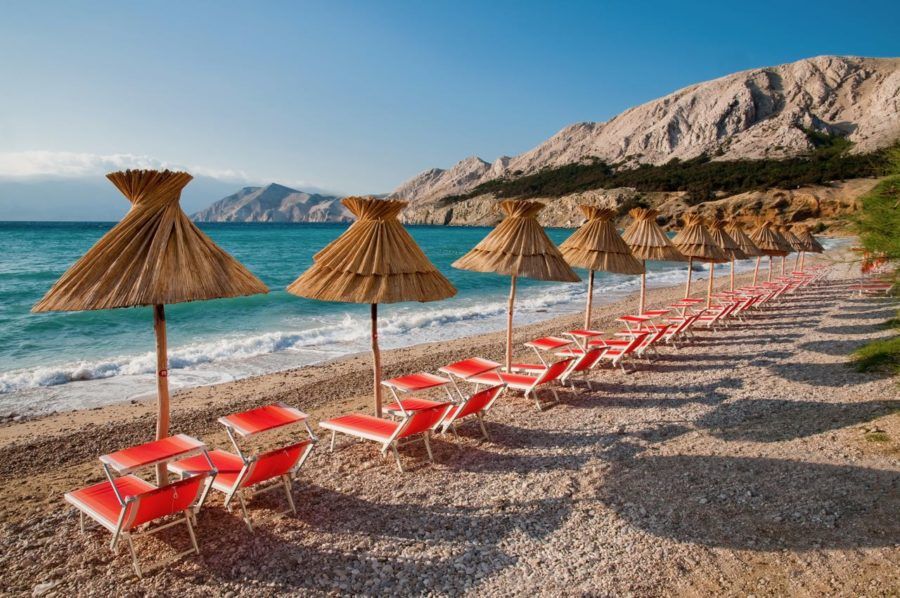 The best beaches on Krk Island are found in Baška, a bustling town on the southeast coast. This town has more than its fair share of resorts, hotels, restaurants, and bars, so if you're looking for peace and quiet, it might be better to go somewhere else. For a fun summer holiday on the beach with friends or with the kids, however, Baška is absolutely perfect.
The main beach in town, Veli Plaža, is almost two kilometers long, complete with all possible amenities. From playgrounds to deckchairs, surf shops, and pedalo rentals, everything is readily available. Alternatively, the nearby bays have their own smaller or more private beaches, too, even including a naturist beach.
Take A Healing Mud Bath In The Sea
You can find healing mud in a few different places in Croatia, such as Vis, but also on Krk Island. Taking a mud bath in Krk can even be considered as one of the best things to do on Krk Island. Meline Beach on the west side of Klimno Bay is where you can find this remarkable healing mud.
This beach has extremely shallow water—you can walk for hundreds of meters, and the water won't reach higher than your knees. Because it's so shallow, the water is also a bit warmer than elsewhere on the island. Not surprisingly, this is a very popular destination among families with young children. There are no guidelines as to how to use healing mud. Typically, people just rub it all over their body and let the substance work its magic.
Discover The Origins Of Croatia(n)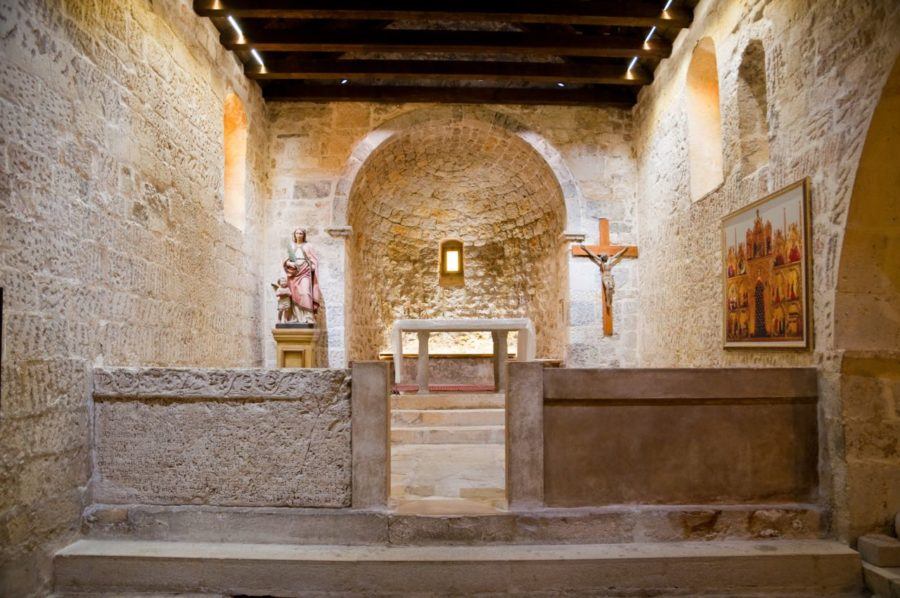 In the village of Jurandvor, about two kilometers from Baška, you will find the site of one of Croatia's most important cultural discoveries. In 1851, a student found the Baška Tablet on the floor of the Church of St. Lucy. The tablet was written in Glagolitic and contains the earliest-known mention of "Croatia" and "Croatian."
The tablet, an engraved slab of limestone, is one of the most historically significant artifacts in Croatia. In the Church of St. Lucy, the history of which is worth discovering too, you can see a replica of the tablet in the very place where it was found. The original is now in the Archaeological Museum in Zagreb.
Go Scuba Diving
It wouldn't be an Adriatic island if the best things to do on Krk Island didn't include some kind of watersport, too. Besides simply sunbathing, you can also go scuba diving on the island. Plenty of shipwrecks dot the crystal-clear waters around Krk, from a Napoleonic wooden brig housing fourteen cannons to the Greek freighter Peltastis.
Other Things To See And Do On Krk
Our family needs to go back to Krk Island, as we saw so many other things we need to try, such as:
Ziplining
Rent a yacht for 1/2 day
Quad Biking
Aquarium
Wakeboarding
Eating On Krk Island
Food is an integral part of all cultures, and on Krk Island, too, it's a major part of everyday life. As a visitor, you're always encouraged to immerse yourself in the local cuisine. There is no better way to experience a culture than eating. Cuisine, after all, is a combination of smells and visuality, local history and people, from farmers to chefs.
The Mediterranean diet is often touted as the healthiest way of eating in the world, and Krk Island cuisine is the perfect example of that. For one, people living on Krk Island live longer than their mainland counterparts. This is thanks to the region's enjoyable climate, but certainly also to the way people eat.
Food on Krk Island is prepared with a huge variety of healthy ingredients, such as homemade olive oils and white wine vinegar, and numerous nutrient-packed herbs and vegetables that grow on the island, including parsley, garlic, laurel, and rosemary.
Seafood also makes up a large part of the Krk diet, from shellfish to scampi and various freshly caught fish. Lamb is also a much-valued ingredient. It is so good that it's said that the famous banquets held by Roman emperor Nero featured Krk lamb.
Add to this homemade sheep milk cheese and pastas, honey, natively grown figs, local brandy and/or the famous wine of Vrbnik, and you have yourself a meal worthy of kings and queens.
Eating on Krk Island is an absolute delight, and all towns have several restaurants where you can enjoy this delicious cuisine.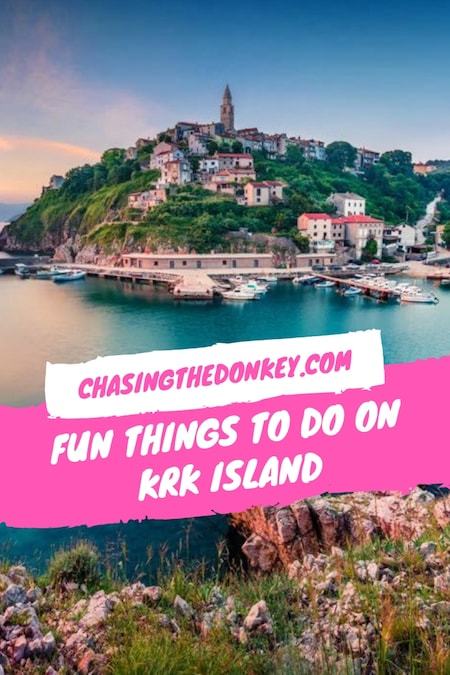 Where To Sleep On Krk Island
When it comes to accommodation on Krk Island, you'll have numerous options. No matter your budget or preferences regarding luxury, you will find a place to sleep on the island. There are numerous hotels, campgrounds, family apartments and even hostels on Krk Island, catering to pretty much every possible type of traveler.
You'll find hotels on Krk Island in all towns; there are far too many to list, start here to find some.
That said, below are a few recommended places to stay on Krk Island.
Premium Camping Krk
This is the ideal outdoor adventure campsite for families, located around close to Krk Old Town. Premium Camping Krk is right on the beach and includes a children's playground, a heated outdoor pool and lots of sports activities on site. This is sold as an eco-campsite, so everything is pushed towards being outdoors in nature – ideal for families!
We stayed here in August 2018, in one of the mobile homes as we are not campers, and we LOVED IT!
There are tennis courts which can be played with night lights, mini golf, table tennis, basketball, and volleyball courts, as well as a children's pool. If you want some peace and quiet, you can make use of the babysitting service, but the Campground Piazza also has lots of life which family can enjoy together, including a restaurant, bakery, shops, and a small markets.
There are several kids clubs, depending upon the ages of your children, including the Maro Children's Club and a Teen's Club, which has a Nintendo Wii to enjoy. If your kids love arts and crafts, send them to the Hobby Club for some artistic fun. There is also live music, movie nights, and lots of evening entertainment (we loved the disco) to enjoy as a family.
This also happens to be our new favorite kid's hotel in Croatia.
Check Rates of This Krk Island Hotel Here
Heritage Hotel Forza
For four-star luxury in a superb location, you can't beat the Heritage Hotel Forza in Baška. Located on the old part of town, it lies just mere steps from the beach. Dating from the 1890s, the building still features its original wooden beams and stone walls, creating a wonderfully atmospheric setting and historic feel. Accommodation is available in 13 rooms and three apartments.
Check Rates of This Krk Island Hotel Here
Valamar Koralj Hotel
In Krk Town, consider staying at the Valamar Koralj Hotel. Part of the Valamar chain of hotels, which are found in various places in Croatia, this three-star retreat overlooks a picturesque bay and is surrounded by scented pine forests. Amenities include a swimming pool, room service, a show cooking buffet restaurant and evening entertainment. The Krk Town center is only a ten-minute walk away.
Check Rates of This Krk Island Hotel Here
Pinia Hotel
On the north coast, one of the best hotels on Krk Island is the Pinia Hotel. Situated in a small village near Malinska, this wellness hotel is the perfect place to wind down and leave behind the worries of everyday life. There are a large pool complete with countercurrent swimming and waterfalls, a sauna and fitness center, massages and other body treatments. At the restaurant, you can enjoy mouthwatering Adriatic gastronomy.
Check Rates of This Krk Island Hotel Here
Getting To Krk Island
Drive: Getting to Krk Island is simple! We drive to the island – crossing the Adriatic Sea via the bridge. Be warned there is a fee to cross to the island (40kn), but it is free to go back to the mainland.
Fly: You could also fly, landing in what is Rijeka Airport – which do not be fooled, is not in Rijeka, but actually on Krk island. Weird that, if you ask me.
Ferry: There is a ferry you can get to Krk from Cres Island (25 mins).
Bus: Of course, if you need a bus, there are daily buses from Zagreb (3 hours) or Rijeka (1 hour).
As you can see, there are numerous things to do on Krk Island. From discovering ancient history and hiking to sunbathing and scuba diving to enjoying the delicious local cuisine, no matter what you want your holiday to be, it's possible on Krk. On top of all that, the numerously available accommodations make the island even more attractive to tourists.
If we missed something to do, let us know in the comments below.
Share