Privacy & disclaimers →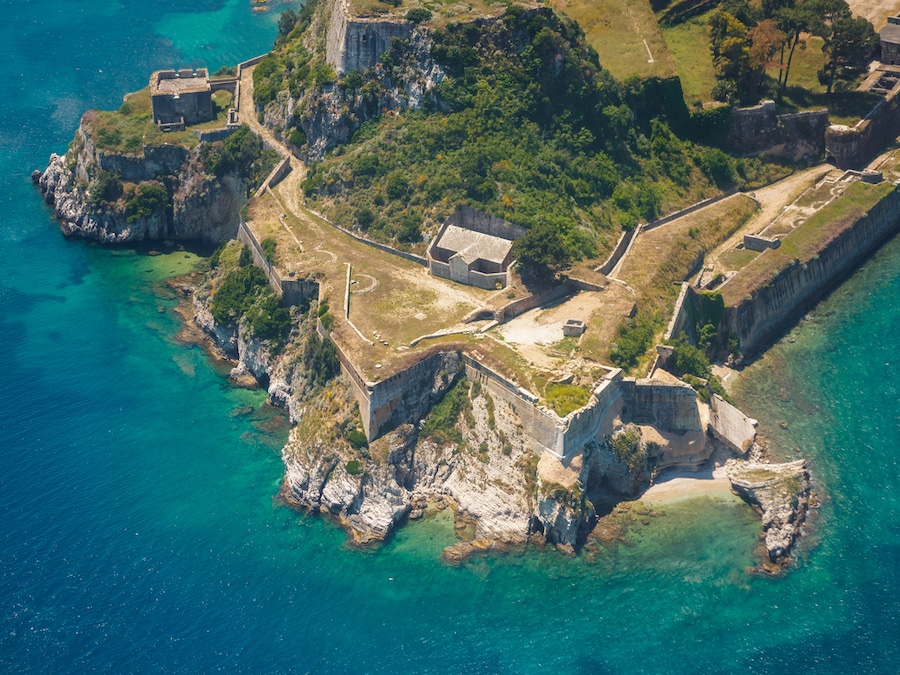 Best Place To Stay On Corfu – Best Corfu Hotels Included
An area-by-area guide to the best areas on Corfu and the top-rated Corfu hotels in each area.
When you plan a trip to Corfu, the first matter that might arise is where on the Ionian island to stay. How can you quickly and easily find the best place to stay in Corfu?
Corfu is a classic Green Island destination, even in winter! Whether you are visiting to explore its rich history, hike in the hills, or to soak up the sun on one of its magnificent beaches, Corfu has a range of resorts and accommodations to suit every traveler.
The guide will take you through the main resorts of Corfu, from the best Corfu beach resorts to where to stay in Corfu for nightlife and the best part of Corfu for couples. Perhaps you already know you want accommodation in Corfu town or are new to the island and want to find the best place to stay in Corfu for families.
Whichever applies to you, the guide will walk you through all the top Corfu resorts, helping you decide where to stay in Corfu. Before you know it, you'll be enjoying the bright sunshine, and cultural experiences, eating fabulous Greek food, and raising a glass of Ouzo, Metaxa, or kumquat liqueur. Cheers!
A Brief Area-By-Area Introduction To Corfu (Also Known As Kérkyra)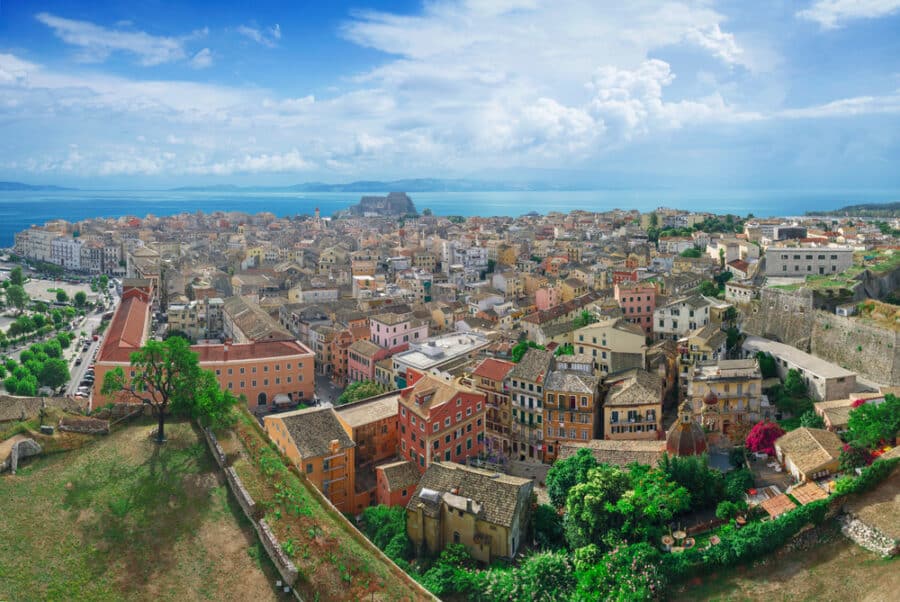 Corfu Island comprises a broad sweep of land to the north. This narrows about a quarter of the way down from where the thin strip leads south before kinking right. The bottom quarter is a diagonal strip pointing to the east. It's shaped a little like Italy, but without the 'heel' and with the 'foot' angled backward.
AREAS ON CORFU
Corfu Town
Corfu Town is at the center of things both physically and culturally. Centuries of Venetian rule made the town what it still is today, while French and British influences are evident in Corfu Old Town. Corfu Town is about midway down the east coast, close to the airport.
The best part of Corfu to stay in really depends on your timescale and what you want to see and do. There is a great variety of holiday resorts in Corfu, and these are dotted around the island's beautiful coastline.
Dassia
Dassia is a relaxed Corfu resort area on the east coast, north of Corfu Town. On the inland side, there are pine forests, and visitors can see across to mainland Greece across the sea. The coastal road is home to a stretch of shops, restaurants, and bars, and there is a Blue Flag pebble and shingle beach. Boats can be hired from the jetty so that visitors can explore the stunning coastline.
Sidari
Whether you want a lively, action-packed holiday or enjoy wandering along the Corfu coastline, Sidari has amenities for all tastes. There's a primary sand and shingle beach, plus smaller ones and secluded coves. Children, in particular, will love the rock pools at Megali Beach. Nightlife lovers can choose between karaoke venues, live music, and sports bars; there are plenty of restaurants to try too.
Best Corfu Nightlife Area – Kavos
On the south-easterly tip of the island, Kavos is favored by the younger, livelier crowd and is widely regarded as the best resort in Corfu for nightlife. There's no denying that Kavos is known as a party town. It also offers a broad sandy beach and a good range of accommodations. Our recommendations below have sea views, attractive gardens, and private parking.
Best Area To Stay In Corfu For Families
Much of the Corfu accommodation isn't too far from the island's capital. The best Corfu resorts for families include Kontokali, Gouvia, Dassia, Benitses, and Perama, all of which are relatively close to Corfu Town.
Best Place On Corfu For Beaches – Paleokastritsa
On Corfu's west coast, Paleokastritsa offers six gorgeous beaches and is flanked by pine-clad hills and olive groves. This particularly picturesque Corfu resort is overlooked by a monastery dating from the 1700s. A colorful port and plenty of cafes and tavernas help make Paleokastritsa one of Corfu's most popular resorts.
Best Place For Peace & Quiet – Perama On The Eastern Coast Of Corfu
Perama is just ten minutes by car from Corfu Town, making it an ideal base for exploring all aspects of the island's culture and natural beauty. This laid-back village was once home to Gerald Durrell, and there are two small sand and shingle beaches. Walkers can also discover their own secluded coves by delving into the green hilly area that flanks the sands. Perama is a pretty hillside spot offering a laid-back pace of life. Benitses is just 3 miles away, making a day trip to another resort a simple option too.
Best Central Place To Stay On Corfu – Kontokali
Along with the nearby resort of Gouvia, Kontokali occupies a sleepy, sheltered position on the east coast of Corfu. It's close to the capital and a range of other resorts, making it a central location for exploring this Ionian island. The local fishermen supply the local tavernas with freshly-caught seafood, making this an excellent choice for anyone who loves fish. Visitors can easily stroll to the beach in neighboring Gouvia and enjoy the pebble, sand, and marina in Kontokali.
Best Place For Culture – Corfu Town
For a quick cultural fix, it's impossible to beat Corfu Town, while those searching for beach life might like to head to one of the nearby holiday resorts in Corfu for their sand, sea, and sunshine fix.
As the island is only about 40 miles long, you're never too far from what you want – if you wish to uncover Corfu's quiet areas for relaxation or the best towns for families, young singles, or the best towns in Corfu for families, young singles, or couples.
Combining a couple of areas might even suit you best. You could, for example, stay over in Corfu Town before heading to the north, east, or west coast for a few nights of seaside relaxation or exploration.
Best Place For Large Resorts
On the northern coast of Corfu, you'll find some larger resorts like Sidari and Kassiopi. Heading down the west coast, Paleokastritsa is located just below where the island narrows, while Agios Gordios is further south.
Western Corfu – Agios Gordios
Agios Gordios lies to the south of Paleokastritsa on Corfu's west coast. This scenic spot has it all – a breathtaking countryside setting, great shopping, lively beaches, and a range of eateries and bars. The golden sandy beach is one of the island's best and also has dedicated naturist areas.
Northern Corfu – Kassiopi
The resort of Kassiopi in north-eastern Corfu benefits from the fact that it is not overdeveloped – despite being the largest village in this part of the Greek island. It has a selection of pebble beaches, and plenty of shops, cafes, and restaurants are dotted around the resort. The remnants of a Byzantine castle tower over the coastline, and visitors can see local fishermen bringing in the catch of the day. Late-night bars satisfy the night owls too.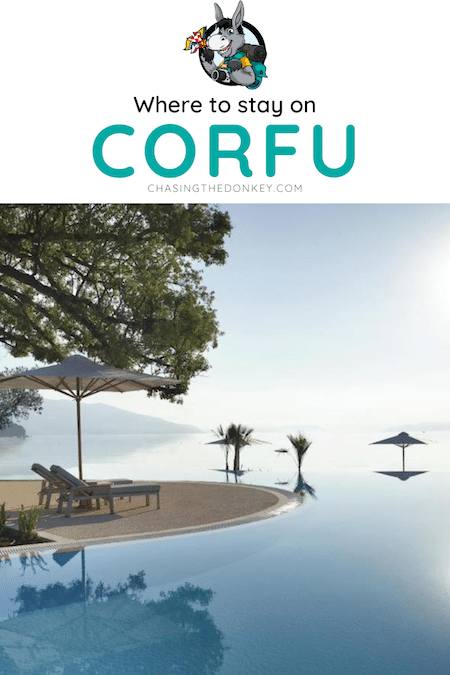 TRAVEL COMPANIES WE USE AND TRUST
The Best Area To Stay On Corfu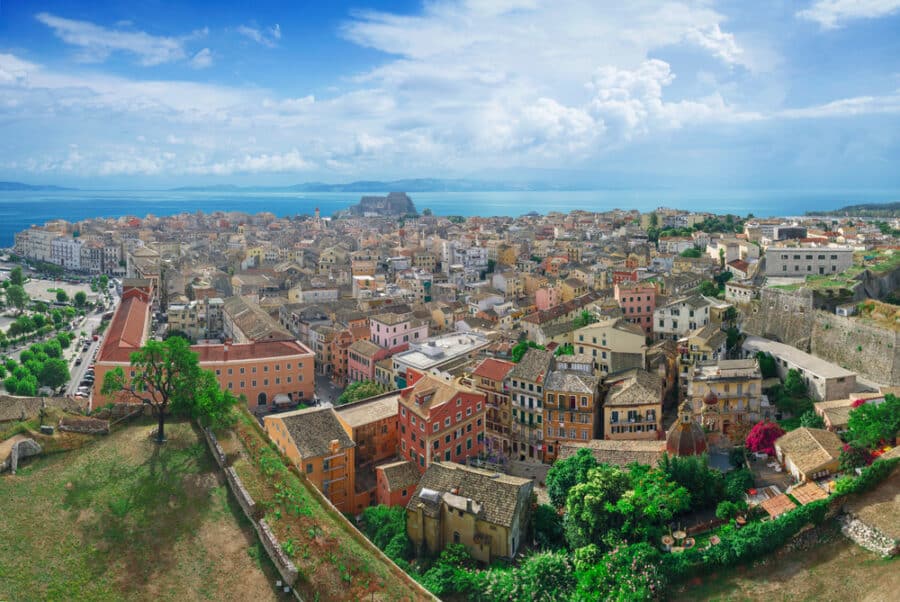 Corfu Town – Corfu Town Hotels
When on the island, visiting Corfu Town is a must, so why not make it your base for a night or a few? Highlights include the Old Fortress, with its scenic location overlooking the Adriatic Sea. The Venetians built it during the 1300s before being added to later by the British. Look out for the church of St George, the Tower of the Sea, twin-winged lions, and the barracks.
Wandering the twisting streets is a highlight of Corfu Town. Lined with cafes, independent boutiques, and tavernas, points of interest in the island's capital include Spianada Square, the biggest in Greece, and Liston Arcade right by this.
The old Jewish quarter is a great place to find a hidden gem of a traditional Greek taverna, while the Campiello neighborhood buzzes with local life. If sophisticated bars and restaurants are a must, then try around Skaramanga Square or the areas close to the coast and Old Fortress.
Map Of Corfu Hotels
The Best Place To Stay In Corfu Town
Puppet Guesthouse – Best Budget Stay In Corfu Town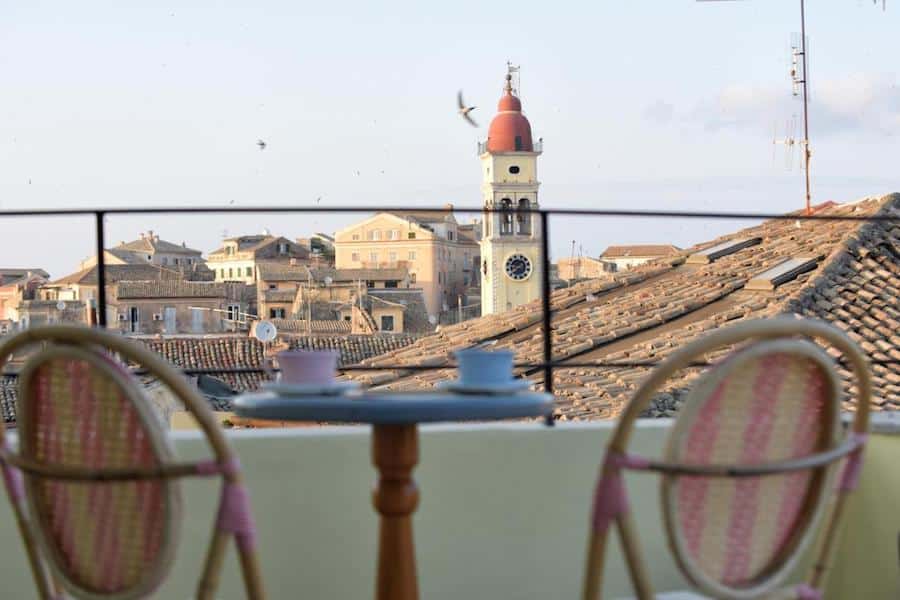 Past guests really do love Puppet Guesthouse. The well-located property has a range of rooms sleeping two to three in a central part of Corfu Town. Each air-conditioned room has an en-suite bathroom with toiletries and a hairdryer, and the guesthouse offers a bar, terrace, and free WiFi. An à la carte breakfast is available every morning. The Serbian Museum, Municipal Gallery, and Museum of Ceramic Art are near the Puppet guesthouse.
Click here for more information and the latest prices.
.
Casa Verde Apartments – Best Apartments In Corfu Town
The location of these stylish, spotless apartments could not be bettered. Whether your ideal holiday is seeing the best of Corfu for couples, a solo traveler, or a family or small group, every apartment has a large double bed. Many also have an additional sofa bed. All units have free WiFi, flatscreen TV, a kitchenette, a lounge with cozy sofas, and a private bathroom. There are sweeping views over the city from the building, and it is positioned close to the New Fortress – plus the Asian Art and Byzantine Museums.
Click here for more information and the latest prices.
.
Best Place To Stay On Corfu – Perama
Empress Corfu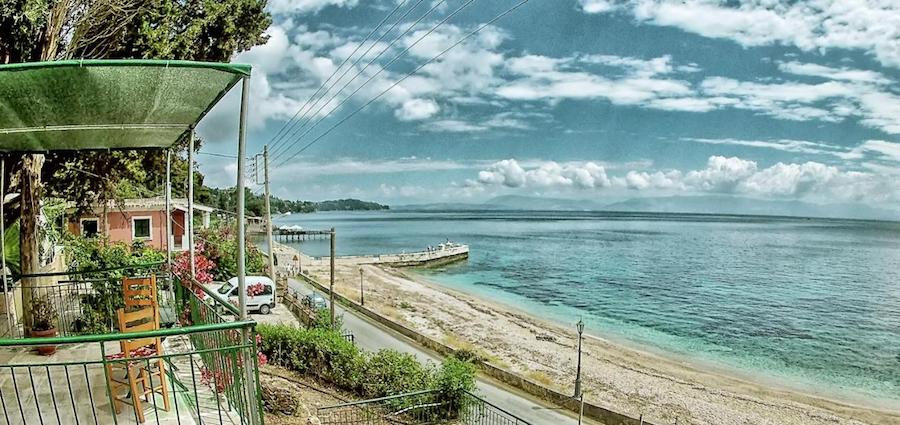 The Empress is one of Perama's most popular hotels in Corfu – not least because it's just 15 meters from the main beach. It is also within easy reach of the shops and restaurants of this peaceful resort. With free WiFi, beautiful gardens, and sea views, rooms at the Empress can sleep two to three. All units have air-conditioning, a TV, a kitchen, and a private bathroom.
Click here for more information and the latest prices.
.
Best Place To Stay On Corfu – Dassia
Ikos Dassia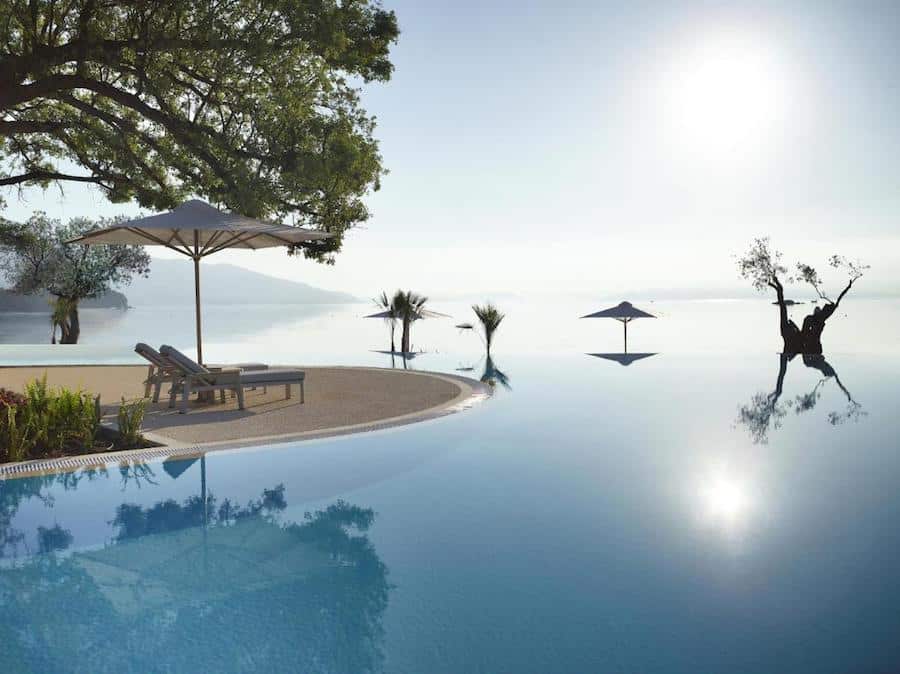 Are you looking for five-star hotels in Corfu? You won't find it better than Ikos Dassia. This world-class resort complex has seven swimming pools, a hot tub, and a 400-meter beach. There are elegant rooms, landscaped gardens, and an open-air cinema. Other fitness and wellness facilities include a spa, tennis courts, and gyms. Meanwhile, a children's playground and kids' club caters to families. For a truly indulgent and memorable holiday, Ikos Dassia also has six restaurants and even its own team of mixologists.
Click here for more information and the latest prices.
.
Best Place To Stay On Corfu – Kontokali
Egli Apartments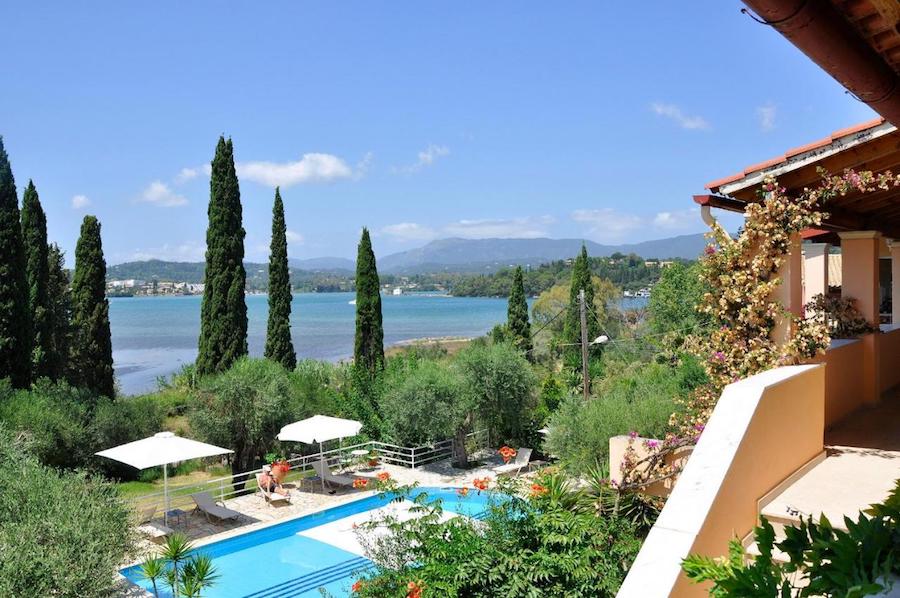 This air-conditioned complex is an exceptional choice as it offers sea views, free WiFi, private parking, and an outdoor pool. Many units have their own balcony or terrace, and all are equipped with clean towels, a TV, a coffee machine, an oven, and a kettle. Apartments sleep between two and four guests, so it's ideal for families and couples alike. The serene location with lots of greenery is a huge plus.
Click here for more information and the latest prices.
.
Best Place To Stay On Corfu – Paleokastritsa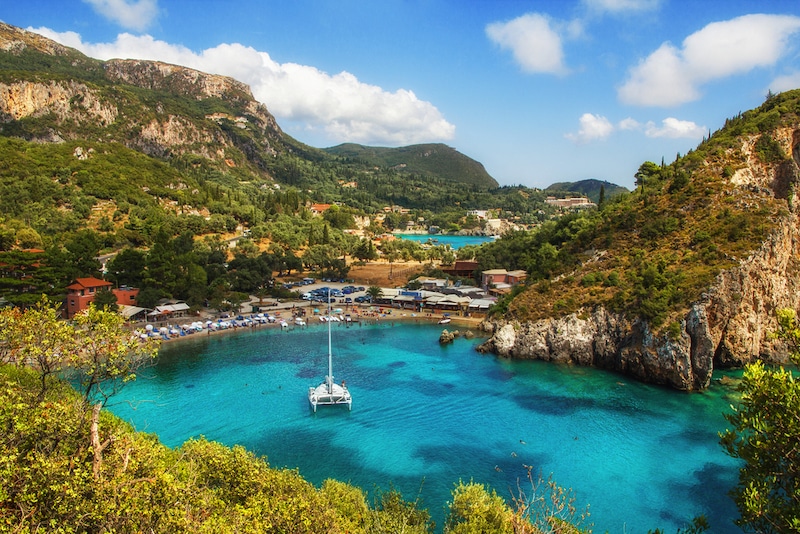 Miltos Studios
The mid-range Miltos studios really pack it all in – for a modest price. Loved by couples, in particular, the self-catering accommodation is under 200 meters from the beautiful beach, and guests enjoy views over the Ionian Sea. All studios have air conditioning, TV, kitchenette, dining area, and private bathroom. As well as the beach, a mini-market, a cafe bar, and a restaurant are nearby. The pretty garden has a sun terrace, and private car parking is available at the property.
Click here for more information and the latest prices.
.
Best Place To Stay On Corfu – Agios Gordios
Kostas Beach Apartments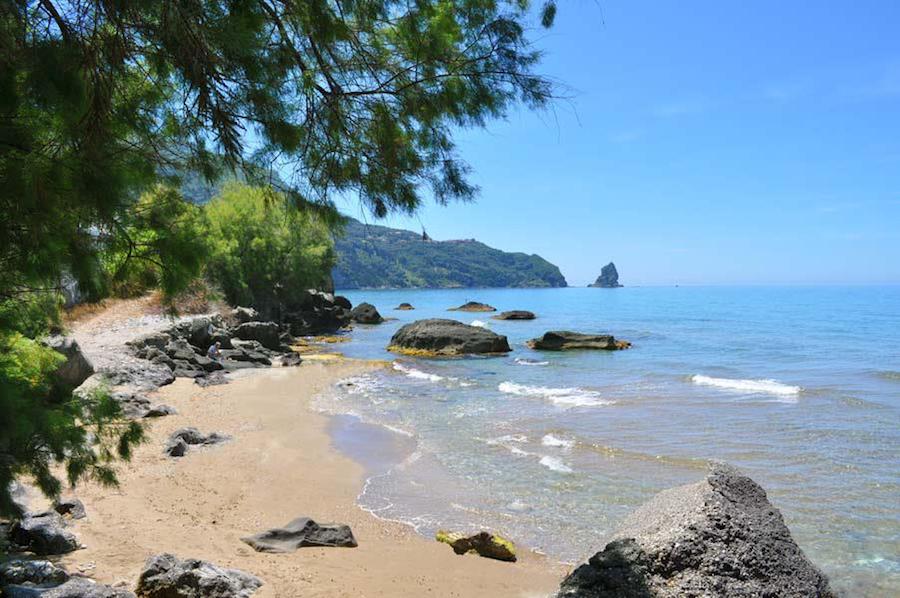 Stay on the beachfront in Agios Gordios at the Kostas Beach Apartments. This highly-rated accommodation even offers barbecue facilities, so guests can enjoy cooking the best feast under the Greek sun. A range of apartments can sleep up to six people, and all accommodation is air-conditioned. There is also free WiFi throughout, and each unit has a kitchen with a hob and oven, flatscreen TV, and all linens provided.
Click here for more information and the latest prices.
.
Best Place To Stay On Corfu – Kassiopi
Artheo Hotel
Less than 100 meters from Kalamionas Beach is the Artheo Hotel, offering a range of light-filled rooms for families, small groups, couples, and solo travelers. Some can sleep up to five guests. The aparthotel offers free WiFi, a bar, a lounge, and a sun terrace. Rooms have balconies, kitchenettes, dining areas, flat-screen cable TV, and a private bathroom. A continental breakfast is served each day. This four-star property near the beach makes an excellent base for enjoying all that Corfu offers.
Click here for more information and the latest prices.
.
Best Place To Stay On Corfu – Sidari
Othonas Apartments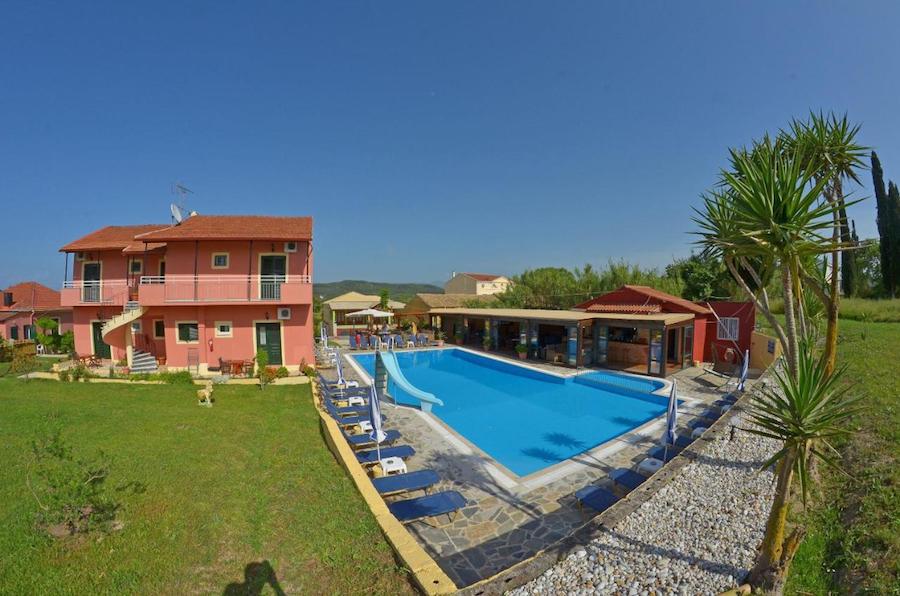 The Othonas apartments have palm and flower-filled gardens, a swimming pool, and a bar just a five-minute walk from Sidari Beach. Cooked and continental breakfasts are served every morning, and all self-catering units have either a patio or balcony. Central Sidari is also a five-minute walk, with a supermarket just meters away. The snack bar at the complex serves light meals and coffee, juices, and even cocktails.
Click here for more information and the latest prices.
.
Best Place To Stay On Corfu – Kavos
Thalassa apartments
Previous guests rate the Thalassa studios and apartments as 'exceptional.' A range of self-catering accommodation all comes with air-conditioning and WiFi in all areas. Positioned around a pretty garden, this property has fabulous sea views, and the beach is just a few meters away. All apartments are light, bright, and equipped with a microwave, hob, dining area, and shower room. The garden and terrace areas are perfect for relaxing, and there is even private parking at the property for those with a hire car.
Click here for more information and the latest prices.
.
Where Will You Stay In Corfu?
Now, it's over to you. With the wide range of Corfu resorts, hotels, and apartments detailed above, where will you choose to lay your head on this gorgeous Greek island?