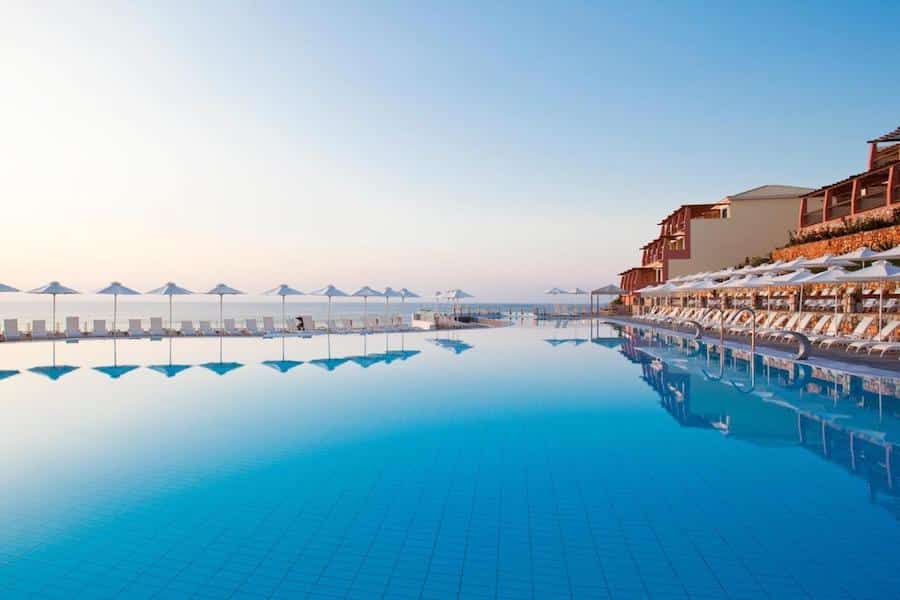 The biggest island in the Ionian Sea, Kefalonia, is one amazing Greek holiday destination with beautiful deep blue water beaches. Less popular than other destinations in the area, the island features a mountainous but lush landscape with significant natural green areas that you can explore without the crowds.
Kefalonia enjoys mild Mediterranean weather, and it has slowly become a favorite holiday resort among Europeans. The island is an excellent place for windsurfing and yachting and ideal for travelers into local tastes. Additionally, the island has an excellent cuisine and some fantastic vineyards, too.
There is also a protected national park on the island with horses and eagles as the main inhabitants.
One of the most popular spots on the island is the amazing Melissani Cave, which has been featured in hundreds of Instagram pictures in recent years.
So, if you're planning to visit Kefalonia, you'll probably trying to figure out where to stay on Kefalonia. Below, we've compiled a list of the best places to stay in Kefalonia, from budget hotels in Kefalonia to boutique stays and luxury resorts.
Best Area To Stay In Kefalonia
Before we check out all Kefalonia places to stay, let's start by taking a look at the main characteristics of the different areas of the island. This will help you decide which is the best part of Kefalonia for your specific Greek island holiday.
KEFALONIA REGION GUIDE
Northern Region
The island of Kefalonia features a magnificent northern area, with imposing high cliffs and sea views. In the area, the picturesque town of Fiskardo is one of the must-visit spots on Kefalonia.
Eastern Region
East on Kefalonia, you will find Poros, the main port from where boats to mainland Greece depart. Here, you should not miss Antisamos Beach and the famous Kefalonia caves. This is the best location to stay in Kefalonia for transportation links, both to other places in Greece and on the island itself.
Southern Region
Head south instead to discover pretty and safe sandy beaches and choose a village-like Skala to book your accommodation.
Western Region
Book a place to stay on the western coast for a more traditional feel and quiet atmosphere. Also, in this area, beaches are simply stunning.
Where To Stay In Kefalonia – Best Hotels In Kefalonia
Let's now see in detail where to stay in Kefalonia for your next vacation. Below we have covered all of the best hotels in Kefalonia, Greece, as well as some budget accommodation options.
Kefalonia Hotels Map
Where To Stay In Argostoli
Kefalonia's capital is Argostoli, a pretty port town relatively modern and tranquil. It features a picturesque seaside promenade with excellent restaurants and traditional Greek tavernas opposite Koutavos Lagoon. This is easily one of the best places to visit in Kefalonia, as well as an undeniably nice place to stay on the island.
Budget Accommodation In Argostoli
Europe Hotel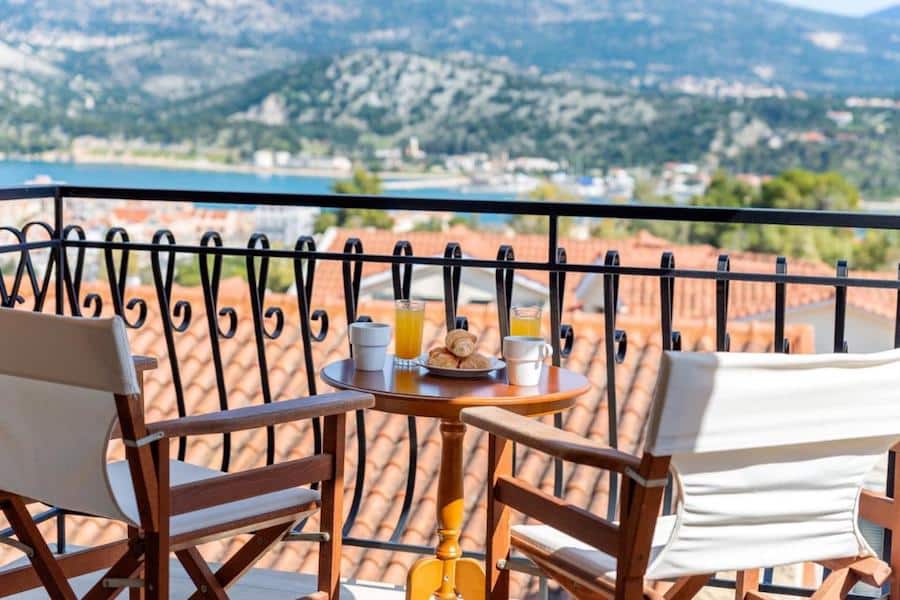 This place is about 400 m from the port of Argostoli. It's surrounded by a garden with stone-paved alleys, within 200 m from restaurants, bars, and shops.
It offers self-catering accommodation with free WiFi and a balcony overlooking the Ionian Sea and the town. A seasonal bar is available on site. The studios have a kitchenette with a dining area, fridge, and electric oven.
Tourist Boutique Hotel
This excellent 3-star hotel is a great option for family travel in Kefalonia. The seaside property features air-conditioned and soundproofed rooms with views of the sea and Argostoli pebble beach, where Caretta Caretta sea turtles return yearly to nest.
There's also a great restaurant that serves Greek cuisine. The bright and airy rooms of the Tourist Hotel are fitted with modern furnishings.
Finally, guests love the awarded buffet breakfast enriched with local ingredients, such as honey, homemade jams, cheese, and spoon sweets.
Ionian Plaza Hotel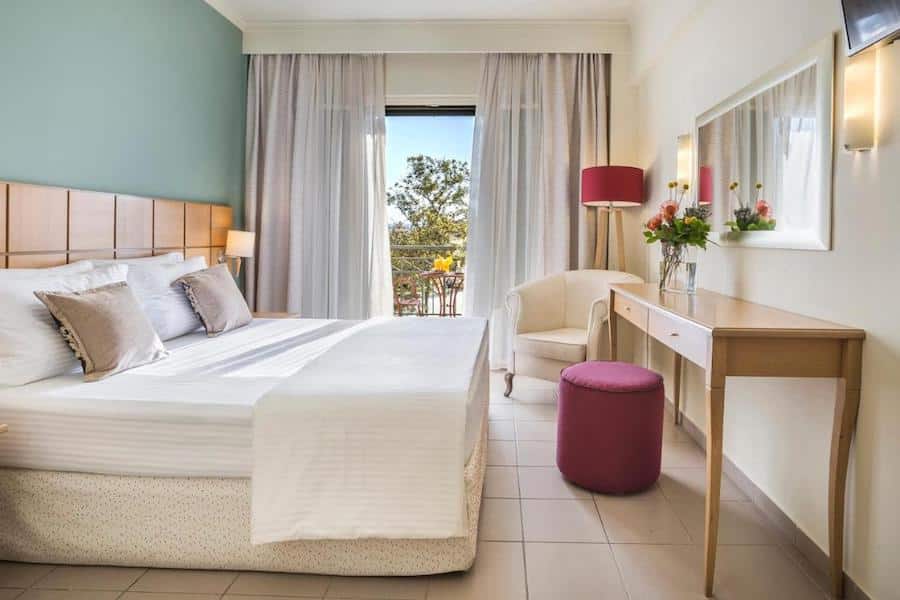 One more significant place in Argostoli, Ionian Plaza Hotel, features tastefully decorated rooms with cable LCD TV in the center of Argostoli. Rooms are decorated in earthy colors and have a relaxing atmosphere.
They are equipped with air conditioning and have a balcony enjoying views of the city. The hotel has an elegant lounge area and an outdoor seating space, where guests can enjoy a drink from the bar.
Mid-Range Accommodation In Argostoli
Aenos Hotel
Aenos Hotel is on the main square of Argostoli, and it features beautiful, modern rooms with smart TVs and comfy mattresses. Most rooms have a private balcony overlooking the main square and the port of Argostoli.
There's an onsite cafe and drinks, and snacks are served on the terrace. There is also a communal lounge appointed with elegant furnishings and a large TV.
Kefalonia Grand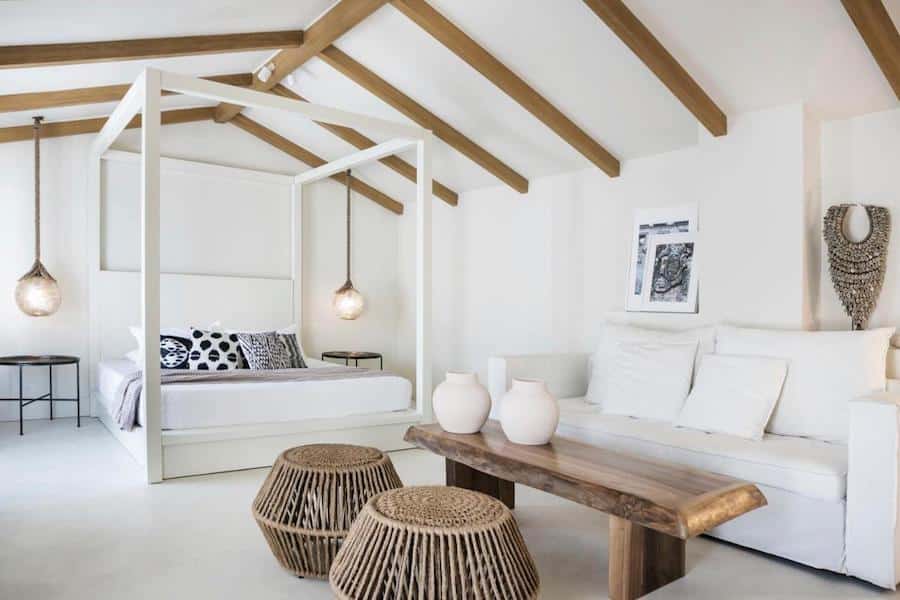 Right in the beachfront area of Argostoli, just 240 m from the central Vallianou Square, Kefalonia Grand features elegantly decorated rooms with modern furniture, a restaurant, and free WiFi.
Floors and bathrooms are made of forged cement, and some rooms feature a seating area. A flat-screen TV is provided, while rooms boast views of the sea, the garden or the city. The hotel also offers bike hire and car hire.
Luxury Accommodation In Argostoli – Luxury Hotels In Kefalonia
Alley Boutique Hotel and Spa – Kefalonia boutique hotels winner
This is a super upscale place to stay in Kefalonia that we thoroughly recommend! Alley Hotel Kefalonia enjoys a central location and offers six different types of elegant rooms and suites with a balcony overlooking the port.
Among the perks, guests can enjoy a handmade breakfast with various sweet and salty options, local cheeses, and several local, organic products.
The rooms feature tasteful furniture, wallpapers inspired by birds and nature, and Christian Lacroix and Mathew Williamson design items. Each room has a marble bathroom, while in-room amenities include an LCD TV and free WiFi.
Canale Hotel & Suites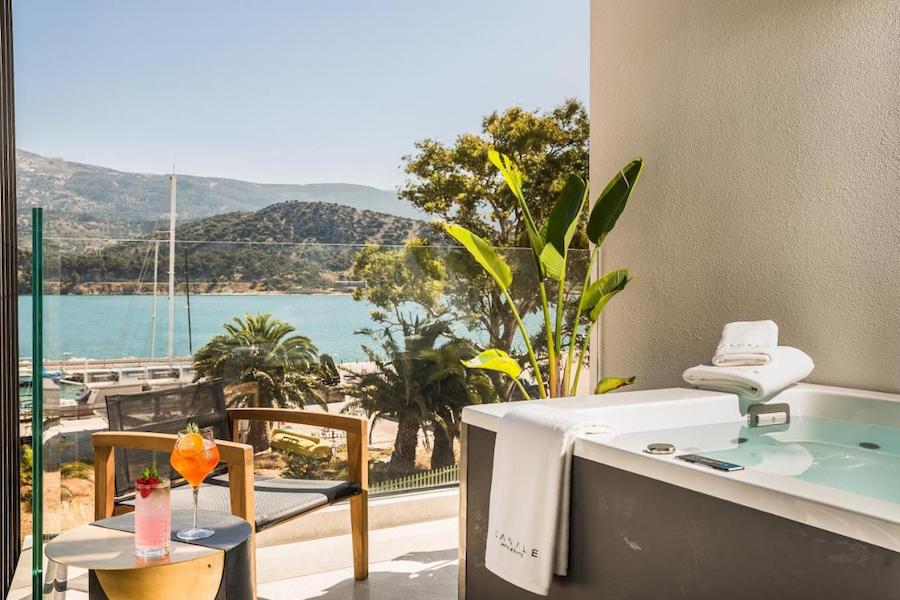 The property features an outdoor swimming pool, a bar, a shared lounge, and a garden. The 4-star hotel has sea views, free WiFi, a 24-hour front desk, room service, and currency exchange.
All units are equipped with air conditioning, a flat-screen TV with satellite channels, a kettle, a shower, a hairdryer, and a desk. Guests at Canale Hotel & Suites can enjoy a continental breakfast, a hot tub, and a sun terrace.
Ionian Emerald Resort
Any self-respecting Kefalonia resort guide should include the Ionian Emerald Resort. This is a fantastic property close to Argostoli, in the area of Karavomylos. Great for families and couples, the hotel has excellent spa and leisure facilities and a fully equipped business center.
This luxury beach hotel offers beautiful views of the Mediterranean Sea from its landscaped gardens.
Guests love the free transfers from Sami Port or Kefalonia Airport.
For children, there is a dedicated pool and playground.
Where To Stay In Assos
In the heart of North Kefalonia, this impressive little town has been featured in every possible postcard of the Ionian Sea.
The village's main feature is the 16th-century Venetian castle with hairpin roads and colorful houses and villas. There are a few small pebble beaches, and it's not really far from one of the best beaches on the island, Myrtos. So, if you're looking for the best place to stay in Kefalonia, we recommend taking a closer look at the Assos accommodation options below.
Best Accommodation In Assos
Romanza Studios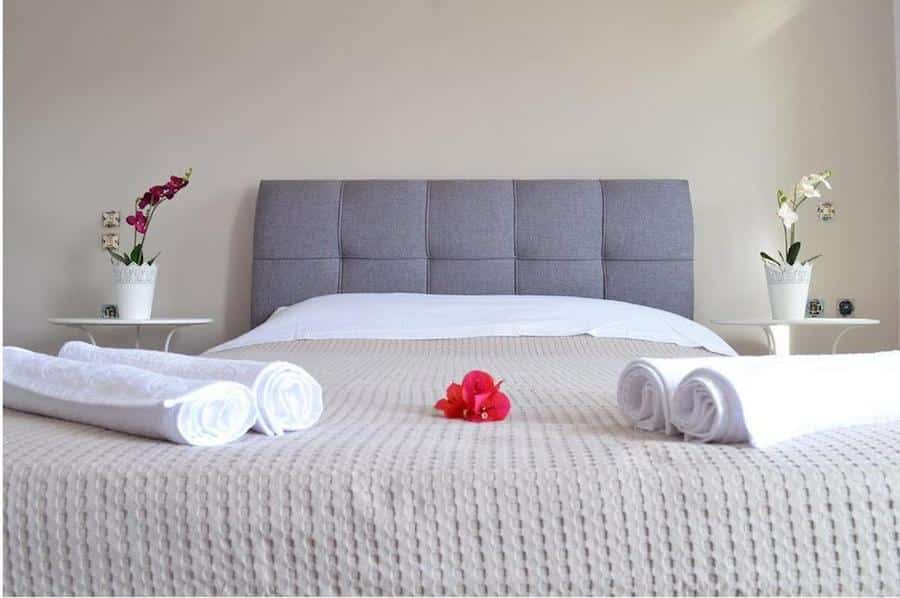 This budget place features the Ionian Sea views only 40 m from taverns and cafés in the scenic village of Assos. They offer air-conditioned units, some of which feature a furnished balcony. Rooms also offer free WiFi and a mini-fridge.
It's located about 20 km from the picturesque harbor of Fiskardo and 40 km from Argostoli. Free public parking is possible on site.
Ourania Studios
Only 2.5 km from Sami Beach, this mid-range hotel offers a garden with barbecue and self-catered studios with their own kitchenettes.
Balconies are furnished and offer views to the garden and some to the mountains and sea. Free private parking is available on site.
Vassilis Retreat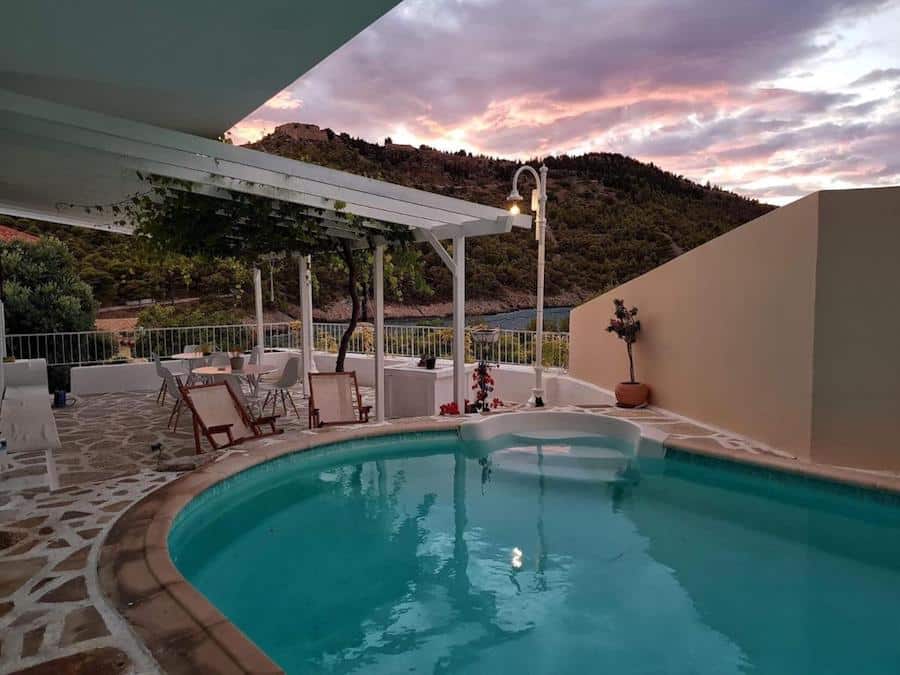 The family-run upscale hotel offers nine modern rooms and suites with elegantly decorated bathrooms facing the bay, the village, and the Venetian castle of Assos.
Vassilis Retreat also features a stunning sun terrace and a family atmosphere.
Where To Stay In Fiskardo
Top village resort in Kefalonia, this charming spot is a must-see when visiting the island. There are impressive mansions and villas in the area, which give a luxurious atmosphere to the place.
The excellent harbor of Fiskardo is a port of call for luxury yachts and sailing boats, giving a unique touch to the whole landscape.
In Fiskardo, you will find some of Kefalonia's priciest boutique hotels, boutiques, and restaurants. The nearby beaches of Fokis and Emplisi are the shores you need to discover if you're staying in the area.
Best Accommodation In Fiskardo
Emelisse Natural Resort
For a posh, luxurious, and upscale experience, check the stunning accommodation offered by Emelisse Natural Resort. Known as a hotel for peace and relaxation, it has an onsite spa and a beautiful fitness center.
Fiskardo Bay Hotel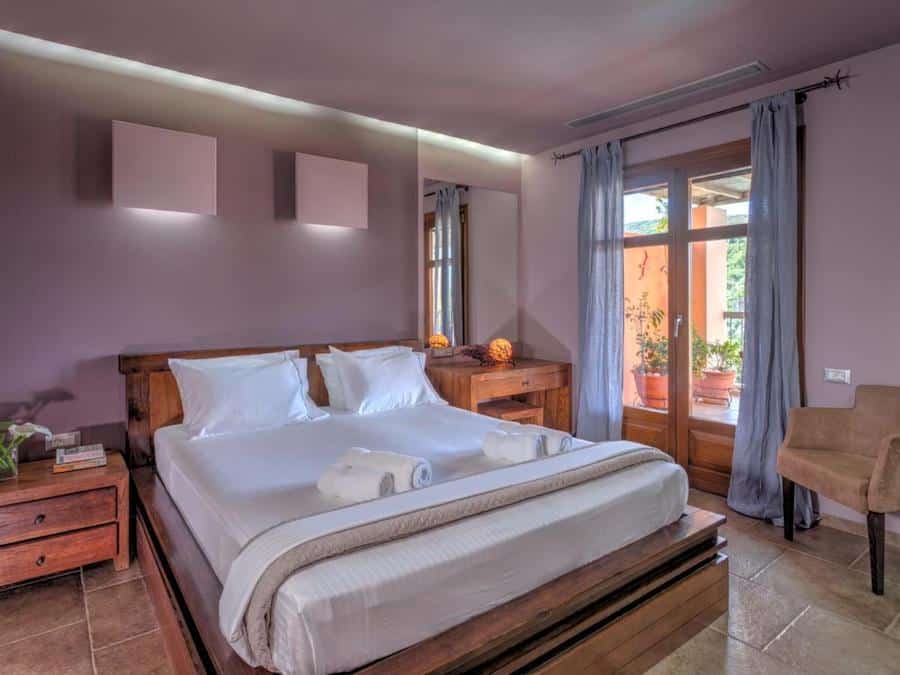 Another luxury place to stay in Fiskardo is Fiskardo Bay Hotel, only a short walk from the scenic Fiskardo waterfront with its taverns and shops. It offers a freshwater swimming pool, bar, and wooden sun deck with loungers. Foki Beach is within a 15-minute walk. Guests can enjoy a breakfast with Greek delicacies in the breakfast room or on the outside terrace.
Sea Front Fiskardo Rooms
For a more affordable place to stay in Fiskardo, Kefalonia, check the pretty Sea Front Fiskardo Rooms, with beautiful sea views, around 1.6 km from Kimilia Beach. It is set 700 m from the Port of Fiskardo, and the units feature a kitchenette, a seating area, a dining area, and a satellite flat-screen TV. Every day, guests can enjoy a tasty continental breakfast, as well as enjoy their bicycle rental service and a car rental service.
Where To Stay In Skala
One of Kefalonia's best beach resorts is Skala, a fantastic vacation area with exceptional sand beaches ideal for families with kids.
The area features a charming old and traditional village and a 3-km long sandy beach from where you can board one of the many boat tours that take you on a discovery adventure of the coastal area of Skala.
Best Accommodation In Skala
Summer Sun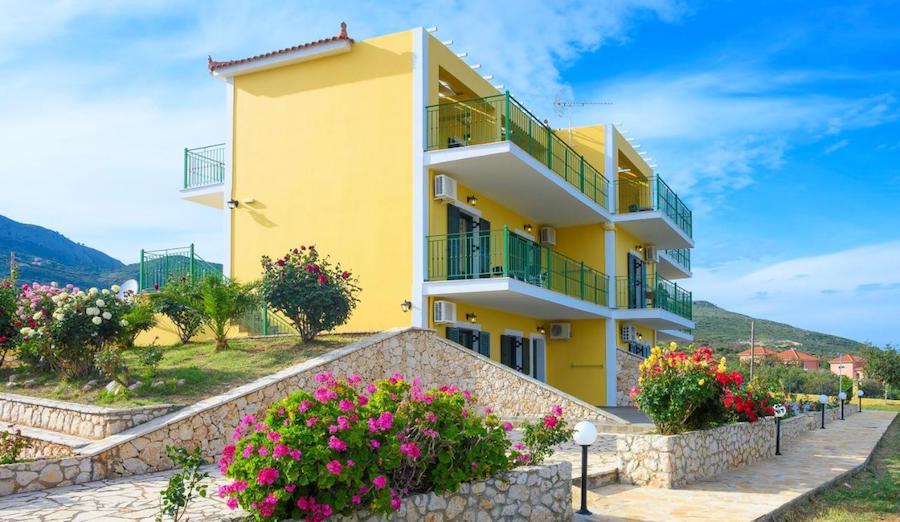 Summer Sun is a pretty budget family accommodation in Skala. The place is only 150 m away from the beachfront, and it offers air-conditioned rooms with spacious balconies and terraces and panoramic views of the Ionian Sea. All guest rooms include a kitchenette.
The property has easy access to a sandy beach just in front of the hotel, and free private parking is possible on site.
Dionysis Villas
Looking for a budget place to stay in Skala? Then check Dionysis Villas, which provides accommodation with a garden, a tennis court, barbecue facilities, and a terrace 800 m from Loutraki Beach. There's also a car rental service available at the villa.
Apostolata Island Resort And Spa – best resort in Kefalonia for couples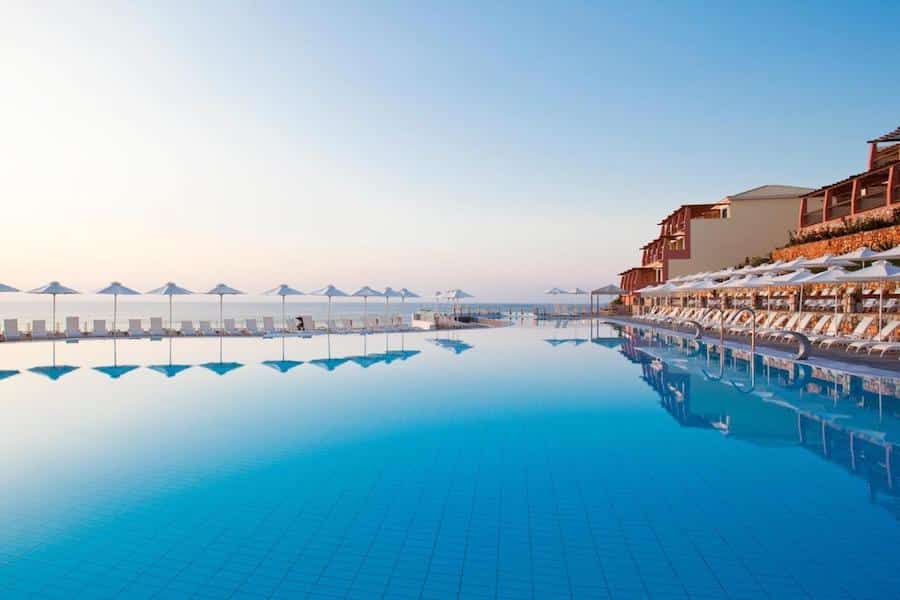 If you're looking for a mid-range place to stay in Skala, then check Apostolata Island Resort and Spa. This stunning and yet affordable accommodation is situated on a hillside sloping gently to the Mediterranean Sea. The hotel provides a complimentary bus service to Poros and Skala.
Apostolata offers rooms with views of the inland or the sea, equipped with a satellite TV, heating, and air-conditioning. There is also an outdoor swimming pool with sunbeds and shades available at the pool area. Guests love the open-air dining at the seasonal Zephyros Restaurant and the Almyra Restaurant, with panoramic views and an extensive menu.
This superb accommodation will be of interest to anyone looking for the best resort in Kefalonia for couples.
Captain's House
More modest but still pretty, Captain's House is a fantastic mid-range place to stay in Skala. This family-run place is situated in the center of Skala, only 50 m from one of Kefalonia's most beautiful beaches.
The place features 28 neatly decorated guest rooms with balconies offering lovely panoramic views. Breakfast is included in the price of the room and is served each morning on the veranda. There is also a bar at the guest house.
Artemon New Luxury Villa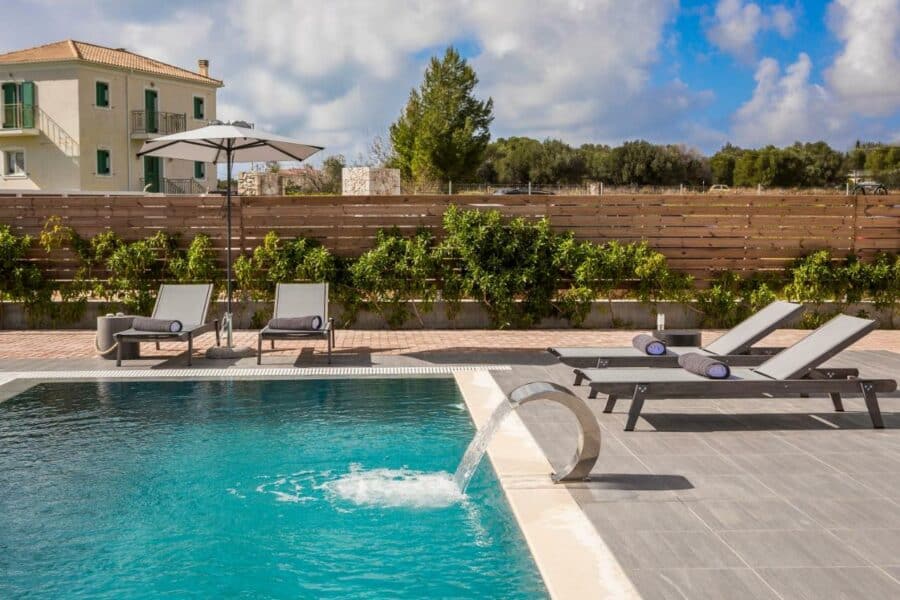 For a luxury place to stay in Skala, check Artemon New Luxury Villa, boasting a seasonal outdoor swimming pool and a balcony, along with being located only 600 m from Loutraki Beach. This villa has a private pool, a garden, barbecue facilities, free WiFi, and free private parking.
This villa features two bedrooms, a kitchen with a dishwasher and a microwave, a flat-screen TV, a seating area, and three bathrooms fitted with a shower. The villa also offers a sun terrace.
Where To Stay In Lassi
This fantastic seaside resort is one of Kefalonia's favorites for holidaymakers.
An ideal spot for sunsets and relaxation, Lassi is probably the best resort on the island for sandy beaches such as Kalamia, Gradakia, and Tourkopodaro.
Best Accommodation In Lassi
Stefanos Studios
If you're traveling with a more restricted budget, then Stefanos Studios is the place you are looking for. It offers an outdoor pool and a snack bar. All rooms are self-catered and boast sea, garden, and mountain views.
Opening to a furnished balcony or terrace, all air-conditioned apartments of Stefanos come with a separate bedroom and a kitchenette with a dining table and mini oven.
Guests may enjoy light meals, local products, and refreshing beverages at the snack bar. Drinks are served at the bar, while BBQ facilities are provided at the property. A restaurant and a mini market for the general supplies can be found 50 m away.
Mediterrane Beach is 250 m away, and the scenic town of Argostoli, with the island's port, is at a distance of approximately 1 km.
Thalassa Boutique Hotel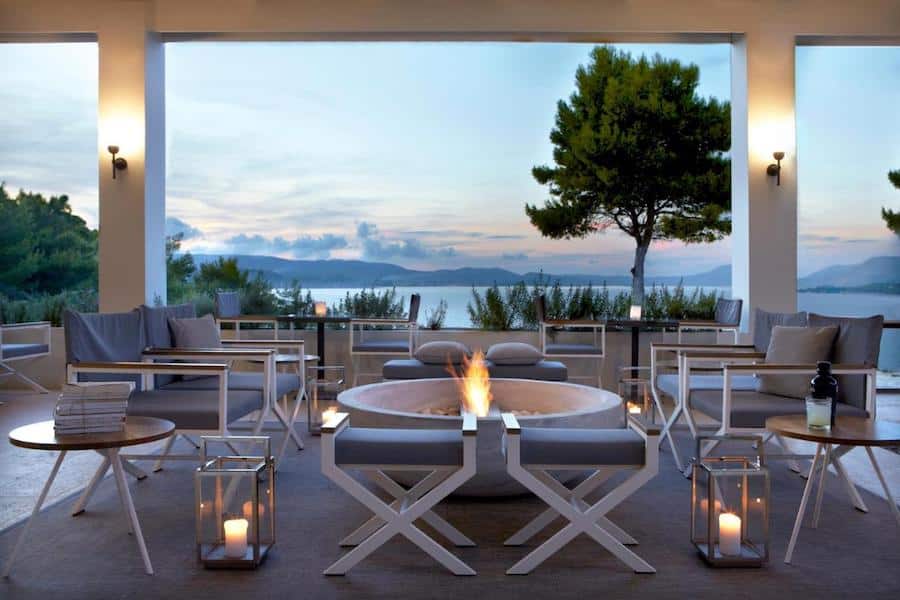 Thalassa Boutique Hotel is a luxury resort in Lassi, Kefalonia. It is situated 250 m from the sandy beach of Makris Gialos and features a lovely swimming pool and rooms boasting beautiful views over the Ionian Sea from their balconies.
The swimming area is surrounded by a lush garden and features a sun terrace with umbrellas and comfortable sun loungers. The more active guests can visit Thalassa's fully equipped fitness room for an active holiday experience.
Other Villages To Stay In Kefalonia
If you still have not found the best place to stay in Kefalonia for you, perhaps one of these villages in Kefalibia would suit you:
Lixouri
Lixouri is a reasonably large fishing village on the island that features quiet sandy beaches, including Megas Lakkos and Paliki, an orange sand beach with incredibly healthy mud where people come to have self-made spa treatments! The best way to reach the area is by boarding a boat from Argostoli.
Sami
Sami is the former capital of the Kefalonia, and it is famous since the area was featured in the well-known film Captain Corelli's Mandolin.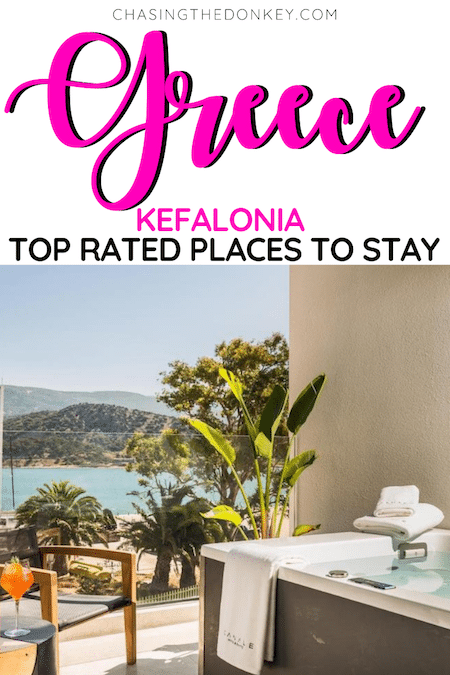 Sami is the place to stay if you are interested in discovering the cave systems of Drogarati and Melissani, one of the most popular attractions on Kefalonia. If a trip to nearby islands is in your plans, then this is the place to be to visit Ithaca Island.
Agia Efimia
Agia Efimia is another fishing village with a picturesque seaside promenade dotted with traditional tavernas and cafeterias. One of the popular spots in Agia Efimia is the small marina where tourists and locals alike enjoy pleasant walks after the sunset.
We hope that you have found our Kefalonia best hotel guide useful.
Chasing the Donkey - Balkan travel blog includes affiliate links. If you decide to make a purchase through these links, we receive a commission without any additional cost to you. We appreciate your support helping to keep this site free. Find our disclaimer & privacy policy here.