Which Greek island are you thinking of heading to this summer? The fact you've landed on this feature says that you're torn between two beautiful Ionian islands. It's not a bad decision to have to make!
If you're unsure whether to visit Corfu or Kefalonia, the good news is that no matter which one you choose, you'll have a fantastic time and see the beauty all around you. There isn't really a wrong answer here. However, the more suitable choice for you depends on what type of holiday you're looking for.
Corfu and Kefalonia islands have international airports linking them with major European cities, and many low-cost airlines serve both islands during the peak summer months. You can also use ferries from the mainland and domestic flights too.
So, let's pit Corfu vs. Kefalonia to determine which island is best for you.
Corfu Vs. Kefalonia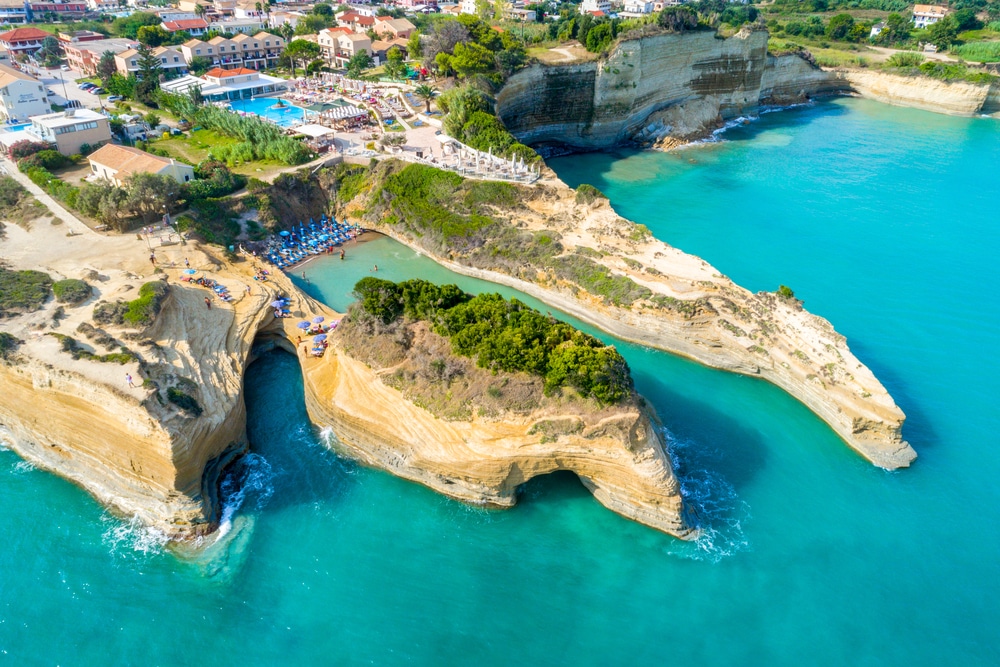 Corfu is the second-largest Ionian island and an extremely popular choice. This spot suits everyone; you'll find resorts catering to families, party people, couples, and groups. Of course, it goes without saying that Corfu is also extremely beautiful and has plenty of things to see and do.
The island's capital is Corfu Town, which offers a little bit of everything and is a great choice when the weather is cooler, so you can explore. However, you've no doubt heard of Kavos. This is where people flock for serious partying; you won't be disappointed if that's what you're after!
Reasons To Visit Corfu
Here are a few points to consider when deciding between Corfu or Kefalonia:
Corfu's airport is slightly larger than Kefalonia, with more flights from European cities. You can also get ferries from Igoumenista on the mainland, and you will arrive in just one hour
Corfu's beaches are beautiful, and if you're visiting with children, the east coast beaches offer calm waters
Buses connect all major towns and resorts, although hiring a car will be a better choice. Be sure to visit Sidari, Loggas, and Agio Stefanos for the best beach towns
If natural beauty is what you're looking for, you'll be spoilt for choice on both islands, but Corfu has slightly higher rainfall outside of the summer months, so it is greener. It also has more lakes and rivers. You'll find many hiking and trekking routes
Corfu Town is the ideal spot for international visitors who want regular tourist facilities, including shops, restaurants, bars, and tattoo parlors
Corfu has more hotels to choose from than Kefalonia, which tends to have more upmarket boutique options only
Corfu's nightlife is fantastic, and Kavos is the jewel in the nightlife crown
In many ways, Corfu offers a holiday for everyone. Sidari is a regular beach town with facilities, Corfu Town has lots of history, dining, and shopping opportunities, Agios Gordios is the ideal family spot, and Kavos is the nightlife center
Reasons Not To Visit Corfu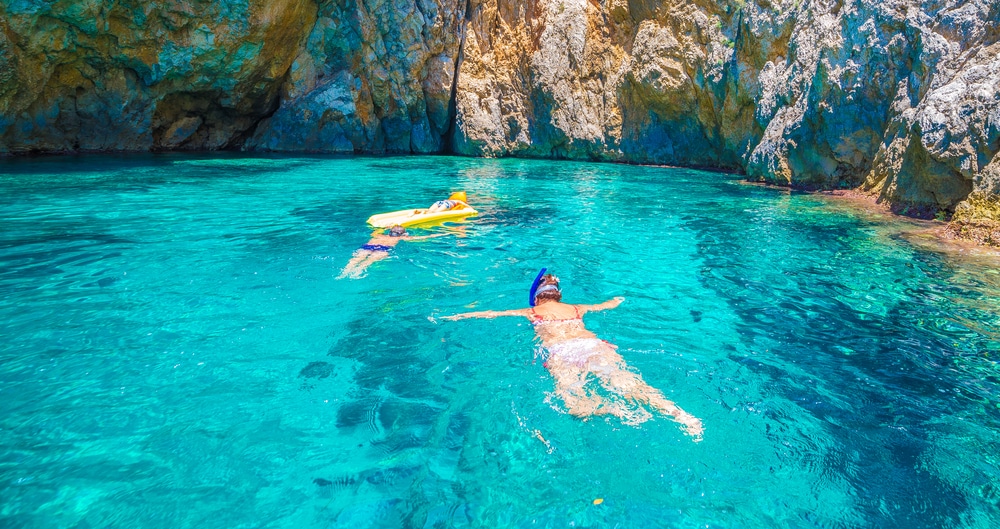 The sandy beaches on the west coast have choppier waters than the pebbly beaches on the east, which makes them not-so-ideal for families
If we're being picky, Corfu isn't quite as beautiful as Kefalonia
If you stay anywhere near Kavos, you won't get much sleep as it's very loud!
Corfu hasn't managed to retain a lot of its authentic and traditional charm inside the major resorts
TRAVEL COMPANIES WE USE AND TRUST
Kefalonia Vs. Corfu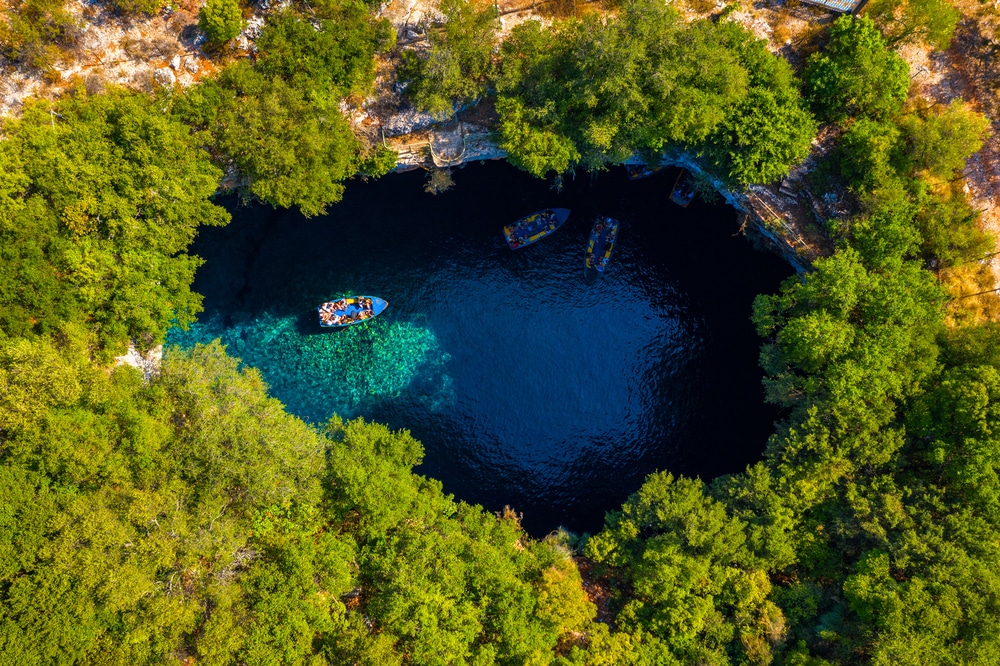 Kefalonia is the largest of the Ionian islands, and it's a truly beautiful place to visit with a more authentic feel than Corfu. While it is a touristic island, it has managed to retain a more traditional charm and a slower pace of life.
As with Corfu, you can expect wonderful weather during the summer months, and it's even pretty mild here during the winter. Kefalonia's landscapes are mountainous and breathtaking, making it a great choice for photography fans.
Reasons To Visit Kefalonia
Choosing between Kefalonia or Corfu is made easier with this info:
The beaches in Kefalonia are hands-out much more beautiful than those in Corfu. You can also find a huge range of different types, from secluded coves with no one in sight to large beaches with facilities
Antisamos is the famous beach where the movie Captain Corelli's Mandolin was filmed
Kefalonia is more mountainous than Corfu, offering many benefits, including the national park around Mount Ainos. The views from there are amazing
Kefalonia has many natural spots you can visit during your holiday, including Drogorati Cave, Melisanni Cave, Mount Ainos, and the Lighthouse of Saint Theodoroi
The chances of spotting a loggerhead turtle are pretty high on both of these islands, but Kefalonia is a nesting spot for these beautiful creatures
If you're looking for a more chilled-out holiday with plenty of facilities, Kefalonia is a good choice
The capital, Argostoli, offers something for everyone and is ideal all year round. Lassi is a good spot for couples who want to chill on the beach, Skala is a family resort with large hotels, and Fiskardo is a classier affair.
Reasons Not To Visit Kefalonia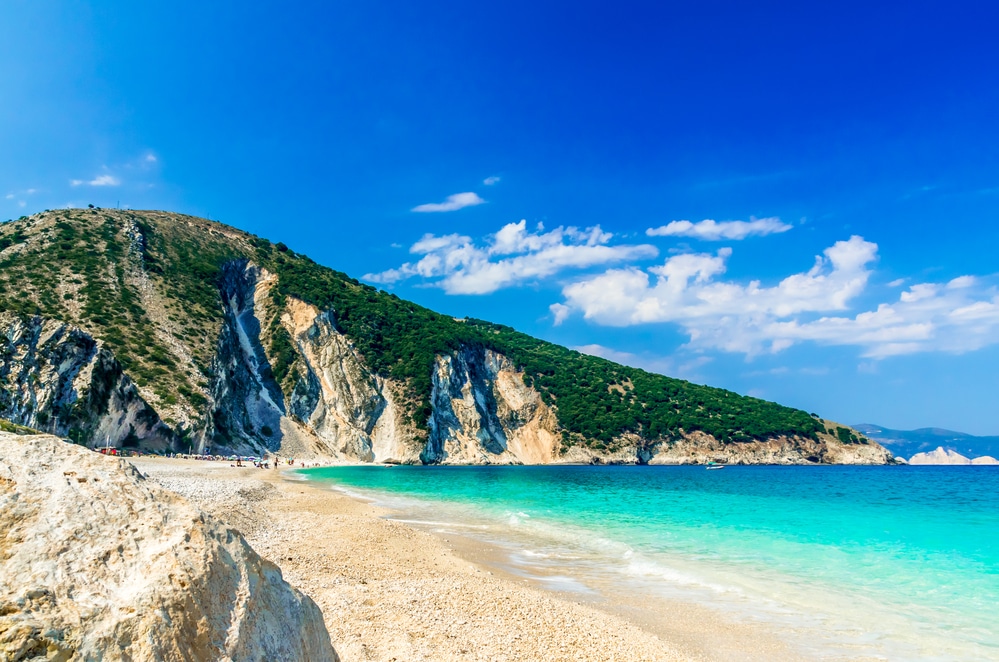 Although Kefalonia has an international airport, it offers fewer flights from European cities compared to Corfu
Nightlife in Kefalonia is much quieter, which may or may not be an issue for you. However, Argostoli offers a good amount of nightlife with clubs and bars
Kefalonia is a little more expensive than Corfu
Both Kefalonia and Corfu islands offer a fantastic base for a summer holiday. Regardless of which you choose, you'll be surrounded by total and utter beauty at every turn.
We hope our guide to weighing up Corfu and Kefalonia helped you decide if you will be heading to Kefalonia or Corfu this summer.