Privacy & disclaimers →
Guide To Corfu Island, Greece – The Emerald Eye Of The Ionian Sea
The history of Corfu is very long. Several foreign invaders have controlled it. Often mentioned in Greek mythology, Corfu later became a part of the Roman Empire and Byzantium. Lombards, Saracens, and Normans invaded it too, just like Sicily, Genoa, and Venice. In modern history, Corfu fell under British rule until it finally united with Greece in the 19th century.
How To Get To Corfu Island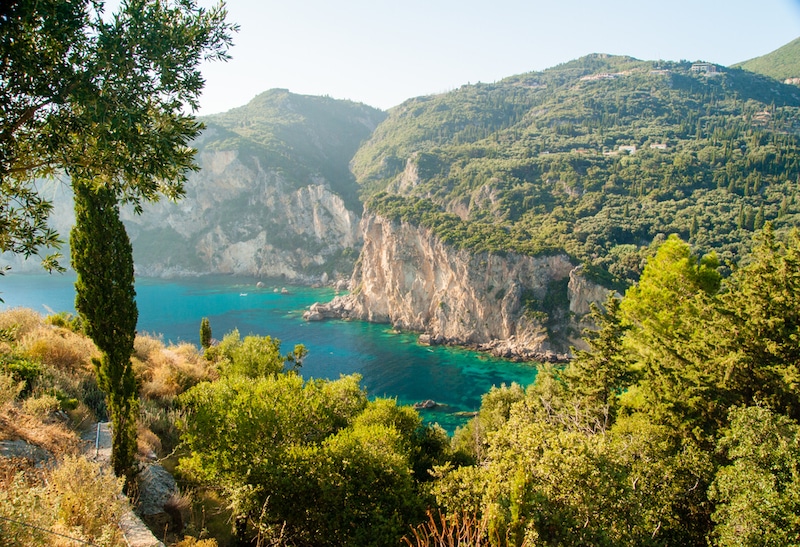 Flying: The fastest way to get to Corfu Island is by air. There are direct flights to the Corfu International Airport "Ioannis Kapodistrias" from most major cities in Europe and from the Greek cities of Athens, Thessaloniki, and Preveza
Fery: If you don't feel like flying, you can take a ferry that departs from Igoumenitsa daily or sail from the Italian ports of Venice, Bari, and Ancona
Holiday packages: During the summer, island hopping packages can also be an interesting way to visit Corfu
Bus or Car: Corfu's excellent bus service will help you explore the island at reasonable prices. If you like more flexibility, you can rent a car
What To Do & See On Corfu Island
Corfu Old Town, nestled between two forests, is an excellent starting point for exploring the island. The long green square of Esplanade, the elegant arcade of Liston, St Spiridon's Church, and narrow Venetian-looking streets bustling with life and energy are a real treat for traveling explorers.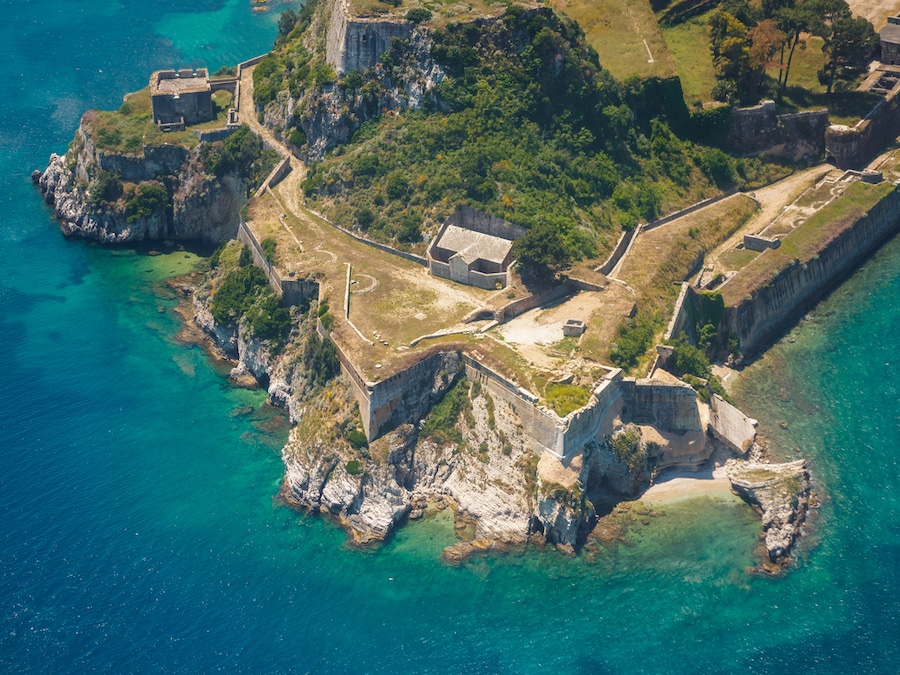 Achilleion, a piece of Vienna on this magnificent island, is perched on the top of the hill with breathtaking views of the sea to the east and lush greenery to the west, south, and east. Keeping the elegance of the Schonbrunn Palace, it was once the summer home of Elisabeth, Empress of Austria.
Three other must-see Corfu attractions are: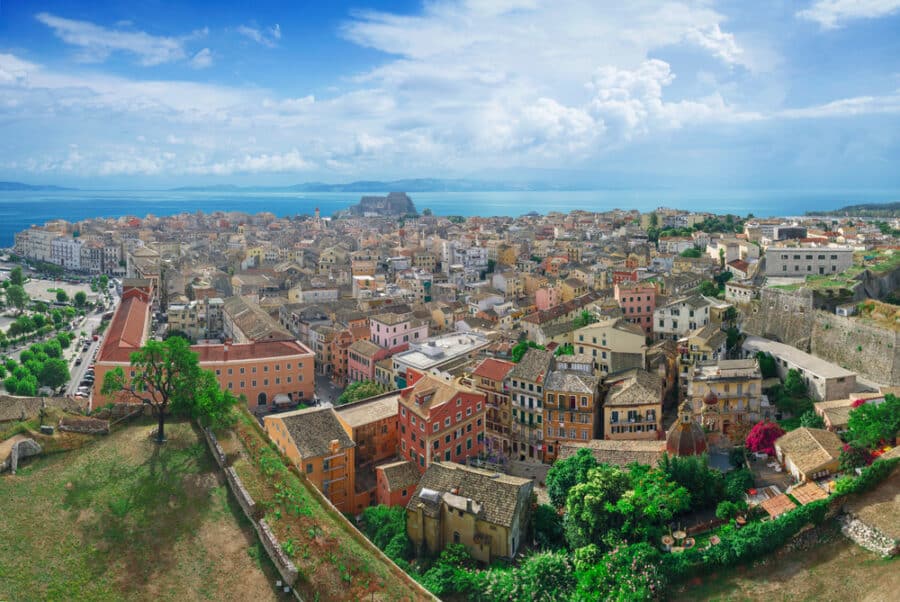 Mount Pantokrator is the highest peak in the north of Corfu
Paleokastritsa Monastery, which dates to the 13th century
Angelokastro is a castle from the 13th century built on a narrow rock 300 meters above the sea
PLAN AHEAD TO GET THE BEST DEALS
Corfu Island Beaches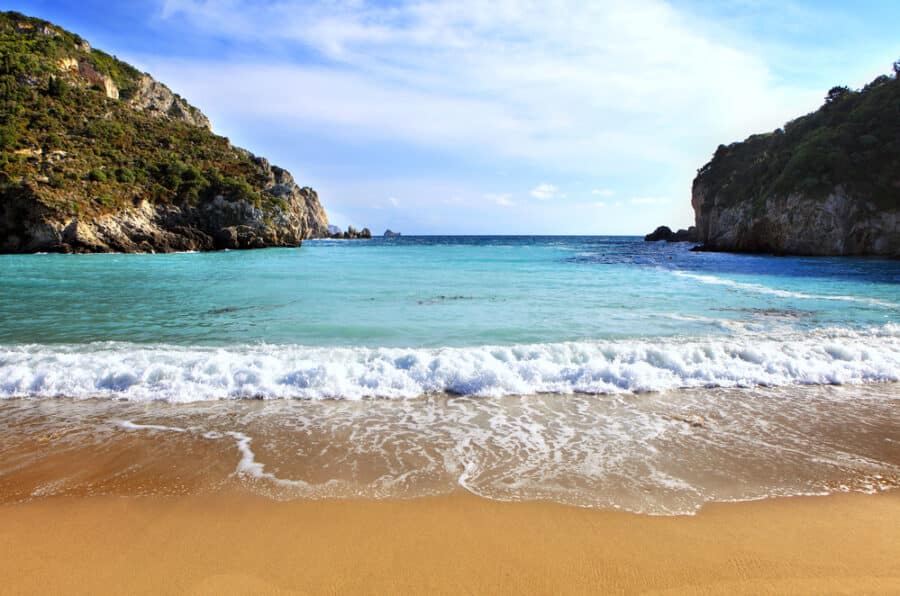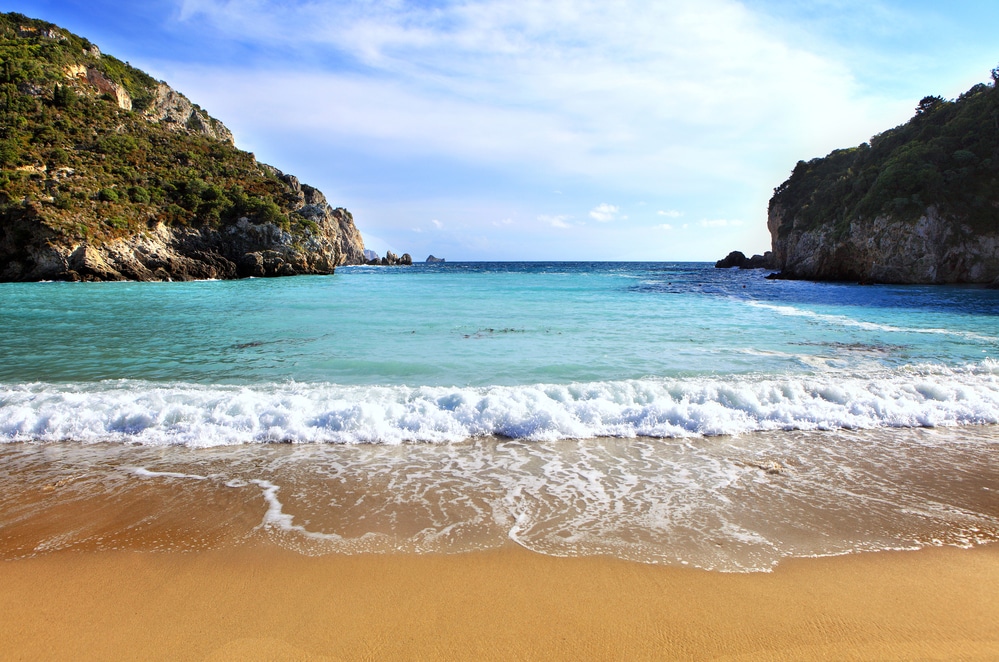 Beaches on the west and east of Corfu are somewhat different. Some tourists prefer the pebbled beaches on the west. On the contrary, the sandy beaches of the east are much calmer and safer for swimming. However, the island is relatively narrow, so it is easy to go from one side to the other and experience both.
Beaches on the west: Some of the best beaches on the west coast are Paleokastritsa Beach, Issos Beach, and Agios Georgios Pagon
Beaches in the north: In the north, they are Sidari and Kalami Beach
Beaches in the north: The east coast can boast of Ipsos Beach and Barbati Beach.
Beaches in the south: Agios Gordios Beach and Dassia Beach are splendid beaches on the side side of Corfu Island
Glyfada beach is only 16 km away from the town of Corfu
Corfu beaches are nestled amidst lush vegetation. Some are surrounded by vineyards, some by olive and cypress trees. In any case, they can all boast of brilliant turquoise water.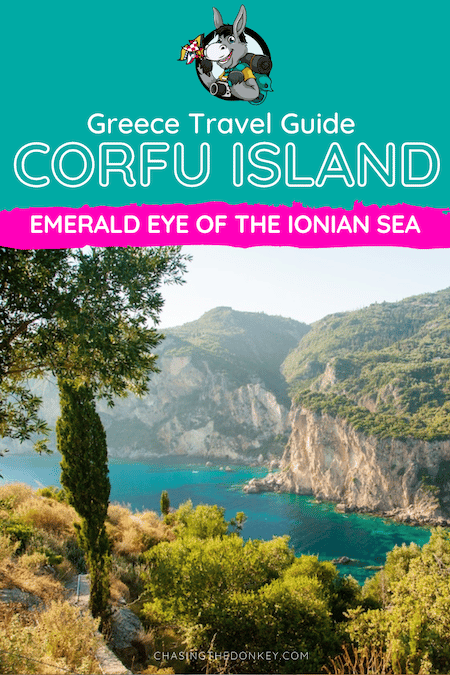 Where To Stay On Corfu Island
Corfu offers a wide range of accommodations, from luxury resorts and villas to budget hotels for tourists who need modest but clean and comfortable accommodations. Here are just three places you can start your Corfu accommodation search:
Luxury Accommodation – MarBella Corfu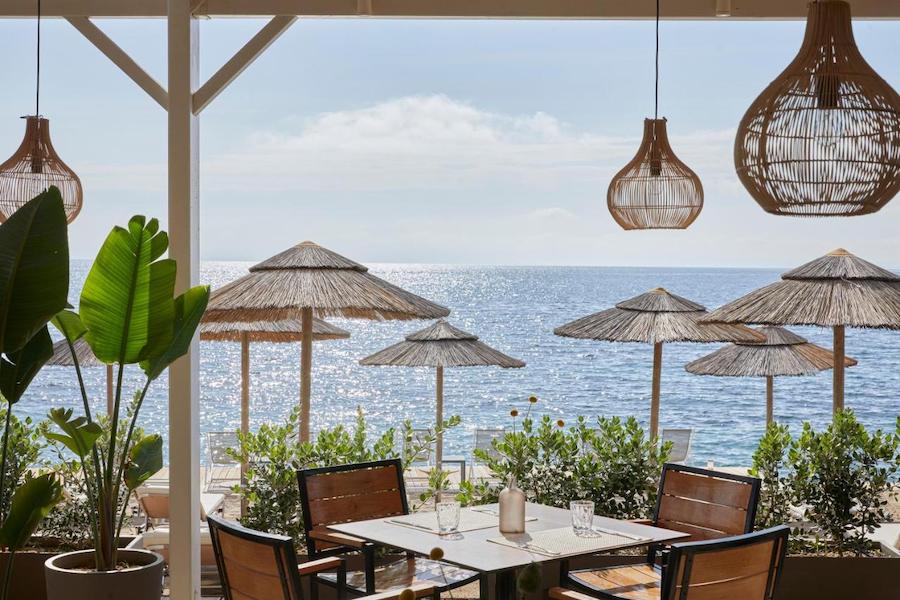 Being among the Top 10 Resorts in Greece, MarBella Corfu in Agios Ioannis Peristeron can undoubtedly boast world-class service. It is a superb accommodation with three pools, a spa center, a bar, and plenty of restaurants serving Mediterranean and Greek cuisine. You can enjoy magnificent views of the Ionian Sea and the lavish gardens from your suite or room. Massage, body treatments, a sauna, a hammam, and a fitness room will pamper you. The pebbled beach will spoil you on the free sun beds with umbrellas and towels.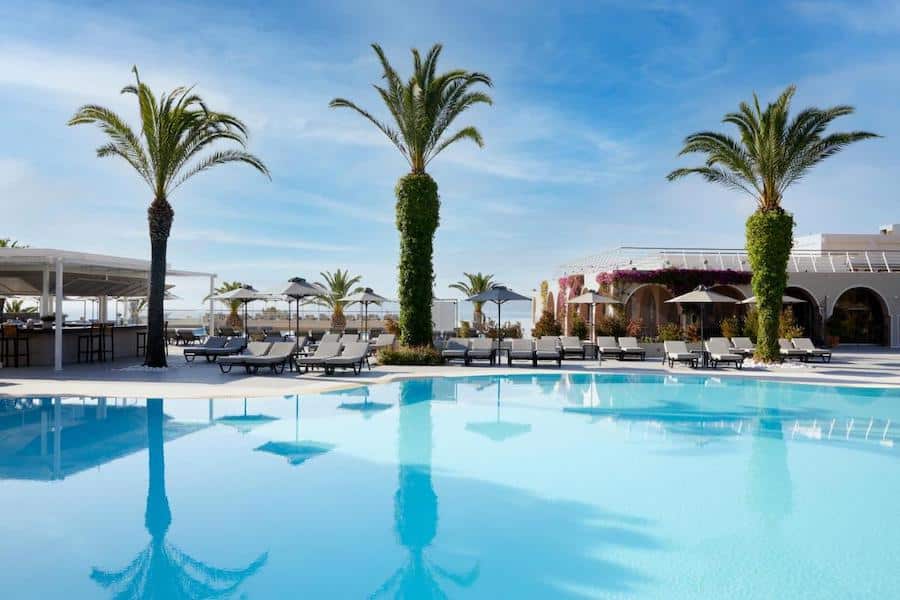 Mid-Range Accommodation – Divan Corfu Palace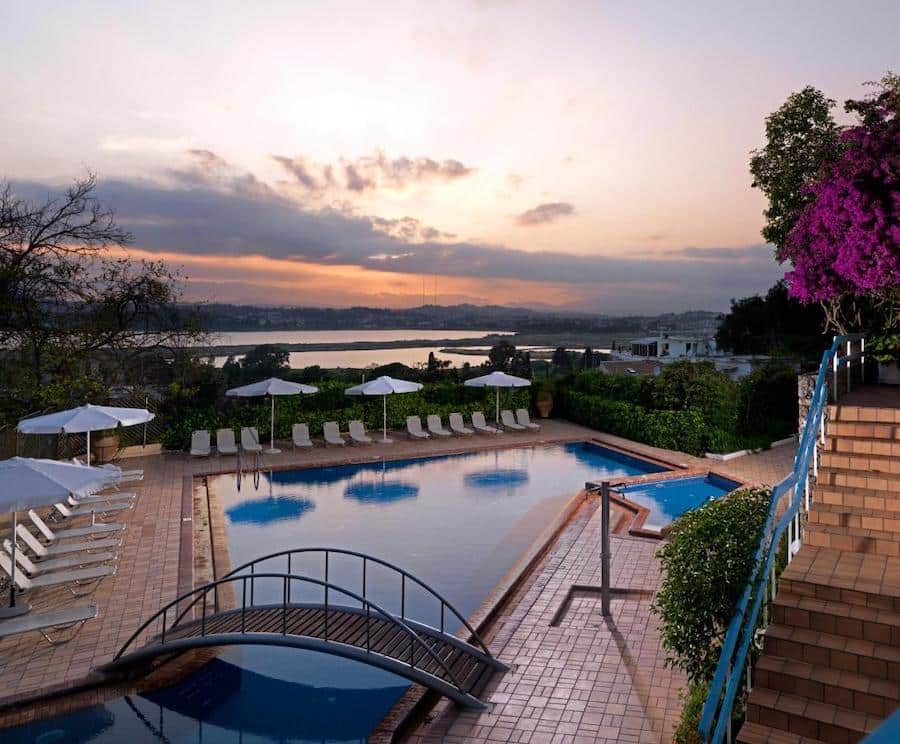 Divani Corfu Palace in Kanoni Peninsula is excellent for tourists who want comfortable accommodation at reasonable prices. This 4-star hotel, just three km from the center of Corfu town, is nested among lush vegetation. It features a swimming pool and hot tub. Rooms with modern furniture offer you lagoon or garden views.
You can enjoy sunset views while having a snack in the Laguna Pool Restaurant, while the main restaurant will treat you to a Greek or international lunch or dinner.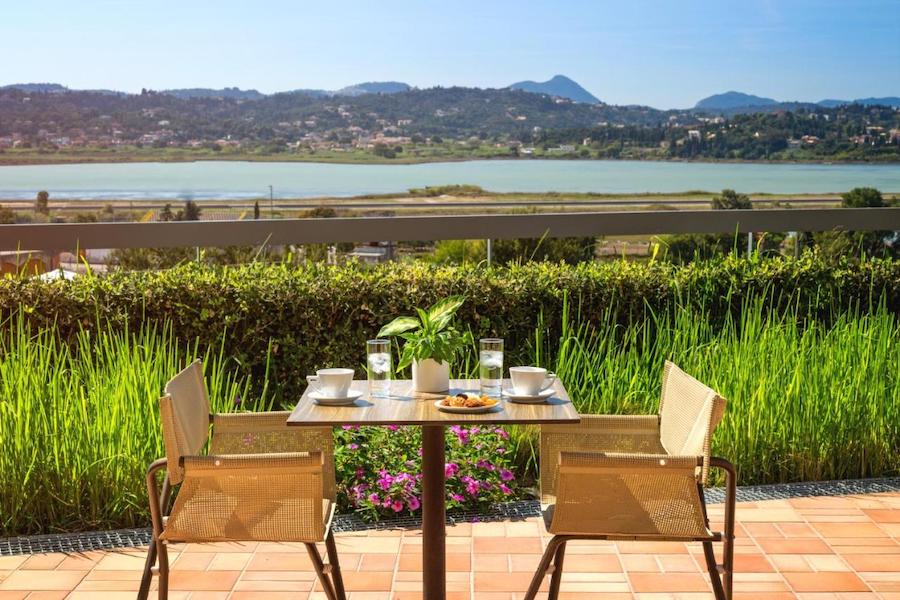 Budget Accommodation – Oasis Hotel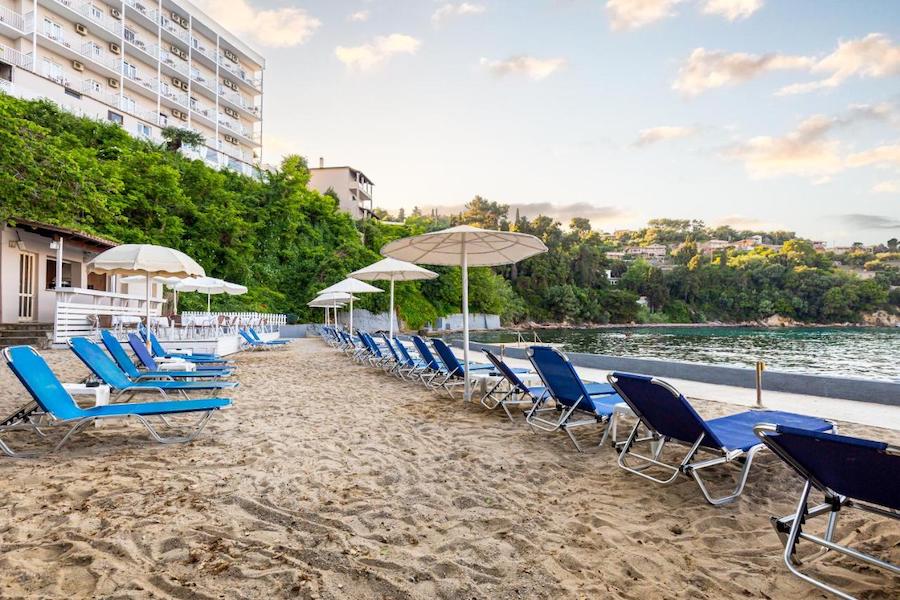 Budget accommodation is easy to find in Corfu. An excellent example is Oasis Hotel, where visitors get much at affordable prices. The furnished rooms, Greek international cuisine, lush greenery around it, and a private beach area with crystal clear water – what more can we ask for?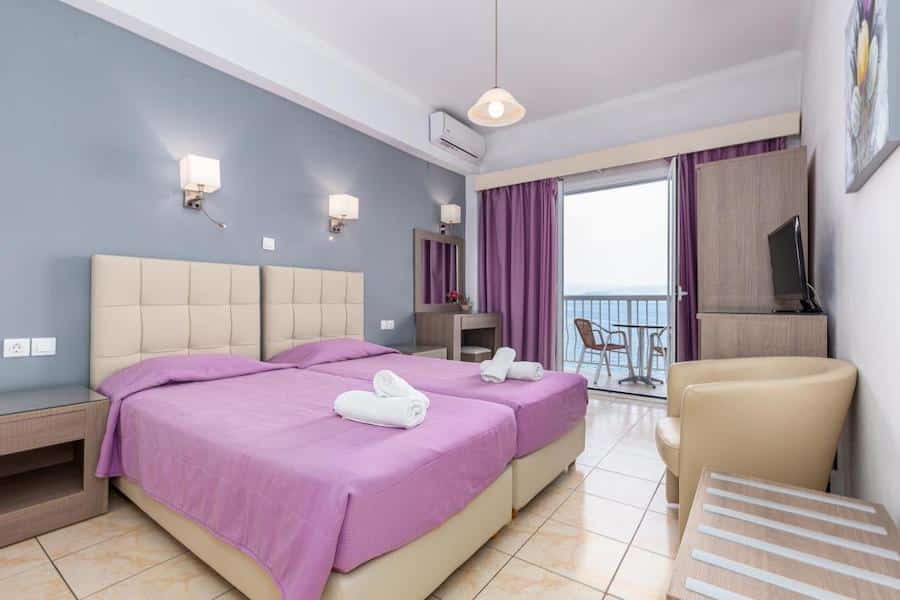 Don't miss the opportunity to visit this Corfu Island and enjoy all of the things to do in Corfu while you are there.