Some posts contain compensated links. Please read this disclaimer for more info.

7 Cave Hotels In Greece You Have To See
From charming B&Bs and authentic farm stays to luxury beach resorts and even cave hotels, Greece has tons of accommodation options for all kinds of travelers. If you're specifically looking for cave hotels in Greece to stay at, you've come to the right place!
In this blog post, we'll tell you all about the best Greek cave hotels. Our entire selection of these amazing accommodations is in the Cyclades island group, more specifically in iconic Santorini and bustling Mykonos. They're some of the most memorable places to stay you could find anywhere in Greece—maybe even in Europe or the world.
First of all, though, let's briefly talk about what cave hotels actually are. Technically, most are not actually in a natural cave, but instead, feature rooms or suites that are built into a cliffside, a man-made cave if you will.
These famous hotels in caves in Greece are often grouped together, stacked on top of and besides each other, covering much of a cliff or hill. Oftentimes, they offer spectacular views of their respective town and the Aegean Sea.
Additionally, because Greece cave hotels are built into a cliff, the interiors tend to stay quite cool, even on the hottest days of summer. When decorated properly and thoughtfully, which all the cave hotels in Greece featured below are, staying there can be absolutely magical.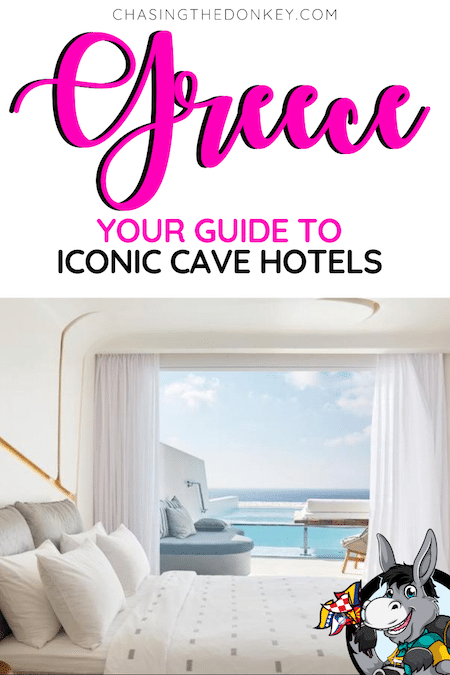 Best Cave Hotels in Santorini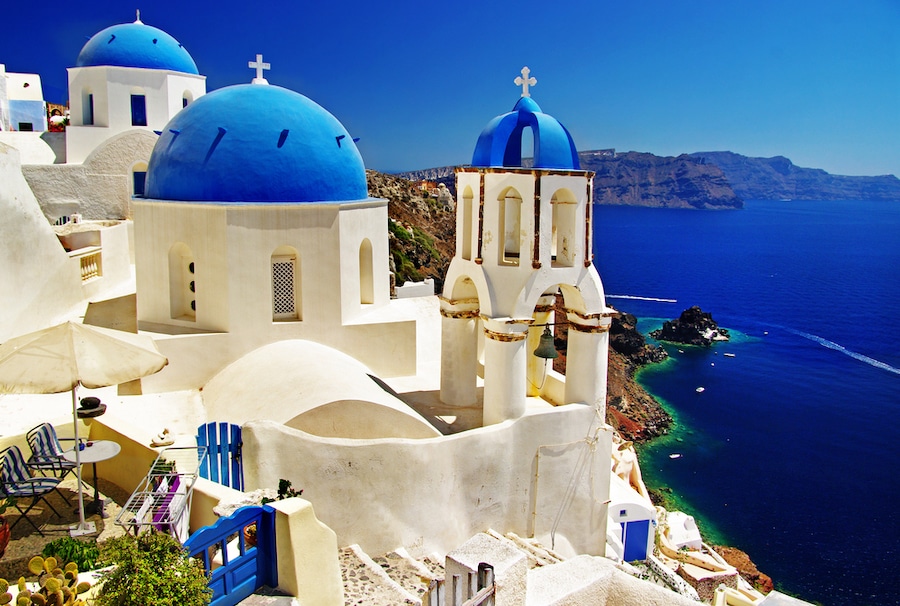 The southernmost of the Cyclades, which are in the middle of the gorgeous Aegean Sea, Santorini is the largest island of a tiny circular archipelago that has the same name.
This archipelago is the remnant of a volcanic caldera, formed after one of the largest volcanic eruptions in recorded history—the Minoan eruption—which might have been responsible for the decline of the once-thriving Minoan civilization in nearby Crete. The Santorini volcano is still active today.
Fun fact: the Minoan eruption in what is now Santorini might have been the origin of the Atlantis legend!
That little bit of history is just to set the scene. While there are some fascinating historic sites on the island, Santorini is now most famous for its striking white houses.
Especially the cliffside town of Oia is famous worldwide for its photogenic cliffside houses and spectacular sunsets. This is where you'll find many of the best Santorini cave hotels and Santorini cave villas. The capital of Santorini, on the other hand, is Fira, built high atop a coastal cliff overlooking the sea and also boasting beautiful white buildings.
Let's now check out the top Santorini cave hotels for your Greek island holiday. After all, it's because of those volcanic hills and cliffs that Santorini has so many hotels with cave suites and cave pools.
White Cave House Oia Santorini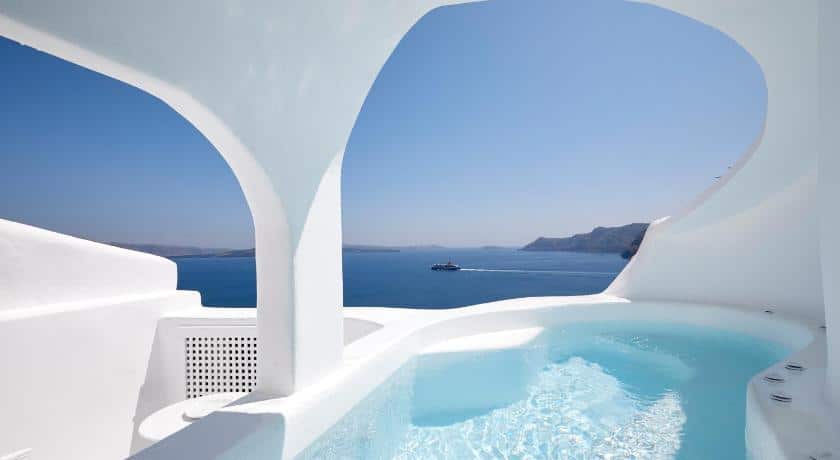 Located in Oia, arguably the most famous town in Santorini, the White Cave House literally offers you your very own cave house stay in Santorini. This excellent holiday home is immensely popular among couples, who enjoy both the ultimate privacy and beautiful amenities that are available.
The air-conditioned White Cave House in Santorini features a bedroom, a separate bathroom with shower, toilet, and sink, free parking and WiFi, a walk-in closet, flat-screen TV, fridge, and a hot tub. A private patio offers stunning views.
If you'd like to explore the island during your Santorini cave hotel holiday—which you obviously should!—you can rent a car at this Aegean Sea cave holiday home, too.
Iconic Santorini Cave Hotel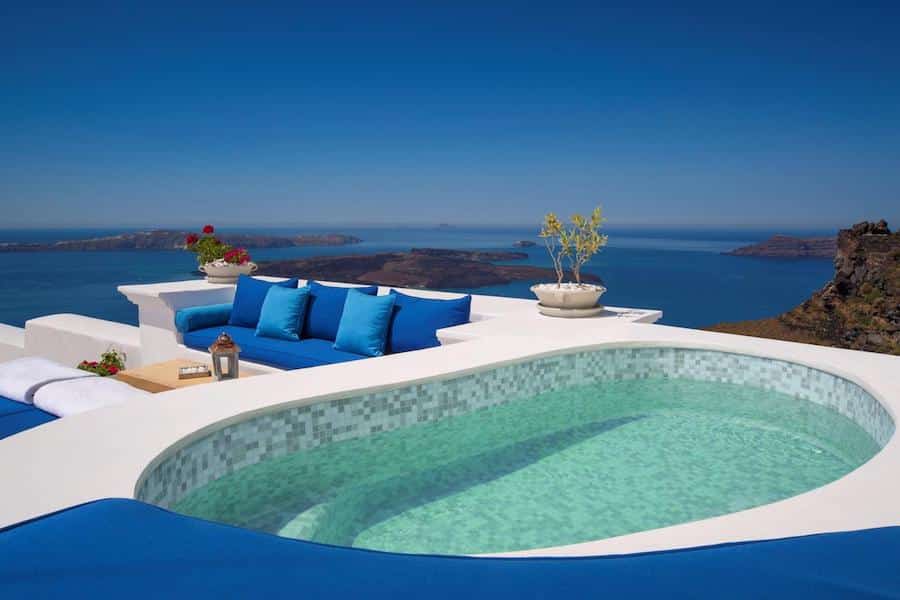 Enjoy the iconic views of Santorini from your cave suite at Iconic Santorini Cave Hotel, a name that's as perfect as it gets. Centrally located in the small village of Imerovigli, removed from the bustling cruise port of Fira, yet only a short drive from the famous Oia sunsets, this is a superb place to stay in Santorini.
A first-class boutique cave hotel, Iconic Santorini enjoys a spectacular cliffside setting, the hotel literally carved from the volcanic caldera wall. Staying at this Santorini cave accommodation means really getting away from it all, relaxing in your personal, private slice of heaven.
The property occupies five different levels on the cliff, with stylish cave suites scattered throughout. Cave suites come with such outstanding amenities as private indoor and/or outdoor plunge pools, a patio with sun loungers, flat-screen TV, and high-end beds.
There's also an on-site restaurant overlooking the shimmering Aegean Sea, while you can work up a sweat at the fitness center or relax with a massage at the property's spa cave in Santorini, followed by a dip in the jetted Grotto Pool. Cave holidays in Greece don't get better than this!
Aris Caves Hotel Oia Santorini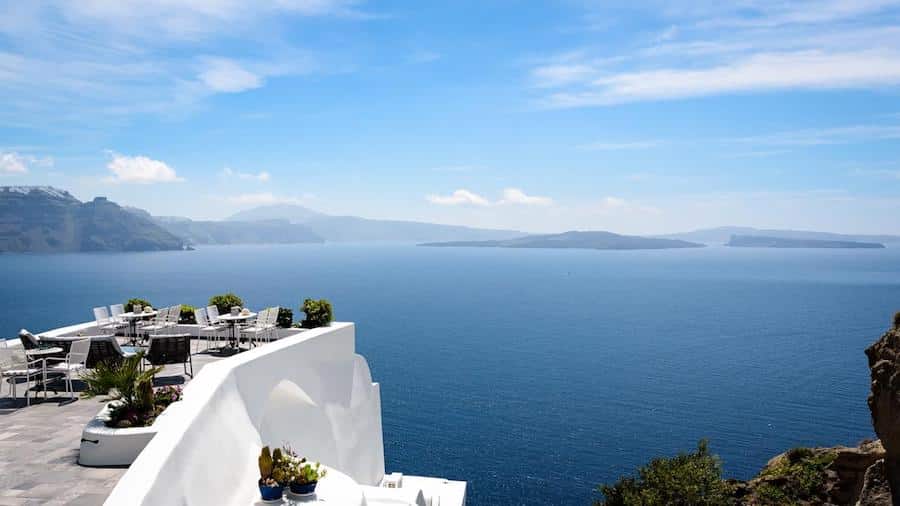 One of the best cave hotels in Oia Santorini, the fantastic Aris Caves Hotel offers luxurious Santorini cave studios, apartments, and suites only about 300 feet from the Oia town center. Even though it's only minutes from the town's attractions, the hotel is an oasis of peace and tranquility, just like it should be.
Carved into the volcanic rock of the Santorini caldera, all Aris Caves rooms have their unique design and décor. Each comes with air-conditioning, free WiFi, a kitchenette with fridge, toaster, kettle, plates, and coffee maker, and a private bathroom and living area. Four units are equipped with private outdoor Jacuzzis.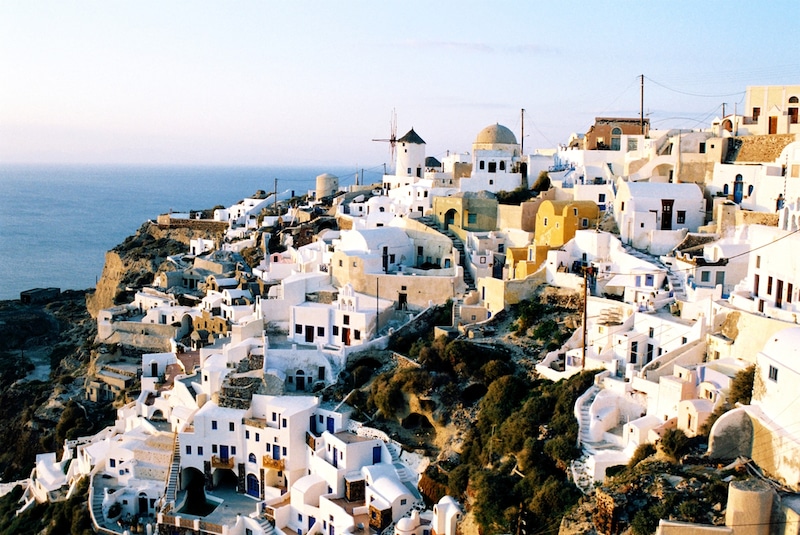 Aura Caves Fira Santorini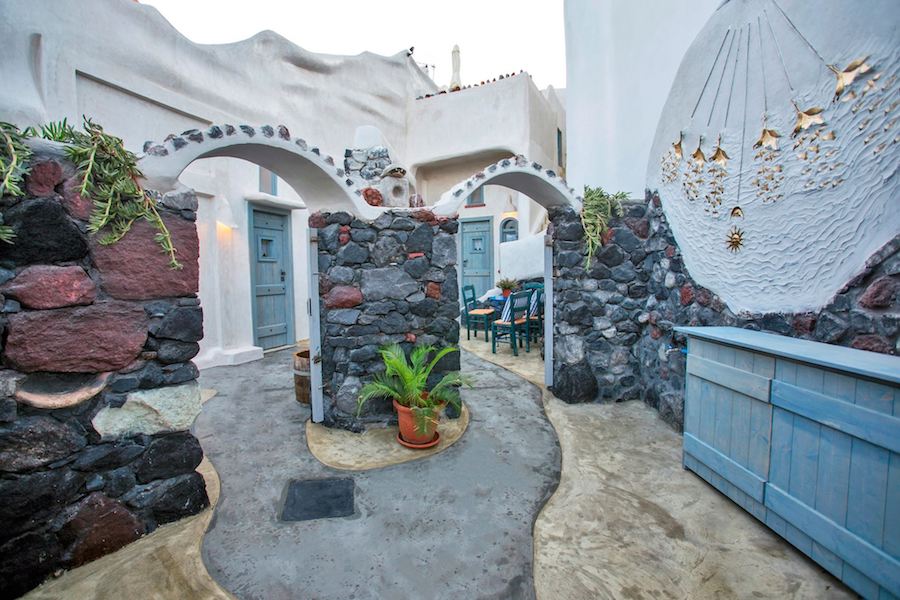 Visitors to Greece who are looking for cave hotels in Fira Santorini should definitely check out Aura Caves. Housed in historic caves carved out in the late-18th century, this is one of the best cave hotel experiences anywhere in Greece.
Aura Caves is among the highest-rated cave hotels in Santorini for a reason. People love the fact there are "only" two caves to choose from. This makes a stay here feel like it's exclusive, private, luxurious, and almost celebrity-like. Both caves are absolutely stunning and boast floors, domes, and halls covered with handmade lava plaster.
The WineryCave is the smallest of the two and can accommodate up to 4 people. It has a hall, full kitchen with stovetop, fridge, kettle, dining table, and coffee machine, as well as a beautiful private bathroom and lots of other amenities. A set of stairs leads to a patio with open-air beds, and a 4-seat jetted hot tub.
The largest of the two Aura Caves is the PassionCave, which has room for up to 6 people. There's a living room, a great kitchen with a dining table, a patio with open-air beds, and a 6-seat jetted hot tub. Additionally, both cave suites have complimentary WiFi, multi-sockets, and USB connections.
We encourage you to look at some photos of each of these phenomenal Santorini cave rooms. Don't they look terrific?
Perivolas Hotel Oia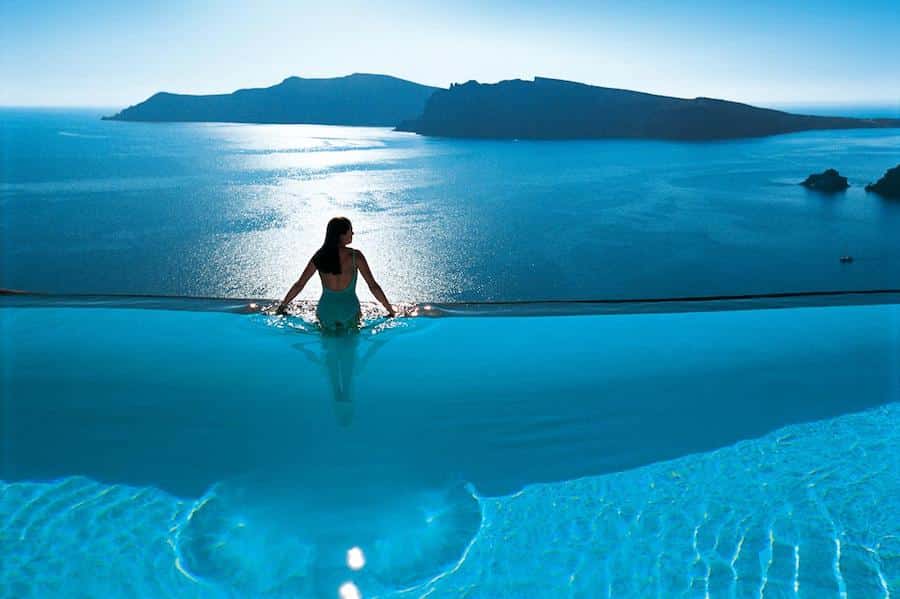 Sitting atop a cliff high above the Aegean Sea, Perivolas Hotel is a short walk from scenic Oia while offering ultimate tranquility and panoramic views. Built "amphitheatrically," as their website states, this 5-star hotel in Santorini has a cave infinity pool and a fantastic wellness center with an open-air hot tub, massage rooms, and steam bath. There are no fewer than 22 private houses set in restored 300-year-old caves.
Perivolas Hotel feels like a private residence—it was initially designed as a family home—with each house having its own charm and atmosphere. Interiors feature a Cycladic style, characterized by smooth surfaces, snug alcove beds, sculpted whitewashed stone walls, and vaulted ceilings.
Additionally, guests can enjoy the delicious Mediterranean and Greek cuisine at the Perivolas Restaurant, which occupies an amazingly restored wine cellar. Both free parking and free WiFi are available to guests as well.
Dana Villas & Infinity Suites Santorini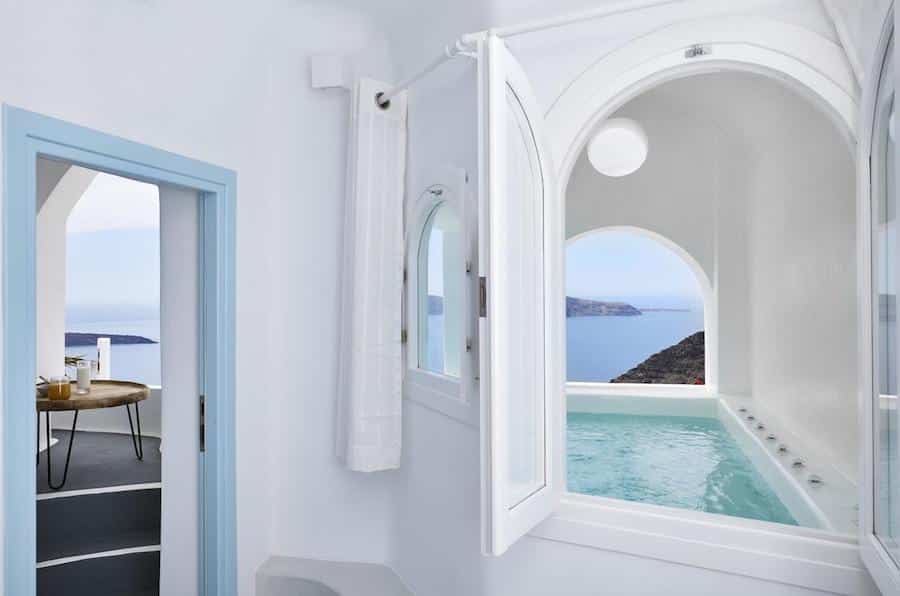 The Dana Villas website says that "Dana stands for an eternal love affair with divine authenticity and a naturalist adventure on Santorini island. It is a place to live your dreams, hit by a deep sense of satisfaction, where nothing else seems to matter." We couldn't have given you a more enticing description.
If you are looking for a cave pool hotel in Greece's islands, this is one of the greatest ones you'll find. A top-rated place to stay, it is located just outside of the Fira town center, offering epic views of the volcano, the deep blue sea, and that famous Santorini sunset.
The Santorini cave pool hotel experience is at its absolute best, with whitewashed cave rooms and corridors and world-class amenities. Dana Villas & Infinity Suites boasts a large swimming pool surrounded by sun loungers, wellness options like massages and a hot tub, and a restaurant serving international and Greek dishes. Visit the pool for an afternoon smoothie or evening cocktail.
Now, let's get to the actual cave suites in this Santorini hotel. These luxurious suites and villas come with air-conditioning and a TV, but it's the cave pools that really set them apart. They have an indoor plunge pool complete with hydromassage facilities, but a private outdoor infinity pool is also available. Does it get any more romantic than that?
Best Cave Hotels in Mykonos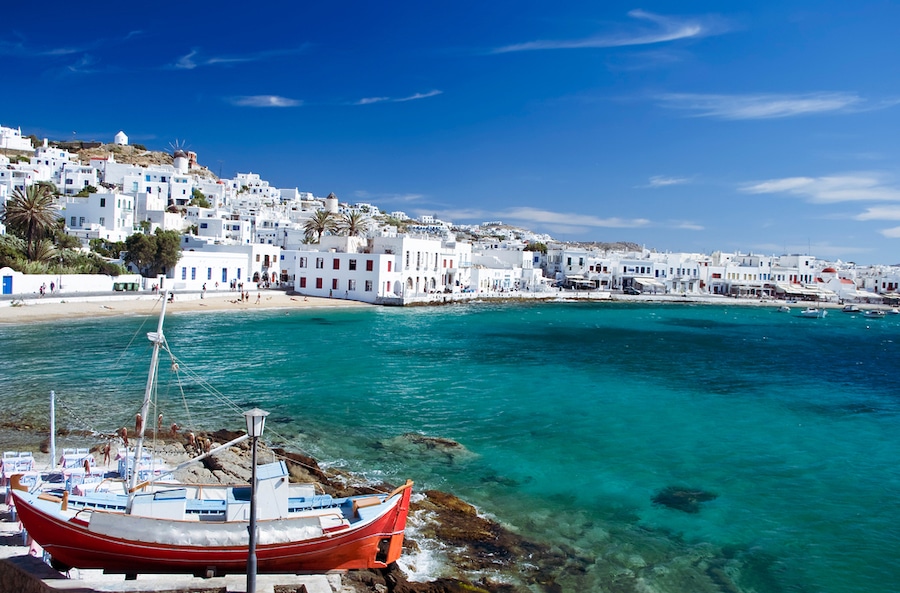 Another stunning island in the Cyclades, Mykonos, is a super-popular tourist destination in Greece. It's particularly popular as a summer holiday destination, mainly because of its vibrant nightlife, great beaches, and fantastic restaurants. It's also known for its gay-friendliness; many businesses and accommodations, including Mykonos cave hotels, cater to the LGBTQ community.
The center of the action in Mykonos is the town of Mykonos, which is where nearly all people live on the island. To avoid confusion, Mykonos Town is also called Chora. ("Chora" is literally the Greek word for "town," which is often used in Greece to refer to towns that have the same name as the island they're on).
Nicknamed the "Island of the Winds," Mykonos is home to numerous scenic windmills. Most of them are located around Mykonos Town, including the famous Kato Mili, a row of 16th-century windmills perched atop a hill above the town. Other top attractions in Mykonos are several picturesque white churches, some ancient Greek ruins, and many museums.
Alright, now that you know a bit more about Mykonos, let's see where you can stay. First of all, though, we have to mention that the vast majority of the best cave hotels in Greece are in Santorini. However, there is one particular cave hotel in Mykonos that outshines all other Mykonos accommodations.
Cavo Tagoo Hotel Mykonos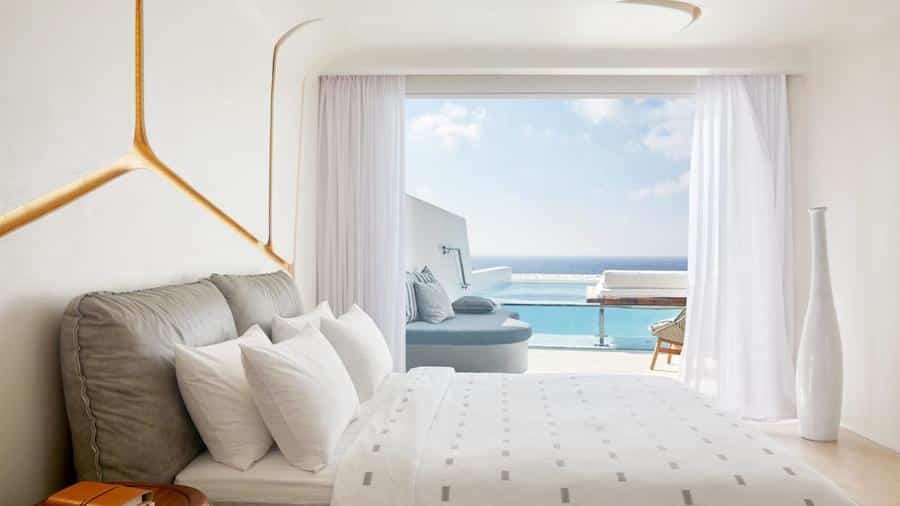 The spectacular Cavo Tagoo Hotel in Mykonos, Greece, is so stunning you almost need to be there to believe it's real. Located close to Chora (or Mykonos Town), this award-winning Mykonos cave hotel has a spectacular infinity pool complete with color-changing lights, a 100-foot aquarium bar, and wooden decks that seem to float.
This lounge and pool bar area also offer breathtaking views of Mykonos Town and nearby Dilos Island. Elsewhere at Cavo Tagoo, guests can enjoy salon services, spa treatments, chromotherapy, and sauna sessions at the Golden Spa, while the hotel's restaurant serves up modern Mediterranean cuisine prepared with fresh Greek produce.
As far as the accommodation itself goes, Cavo Tagoo features minimal yet spacious guest rooms, suites, and villas. Room amenities include slippers, a spa bath, flat-screen TV, and comfy beds. Some of them even have a private pool.
So, if you're looking for a Mykonos hotel with a private cave pool, this is the only place you'll find it!