Privacy & disclaimers →
How To Get From Santorini Airport To Fira &
Santorini Airport To Fira
Santorini is one of the most famous and most popular of all the Greek islands. It stands to reason in many ways – you only need to Google the island, and you'll fall in love with it.
For that reason, tourism on the island has skyrocketed, and Fira, the island's capital, is undoubtedly one of the most visited spots.
Fira is nestled on the caldera cliffs on the island's west coast, and it sits directly opposite the rather imposing yet stunningly beautiful volcano. Very much geared towards tourism during the summer months, there is plenty to see and do here, including theatres, galleries, shopping, and some seriously entertaining nightlife. You won't struggle to find various restaurants, bars, cocktail spots, and even nightclubs.
While it is possible to visit Santorini via boat is your island hopping around Greece, most people tend to fly into Thira International Airport. This airport serves international and domestic flights and is extremely busy during summer. Of course, before you reach Fira, you'll need to figure out how to get from the airport.
So, if you want to find out how to get from Santorini Airport to Fira and back again, keep reading!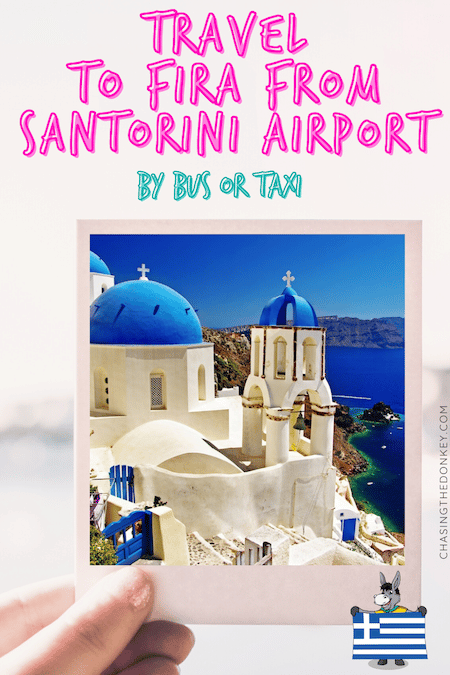 TRAVEL COMPANIES WE USE AND TRUST
Santorini Airport To Fira (& Fira To Santorini Airport)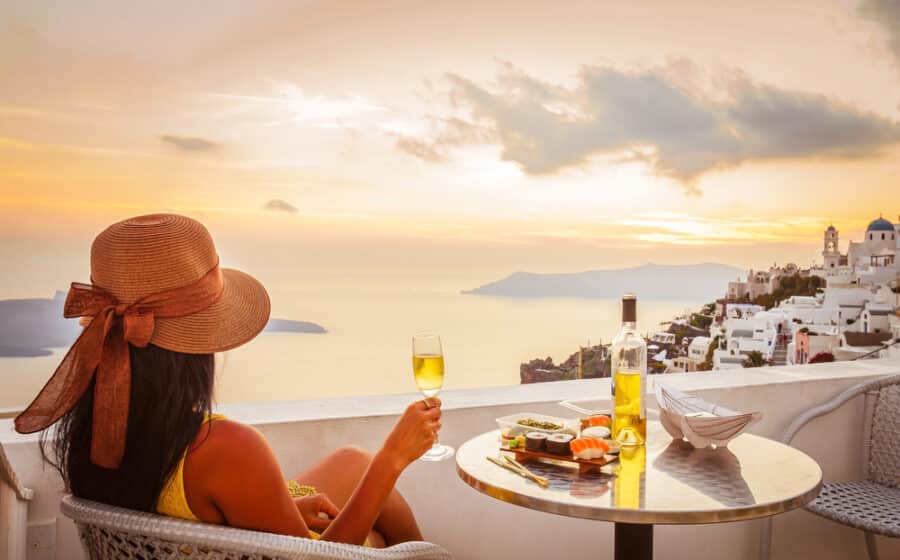 Santorini may be a famous island, but it's a small one, and that generally means you only have very limited means when getting from A to B. In this case, you can either take the public bus, or you can take a taxi.
Both are reasonable options, and because there is a very short distance between the airport to Fira, at only 5km, the journey should really only take 30 minutes maximum, regardless of which option you choose, depending on traffic.
Santorini Airport to Fira By Bus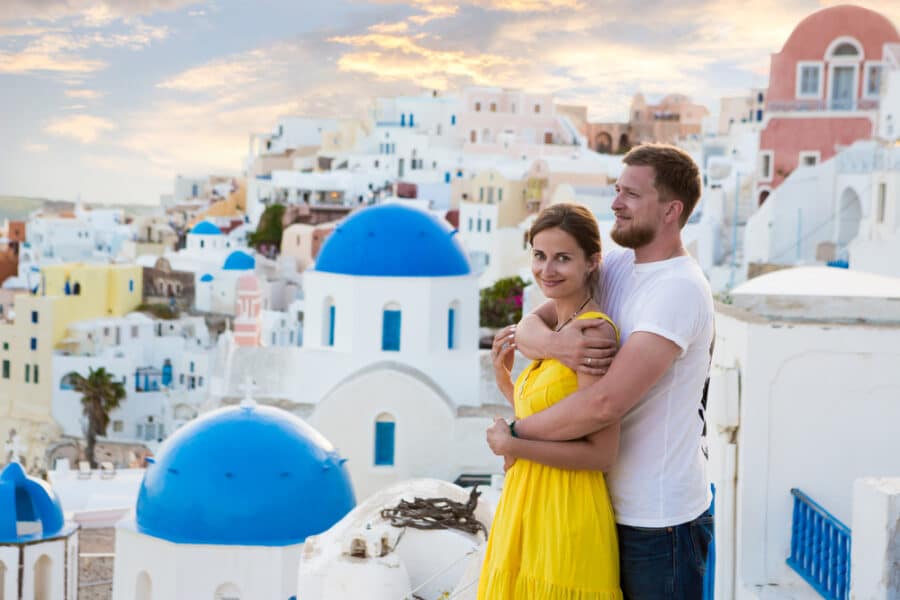 Your first and cheapest option is to take the public bus. Buses are large, coach-style, and all air-conditioned, so you can expect a comfortable journey. The airport has one arrivals terminal, so you go outside and see the KTEL bus stop, which takes you into Fira.
Your journey should take around 25 minutes, although you may notice extra traffic during the summer months, which could slow you down a little. This bus is also the only direct bus on the island, so if you want to connect to another town, such as Oia, you'll need to head to the main bus station in Fira and find your next bus from there.
The bus runs at different times depending on the time of year, and there are more buses during the summer months. During peak season, there are 16 buses per day, the first at 6.25 am and the last at 10.25 pm. Buses run hourly after the morning timetable settles out, with one bus at 7.25 am, another at 8.40 am, and then hourly from 10.10 am onwards.
To head back to the airport from Fira, you catch the same bus from the central bus station, with the first bus leaving at 6.15 am and the last at 10.15 pm. There are 16 journeys during the summer months.
During the winter months, buses are less frequent in both directions and tend to wait for enough passengers to make the journey worthwhile. In that case, you will need to check the timetable nearer to your departure date, to decide whether a bus or taxi is a better option.
Tickets are bought by cash only from the driver, and services operate on a first-come, first-served basis, with no seats allocated. Tickets cost just a few Euros, with a one-way journey costing less than 2 Euros.
Santorini Airport To Fira By Taxi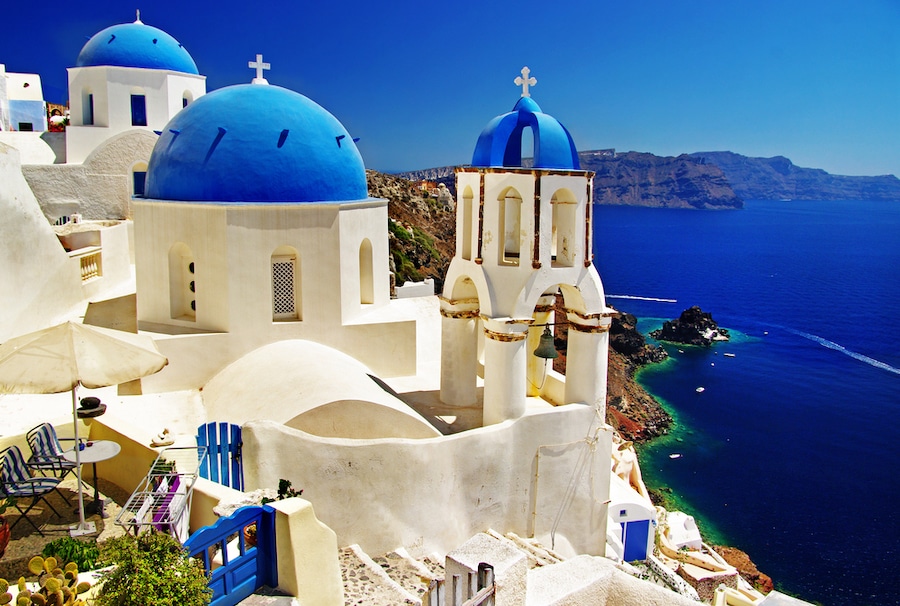 You can take a taxi from the airport to Fira directly outside the arrivals terminal. Taxis tend to be quite plentiful, although, during peak season, you may need to wait a short while for a cab to arrive. The second option is far more laid-back and convenient but will cost you more than the bus.
Taxis run on the meter, although you should expect your journey to take around half an hour and cost around 35 Euros. Your journey time may be longer if there is a lot of traffic.
To return to the airport from Fira, you can head to the central bus station in Fira and find taxis lined up outside. The journey will take the same amount of time, around half an hour, and again, you will pay via the meter.