Santorini is one of the Greek islands that has the best connections with the rest of Europe. There are dozens of flights arriving daily during the season and ferries coming from Athens, Italy, and other islands.
Therefore, reaching Santorini first can be a wise way to get to other islands that do not offer comfortable travel routes or don't receive commercial flights as frequently.
Maybe you're spending a few days in Santorini, and you want to visit some of the gorgeous nearby islands for a day or two. Perhaps you've already visited Santorini and want to try another Greek island for a change…
Or, perhaps, Santorini is all booked up, too expensive, or even too crowded, and you want to spend some time on a more relaxed island and visit Santorini for the day.
No matter what your case is, Chasing the Donkey has your back. This article will find the closest islands to Santorini that can be a great alternative to spend a wonderful time in Greece.
Islands Near Santorini – Mykonos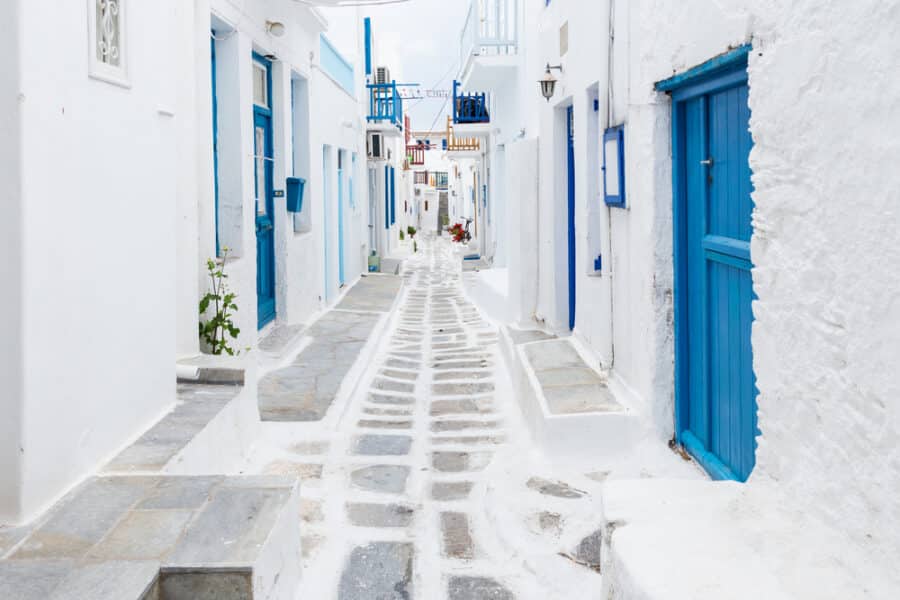 Although it can be equally crowded and even more expensive, we cannot fail to add Mykonos to the list of islands that are close to Santorini. Mykonos can be a good destination for a day trip and is, of course, an unbeatable destination on its own.
Cosmopolitan and full of amazing beaches, Mykonos is a great summer destination for young travelers. With fantastic nightlife and one of the most picturesque old towns in the Cyclades, Mykonos offers plenty of opportunities to have a great time in Greece.
How Far Is Mykonos From Santorini
The ferry ride from Santorini to Mykonos can take from two to three hours, depending on the type of vessel you're boarding and the route it will follow. Let's say that Santorini is relatively close to Mykonos compared to other islands.
Top Things To Do In Mykonos
Besides visiting its amazing Chora, also known as Mykonos Town, the island offers some of the most enchanting beaches in the Aegean Sea. Elia Beach, Cavo Psarou, and Agios Stefanos can be counted among the best beaches in Greece.
Mykonos is also home to a fantastic selection of clubs and beach bars. But that's not all; there are a few museums worth visiting as well. Besides, it's just a stone's throw from the sacred island of Delos, one of the most important places in the Aegean for those interested in discovering Greece's ancient past.
Not far from Delos, Rhenia is another small island that you can visit for the day with a boat departing from Mykonos. It has some of the most beautiful coasts with stunning emerald waters. Jumping from a boat and swimming off the coast of Rhenia can be the highlight of your trip.
Where To Stay In Mykonos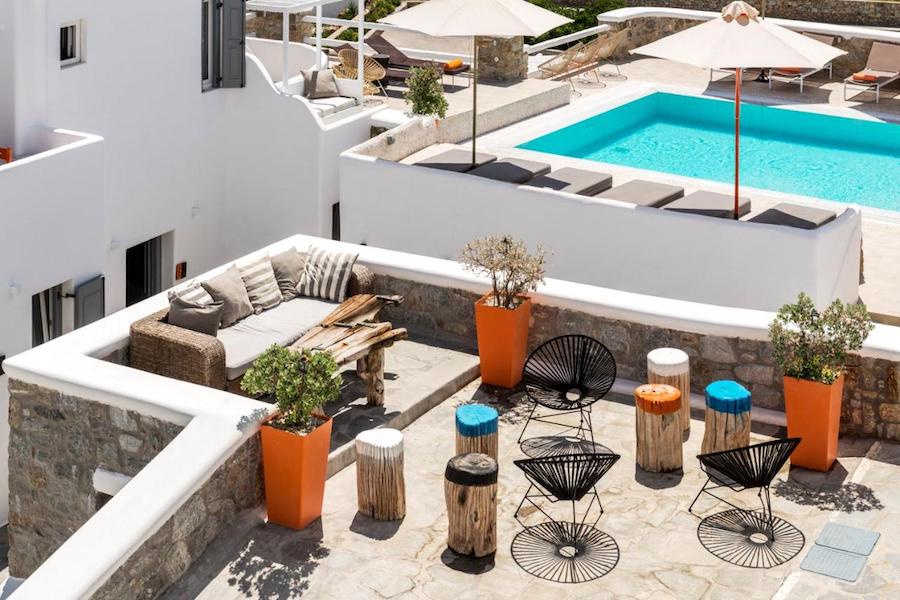 The areas of Platis Gialos and Agia Anna not only have excellent beaches for the whole family but are also more budget-friendly when it comes to accommodation. Artemoula's Studios offers good value for money accommodation and has excellent reviews.
The apartments feature a comfy kitchenette and dining area and balconies with beautiful views of the pool or the sea. Inside the property, there is also a sun terrace and poolside bar. The property even offers a shuttle service to the port while there is a 24-hour public bus service in the immediate area that connects Artemoula's Studios with some of Mykonos' most beautiful beaches.
TRAVEL COMPANIES WE USE AND TRUST
Nearest Island To Santorini – Ios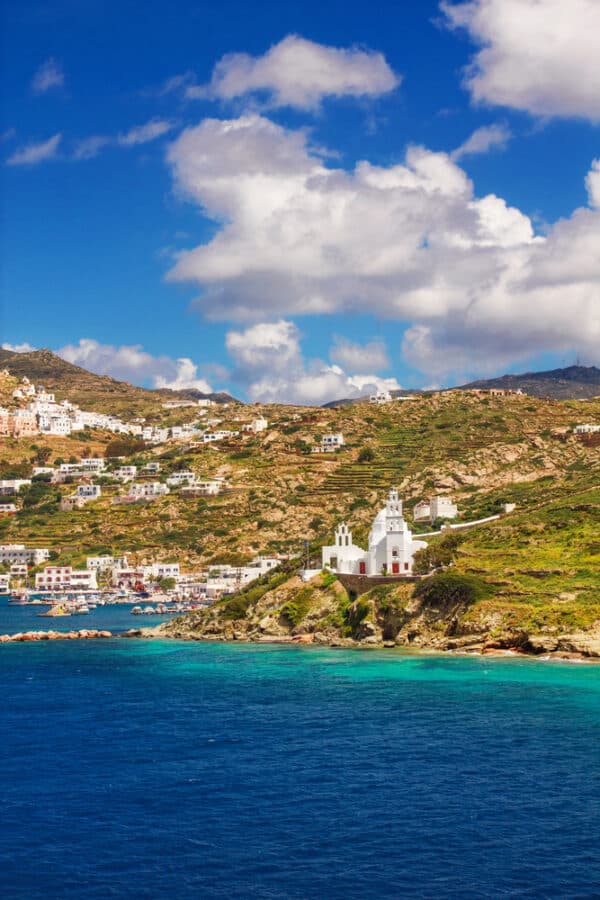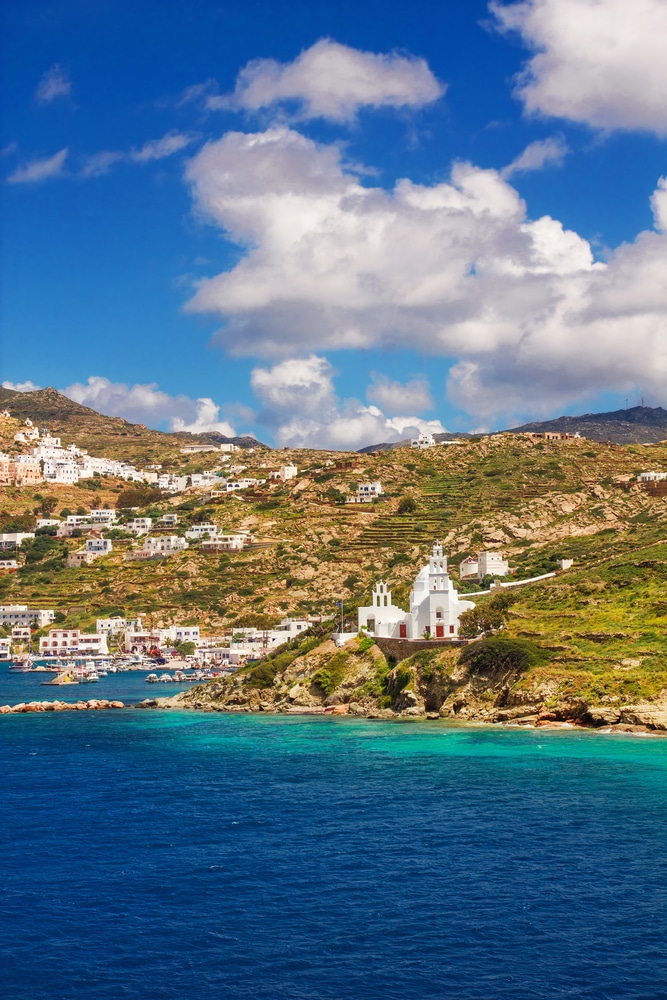 Another island known as a "party destination," Ios attracts many young travelers yearly. However, Ios is a fantastic place to visit in Greece, as is the nearest island to Santorini. Offering more affordable prices than Mykonos, and — truth to be told — Ios caters to all kinds of visitors, even those who are not interested in clubbing.
The island features fantastic adventure opportunities for the whole family, bays and secluded beaches where it is possible to do snorkeling and scuba diving and incredible hiking paths in the mountains, isolated churches to visit, and a very picturesque cold town.
Moreover, gastronomy on the island is not something to overlook. You can find fantastic restaurants serving authentic Greek food at very affordable prices.
How Far Is Ios From Santorini
The trip lasts about an hour, there are at least 14 weekly ferry crossings from Santorini to Ios during high season, and tickets start under 10 euro per person, so Santorini can be an excellent day trip idea if you're spending your holidays in Ios.
Top Things To Do In Ios
Among the best things to do in Ios, visiting the island's beaches can easily come on top of the list. For instance, Manganari has often been described as Ios's best blue flag beach.
Embarking on a safari adventure is another fun way to discover the island, especially for those not into hiking. Some of the most beautiful landscapes in Ios are pretty hard to access, and a safari day trip can be a super entertaining way to check some of those hidden corners.
If you're a sucker for archaeological sites, myths, and legends, then you'll be happy to learn that there are some pretty impressive sites to check on the island. For instance, you can check the early Bronze Age settlement of Skarkos, one of the best-preserved prehistoric sites in the Aegean.
Alternatively, you can check what is considered the tomb of the famous Homer, the poet who wrote the Odyssey and the Iliad!
Where To Stay In Ios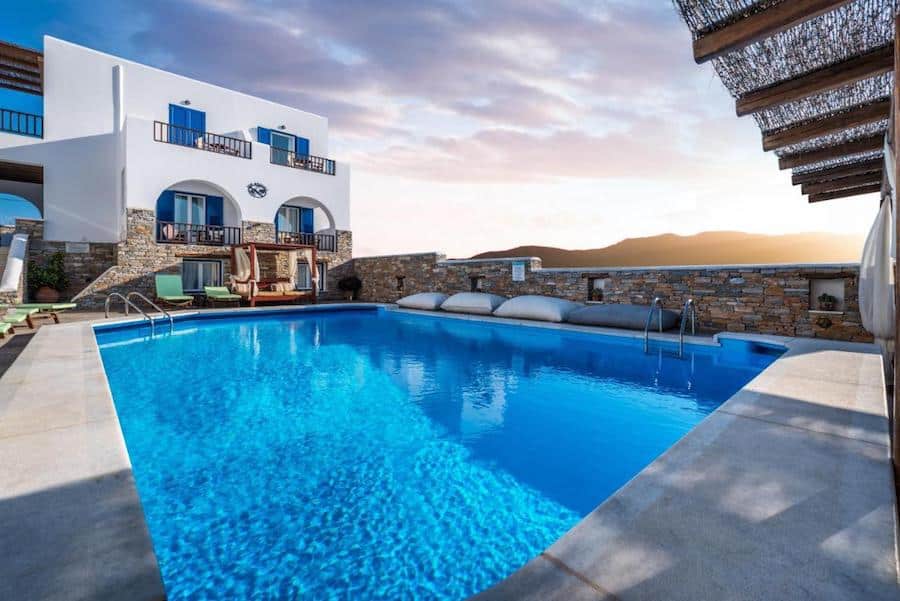 It can be good to stay in the Chora of Ios, the main town, not far from the port. This would give you the advantage of reaching some of the most characteristic places on the island using public transport. If this is your case, then check Ios Resort, a whitewashed Cycladic building centrally located in Ios Town, only minutes from clubs and restaurants.
The hotel features a swimming pool with poolside bar and offers tastefully furnished rooms with balcony or patio.
Islands Close To Santorini – Folegandros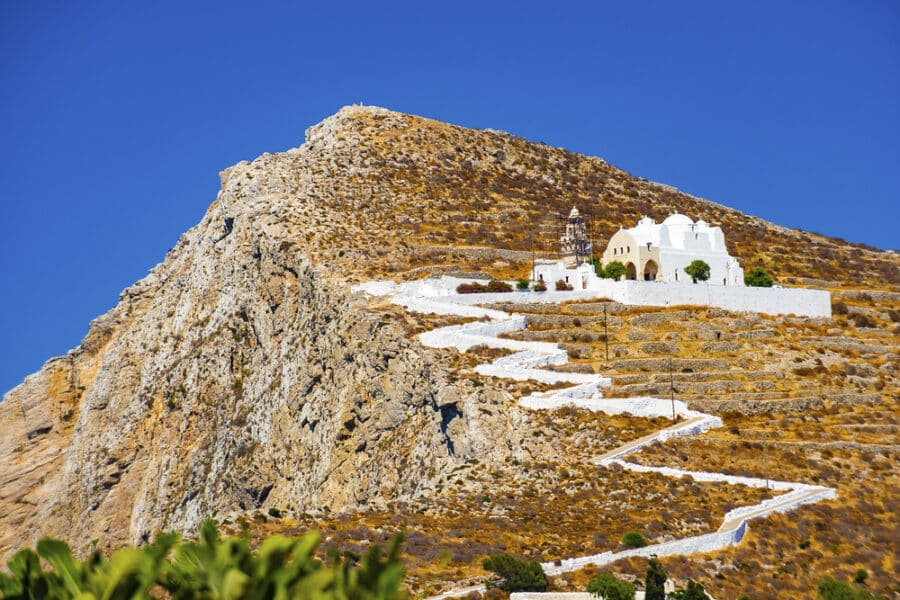 Lesser-known than Naxos, Mykonos, and Ios, Folegandros is a unique jewel in the Cycladic cluster of islands that you should not miss when deciding on your island itinerary. With its rugged and harsh landscape, the island truly stands out from the other Cyclades.
Since it is pretty off-the-beaten-track and not really on the touristic radar, Folegandros can offer a relaxing holiday destination with its laid-back atmosphere and familiar vibe. Besides, the island is affordable and has some beautiful beaches for the whole family.
How Far Is Folegandros From Santorini
It can take from 50 minutes to an hour and a half for a ferry to cover the route Santorini-Folegandros, depending on the type of ferry you decide to board and your time of departure. There are five daily ferry crossings from Santorini to Folegandros during the season. You can also easily travel from Athens to Folegandros by ferry daily.
Top Things To Do In Folegandros
You won't be short of things to do in Folegandros during your time on this small island, including a visit to some stunning beaches, such as Agios Nikolaos. This is a super kid-friendly beach, about 15 minutes from the main town, featuring shallow turquoise waters and many lush trees offering shade. There are also traditional taverns in the area, so you will not need to pack much to spend the day here.
Folegandros can be a top destination for those who enjoy water sports; in fact, the island is known for scuba diving. Several scuba diving centers will either rent equipment or offer scuba diving lessons for people of all ages.
After a day on the beach, you can either discover some of the small white chapels that dot the island's rugged landscapes or explore the romantic alleys of the Chora, Folegandros' main town. Narrow streets lined with white buildings perched on the side of a hill, adorned with fragrant flowers and bushes, perfect for unique Cycladic postcard-like pictures.
You can even spend some time in Folegandros' main square, where the locals like to meet up for a drink or a coffee or explore the little souvenir shops selling traditional crafts from the island.
Where To Stay In Folegandros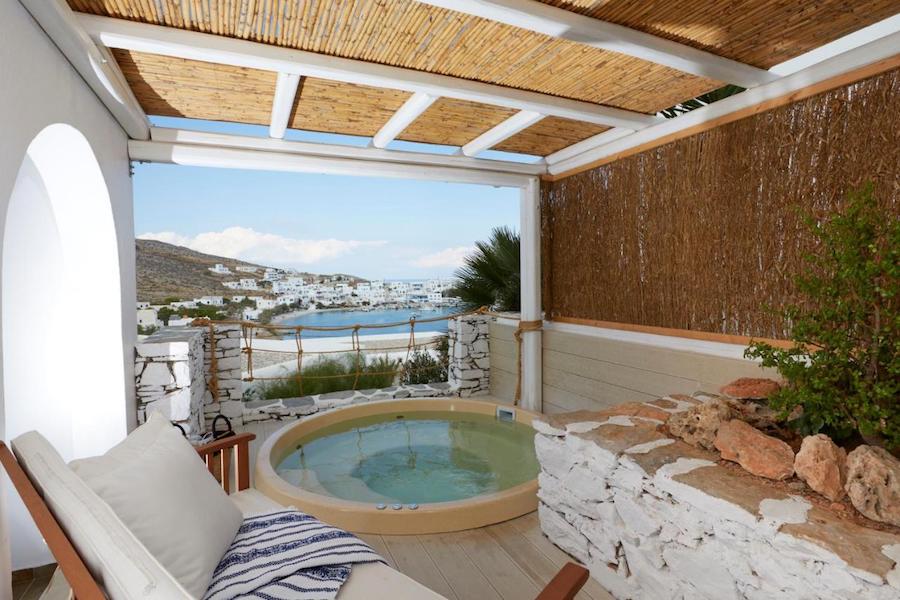 You can either pick a hotel in the main town or reach a more scenic area such as Karavostasi Bay to soak in the magnificent views of Folegandros' landscape. In the region, Vrahos Boutique Hotel is a beautiful place standing on a rocky slope at Karavostasi Bay, only 20 meters from the beach.
This elegant, sustainable property features an open-air hot tub, as well as a café-snack bar with sea view. The suites and apartments are tastefully decorated while there is a rich Greek Breakfast served upon request.
Islands Close To Santorini -Anafi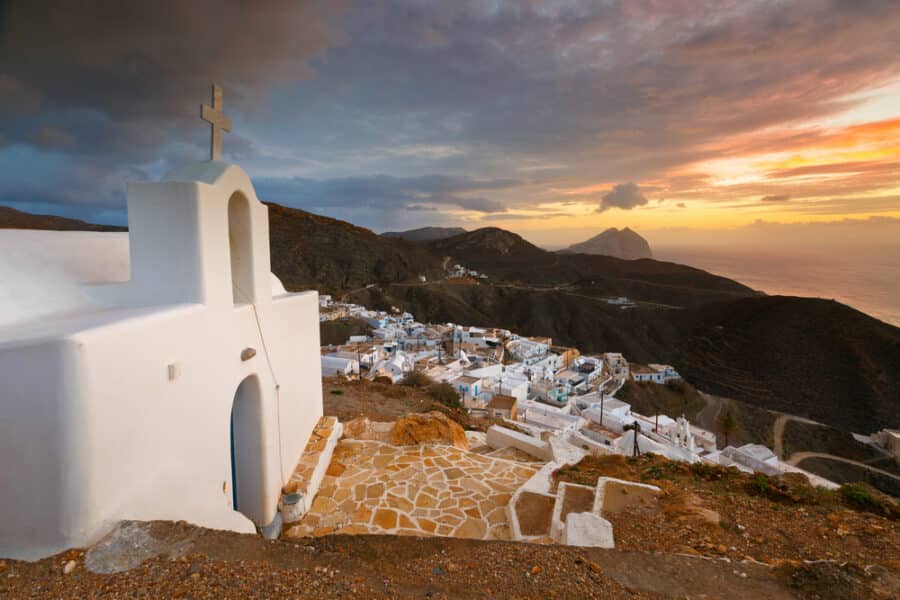 One of the closest islands to Santorini is Anafi, a reasonably unknown island in the Cyclades that offers a unique peaceful atmosphere for a relaxing holiday.
Lacking an airport and good ferry route connections, the island can be reached both from Ios and Santorini. Although this can be regarded as a disadvantage, it is something to keep in mind if what you wish is an isolated holiday destination still virgin to mass tourism.
How Far Is Anafi From Santorini
The ferry route Santorini to Anafi typically takes from 1.5 to 2 hours, and the price is quite affordable, starting at about 7 euro. There are only two weekly crossings from Santorini to Anafi during the low season, but the frequency increases during summer served by the local company Aegeon Pelagos.
Top Things to Do in Anafi
This picturesque Greek island will offer you amazing beaches, characteristic Cycladic homes with whitewashed facades and narrow cobblestoned alleys, breathtaking mountain landscapes… all at a very affordable price and without the crazy crowds that flock to more popular Greek destinations year after year.
The island, which has a volcanic origin, just like Santorini, features impressive landscapes, barren beaches, and everything relatively easy to reach. There is only one village to visit, and it's pretty easy to move around. In fact, one of the advantages of traveling to Anafi is that you can do without renting a car even if you are eager to explore.
On the island, check the most popular beaches, all located on the southern portion of the island, among them Agios Nikolaos, Klissidi, and Roukounas. You can also visit Zoodochos Monastery and some of the small, abandoned chapels you will encounter when exploring the island.
Where To Stay In Anafi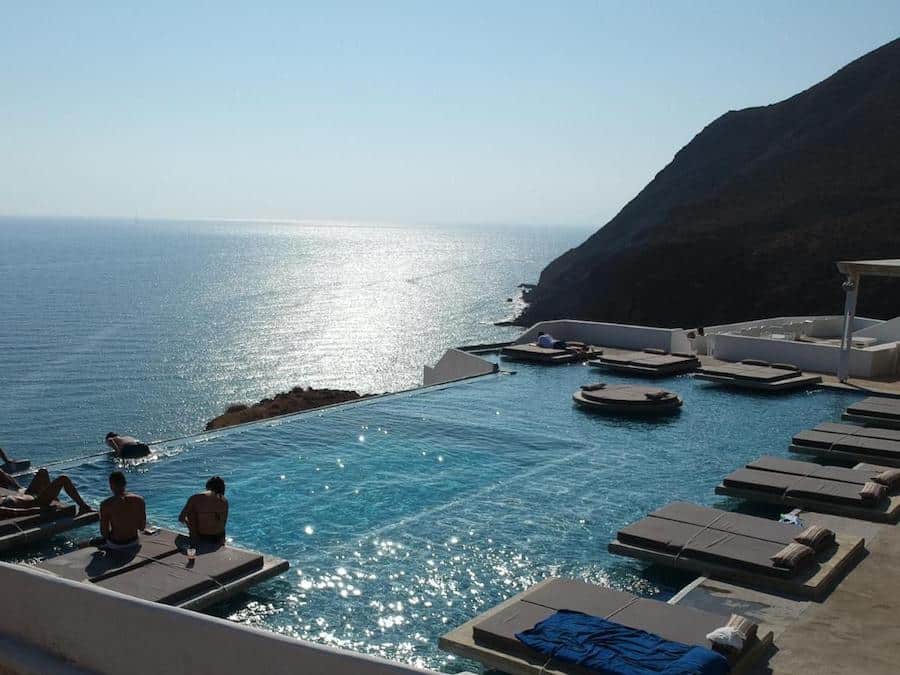 If you're looking for a modern and comfortable place in Anafi, then check Golden Beach Resort Anafi, a child friendly property with stunning sea views and a kid-friendly outdoor poo. The hotel serves a delicious morning breakfast as well.
Naxos – One Of The Best Islands To Visit From Santorini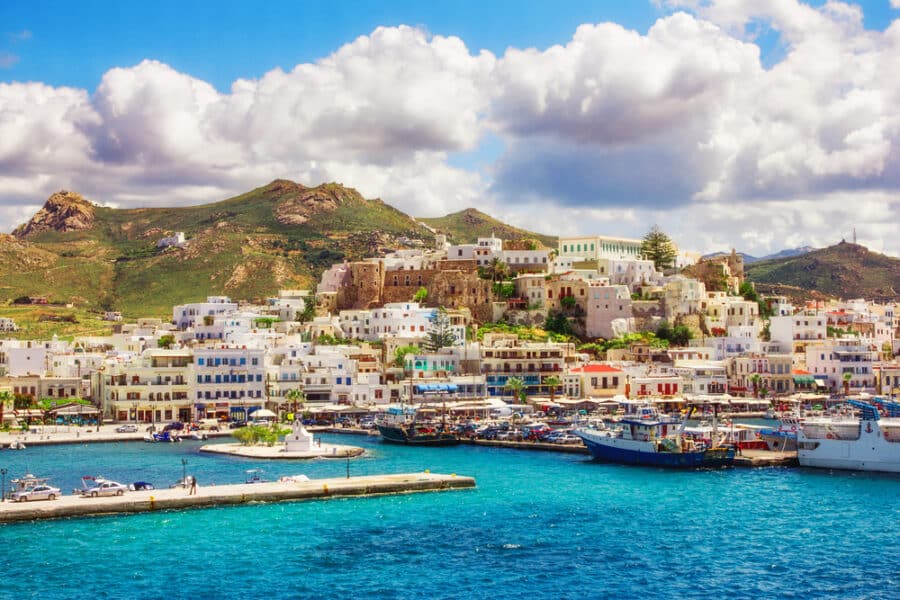 Another fantastic Greek island, one of the closest islands to Santorini, is Naxos. Among the biggest islands in Greece, Naxos has every ingredient you might be looking for to spend a perfect vacation.
Stunning beaches, traditional mountain villages, high hills to hike, ancient archaeological sites, museums, a lively nightlife panorama, and some of the best gastronomic proposals in the Aegean.
How Far Is Naxos From Santorini
The ferry route from Naxos to Santorini usually is available year-round, and the tickets can be quite affordable, starting at 20 euro per person. The trip from Naxos to Santorini regularly lasts about 1 hour and fifty minutes. It can sometimes be longer, depending on your vessel of choice.
Top Things To Do In Naxos
With an endless list of things to do and places to see, the island of Naxos places itself among the top 5 Greek islands. When visiting, it is always a good idea to rent a car, at least for a few days, in order not to depend only on public transport to reach the most remote areas on the island.
If you are a fan of ancient sites and archaeological findings, you don't need to travel far from the port. Here, in the main town of Naxos, you will find the fantastic Portara, the island's landmark, and of course, remains of what is thought to have been one of the most important temples in ancient times.
But that is not all; Naxos' Chora is also home to one of the most beautiful Venetian castles in the Cyclades as well as a fantastic archaeological museum.
However, suppose you're interested in old sites and excavations. In that case, you can check the incredible Temple of Demeter in the small village of Sangri or drive all the way to Melanes to discover the giant Kouros, unique marble statues that were abandoned in ancient times for unknown mysterious reasons.
On the island, you can visit the traditional mountain settlements of Halki and Apeiranthos, this last one entirely built in white marble. You can also taste the unique cheeses and meat dishes from the island, have a shot of the local liquor, kitron, or explore kilometer-long beaches such as Plaka, shallow and child friendly, with pristine turquoise seas and fine, golden sand.
Where To Stay In Naxos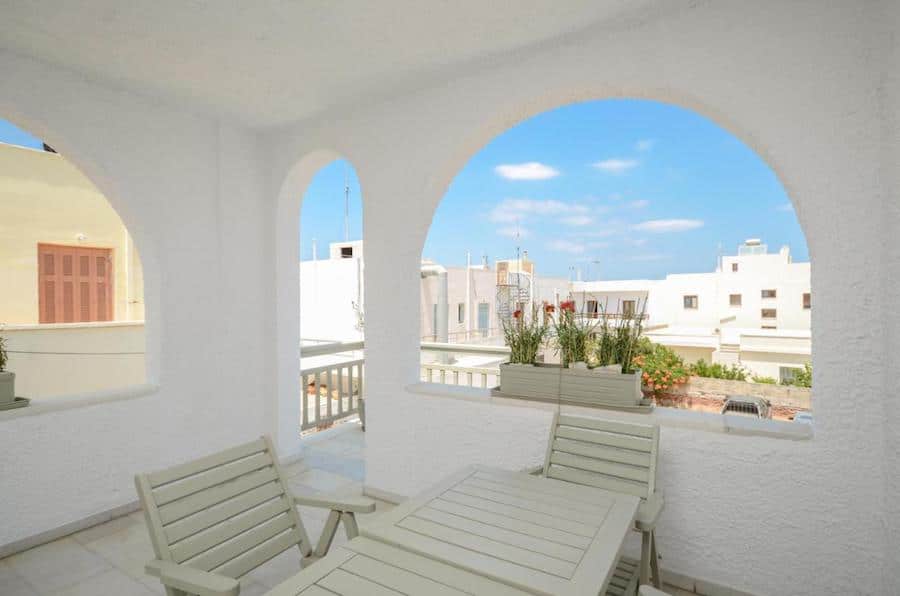 There are endless seaside locations where you can find fantastic beach hotels in Naxos; you can also check accommodation in Naxos Town or Chora if you are not interested in driving on the island. If that's your case, why not check Lygdamis Hotel?
The hotel is only a short stroll from the beach of Agios Giorgos, right next to Naxos Town. It features relaxing rooms with private balconies only meters from the Port of Naxos. Guests can enjoy the huge rooftop terrace with great views of the Aegean Sea, the port, and the Portara.