Written by Ciaran, an outdoor travel expert.
Here is your detailed guide to the best beaches on Ios, a charming island in Greece. From family-friendly to party beaches, we have them all,
Welcome to Ios, Greece, a captivating island nestled in the heart of the Cyclades. Known for its scenic landscapes, vibrant nightlife, and rich cultural heritage, Ios has become a popular tourist destination for travelers from around the world. With its charming whitewashed buildings, narrow winding streets, and breathtaking views of the Aegean Sea, Ios offers a quintessential Greek island experience.
Assuming you've explored our informative guide to Ios, let's focus on its beaches, which hold a special appeal to travelers due to their natural beauty, offering a picturesque backdrop for sunbathing, swimming, and fun water-based activities.
Ios' beaches provide a tranquil escape from the tourist-filled towns and a chance to immerse oneself in the soothing rhythm of the sea. From secluded coves to lively beach bars, Ios' beaches offer an array of experiences that capture the essence of a perfect beach vacation.
Join us as we explore the top 7 beaches in Ios, Greece, and discover the unique charm and allure each one has to offer. These beaches, from hidden gems to well-known hotspots, will undoubtedly leave an indelible mark on your Ios adventure.
Manganari Beach
Manganari Beach on the southern coast of Ios is a stunning display of nature's beauty. The beach features soft golden sands and clear turquoise waters that gently lap against the shore. With picturesque cliffs and lush hills surrounding it, Manganari Beach offers an untouched and captivating scene that will leave you in awe. Its unspoiled charm makes it a true gem of Ios.
Manganari Beach is not just a feast for the eyes; it offers an array of activities to enhance your beach experience. Adventure-seekers can embark on exhilarating water sports, like snorkeling, windsurfing, and kayaking, to explore the vibrant underwater world of the Aegean Sea. It's an ideal beach for families and children due to its shallow waters.
To cater to your comfort, Manganari Beach provides beach loungers and umbrellas for a blissful sunbathing session or a shady retreat. Treat yourself to a beachside picnic or indulge in delectable local cuisine at the beachfront taverns, offering an exquisite dining experience against the backdrop of the mesmerizing sea.
Manganari Beach's allure extends beyond its picturesque landscapes and recreational offerings. It's 23km away from the main village, so it provides an escape from the touristy crowds, allowing you to unwind and connect with nature. The unspoiled beauty of Manganari Beach, pristine waters, and captivating surroundings make it a must-visit spot for anyone seeking a slice of paradise on the island of Ios.
Whether you're seeking solace, adventure, or simply a place to soak up the sun, Manganari Beach promises an unforgettable experience that will leave you yearning to return.
TRAVEL COMPANIES WE USE AND TRUST
Mylopotas Beach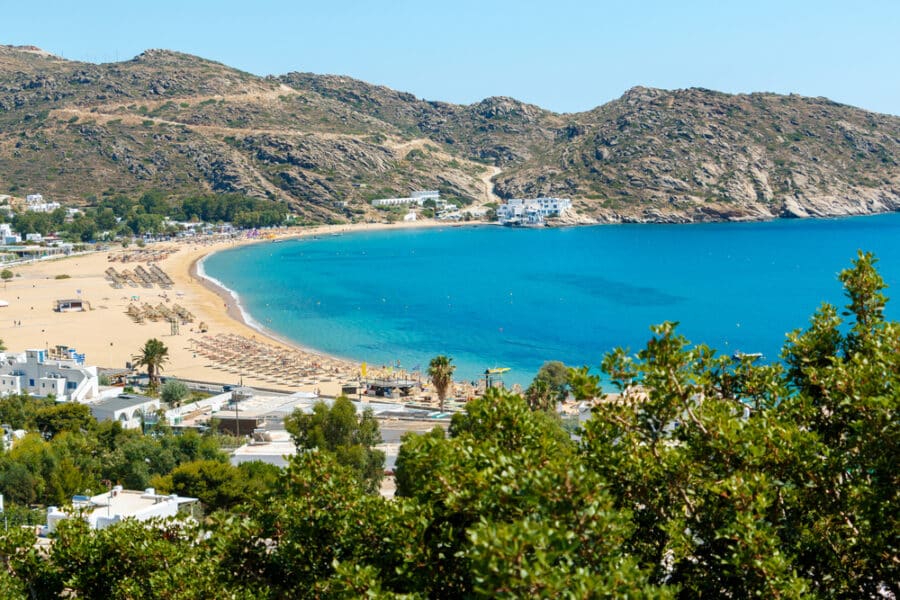 As one of the most popular and well-known beaches in Ios, it draws a lively crowd of visitors from all over the world. The beach buzzes with activity, creating a dynamic and lively atmosphere that is perfect for those who enjoy a lively beach scene.
Mylopotas Beach is famous for its energetic ambiance and the wide range of water sports and recreational activities it offers. Adventure enthusiasts will be spoiled with thrilling options such as jet skiing, paddleboarding with kids, and windsurfing.
Dive into the sparkling waters and explore the underwater wonders through snorkeling or scuba diving. The beach's ideal conditions make it a hub for water sports, providing endless opportunities for adrenaline-fueled fun. We recommend getting there early in the day to enjoy its tranquility before the post-lunchtime crowd arrives.
When the sun sets on Mylopotas Beach, the excitement continues with its vibrant beach bars and nearby nightlife options. After a day of sun-soaked adventures, you can unwind and indulge in a refreshing drink or cocktail at one of the beach bars, where the music sets the mood and the atmosphere comes alive.
If you're in the mood for more nightlife experiences, head to the nearby town, where you'll find an array of clubs, pubs, and restaurants offering an electric atmosphere and a chance to dance the night away.
It is only 3km from the main village of Ios, which lends to its popularity. The range of water sports activities and lively nightlife options make it a favorite destination for beachgoers who crave both action and entertainment. It's the perfect place to immerse yourself in the vibrant energy of Ios and create unforgettable memories.
Gialos Beach
Located along the coastline of Ios, Gialos Beach presents a picturesque setting that feels like a slice of paradise. With its pristine sandy shores and crystal-clear waters, Gialos Beach showcases a postcard-worthy beauty. The beach is embraced by rugged cliffs and vegetation, creating a captivating backdrop that adds to its charm.
Gialos Beach delivers a quiet and serene atmosphere that is ideal for relaxation. Away from the bustling crowds, this beach provides a haven where you can unwind and find solace. The waves, the soft sea breeze, and the absence of loud distractions create a sense of calm that invites you to rejuvenate both mind and body. Whether you're looking to read a book, practice yoga, use the volleyball field, or bask in the sun, Gialos Beach offers a serene environment to recharge.
When you need a break from the beach, Gialos Beach offers convenient options for satisfying your hunger. You'll find charming local taverns and restaurants serving delicious meals just a short distance away. These establishments specialize in traditional Greek cuisine, including fresh seafood and flavorful dishes. Take a moment to enjoy a leisurely meal in the inviting ambiance of these nearby dining spots, where you can savor the local flavors and indulge in a delightful dining experience.
Koumbara Beach
A hidden gem on the island of Ios that offers a tranquil and secluded escape from the bustling crowds. Tucked away from the more popular tourist spots, about 3km from the main port, Koumbara Beach embraces a serene ambiance that invites you to unwind and connect with nature. Here, you'll find a sense of tranquility that is perfect for those seeking a peaceful beach experience away from the crowds.
You can immerse yourself in the inviting turquoise waters, which are renowned for their clarity, and discover the underwater world through snorkeling or swimming. As you explore the 300-meter beach, you'll also encounter dramatic rocky cliffs that provide a stunning backdrop to this secluded paradise.
To reach Koumbara Beach, you can follow a scenic path or take a short boat ride from the main port of Ios. The journey itself adds to the allure of this hidden gem, offering glimpses of the island's natural splendor along the way. While at Koumbara Beach, be sure to explore the nearby attractions, such as hidden coves or hiking trails that offer breathtaking views. Take advantage of the tranquility and seclusion of Koumbara Beach to immerse yourself fully in the natural beauty that Ios has to offer.
With its off-the-beaten-path location and nearby attractions, Koumbara Beach presents an opportunity to experience the untouched beauty of Ios in all its glory.
Kalamos Beach
This gem boasts a serene and untouched atmosphere that will take your breath away. The beach features soft golden sands that stretch along the coastline while the crystal-clear waters of the Aegean Sea gently lap at the shore. Kalamos Beach's pristine beauty creates a tranquil and idyllic setting that feels like a private oasis.
Kalamos Beach isn't just about the stunning shoreline. It offers exciting opportunities for hiking and nature exploration just 10km from the main port. If you're an outdoor hobby enthusiast who enjoys a bit of adventure. The surrounding hills and greenery invite you to explore scenic hikes and discover hidden trails. As you wander through the natural landscape, you'll encounter breathtaking viewpoints and a rich variety of plant and animal life. Kalamos Beach is a haven for nature lovers, providing the perfect setting to immerse yourself in the beauty of the outdoors.
Visiting a less crowded and secluded beach like Kalamos comes with a myriad of benefits. Here, you can escape the hustle and bustle of popular tourist spots and enjoy a peaceful and intimate beach experience. The tranquility of Kalamos allows you to relax and unwind without distractions, creating a space for quiet contemplation and rejuvenation.
Psathi Beach
Psathi Beach captivates visitors with its unique landscape and intriguing rocky formations. As you set foot on the sandy shores, you'll be greeted by a rugged and enchanting scene. The beach is surrounded by impressive rock formations that add a touch of drama to the panoramic views. Psathi Beach's distinctive features make it a picturesque destination that stands out from other beaches in the area.
Psathi Beach offers an underwater wonderland that is perfect for snorkeling and diving enthusiasts. Dive into the crystal-clear waters and discover a world teeming with vibrant marine life and fascinating rock formations beneath the surface. Grab your snorkeling gear or scuba diving equipment and explore the hidden treasures that lie beneath the waves. Psathi Beach promises unforgettable aquatic adventures for those seeking to delve into the beauty of the underwater realm.
When it's time to take a break from the beach activities, you'll find a selection of local taverns and cafes near Psathi Beach ready to cater to your needs. These charming establishments provide a cozy and welcoming atmosphere where you can sit back, relax, and savor the flavors of Greek cuisine. Treat yourself to a delicious meal featuring fresh seafood and traditional dishes, or enjoy a refreshing drink while enjoying the laid-back ambiance. These nearby taverns and cafes offer the perfect setting for a relaxing break from the beach.
Kolitsani Beach
Kolitsani Beach welcomes visitors with its peaceful atmosphere. This small and narrow gem offers a serene and idyllic setting that is perfect for those seeking a calm and relaxing beach experience. With its gentle waves and serene ambiance, Kolitsani Beach creates a safe and welcoming environment for naturists to unwind and enjoy the beauty of the Aegean Sea.
Adventure enthusiasts can indulge in activities such as paddleboarding, kayaking, or jet skiing, adding a touch of excitement to their beach visit. If you prefer a more laid-back experience, you can bask in the sun on the soft golden sands or take a leisurely swim in the calm and clear waters. The beach also provides convenient amenities, such as sun loungers and umbrellas, to ensure your comfort and relaxation.
Close by is a Modern Art Museum displaying works of famous artists, which you can visit during your stay. The beach's peaceful and family-oriented environment creates a welcoming space for parents and children to enjoy quality time together.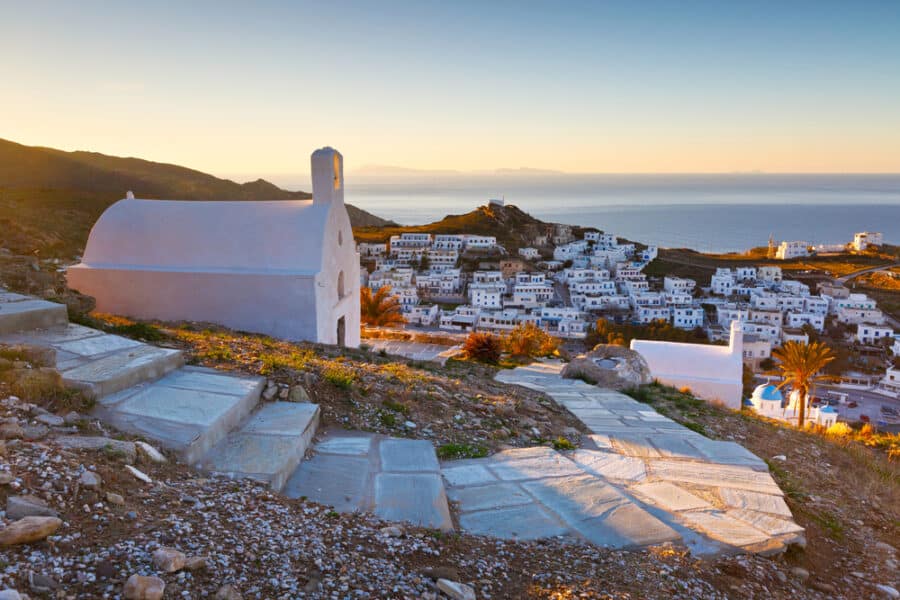 As you plan your trip to Ios, Greece, we encourage you to embrace the beauty of its beaches. Discover the joy of sinking your toes into soft sands, feeling the refreshing embrace of crystal-clear waters, and immersing yourself in the stunning natural surroundings. Whether you seek relaxation, adventure, or simply a moment of tranquility, Ios' beaches offer an extraordinary experience that will leave you in awe and provide memories to cherish.