Best Greece Hiking Spots For Adventurers
Home to hundreds of small and bigger islands, some of them flat and others rugged and hilly, Greece is a land blessed with a pristine mountainous landscape.
A unique European destination for hiking, climbing, mountain biking, and many more extreme adventures, the country features imposing trails of any difficulty. In fact, most Greek Islands offer great opportunities to hiking enthusiasts.
The perfect seasons to go hiking in Greece are autumn and spring, especially in the southernmost islands, such as Karpathos and Crete. In fact, hiking under the Greek sun in summer can be tiring because the temperatures are usually very high. In this article, we introduce some of the best hiking islands in Greece.
Hiking In Crete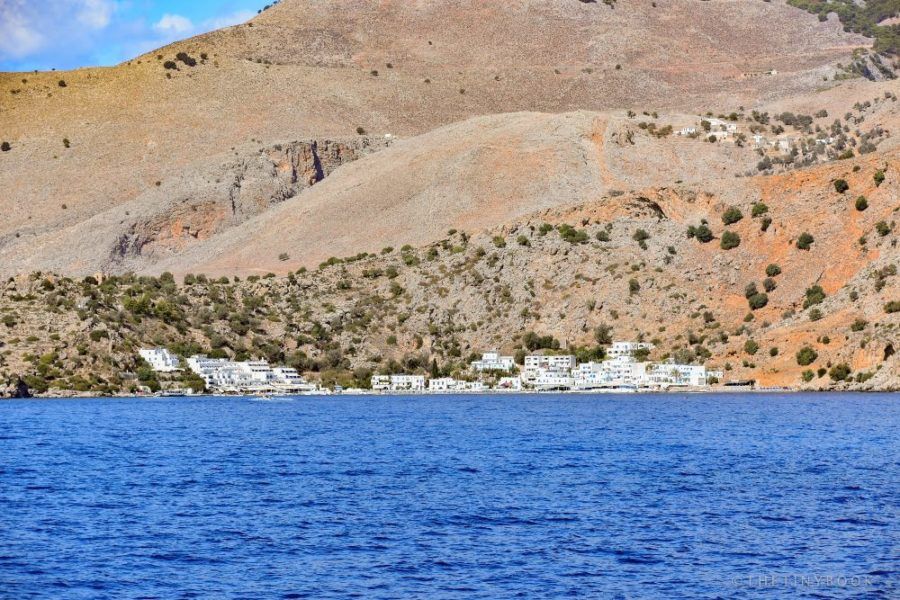 Probably the most important hiking destination in Greece, Crete is not only the biggest and most varied island in the country, but it is also home to hundreds of gorges and dozens of hiking trails of varied length and difficulty.
Coastal paths, deep ravines, and imposing plateaus are just a few of the hiking scenarios you can find on Crete. Starting from the longest gorge in Europe, Samaria, to smaller and easier gorges in the White Mountains and paths on the southern coast, such as the one connecting the western villages of Chora Sfakion and Loutro, overlooking the Libyan Sea.
The well-known E4 European Paths crosses the whole length of the island, passing through various green, alpine-like landscapes, barren mountain trails, and breathtaking cliffs next to the sea.
It would take a regular hiker (in reasonably fit condition) over 40 days to explore the E4 in its entirety, so people usually walk one portion at a time. Every year, many travelers keep coming back to Crete to cover a new part of the E4 path trail each time.
Hiking In Corfu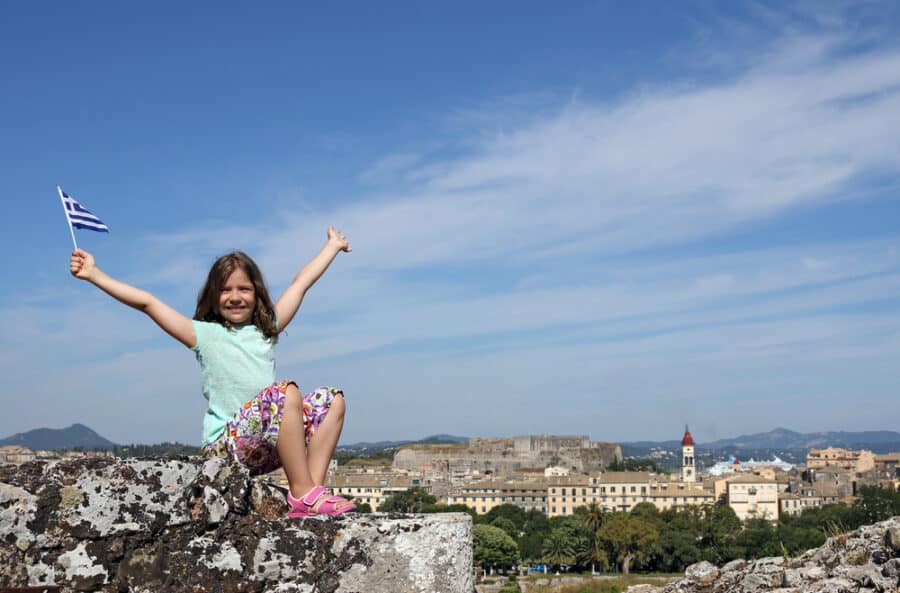 Corfu is another one of the big islands in Greece, full of green landscapes and rich nature; the island's hikes hide dozens of historic buildings, castles, and observation points that can only be reached after beautiful and sometimes tricky walks in the mountains.
The famous Corfu Trail, for instance, is a cross-island hiking path that walks you through remarkable olive groves, forests, and some of Corfu's most stunning beaches, allowing walkers to stop and admire unique observation points facing the Ionian Sea.
The Corfu Trail spans over 200 kilometers, and it can take days to complete. This means that it is common for visitors to choose just a tiny portion of it to explore and enjoy during their trip, and it is not odd for passionate hikers to come back to continue their quest to complete the trail one bit at a time.
Trekking Naxos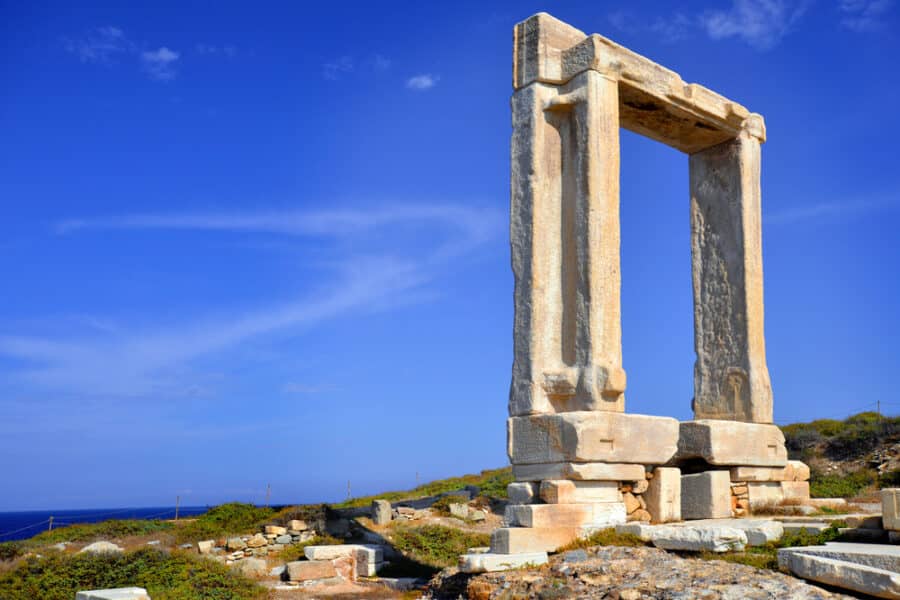 Another great island destination for hikers and trekkers is Naxos, in the Cyclades. Naxos is home to the highest peak in the Cycladic Islands, Mount Zas (1003 meters high), and it offers dozens of breathtaking landscapes with several different trails to the top. All the trails vary in difficulty and natural landscapes, yet they are all equally interesting to discover and enjoy.
A bit less difficult and perfect for families who start on their first hiking adventure, the Agia Marina trail is a safe alternative for those walking with kids. This reasonably short trail is about eight kilometers long and takes you around some unique landscapes that can sometimes even make you forget that — after all — you're on a Greek Island!
Walking In Santorini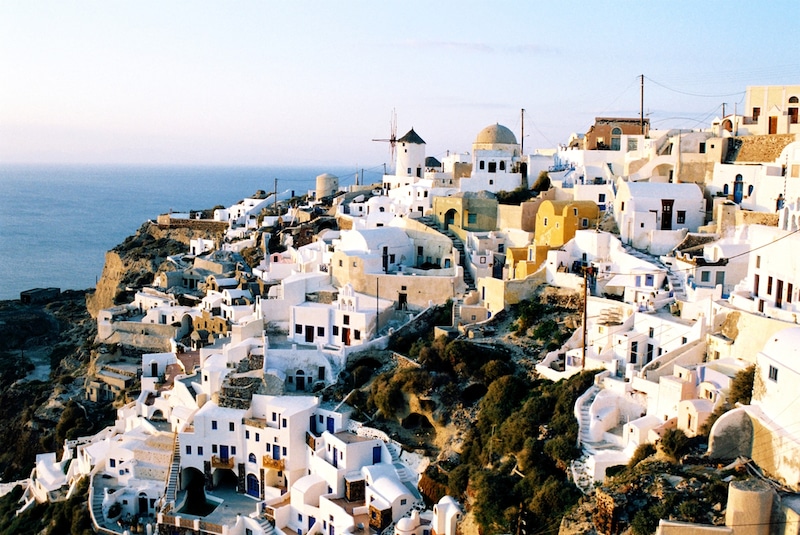 It is probably the most famous Greek Island destination; Santorini is known for its volcanic landscape, barren terrain, and breathtaking backdrops with whitewashed cubic houses on the cliff's edge.
One of the most popular activities in Santorini, however, is walking the hiking trail that connects the villages of Fira and Oia.
This famous trek overlooking the sea and the caldera offers some fantastic views of the island, making it easy to spot whitewashed villages and historical sights, such as the magnificent Skaros Rock, in the village of Imerovigli.
Andros Route On Andros Island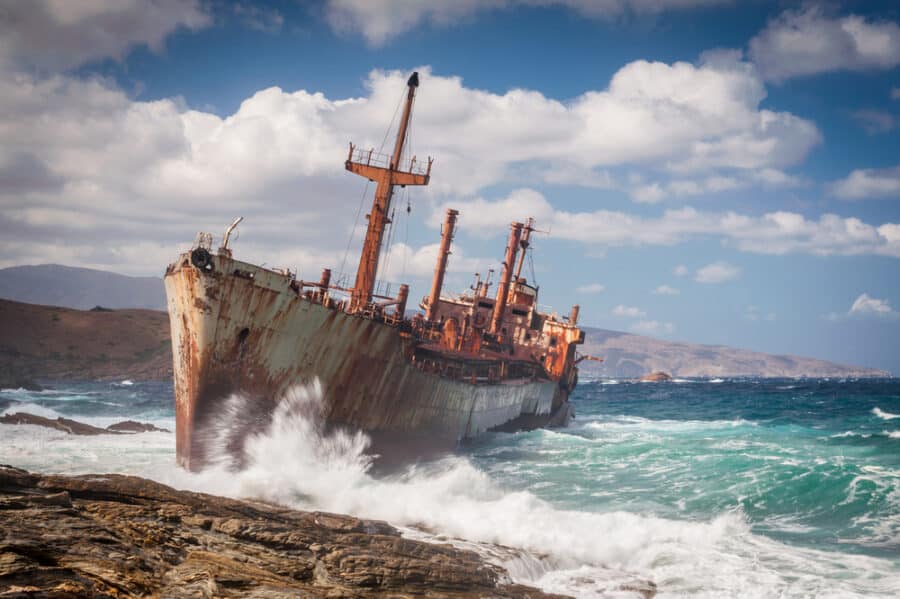 Easy to reach from Athens and not yet invaded by massive hordes of tourists, Andros is a laid-back destination ideal for hikers and outdoor enthusiasts. Also part of the Cycladic Islands, Andros has often been described as one of the best hiking spots in Greece.
Andros has made quite a reputation among experienced hikers in Europe; the well-known Andros Route crosses the whole length of the island, from the northern coast to the South, covering a path that extends for more than a hundred kilometers.
Along the way, pastoral landscapes with old stone bridges offer unexpected views and perfect settings for photography. The trail has been mentioned in several hiking manuals and has been awarded the Leading Quality Trails – Best of Europe Award by the European Ramblers Association.
If you are not an experienced hiker, it is a good idea to start with an easier trail, though, for instance, the Andros-Paleopolis' loop hike, which is about 3.7 kilometers long and can be easily completed even if you are not that fit.
Mount Ainos National Park, Kefalonia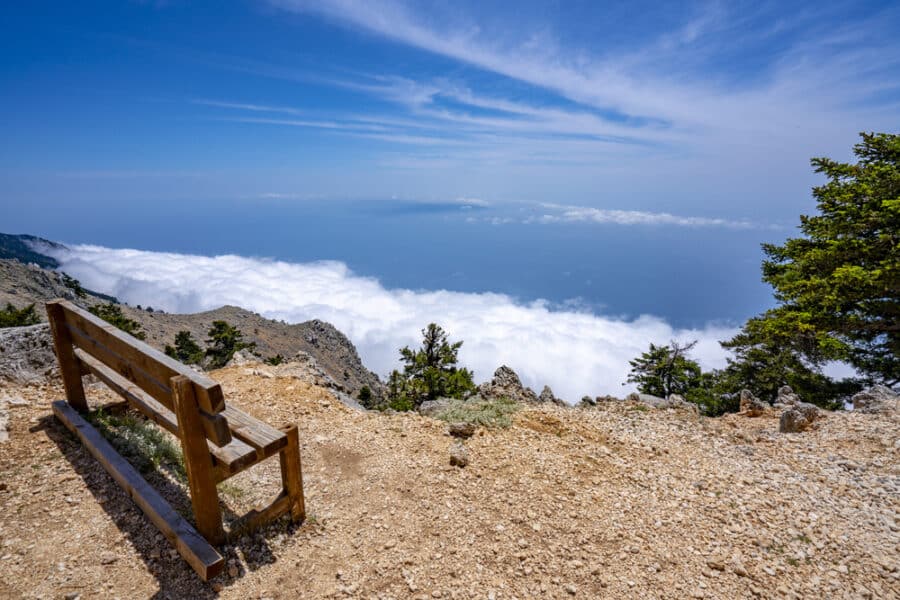 Arguably among the most impressive Greek Islands, Kefalonia is an untamed destination that outdoor lovers enjoy exploring all year round.
Suppose you are wise enough to avoid the more touristic parts of the island, including some of the popular beaches that can get really overcrowded in summer. In that case, the green and rugged hinterland can provide some exciting hiking experiences, some of them easy enough for the whole family.
There are plenty of hikes around the island, including eight different trails, some of the loop trails, in Mount Ainos National Park, home to the highest peak on Kefalonia.
Hiking Rhodes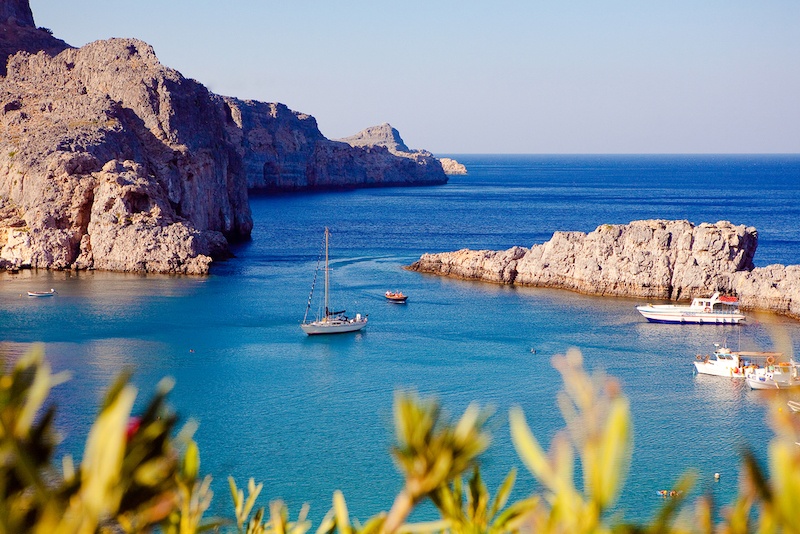 One more big island for our collection of best-hiking destinations in Greece is Rhodes which artfully combines impressive beaches, stunning history, and yes… also breathtaking hiking paths!
For the best trails on Rhodes, it is best to reach the western area of the island, with its dense forests and plenty of hiking opportunities.
Some of the trails remain quite unknown to many tourists that reach the island for its popular beaches. Venturing along these routes is fairly safe and provides excellent opportunities to discover abandoned ruins, amazing olive fields, and vineyards.
Hiking Sifnos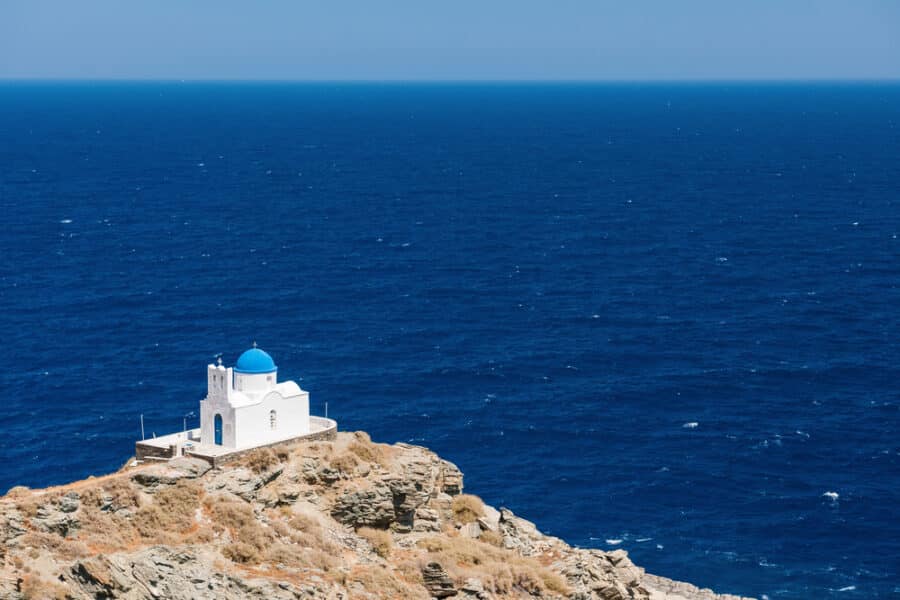 A great hiking destination in the Cyclades, Sifnos is home to a wide selection of uncharted hiking trails of mild to mid-difficulty, spanning over more than 200 kilometers on nineteen well-marked paths some of them really ancient.
On the island, it is a good idea to check the hike that takes you from the archaeological site of Saint Andrews and takes walkers along a variety of different natural landmarks and historical sites, and monasteries that you could otherwise miss.
The trail connecting Platis Yialos, Profitis Ilias Kontou, and Fikiada Loop is a popular path, although it still remains free from heavy crowds. The 11-kilometer trail starts near Apollonia, the elegant Neoclassical capital of the island.
It is an excellent choice if you wish to have a close-up look at local wildlife without extreme effort or fatigue. It is a path of moderate difficulty, and it can make for a nice (and long) day trip for the whole family.
Hiking & Geocaching Amorgos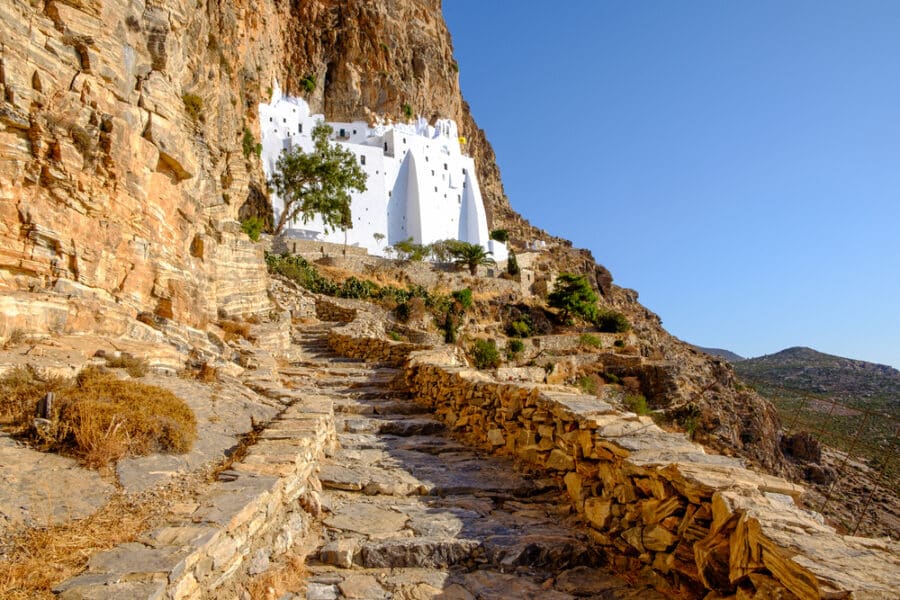 Blue and spectacular, Amorgos is an outstanding island on the southern area of the Cyclades, quite close to the Dodecanese cluster.
The island is a magnificent destination for hikers as well as for geocaching. Several isolated and secluded trails, entirely off the beaten path, connect different points of interest in Amorgos, mainly villages and old settlements.
A must-walk trail on Amorgos is known as the Old Strata hike, starting in the Amorgos Chora and going through some of the beautiful monasteries that the island is famous for. While enjoying the stunning seaside views along the way, you will slowly make your way along the fourteen-kilometer hike that can take up to 6 hours to complete.
Family Hikes On Karpathos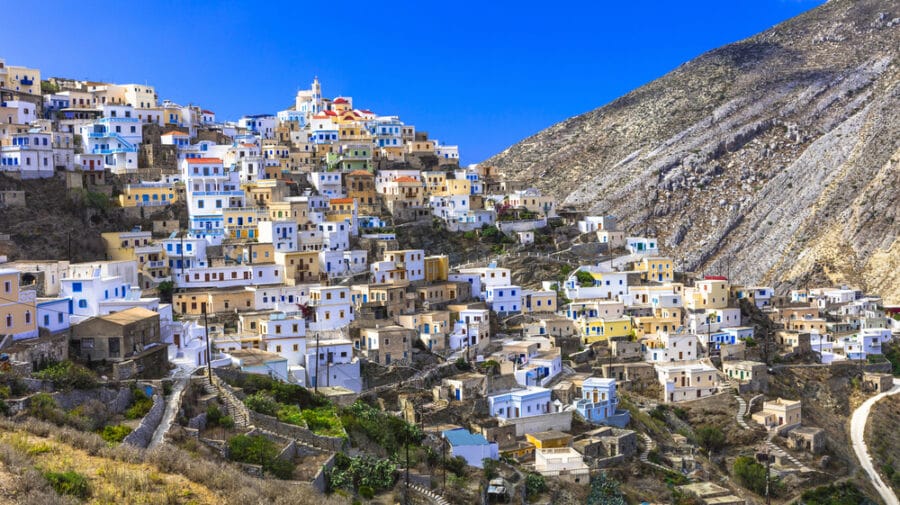 Not far from Crete, on the southern edge of the Dodecanese, Karpathos Island is an excellent hiking destination offering many interesting walking routes and beautiful mountainous landscapes.
Distinguished by high mountains, dense pine forests, and pristine valleys, hiking in Karpathos will offer the opportunity to discover traditional old villages and lead the way to some pristine and often deserted beaches that can provide an incredibly rewarding experience after the walk.
The island features both easy hikes for the whole family and more difficult roads for expert hikers. The walking trails often connect small villages along the way. It is easy to follow the trails as most of them are well-marked with red signs painted on the rocks or trees.
Mount Dirfi, Evia
The second biggest island after Crete, Evia is a one-of-a-kind hiking destination, featuring mountains, lush forests, and stunning beaches too! A perfect island for active holidays, hiking and mountain biking are among the most popular things to do in Evia.
Blessed with canyons and stunning peaks, Evia features fantastic trails ending either in inspiring waterfalls or high summits.
Reaching a height of 1743 meters, Mount Dirfi is a very popular hiking spot on Evia, followed in size and importance by Mount Olympus, about 1170 meters above sea level.
Both offer challenging hikes and rewarding views of the island and mainland Greece from their summits.
Mount Hellanion, Aegina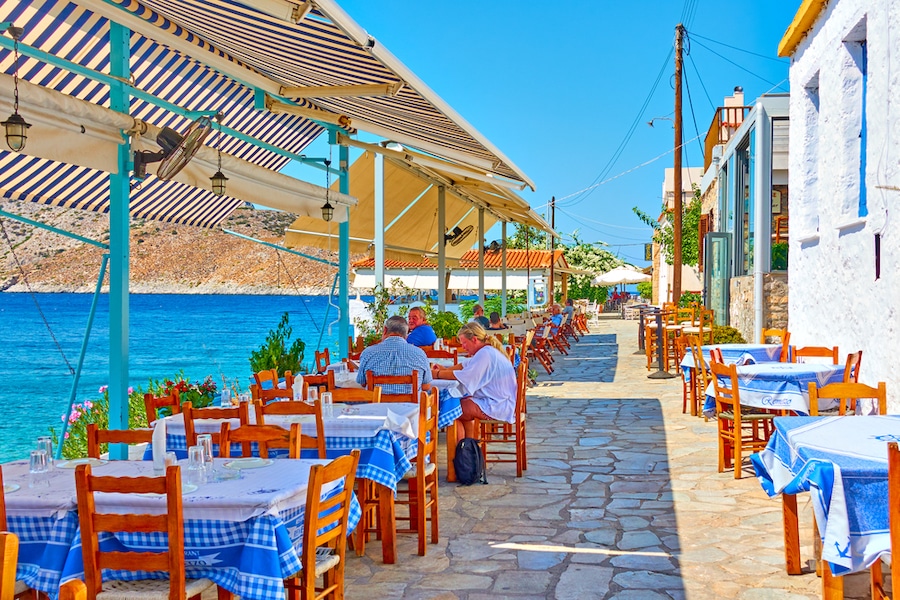 Not far from Athens, therefore easy to reach with a short boat ride, the small island of Aegina has some stunning hiking trails (about nine) worth exploring. One of them is the hike to Mount Hellanion, full of beautiful landscapes and incredible history.
Mount Hellanion is the highest peak of the Saronic Gulf, at 532 meters above sea level. The place, home to the ancient altar of Hellanios Zeus, the Zeus of the Greeks, was the god in charge of dominating the weather and used to be worshiped with several other mythological names on the highest peaks located all over Greece.
The area is also listed as an archaeological site, and it has the remains of building complexes related to the ancient temple that once dominated the area. The hike to ascend the peak is an easy and traditional mountain path surrounded by low vegetation, herbs, and flowers.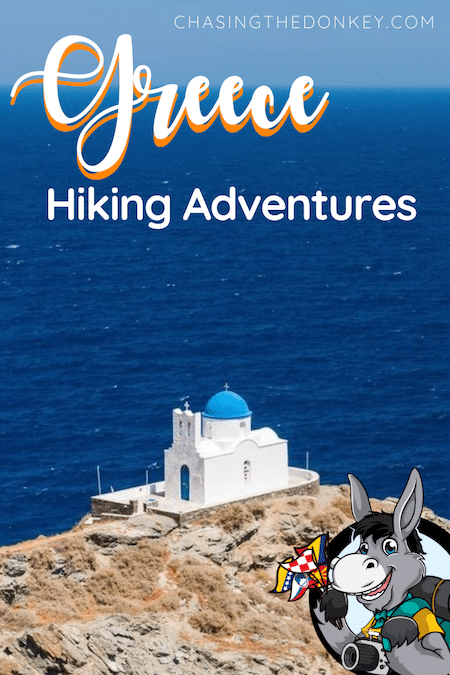 Samothrace
The island of Samothrace, often described as nothing but a mountain rising from the depths of the sea, is an excellent destination for hikers. After Crete and Evia, the third biggest Greek Island is home to dozens of interesting paths and trails of different difficulty.
On the island, visitors can trust the expertise of the Samothraki Hiking Club to ask questions and be ready to experience the trail. The group regularly publishes suggestions and dedicated maps specially designed for hikers.
On the island, and at a breathtaking height of 1610 meters, Mount Saos offers a six-hour path to the summit that is extremely steep and dangerous, only advisable for those who have already quite an experience hiking on rugged terrains.
Skiathos Hiking Trails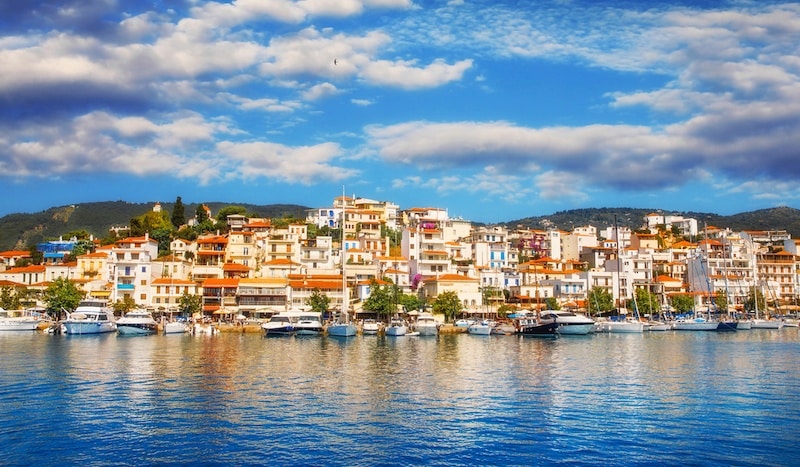 Part of the Sporades, Skiathos offers some of the best hiking trails in Greece that you could imagine. Not quite as popular as many other Greek Islands, Skiathos can be a heavenly destination for outdoor adventurers, remaining pretty off the beaten path and solitary even during the peak of the summer season.
There are over ten scenic trails to choose from on the island; some of the routes are kid-friendly and perfect for the whole family, no matter your skill level.
Take, for instance, the Tzaneria Beach Loop, a trail located close to the sea. The whole circular path is about eight kilometers long and rewards you with scenic sea views. It is a good trail for all ages and skill levels.
Kythnos Hiking Paths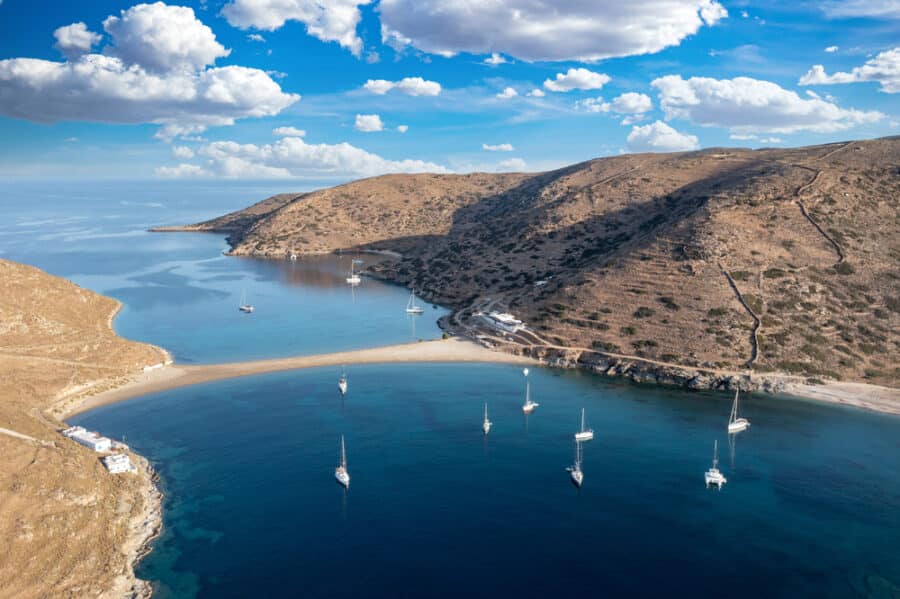 One more Cycladic Island featuring great hiking paths, some of them suitable for the whole family, is the island of Kythnos allows hikers to experience something different and authentic, with plenty of opportunities to discover the history and the breathtaking landscapes of the island.
The paths offer incredible surprises, taking you on a journey among ancient picturesque settlements, old windmills, unexpected thermal springs, country chapels, castles in ruins, and some of the most spectacular beaches in Greece.
The island's highest peak, Prophet Elias, is not that high, at only 336 meters above sea level; however, once you reach the peak, it offers an unobstructed view of the whole island and incredible panoramas over the coastline and over secret beaches. Although not all paths are marked, and some of them can be a bit difficult.
In any case, many of these trails belong to an old network of trails that the inhabitants used for centuries before the island had any official asphalt road. Overall the island is a great hiking destination.
The Kolona Beach Path is the most famous trail Kythnos due to its peculiar characteristics. It is a strip of sand connecting Kythnos with the rocky island of Agios Loukas, the path that starts at the bay of Apokrousis and moves on a narrow and rugged dirt road until you get to the beach; it is not long, about 2.5 kilometers, but relatively easy for hikers of any age and skill level.
Share