Privacy & disclaimers →
Aegina, Greece Guide – Close To Athens & Waiting For You
One of the best Greek Islands to visit while spending some time in Athens is the island of Aegina. Reasonably close to the capital but big enough to offer several interesting things to do, Aegina is a unique Greek island where time seems to run at a completely different pace.
This article will show you the best of Aegina Island, including some of the most unique things to do in Aegina, how to get from Athens to Aegina, and much more. Are you ready? Let's go to the Island of Aegina!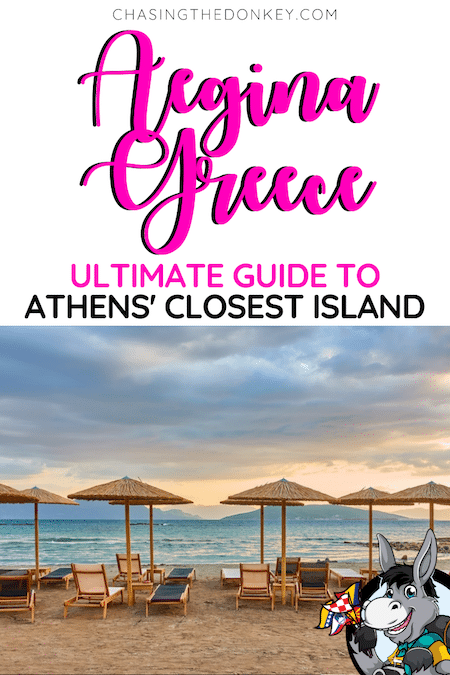 General Information About Aegina Island
One of the closest islands to the coast of Athens, Aegina is a great place to discover while you're enjoying some time in the capital of Greece. It's a fabulous destination with interesting things to discover for short-day trips and for longer vacations.
Suppose you're looking for unique monuments, history, and culture but also to relax on unique beaches and splurge on fresh fish and delicious pistachios. In that case, Aegina Island in Greece is a must-visit place to add to your bucket list.
How To Get To Aegina From Athens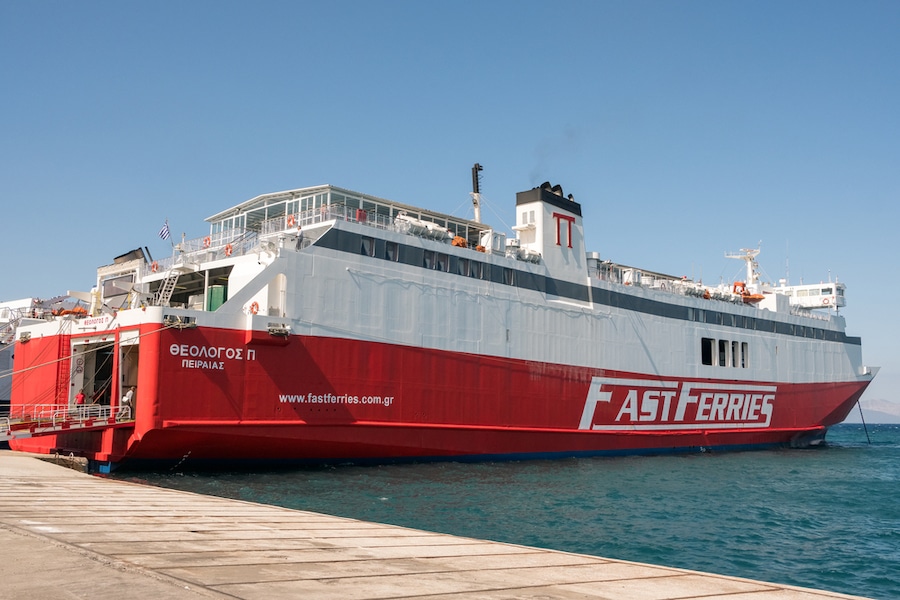 There is an Athens-Aegina ferry that travels between the coast and the island on a daily basis. These ferries can also take you to two other small islands in the same gulf, Hydra and Poros.
A day trip from Athens to Aegina Island involves a 30-minute ferry ride (with the Flying Dolphin). These convenient Aegina ferries depart from the Port of Piraeus, and the ticket is about 15 euros.
If you want to save a few dollars, you can also book tickets on slightly slower ferries for 8 euros. The slower ferry operations take approximately an hour to get to the island.
Several daily ferries cover the route in summer. Still, booking your tickets in advance and getting to the port at least one hour before departure is always a top idea.
It's also possible to reach the island by boarding a car ferry from Athens to Aegina. The ticket is under 10 euros each way, and the ride is less than an hour and a half. The price to also board your car is 20 euros.
TRAVEL COMPANIES WE USE AND TRUST
Best Time To Visit The Island Of Aegina
No matter whether you're visiting Aegina in the middle of the high season or during winter, which is definitely less busy, here you'll find great things to check out when visiting the island.
As with any other Greek Island, there are more things to enjoy when the weather is warm, more Aegina beaches to enjoy, and more walking paths to explore. However, since the island is so close to Athens, people visit it all year round, even in winter. Besides, in winter it's also possible to find cheaper accommodation and better prices for food and excursions.
How To Get Around In Aegina
No matter which Athens to Aegina ferry you choose, you'll arrive at the island's capital, where the main port is also located. The area is central, so you won't need to walk much to be in the heart of Aegina Town.
If you plan to spend some days on the island and do not intend to hire a car, make sure your Aegina accommodation is in this area. This will put you close to all attractions and services, including bus stops to move around the island.
The island has an excellent public bus network, and taxis are also available and not expensive.
Water taxis are also a possible means of transport to get around the island of Aegina. Those are great options for visiting distant beaches and other islands nearby.
Top Things To Do In Aegina Greece
Explore Aegina Town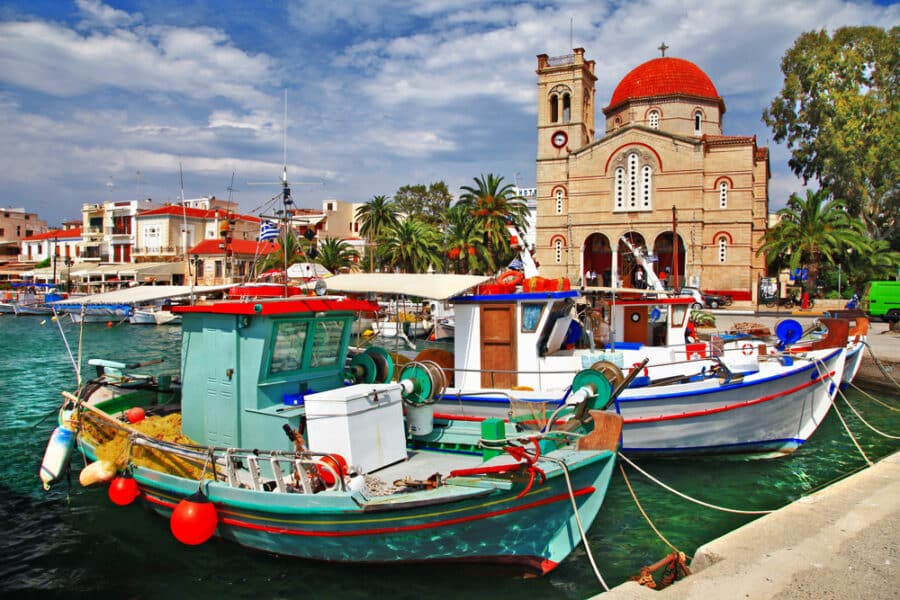 Aegina Town is where you will find yourself after you get off the ferry, and it's a beautiful settlement to explore. The architecture is traditionally Greek in style and the lovely colors of the buildings and narrow streets bring a picturesque charm.
In town, you will find many shops for souvenirs, along with delightful outdoor dining venues where you can enjoy the sounds of the sea as you enjoy Greek cuisine.
Rent A Scooter Or Bicycle
As mentioned before, the ferry will drop you off in Aegina Town, and you could spend your whole time on the island in this town. However, it's such an adventure to discover other areas of the island, finding an escape from the tourist zones.
Renting a scooter is a more affordable (and fun!) option than renting an entire car, especially if you are traveling solo or as a pair.
Alternatively, if you enjoy riding bicycles, these are another excellent option for getting out to see the island on your own!
Catch A Sunset At Aegina Lighthouse Of Bouzas
If you love a good sunset, head about 1km from the port to the Aegina Lighthouse of Bouzas. It's a quint white brick structure along the beach and is the perfect place to picnic and take in the hues over the sea!
Travel Along The Coast
If you love the flexibility of spontaneously stopping at different spots throughout the day, driving along the island's coastal road is an incredible way to spend an afternoon.
The road winds most of the way around the island, and whether you travel north or south from Aegina Town, you will come across plenty of unique stops.
Along the south side of the coast, you will find many quiet little beaches. Spend your day beach hopping and grab refreshments at the beach bars along the way or at little restaurants serving fresh seafood.
You will find more tourist sites on the north route, like the beautiful Temple of Aphaia.
Visit The Temple Of Aphaia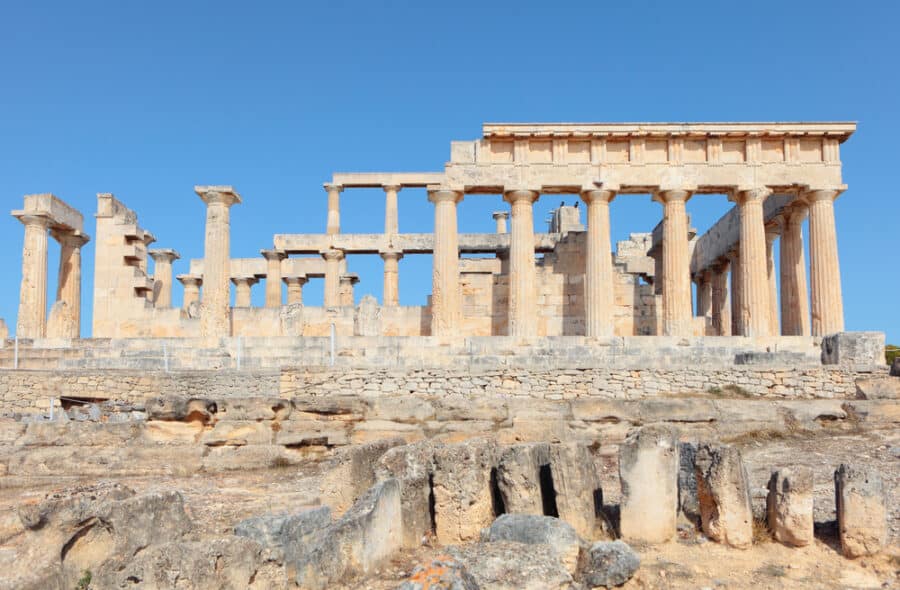 Wondering what to do in Aegina? Probably one of the places you shouldn't miss when visiting Aegina is the beautiful Temple of Aphaia, considered the best-preserved Classic temples in Greece.
This impressive site dates back to 500 BC. Located about 13 km from Aegina Town, the site is on a hill and offers stunning views of the surrounding area.
The site is open daily from 10:00 am to 5:30 pm, and the entrance fee is 6 euros.
When you visit, why not also spend an hour discovering the fantastic Archaeological Museum of Aphaia? It's located right in the archaeological site area and will depict a wider panorama of life on the island during the Classic times. Entrance to the museum is included in your ticket cost.
Check Out The Archaeological Site Of Kolona
This site is not as well preserved as the Temple of Aphaia. Here, the only structure still standing from the Temple of Apollo is one Doric pillar along with the remains of a prehistoric town.
The column used to be a reference point for the Venetians when they inhabited the island. They gave the area the name "Colonna" which means "column" in Italian.
The temple costs 4 euros to visit and is open in the summer from 10:00 am to 5:30 pm. Your ticket also includes entrance into the Archaeological Museum onsite.
Hike To The Temple Of Zeus Hellanios
Ellanio, Aegina's highest mountain, is the site of a 13th-century Byzantine church (Agios Taxiarchis). You can hike to this church that was built on the ruins of the Temple of Zeus Hellanios.
Today, you can see parts of the original temple while wandering the churchyard. A wide staircase, two stone water channels, and a corner of 4th-century brick masonry all remain.
Visit The Tower Of Markellos
This watchtower, of a unique salmon-pink stone, was built by the Venetians during their second rule of the island in preparation for an Ottoman siege. The tower has changed hands over the many rules of the island (Venetian, Turkish, Greek), yet it still stands and is an interesting structure to explore for those who love history and architecture.
Visit Agios Nektarios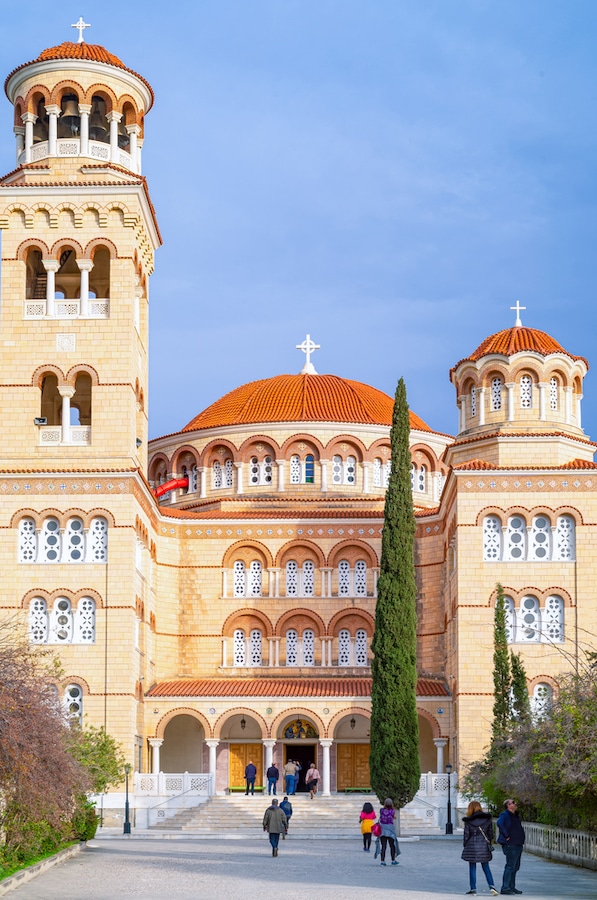 Orthodox Monasteries flourish all over Greece, so why should it be otherwise on Aegina? If you're interested in religious art and architecture, spend an afternoon exploring the spectacular Monastery of Agios Nektarios.
The place, surrounded by beautiful gardens, hosts the largest building in Aegina, the Cathedral of Saint Nektarios. The monastery is very close to the small town of Paleahora, the old capital of Aegina.
As a reminder, make sure to cover your shoulders and knees inside the church and remove your hat.
Discover The Unique Village Of Paleachora
Aegina's former capital is the small town of Paleachora, a place where you can feel the real calmness and tranquility that little villages still preserve on many Greek islands.
This abandoned medieval village is a popular site on the island. It is here the citizens once protected themselves from pirate raids, until 1537 when the pirate Barbarossa burnt the village to the ground, leaving only the churches standing.
One of the best things to do in Paleahora is to wander the small alleys in search of some of the island's oldest (and many) churches and chapels. Thirty-three of them still stand today, each dedicated to a different saint. You will find that some churches have been renovated, with some having frescoes replaced.
The entrance to the village is free, and you will want shoes that are comfortable for moderate walking.
Sample The Well-Known Pistachios From Aegina
Pistachios are one of those things you wouldn't expect to find in Greece; however, the ones harvested on the island of Aegina are often described as among the tastiest pistachios in the whole world!
This quite different variety of pistachio you will find on the island is incredibly tasty! You can buy them virtually everywhere on the island, making them a great souvenir to take home from your trip!
And not everything is just about getting a bag of pistachios! You can taste delicacies such as pistachio butter or spreads, lemon-scented pistachios, and much more! Head to any market or town center shop and enjoy a pleasant tasting session before buying.
You can join in the festivities surrounding the pistachio harvest at The Aegina Fistiki Fest every September.
Visit Kypseli, Home To The Pistachio Trees
The small town of Kypseli is known as the home of the pistachio trees on Aegina. The trees blossom in April and then are harvested in August & September.
The town is also home to some incredibly unique churches, making it a fun stop for those interested in architecture.
Discover The Seaside Town Of Perdika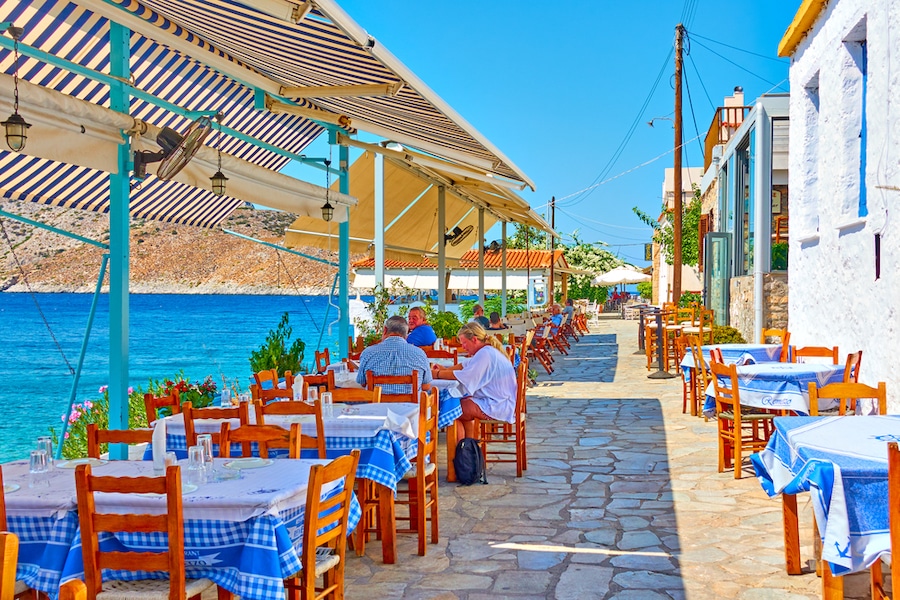 Located on the southern side of Aegina, don't miss a visit to one of the most charming fishing villages that you'll come across in Greece. Soak in the magnificent island vibe and try some of the most delicious and freshest fish dishes you could dream of!
It's a beautiful idea to drive all the way to Perdika and discover some hidden island villages. Still, nothing will ever beat a romantic boat ride that takes you directly to the heart of Perdika.
Go To Moni Island
If you're up for more adventure from Perdika, you can also take a boat to visit the small and uninhabited islet of Moni. The beach is enchanting, the waters are crystal clear, and you don't need to carry much with you as you will find everything in a lovely taverna right by the sea.
The island is inhabited by peacocks and wild goats, both of which you will likely see as you explore this exquisite island.
Hike The Paths Of Culture
Aegina's landscape has been shaped by volcanic activity and has everything from low hills to high mountains. Well-marked, signposted trails known as the "Paths of Culture" are excellent ways to explore the terrain of Aegina on foot.
The eight paths take you past both stunning scenery and historical spots throughout the island.
Visit Aegina's Museums
There are a handful of unique museums on the island, so if you are someone who is drawn to digging deeper into history, art, and civilizations, consider a stop at any of these:
AEGINA ISLAND MUSEUMS
Folklore Museum – featuring maps, manuscripts, costumes, and furniture from the island's past
Christos Kapralos Museum – this used to be the workshop of Christos Kapralos, a famous Greek sculptor
Archaeological Museum Of Aphaia – located right in the archaeological site area of the Temple of Aphaia, it depicts a panorama of life on the island during the Classic times
Monastery Of Saint Catherine– while not a museum in the classic sense, this beautiful convent will transport you back in time as you wander the building and the lush gardens and flowers
Best Beaches On Aegina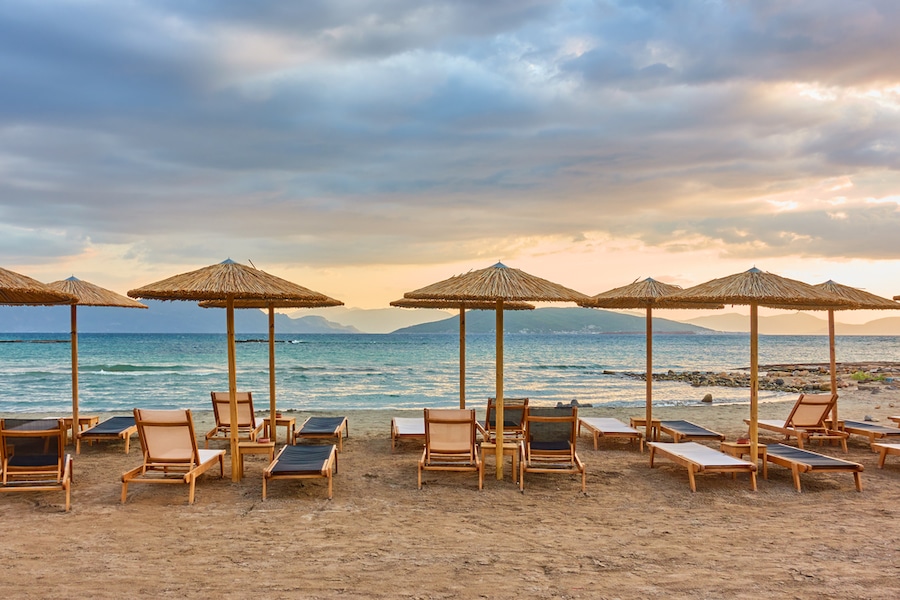 It's a great idea to rent a car, a scooter, or even a bike to move around on the island. The north and south coast have excellent beaches to sunbathe, swim, and relax. Aegina is a Greek island, after all, so you'll find numerous gorgeous beaches. These are some of the nicest beaches you can check on the island:
Agia Marina
Known as an excellent beach for families, this Blue Flag awarded beach is in one of the main resorts on Aegina. The waters are crystal clear, and the shores are sandy. Watersport enthusiasts will also find great sporting options at this beach.
Fyki Beach
This beautiful little beach is found in a cove 8km from the port. Surrounded by trees and nature, you'll feel like you're in your own little world.
Karnagi
The wide sandy beach is quite close to the main town of Aegina, reasonably close to another gem you can visit on the island, the Temple of Apollo. The beach has impressively clear waters, and it's pretty safe if you're staying with children. Since it's quite a popular spot and enjoys a relatively central position, you'll quickly find several tavernas and beach bars for snacks, drinks, and even a full Greek-style meal.
Klima Beach
Found on the south side of the island, Klima Beach is one of the most beautiful. The mostly sandy beach and emerald waters are gorgeous. The beach is also entirely organized, with loungers, umbrellas, and a nearby beach bar for any refreshment needs throughout the day.
Marathonas
Marathonas is probably the most popular beach in Aegina, it's well-known among tourists, and you will usually find it quite crowded. For those who are into adrenaline and fun, on Marathonas, it's possible to practice different water sports and dive or explore the magnificent sunbed by doing some snorkeling.
Souvala
This little bay is found near the village of Souvala, on the north side of Aegina. The beach is sandy and shallow, and the area is known for hot and cold thermal springs. It makes for an incredibly chill afternoon!
Nearby, there are also excellent spots to grab fresh fish when you get hungry.
Kavouropetra
Not many tourists know about this remote place, so the beach is usually empty. The area is home to a magnificent landscape, fantastic island views, and sea views.
Perdika Beach
If you've decided to try this little fishing village, don't leave without first visiting its romantic seaside area. The beach is quiet and gorgeous; there are some scenic coves to explore and areas with sand, which is safer if you visit with children.
Where To Stay In Aegina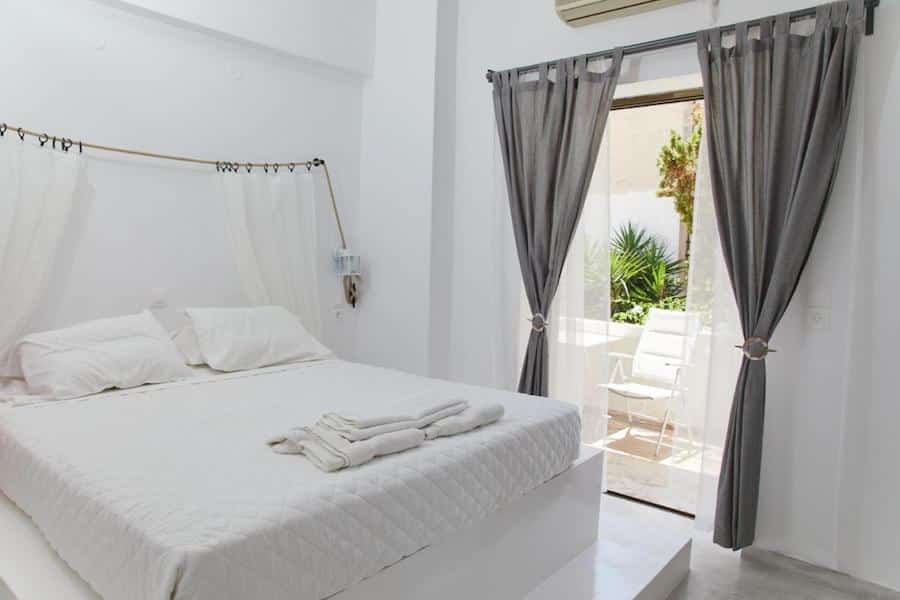 Golden Star Praxitelous is a family-friendly accommodation in Agia Marina. It offers self-catering accommodation just one kilometer from the Temple of Aphaia.
The complex features air-conditioned apartments with a TV and a kitchenette, some with a balcony or a patio.
.
AEGINA GREECE FAQs
Is it worth it to visit Aegina?
Definitely! In fact, locals from Athens head here all the time.
How many days are needed to visit Aegina?
Aegina can easily be visited on a day trip from Athens, yet spending 2-3 days here is also an excellent way to get a good sense of island life, especially if you don't plan to visit any other islands in Greece.
What nearby islands can I visit before or after Aegina?
Heading to Agistri, Hyrda, Poros & Spetses islands are great options after Aegina.
What food should I eat in Aegina?
Foods to try include
Pistachios and all the variations (cakes, ice cream, biscuits, etc.)
Fresh, local seafood – especially "katsoula," which is a local, flat fish similar to sole but pink in color; anchovies; octopus
Local wine varieties – Roditis & Saveatiano
Handmade cheese & spinach pies
Where should I eat in Aegina?
Tavernas: Pita Tom, Stratigos Tavern, Ammos Tavern
Pastry Shops: Aiakeon (oldest pastry shop serving pistachio ice cream!)
Local Fish & Seafood Restaurants: Many great little fish restaurants can be found as you head out of town, often less expensive than in the center of Aegina Town.
Now you know all about the best things to do in Aegina, Greece; all that is left to do is to go and enjoy!