Here is all the Spetses travel advice that you need. We've got a list of things to do on Spetses Island, top Spetses sites, and tips for where to stay in Spetses Island, Greece.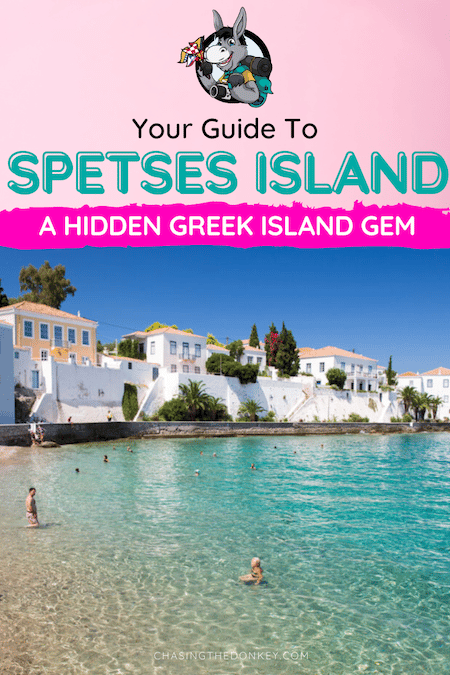 Easy to reach from the coast of Athens, Spetses is a popular island destination for those living in Greece's capital.
The place, home to a laid-back vibe and has no mass tourism, offers dozens of fabulous villas and houses to rent facing the coast, perfect if you are planning to spend a long — or at least very relaxing — holiday by the sea.
Where Is Spetses Island
Spetses Island is located on the Argo Saronic Gulf, close to the islands of Poros and Hydra, under two hours and a half from the port of Piraeus, on mainland Greece. Together with the rest of the island on the same gulf, Spetses is one of the closest destinations to Athens.
How To Get To Spetses Island, Greece
The only way to get to the island of Spetses is via ferry. Hellenic Seaways boats sail from Piraeus to Spetses daily via Hydra and Poros Islands, the first two stops on the route.
The journey is about 2.20 hours, and there are about three ferry connections per day; often, this number increases during the summer. At least one of the daily ferries also offers transport for vehicles, which is ideal if you rent a car to visit Greece.
Some travelers also reach Spetses Island with small boats from the port of Kosta in the Peloponnese, where there are hourly departures every summer.
When Is The Best Time To Visit Spetses Island
If you're looking to spend time on Spetses for a vacation, the best period to visit is during the warm season, from late May until September. During this period, the temperatures are pleasant for a seaside holiday; however, as more travelers want to discover Spetses in summer, prices tend to go up for accommodation.
Spring is also a great season to visit, offering plenty of sunshine days and mild temperatures, although you might encounter the occasional shower. Days start to get shorter in autumn, although you can still experience some sunny mornings. Winters do not see as many travelers reaching the coasts of Spetses, as many local businesses and accommodations are often closed for the cold season.
If you don't enjoy crowded places, try avoiding July and August. June and September are probably the calmer months with hot weather and better fees.
Best Things To Do In Spetses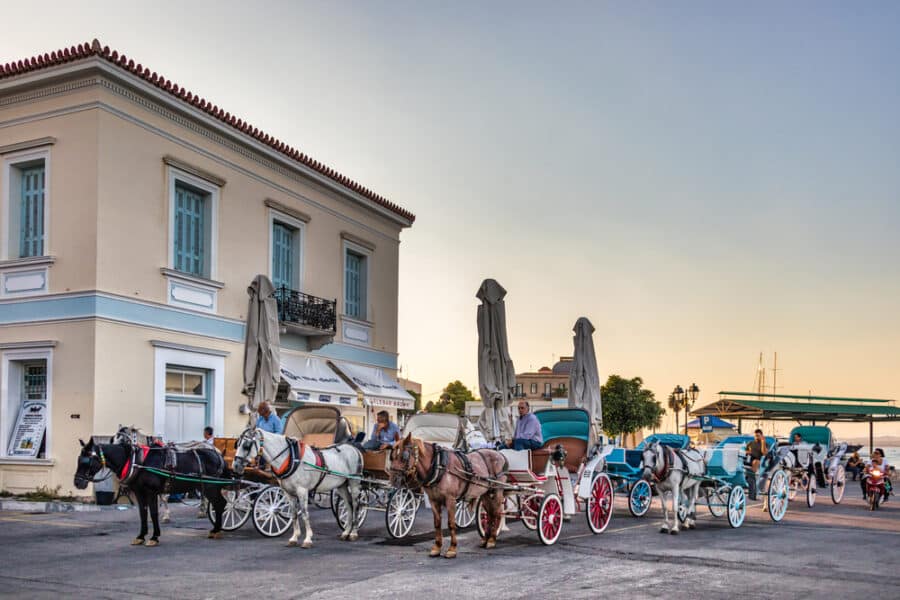 Hundreds of pine trees, gorgeous little coves, and a sense of calmness are part of Spetses' landscape. The island does not offer endless things to do as you could find on the bigger Greek Islands, such as Ios or Santorini; however, rest assured that you won't get bored in Spetses.
Let's see what the best things to do in Spetses for a fantastic vacation are.
Visit Spetses Town
The capital of Spetses, known as Chora or Spetses town, is located on the island's northern coast. Here is also the place where the boats arrive from Athens.
The island shares the same history as the other Saronic Islands (Hydra especially) when it comes to a rich past made of naval trade and commerce. However, Spetses town is not as charming or picturesque as Hydra.
Still, this little settlement is perfect for those who don't want to get bored. Along the main streets, you will find dozens of bars, traditional cafés, and tavernas, as well as many interesting souvenir shops that, especially at night, add a pop of color to the streets of Spetses, especially to the pedestrian area.
In town, there are still several interesting Neoclassic buildings and ancient bars. However, many more modern constructions are constantly changing the facade of the settlement.
Discover The Port Of Spetses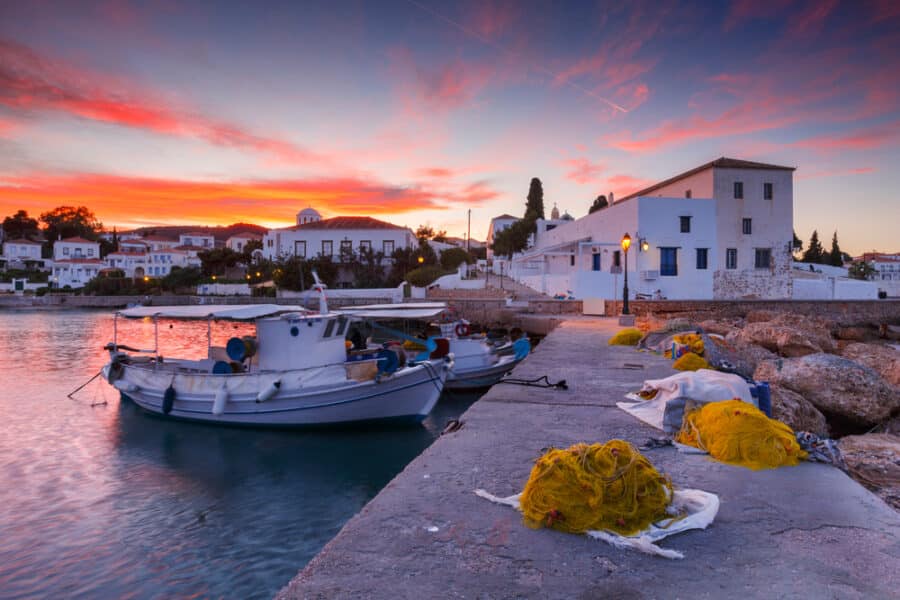 One of the best places in Spetses to taste fresh fish or for a simple walk at night is the old port of Spetses, also known as Dapia. Here it is common to observe dozens of luxury yachts anchored in the area for long months in the summer.
Since the island is quite big and the port area extensive, a stroll along the port can take you just under an hour. You will find some good restaurants and even more souvenir shops along the way.
Spetses Museum
The island's folklore museum is located in one of the most magnificent mansions on the island, which used to belong to an important aristocratic family. The place is worth a visit to admire the impressive house and also to check out the incredible collection of naval memories that made the history of Spetses island.
Bouboulina's House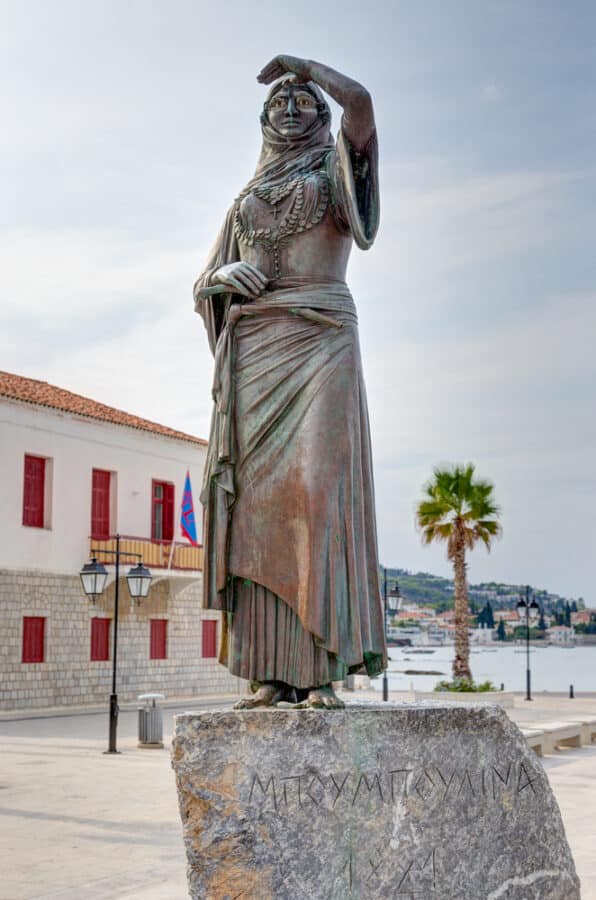 Located close to the port, this important place in town used to belong to a local heroine, Laskarina Bouboulina, a woman who commanded her own fleet during the Greek Independence war. This is another exhibition related to the maritime history of the island.
Bouboulina was an important character in the country's history who was killed in 1825, and her house was then transformed into a museum.
Inside the residence, it is possible to admire weapons, antique furniture, and some interesting paintings – all things on which the heroine would spend her fortune when not purchasing ships!
Trekking In Spetses
The most popular activity on Spetses is relaxing and enjoying your free time, and one of the best ways to do so is to venture on some of the different hiking trails that you'll find on the island.
The island is bigger than Hydra, for instance, but this does not mean it is a big island. It is relatively easy to trek or hike to visit the Spetses beaches spread along the coast. If you plan to hike around Spetses in summer, try to avoid the hottest hours of the day, and whenever possible, carry enough water, sunscreen, and a hat.
To avoid getting lost, it is a good idea to join a hiking adventure with a local guide this way, you can enjoy a morning circular hiking trip on the island's hills to enjoy the impressive views of the island.
Rent A Bike To Discover Spetses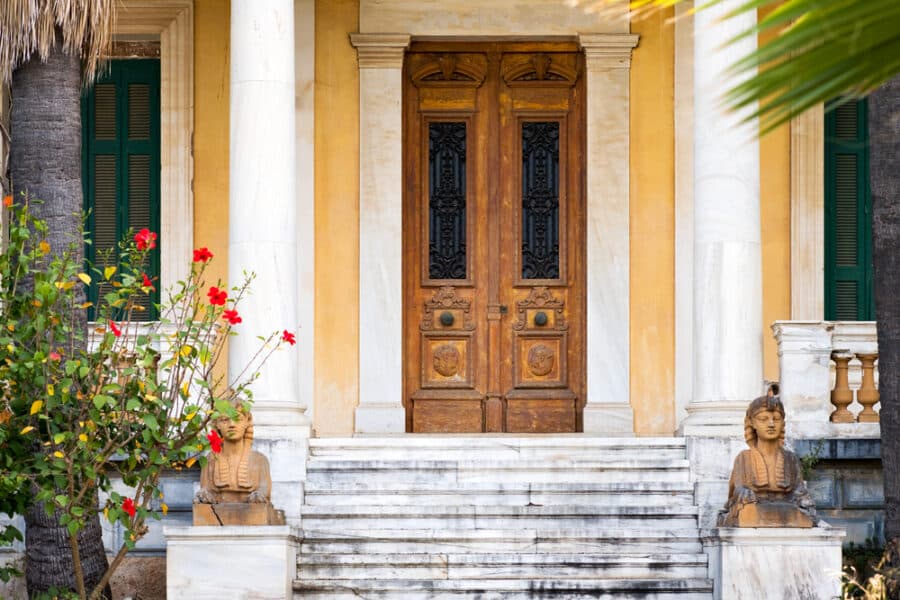 The center and main town of Spetses can be a little bit chaotic when hundreds of Athenians disembark on the island with their own cars. But you do not need to escape! It will be enough to rent a bike and enjoy the hinterland of the island as well as the many roads and paths that connect different beaches and villages but do not allow cars.
And if cycling is not your thing, check out an E-bike tour, which, with a little less effort on your part, still shows you the best of the island.
Check Out Some Of The Churches
As with any Greek Island, there are dozens of tiny chapels and whitewashed churches on Spetses – two of them are worth a visit. The first one is Agios Nikolaos Church, the most important religious building in Spetses, a few minutes from the center and yet within walking distance from the old port. The church is famous for its high marble bell tower.
Another important church is Panagia Armata which dates from 1840 and was built to commemorate the defeat of the Ottoman fleet by the Greeks during the Independence War.
TRAVEL COMPANIES WE USE AND TRUST
Best Spetses Beaches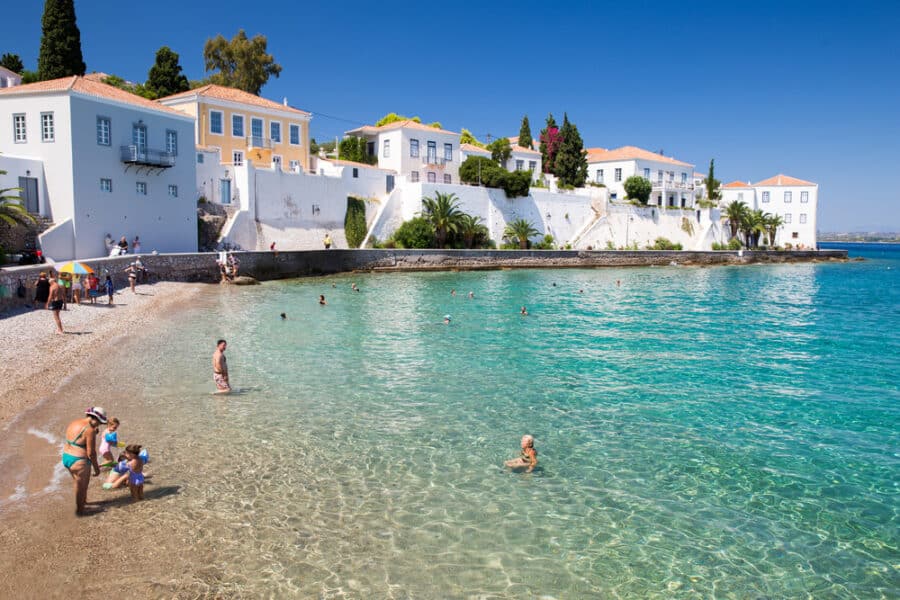 A long asphalt road goes around the island, offering access to Spetses' most famous beaches. However, some of the most beautiful shores on the island do not have easy access, and to visit, you should hire a boat or get there by bike. These are also the beaches that made trekking in Spetses so popular, offering a cheap and easy way to visit lesser-known shores, most featuring clean and crystal clear waters. These are some of the beaches in Spetses that you should visit.
Agia Marina Beach
Located on the island's eastern side, this beach is not near the main town, yet it remains immensely popular and is often crowded. The shore is also known as Paradise Beach and offers organized structures, including sun lounges and umbrellas, an important water sports center, and a well-known restaurant that also sells drinks and snacks.
It is possible to rent boats and enjoy kayaking and water skiing on the beach. The beach faces the tiny private island of Spetsopoula, which belongs to a crucial Greek shipowner. Over here, the landscape is really stunning.
Agia Anargiri
Arguably the most popular beach in Spetses when considering the number of visitors and organizations. This large, sandy bay is popular among families as it is shallow and safe, seldom affected by winds.
Over here, it is possible to participate in different water sports, including kayaking and windsurfing. Renting boats is also possible. You can check out Bekiris Cave in the area, a relatively small and low cave that you can explore wearing the right water shoes as the bottom presents rocks and pebbles.
Kaiki Beach
The beach is also known as College Beach, and it is only a 20-minute walk from the center of Spetses. You can get there walking or take advantage of the shuttle bus that reaches the shore from Spetses town.
The beach is organized; there are umbrellas for rent, a small snack bar, and beach stands offering boats for rent.
Vrellos Beach
Another favorite beach not far from Kaiki, Vrellos, is an excellent beach for families as it lies on a safe bay with small pebbles and shallow waters. However, the beach is even more popular among young people as the local beach bar plays good music all day.
The place is especially popular during the weekends when many young people from Athens go there for a short break on the island.
Xylokeritsa Beach
This shore, located on the southern coast of Spetses, stands on a safe pebbled bay surrounded by a combination of palm trees and high pine that make the landscape incredibly magical.
The place is popular as there is an abundance of organized structures to spend the whole day comfortably by the sea.
Zogeria Beach
Another great beach on Spetses, best reached by boat (although a small hiking path takes you there from the center of town). This is a popular spot known for its impressive sandy shore. Many people visit this beach only to enjoy lunch at a famous local tavern that has been serving local delicacies for decades.
The beach, only 3 km from the port, can be easily reached by bus or on foot. It features both sand and small white pebbles and is fully organized, offering the possibility to enjoy water sports and beach activities.
Island Of Spetses With Children
Although the island is small and does not have structures and activities geared for kids, some of the beaches are good enough for those looking for just a bunch of relaxing activities, beach days, and plenty of rest.
Some of its secluded beaches are pretty shallow and safe for children, although many have pebbles, making a good pair of rubber shoes to access the sea the best solution for tiny feet.
On the island, children can also enjoy horseback riding, walks in the valleys and hills, and plenty of healthy and delicious food inspired by the Mediterranean diet.
The most important characteristic of Spetses is that the island offers a friendly and welcoming atmosphere for parents and kids of all ages.
Spetses Island At Night
The island offers quite a limited choice of clubs and night entertainment, yet some great pubs, a few clubs, and plenty of wine bars can be found near Baltiza, a beach area about 30 minutes from the old port.
Open cinemas are also available during the long summer nights on Spetses, all of them located in the center of town, close to the marina.
Top Accommodation In Spetses
Although there are not many hotels on the island, there are magnificent structures that are quite affordable compared to other Greek destinations. Spetses is famous for the many studios, villas to rent, and alternative places to stay, often located close to the sea.
Budget Places To Stay In Spetses
Toula's House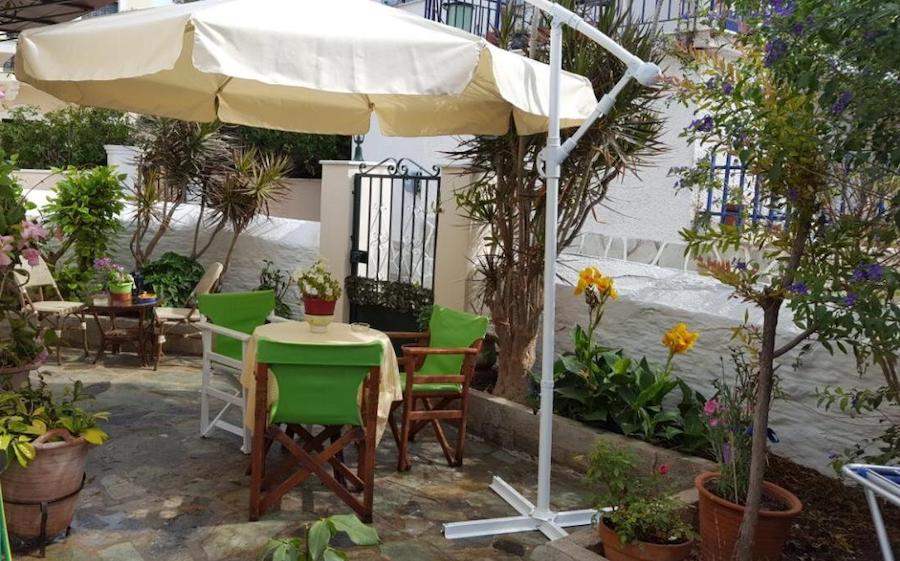 Toula's House is a small house just steps from the beach and several restaurants. It features a beautiful garden and an exceptional location, only meters from the New Port of Spetses and Bouboulina Museum. The house is about one kilometer from the old town and old port.
The house can host up to three guests and offers a well-equipped kitchen, an oven and fridge, and a terrace.
Click here for more information and the latest prices.
Aria Apartments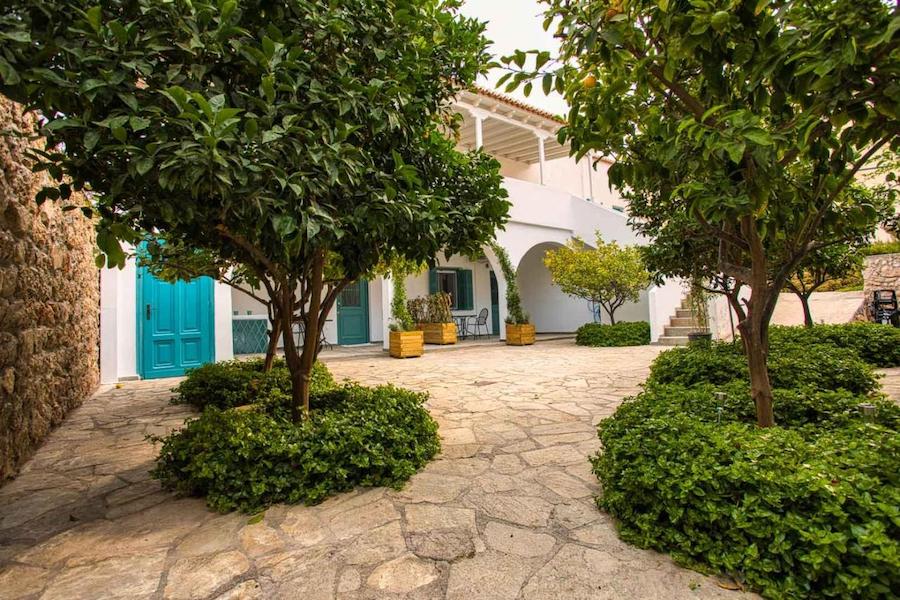 Aria Apartments is another place offering a convenient location near the New Port, while there is also a beach 200 meters from the property.
The apartments feature free WiFi, air conditioning, and access to a garden with a terrace. All units include a sofa bed, a seating area, and a well-fitted kitchenette with a stovetop and coffee machine.
Click here for more information and the latest prices.
Mid-Range Places To Stay In Spetses
Lianos Hotel Apartments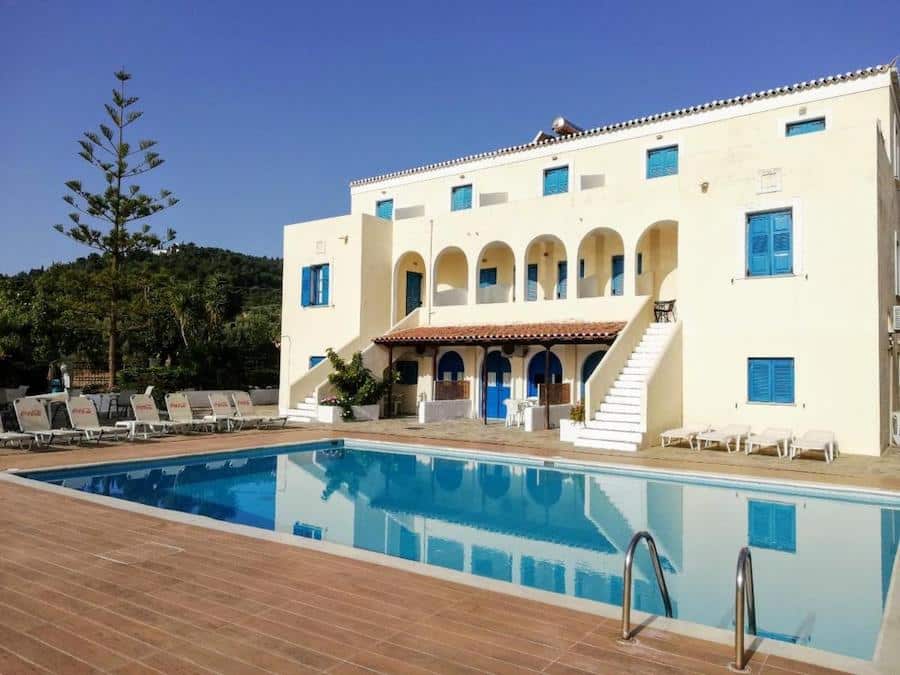 Lianos Hotel Apartments is a gorgeous hotel overlooking the old harbor of Spetses, not far from the old town. The apart-hotel offers self-catering apartments with air conditioning and balconies or terraces facing the Saronic Gulf. All of the units also include a kitchen and a TV.
The property features a pool with a sun terrace, a snack bar, BBQ facilities, and a children's playground, everything just meters from the best restaurants and traditional taverns on the island.
Click here for more information and the latest prices.
Iliana's Seaside Maisonette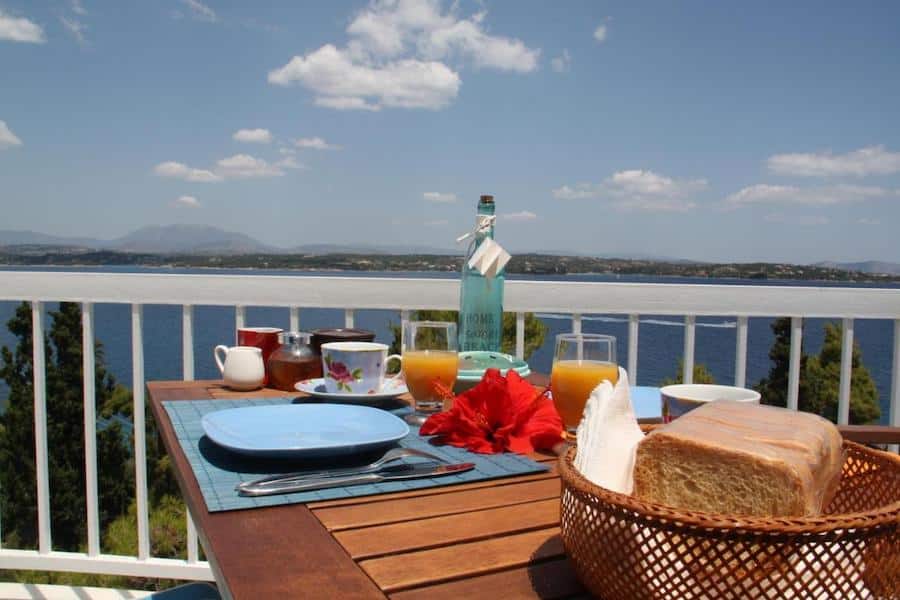 Iliana's Seaside Maisonette is perfect if you want to have a whole house by the sea for you and your family. The holiday home is less than 1 kilometer from Kaiki Beach, featuring both sea and city views.
Perfect for a larger group or family, there are two bedrooms, two bathrooms, a dining area, a fully equipped kitchen, and a balcony with garden views.
Click here for more information and the latest prices.
Luxury Places To Stay In Spetses
Villa Nika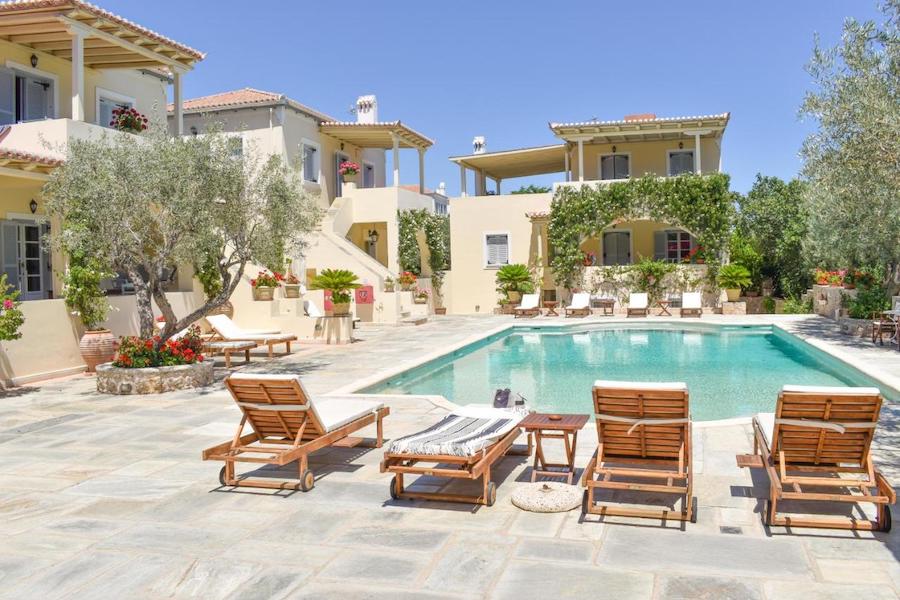 Villa Nika offers a complex of luxurious suites and apartments conveniently located in Agia Marina. The property is within 200 meters of the beach and within a five-minute walk from the Old Port. All units are beautifully furnished and equipped to the highest standards, featuring air conditioning, a fully equipped kitchen, and a fireplace. There is also an outdoor swimming pool with hydro-massage at the property.
Click here for more information and the latest prices.
Yayaki Spetses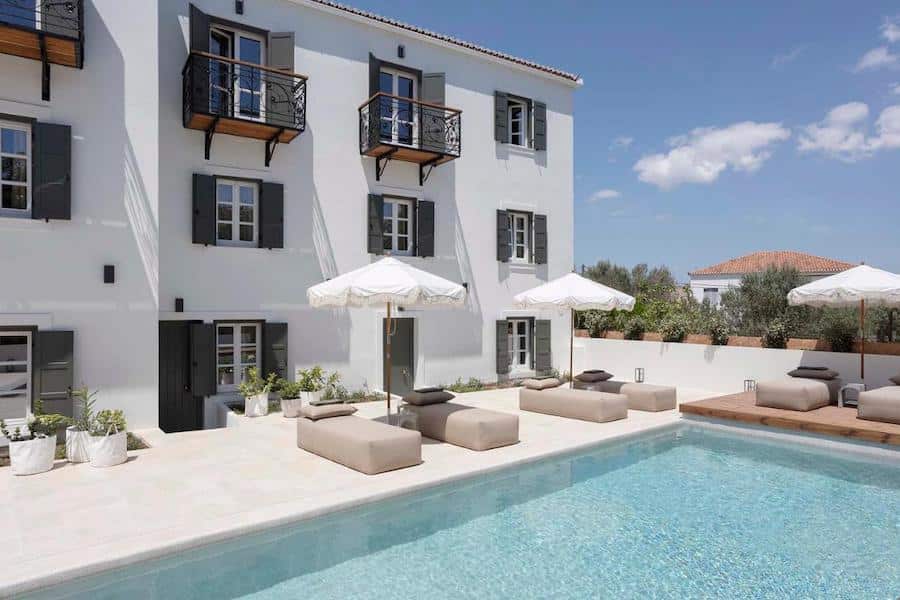 Yayaki Spetses is an exclusive property that offers a seasonal outdoor swimming pool, a fitness center, a bar, and a gorgeous garden. Family rooms have a desk, a patio with a pool view, and a seating area.
The property offers continental and à la carte breakfast options, while bike hire and car rental are available at the hotel.
Click here for more information and the latest prices.
Best Places To Eat In Spetses Greece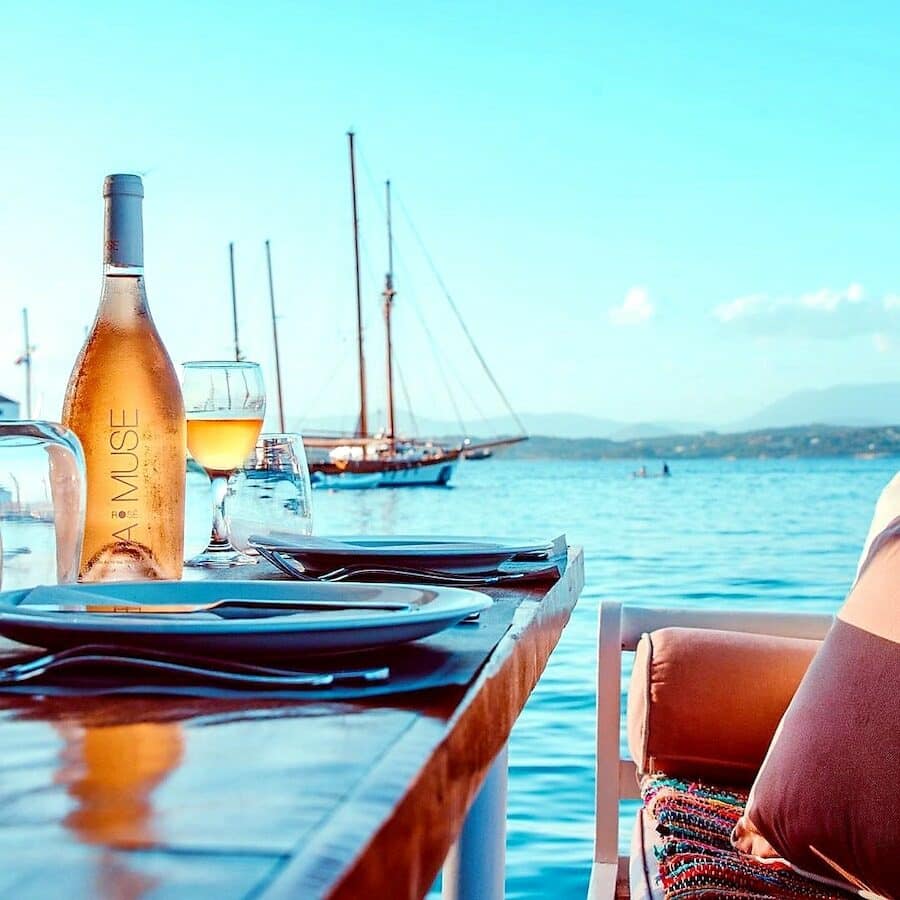 These are some of the most popular places to eat on Spetses.
Clock Eatery Pizza Pasta & Burgers
Clock Eatery Pizza Pasta & Burgers is perfect for travelers on a budget and also great for a quick snack or a decent pasta dish with abundant seafood. The place serves hamburgers and other sandwiches and features a kid's menu.
Patralis Psarotaverna
Patralis Psarotaverna is a favorite restaurant in Spetses for those interested in tasting the local seafood. This fish tavern is located on a terrace above the beach with views of the bay of Spetses.
Mourayo Bar – Restaurant
Mourayo Bar – The restaurant is set in a gorgeous location, inside a nineteenth-century house that used to be a local storehouse. Located in the Old Harbor, the place is ideal for enjoying a dinner on the open veranda, right on the sea. Start with a cocktail sitting on cozy armchairs with soft cushions, and then continue with a high-end dinner.
We hope that our Spetses Greece guide has been helpful.