Turkey's southern coastline is packed with fantastic summer beach resorts. They're even great spots to visit during the winter, with Antalya Province being much warmer than most other places in Turkey.
The tricky thing is deciding where to go.
It's easy to assume that all beach resorts are the same; after all, don't they offer the same things- sun, sea, nightlife, and food? Well, yes, they do, but they also have local niche spots to visit history, all of their own, and regional delicacies to try. That's why finding the best summer resort can be challenging!
So, to throw another resort into the hat, how about Kas?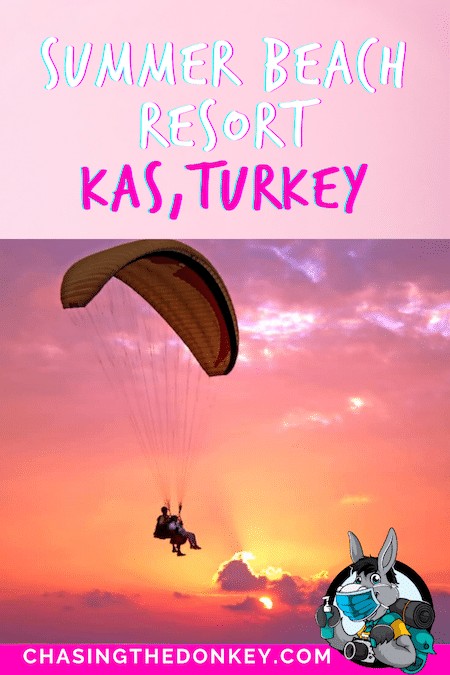 Located between Marmaris in the Dalaman region and Antalya City in the, you guessed it, Antalya region, Kas is a historic and beautiful town, perfect for summer chills. The other plus point is that you can choose whether to fly to Antalya Airport or Dalaman Airport, as they're roughly the same distance away from Kas. That opens up cheaper deals for you and more flexibility with your travel days.
If Kas is on your shortlist, let's check out some of the best things to do there so that you can make your final decision.
Check Out The Old Town Of Kas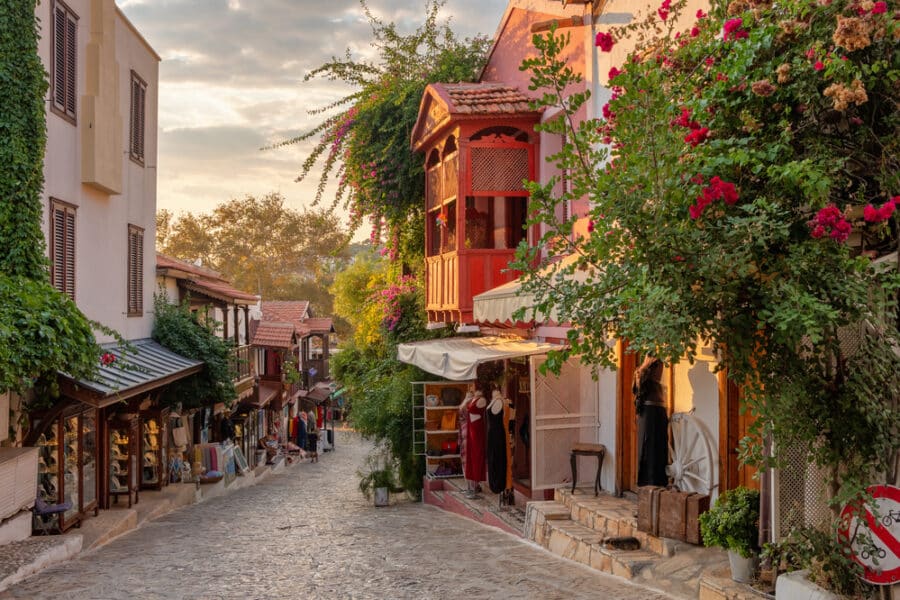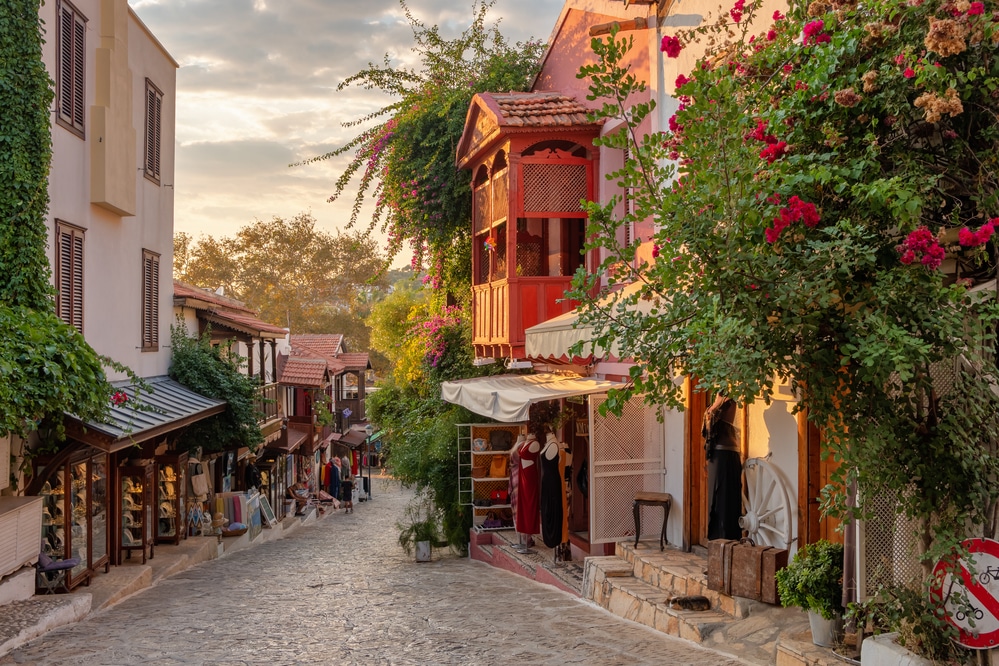 Kas isn't a huge resort, but it's large enough to explore and see a good amount. The Old Town is very walkable, and the cobbled, winding streets are charming. The streets are packed with small boutique stores and souvenir shops, which is one of the things to do in Kos for shopaholics. You can also sit down for a rest and enjoy a glass of Turkish cay or a coffee at one of the many family-run coffee shops.
The main square is the meeting place for nightlife fun, and it does get quite busy during the evening. So, if you're up for a good night out, head to the old town during the evening and have a great meal, a few cocktails, and even dance the night away should the mood take you.
TRAVEL COMPANIES WE USE AND TRUST
Give Canyoning A Try
Canyoning is the way forward if you're keen on an adrenaline rush! The landscapes around Kas are packed with cliffs, mountains, and canyons, so jumping over rocks and in and out of rivers sounds like fun, right?!
Kas is one of the best places to try canyoning, and if you've never given it a go before, you'll find many companies that offer guided tours with all the equipment and instruction you need.
Try Out Paragliding In Kas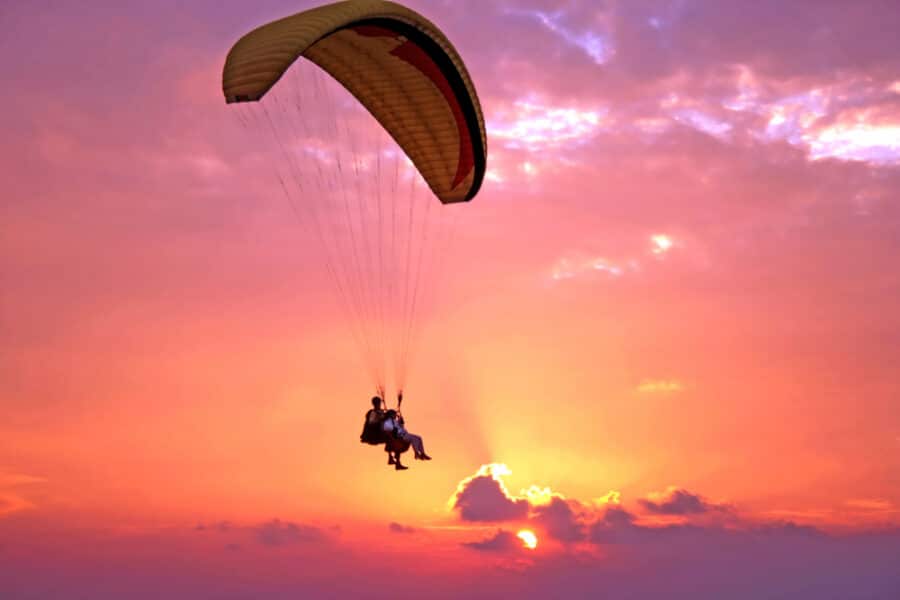 For adventure-seekers, this has to be one of the best things to do in Kas, Turkey! You can either watch in awe or give it a try yourself. Whichever you opt for, paragliding is a pretty fantastic thing to see! Most people assume that Oludeniz is the only place in Turkey to paraglide, but Kas is also an excellent spot.
There are countless paragliding offices around the town, and you will take your ride up the mountain (around 10 minutes) and then be instructed on what to do, etc. Don't worry; you'll always be strapped to an instructor!
The views as you sail over the blue of the sea and the surrounding area are something you'll never forget for the rest of your days, and it's also a fantastic experience, something that you may never get to do again – or maybe you'll get a taste for it!
Canoe Over Ancient Ruins
Simena is an ancient city that sits underwater. It is close to Kekova, and a huge earthquake struck, submerging the city, which dates back to the 10th century. To this day, you can still see some buildings sticking up out of the water, most of which are tombs and the best way to experience Simena is to canoe over it. You can move over churches, houses, and walls, looking down through the crystal-clear water.
There is no swimming allowed, intending to keep the area safe for future generations to enjoy. Boats can't stop here either, although they can sail past. So, the best option is canoeing.
Relax On Kaputas Beach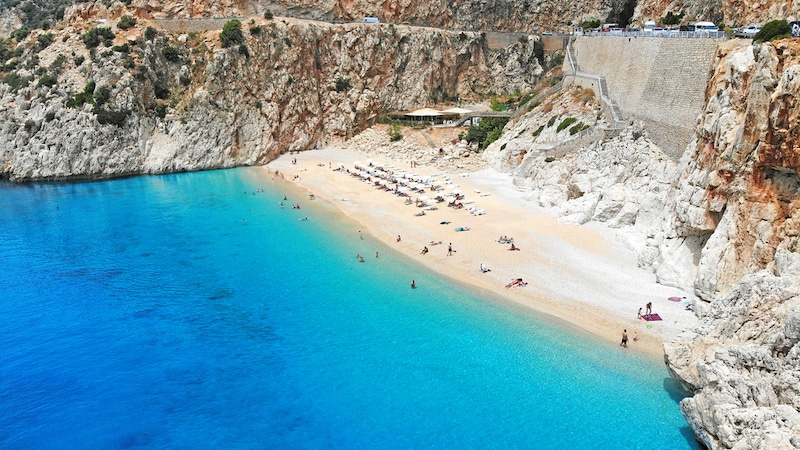 There are many beaches around Kas, but the best one isn't the most central. However, it's more than worth the slight journey, as just west of the town, you'll find Kaputas Beach. You can drive there in ten minutes, take a taxi, or rent a scooter if you want to enjoy yourself on your own steam.
Kaputas Beach is a well-kept secret, but it does get crowded at weekends and during public holidays. High mountains surround it, and the water is blinding blue. You'll need to pack some water and other refreshments/snacks to take with you as there are no facilities on-site, but it's a fantastic day out.
Visit Beautiful Kalekoy
Just off the mainland, you'll find Kalekoy, a delightful village you'll need to take a boat to reach. The town is historic, dating back to Lycian times, and descendants of the current inhabitants lived there right from the start.
Be sure to head to the castle and check out the fantastic view. Here you'll get an authentic feel for the way of life, and it's also delightfully beautiful. You won't find a considerable amount to see and do here, so it's really about enjoying the scenery and the food from a couple of local restaurants on site.
Enjoy History At The Kas Ancient Amphitheater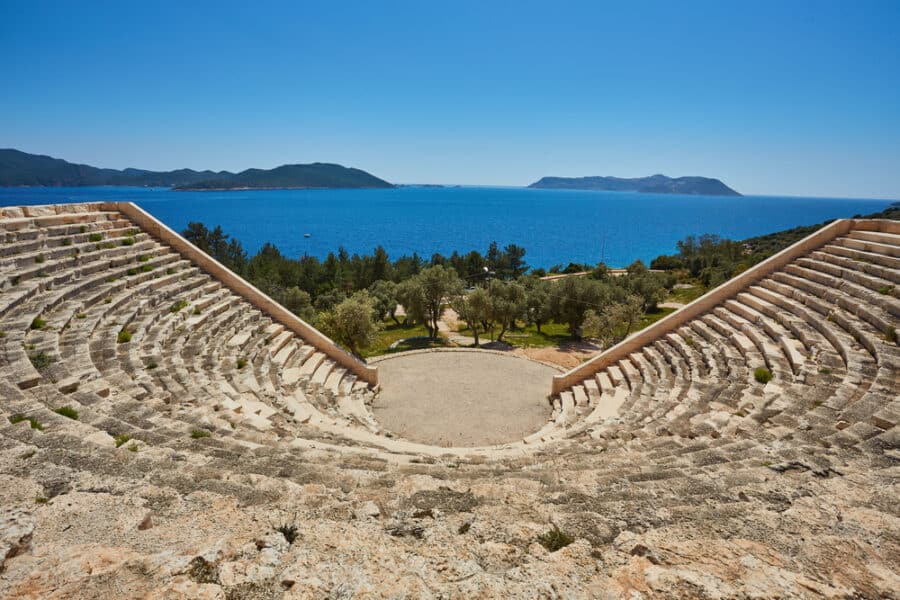 The entire south coast of Turkey is peppered with ruins dating back to Roman, Byzantine, Ottoman times, and many other civilizations. Kas is no different. Take a five-minute walk outside the Old Town, and you'll find the well-preserved amphitheater. It's enormous, and you can check out fantastic sea views from the top.
There are concerts in the amphitheater occasionally, so ask around when you're there to see if you can catch a live performance. You can also visit during the evening as it's lit up and gives you fantastic views once more, especially on a full moon.
Explore The Underwater World
Kas is an excellent spot for diving, and there are instructors on hand to help you achieve your PADI certification, too, if you choose to do so. Scuba diving is also fantastic here; you can see very clearly under the water's surface. There are several excellent dive sites around the town and some ship and plane wrecks to explore.
Marine life around this part of Turkey is plentiful, and you'll see colorful fish and even turtles enjoying their day. If you're an experienced diver, make sure you visit the wreck of the Dakota DC3 plane, it's a pretty remarkable sight.
Try The Local Food Of Kas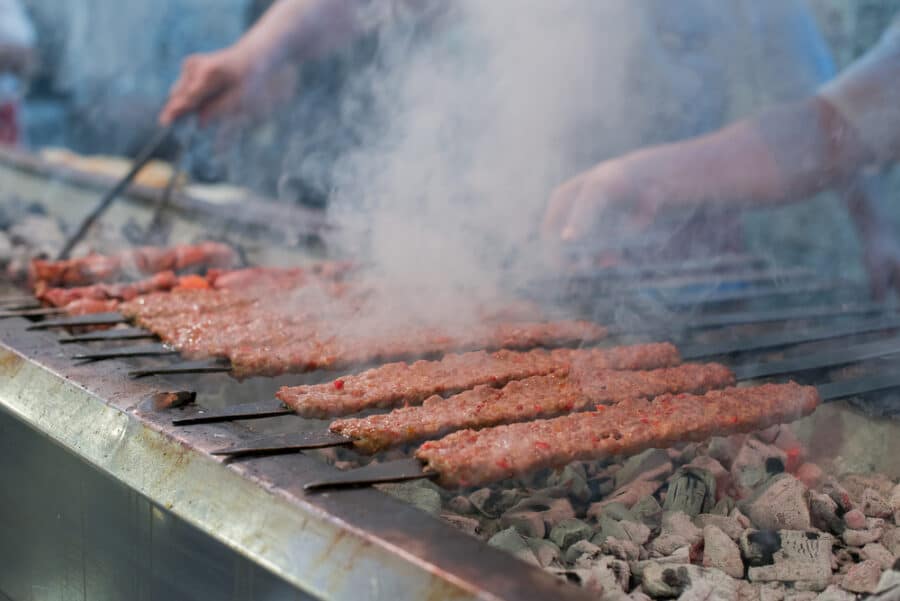 Any visit to Turkey should include several trips to local restaurants. The food is something else and during your trip to Kas, although you can easily find international food, make sure that you make an effort to try something local. It's a good idea to ask your hotel for recommendations of local restaurants, and you'll get a far better quality of food at a lower price by avoiding tourist places.
Lahmacun, pide, sarma beyti, Adana kebab, and guvec are just a few local dishes you should definitely add to your list.
Explore Saklikent Gorge
If you want to cool down during the summer months, head to Saklikent Gorge and enjoy the much cooler temperatures, thanks to the waters and shade. The canyon is huge and runs for 18km, with a 200-meter height. There is also a huge pine forest in the local area, which smells divine!
Try fresh gozleme and a cay as you explore the natural wonder before you. You can find tours that leave Kas or go on your own team.
Have An Authentic Turkish Breakfast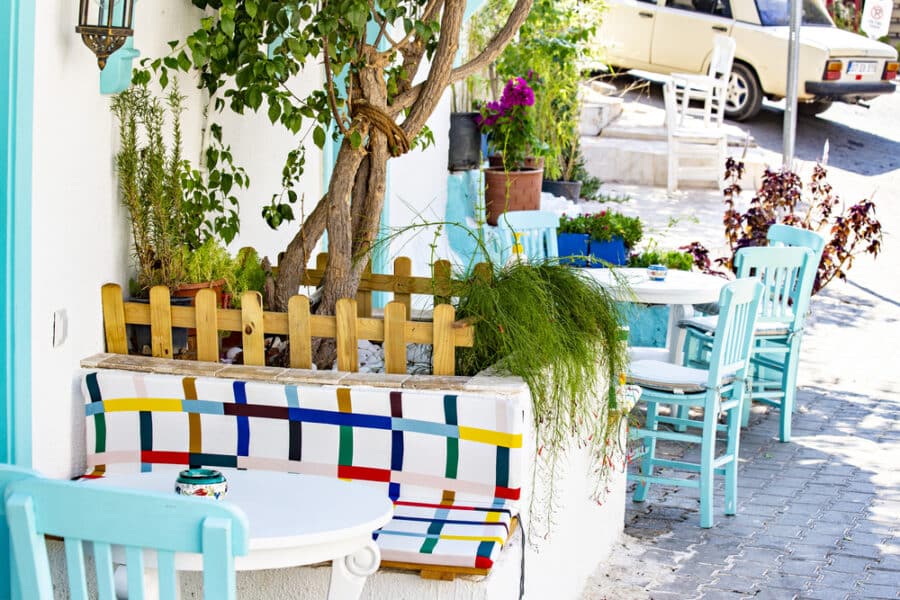 Many places serve an authentic Turkish breakfast or kahvalti. You have to do this. It's one of the rites of passage of visiting Turkey! Head down to the beachfront, and you'll have the best view while you enjoy the countless delicacies on the many plates before you. Also, make sure that you try menemen and gozleme – you'll be addicted to both!
Enjoy A Beach Day At Limanagzi
There are several taxi boats over to the beach spot of Limanagzi during the summer, and you'll only be on the boat for 10 minutes at most. There are several beaches around this region, and you can choose which one you want to stop at by simply telling the captain. Remember to take your own refreshments and know that the last boat is around 6 pm (double-check this for when you're visiting), and if you miss it, you'll be staying overnight on the beach!
Shop For Souvenirs At The Local Market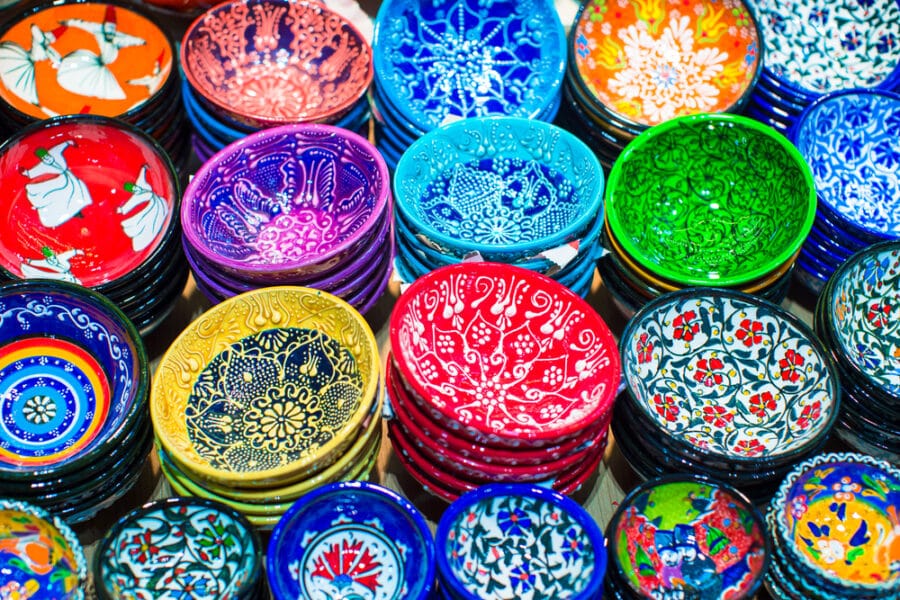 There are many souvenir shops around Kas, but you should check out the Friday market for some bargains – shopping for these local crafts is one of the things to do in Kas that might hurt your wallet. This is also where you can find those famous "genuine fakes" everyone talks about, from trainers to sweatshirts, jogging bottoms to bags; we suggest you walk on by from those and instead hunt down the handmade crafts and other fantastic local souvenirs to take home as gifts for family and friends.
Best Day Trips From Kas, Turkey
Located on the stunning Turkish Riviera, Kas offers an ideal starting point for unforgettable day trips. Whether you choose to explore the ancient ruins of Patara or embark on a boat tour to the enchanting Kekova Island, the possibilities are endless for discovering the rich history and natural beauty that surround this picturesque coastal town.
Take A Day Trip To Xanthos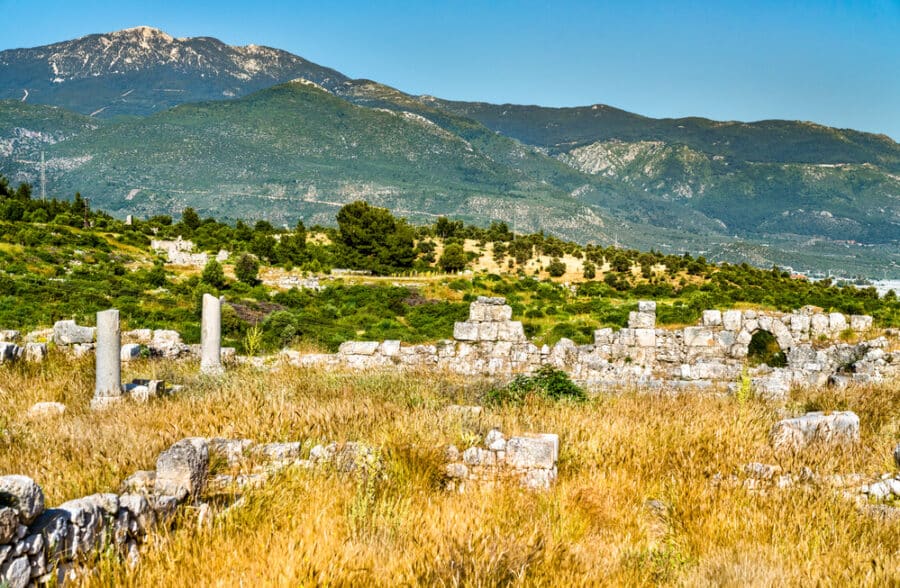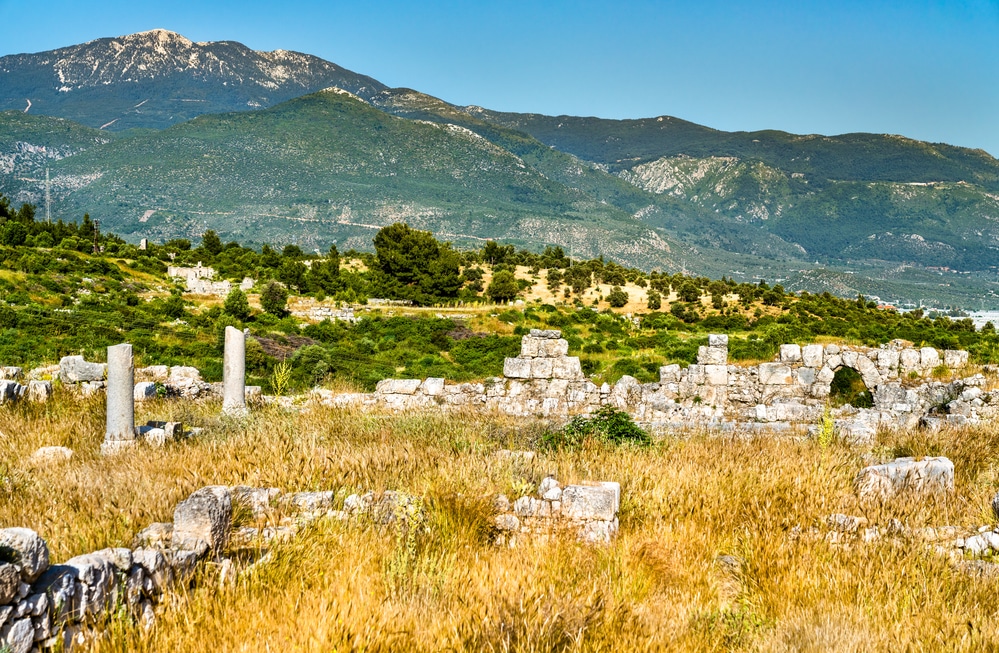 When looking for ideas of what to do in Kas, we suggest you drive around an hour and a half away from Kas; there, you will find Xanthos, extensive ruins dating back to ancient Lycia. Xanthos is a UNESCO World Heritage site and must be seen and believed in. You will feel like you are walking amongst echoes from history, and it's a must-visit for anyone in the region.
It's effortless to get to Xanthos. There are many excursions during the summer season, which you can easily buy a ticket for from any of the street excursion offices, or you can take the local bus from the otogar, they regularly leave throughout the day.
Take A Day Trip To Greece
There are several Greek islands close to the southern coast of Turkey, and when visiting Kas on holiday, you can take a day trip over to the island of Meis. The boat will take no more than half an hour, and you'll get to see something totally different during your stay.
Meis is quiet, chilled out, and a great place to go and walk around the cobbled streets and check out the colorful houses. It's also a fantastic spot for authentic restaurants and seafood, particularly octopus! If you have time, take a small boat trip out to the Blue Cave, which will give you memories you'll never forget.
If you choose to head over to Meis for the day, remember that you will need to book at least a day or two before, and you'll need your passport as you're officially leaving Turkey. There are many booking offices in Kas, and the staff there should be able to help you with any information you need.
Now that you know what to do in Kas, Turkey, we hope your visit to Kas will be as busy or relaxing as you want it to be. We know for sure you'll never be bored visiting Kas!