Located on what is known as the Turquoise Coast, Marmaris is lapped by the beautiful blue of the Aegean. Here is a list of things to do in Marmaris, Turkey. We have selected the top Marmaris attractions and have covered something for everyone.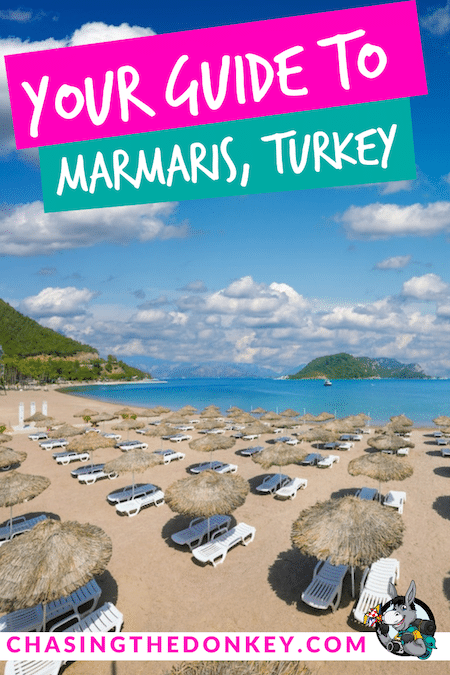 Located on what is known as the Turquoise Coast, Marmaris is lapped by the beautiful blue waters of the Aegean.
There is a lot to see and do around this part of the country, although when the heat is on (and trust me, it's hot during the summer), you'll probably want to chill out around the pool or lay on the beach!
That's perfectly fine, but it's well worth knowing the best things to do in Marmaris and fantastic places to visit in Marmaris, so you can genuinely say that you've seen the best of this beautiful part of the country.
Marmaris and Icmeler run into one another and are less than 10 minutes apart. For that reason, Icmeler is often called Marmaris because it's much smaller.
However, it's worth pointing out that they are two different resorts if we are being technical! During your stay, zig-zag between the two because Icmeler is so beautiful and worth more than one visit.
Things To Do In Marmaris, Turkey
Here is a list of what to do in Marmaris that we suggest!
Marmaris Long Beach
Firstly, you can lay on the beach as much as you want and it's a very long beach, literally known as Long Beach, so you'll have plenty of space! Hotels, bars, and restaurants line the beachfront, and as long as you buy a drink or something to eat, you can have a free sun-lounger and umbrella all day.
There is a free part of the beach further up towards the town center, although there are no umbrellas or sun-loungers, and it's more of a throw-your-towel-down kind of deal! As far as the best beaches in Marmaris go, this one is a strong contender.
Watersports
Marmaris Beach is packed with watersport options for you to try, including parasailing. You can usually haggle the price down a little, especially if a few of you want to do a particular activity.
Atlantis Waterpark
Located on the Marmaris beachfront, you'll find the fun-filled Atlantis Waterpark. This is a great day out for all the family and is full of slides, rides, splashing, and general fun. There is a restaurant on-site and plenty of room for sunbathing.
Alternatively, head to Aqua Dream Waterpark, located halfway up the mountain overlooking Marmaris. This has more slides and is a little quieter than Atlantis. The views are also pretty special!
Marmaris Old Town
The Old Town is located below the castle and on one side of Bar Street. The quaint, cobbled, and winding lanes are full of brightly colored flowers, small boutique stores, coffee shops, and tea houses.
As you head to one side, you'll find the "Bar Street," which may be quiet in the daytime but certainly isn't at night – this is where Marmaris' nightclubs are located.
As you walk through Bar Street and out the other side, you'll reach the marina, an excellent place for a walk and a coffee stop. Check out the huge yachts moored up.
Marmaris Castle
If you love an Insta-worthy snap, be sure to head to Marmaris Castle and check out the fantastic views over the mountains, all the way over to Icmeler, and beyond. There is also a museum that explains the history of Marmaris and shows you a few of the artifacts found on site.
The castle is very well preserved and sits above Bar Street in Marmaris Old Town, making it one of the best Marmaris day trips away from the beach.
The good news is that getting inside at less than 10 lire per person is very cheap – a bargain!
Marmaris Bazaar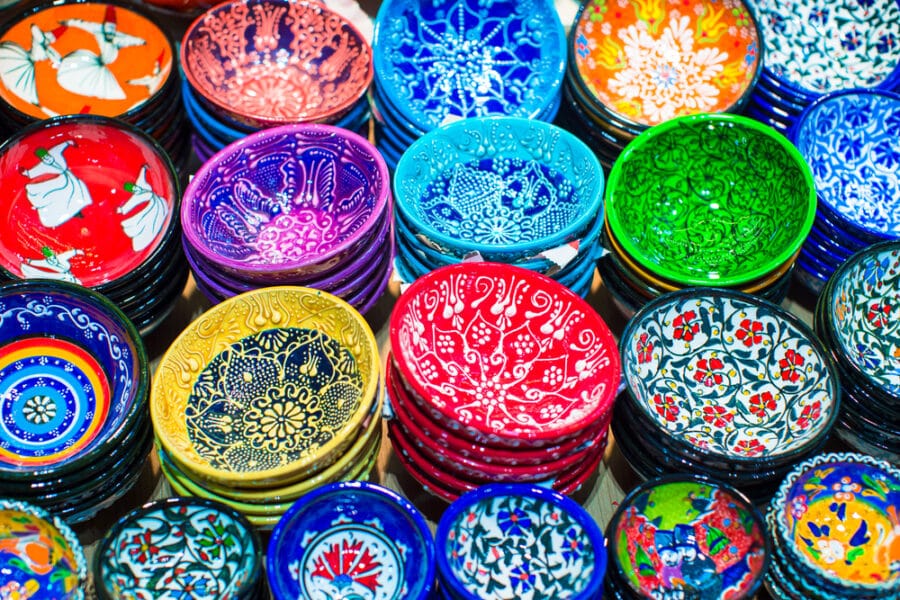 If you love shopping and enjoy bargains, head to the bazaar in the center of Marmaris. It's one of the most popular tourist activities to do in Marmaris.
You will need to haggle, and you can expect to be encouraged to enter every shop in this closed bazaar. However, it's a great break from the sun, and you'll also get some great bargains to take home with you.
Marmaris National Park
Grab your comfortable shoes and head to Marmaris National Park for those who like to be more active. This shady walking trail takes you up the hills and through the trees, with stunning views to boot.
It's worth mentioning that there are no toilets and nowhere to get a drink, so make sure you've been before you go and take some water with you!
There is also a lookout point where you can see right over Marmaris – make sure your camera is charged for that one, as it's pretty special. If you enjoy the natural scenery and outdoor activities, visiting Marmaris National Park is one of the top things to do in Marmaris.
Icmeler Old Village
Icmeler is connected to Marmaris by road, and you can even walk along the coastal path if you want to. You'll find the Old Village, a charming spot to wander for an hour just behind the main town.
Here you'll find a more authentic way of life, with olive trees, flowers, greenery, and even goats! It's super-quiet too, which is perfect for getting away from the hustle and bustle of tourist life.
Coastal Walk Between Marmaris & Icmeler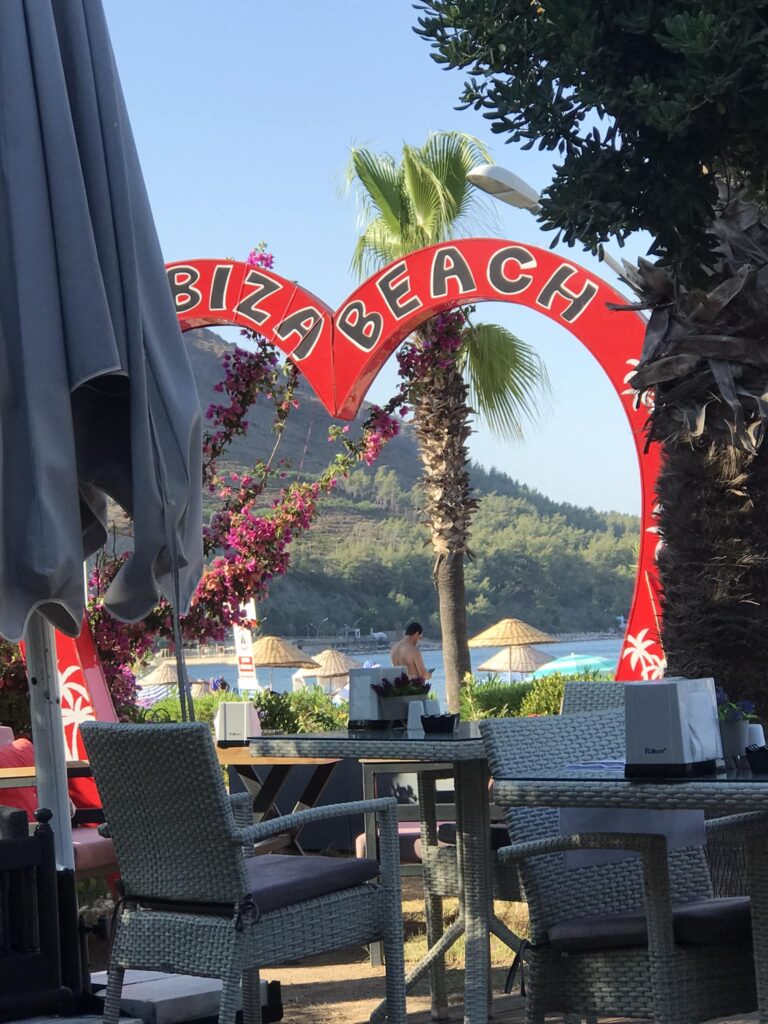 If you want to do something a little active but don't want to venture too far, why not wear comfortable shoes and head off on a shady walk? There is a direct path along the coast between Marmaris and Icmeler, and it's super-scenic.
Some seriously posh hotels along this route, but their beaches and restaurants are reserved for guests only. For that reason, take some water with you, as it takes around an hour to complete the walk. Remember your camera!
Icmeler Beach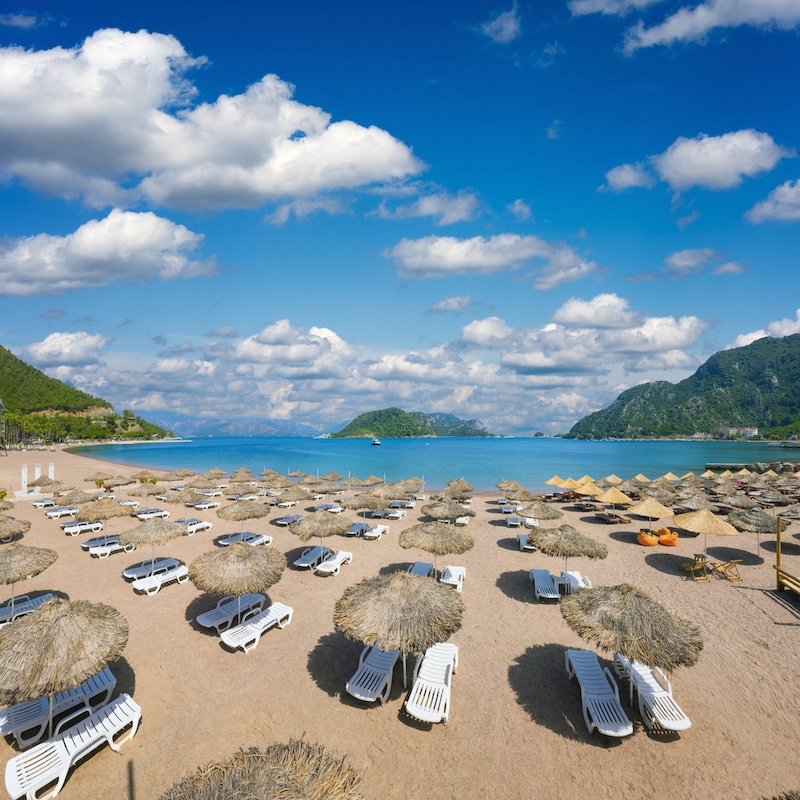 Marmaris Beach is excellent, but personally, I think Icmeler Beach is much prettier. It's undeniably wider and sandier too. If you're visiting with children, Icmeler Beach is a better spot because there's no main road behind it and more space to run.
The Dolmus bus will get you to Icmeler from Marmaris in around 20 minutes, one of the easiest Marmaris excursions from the town center. It takes that long because it constantly stops along the road to pick people up and drop them off! It's cheap, at around 5 lira per person, and runs every 10 minutes in both directions. You can also get a taxi, which will cost you anywhere between 30 to 50 lira, depending on where you're getting the cab.
Both Icmeler and Marmaris beaches have watersports to enjoy, such as parasailing, banana boats, flying fish, and jet skis.
Boat Trip
The small bays around Marmaris are worth a visit, and the best way to see them is via a boat trip. There are several options here – if you want to go for a day with the kids, then check out the pirate boat, a ship with huge sails and all kinds of entertainment.
If that's not your deal, many lazy day wooden boat trips serve drinks and lunch throughout the day and take you all around the bays with several swim stops. Most trips also stop for an hour in Turunc, a small town just beyond Icmeler, along the coast.
A relatively recent addition is the glass-bottomed boat trip. This very modern and large boat has a huge glass walkthrough tunnel underneath. There are several stops along the way, including a shipwreck.
Jeep Safari
One thing many people are surprised at when they visit Turkey is how green it is, even during the hottest summer months. The mountains and villages around Marmaris are so beautiful, and the best way to visit them while having some fun along the way is to book a jeep safari trip.
There is usually a fleet of jeeps that head out every single day during the peak months, and with around eight people in each, you bump along dirt tracks and regular roads, checking out the fantastic scenery and stopping at places of note along the way. Jesus Beach is a popular spot; a large sandbank leads out into the sea, allowing you to almost walk on water – hence the name!
You'll also stop for lunch in a traditional village while heading back. One point to remember – there is often a water fight between the jeeps at some point during the day, so if you're asked if you want to rent a Super-soaker, say 'yes' and defend yourself! So, this is a fantastic option if you're looking for excursions in Turkey from Marmaris.
Try Local Food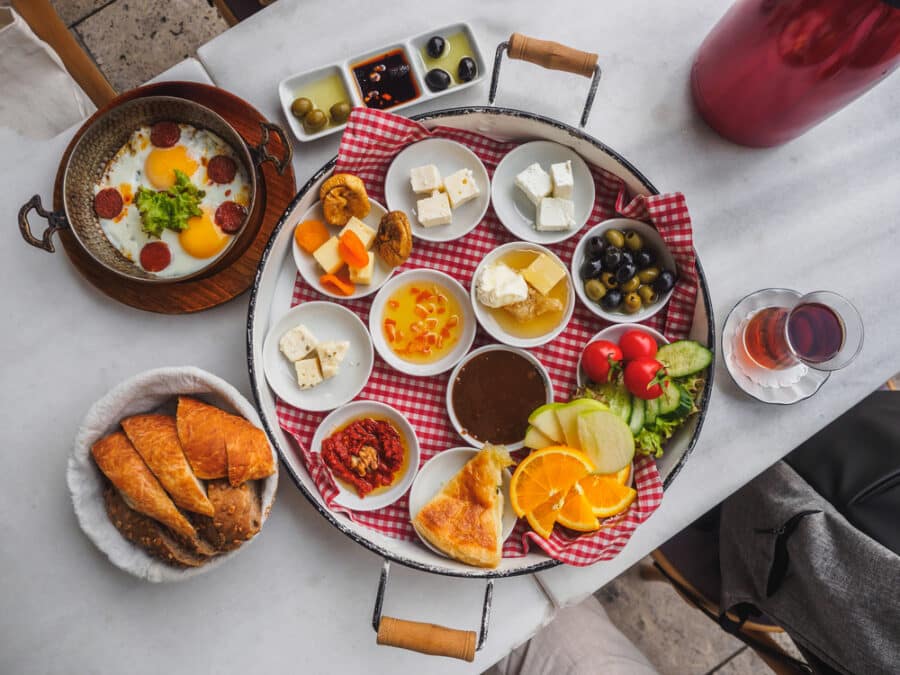 This is a must-do!
Of course, Marmaris is a tourist place, so there is more than enough international cuisine around, but if you want to try something authentic, there are some hidden spots to go to.
Cihan Ocakbasi in Siteler is the number one place for kebabs and meze. The bread is cooked fresh almost before you, and you can see all the kebabs cooking on the grill. It's really reasonably priced, and the service is fantastic, with English-speaking servers. Definitely go here!
You could also try casserole-style Turkish cuisine; in that case, there are several spots in Marmaris town center. These are often served in large buffet-style dishes; you choose what you want, and the waiter will bring it over to you. Try guvec and Turkish Moussaka, for sure.
Finally, you have to have a traditional Turkish breakfast or kahvalti. There are several great spots in Marmaris, but Icmeler has the best. Head to Liberty on the beachfront, and you can sit on the jetty with the sea all around you, surrounded by plates of delicious food. You'll be full until dinner and even beyond!
TRAVEL COMPANIES WE USE AND TRUST
Day Trips From Marmaris
Akyaka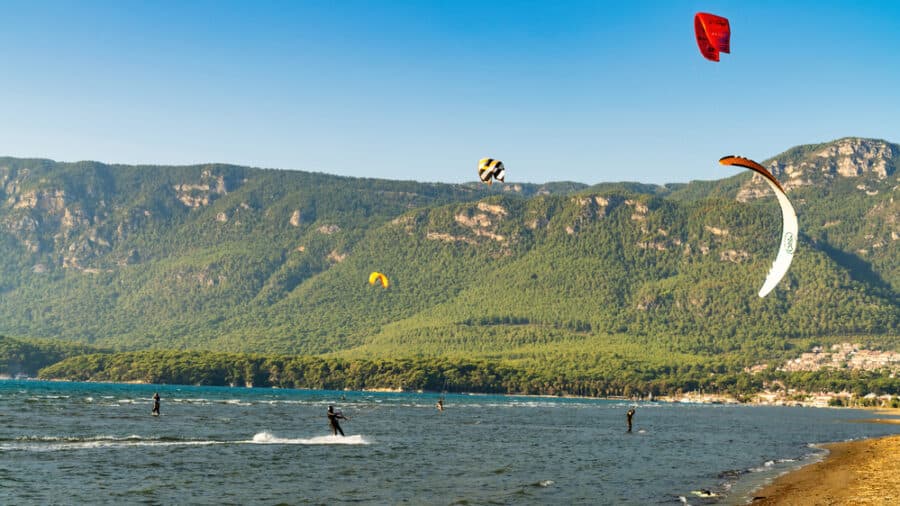 If you're in Marmaris, it would be a crime not to head over to Akyaka, which is about 20 minutes away and reachable by bus or taxi. It's a chilled local beach town with that laid-back vibe that leaves you feeling like you're floating. Thanks to the ever-present, cooling breeze, it's also an excellent spot for kite surfing.
The sea is always a little wavy but shallow for a long distance. The Azmak River also runs through Akyaka, which has the clearest water you'll ever see in your life, and it's freezing cold, no matter what the month of the year. You can go on a boat trip down the river and sit on the river banks and eat fish at one of the many restaurants.
Be sure to pick up some local crafts to take home too.
Incekum
Around 20 minutes drive away from Marmaris Center; you'll find somewhere that looks like it wouldn't be out of place in the Caribbean. It's stunning and set in a shady forest with white sand and sea so blue and transparent you'll never really believe what you see.
There is no transport to Incekum, so you'll need to get a taxi there and back, but it's more than worth it. You'll pay a small entrance fee, and then you'll board a tractor-pulled trailer (yes, really) which takes you down a forest road, with the impossible blue of the sea peeking between the lush, green trees.
Once you arrive, you'll want to jump into the sea immediately!
A small café on site sells ice creams, toast, refreshments, etc., but you might want to take a small picnic with you as the food isn't the best.
Cleopatra Island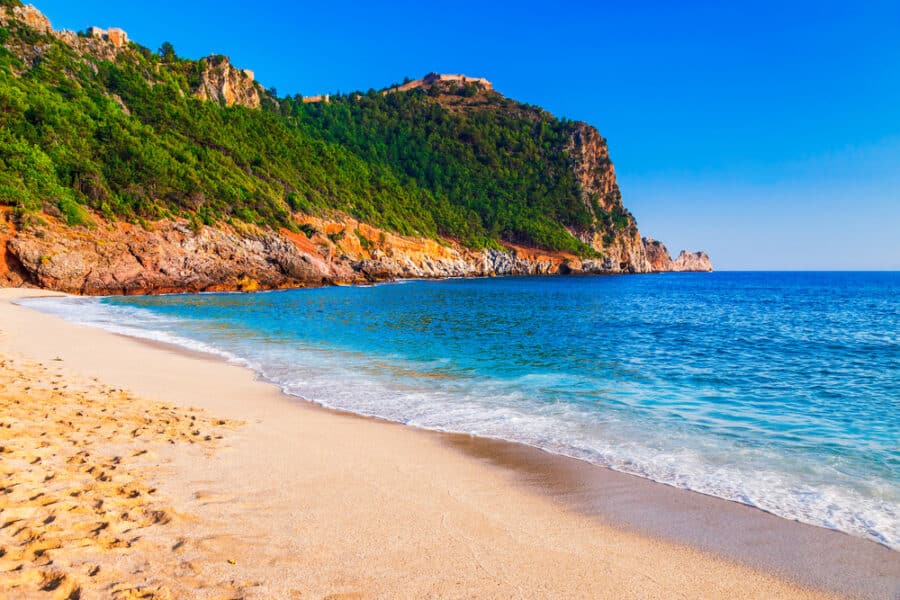 If you head in the same direction as Incekum but don't go as far, you'll come to the boat station, where boats head over to Cleopatra Island, about a 20-minute sailing route. It's another trip that's worth the taxi fare and entrance fee!
This is where Marc Antony is said to have placed the perfect sand for Cleopatra to enjoy, and again, the water is so unbelievably clear. You can't go onto the part where the famous sand is, as it's roped off, and if you try to take any, the security team will be right over!
The beach you can visit is quite rocky, so you will need some sea shoes and keep an eye on the children, but once you're in, it's soft sand and blue sea all the way. There is also a set of old ruins behind the beach that you can explore; make sure you stay on the path and don't venture into the high grass.
Again, there is a small café on site, but the food here is worse than Incekum, so 100% take a picnic!
Taxi Boat To Turunc
The next resort on from Icmeler is Turunc, a small spot that's very beautiful. This is where a lot of the boat trips stop for an hour, but you can get there on your own steam by taxi boat. The wind as you head over will certainly cool you down, and once you arrive, you can eat fish in the local beachside restaurant, paddle in the sea, or sit and take in the beauty of the place.
Ölüdeniz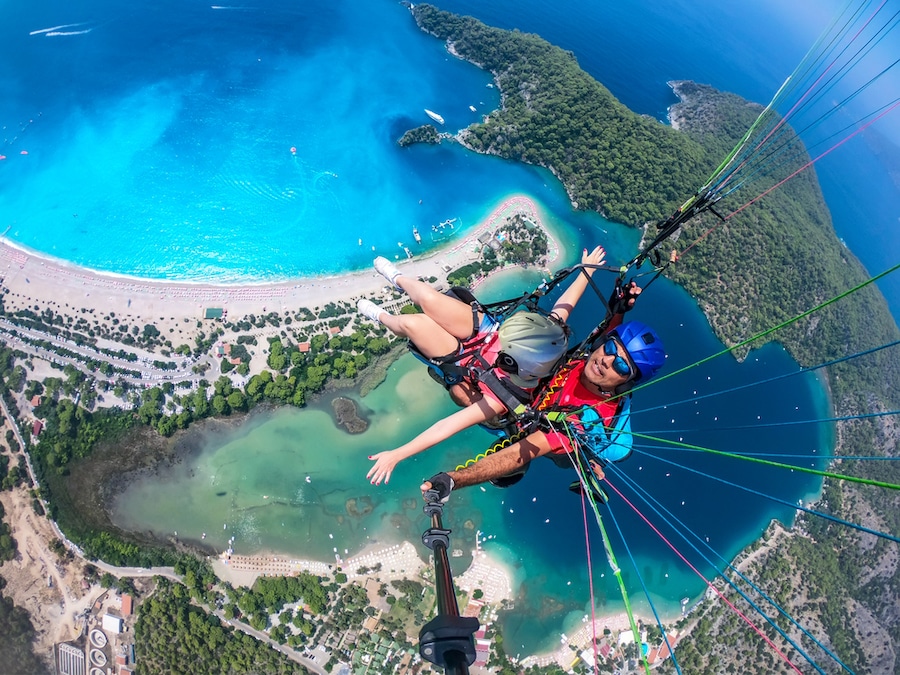 A neighborhood in Fethiye, Ölüdeniz is famous for its paragliding opportunities and panoramic views. The area is also home to the renowned Blue Lagoon, which provides visitors with a soothing sight and many instagrammable pictures.
Fethiye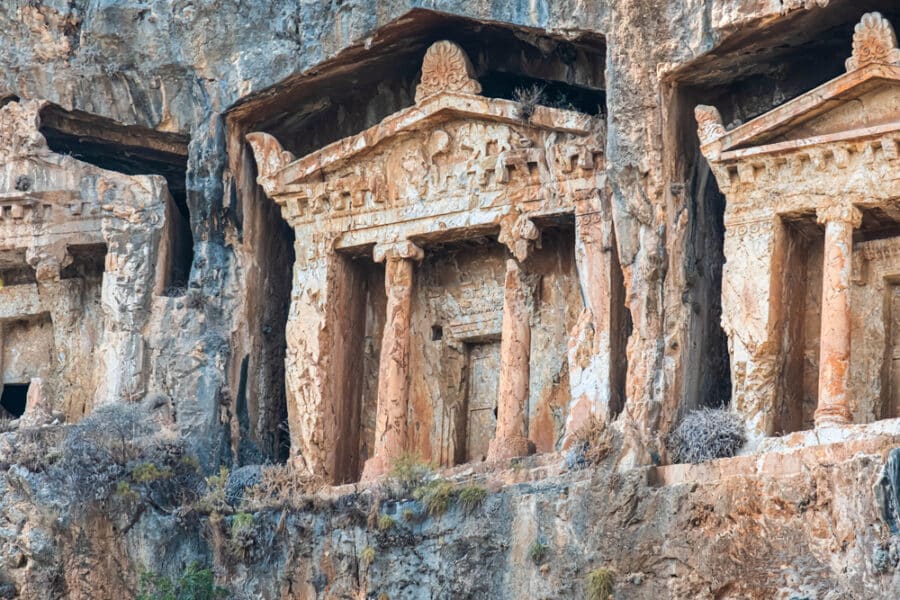 If you want to spend your day in an area full of natural beauty and relaxation, Fethiye should be your next destination. You can get to this pretty town on a day trip from Marmaris, seeing the stunning coastline and exploring the ancient Lycian rock tombs.
Rhodes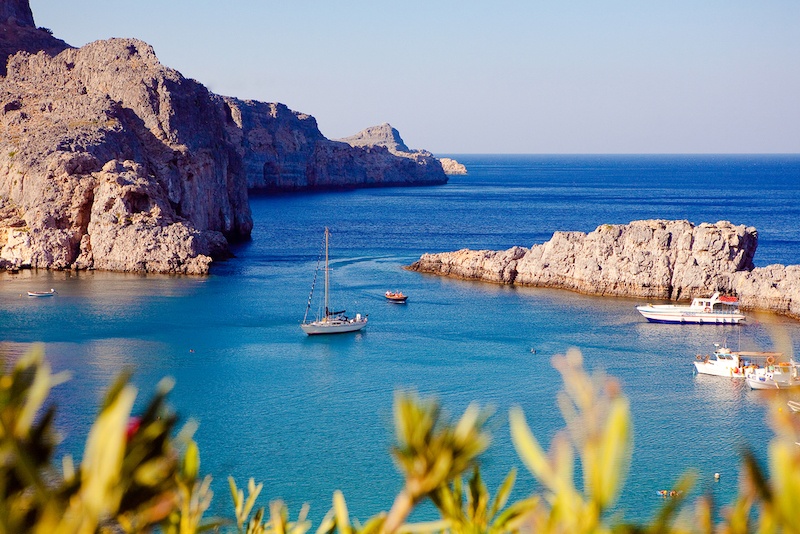 You don't have to stay in Marmaris for your entire trip, and if you want to get out and explore, why not explore another country too? Yes, you can head to Rhodes for the day via boat. The boat takes around 1.5 hours, and you have the whole day to explore Rhodes Town before venturing back around 4 pm. It's a long day; sometimes, the sea can be a little choppy, but it's a fun day out.
Excursion desks around Marmaris sell the trip, but you can also head to the port office on the marina and book your tickets directly.
This trip is a great way to confuse your friends and family when you tag yourself on Facebook or Instagram – "but I thought you'd gone to Turkey?"
Where To Stay in Marmaris
There are countless hotels, ranging from apartments to upmarket 5-star options with spas in Marmaris. However, the most important thing to consider is where in Marmaris you choose to stay. Marmaris has a few neighborhoods – you need to know how far they are from the beach and the nightlife.
BEST AREAS TO STAY IN MARMARIS
Siteler
Best For Beach Access
Siteler is the neighborhood closest to the mountain road out to Icmeler. You'll find some large, all-inclusive hotels, shops, and many restaurants. It is an hour's walk from Siteler down to the Old Town, but you can get the Dolmus bus which runs every few minutes there and back. The beach runs the entire length of the area so you're never far from the beach by choosing to stay in Siteler.
Armutalan
Best For Nightlife
Armutalan sits behind the main beach center, and you must walk to the beach every day. Some hotels are further away and are not walkable during the summer. However, Armutalan has some fantastic restaurants and nightlife, so you might not need to venture too far during the evening.
Mountain Road Between Icmeler & Marmaris
Best For 5-Star Options & Exploring Both Towns
The other prominent hotel spot is the mountain road between Icmeler and Marmaris. If you choose to stay here, you won't be able to walk anywhere, and you must get a bus or taxi. However, the hotels are designed to have everything you need. That is why they are 5-star impressive. The hotels also sit directly between the resorts, so you get the best of both worlds.
Marmaris Bay Resort – Adult Only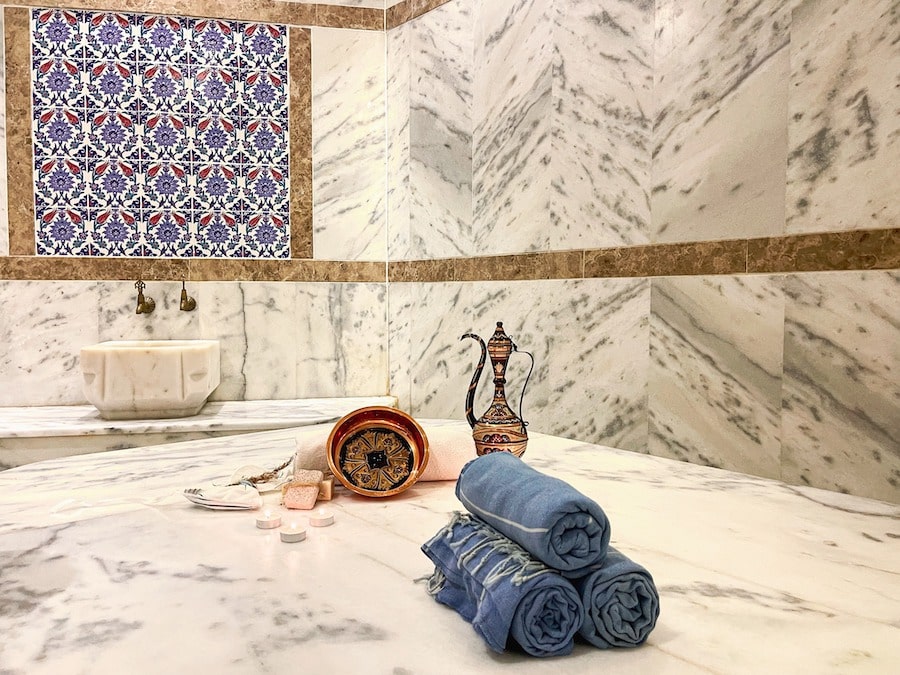 5-Star luxury with Aegean Sea access – does it get much better than that? Marmaris Bay Resort is an adult-only establishment, so you can be assured the atmosphere is sophisticated. Enjoy the picturesque surroundings, dine on a diverse menu of offerings, and relax at the outdoor pool, private beach, hammam, and bathing jetties.
Click here for more information and the latest prices.
Grand Yazıcı Club Marmaris Palace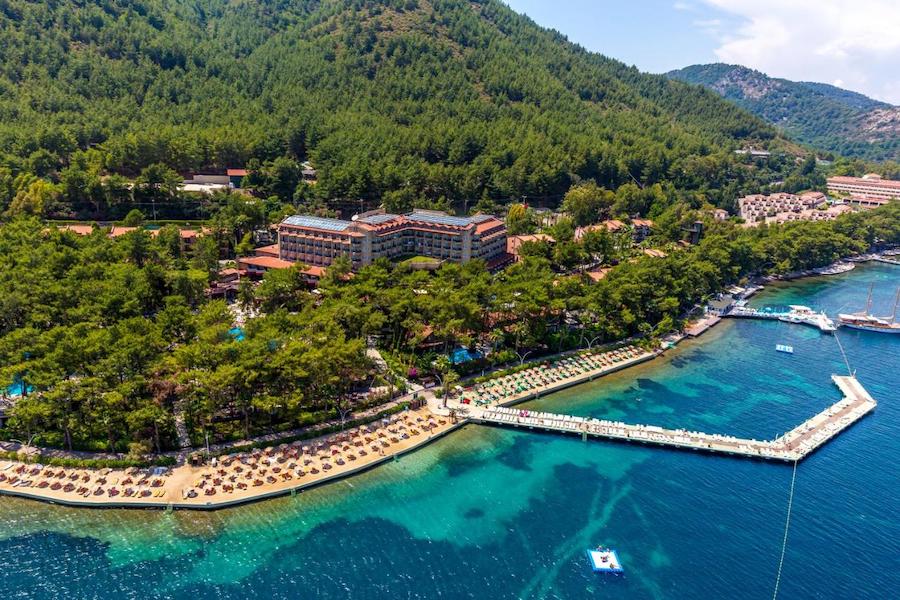 Grand Yazıcı Club Marmaris Palace is one of the top hotels in Turkey that offer fun activities for kids and families. The hotel offers many amenities and facilities to make your stay as comfortable and enjoyable as possible. There are multiple pools, a water park, a kids club, and various sports and leisure facilities on site. The hotel also has its own private beach where you can relax and enjoy the stunning views of the Aegean Sea.
Click here for more information and the latest prices.
.
Green Nature Resort & Spa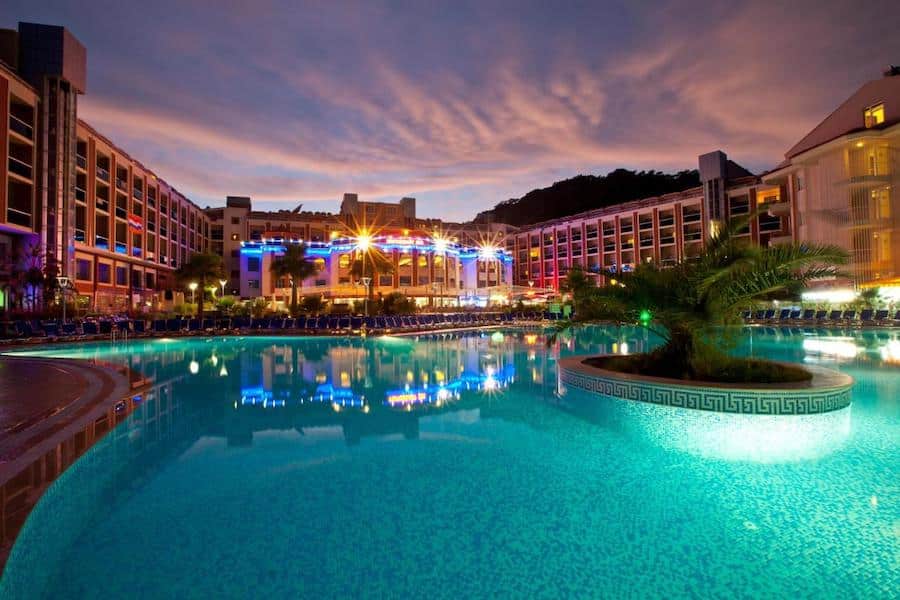 Located in the center of Marmaris, Green Nature Resort & Spa is a luxury option for those who want to be close to the action and is right on the beachfront. There are indoor and outdoor swimming pools, a large spa with countless treatments, a children's playground, on-site shops, and a Turkish bath.
The on site restaurants are top quality, including al la carte options and world cuisine on offer. A buffet breakfast is served daily in the dining room overlooking the sea, with snacks available all day.
During the day, many activities are offered, and you can enjoy the private beach area. During the evening, there are bars on site, or you can venture out into the beachfront area of Marmaris, where you'll find plenty of nightlife on offer.
Click here for more information and the latest prices.
.
When To Go To Marmaris Turkey
Okay, first things first. Let's address the weather because depending upon when you're visiting, this can severely affect your ability to get out and do a lot!
It is possible to visit Marmaris anytime, but most hotels, bars, and restaurants are closed during winter (between November and early April). However, things start to open up in early April, and you'll find that the town becomes progressively busier from there. From June to September, Marmaris and neighboring Icmeler are very busy indeed.
During summer's peak, temperatures are not unusual for temperatures to hit 40 degrees. Evenings can also be sweltering, so you need air conditioning – a fan just won't cut it!
If you want to head out and explore, and you're not a fan of lying on a beach much of the time, you will probably be better off visiting in May or June and September to October. During those months, temperatures are still hot but a little more bearable!
However, if the heat doesn't bother you, grab a hat, your favorite water bottle, and some high SPF, and away you go!
How To Get To Marmaris, Turkey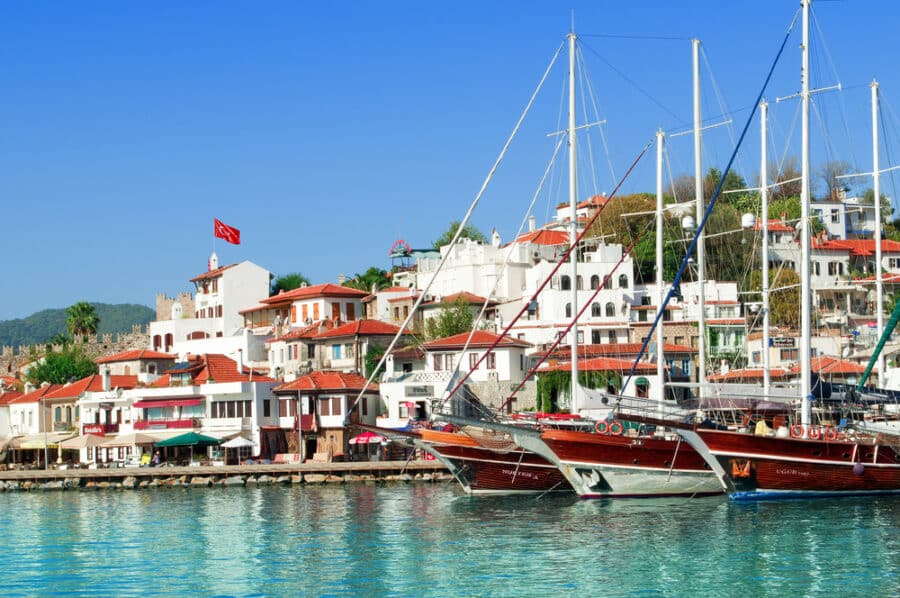 By Plane
The easiest way to reach Marmaris is to fly directly to Dalaman Airport and transfer from there. Dalaman is open for direct flights during summer and connects to most European cities. Outside, you'll need to fly to Istanbul and then take a domestic flight to Dalaman, which takes about 1 hour.
The transfer from the airport to Marmaris varies depending on your chosen method. If you hire a car, you'll get there between 1 hour 15 minutes to 1 hour 30 minutes. If you opt for a private transfer, i.e., only you in you'll, you'll get there in 1 hour 30 minutes. If you choose a shuttle, you're looking at anything between 2-3 hours. The reason is that the shuttle must wait for several passengers before it can leave, which can often take a while with luggage and people deciding to check out duty-Free. In addition, the shuttle stops at a service station along the way for around 15 minutes. The shuttle is cheaper, but it's certainly the long way!
By Bus
The other alternative is to take the Havas bus, which costs around 20 lira and leaves the airport according to the domestic flight schedule. The bus takes 1 hour 30 minutes and will drop you at Marmaris Otogar (bus station). From there you can jump in a taxi to your hotel.
Marmaris is a fantastic spot for a summer break – make sure it's on your visit list!