Privacy & disclaimers →
Your Guide To Fethiye, Turkey
Türkiye is famous for its stunning coasts and golden beaches. The country is the best choice for a leisurely summer vacation, with magnificent resort towns along the southern coastline. And among these resort towns, Fethiye might be the most ideal.
With ancient landmarks, stunning nature reserves, golden beaches, and a turquoise sea, this picturesque Mediterranean town in Turkey's southwest offers a superb holiday experience. Fethiye provides a fantastic Mediterranean adventure with its secluded coves and scenic nature. If you want to make the most of your time in Fethiye, we put together the best guide to Fethiye for you!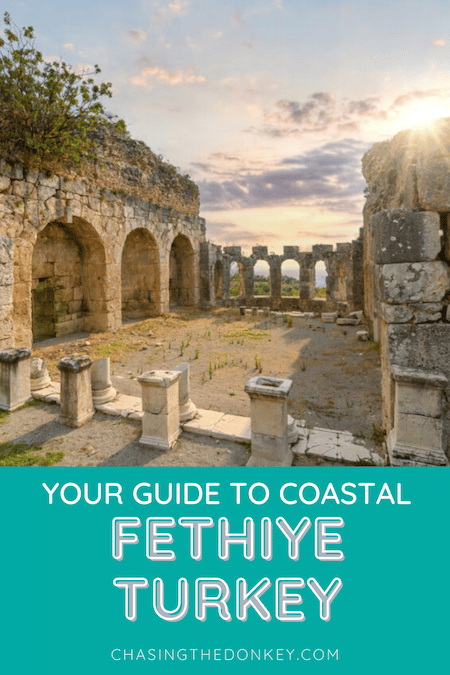 About Fethiye
Fethiye is a tourist town located on the southwestern coast of Türkiye. It's mostly known for its stunning nature, where green, turquoise, and golden meet. In the inland areas of Fethiye, there are lush valleys and beautiful plains, and the shoreline is golden in color, bordered by turquoise Mediterranean water. With many rock tombs, historical monuments, and ruins of ancient cities, Fethiye is a heavenly place.
The oldest settlement in the area is an ancient city called Telmessos, which dates to the 3rd millennium BCE. Until Alexander the Great captured it, Telmessos was an important trade center and a member of the Delian League. Although the names Telmessos, Makri, and Anastasiopolis were all used interchangeably to refer to the settlement, the title Makri replaced the others and became the region's name after the 10th century.
In the 12th and 13th centuries, Makri was a thriving community. The enormous city walls, a lucrative perfume company, and a commercial hub indicate a flourishing city.
The area was known as Meğri by the Ottomans, who conquered the area in 1424. Until the nineteenth century, the area was inhabited by Greeks who lived in the nearby villages surrounding the Telmessos ruins. The ruins of those villages and the ancient city of Telmessos can still be seen in Fethiye today.
How To Get To Fethiye
Flying to Dalaman Airport, around 50 kilometers from Fethiye, is the quickest way to get there. You will need to take a taxi or public transportation to Fethiye once you arrive at the airport.
Ferries from Greek islands are another option for getting to Fethiye. If you plan to visit Greece on your way to Fethiye, you can visit Greek Islands and then take a ferry to the city for a reasonable price. Plus, taking a ferry from the Greek Islands will give you the opportunity of exploring the magnificent beauty of the Mediterranean.
TRAVEL COMPANIES WE USE AND TRUST
The Best Beaches In Fethiye
Fethiye is home to paradisiacal spots and gorgeous sights. The stunning beaches of Fethiye offer you the perfect summer with sand, sea, and sun. Here, we're going to list the best beaches in Fethiye.
Ölüdeniz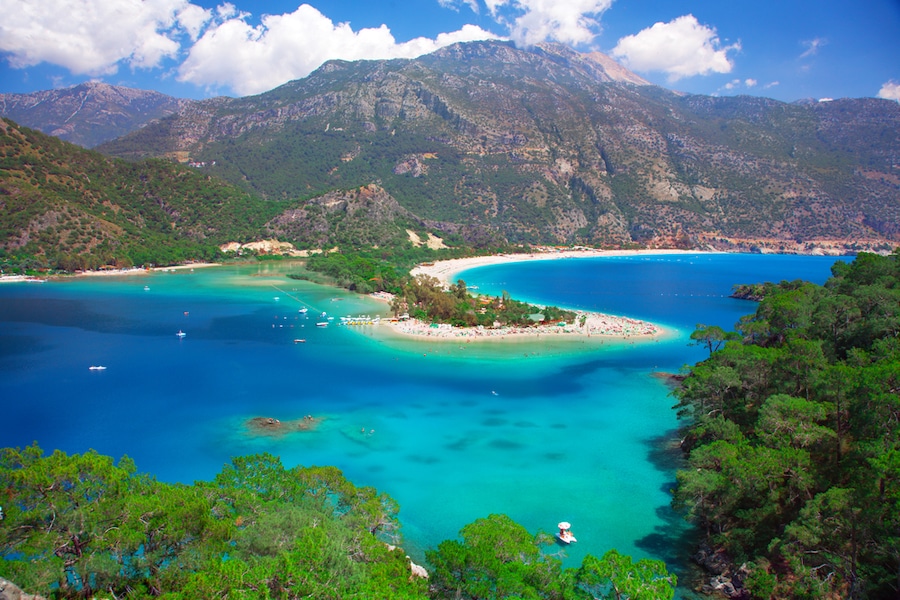 Ölüdeniz is one of the most famous beaches of Fethiye. The extraordinary landscape of the beach combines green hills covered in forests, golden sands, and turquoise waters. If you follow the Lycian path that starts from Ölüdeniz, you might end up getting to some peaceful coves and beaches where you can spend your time without interruptions.
Butterfly Valley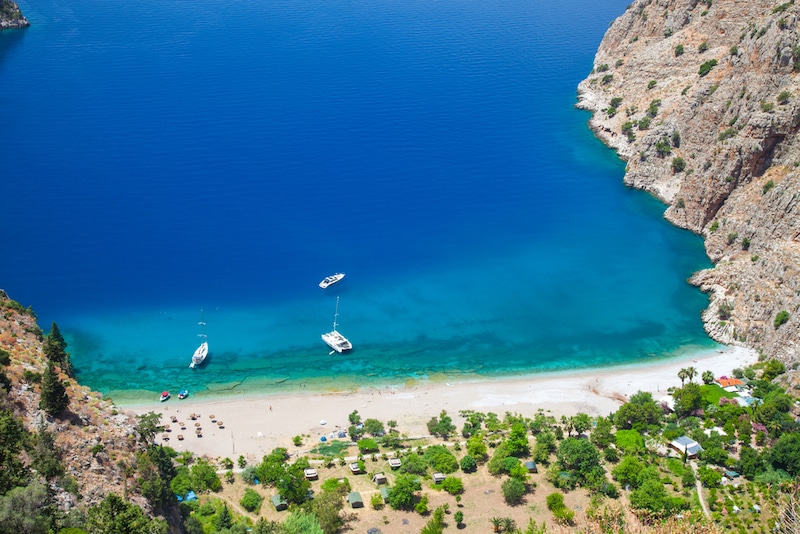 Only accessible by water, Butterfly Valley hosts over a hundred species of butterflies. Although it is challenging to spot butterflies in the summer since they aren't often around, Butterfly Valley still promises a memorable experience with its serenity and peacefulness.
Kabak Beach
Are you ready for a real adventure? Then add Kabak Beach to your list! A truly unspoiled paradise, Kabak Beach has yet to be invaded by resorts and hotels. Travelers may initially find the lack of amenities to be a disadvantage; nevertheless, if you enjoy being in nature and having the chance to get away from the monotonous city life, Kabak offers you all you need!
Kuleli Beach
With its natural beauty and gorgeous scenery, Kuleli Beach welcomes thousands of tourists annually. If you want a relaxing holiday, Kuleli offers you the best option with its crystal-clear water and golden beach. Located between hills, the soothing voice of the wind and the sound of the waves combine and produce a tranquil atmosphere on the beach. From many aspects, Kuleli Beach is one of the best beaches in Fethiye.
Gemiler Koyu
Gemiler Cove is a small beach you can reach from Ölüdeniz on a day trip. Around the cove are a few tiny eateries where you can enjoy fish and regional cuisine. You can swim, dive and rest in the cove without any interruption. And, if you have the time, you can take a day trip from the beach to Gemiler Island, also known as St. Nicholas Island, and explore its ancient remains.
Best Things To Do In Fethiye
Although Fethiye is famous for its beaches and sea, a trip to Fethiye doesn't only mean swimming and sunbathing. There are lots of activities to do and places to visit in Fethiye. Let's discover the best things to do in Fethiye!
Paraglide Over Ölüdeniz Lagoon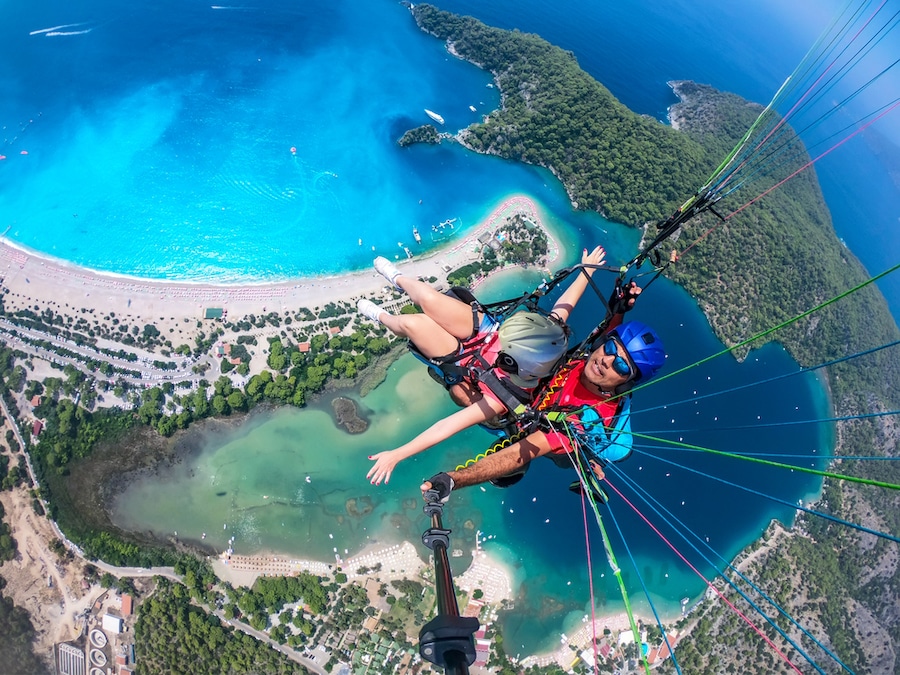 If you enjoy the wind and are up for an adventure, paragliding over Ölüdeniz Lagoon should be on your list of things to do in Fethiye! Blue Lagoon in Ölüdeniz is one of the top tandem paragliding spots in Turkey. Don't worry if you haven't tried paragliding yet; Fethiye is the ideal starting point. Who knows, the experience might inspire you to pick up an entirely new pastime!
Visit Kayaköy Ruins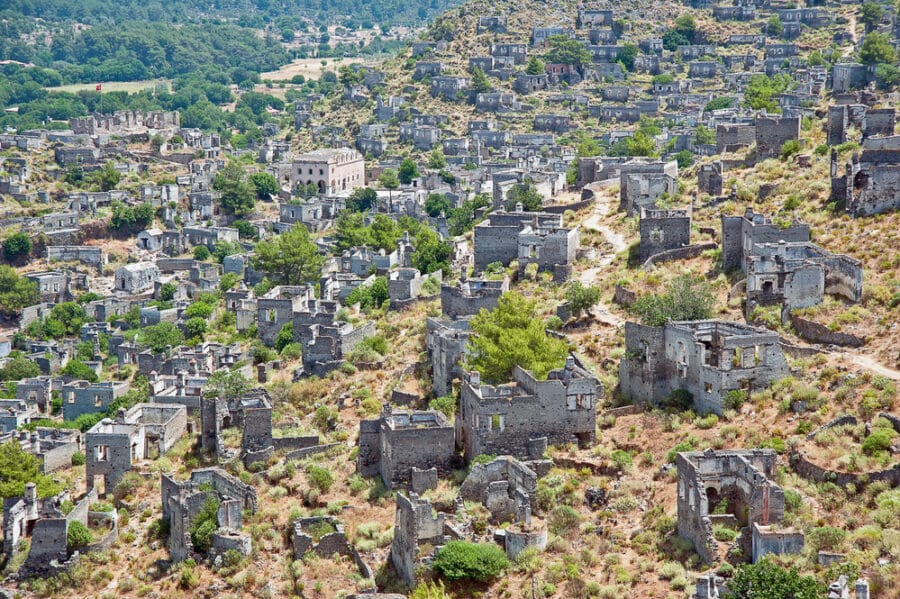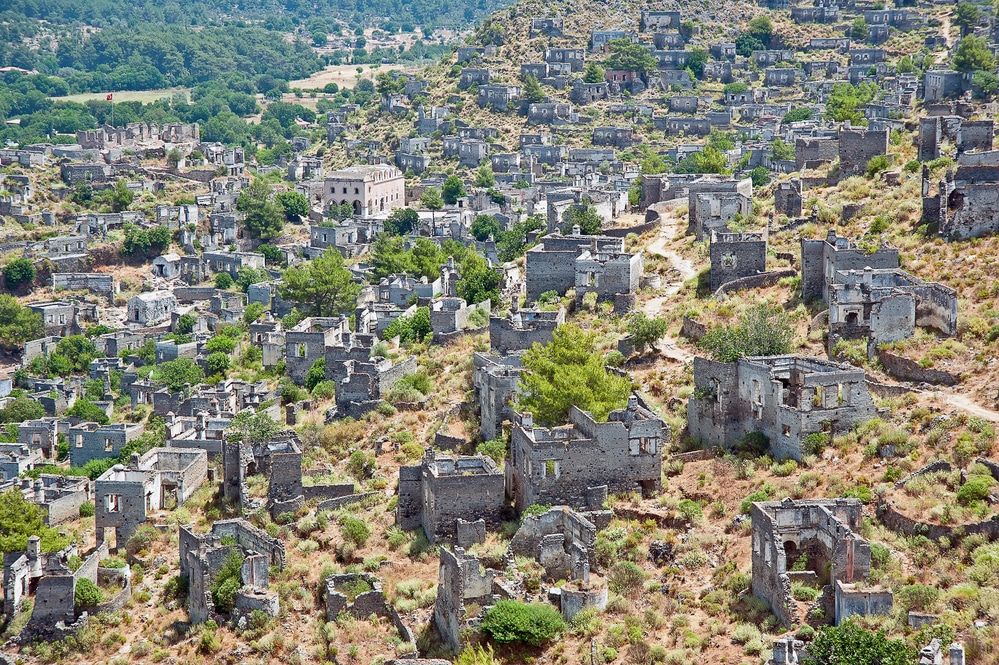 Fethiye has a long and rich history; thus, ancient ruins, monuments, and historic structures are in every corner of this historic territory. Few, however, are as intriguing as Kayaköy Ruins. An abandoned church and old houses once belonged to local Greeks contribute to the mysterious ambiance. Visiting this ancient settlement may help you better understand the local history.
Hike Through Saklikent Gorge
Saklikent Canyon is a must-see for everyone who enjoys hiking! Saklıkent means "hidden city" in Turkish. The canyon is 300 meters in depth and 18 kilometers in length, which makes it one of the deepest canyons in the world. You can participate in organized day tours to the canyon. Although the canyon is open to visitors all year, the deeper areas are only accessible during the summer months due to higher water levels in the winter.
Admire Xanthos Ruins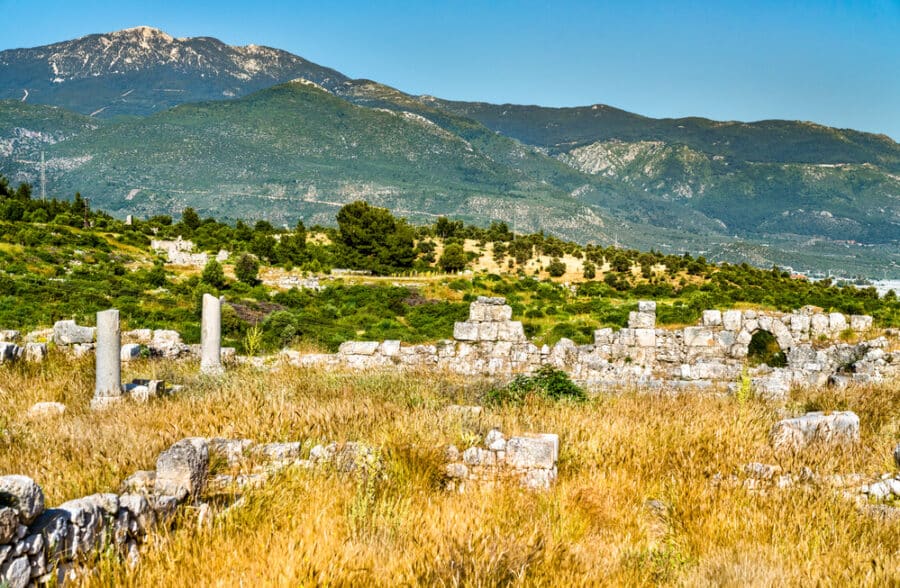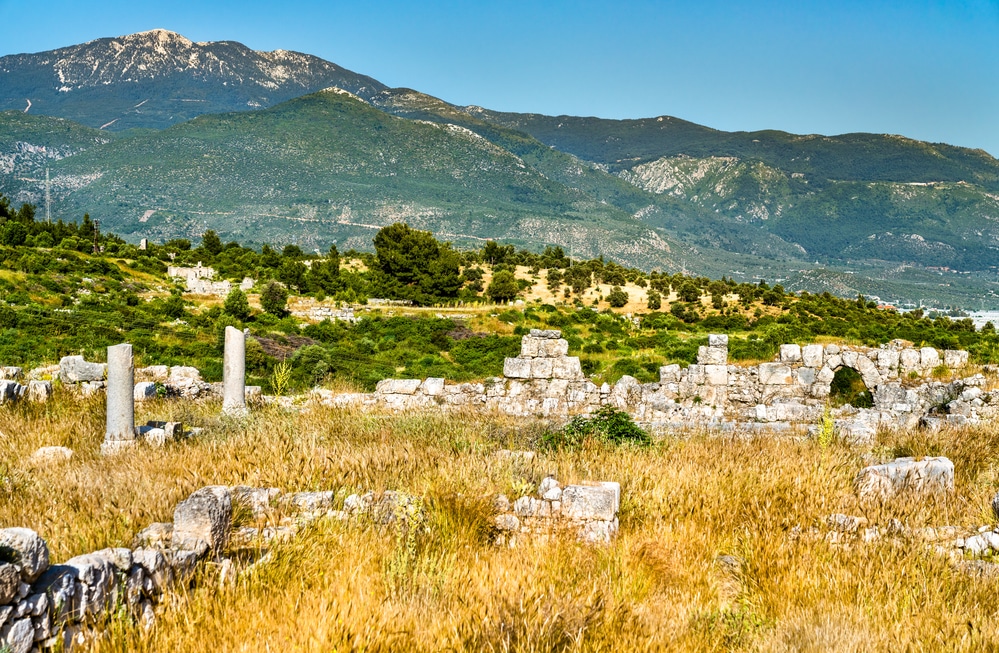 For those interested in ancient history and architecture, the Xanthos ruins are about 60 kilometers from Fethiye. The preserved ruins of the old city, located on a hill near the river Xanthos, are of exceptional magnificence. Among the ruins are Roman baths, shops, tombs, and a massive theatre.
Explore The Rock Tombs Of Tlos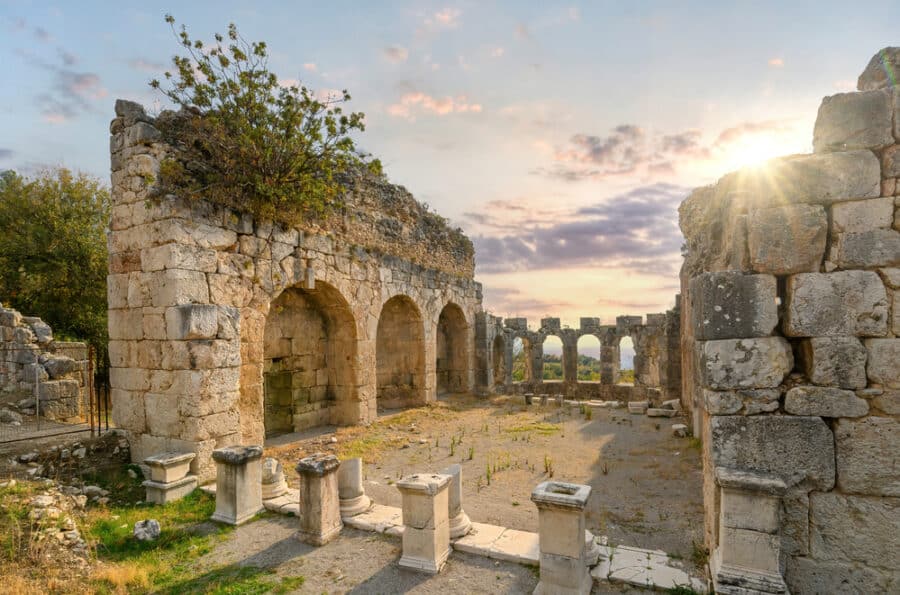 The Rock Tombs of Tlos are an extraordinary complex of ancient ruins that include an acropolis, an Ottoman fortress and stable, a necropolis, a stadium, a massive theatre, a Christian-era Basilica and a temple, many school complexes, and an agora. The ruins are 30 kilometers from the ruins of Xanthos. So, take a day to visit these ancient cities and immerse yourself in Fethiye's archaic environment.
A Day Trip To Gemiler Island
Gemiler Island, also known as St. Nicholas Island, is located off the coast of Türkiye and has ruins of historic churches, ecclesiastical buildings, and over fifty Christian burials. This island is said to contain the grave of St. Nicholas, the primary model for Santa Claus. You can take a day trip from Fethiye to Gemiler Island for quite an affordable price. Plus, since the island is relatively small, you can spare a few hours to visit the entirety of Gemiler Island.
Where To Stay In Fethiye
Fethiye hosts many luxury hotels with high-quality facilities for its international visitors. As one of Turkey's most popular tourist destinations, most resorts and hotels in Fethiye provide a delightful stay.
TUI BLUE Sensatori Barut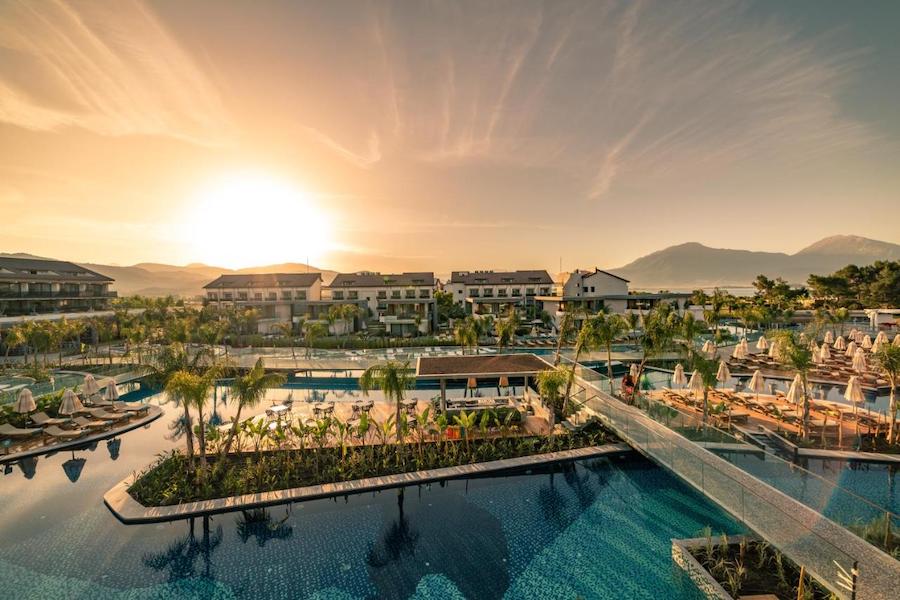 Address: Çiftlik, Kargı Mahallesi 202, 226. Sk. No:4/1, 48300 Fethiye/Muğla
This comfortable hotel is located on the green land adjacent to Karataş Beach. It offers stylish rooms with TVs, free WiFi, and other quality amenities. Almost all of the hotel's accommodations have pool access, and some offer sea views. The hotel's 15 bars and restaurants serve the highest quality food.
.
Club & Hotel Letoonia
Address: Karagözler, Fevzi Çakmak Cd. No:82, 48300 Fethiye/Muğla
Club & Hotel Letoonia is a five-star all-inclusive resort with three private beaches and excellent facilities. The restaurants and bars at the resort provide delicious meals. In addition to its facilities, Letoonia guests get access to the hotel's disco, pools, and fitness center. It is adjacent to rock tombs and offers excellent lodging for travelers who want to make the most of their time in Fethiye.
.
Nautical Hotel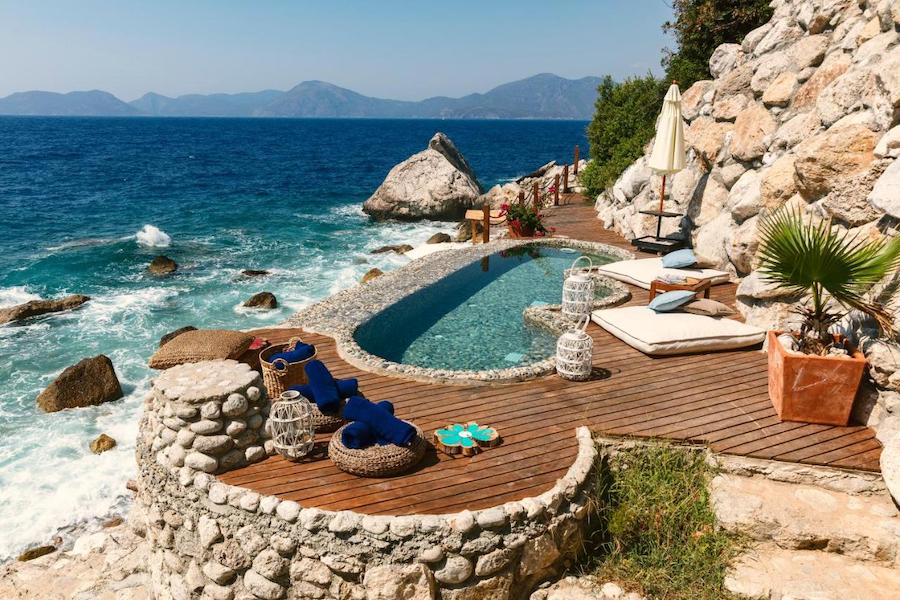 Address: Uzunyurt, Kızılcıkaya Mevkii, 48300 Faralya – Fethiye/Fethiye/Muğla
Located 4 kilometers from Butterfly Valley, Nautical Hotel is an all-inclusive resort with a peaceful atmosphere. There are several stones and wooden accommodations with sea views. We recommend trying the hotel's organic restaurant -they serve some of the healthiest food you can find.
.
Hera Beach Fethiye Hotel
Address: Foça, Köçek Mustafa Cd. No:40, 48301 Fethiye/Muğla
Hera Beach Fethiye Hotel is a nice hotel set on a residential street next to Çalış Beach along the Mediterranean Sea. The hotel includes a private beach for visitors to enjoy and high-quality facilities to make their stay even more comfortable.
.