Privacy & disclaimers →
The Best Time To Visit Turkey's Most Popular Spots, Month By Month
It's easy to assume that Türkiye is just a place to go on vacation in summer. It's no surprise; we see countless photos and adverts about Turkey's stunning beaches that you automatically attach summer to it. But Turkey is huge, meaning plenty of destinations spanning different climates.
If you're keen to venture over to Turkey and you're unsure about the best time to visit Turkey, I've listed all the information you need to know about when is the best time to visit Turkey. I have covered all of the tips I wish I had known before I started traveling Türkiye.
Best Time To Visit Bodrum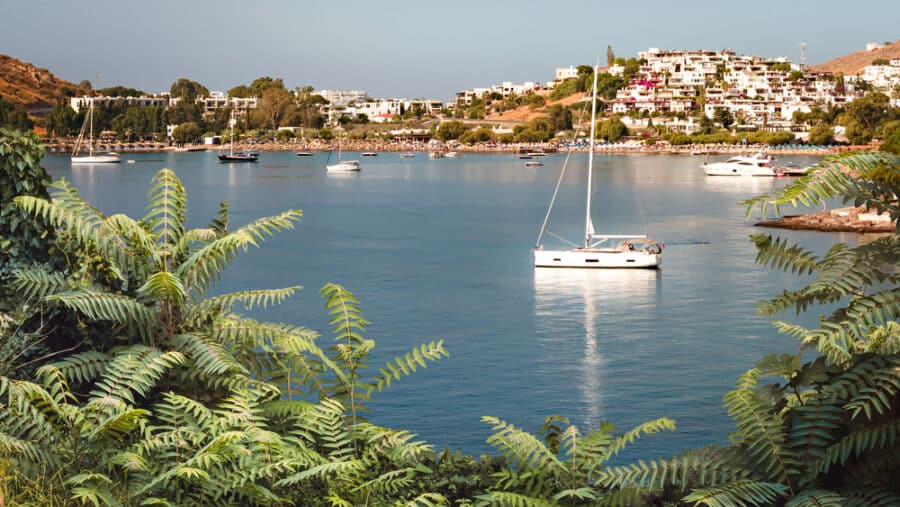 Bodrum is an upmarket holiday resort located on the southwest coast that's become extremely famous over the last few years. Many celebrities have been spotted in Bodrum, especially sailing around its stunning coastline.
When you visit Bodrum, you can expect summer fun with plenty of beach time, vibrant nightlife, and amazing gastronomy.
Weather In Bodrum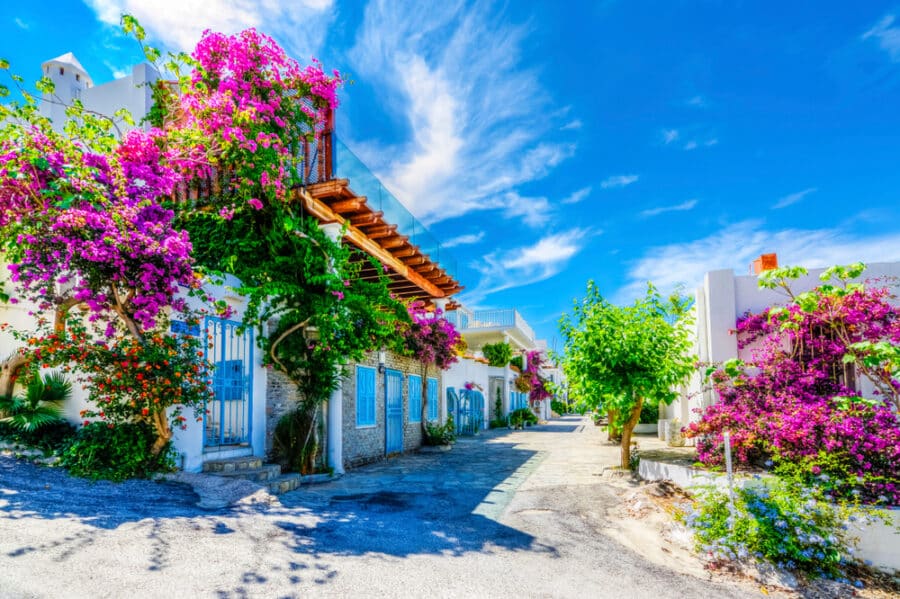 November to February: Cool (but not freezing) temperatures, with a high chance of rain. January is usually the coldest and wettest month, with an average temperature of around 10 degrees Celcius (50°F) and night times dipping to about 5 degrees Celsius (41°F). The odd storm may also bring wind and rain for a few days at a time
March to May: This is considered spring, and at this time, you can expect very warm temperatures with less rain. However, it's not really beach weather just yet, as the sea is very chilly! By the end of May, you can certainly wear your summer clothes
June to August: Hot! This is the peak summer months, especially July and August. Temperatures can climb into the 40s, and rain is virtually non-existent. You will need air conditioning at this time as evenings only dip to around the high 20s
September to October: Temperatures are starting to cool down, and this is a very pleasant time to visit Bodrum. There is still very low rainfall; however, as you move into October, short-lived showers are likely. Thankfully, the evenings start to cool.
Bodrum General Life
Bodrum is an all-year-around destination, however, don't expect to be able to get in the sea during the winter months! Between November to April, Bodrum is a lot quieter, but it's a nice kind of vibe, and you'll be able to explore the local area a lot easier than if you were visiting during the summer.
Many touristic bars and restaurants will be closed, but that certainly doesn't mean all; Bodrum is quite a thriving city, and during the weekends, you'll find vibrant nightlife on offer.
What To Pack For Bodrum
If you're visiting during the shoulder months, take a light jacket or cardigan for the evenings. However, during the summer months, you certainly won't need that!
During the winter, you will need a coat and boots, especially if it rains. You're very unlikely to see snow, but that doesn't mean you might not encounter a winter storm or two.
TRAVEL COMPANIES WE USE AND TRUST
Best Time To Visit Izmir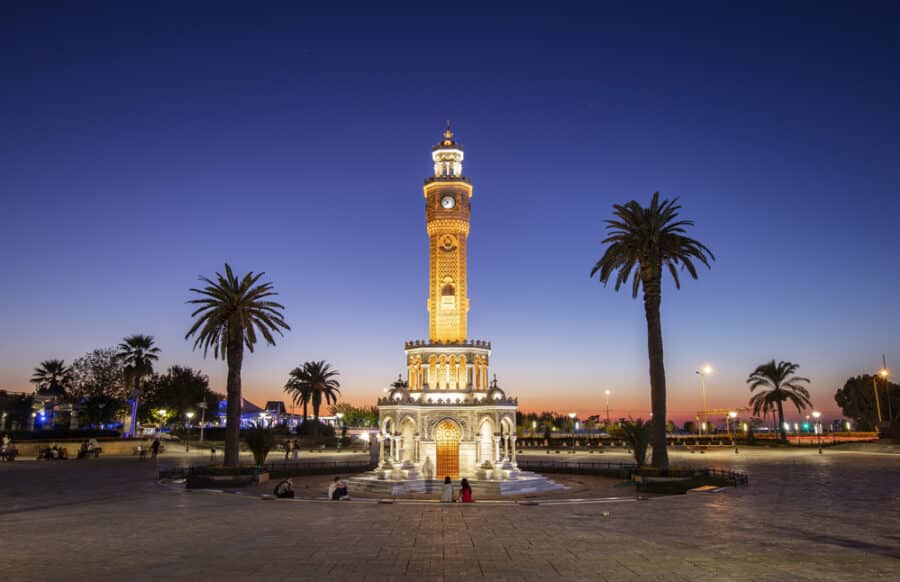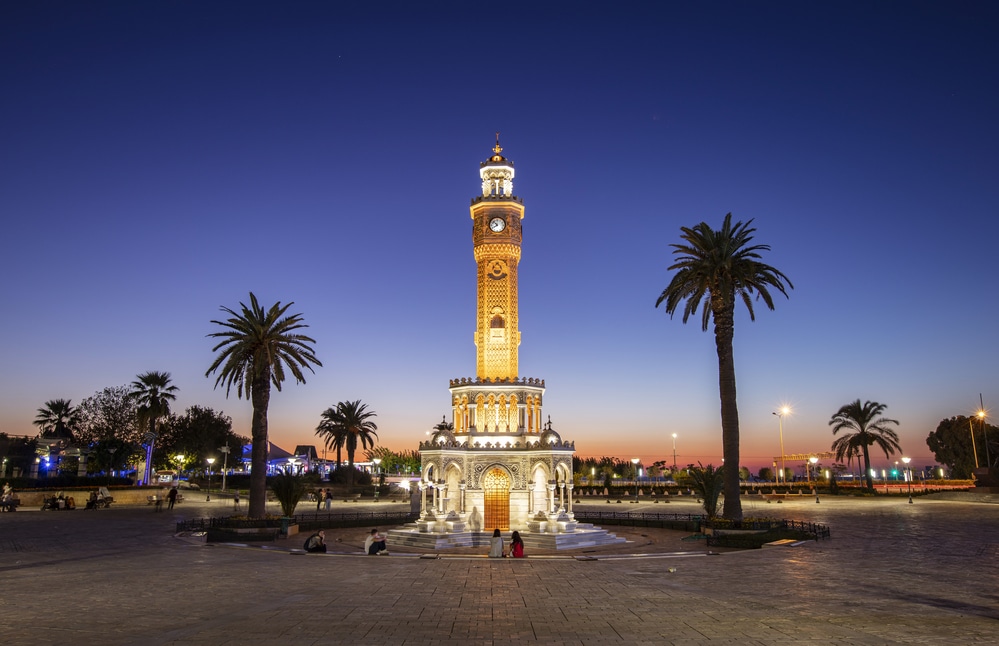 Izmir is Turkey's third biggest city, and that should tell you a lot about what is on offer! There is a very young vibe in Izmir, as it's a large university spot, but it's also a city for everyone, with history and culture at every turn.
Weather In Izmir
Izmir's weather is very much like the coastal resorts, as it's a coastal city in its own right. Sitting on the shore of the Aegean, you can expect plenty of swimming opportunities during the summer months. Even during the winter, you can expect relatively mild temperatures.
November to February: During this month, you may experience rain and the odd storm coming over the Aegean. This may bring heavy rain and wind but normally only lasts for a day or two. For the rest of the time, temperatures are relatively mild for the time of year, with the lowest temperature being around 10 degrees Celsius (50°F). Nighttimes can be cold, however
March to April: Spring has sprung! During this time, the weather is warming up, and there are some very pleasant days when you may be able to walk around in a t-shirt. There may be occasional days of rain, but these tend to be short-lived
June to August: Izmir has very warm summer days, so you can expect high 30s-low 40s at this time. Evenings are very warm, never really dipping below 25 degrees Celcius (77°F). Rain is very unlikely
September to October: As with Bodrum, the weather at this time is starting to cool, and there are some pleasant days, a little like spring. Rain may occur as October arrives, but this is unlikely to be heavy.
General Life In Izmir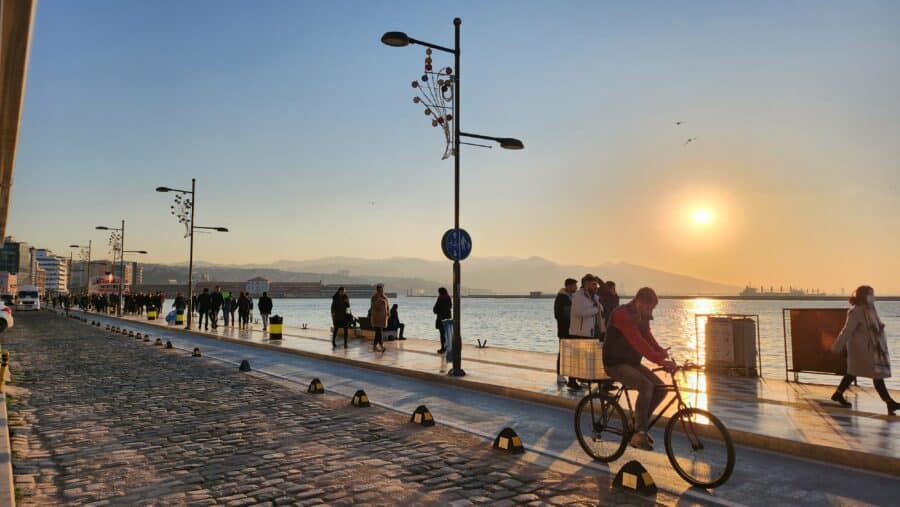 Izmir is busy no matter what the month; however, you will notice that it gets even busier still during June to August when people flock to the coast to cool down during the hottest period of the year.
Restaurants, bars, and tourist attractions remain open all year round.
What To Pack For Izmir
If you're visiting Izmir during the winter months, certainly take a coat and umbrella as you may face rain and cooler days. However, for the spring and autumn months, a light jacket may be enough, with an umbrella in your bag, just in case.
During the summer months, umbrellas aren't needed, and only comfortable shoes for walking around in the sunshine!
Best Time To Visit Antalya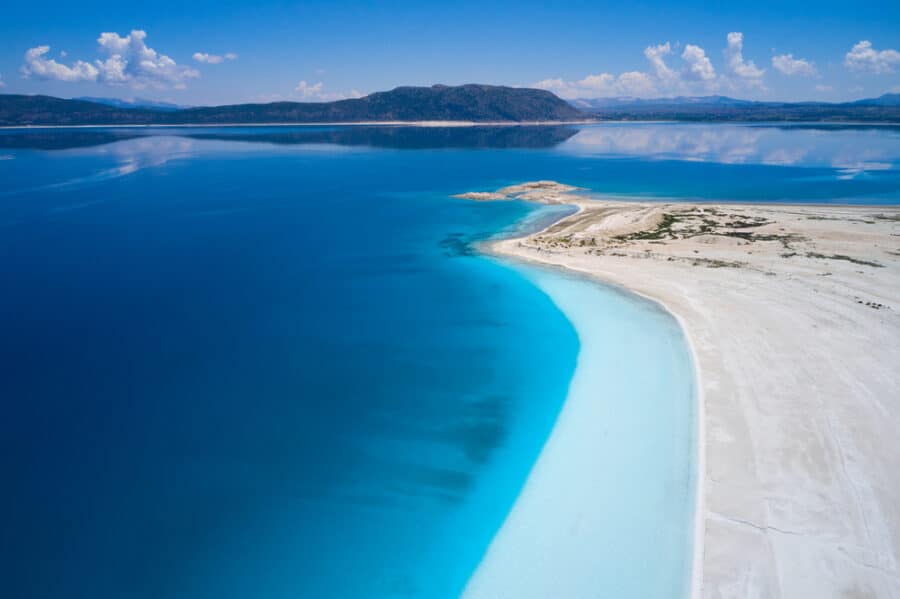 Located on the south coast, Antalya gets the country's hottest and driest weather. The difference between this region and the other holiday resorts is that the summer season lasts a little longer, thanks to the region's proximity further east.
However, Antalya is also one of Turkey's most famous regions, packed with amazing beaches, historical sights, and areas of natural beauty. It's also worth mentioning that Antalya is both a city and a province, so the area is HUGE.
Weather in Antalya
December to February: During these months, Antalya is in winter mode, and you will see snow on the high mountains; however, it's unlikely to reach lower levels. Rain can be quite prominent during these months, along with lower temperatures, however, you'll also see many mild days too
March to May: Antalya quickly starts to warm up as spring arrives, and particularly into April, you'll notice that temperatures are in the double figures. There may still be rain, but showers are likely to be short-lived. Evenings will be chilly at this time, so a thin jacket is needed
June to August: The summer months in Antalya are very hot indeed, often reaching into the 40s, with zero rain. Evenings are also very warm, so you'll need air-conditioning if you want to sleep
September to November: Antalya's long summer season means that it's usually quite pleasant to swim in the sea until the middle of November. Temperatures stay in the mid-30s until close to the end of November, with a very steep drop after that time. Evenings will become cooler into October, but that may be a welcome break from the heat!
General Life In Antalya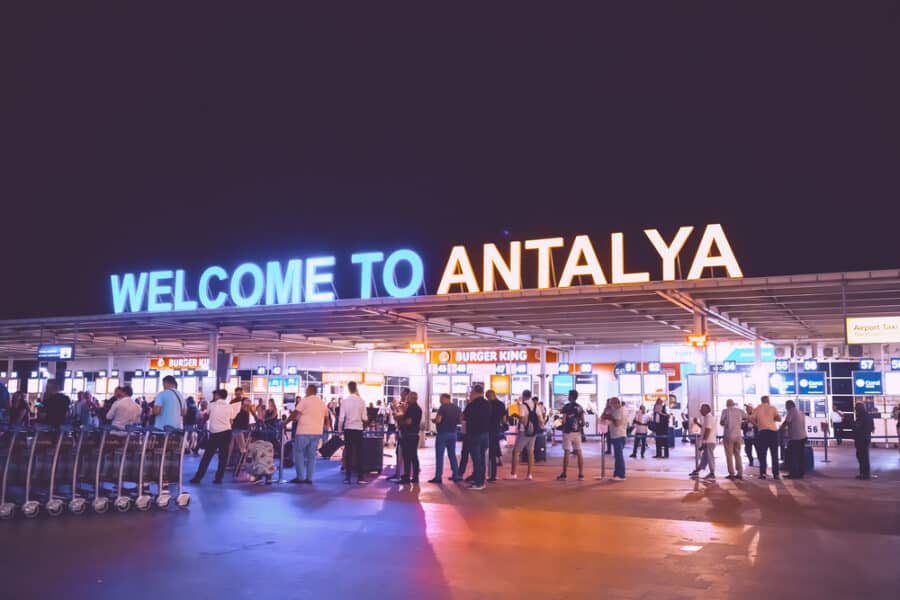 Remember that Antalya is a huge area and includes both a city and several resorts. The resorts are likely to be very quiet during the winter months. You'll find some bars and restaurants open, but their hours are likely to be reduced, including any touristic attractions that remain open. Yet in Antalya city, you'll find everything is business as usual, except for the area around the castle, which tends to be less busy during the winter, with some spots closed.
During the summer months, it's all action. Antalya gets very busy during this time, and you'll find it hard to find much space for yourself – however, that's not a reason not to go and enjoy yourself!
If you prefer a slower pace of life but still with great weather, the spring or autumn months are best for you.
What To Pack For Antalya
There are occasional storms during the winter months, and it can get very cold at this time, so make sure you pack a warm coat and suitable shoes. However, if you're visiting during the spring, summer, or autumn months, you'll not have to worry much about the chance of rain, and you'll only need a light jacket for chilly evenings early in the year or later on.
Best Time To Visit Istanbul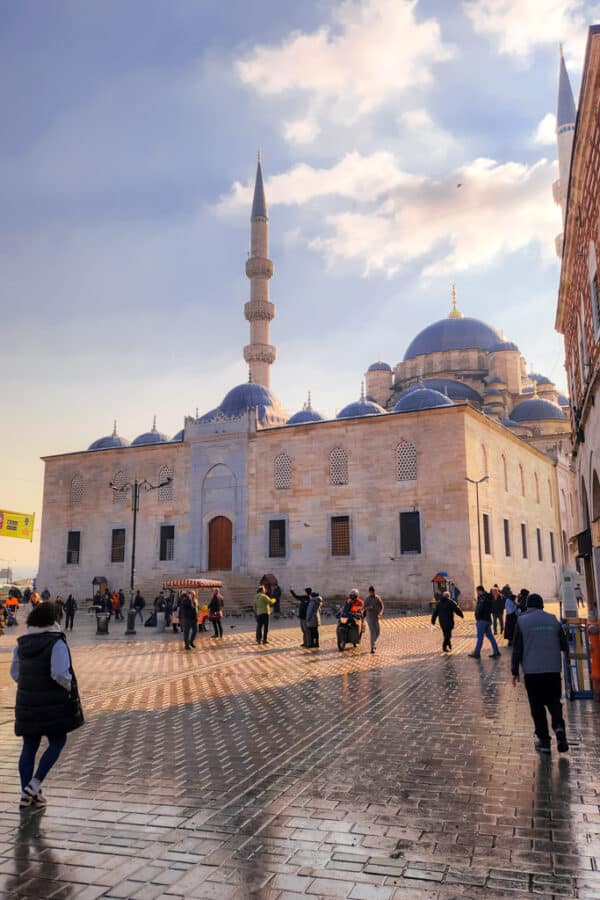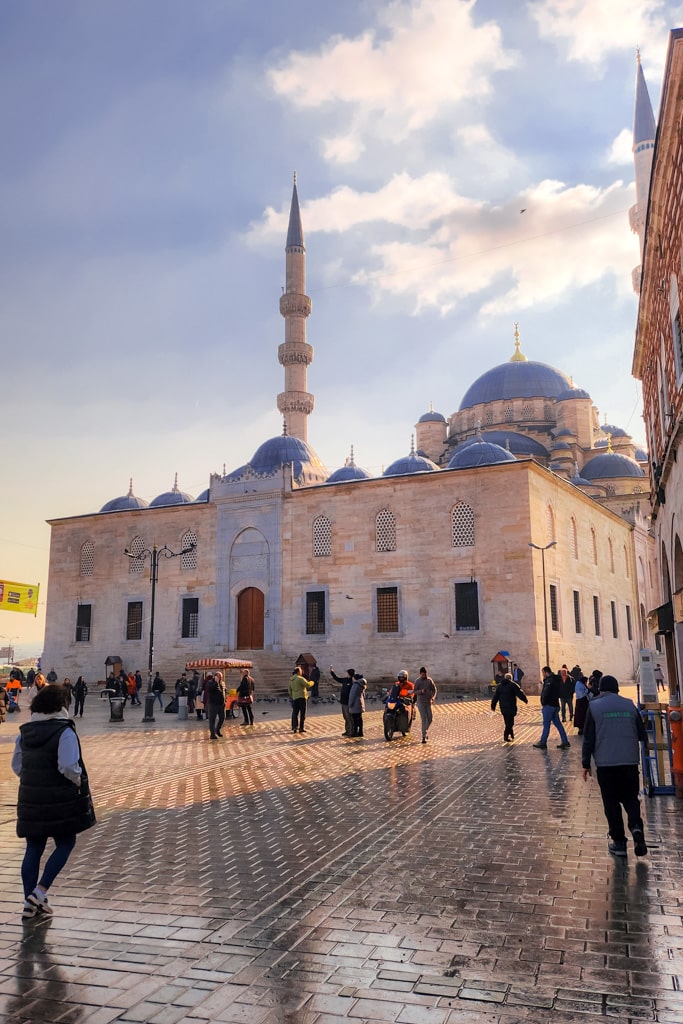 Turkey's biggest city is packed with things to see and do. One visit to Istanbul is never enough and it's important to plan your visit so you can get the most out of your time.
You should also manage your expectations in terms of what you'll be able to see, as traffic and getting around the city is not particularly fast! It's also a very tiring yet extremely rewarding place to go.
Weather In Istanbul
Istanbul's weather is very hard to predict. Located in the northwest of the country, it is influenced by many elements, including the Black and Marmara Seas.
However, Istanbul does have seasons, which makes it easier to plan.
November to February: During the winter months, you can expect rain and even snow at times. Temperatures can be very cold, and the wind off the Bosphorus can be biting. However, to throw confusion into the situation, you can also get very mild days too with plenty of sun!
March to April: The spring months can often bring days of rain, but when the sun is shining, it can be very warm indeed. You will still need a jacket for those days when the cold decides to return and especially for the evenings
May to August: Summer in Istanbul can be very warm, but not as hot as the south coast resorts. The temperature can reach the mid-30s (95°F), yet there is always a chance of rain, sometimes quite heavy for a time. Evenings will be milder yet still sticky
September to October: The autumnal months in Istanbul can be a very mixed bag, but it's rarely very cold. The main feature here is rain; it can rain at any time, so always keep an umbrella with you in your bag. Again, you'll need a thin jacket for the evening
General Life In Istanbul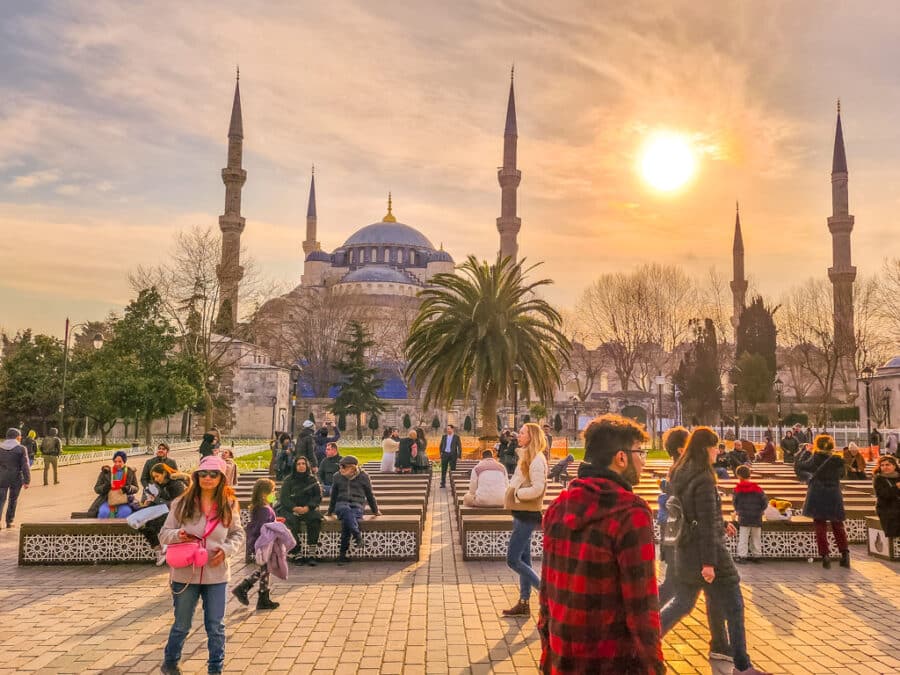 Life never changes in Istanbul. It's always busy, regardless of the month! However, you will notice that more people tend to visit Istanbul from overseas during the winter months because of the beautiful snow scenes!
In all honesty, it's easier to visit Istanbul when it's cooler; when you add high temperatures to a busy city, your experience may be a little stressful. But if you take your time, you should be fine.
All tourist attractions, bars, restaurants, and shops remain open year-round.
What to Pack For Istanbul
Ah, Istanbul packing! You will need a bit of everything! In the main winter months, you'll need a very thick jacket and suitable shoes, preferably boots. The only time you won't need a coat is during the high summer months, but for the rest of the time, it's a good idea to take on.
It's not the best idea to attempt walking around Istanbul in sandals or flip-flops – this is a huge city, and if you try to walk in unsupportive shoes, your feet will tell you about it!
The best route here is layers. That way, you'll never be too hot or cold. Oh, and an umbrella no matter what the month.
Best Time To Visit Cappadocia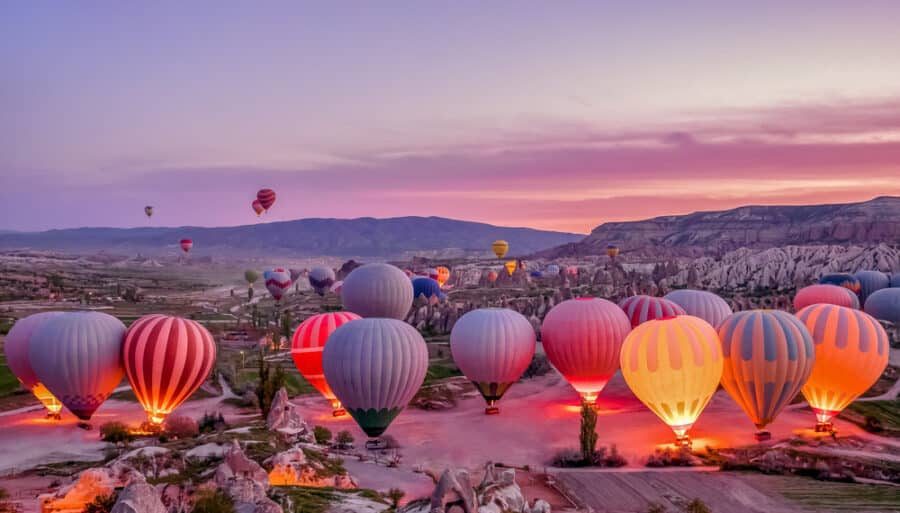 Cappadocia is one of the country's most famous attractions, and it is located in Central Anatolia. The closest city to Cappadocia is Nevsehir, which is not the most accessible place to reach, but you can take connecting flights from Istanbul and save some time.
Weather In Cappadocia
November to March: Cappadocia experiences very cold winters, which often feature heavy snowfall. Of course, this gives fantastic scenery! Snow can occur as early as November, but you don't usually see it settling on the ground until the middle of December, lasting into March
April to June: Spring in Cappadocia is a beautiful time, but the early part of the season will require a coat, as it may still snow, and it's likely to be quite cold. As you move into May and June, rain is unlikely to be a problem; the occasional shower will be very short-lived, and you're looking at average daytime temperatures of around 15-20 degrees Celsius (59-69°F)
July to September: Summers in Cappadocia are very warm but not as hot as in other parts of the country. However, they are very dry, so you won't have to worry about rain. Temperatures can reach the high 30s in some cases, but as you move into September, they will start to cool
October to November: Autumn is a beautiful time to visit Cappadocia, with cooler temperatures and fewer crowds. Temperatures are around 20-25 degrees Celcius (69-77°F) on average, with cooler evenings making sleeping much more comfortable. Rain is possible as November arrives, but not particularly heavy
General Life In Cappadocia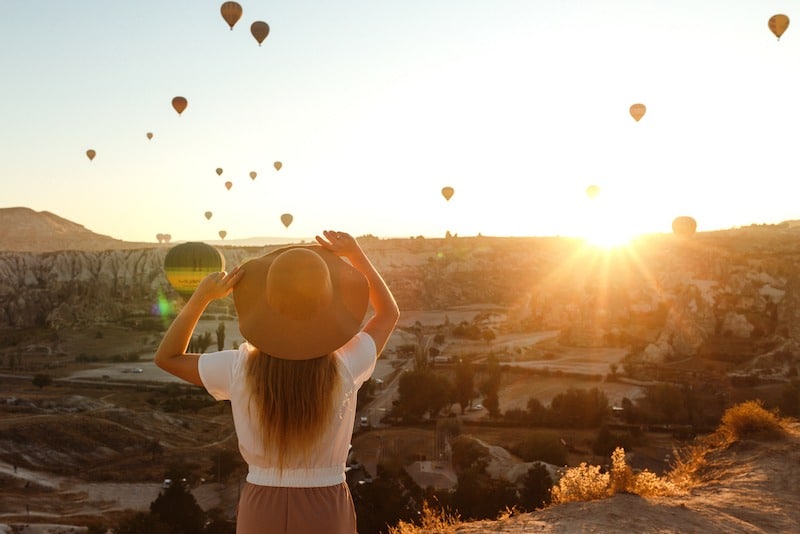 Cappadocia is a year-round attraction, so no matter what month of the year, everything will be open as normal. You will find that most people tend to visit during the summer months, but winter can be a beautiful time to experience incredible scenery.
However, if you're keen to go in a hot air balloon, I recommend that you be aware that poor weather may cancel your flight at the last minute, leaving you disappointed.
What to Pack For Cappadocia
You will need suitable footwear and a thick coat during the winter and into early spring. It can be freezing during this time. A light evening jacket is a sensible idea as summer arrives, but you won't have to worry about rain.
If you plan on exploring the region, pack walking boots or high-quality trainers; Cappadocia isn't a flip-flop or sandal place.