Marmaris or Bodrum? Everyone who plans a trip to the Turkish Riviera wonders about the answer to this question. Even though both of these majestic owns are in Muğla and close to each other, discovering becomes a challenge due to the plethora of attractions. As a result, choosing one and just spending time exploring all it holds is a better idea – especially for short-term visitors.
On the one hand, there's Bodrum, one of Turkey's most popular resort towns; it is famous for its vibrant nightlife, proximity to popular attractions, and lots of fun activities. Bodrum has a more international atmosphere and offers an opportunity to socialize and get to know new people.
On the other hand, Marmaris is known for its gorgeous beaches and authentic atmosphere. The town is a haven for visitors who seek a genuine experience immersing in the local culture and want to taste delicious Mediterranean dishes.
If you don't know how to choose between these towns, you need not worry! In this post, we'll dive into Bodrum and Marmaris, comparing them and listing their differences and the opportunities they offer. So, you can have a chance to figure out whether you should visit Bodrum or explore Marmaris.
Keep reading below for our in-depth analysis of how to choose either Marmaris or Bodrum
Marmaris Vs. Bodrum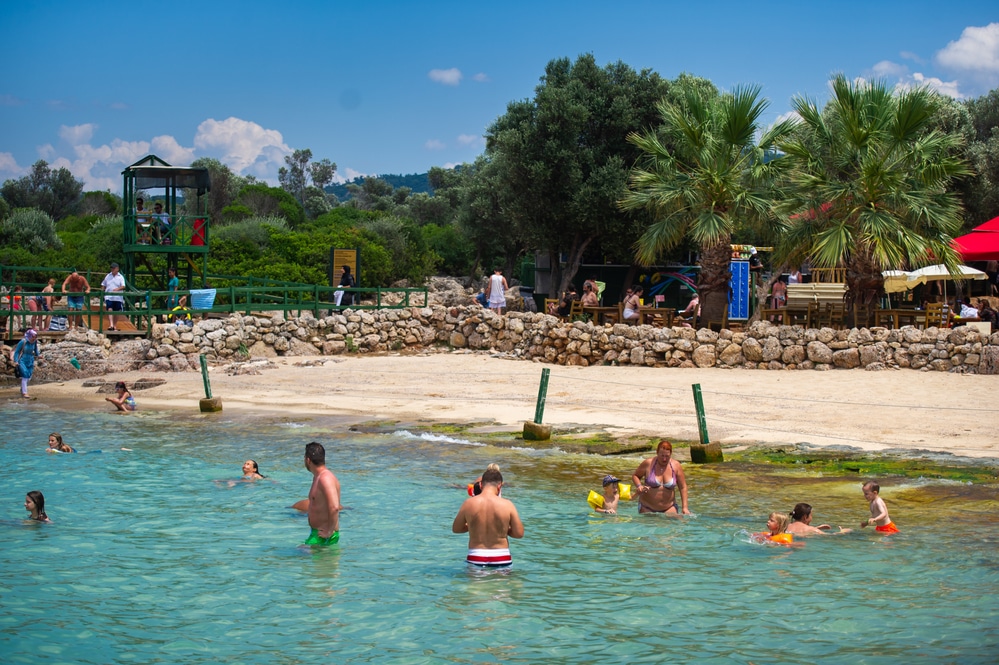 We can start our comparison by stating that Bodrum is more popular than Marmaris. Having its own airport, an advantageous location, and being a more tourist-centered town, Bodrum is by far among the first choices of visitors. It has all tourists want; beaches, fun activities, historical sites, and lots of nightclubs.
However, in recent years, tranquil and peaceful places have been rising in popularity, meaning Marmaris seems to draw increasingly more attention. Since Marmaris is a bit overshadowed by Bodrum's international fame, it has more pristine beaches and secluded coves where you can enjoy a peaceful holiday.
Another significant point we should investigate is accessibility. Since Bodrum is among Turkey's most popular tourist destinations, the town has its own international airport, named Bodrum-Milas Airport. Also, whereas Bodrum has a small harbour, it is on the route of many international cruises.
Marmaris, on the other hand, has a larger harbor that attracts yachts and boats. Nevertheless, the closest airport to Marmaris, Dalaman International Airport, is around 90 kilometers. So, it takes a while to get to Marmaris from the airport.
It is also worth noting that while Bodrum is famous among international visitors, Marmaris offers a more authentic experience and attracts younger folks. Although both towns have a vibrant nightlife and upscale restaurants, Bodrum tends to have busier and average-quality establishments. The reason is that Bodrum attracts slightly more tourists than Marmaris, causing a myriad of new establishments to open all around. So, we can say that establishments in Marmaris tend to offer more quality service; nevertheless, quality is a subjective term, and it's always best to discover both towns before making conclusions.
In terms of attractions, Marmaris is far from most of the ancient cities in Muğla and has its own historical sites. Therefore, Marmaris is usually preferred by those who want to have a peaceful beach holiday and day trips. On the other hand, Bodrum offers all kinds of attractions, from vibrant local towns to pristine beaches to historical settlements.
Top Attractions In Marmaris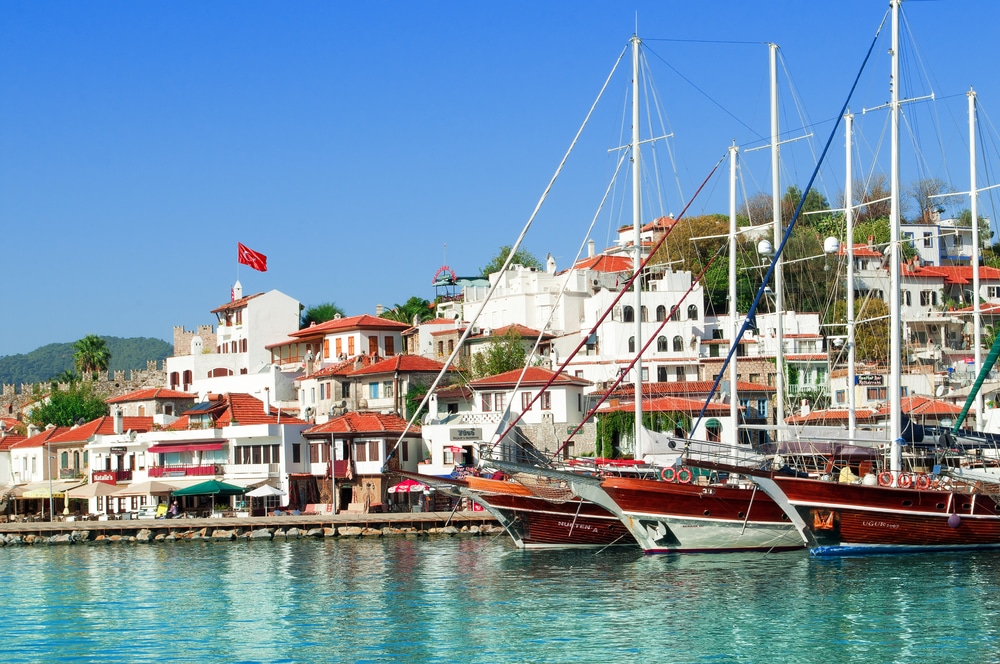 It is no secret that Marmaris is a magnificent place for visitors. The town has many tourist attractions and offers various activities.
Marmaris Old Town: if you want to dive into the historic atmosphere of Marmaris, there is nowhere better than Marmaris Old Town. The area, located at the foot of the Ottoman-era castle, takes visitors on an impressive journey to the city's past
İçmeler Beach: Marmaris is a city known for its golden beaches, including the world-renowned Cleopatra Beach or majestic Long Beach, yet İçmeler Beach is by far one of the must-see destinations in the city. The beach has a tranquil and relaxed atmosphere, providing a peaceful beach day
Marmaris Castle: those interested in the history of Marmaris might enjoy visiting Marmaris Castle. The historic castle, located near the old town, offers a panoramic view of the city
Dalyan Mud Baths: believed to have healing properties, Dalyan Mud Baths are some of the most popular attractions in Marmaris. Enjoying the therapeutic experience might be the highlight of your journey to Marmaris
AquaDream Water Park: if you are on a family holiday, AquaDream Water Park might be a great option. The venue offers thrilling rides, fun slides, and outstanding water attractions
Marmaris Grand Bazaar: if you think Istanbul's Grand Bazaar is the best, Marmaris Grand Bazaar might change your mind. Vibrant market stalls, historic architecture, and countless products are only some of the things Marmaris Grand Bazaar offers
Day Trips From Marmaris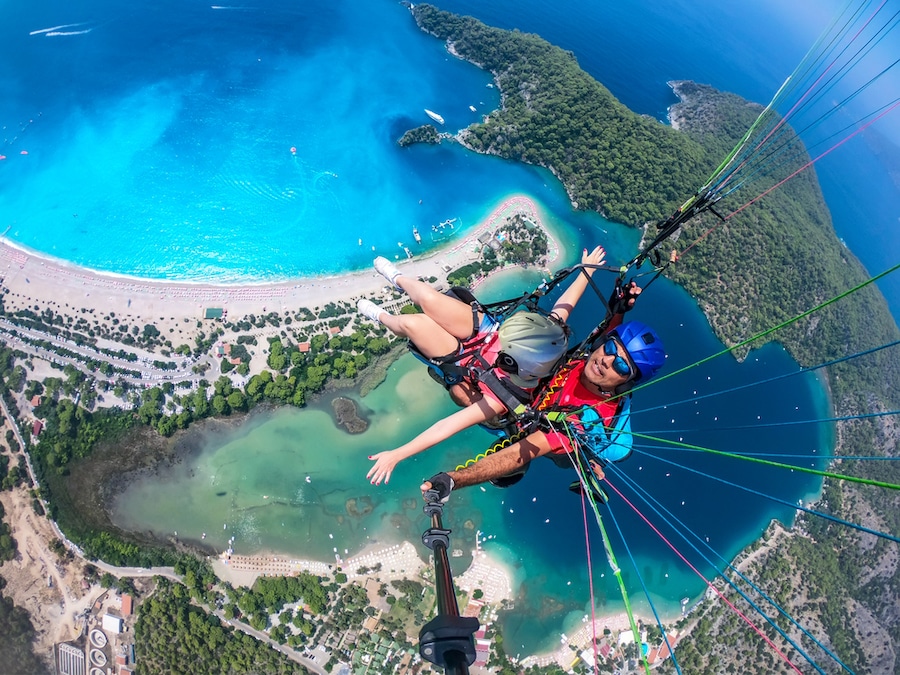 If you think seeing Marmaris isn't enough, we have great news! Thanks to the town's strategic location, you can take plenty of day trips to many must-see destinations from Marmaris.
Dalyan: Dalyan is a famous town located on the Dalyan River. The area is known for its mud baths with therapeutic properties, ancient rock tombs of Kaunos and relaxing Turtle Beach, a protected nesting ground for loggerhead sea turtles, or as locals – and scientists – call them, Caretta caretta
Fethiye: if you want to spend your day in an area full of natural beauty and relaxation, Fethiye should be your next destination. You can get to this pretty town on a day trip from Marmaris, seeing the stunning coastline and exploring the ancient Lycian rock tombs
Ölüdeniz: a neighbourhood in Fethiye, Ölüdeniz is famous for its paragliding opportunities and panoramic views. The area is also home to the renowned Blue Lagoon, which provides visitors with a soothing sight and many instagrammable pictures
Knidos: located on the Datça Peninsula, the ancient city of Knidos offers a gorgeous day trip opportunity. The ancient Greek city is home to an ancient theatre, many temples, and the famous statue of Aphrodite
Rhodes: why wouldn't you feed two birds with one scone? Rhodes is a majestic Greek island near Marmaris renowned for its medieval Old Town, a UNESCO World Heritage Site, and historical landmarks like the Palace of the Grand Master of the Knights
Reasons Not To Visit Marmaris
Although it's hard to find reasons not to visit Marmaris, before deciding between Bodrum and Marmaris, one should also consider the drawbacks. Here are some of the possible reasons not to visit Marmaris:
Although it has its own historic sites, Marmaris is distant from the major ancient cities in the Mediterranean
If you are allergic to seafood or don't like it, you should know that Marmaris has a seafood-based cuisine
While it's a popular tourist destination, Marmaris is a bit less popular than Bodrum and doesn't offer all that Bodrum offers
Even though Bodrum is famous for its nightlife, most Marmaris clubs and pubs provide better service due to the lower tourist density and better organization
Top Attractions In Bodrum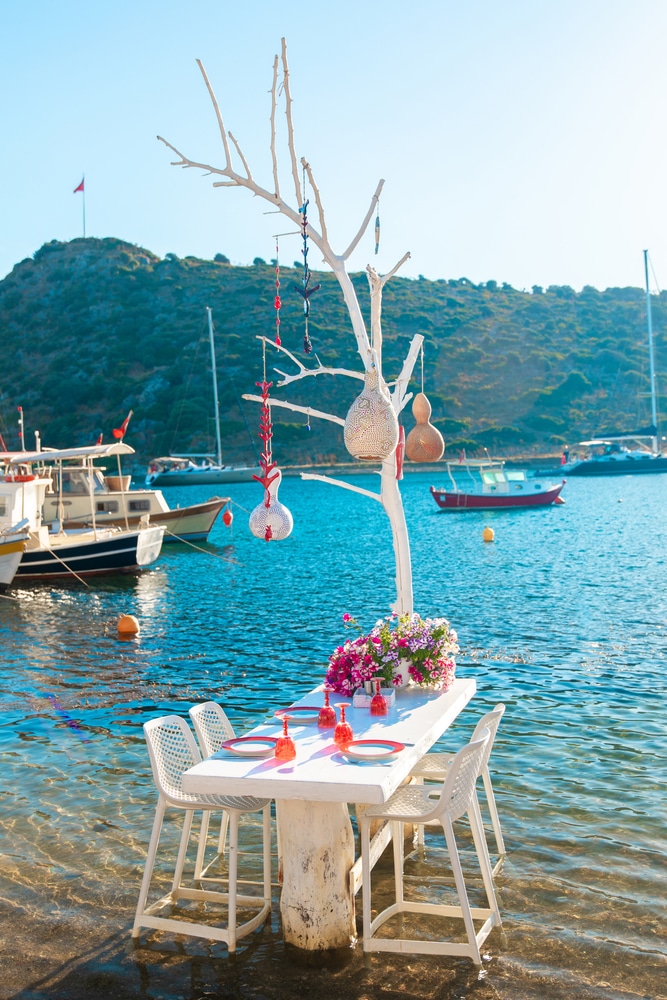 Bodrum is one of the most popular touristic areas in Turkey. Therefore, the town offers plenty of unforgettable experiences.
Bodrum Castle: This medieval castle offers an unforgettable experience of going on a historic journey to Bodrum's past. Built by the Knights of St John, the castle was known as the Castle of St Peter
Ancient Theatre of Bodrum: If diving into the Medieval Bodrum isn't enough for you, it's time to see the antique theatre of Bodrum. Built around the 4th century BCE, the theatre was one of the most significant structures in the Hellenistic-era Halicarnassus
Bodrum Museum of Underwater Archaeology: Those interested in marine biology and archaeology might add the Bodrum Museum of Underwater Archaeology to their itinerary. This extraordinary venue takes you on a fascinating journey to Bodrum's underwater world.
Mausoleum of Mausolus: Have you known that the word "Mausoleum" comes from a structure in Bodrum? The Mausoleum of Mausolus was a tomb built for the Achaemenid satrap, governor, Mausolus. The tomb impacted history and literature significantly, pioneering a new type of monumental tomb
Gümbet Beach: If you have had enough of history, it's time to have a restful beach day. Gümbet Beach is one of the most popular beaches in Bodrum, providing visitors with countless water activities and a tranquil atmosphere
Bodrum Hammam: Those who seek a traditional Turkish bath experience shouldn't look further than Bodrum Hammam. All you need to do in this venue is relax in the steam room and enjoy a soothing scrub on the marble table. You'll leave the hammam rejuvenated and relaxed
Day Trips From Bodrum
Have you seen all that Bodrum has to offer? Then it's time to discover the nearby attractions. The Bodrum's advantageous location and rich transportation options make it an ideal base to discover the rest of the area through day trips.
Akyarlar: Akyarlar is a coastal village located on Bodrum Peninsula. On a day trip to Akyarlar, you can enjoy the village's calm and relaxing waters, relax on its pristine beaches, and explore Akyarlar's picturesque streets.
Kos Island: A famous Greek Island, Kos is a popular tourist destination. The island is home to the medieval Castle of the Knights, the ancient Agora, and numerous beaches with relaxing views.
Ephesus: A famous ancient city in İzmir, Ephesus is one of the most popular day trip destinations from Bodrum. The city is home to many impressive ancient ruins; visitors can enjoy exploring the Great Theatre and see the famed Temple of Artemis, one of the Seven Wonders of the Ancient World.
Orak Island: Located near Bodrum, the small and pristine Orak Island is home to many untouched beaches and secluded coves. The island offers visitors an opportunity to escape from the crowd of urban life and have a tranquil getaway.
Labranda Ancient City: Although it's not as famous as other ancient cities in the area, Labranda Ancient City still has a lot to offer. Many architectural structures from Ancient Greece and Rome can be found in the antique settlement.
Besides these: you can also visit Dalyan and Kndios on a day trip
Reasons Not To Visit Bodrum
We love Bodrum, but it's no secret that being a huge tourist destination also brings some disadvantages. Here are some of the most significant reasons one might not want to visit Bodrum:
Bodrum tends to be more expensive than other tourist destinations and resort towns
The city is usually overcrowded during the peak season, and it might be hard to find an empty beach
Although Bodrum offers many international restaurants where you can find a wide range of cuisines and dishes, it also lacks the authentic atmosphere Marmaris offers
Due to the high tourist density, it is hard to find a quiet place to relax around the central areas of Bodrum
I hope that my guide on how to choose between Marmaris or Bodrum has been helpful.