Where To Find The Best Hammam In Istanbul, Türkiye
Istanbul is a large city with many historic palaces, castles, and landmarks. In this ancient city, there's always something new to discover.
However, after a tiring day exploring Istanbul, you should know how to relax and rest your body. There are many options, yet none is as good as visiting the hammams of Istanbul. If you have not enjoyed a hammam in Turkey before, keep reading this guide to find the best hammam choices in Istanbul and take notes for your next visit to the city!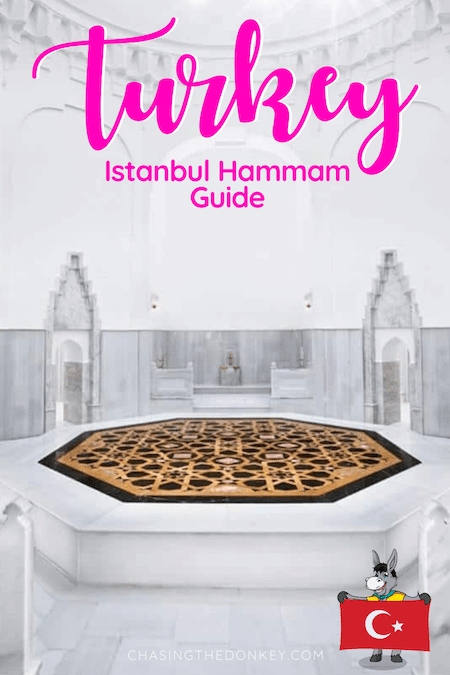 What Is A Turkish Hammam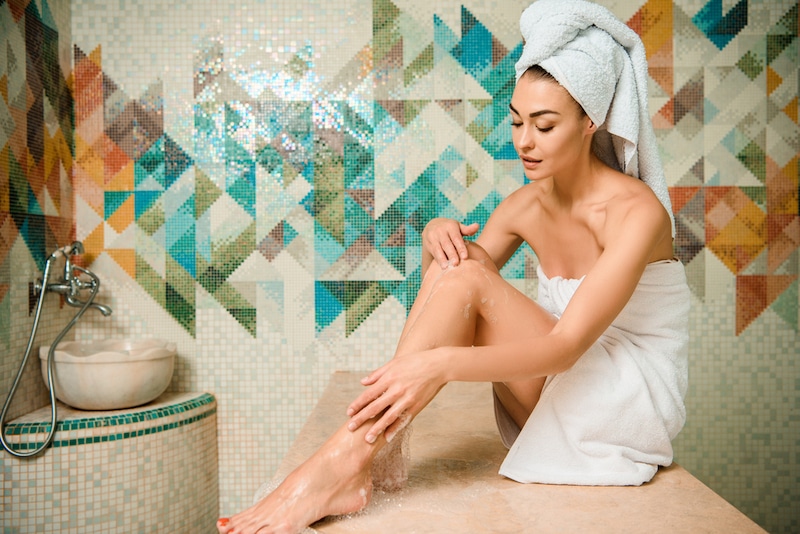 Let's start with a fundamental question: "What is a Turkish hammam?" A Turkish Hammam, also known as a Turkish bath in the West, is a traditional public bathhouse that has been a staple of Turkish culture for centuries. The word "hammam" means "bath" in Arabic, and these steamy, communal spaces have served as important social and cultural hubs in Turkish communities for centuries.
However, the history of Turkish baths goes back to even older times; these steam baths became popular during the Roman era, and when Turks arrived, they adopted them.
Before entering the main bathing area of a traditional Turkish Hammam, visitors traditionally strip and wrap a peştemal bathrobe around their waist in a public changing room. Inside, there would be a big central room with a heated marble slab called a "göbek taş," or "belly stone," where people would lie down and be scrubbed and massaged by attendants. The space would also include a large dome, often with little skylights, and a washing and rinsing facility.
Visiting a Turkish bathhouse is often quite calming and rejuvenating; many people consider it a significant part of their self-care routine or an ideal relaxing way.
Health Benefits Of Turkish Hammam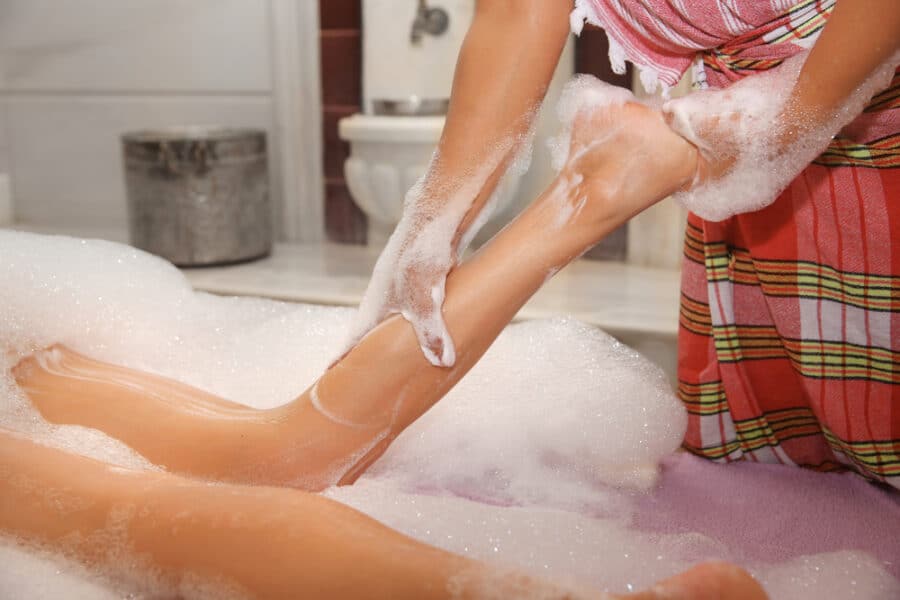 The Turkish bath is more than just a luxury spa treatment; it also offers numerous health benefits. The hammam's high humidity and heat can open your pores, which improves your skin's appearance and reduce the appearance of blemishes.
Another benefit of the hammam's heat and humidity is that it promotes circulation, which can help reduce muscle tension and discomfort. Furthermore, the hammam massage and cleansing may increase your skin's elasticity, leaving it smooth and energized.
Turkish hammam is also an excellent way to boost your general sense of relaxation and well-being. The warm environment can aid in stress reduction and encourage feelings of peace and tranquillity, making it a great spot to unwind and de-stress after a hard day.
Istanbul's Hammam Culture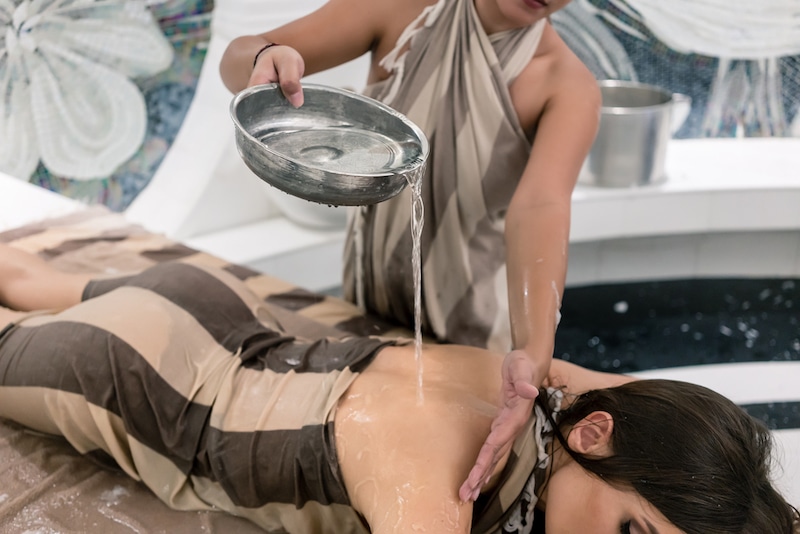 Istanbul is home to many famous and historic hammams in the world. These historic bathhouses were once an integral part of daily life in the city and still play a significant role in the city's culture and history.
The Cağaloğlu Hammam, erected in the 18th century by Ottoman architect Mehmet Ağa, is one of Istanbul's most famous and historic Hammams. This hammam is still in use today and is a must-see for anybody interested in experiencing Istanbul's traditional culture and heritage.
The Galatasaray Hammam, built in 1481, is another old Hammam in Istanbul still in use. This hammam is well-known for its stunning tilework and elaborates architectural aspects, and it is an excellent choice for a classic Turkish Hamam experience.
In Istanbul, hammams are not merely a place for personal grooming but also a cultural and social activity. Visitors can enjoy the traditional Turkish hammam experience with friends and family.
Turkish Hammam Options In Istanbul
Istanbul is home to many of the most famous and historic Turkish Hamams in the world, and with so many options, it can be hard to choose which ones to visit.
If you have decided to take a Turkish bath in Istanbul, below is a map and the list of the best hamams in Istanbul options.
TRAVEL COMPANIES WE USE AND TRUST
Map Of Hammams In Istanbul
Hurrem Sultan Hammam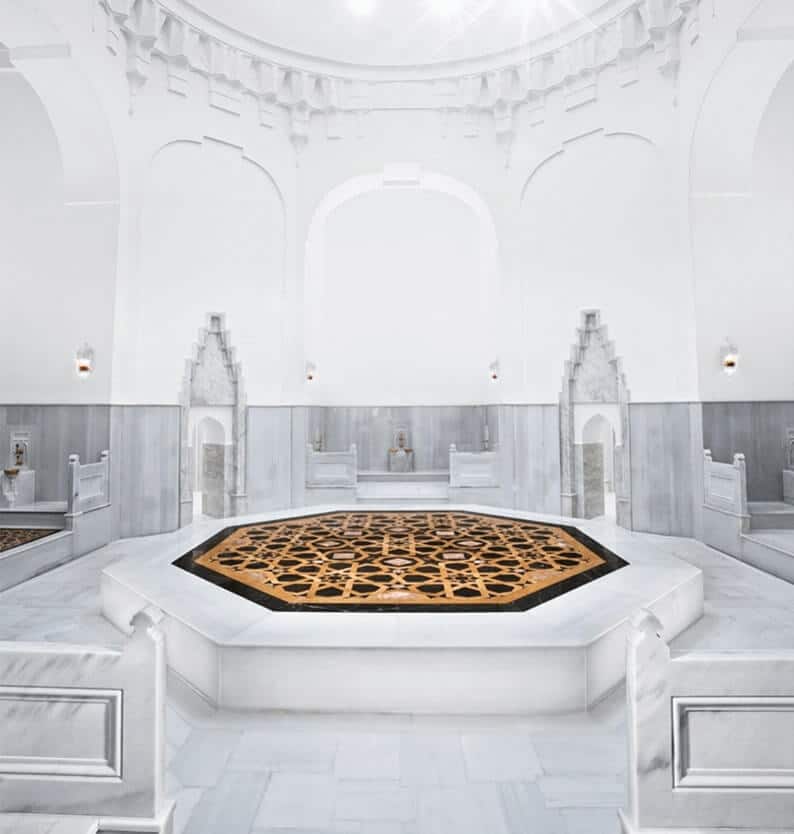 The Hurrem Sultan Hammam, also known as the Haseki Hürrem Sultan Hamamı in Istanbul, Türkiye, is a historic Turkish bathhouse. It was created in the 16th century on the orders of the legendary Hürrem Sultan, the wife of Suleiman the Magnificent, by the famed Ottoman architect Mimar Sinan – which means Sinan the Architect.
The Hurrem Sultan Hammam is one of Istanbul's most luxurious and well-preserved examples of Ottoman bathhouse architecture. The bathhouse has two separate sections, one for men and one for ladies, each with its own changing room, washing area, and massage rooms. The Hurrem Sultan Hammam offers visitors the classic Turkish Hammam experience, which includes being cleaned and massaged by attendants and relaxing in the warm marble room.
HURREM SULTAN HAMMAM INFO
This Istanbul hammam is located in an excellent spot, right in between the Hagia Sophia and the Sultan Ahmed Mosque.
Address: Cankurtaran, Ayasofya Meydanı No:2, Fatih Contact: +90 212 517 35 35
Suleymaniye Hammam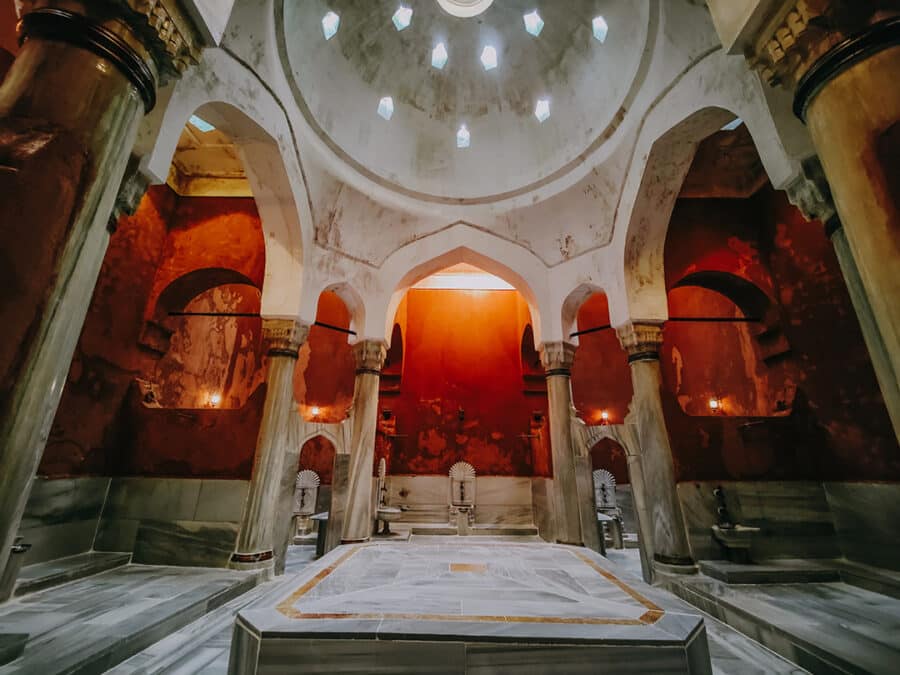 Open since 1550
Suleymaniye Hammam -Süleymaniye Hamamı in Turkish- is one of Istanbul's most significant examples of Ottoman bathhouse architecture. The hammam features a traditional central dome, skylights, and intricate tilework, all hallmarks of the Ottoman bathhouse style.
Mimar Sinan built the hammam around the same time as Hurrem Sultan Hammam. The hammam is in the Suleymaniye area, near the Suleymaniye Mosque, a popular tourist destination and one of Istanbul's most important Ottoman imperial mosques. It is a must-see for everyone interested in learning about Istanbul's and the Ottoman Empire's traditional culture and history. It is also great for travelers seeking a deluxe spa experience and an opportunity to relax and unwind after a full day of sightseeing.
SULEYMANIYE HAMMAM INFO
This hammam is just a 2-minute walk from the Süleymaniye Mosque
Address: Süleymaniye, Mimar Sinan Cd. No:20 Fatih
Kilic Ali Pasa Hammam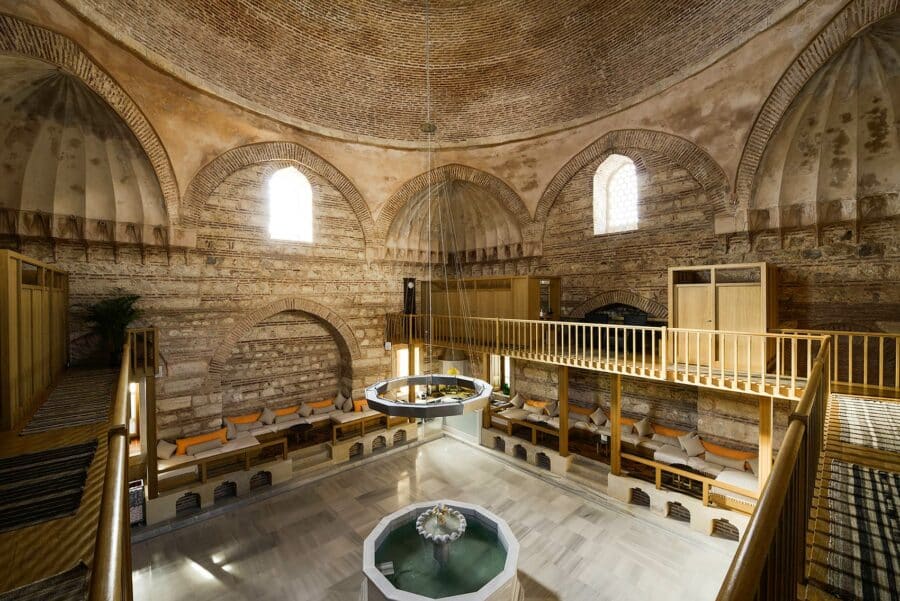 Kilic Ali Pasa Hammam is one of the hammams built by architect Sinan in the 16th century on the order of a high-rank Ottoman official, Kılıç Ali Paşa. The Kilic Ali Pasa Hammam is a magnificent and excellent hammam for people seeking an elite experience. It is in the popular destination Beyoglu district with numerous restaurants, cafes, breakfast places, and stores.
KILIC ALI PASA HAMMAM INFO
Address: Kemankeş Karamustafa Paşa, Hamam Sk. No:1, Beyoğlu Contact: +90 212 393 80 10
Tarihi Çeşme Hammam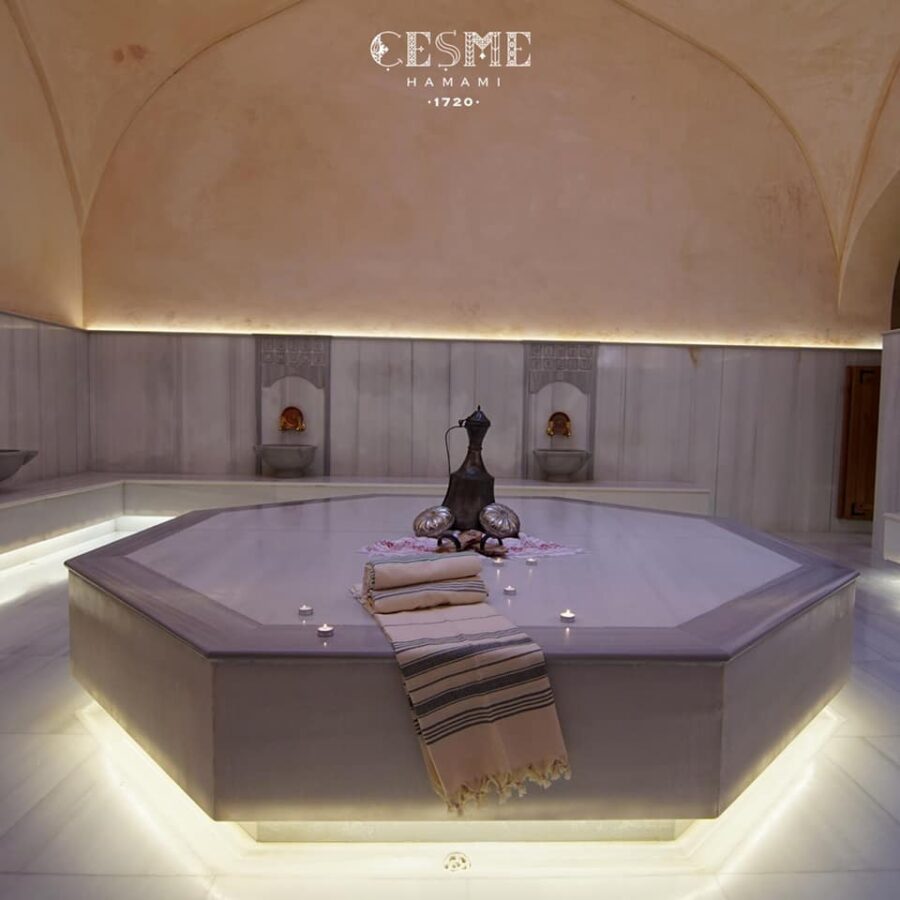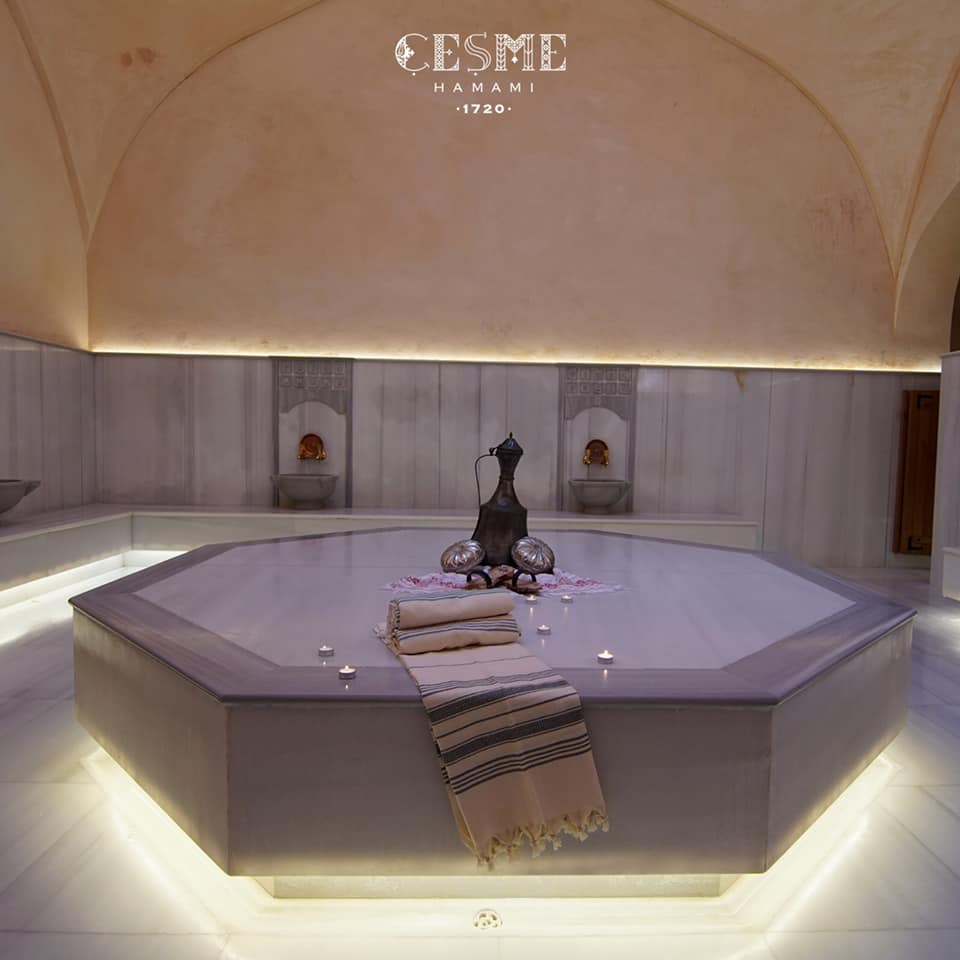 Since 1720
Like most hammams in Istanbul, Tarihi Çeşme Hammam also boasts a long history. The facility has served guests since 1720 and incorporates traditional Turkish hammam elements. The hammam is in the Fatih district, around the most popular tourist attractions in Istanbul.
You can go to Tarihi Ceşme Hammam after a day of discovering Fatih and other nearby districts, their history, and their culture. Plus, since there are many nearby restaurants, you can enjoy a delicious local dish after your soothing hammam experience.
TARIHI ÇEŞME HAMMAM INFO
A 3-min walk from the Galata Tower
Address: Azapkapı, Bankalar Cd. D:No 21, Beyoğlu Contact: +90 212 317 34 10
Cagaloglu Hamam
Cagaloglu Hamami dates back to Ottoman times, in the year 1741. The spa is historically and architecturally significant because it is the last Turkish bath built before Sultan Mustafa III banned their development in 1768 due to the city's growing water and firewood requirements. Since then, it has stood as one of Istanbul's largest double Turkish baths.
The New York Times even included it on its list of 1000 sites you must visit before you die. The Hamam has been open continuously since its construction began in 1741. Unlike other influential hamams in the city, it has never been restored and is still in its original condition. Cagaloglu provides a variety of traditional treatments, the most lavish of which is the Sultan Mahmut I package, which includes a massage by two attendants. The result is a historical atmosphere that has been almost untouched since Ottoman times.
CAGALOGLU HAMMAM INFO
Address: Alemdar, Prof. Kazım İsmail Gürkan Cd. No:24, Fatih Contact: +90 212 522 24 24
Cukurcuma Hamami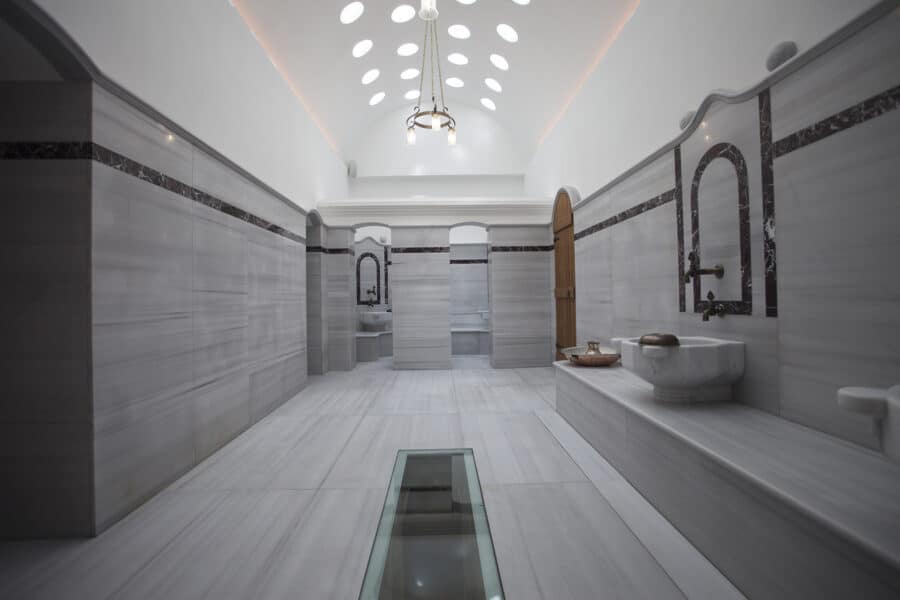 According to several reports, the Çukurcuma hammam was constructed in the 1830s when Abdulhamid I's wife brought water installations to the Çukurcuma region.
Çukurcuma Hammam, in contrast to the other baths on this list, features a stunning monochrome hararet. Because of this, this Turkish hammam has more of a modern spa vibe.
Çukurcuma Hammam is just a few minutes away from Istiklal Street and Taksim Square, making this place the ideal retreat after exploring Istanbul's Old City. When you arrive, you'll discover that they offer everything, including single-use bikinis and makeup remover. Çukurcuma is a mixed hammam where couples can bathe together. However, kids less than 12 are not allowed.
CUKURCUMA HAMMAM INFO
Address: Firuzağa Mahallesi Çukurcuma Caddesi No : 43 , Beyoğlu , İstanbul Contact: +90 212 243 64 80
Sultan Suleyman Hammam (Great Fortune)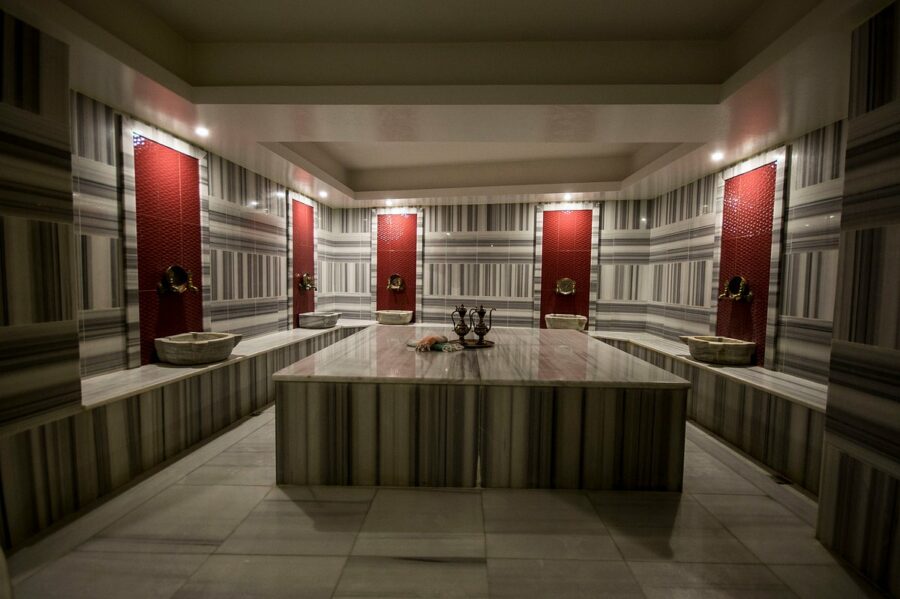 This hammam prioritizes the comfort of its visitors. They prioritize your privacy and comfort with the separation of male and female baths and provide family room service for large families. Some of the standard services are scrub & foam, massage, sauna steam rooms, a variety of face masks, etc.
But besides those traditional Turkish bath services, they maintain the old traditions with their bridal bath organization services. They plan everything and make sure that everything is up to your standards. You have to call them, and they will organize the whole thing. So if you are looking to experience the unforgettable bridal hammam, this might be a choice for you.
SULTAN SULEYMAN HAMMAM INFO
Address: Emin Sinan, neighborhood, Piyer Loti Cd.> No:20, 34126 Fatih Contact: + 90 553 902 21 92
Zen Spa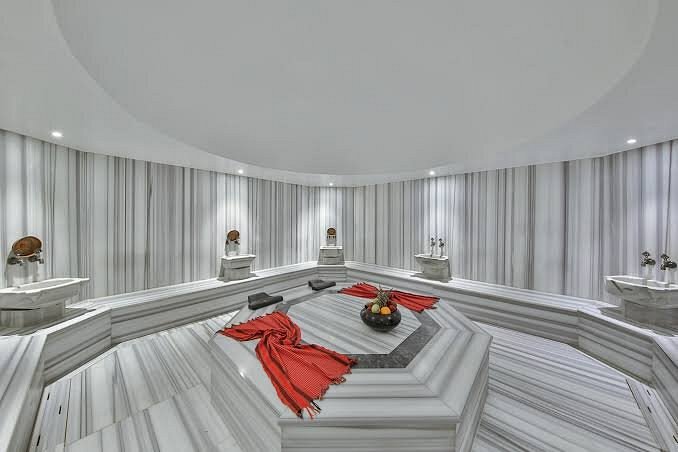 Zen Spa is not a traditional Turkish bath. It is more like a modern spa center. So if you are looking for an authentic Turkish experience, this is not an option. Nevertheless, it is worth putting them on this list because, in Zen Spa, you get a special chance to unwind your body and mind.
They provide a quiet setting where you can escape the tiredness brought on by business obligations, the stress of city living, and all other unfavorable rhythms induced by your daily routine. With their delights and a clean, cozy setting, you will enjoy yourself alone or with your loved ones. They have a few locations around the city, and in every location, there is (besides the Turkish bath) also swimming pools and fitness centers.
ZEN SPA HAMMAM INFO
Address:
Recep Paşa Cd. N:15 Beyoğlu
Sıraselviler Cd. N:41 Beyoğlu
Meşrutiyet Cd.> N:34 Beyoğlu
Contact: +90 (212) 238 54 60
Aga Hamami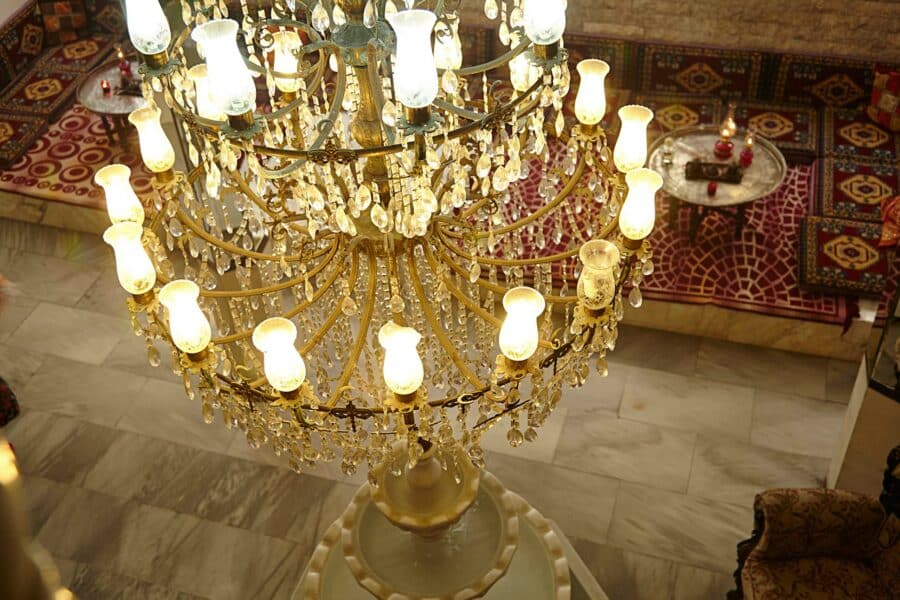 If the hammam experience isn't enough to thrill you, perhaps experiencing Ottoman history in this place will. Only twice have renovations been made to it: once in the 1980s and once by Sultan Abdulmecid during the Ottoman era. This hammam's lengthy history goes back to Mehmet the Conqueror's reign. The construction of this Turkish bath in 1454 makes it the oldest on our list. The first Turkish bath in Istanbul was constructed for Sultan Mehmet and his sons a year after the city of Constantinople (modern-day Istanbul) was taken over.
The least expensive package, which includes the customary body cleaning, starts at 250TL (about €22). As a result, it is among the most reasonably priced choices among the more well-known ancient baths. You can mix and match packages, although the most expensive ones might last up to three hours. It is one of the few hammams that allows couples to join in the steam room. You'll be split up when you get cleaned, but you can later have some sweet apple tea together.
AGA HAMAMI HAMMAM INFO
Address: Kuloglu Mh., Turnacibasi Cd. No:48 Aga Hamami, 34433 , Taksim Contact: +90 (249) 249 50 27
Çemberlitaş Hamamı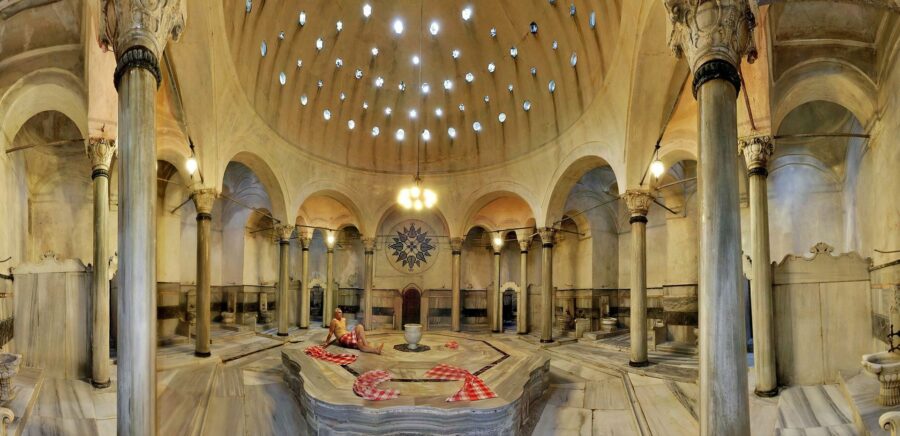 One of the Turkish baths close to Sultanahmet is Çemberlitaş Hamamı. This hammam is one of the affordable Turkish Baths in Istanbul's Old City, with an all-inclusive package that costs about 50 euros. The Sultanahmet Tram Stop is just five minutes away. The hamam is also very close to The Grand Bazaar. After doing some shopping at the Grand Bazaar, you can choose to unwind in this bath.
Çemberlitaş Hamamı was constructed in 1584 by Nurbanu Sultan. Nurbanu was one of the most influential ladies in Ottoman history and was married to Selim II, the son of Suleiman the Magnificent.
ÇEMBERLITAŞ HAMMAM INFO
Address: Vezirhan Cad. No: 8, 34440 Çemberlitaş / İstanbul Contact: +90 552 381 1584
Çatma Mescit Hamamı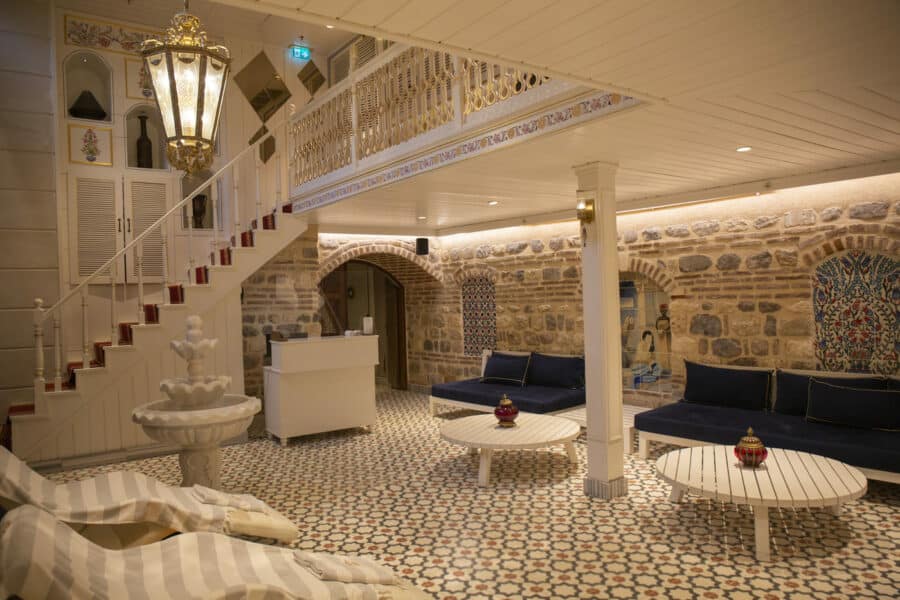 At Çatma Mescit Hamamı, they claim that you will have an experience of a lifetime because they will make you feel like one of the numerous Ottoman Sultans. This Turkish hammam takes great pride in its organic supplies. Your bubble bath will include energizing aromatherapy oils if you spend a little bit more.
If you are searching for a classic Turkish bath but also want extra additions like a hot stone massage, then this might be a bath for you. You can select from various peels, such as rose, sea salt, or brown sugar. It was also fully renovated in 2019, so expect total luxury.
ÇATMA MESCIT HAMMAM INFO
Address: Çatma Mescit, Mahallesi, Hayratçı Sk. No:1-3, 34430 Beyoğlu Contact: +90 542 619 05 86
Cinili Hamam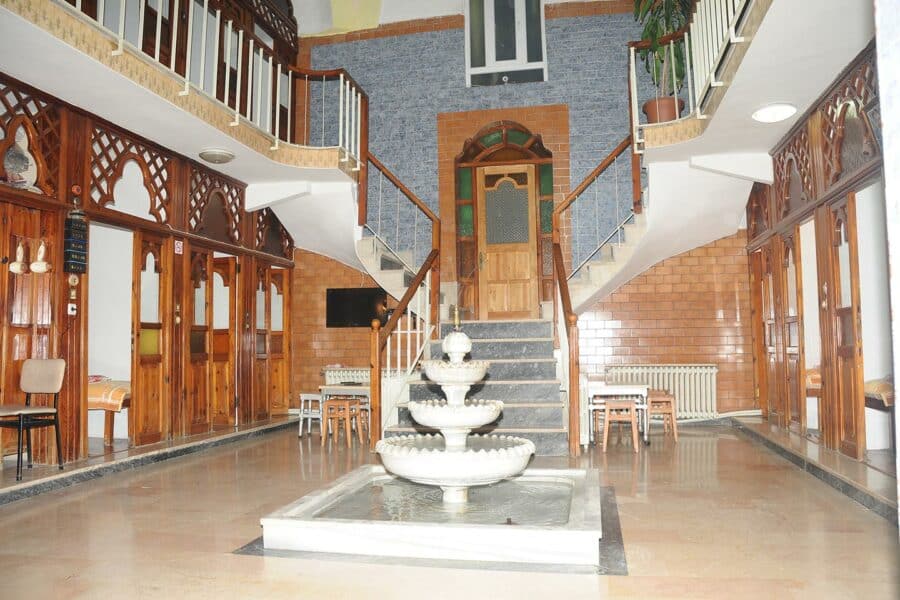 Cinili Hamam is situated in the Uskudar district on the Asian side of Istanbul. This bathhouse was built in the 17th century and today is considered the best Turkish bath in this (Asian) part of the town. The bath's name comes from the historical Ottoman tile art. The majority of the 16th and 17th century Iznik tile production was blue.
Even the Blue Mosque gets its name from the tiles used during this time. > even though the bathhouse's name is connected to the tile arts, the original tiles have been destroyed. It has been reconstructed with blue tones, nevertheless, to match the original. This bath is an excellent choice for enjoying a hammam at a lower cost than Istanbul's tourist attractions.
CINILI HAMMAM INFO
Address: Zeyrek, İtfaiye Cd. No:44, 34083 Fatih Contact: +90 216 334 97 10
A Turkish bathhouse experience is one not to be missed in Türkiye, so tell us, which Turkish hammam in Istanbul will you try?