We may earn commission from affiliate links →

Where To Stay In Bodrum – Best Hotels In Bodrum, Turkey
The fabulous port city of Bodrum is located in southwestern Turkey, in the province of Mugla. Facing the Aegean Sea, this ancient, former Greek city — in Ancient Times known as Alicarnassos — offers magnificent beaches for an unforgettable summer vacation made of impressive ancient sites to explore, terrific beaches, and an outstanding modern vibe.
The city is an ever-developing touristic resort offering plenty of convenient accommodations scattered all over the different neighborhoods in town. If you're unsure where to stay in Bodrum, this guide will give you all the details you need and suggest some of the best hotels in each part of town.
Best Time To Visit Bodrum
Despite being a lively seaside resort, the city is so rich in history, culture, and architectural gems that visiting Bodrum can be an exciting experience any time of the year.
However, we won't blame you if this Mediterranean destination draws you with its pristine beaches and warm temperatures. That's what Bodrum is all about from late spring until the end of the summer. The best months to visit go from late May to September, keeping in mind that August is the month that sees lots of visitors, along with higher fees.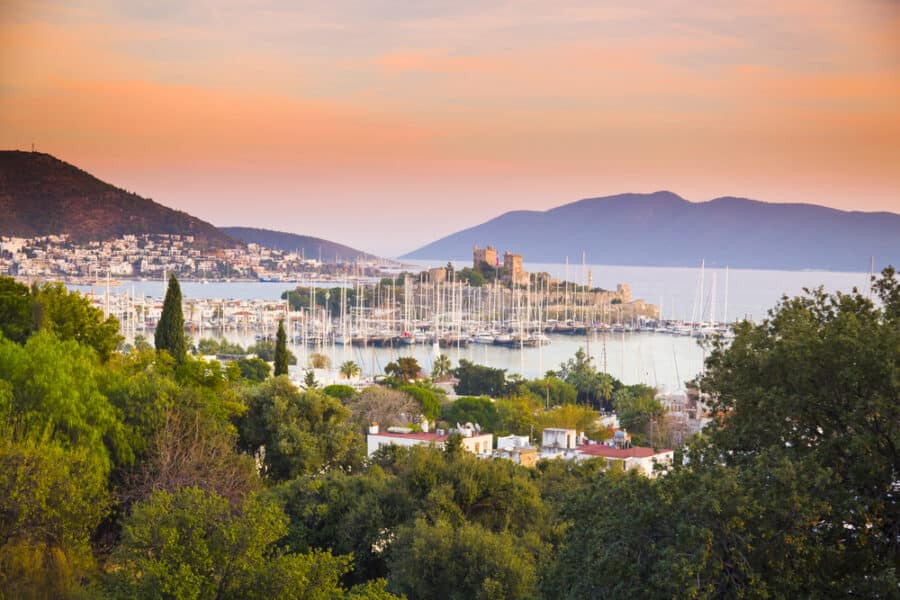 Best Areas To Stay In Bodrum
Let's start by describing the most convenient neighborhoods in town and a few of the most important things you will find in each.
Best Bodrum Neighborhoods To Stay
Downtown Bodrum – Also known as Bodrum Town, the historic district is not big but easy to navigate and explore in just a few hours. However, this small, intimate atmosphere makes it a very charming place where the local architecture stuns the visitor with its ancient minarets, Saint Peter's Castle, and dozens of pretty whitewashed homes.
Ortakent – Ideal neighborhood for families and groups of friends, the district known as Ortakent is located less than half an hour from the city's center.
Gumbet – Considered among the best areas to stay in Bodrum, this high-end neighborhood of Gumbet features dozens of attractions, great restaurants, plenty of seaside resorts to choose from, and an active nightlife thanks to the many pubs, nightclubs, and bars for all tastes. This is one of the top places in Bodrum for young crowds.
Turkbuku – Considered the Saint Tropez of Turkey, Turkbuku is located about an hour from the old town on the peninsula's northern coast. Visitors will find excellent luxury resorts by the sea, unique villas, and a relaxing vibe.
Bitez – Not far from the Old Town of Bodrum, Bitez is a peaceful location with some good shops, restaurants, and hotels, as well as a quiet beach that usually attracts families with small children as it is safe and protected. Off the coast, sailing is a popular thing to do in Bitez.
Yalikavak – Best known for its sunsets, another good area to stay in Bodrum is Yalikavak, home to a beautiful shore and plenty of accommodation opportunities for all budgets.
Gumusluk – Another place we recommend for family travel and tranquil holidays is Gumusluk, right opposite the impressive Rabbit Island, on a quiet bay. The place has retained much of the authentic Turkish character, where you will find more than luxurious resorts, small hotels, villas, and affordable pensions.
With so many areas and fabulous hotel options, finding the right place to stay in Bodrum can be overwhelming. However, it doesn't have to be so.
We have picked and described some of the best accommodations in the area, outlining the pros of staying in each of these districts along the Bodrum Peninsula.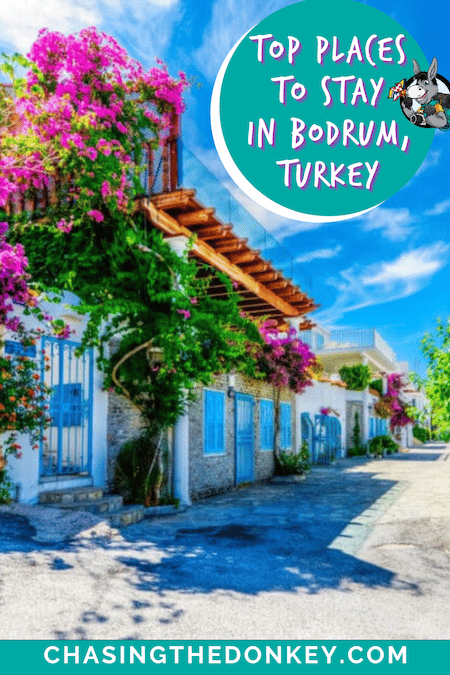 PLAN AHEAD TO GET THE BEST DEALS
Bodrum Hotels Map
Downtown Bodrum
Since this is the most visited area in town, booking early is what you need to do if you want to stay in this area. The old town is the best place to stay if you're visiting Bodrum for the first time, and walking around to explore its alleys is one of your top priorities.
Moreover, the area also hosts a very popular beach that locals and tourists enjoy visiting in summer. And for history fans, the unique Museum of Underwater Archaeology is a gem worth a few hours of your day.
In the historic district, you will also find vibrant nightlife, which appeals to young adults spending their holidays in Turkey.
If you're into crafts and arts but also enjoy collecting souvenirs from your trips, the street market in Old Bodrum is another place you will have fun visiting.
Best Hotels Downtown Bodrum
Bodrum Sade Pension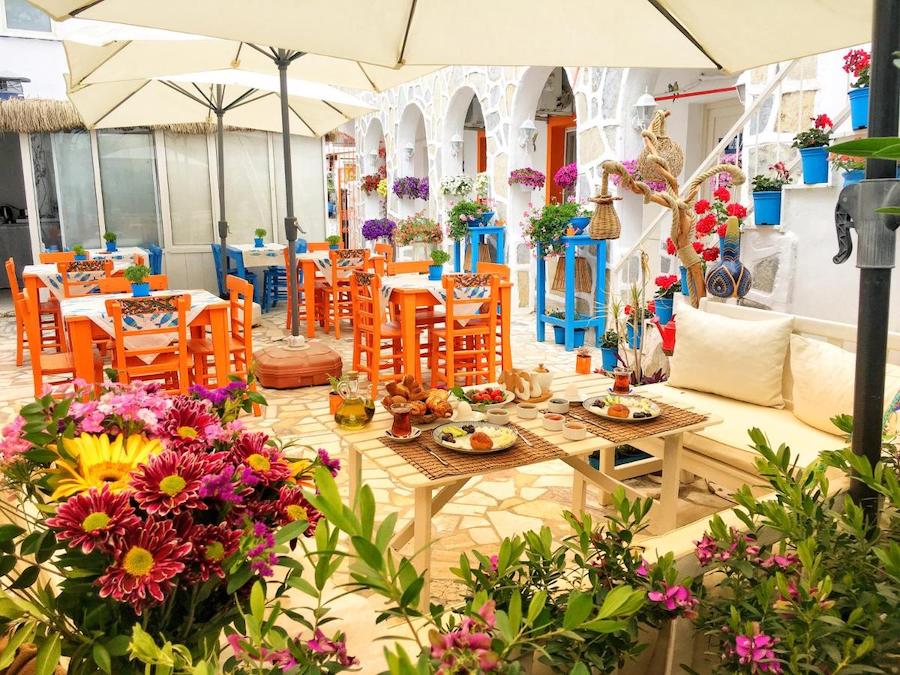 Bodrum Sade Pension is a very colorful, lively, and affordable place to stay in the old town of Bodrum. The place features unique architecture with white and blue exteriors and a small garden. It has a gorgeous courtyard located less than fifty meters from the beach. The pension also offers an Aegean-style breakfast in the courtyard.
Rammos Hotel Bodrum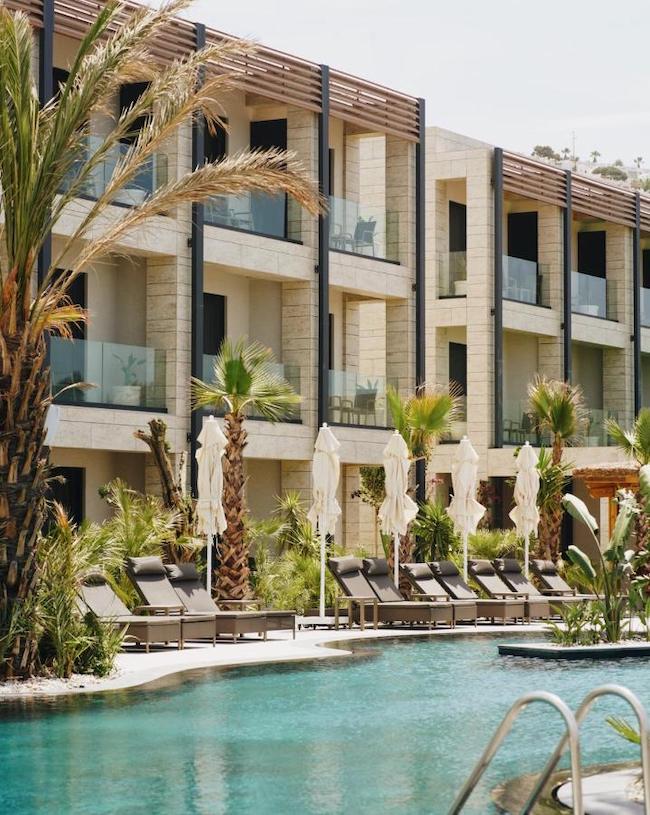 Rammos Hotel Bodrum is bound to take your breath away if your budget stretches a bit more. This four-star property is less than a minute from the beach. The accommodation offers a restaurant, free private parking, a seasonal outdoor swimming pool, and a bar. Each guest room has garden views, and guests can access a private beach area.
Hillstone Bodrum Hotel & Spa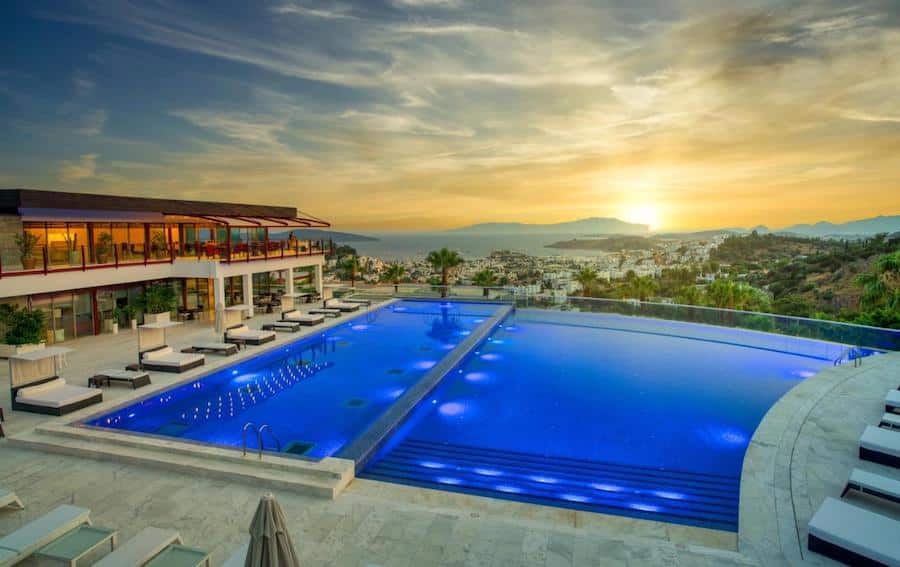 Also in Bodrum City, Hillstone Bodrum Hotel & Spa is a luxurious yet affordable hotel only two kilometers from Bodrum Castle. The property has a restaurant, free private parking, an outdoor swimming pool, a garden, and a fitness center. There is also a hammam, a sauna, billiards, and car hire services on the premises.
Ortakent
The place is known for being calm, ideal if you want to rent a car and explore the whole Bodrum region and the different beaches while coming back every night to a relaxing place where your kids can have tons of fun.
What children love the most about Ortakent is the impressive Bodrum Aqua Park, which features more than twenty remarkable slides, wave pools, a lazy river, and many more attractions for every family member.
Best Hotels In Ortakent
Zest Exclusive Hotel And Spa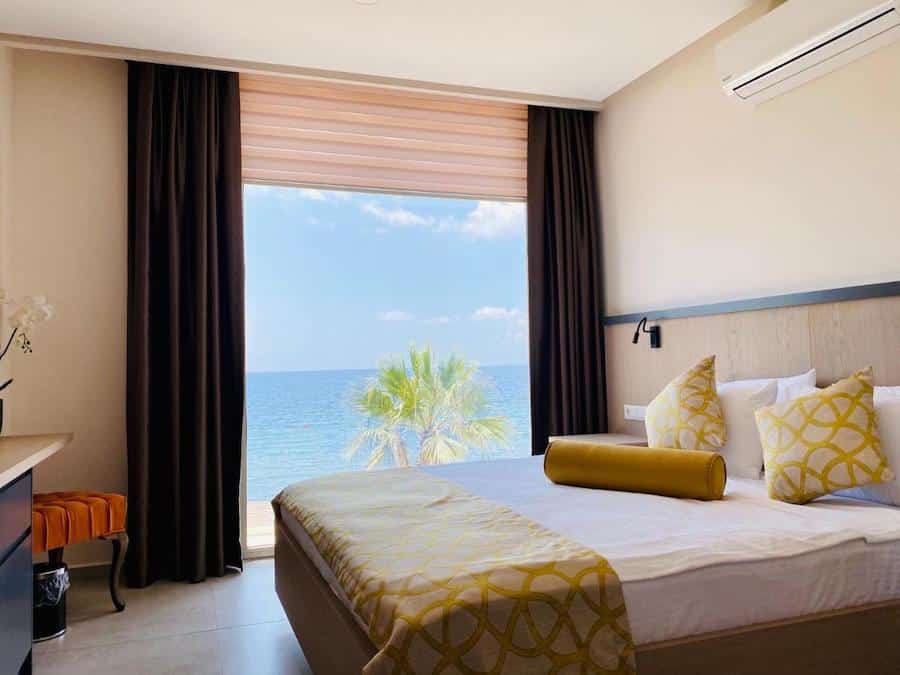 Zest Exclusive Hotel and Spa is the perfect answer, close to the sea. The place features an outdoor pool and a private beach with free parasols and loungers. Rooms are modern and comfortable, some featuring views of the sea. For kids, the hotel has a children's pool and evening entertainment for the whole family.
Zuzuu Beach Hotel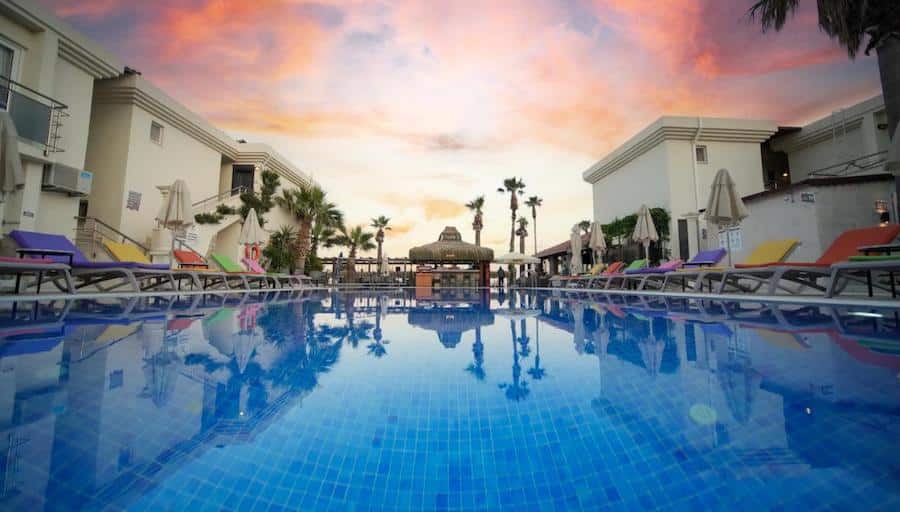 Another well-rated hotel in Ortakent is Zuzuu Beach Hotel, featuring a restaurant, a seasonal outdoor swimming pool, a bar, and a garden just a few steps from Yahsi Beach. For further convenience, an ATM and currency exchange are available for guests.
Luga Boutique Hotel & Beach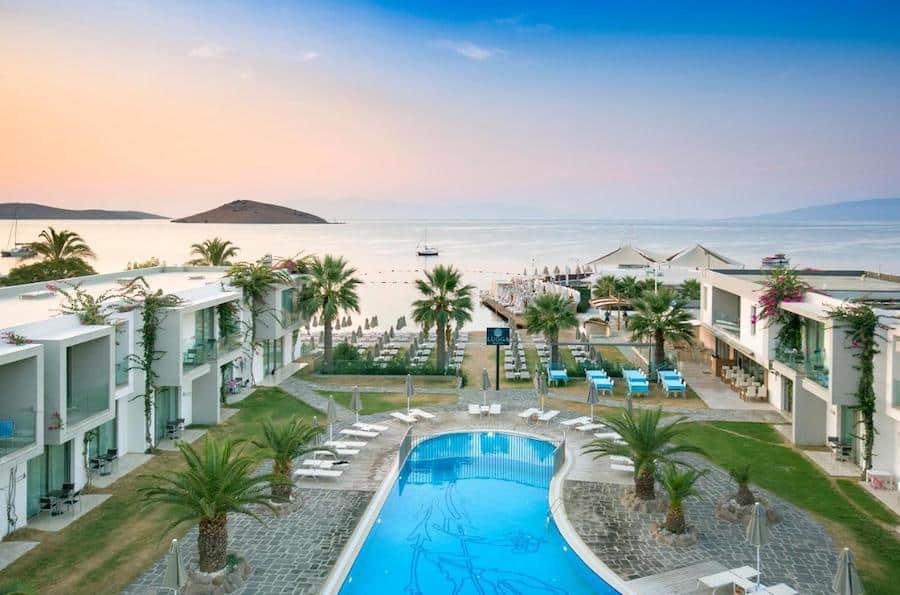 What about splurging in Ortakent? You can do so at Luga Boutique Hotel & Beach! This gorgeous, luxury property has an outdoor pool and private beach area. It offers air-conditioned rooms with minibar and sea views from a balcony or a terrace. For families, the hotel provides duplex rooms with two bedrooms. The property is only twelve kilometers from the center of Bodrum Town.
Gumbet
The area allows travelers to enjoy gorgeous boutiques, souvenir shops, and a pleasant market area for crafts and bargains! From Gumbet's small port, it is possible to embark on stunning day trips to visit the coast of Bodrum.
There are also several friendly and safe beaches for the whole family, often less crowded than the most popular shores in Bodrum. Some Gumbet beaches are popular among surfers and suitable for snorkeling.
In short, this is a perfect place for young travelers and families alike, making it a balanced place to book accommodation in Bodrum.
Where To Stay In Gumbet
Nagi Beach Hotel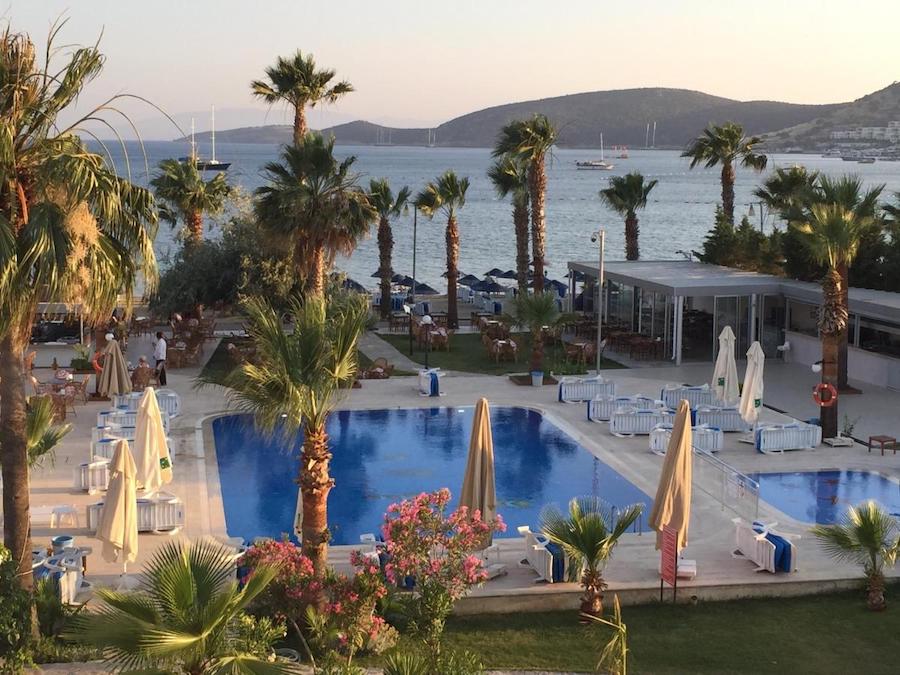 Are you looking for beachfront properties in Bodrum? Nagi Beach Hotel is steps from the sand, right on the shores of the Aegean. It also features an outdoor pool, a private beach area, and simple but picturesque rooms. The property offers a delicious buffet breakfast with Turkish and world cuisines. At the bar, guests can enjoy cocktails and refreshing drinks, everything less than four kilometers from Bodrum city.
Costa Luvi Hotel – All Inclusive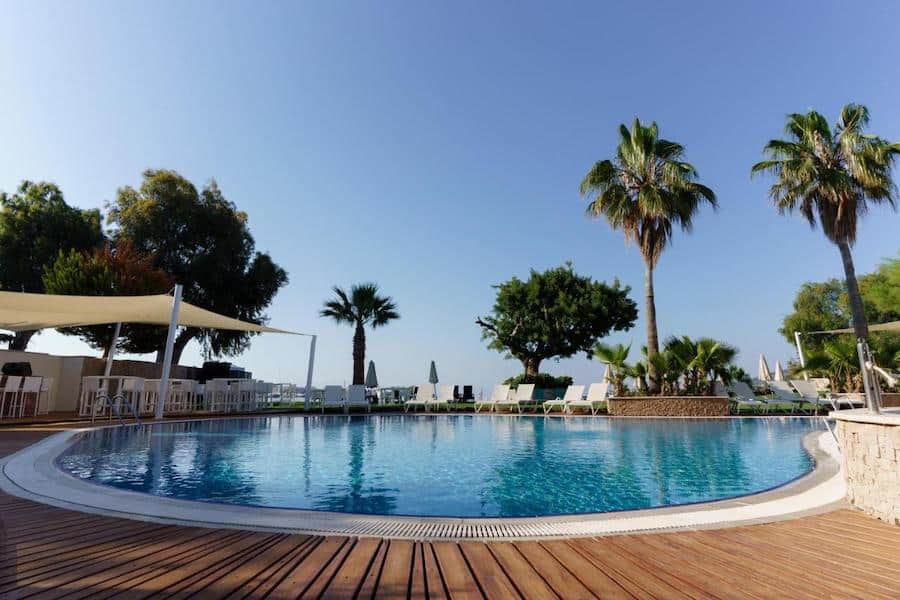 Costa Luvi Hotel – All Inclusive is a very affordable beachfront property in Gumbet, with a garden, an outdoor pool, and a children's pool. It offers ocean-themed design rooms with turquoise decorations and a well-rated restaurant with gorgeous sea views. At the property, breakfast, lunch, and dinner are served in an open buffet style.
Parkim Ayaz Hotel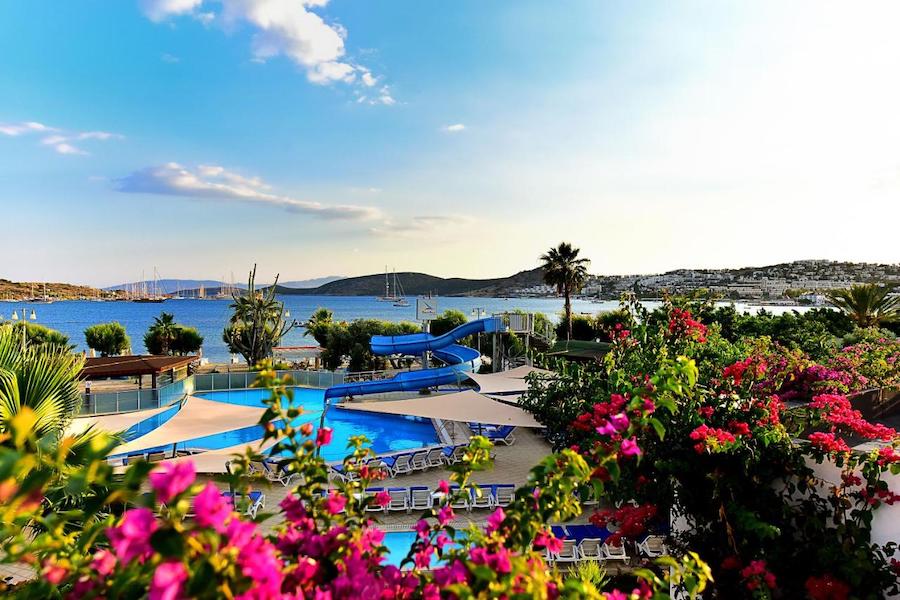 Are you traveling with kids? Then don't miss the Parkim Ayaz Hotel, located by the sea and featuring a private beach, a water park, and plenty of children's facilities, including a pool slide, kids club, and playground. There is also a games room, with pool tables and tennis tables. Total relaxation is available at the well-equipped gym and Turkish bath for parents.
Turkbuku
Although many choose this resort town for a day trip from Bodrum, the place can be the best destination for family holidays and a posh resort for people watching.
The town caters to all travelers, featuring high-end restaurants, boutiques, souvenir shops, a few engaging clubs, and beach bars for long days by the sea.
Where To Stay In Turkbuku
Faros Hotel Bodrum – Special Category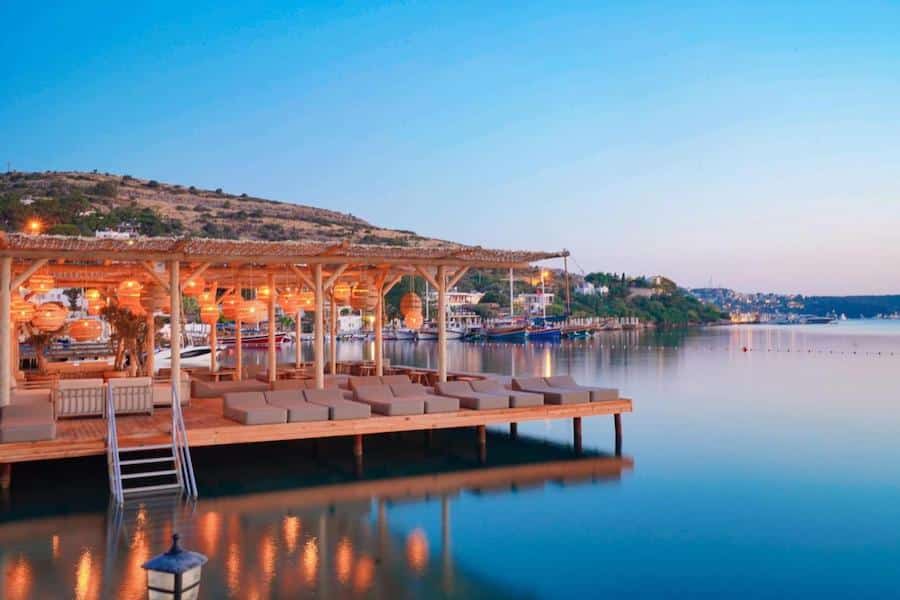 Faros Hotel Bodrum – Special Category is a top-class hotel in the area right by the sea. The property features an outdoor pool and a big wooden dock, while it's also a pet-friendly hotel. All the air-conditioned rooms overlook the swimming pool and feature a walk-out balcony and a minibar.
Flamm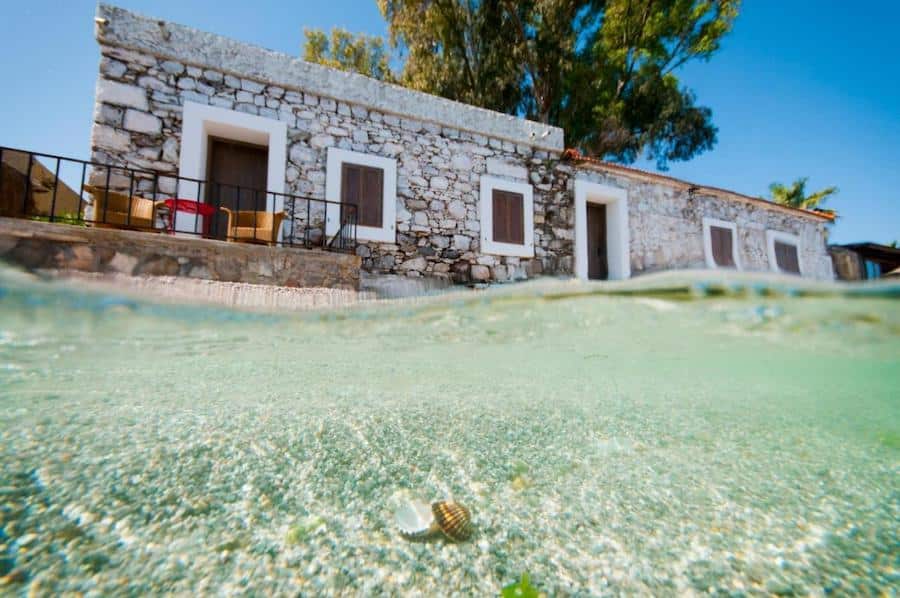 For a more affordable option, check out Flamm, a property right on Golkoy Bay, with a private beach and a jetty. The hotel also comes with an outdoor pool and air-conditioned rooms in one-story stone houses surrounded by a green garden, some of them with direct access to the beach.
Divan Bodrum Palmira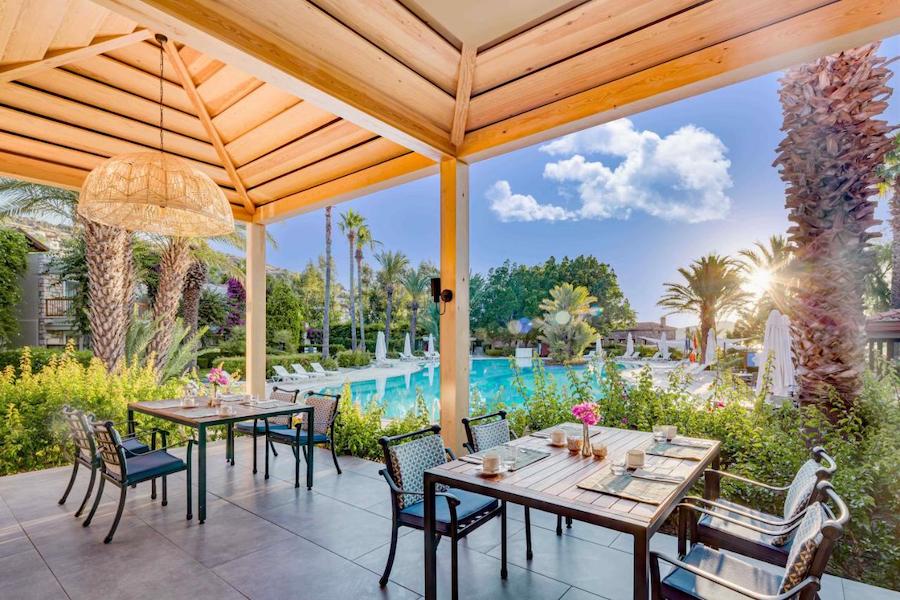 Expect the utmost luxury when staying at Divan Bodrum Palmira with its lagoon-style pool fringed by palm trees and lush greenery. The on-site restaurant offers Aegean and Mediterranean cuisines as well as fresh seafood dishes. The hotel comes with a fitness center, a tennis court, and a spa center.
Bitez
This town can be found about 5 km from Bodrum Town, and it can be affordable if you book early. You can find dozens of cozy bars and quality restaurants along the seaside promenade or simply sit for a coffee and enjoy the sea views.
Where To Stay In Bitez
Blue Bay Beach Hotel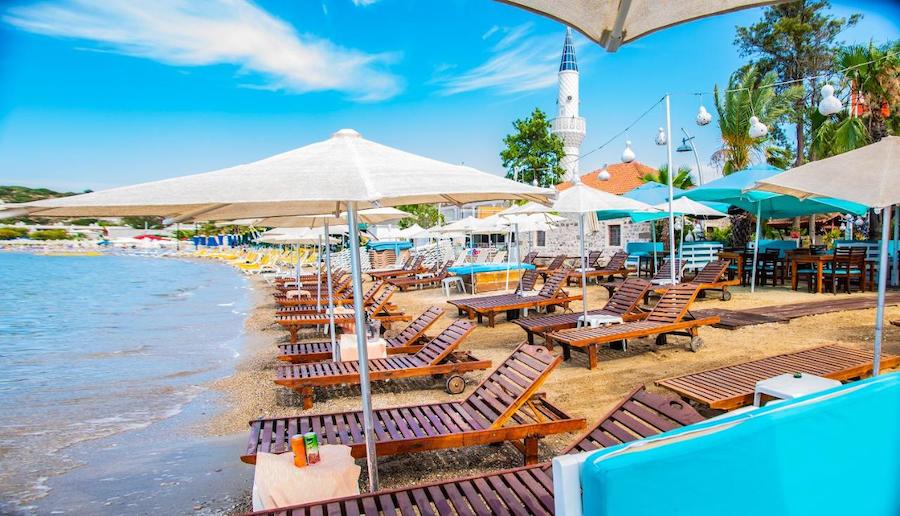 Blue Bay Beach Hotel enjoys good reviews, praising the hospitable staff and the clean premises. The hotel sits directly on the beach and offers various facilities, such as a restaurant, a bar, and a garden. Guests can take advantage of the ATM and the concierge service as well. Bike hire and a convenient paid airport shuttle service are also available. The hotel is quite affordable and suitable both for families and couples.
Ramada Resort By Wyndham Bodrum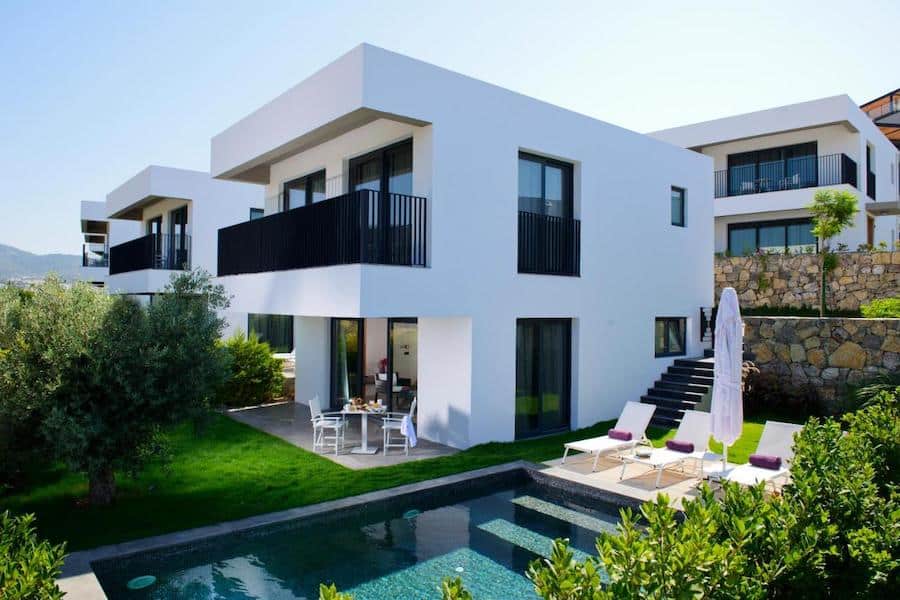 Ramada Resort by Wyndham Bodrum won't disappoint if you prefer a five-star property. Built in modern style, with pools, luxurious rooms, and a terrace restaurant, this gorgeous place is conveniently situated only four kilometers from Bodrum Town. The pet-friendly property directly faces the Greek island of Kos. Those looking for relaxation will love the sauna, the hot tub, and the Turkish steam bath. A car rental service is also available for the guests of the hotel.
Queen Boutique Hotel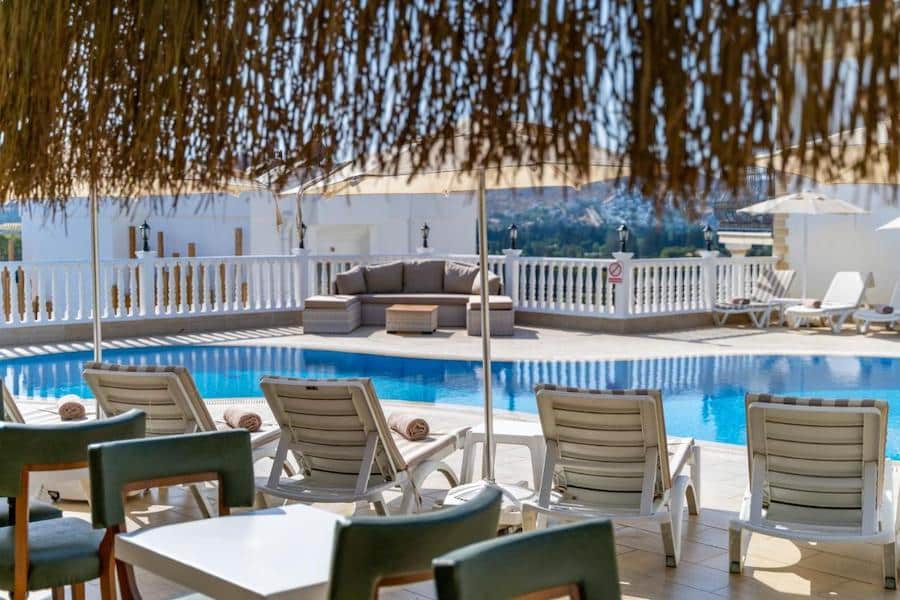 Smaller but equally inviting, the Queen Boutique Hotel is located only 200 meters from Bitez Beach. The hotel features an outdoor pool, an a la carte restaurant, and rooms and suites with air conditioning, a living room, and comfy sofas.
Yalikavak
You can experience the most authentic (and delicious) cuisine in Yalikavak and enjoy walks along the marina with its old and attractive stone windmill.
The historic center is also picturesque, and an excellent place to walk after the sun has gone down or explore the street market in the mornings.
Where To Stay In Yalikavak
Elementa Boutique Hotel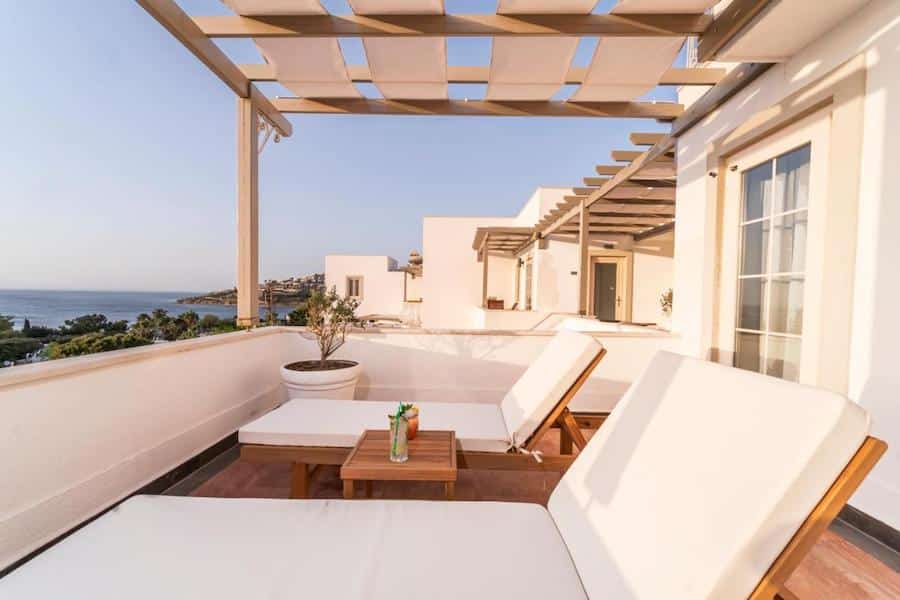 Featuring a private beach and a gorgeous pool, Elementa Boutique Hotel is a property in the budget range in the Yalikavak area. At the venue, guests will find air-conditioned rooms with a satellite TV, minibar, and a balcony. Moreover, the hotel serves a la carte lunch, dinner, and unique services, including late breakfast and coffee breaks.
Allium Bodrum Resort & Spa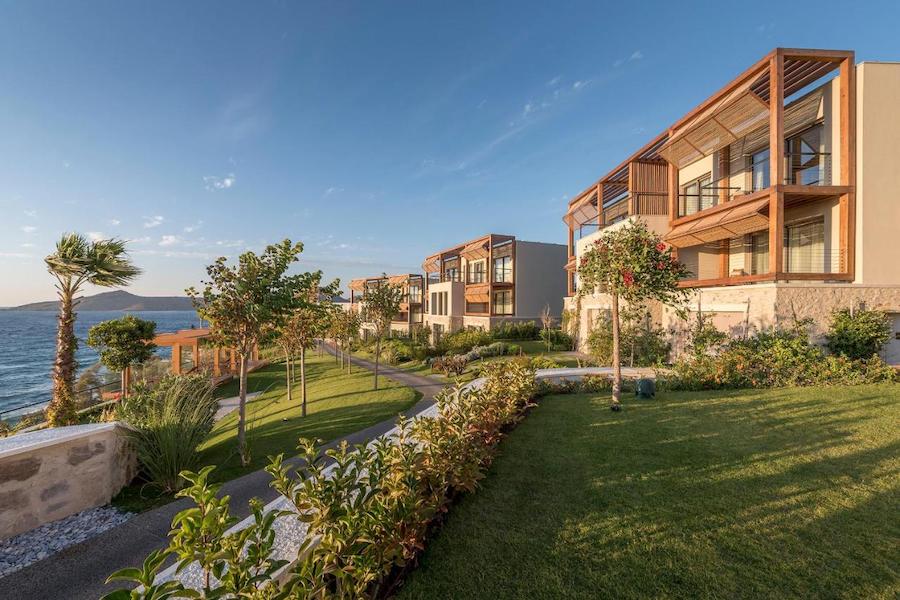 For a more exclusive stay, check out Allium Bodrum Resort & Spa. The hotel offers a seasonal outdoor swimming pool, a garden, a fitness center, and a bar. The rooms are fitted with air conditioning, a fridge, a kettle, and spectacular sea panoramas. The hotel is about twenty kilometers from Bodrum City.
MGallery The Bodrum Hotel Yalikavak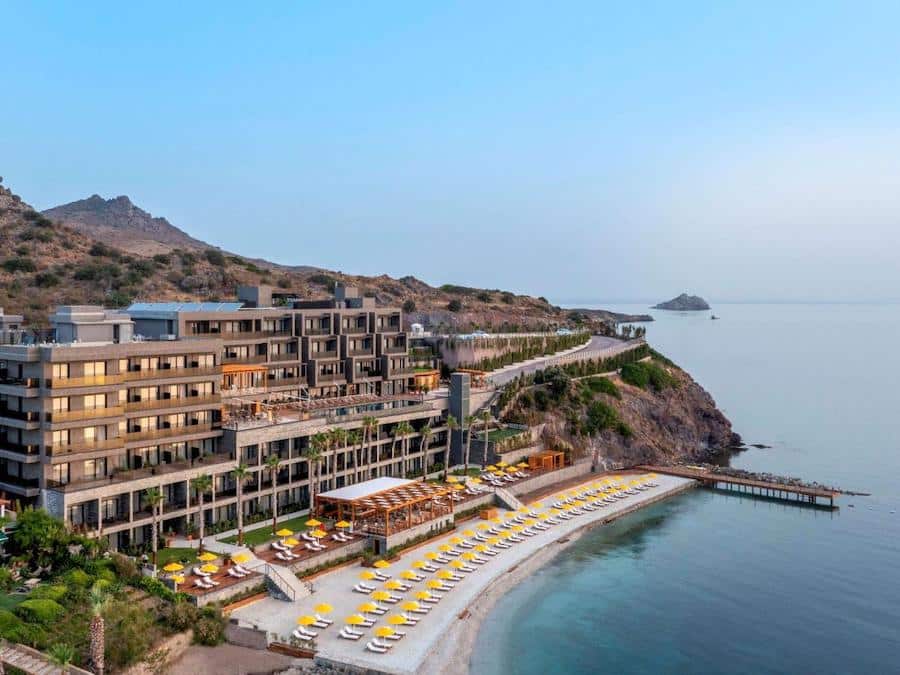 MGallery, The Bodrum Hotel Yalikavak, is a sustainable and affordable 5-star property only 400 meters from the local public beach. The accommodation includes a restaurant, a bar, free private parking, a seasonal outdoor swimming pool, and a fitness center.
Gumusluk
Turkish and tourists alike choose this destination for its magnificent cuisine as it houses some of the best restaurants on the Turkish coast. The city also features a picturesque market with exciting crafts and the usual touristy souvenirs.
Where To Stay In Gumusluk
Oza Boutique Hotel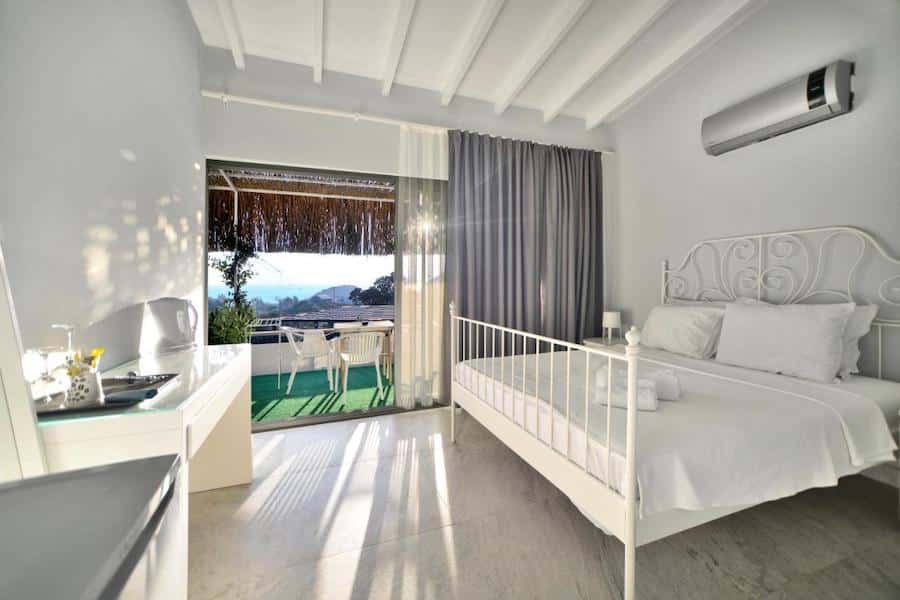 Oza Boutique Hotel is a small, welcoming property about 22 kilometers from Bodrum City. It offers a well-curated garden and units with a kitchen with a microwave, fridge, kettle, and dining area.
Vega Aparts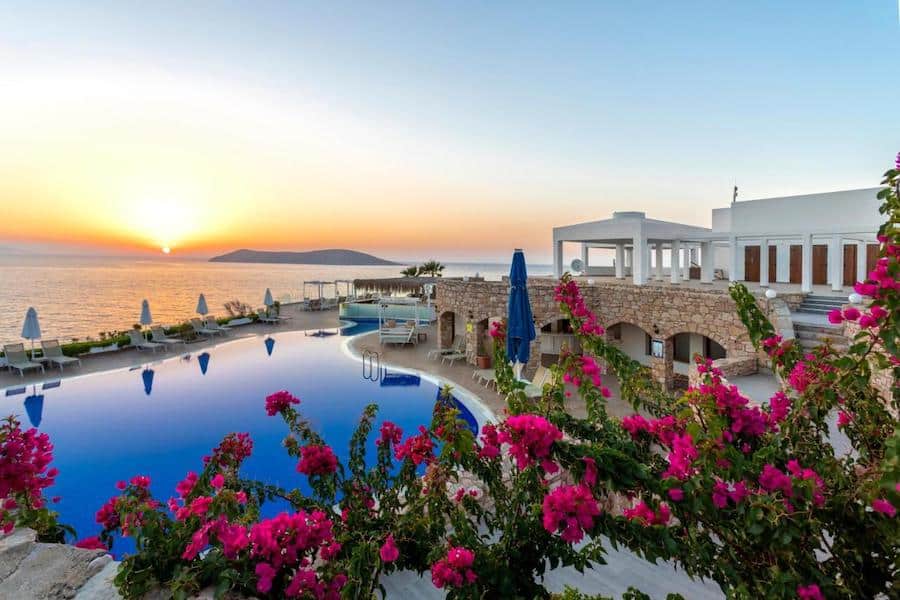 Vega Aparts combines the best of a hotel stay with the comfort of your own home. At the property, guests will find a garden, a seasonal outdoor pool, and free private parking. Some units have a seating area or a balcony, a kitchen equipped with a microwave, a fridge, and a stovetop.
Gorgeous Villa With Shared Pool In Gumusluk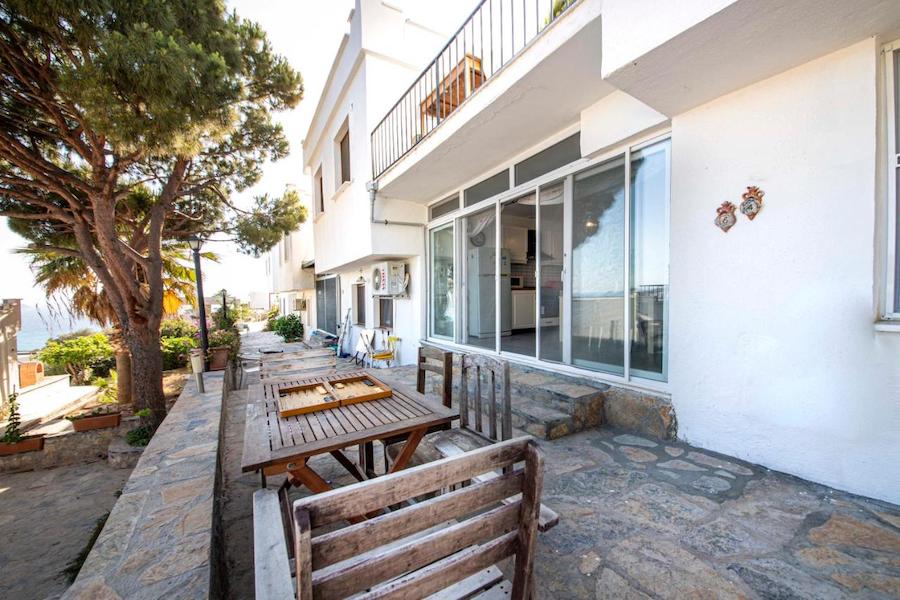 If a peaceful home all for your family is what you are looking for, then this Gorgeous Villa with Shared Pool in Gumusluk can be the best accommodation solution. The home offers two bedrooms, a patio, and a fully equipped kitchen with a dishwasher, a microwave, a washing machine, a fridge, and an oven. There is also an outdoor swimming pool available for guests. You will find some of the most amazing Aegean views in the area; the house is about 10 minutes from Gumuskaya Beach.
Have you already picked your favorite place to stay in Bodrum?