We may earn commission from affiliate links →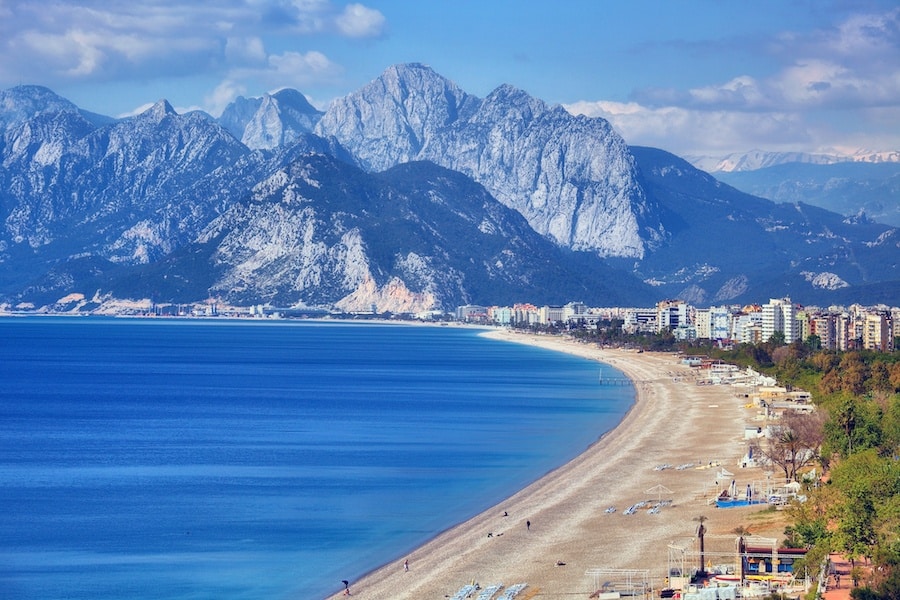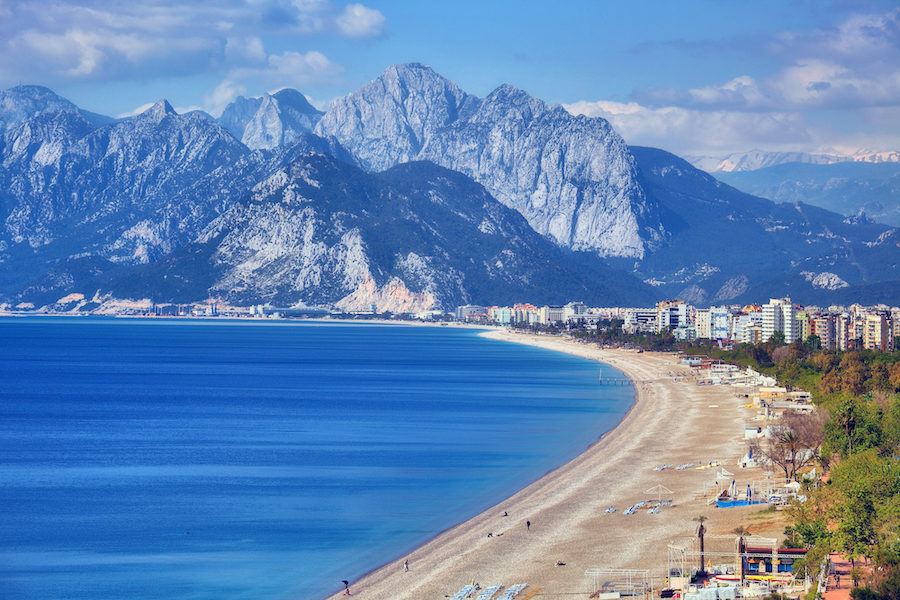 Best Beach Resorts In Türkiye – 5-Star Luxury On The Turkish Riviera
Turkey has a rich history, stunning scenery, and pristine beaches. Summer is when tourists from all countries visit Türkiye's stunning beaches to soak up the Mediterranean sun. And if you also want to enjoy the turquoise waters of the Mediterranean, time to start arranging your summer holiday in Türkiye now! And if you don't know where to find the best holiday resorts in Turkey, don't worry! We prepared this perfect guide to help you find the best resorts in Türkiye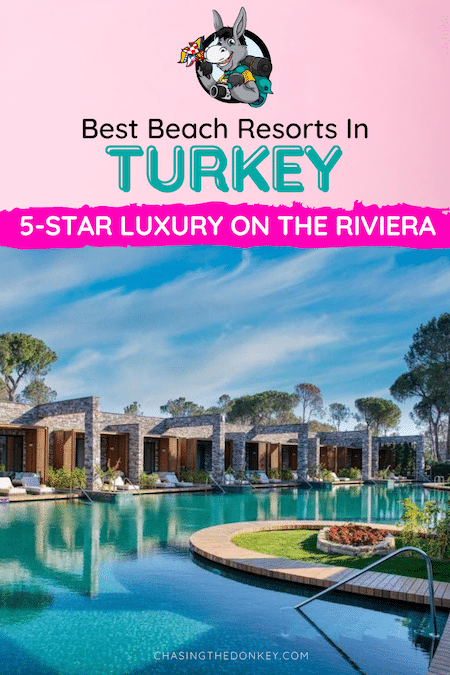 İzmir
Reges, A Luxury Collection Resort & Spa, Çeşme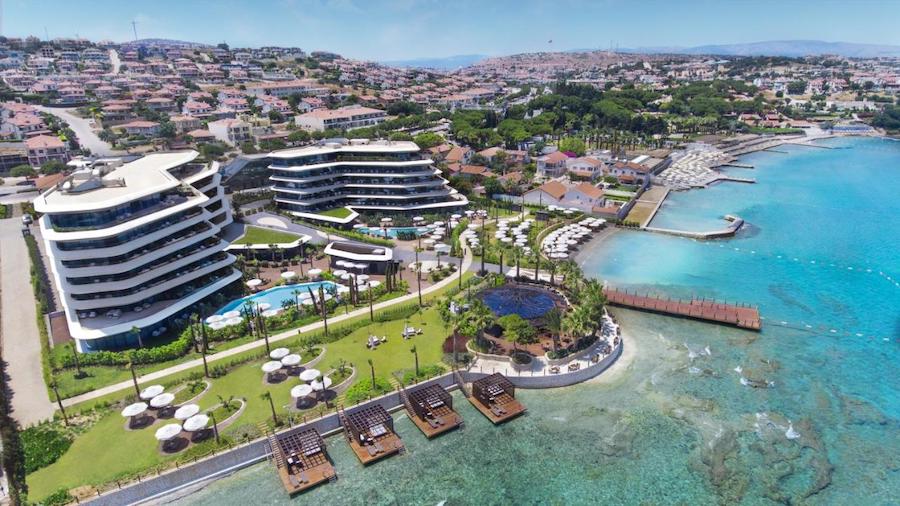 Reges is a 5-star beach resort in the scenic town of Çeşme, İzmir. The resort is located on the Aegean Sea and is the best option for a lovely holiday.
Reges provides high-quality facilities and excellent amenities to all of its customers. You can enjoy local and Mediterranean cuisine at the resort's two restaurants. Reges also features two fantastic bars for those who want to enjoy a drink while watching the sunset.
Also, if you have time, you may visit Alaçatı, a lovely town about 7 kilometers from the best Turkish resort in the area. Wandering through Alaçatı's picturesque streets and watching the vibrant local culture will surely be an unforgettable experience.
Boyalık Mah., 3198 Str. N:5/2, 35930, Çeşme/İzmir, Türkiye
Radisson Blu Resort & Spa, Çeşme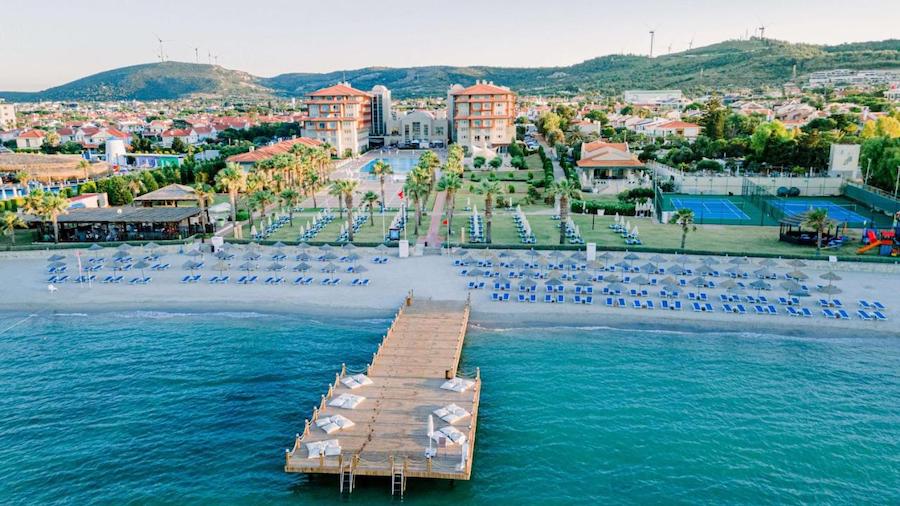 Radisson Blu Resort & Spa lies next to the turquoise waters of the Aegean Sea. The is one of the best Turkish resorts and provides a once-in-a-lifetime experience with its rooms furnished with high-quality amenities and breathtaking sea views.
At Radisson, a dreamy Aegean holiday comes true. The resort offers you a full-fledged spa, an all-inclusive holiday, and many great amenities. The Radisson's restaurant offers savory local meals, and its terrace bar allows you to witness the dramatic sunset over the Aegean.
The resort is a 4-minute walk from the Aqua Toy City water park, one of the must-go attractions in İzmir.
Altinyunus Mah., 3435 Str. N:25, 35930, Çeşme/İzmir, Türkiye
Aria Claros Beach & Spa Resort, Özdere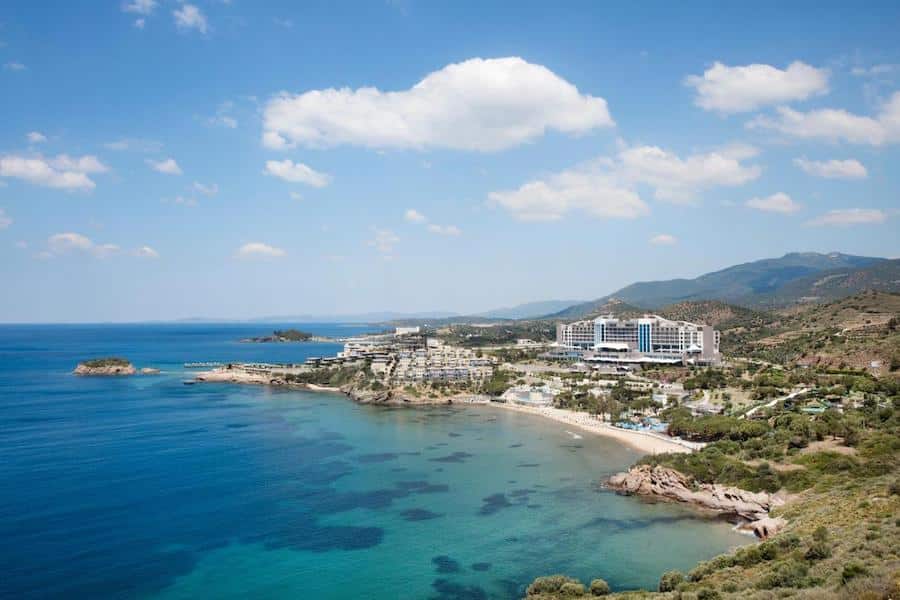 Located on Özdere Claros Bay, Aria Claros Beach & Spa Resort allows you to enjoy the sea, sand, sun, and nature! Lies on the lush ground and surrounded by hills and trees, the resort lets you enjoy the beautiful nature of the Aegean.
You can enjoy Turkish and international cuisine at the restaurants within Aria Claros resort. Other resort amenities include water sports, five separate pools, and a kids' club.
The resort is only 10 kilometers from the ruins of Claros Ancient City. So, if you're interested in history, archaeology, or culture, Aria Claros is the best choice!
Cumhuriyet Mah., İzmir St., N:104, 35495, Menderes/İzmir, Türkiye
Club Marvy, Menderes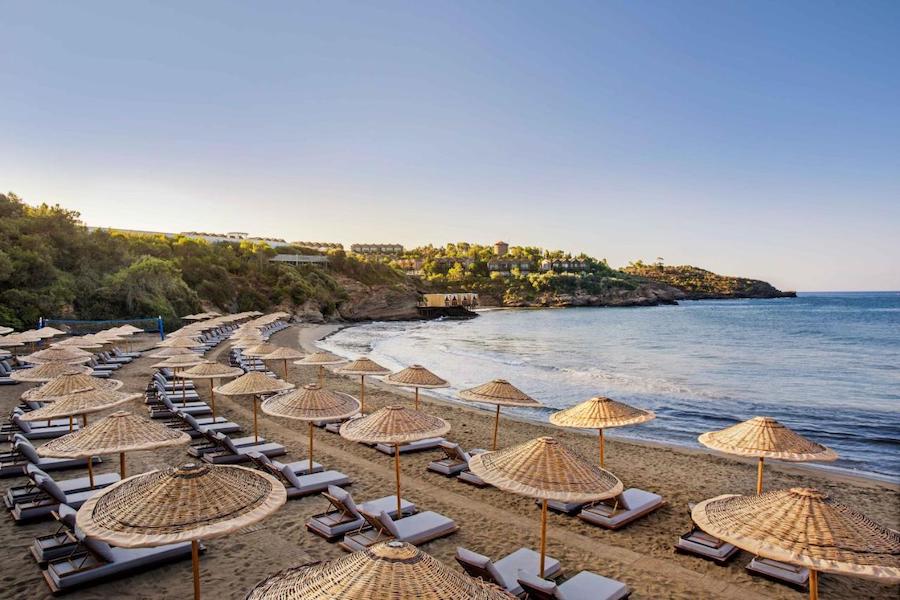 Club Marvy offers the best holiday for those looking for an unforgettable experience! Located in the wonderful Kesre Bay, next to the azure waves of the majestic Aegean, Club Marvy is an all-inclusive luxury resort.
Club Marvy is one of the largest beach resorts in İzmir – and undoubtedly one of the best resorts in Türkiye. It has six excellent restaurants, seven bars, and an adults-only beach club. The resort includes everything you need, such as a gym, a spa, volleyball, a minigolf, and a kids' club.
Thanks to its location close to many ancient settlements and structures, Club Marvy offers you an opportunity to discover the mysteries of the Aegean. The ancient temple of Claros is only 15 kilometers from the resort and is a must-see destination.
Cumhuriyet Mah., 3008 St., No:1 Kesre Koyu, 35495 Menderes/İzmir, Türkiye
PLAN AHEAD TO GET THE BEST DEALS
Muğla
Rixos Premium, Göçek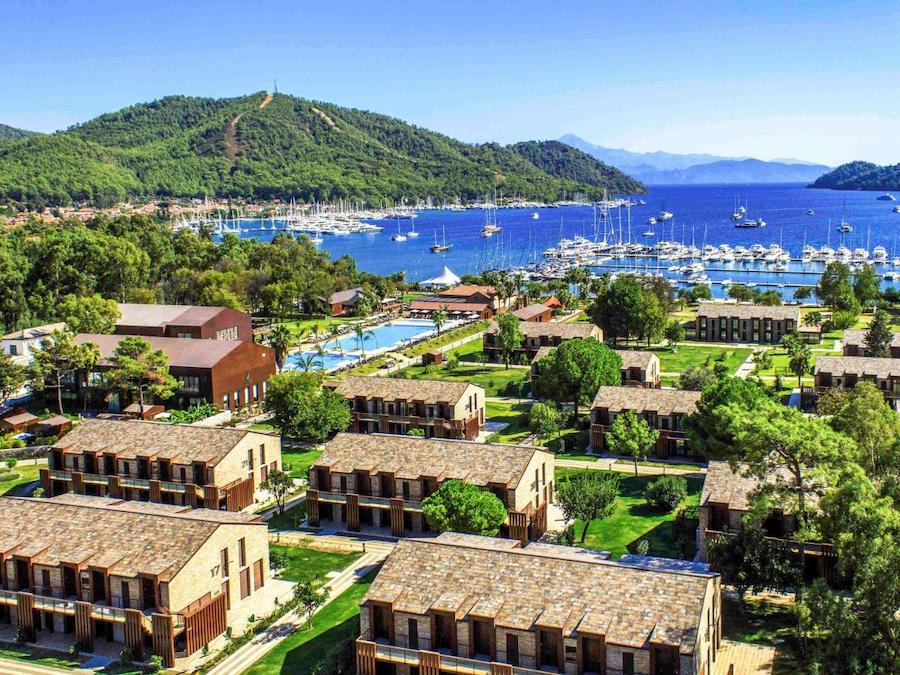 Surrounded by a lush forest, Rixos Premium Göçek is on the coast of Göçek, a seaside town in Muğla. The resort offers a unique Mediterranean experience filled with sun, sand, and tranquility.
Rixos is an all-inclusive resort with four restaurants, five bars, three outdoor pools, and two tennis courts. It also has an excellent fitness center for customers who cannot stop working out even on holiday. The free boat ride to a private beach where you may experience the gorgeous Mediterranean is one of the most pleasing amenities of Rixos Premium.
The resort is one kilometer from Skopea Marina and 18 from Dalaman International Airport.
Göcek Mah., Sahil Yolu St., 48310, Fethiye/Muğla, Türkiye
Mandarin Oriental Bodrum, Göltürkbükü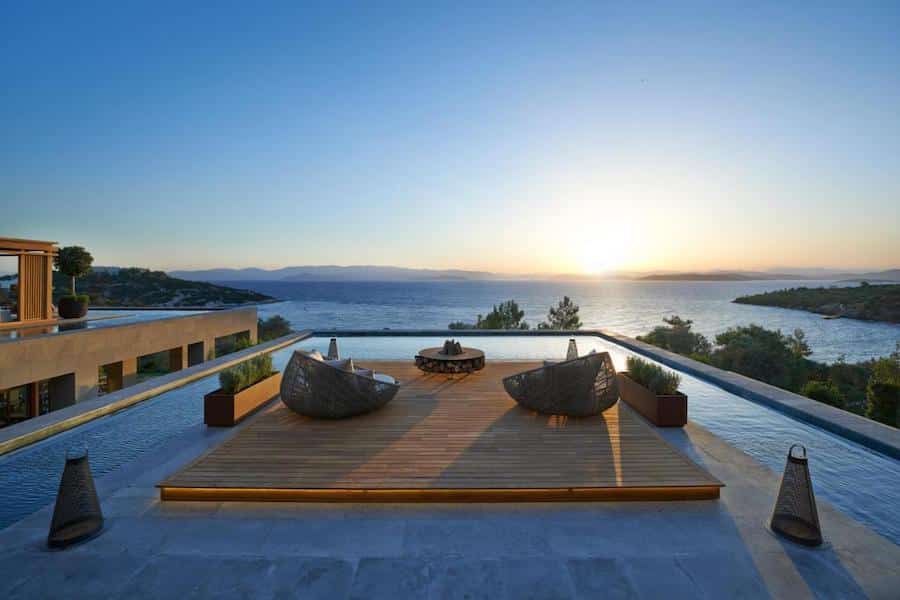 Located in the picturesque Paradise Bay, Mandarin Oriental offers its customers a once-in-a-lifetime holiday in one of Türkiye's most popular holiday towns. Trees and gardens surround the resort that overlooks the magnificent Mediterranean. Most of the resort's rooms also have a view of the turquoise Mediterranean.
Mandarin Oriental has two private beaches as well as eight restaurants and bars. Mandarin Oriental Bodrum has options for rooms, suites, apartments, and villas. In addition to the superb Mediterranean cuisine served in their restaurants, the resort provides a delightful complimentary breakfast to their guests.
The resort offers historical and cultural experiences, too! It is only 21 kilometers from Bodrum Castle and 22 from the Mausoleum of Halicarnassus.
Göltürkbükü Mah., 314. St., N:10, 48483, Bodrum/Muğla, Türkiye
TUI BLUE Sensatori Barut, Fethiye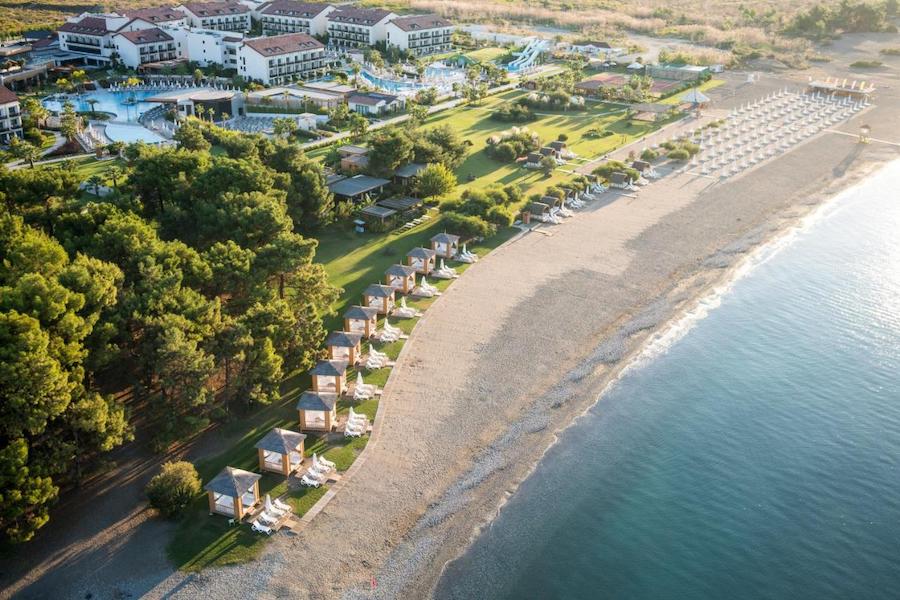 TUI BLUE Sensatori, located next to Karataş Beach, is an upscale all-inclusive resort with thrilling activities and high-quality amenities. The resort features fifteen restaurants of various cuisines, bars, an open-air eatery, and a disco. TUI BLUE also has a gym and sports courts for visitors who want to stay in shape after a tasty Mediterranean dinner.
The resort has magnificent rooms with a stunning view of the Mediterranean and pool access. There is 7/24 available room service, free Wi-Fi, and complimentary breakfast. Also, TUI BLUE is only 32 km from the Cadianda prehistoric site, a must-see for history and archaeology enthusiasts.
The resort also allows its customers to organize weddings and is a popular place for honeymoons in Türkiye.
Çiftlik, Kargı Mah., 202, 226. St., N:4/1, 48300, Fethiye/Muğla, Türkiye
METT Hotel & Beach Resort, Bodrum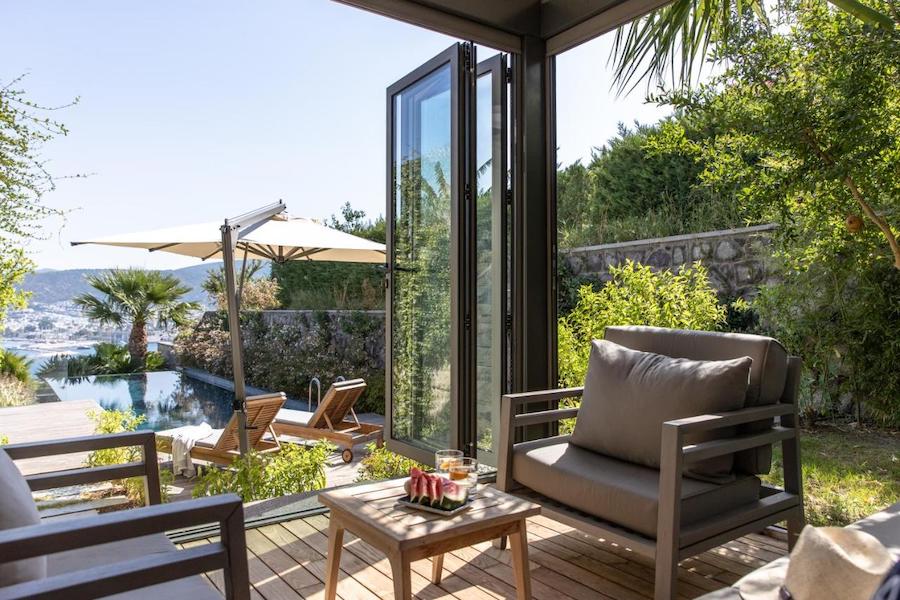 Faces Bardakçı Bay, METT Hotel & Beach Resort offers a modern and luxurious stay. With delicious gratis breakfast, high-quality facilities, and luxury rooms, staying at METT Hotel & Beach is a terrific experience alone.
The resort offers rich amenities, including a private beach, three restaurants, and a bar. METT Hotel also features a spa, indoor and outdoor pools, a salt room, and a hot tub to offer its customers a relaxing stay. The resort also has a superb gym for those who want to work their muscles.
In addition to all the amenities by the resort, METT Hotel & Beach is in a paradisiacal location where shades of green, turquoise, and golden meet. Therefore, METT is one of the best choices to enjoy the spectacular nature of Bodrum while basking in the golden Mediterranean sun.
Eskiçeşme, Değirmenler Mevkii, Haremtan St., 48400, Bodrum/Muğla, Türkiye
Antalya
Barut Lara, Muratpaşa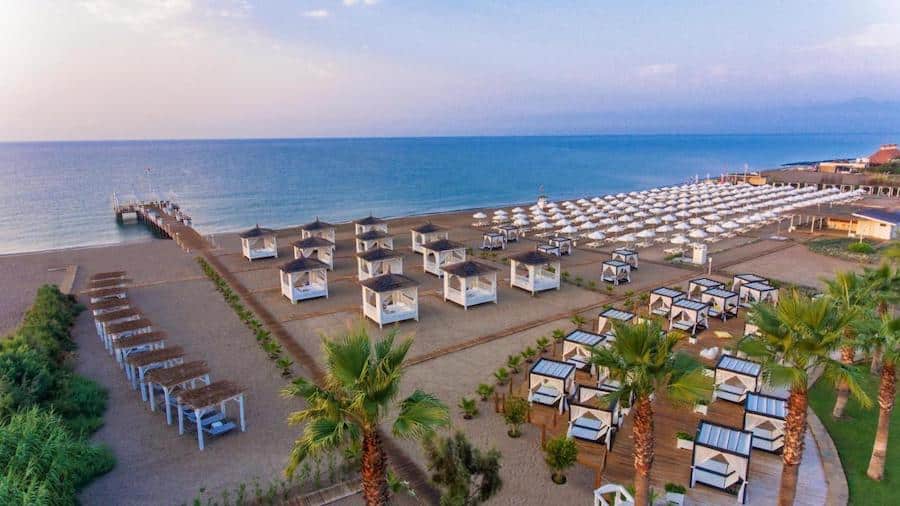 Surrounded by green next to the Mediterranean Sea, Barut Lara is an all-inclusive luxury resort. The rooms at Barut Lara feature sea views, free Wi-Fi, air conditioning, minibars, and flat-screen TVs. Barut Lara offers a complimentary breakfast and features outstanding amenities, including eight restaurants, four bars, a nightclub, a spa with a Turkish bath, outdoor pools with waterslides, and a gym. Thanks to the mini market within its borders, you can easily access anything you want without leaving the resort.
Barut Lara is only 14 kilometers from Antalya Airport; thanks to its relatively central location, you can easily access the resort without hassling with local transportation. Also, if you want to snap captivating photos, the resort is only 9 kilometers away from the beautiful Düden Waterfalls.
Güzeloba Mah., Yaşar Sobutay Blv., N:30, 07235, Muratpaşa/Antalya, Türkiye
Kaya Palazzo Golf Resort Belek, Serik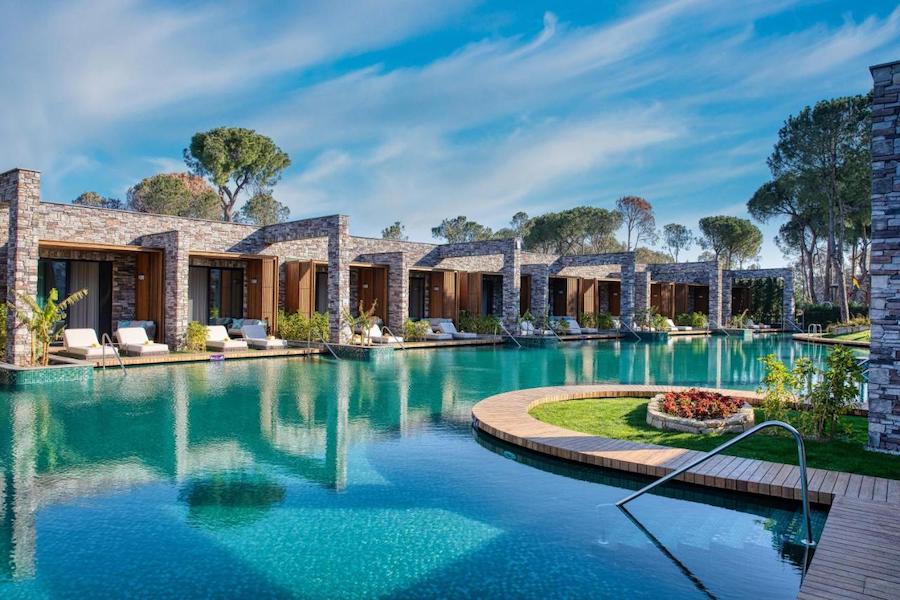 Kaya Palazzo is an upscale resort near the Mediterranean Sea that offers various services and activities. The resort's five restaurants, including Italian and Asian eateries, provide delicious food for the guests. Also, there are three bars and a nightclub within the resort where guests can have fun and socialize. Visitors can also enjoy an indoor pool, a sauna, and a Turkish bath.
As the name implies, Kaya Palazzo is a golf resort with an 18-hole golf course. Thanks to the kids' club provided by Kaya Palazzo, you can let your children make new friends while you play golf and spend precious time alone.
The resort is 2 kilometers from The Land of Legends theme park and 23 kilometers from Antalya Airport.
Kadriye Üçkum Tepesi Mevki, 0750,6 Serik/Antalya, Türkiye
Goldcity Hotel, Alanya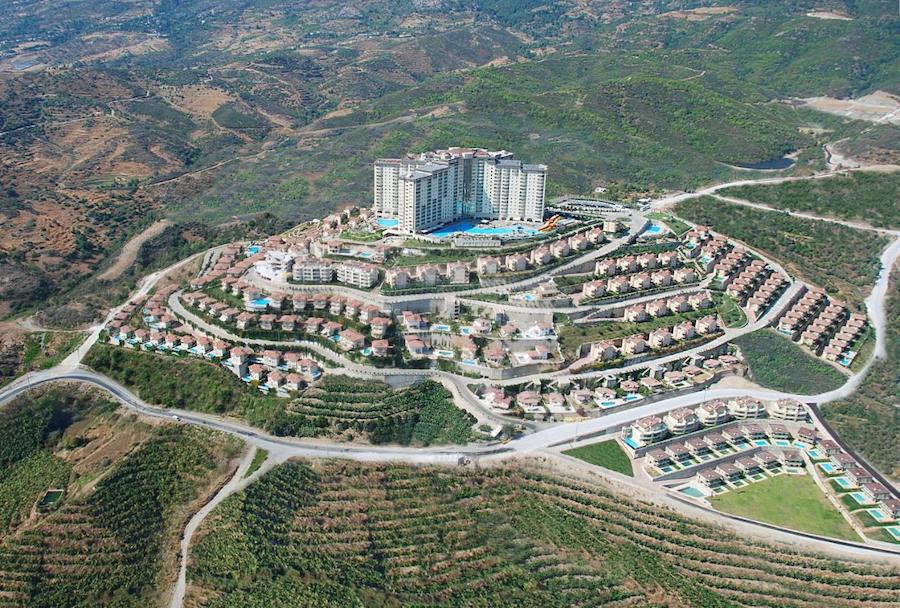 The Goldcity Hotel is an all-inclusive resort perched on a hill overlooking the Mediterranean Sea. The refined rooms with modern décor and first-class facilities offer the guests a refreshing stay. The resort also features a variety of restaurants and bars, offering a variety of dining options. A water park, indoor and outdoor pools, a sports complex, a spa, a fitness center, and an event space are also available at Goldcity Hotel.
This Turkish beach resort is 25 kilometers from Antalya Gazipaşa-Alanya Airport, 4 kilometers from Syedra Ancient City, and 7 kilometers from Dim Cavern. Also, the Archaeological Museum of Antalya, only 15 kilometers from the resort, offers an opportunity to learn about Antalya's history.
Kargıcak, 07400, Alanya/Antalya, Türkiye
Mersin
Marvista Deluxe Resort Hotel & Spa, Yeşilovacık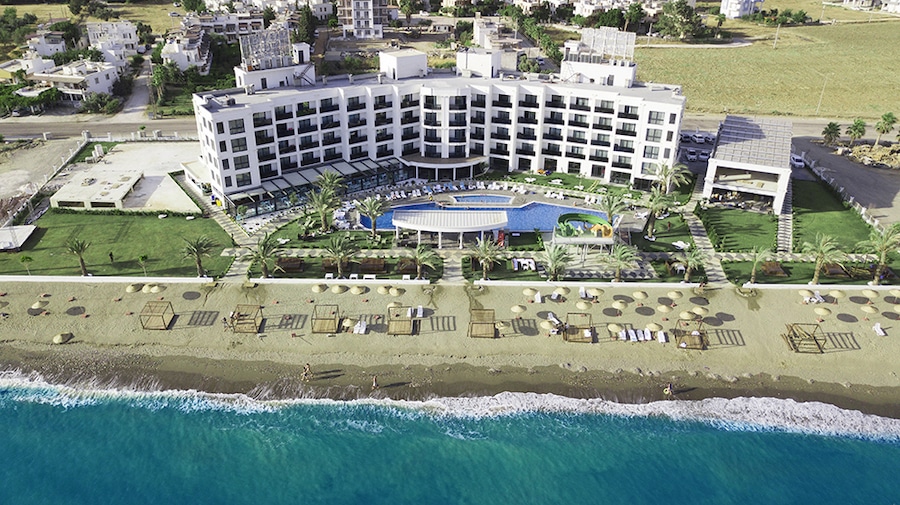 Although most tourists believe they should choose between Antalya and Bodrum, Mersin lies on the Mediterranean shore as a hidden gem. This charming city has a long history and some of the most beautiful blue-flagged beaches in the world. And, if you want to try something different for your vacation, the Marvista Hotel offers a delightful stay with its stylish and clean rooms and exceptional services. This all-inclusive resort in Silifke, located on a blue-flagged beach, features sea-viewing rooms and high-quality amenities.
Only 30 kilometers from Kelenderis Ancient City, 13 from Tokmar Castle, and 23 from Gilindire Cave, Marvista Deluxe Resort is close to most attractions in Mersin.
Yeşilovacık, 2. St., N:185, 33920, Silifke/Mersin, Türkiye