Privacy & disclaimers →
Is Antalya Worth Visiting – What You Need To Know
Antalya is among the most popular tourist destinations in Turkey. This wonderous region is the true pearl of the Mediterranean, offering a variety of activities and countless opportunities. Nevertheless, is Antalya worth visiting? Yes, or no?
Let's discover the answer together.
What Makes Visiting Antalya A Great Idea
Antalya is a gorgeous city with golden beaches, lovely people, and vibrant local culture. This Turkish city boasts some of the best beaches in the Mediterranean, with stunning scenery and a tranquil atmosphere. This turquoise region offers a peaceful haven to visitors fed up with cluttered offices and hustling urban life.
It's also worth noting that the vibrant local culture of Antalya is another reason visiting Antalya is a great idea. While wandering through the streets where modern architecture and historical atmosphere meet, you can have a sense of the typical Mediterranean way of life.
Old folks drinking tea and talking about the latest events, children running around and playing football, and couples basking in the romantic scenery.
The smell of delicious dishes made with the freshest vegetables and seafood spread throughout the streets. This lovely city for sure feels like a scene from an old film, offering an unwinding adventure to everyone seeking a rejuvenating experience.
TRAVEL COMPANIES WE USE AND TRUST
Pros And Cons Of Antalya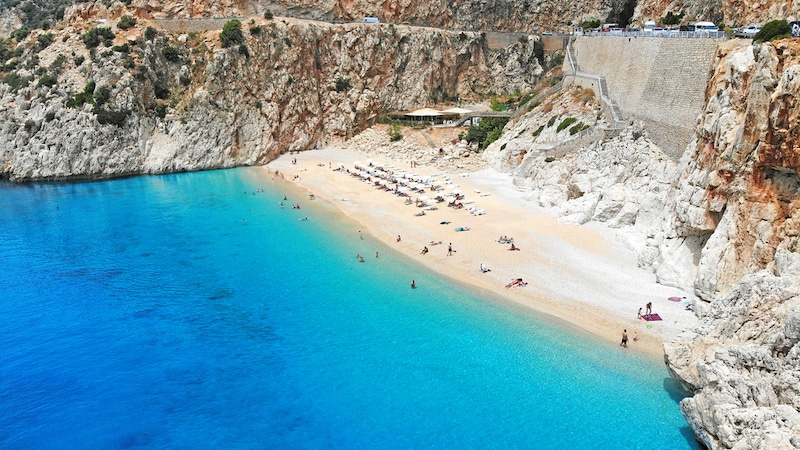 If you're planning to visit Antalya, you need to know the advantages and disadvantages of the city. Here is a list of pros and cons you should think about when deciding if Antalya is worth a visit or not for you:
Pros:
A touristic city: since Antalya is a tourist city, it aims to offer the best service to its visitors. You'll receive flawless service and hospitality everywhere, from hotels to restaurants to public offices
Rich in activities: Antalya offers a myriad of activities, from sports to cultural experiences. Visitors can enjoy water sports activities, go sightseeing, hiking or seek new adventures
Ideal weather: Antalya will surprise you with a pleasant temperature if you're from a colder or warmer area. During summer, you'll be able to enjoy the majestic beaches and refreshing waters
Affordable: Antalya is a relatively more affordable option than most European cities. Therefore, c might be a budget option for an exclusive Mediterranean holiday
Cons:
Crowded: Antalya is one of the most famous cities in Türkiye; as a result, the city becomes overcrowded with international and domestic tourists during the peak season. As a result, visiting Antalya during this season may not be suitable for people seeking a calmer vacation
The language barrier is noticeable: although Antalya is a developed and tourist-friendly city, English isn't a widely spoken language there. Thus, you might have difficulty communicating with locals or seeking help
More expensive than other cities: Antalya, like any other touristic area, is more expensive than other cities in Turkey. Therefore, if you're looking for a budget holiday, Antalya might not be the most suitable option
When Is The Best Time To Visit Antalya
The answer to this question depends on what you're expecting from Antalya. If you're looking for a peaceful experience while enjoying beach time, the beginning of June and late August might be the best. Nevertheless, those who don't worry about being crowded by tens of thousands of tourists can pick any date between late May and September.
Of course, if you aren't a beach person and rather want to discover other aspects of Antalya, avoiding the city during the peak season might be a good idea. Spring is a fun time to visit Antalya, especially for those more interested in the cultural and historical highlights of the region.
Which Are The Beast Beaches In Antalya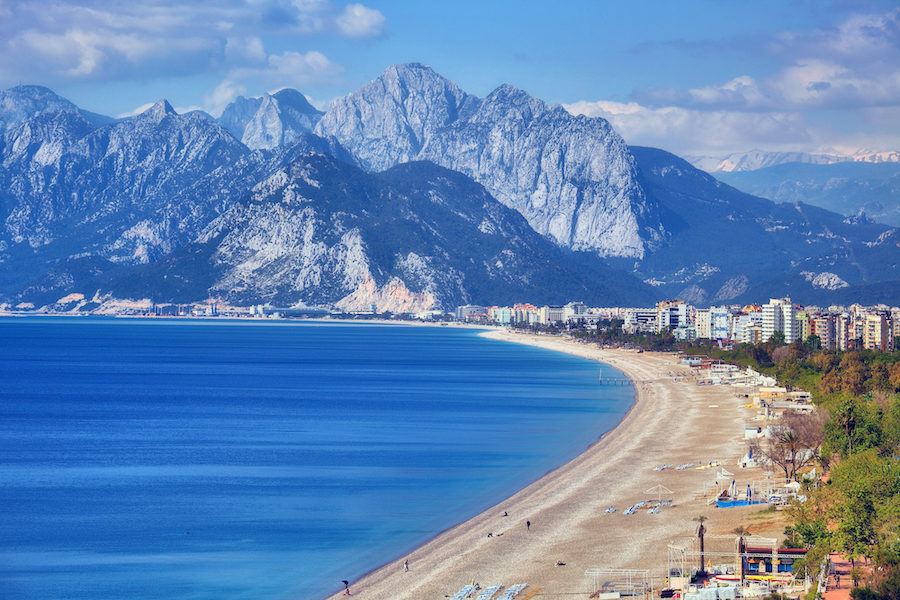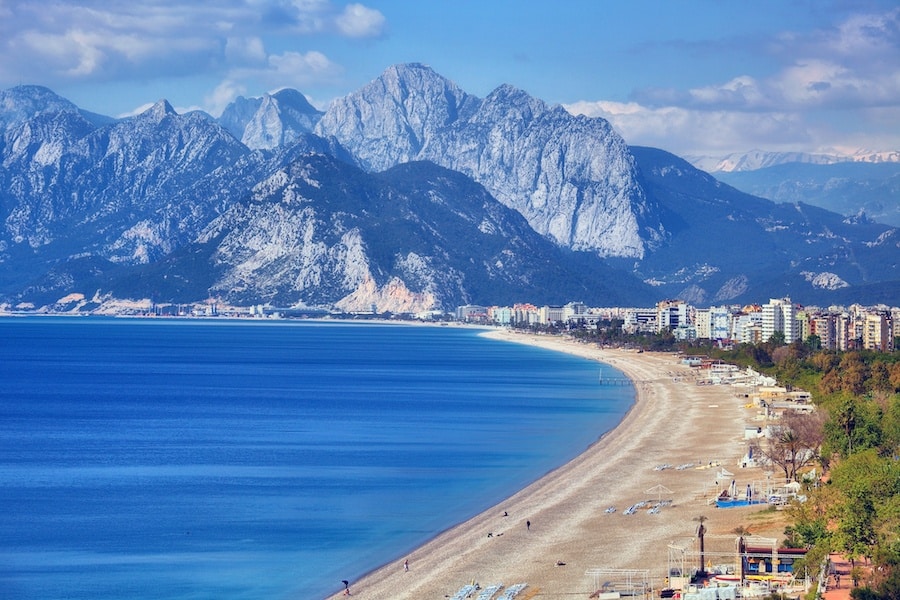 Antalya is a coastal city with numerous beaches and coves. Although it's impossible to list all the beaches Antalya has, we can recommend some of the beaches we enjoy.
Örnekköy Beach (Turkish: Örnekköy Plajı) – Public Beach
Located near a resort town, Örnekköy Beach has a warm and welcoming atmosphere. The beach is full of soft, golden sand and majestic scenery. Since it's near a settlement, the beach is surrounded by restaurants and pubs, allowing guests to enjoy having a few drinks and eating by the sunset over the Mediterranean.
Mermerli Beach (Turkish: Mermerli Plajı) – Paid Beach
Located in Old Town, Mermerli Beach is a small yet inviting beach with gorgeous scenery and a beautiful atmosphere. The beach has a special space where you can just lay on comfy sunbeds and have servers bring you drinks and snacks. Also, since it's a paid beach, the establishment isn't usually cluttered, which makes it the ideal option for those looking for a relaxing experience.
Konyaaltı Beach (Turkish: Konyaaltı Plajı) – Public Beach
Konyaaltı Beach, located on the city's western side, provides soft sands, exciting activities, and breathtaking landscapes. Although the area is large, it's not entirely isolated from civilisation. You can find many cafés, bars, and restaurants around the beach. Near the beach, there is a water park and a beach park with exciting water sports activities for all tourists.
Lara Public Beach (Turkish: Lara Halk Plajı) – Public Beach
Lara Public Beach is a typical Mediterranean beach where you can bask in the majestic Mediterranean sun while watching the mountainous scenery. The beach, once one of the most famous beaches in Antalya's city centre, extends for kilometres, allowing thousands of visitors to unwind and relax. Lara Public Beach also boasts a blue flag.
Olympus, Çıralı (Turkish: Olimpos) – Public Beach
If you're willing to walk for 5 to 10 minutes, you should definitely add Olympus to your itinerary. Mount Olympus corners the majestic beach, giving it a secluded and fairy tale-like atmosphere. Unfortunately, there aren't many public transport options to get to the beach, so you'll have to walk from the nearest stop.
Since the beach is one of the several spots where Caretta caretta turtles lay eggs, there aren't any umbrellas or sunbeds on the beach, so if you're travelling by car, don't forget to bring yours. The beach isn't usually crowded, and you can effortlessly find a spot.
Does Antalya Offer Anything For History Fans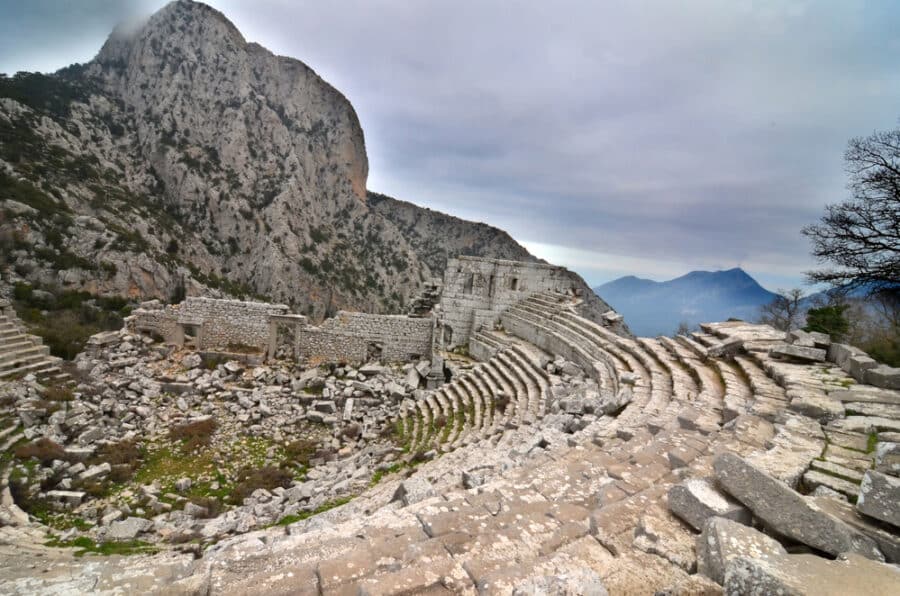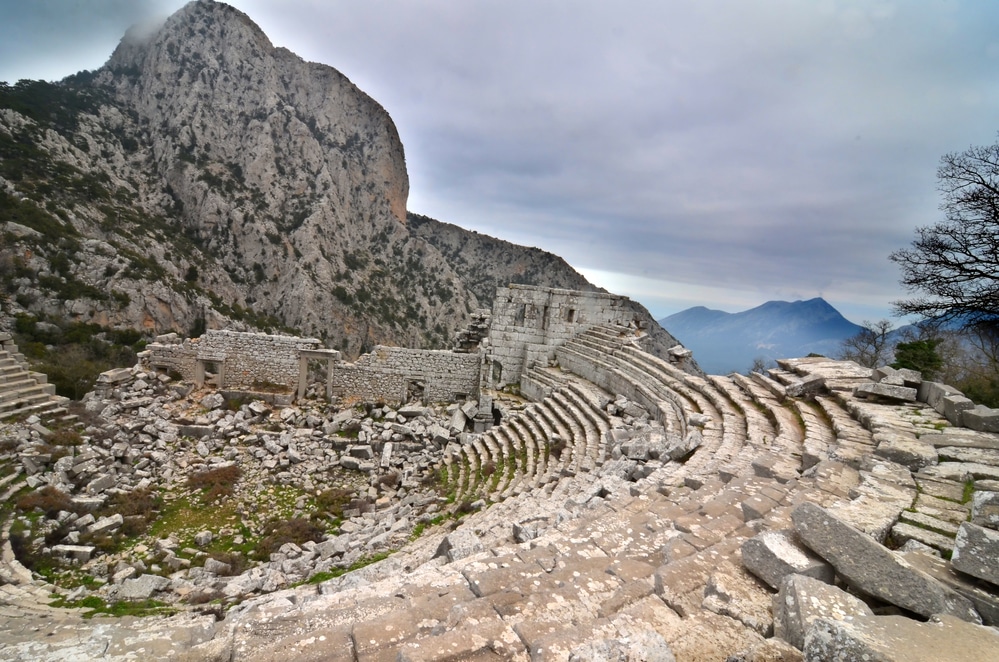 With its history going thousands of years back, each corner of Antalya is home to ancient settlements and monuments. Here is a list of some of Antalya's most famous historical monuments and settlements.
Alanya Castle
Completed in 1226, Alanya Castle is a Seljuk-era monument built upon the remnants of earlier Byzantine and Roman fortifications. The structure is one of the best examples of Seljuk and early Anatolian architecture. Although much of the area inside the wall is open to the public, visitors need to buy tickets to enter the seaward castle, which offers picturesque views of Alanya and the Mediterranean.
Perge Ancient City
Alanya was once home to many Lycian settlements. This ancient civilisation left its marks on every corner of the area through the ruins of ancient cities, such as Perge. Founded in the 13th century BCE, the settlement kept evolving and prospering until the 11th century CE. Around the time Seljuk Turks invaded the area, the city became abandoned. Today, it offers an insightful glimpse into the lives of early Anatolians.
Olympus Ancient City
Olympus is a small ancient city located on Mount Olympus. The city was one of the members of the historic Lycian League and issued its own coins around the first century BCE. It's unknown when the city was founded or when it became totally abandoned. Today, the ruins of this ancient Lycian city lie along lush greenery, offering visitors a tranquil adventure.
Temple of Apollo
Built around 150 CE, the Temple of Apollo is one of the best examples of Roman architecture in Antalya. Today, only six columns, five of which were restored twice, remain standing. If you're interested in the Ancient Roman architecture and culture, the Temple of Apollo is a suitable place to visit.
Xanthos Ancient City
Once the largest city of Lycia, Xanthos is a UNESCO World Heritage Site. The ancient city was founded around the eighth century BCE and became one of ancient Lycia's most significant settlements. And Xanthos preserved this importance through its history under various civilisations, including Persians, Romans, and Byzantium. Today, the city is open to visitors who want to explore the ancient history of Anatolia.
Culture In Antalya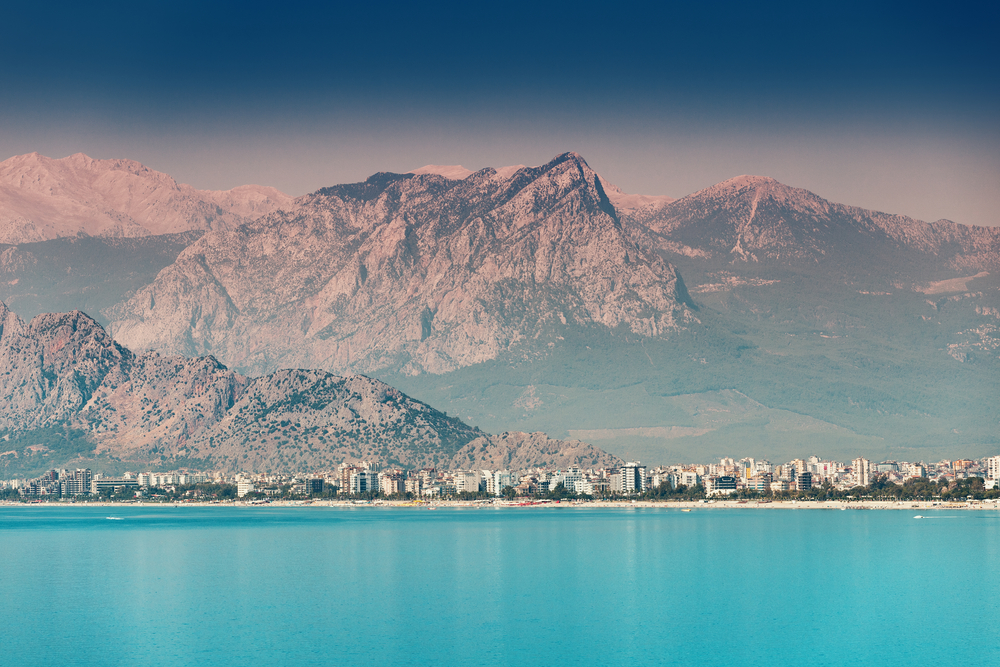 Before visiting a place, you should know about the local culture and lifestyle. If you don't know what you should expect, your journey might become difficult, or you might enjoy it as much as possible. Therefore, before visiting Antalya, it's a good idea to know some key points about the local culture.
Food
Antalya is a Mediterranean city, so its cuisine is quite like Greek and Southern Italian cuisines. If you enjoy seafood, fresh vegetables, and plant-based vegetables with lots of olive oil, then you'll love Antalya.
Nightlife
Antalya has a vibrant nightlife; the city boasts many clubs and bars where you can socialise, drink, and have fun. Some of the most popular nightclubs in the area are:
Pause Club Antalya
Up Shot Bar
Club Summer Garden
Club Inferno
Amor Beach Club
How To Dress In Antalya
You can dress just as you wish in Türkiye. Since Turks are casual people, you might need to avoid wearing clothes that appear too formal. But no matter what you wear, don't dress up all black during summer since dark shades absorb heat.
What Are The Shopping Opportunities In Antalya
Antalya is heaven for shopping enthusiasts who want to purchase local goods and souvenirs to bring home. The city features various local bazaars, typical to Turkish cities, as well as large shopping malls and local stores.
Some of the most popular Antalya shopping malls are:
The Land of Legends Shopping Avenue
MarkAntalya
Mall of Antalya
Terra City
Deepo Outlet Centre
Agora Antalya
Alanyum Mall
Antalium Premium Mall
Tipping In Antalya
Tips are always appreciated in Turkey, yet there really isn't a tipping culture. So, if you don't tip, nobody will judge you. Still, it's always a clever idea to tip the staff when you're pleased with the service.