From charming, secluded coves to beautiful, umbrella-covered sands, the beaches in the Mediterranean are unmatched.
Sun-drenched beaches, glistening oceans, ancient buildings, and a hint of summery quirkiness are all features of daily life in the Mediterranean. The stunning coastlines of European nations, including Spain, France, Italy, Greece, Turkey, and Croatia, offer unspoiled and distinctive beaches that offer the ideal setting for summertime relaxation.
This inspiring coastline has it all, whether you're looking for water sports, want to stand out, or long for quiet seclusion. Consequently, to assist you in finding the perfect beach playground or retreat, let's unwind with the names of the best beaches in the Mediterranean.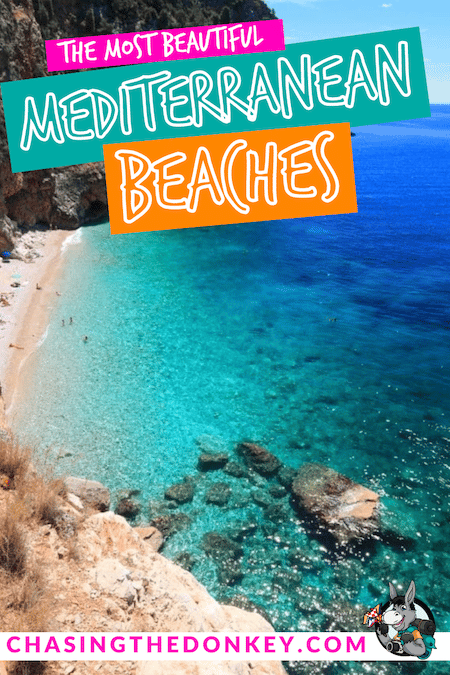 Best Mediterranean Beaches You Will Never Regret Visiting
Here are the names of the best Mediterranean beach in each country that we know you will love this summer.
Elafonisi Beach, Greece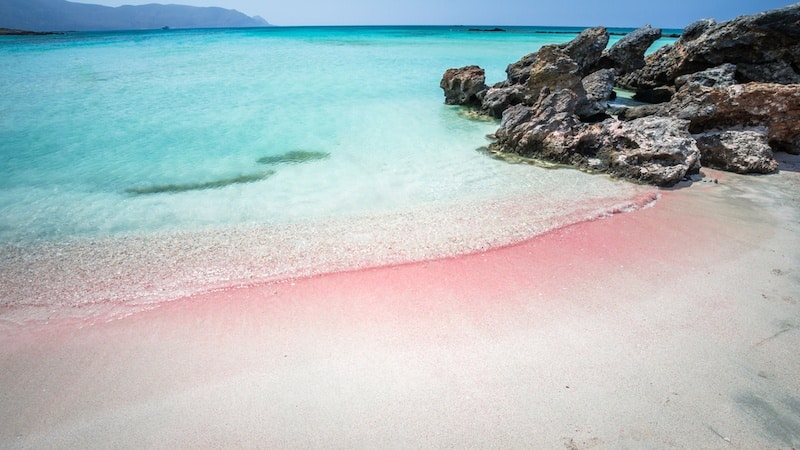 Elafonissi is rated as among the most beautiful beaches in the world. Hundreds of tourists come here to enjoy the area's crystal-clear seas, pink sand, and distinctive terrain each year. The sound of the cicadas singing, the lovely wind, and the water give another vibe. Remember to add this to your list of Mediterranean beaches when you visit Crete.
Costa Rei Beach, Italy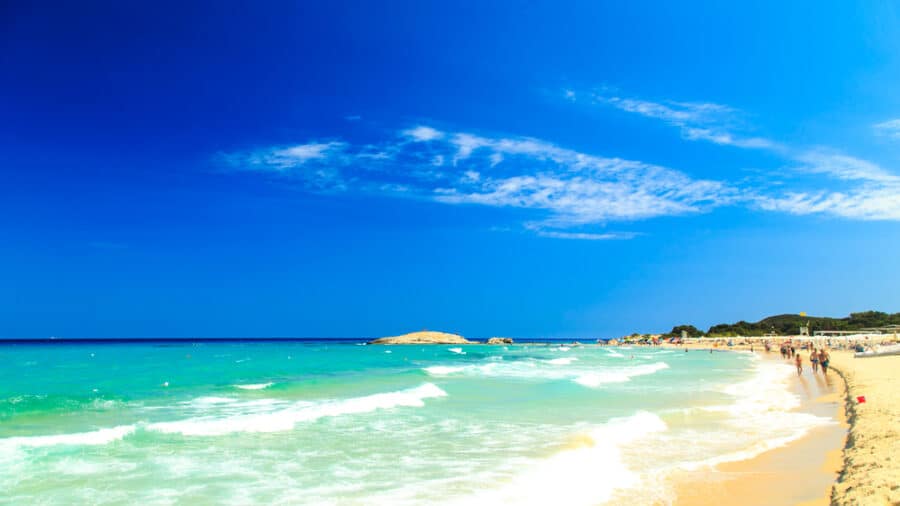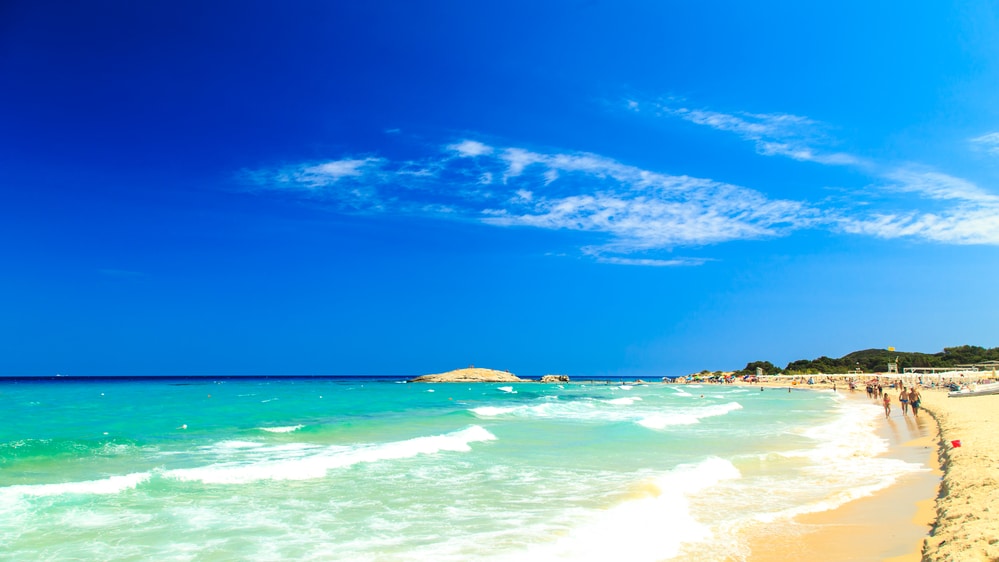 A long, fine-grain beach with white sand, Costa Rei is broken up by stunning rock formations providing shore views. As clear as one could dream, the water progressively deepens. It is one of the best beaches in the Mediterranean to unwind, enjoy the sunshine, and spend the day with friends. Due to its easy access, families with children can enjoy the day here.
Tsigrado Cove, Milos, Greece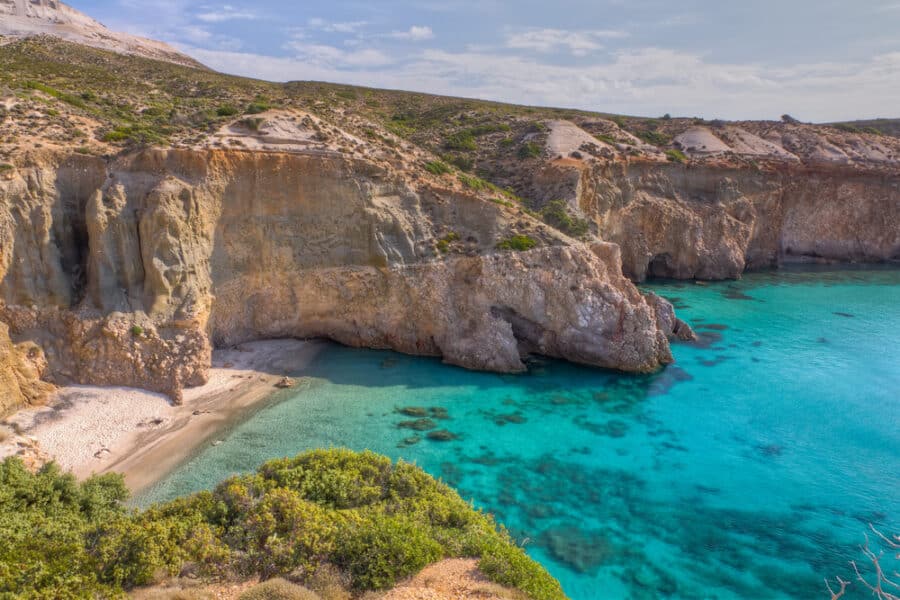 Tsigrado Cove lies on the southern side of Milos Island. The white sand beach has shallow and translucent waves, proving the beach's immaculate beauty. You can explore the numerous little caverns surrounded by the rugged cliffs enclosing the shore. Tsigrado is an ideal spot for snorkelers. The intriguing geological features at its bottom will amaze you.
Stiniva Beach, Vis, Croatia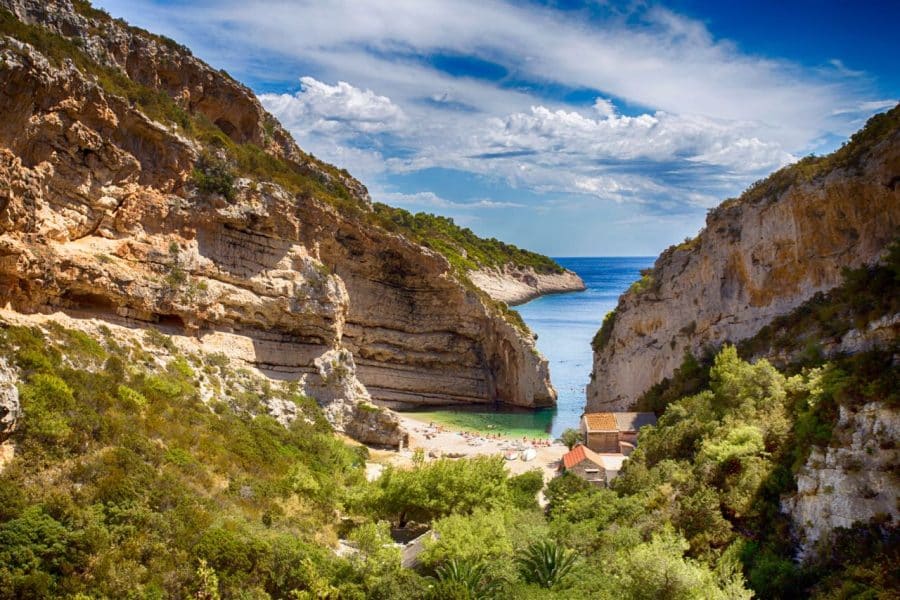 In recent years, the island of Vis has become increasingly popular with tourists looking for a destination, not swarming with summer crowds. Stiniva Beach is a beach for those prepared to do some work. You'll need to earn the right to visit this little slice of heaven by descending a goat track. If to have a boat, you can somewhat cheat and pass through the rocky Stiniva gateway, opening up into a grand stone amphitheater. The beach is stony, and the sea magical. Stiniva is a real treasure and an unforgettable beach experience.
Megali Paralia Beach, Lindos, Greece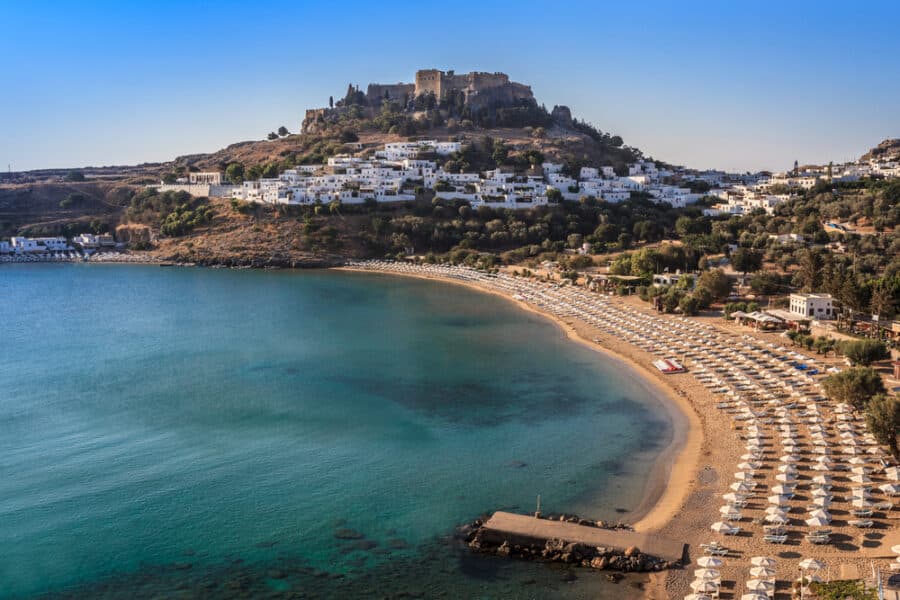 Also known as Lindos Beach, this shore is located about 47 km from Rhodes Town. It is considered one of the best beaches on the island, and it is very popular among tourists staying or visiting Lindos for the day. The beach features crystal clear waters and boasts full amenities.
The main feature of this beach is its position right below the spectacular hill of Lindos, with the ancient acropolis hoovering on top of the hill. You can rent sunbeds and umbrellas, have lunch in the local seaside taverns, or even try water sports.
Cala Mitjaneta, Spain
Enclosed by forested cliffs, Cala Mitjaneta's soft turquoise water is just-so-perfect for swimming and snorkeling. Sink your toes into the white sand while playing with water. If you plan a picnic or day at the beach, we suggest you bring your picnic snacks as there are no tourist facilities available.
Balos, Greece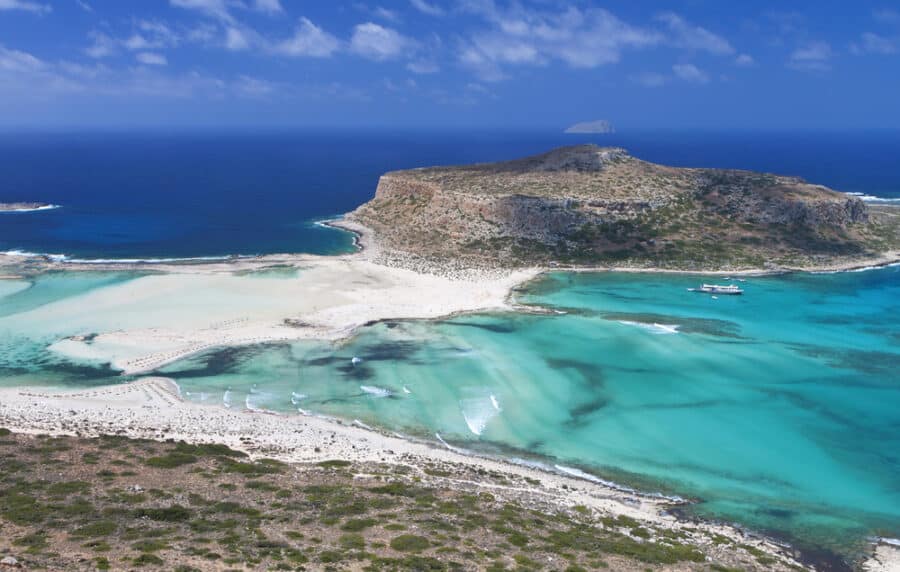 Balos is a sizable lagoon situated on the island of Crete. It is famous for its captivating natural beauty and dreamlike aspect. Along with its out-of-the-world beauty, it is home to loggerhead turtles, falcons, and monk seals. The lagoon draws tourists from far and wide. When you visit Crete, we suggest you take advantage of a visit to this stunning beach.
Oludeniz, Turkey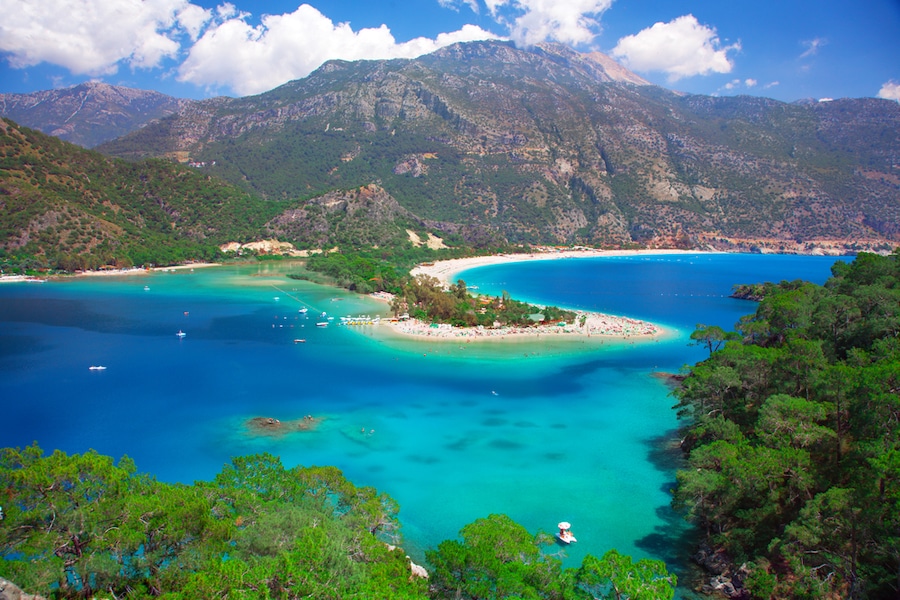 Oludeniz is one of the most famous beaches on Turkey's stunning turquoise coast. Incredibly daring and breathtaking, the surroundings are best seen by paragliding from the mountains, and many operators offer this spectacle activity. Due to its allure and attractiveness, the beach is crowded and busy in summer. The delightful public pebble beach is free, but the lagoon and beach are inside the gated "Lüdeniz Tabiat Park," which does require a small entry fee.
Cala Salada & Saladeta, Spain
Ibiza, a Spanish island, is a popular and amazing vacation spot with some of the most promising beaches in the Mediterranean. It offers visitors of all ages rest, inspiration, and excitement. The two of Ibiza's most beautiful coves, Cala Salada and Cala Saladeta, provide its visitors with sunbathing, swimming, boating in shallow blue waters, and cliff jumping while framed by verdant, forested hills.
Red Beach, Santorini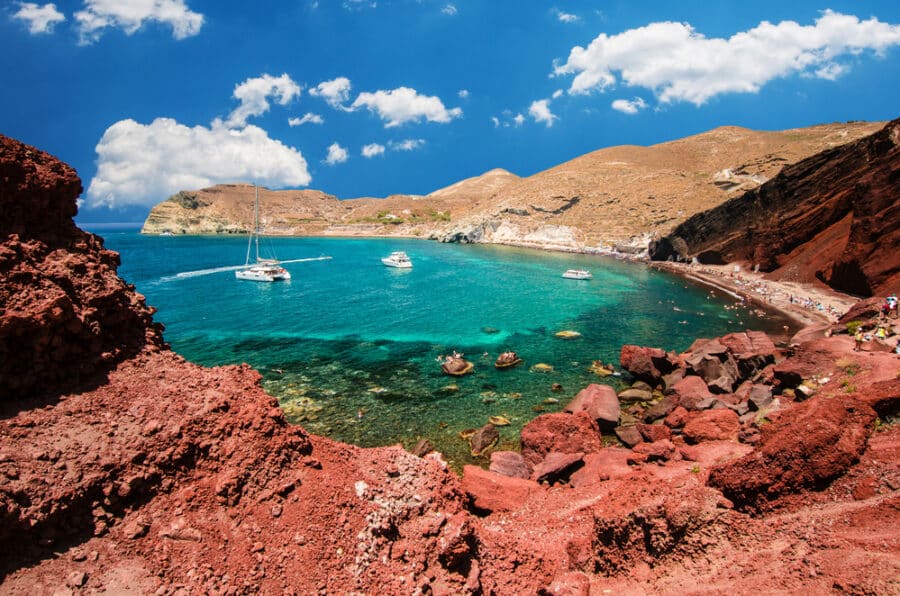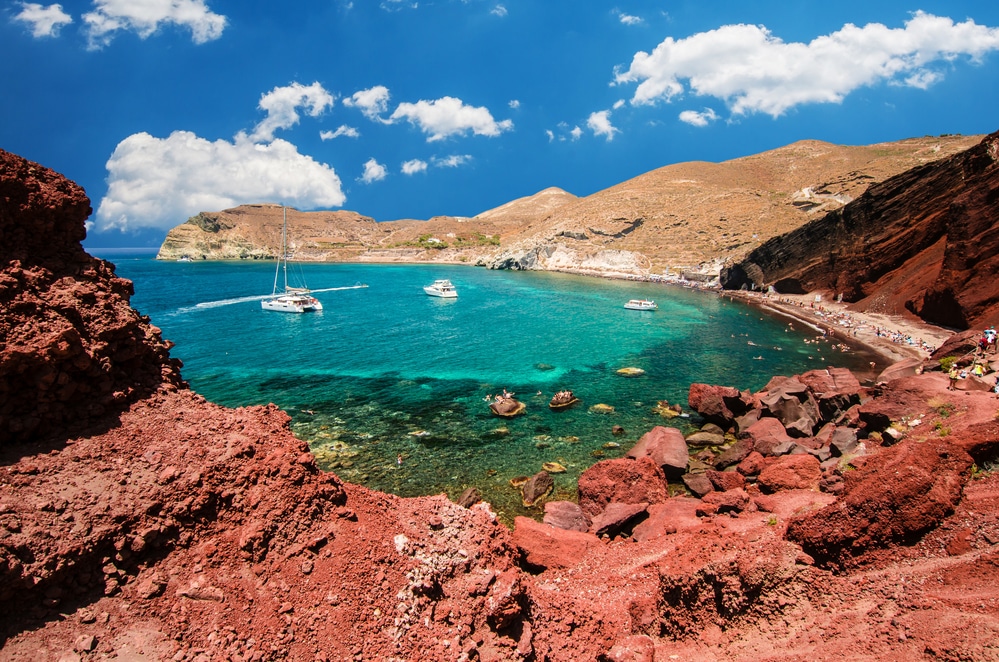 Santorini's Red Beach has pebbly sand and claims to be one of the most picturesque beaches in the Mediterranean. The island's southern tip is close to its dormant volcano and also boasts a distinctive crimson beach. With intriguing rock formations and beautiful marine life, the water is quiet and suitable for swimming and snorkeling.
Mali Bok Beach, Croatia
Mali Bok is a breathtaking tourist spot located on the island of Cres. This stunning beach is a distant and secluded virgin Croatian paradise. As Mali Bok lacks amenities, bring your blanket, refreshments, and umbrella if you plan to picnic, swim, or dive at the beach because it lacks amenities.
Zlatni Rat Beach, Croatia

Zlatni Rat is listed as Croatia's top Mediterranean beach. Due to its distinctive V shape and golden pebble sand, it has been given the moniker Golden Horn Beach. About 20 meters into the sea, the azure color abruptly changes to a deep, dark blue, making Zlatni Rat beach a fantastic swimming location with lots of deep water to splash around in. You can rent sun loungers and umbrellas or find shade in the ancient pine forest that abuts the beach.
Palombaggia Beach, France
Corsica may have the most picturesque coastline in all of France, with Palombaggia being the island's most promising beach. It is distinguished by pine trees along its coastline and enormous granite rocks amidst its shallow waves and beautiful sands. The astonishingly beautiful beach gets crowded but is worth a trek.
Livadhi Beach, Albania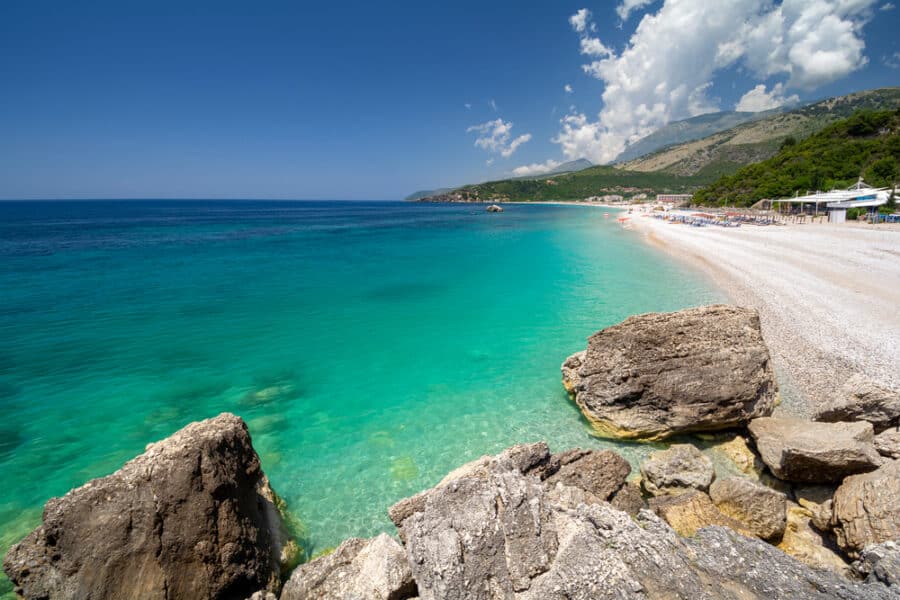 Livadhi Beach, located in Albania between Himare and Dhermi, is a hidden gem that mainly escapes the attention of the continent's mass tourism industry. It offers a long stretch of sandy beach bordered by rolling hills and crystal clear, turquoise water that is delightful to swim in. Water sports enthusiasts can rent kayaks and stand-up paddle boards for the best experience.
Agios Nikitas Beach, Greece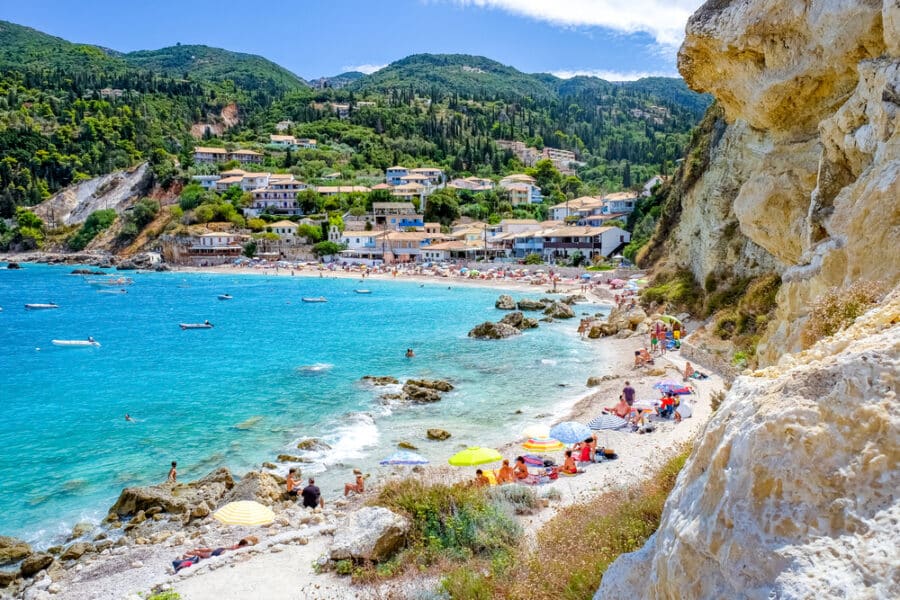 Agios Nikitas beach is a true gem on the island of Lefkada, Greece. The island is renowned for its extensive sandy beaches and gorgeous blue seas. The tourists are drawn to the organized beaches, water sports opportunities, and picturesque taverns. You can access several seafood restaurants, coffee shops, bakeries, gift shops, and little boutiques. By the way, if you want extra fun, another top Meditereanane beach, Milos beach, is only a short hike away.
Lapad Beach, Croatia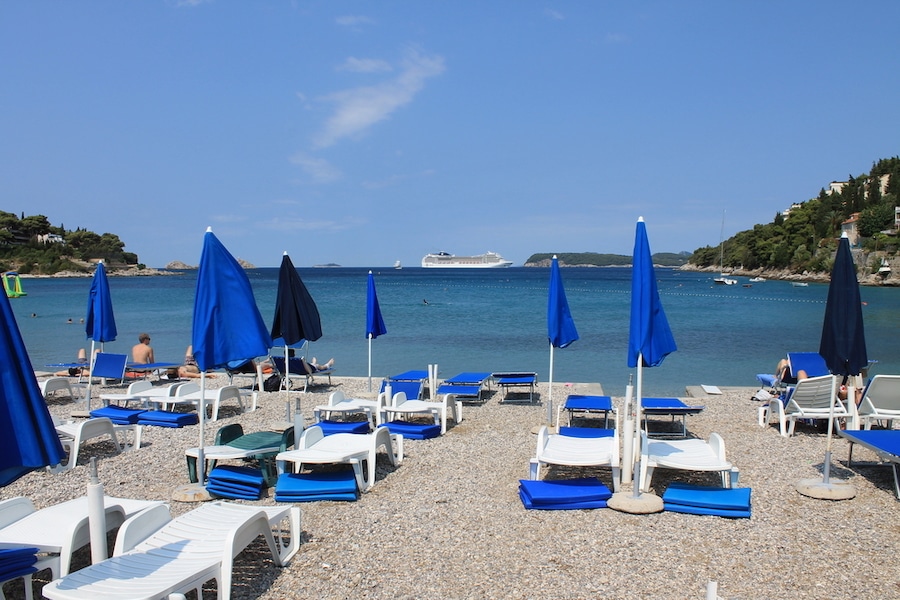 The largest beach in Dubrovnik, Lapad Beach, is a good choice for a family getaway. There are plenty of hotels and restaurants to pick from, lifeguards to keep you safe while swimming, and beach promenades here. For a lively social scene, head to the bay's deep beaches or venture to the peninsula's tip for a less congested setting.
Kaputas Beach – Kalkan, Turkey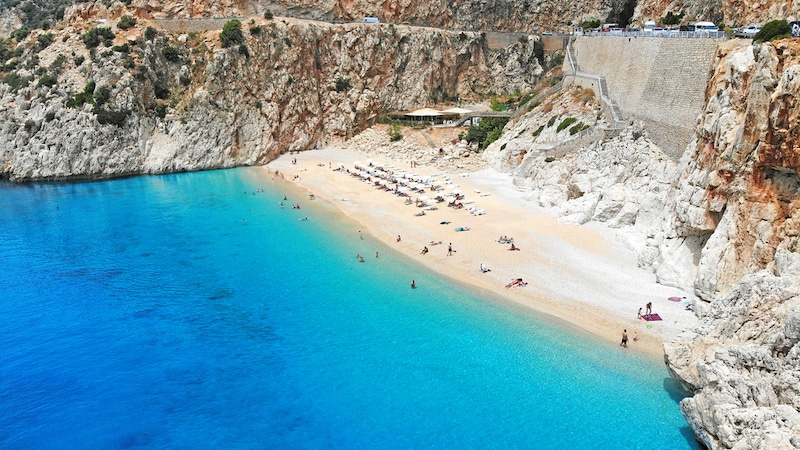 Suppose you want to see true jaw-dropping nature and landscapes, head to Kaputas Beach in Kalkan – one of the best beaches in Antalya. To get to the beach, you need to drive around the edge of a mountain, which is as nerve-wracking as it is incredible, and you'll undoubtedly grab some amazing snaps as a result. The bay sits at the bottom of a steep drop, which plunges towards the impossible blue of the sea.
Kaputas Beach is a regular stop for gulet cruise boats, but it's never really that busy, so it's an excellent place to go for a chilled-out beach day. However, you can typically find it far more active during the peak season. Remember that you need to walk down some steep steps to get to the beach itself, so not the best for children or those with walking problems.
Sakarun Beach, Dugi Otok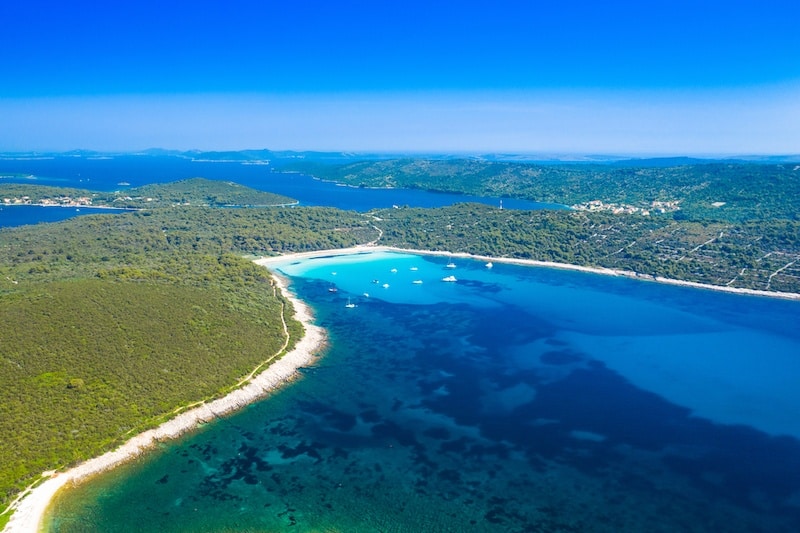 This beach always makes the "Croatian best beaches" list because it's freaking awesome! Some call it the Croatian Caribbean because the sand on this beach is incredibly white, and the sea is as crystal-clear as the Caribbean Sea. Sakarun is 800 meters long, so there is plenty of room to lay down your towel and claim your little piece of beach paradise.
The beach is on Dugi Otok, so many small charter boats will take you for a day trip to Sakarun Beach for a reasonable price if you are in Zadar.
Navagio – Shipwreck Cove Beach, Greece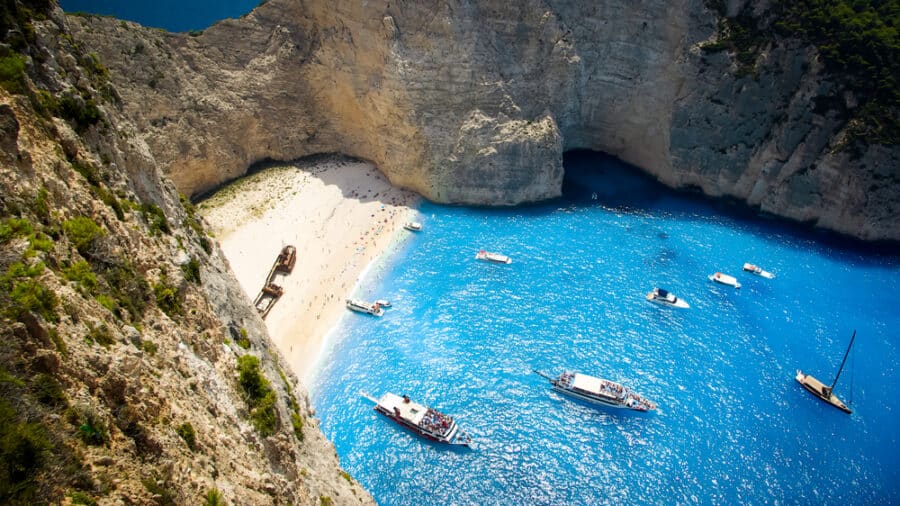 Located on the northeastern coast of Zakynthos Island, Shipwreck cove features a unique backdrop of white limestone cliffs that plummet into the deep turquoise sea. On the sand, discover the remains of the MV Panagiotis, the shipwreck of a container ship dating back to the 80s.
You can drive or join a tourist bus to Navagio Beach View to visit the area. Don't expect to be here alone – to access the viewpoint, you'll need to wait in line, especially during the high season.
Alternatively, board a cruise from Porto Vromi or Zakynthos Town and experience a half-day at this beach. It's a good idea to book an excursion from Porto Vromi if you want to save some money.
Seitan Limania Beach, Greece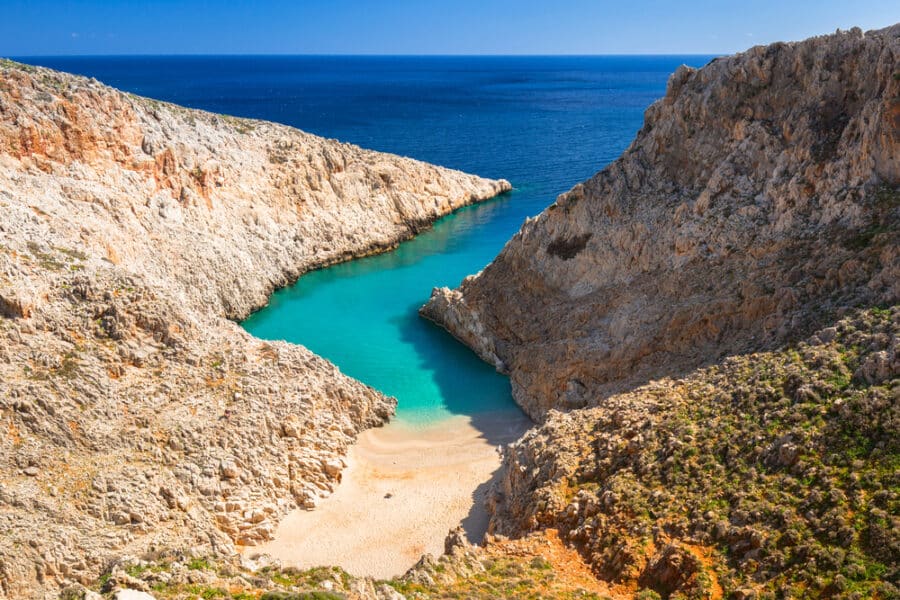 Seitan Limania is a sparkling white beach that meets the sea in a steep gorge. This paradise is one of the best beaches in Crete, Greece, 22 kilometers from Chania. The name Seitan Limania, which translates to "devil's port," is intriguing, wild, and fantastic. The beach is safe, but the surf beyond can be hazardous. Furthermore, remember that this tiny yet divine jewel can grow crowded since it is now easily accessible by car.
Myrtos, Greece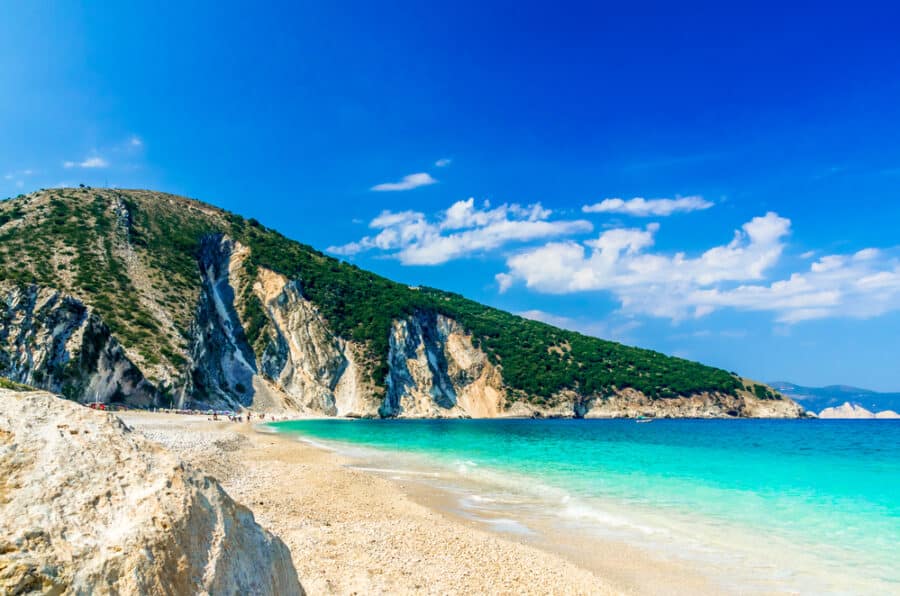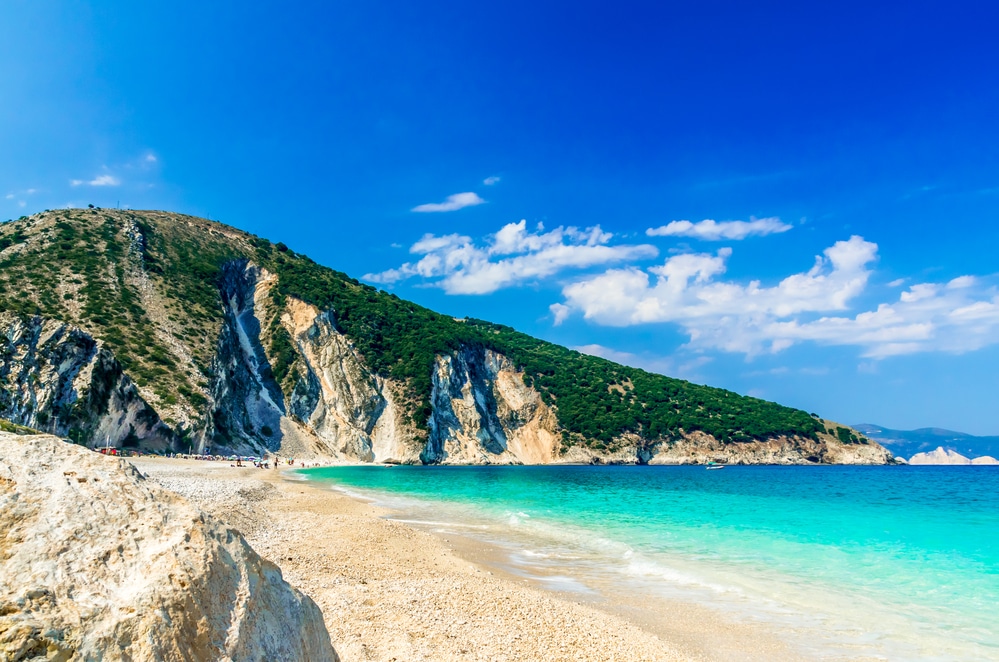 Myrtos is one of the most picturesque beaches on the Ionian island of Kefalonia. Dramatic green cliffs descend to a gleaming white pebble beach and the turquoise waters of the Mediterranean Sea. This location offers unmatched views and spectacular sunsets due to its west-facing location. As you approach the water, the scenic beach's smooth cobblestones have weathered into pebbles.
Jaz Beach, Montenegro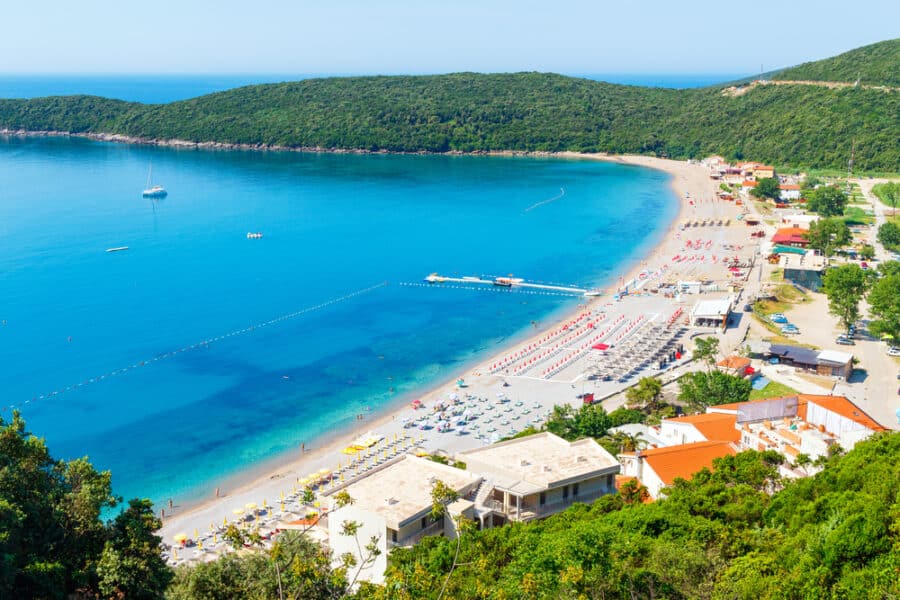 Jaz Beach, located just outside of Budva, is a perfect tourist destination to take off your flip-flops, get a fruity beverage, and start your relaxing vacation. Tourists and locals are drawn to the warm, deep blue sea. The beach has a mixture of sand and pebbles, making it a fantastic beach for kids. There are numerous summer concerts held at Jaz Beach as well, so look out for those.
Banje Beach, Croatia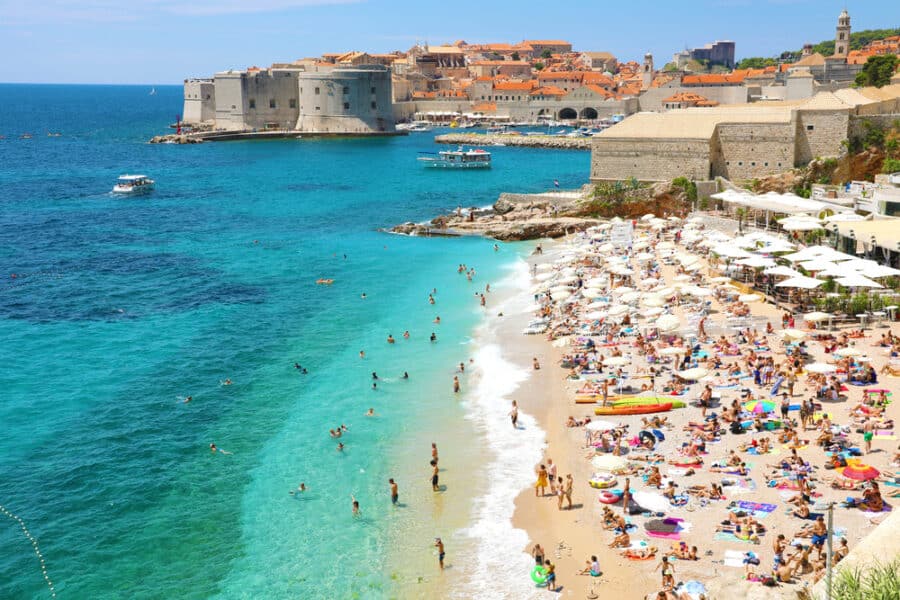 Banje Beach is probably already familiar to you if you've seen a Dubrovnik postage stamp or "Game of Thrones." The legendary beach is a popular destination for tourists all year round: yachting, parasailing, jet-skiing, banana boats, and paddleboard rentals all beckon beachgoers to experience adventure. Banje is frequently crowded with tanned bodies throughout the summer because of the view of Dubrovnik Old Town extending into the bay, the gorgeous blue waters, and the sand.
Coral Bay, Cyprus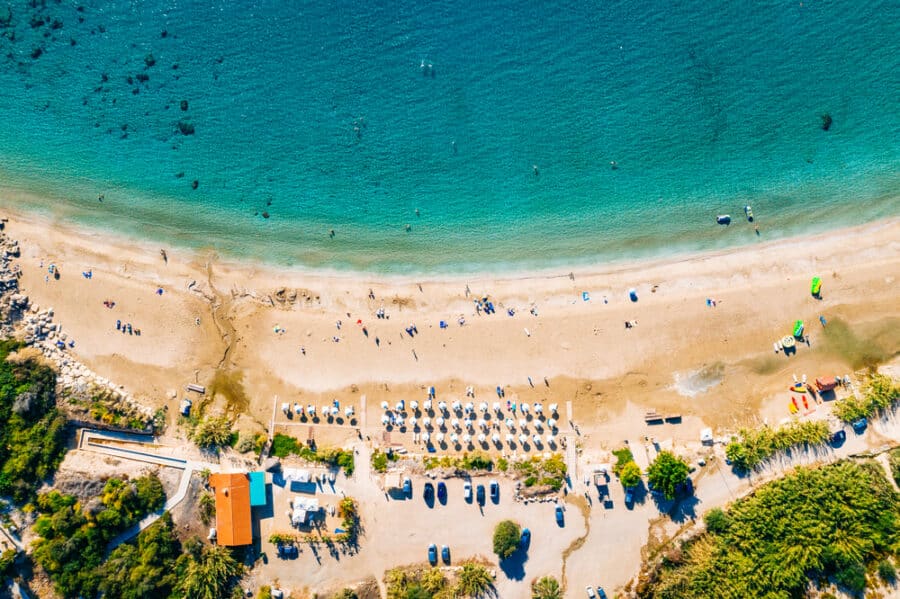 Coral Bay is a true sun worshipper's heaven and one of the nicest beaches in Cyprus. It is a swath of golden sand shielded from strong currents by the nearby cliffs. The beach has been given a Blue Flag, meaning that its waters are clean and safe for swimming. There are also umbrellas and sun loungers, in addition to a wide variety of water sports options. A bite to eat is never far away, thanks to the resort's proximity to a vibrant selection of restaurants and bars.
Portoroz Beach, Slovenia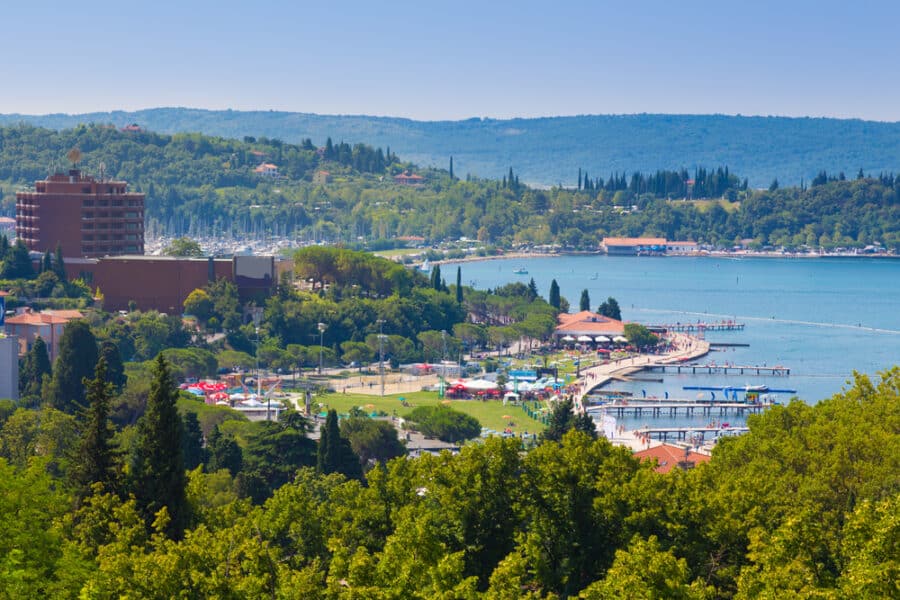 Portoroz Beach, the most visited beach in Slovenia, is surrounded by opulent coastal resorts and a variety of eateries, stores, and cafés serving delectable Italian-influenced cuisine and fresh Mediterranean fill. Portoro beach is one of the best places in Slovenia to take a plunge into the Adriatic Sea because it is one of the few sandy beaches in the country. During the hot summer months, the sandy beach is crowded from one end to the other with umbrellas and sandcastles due to the posh resort town's significant tourist pull.
Monterosso Beach, Italy
Visit the nicest seaside location in the town of Monterosso al Mare along the Italian Riviera. The town's shoreline has a fabulous Monterosso Beach. Although Cinque Terre's beaches are open to everyone, you can pay to use beach chairs, umbrellas, and concession stands. Visit the eateries, bars, and ice cream parlors along the Monterosso promenade while exploring the historic center of Monterosso.
Ručica Beach, Pag Croatia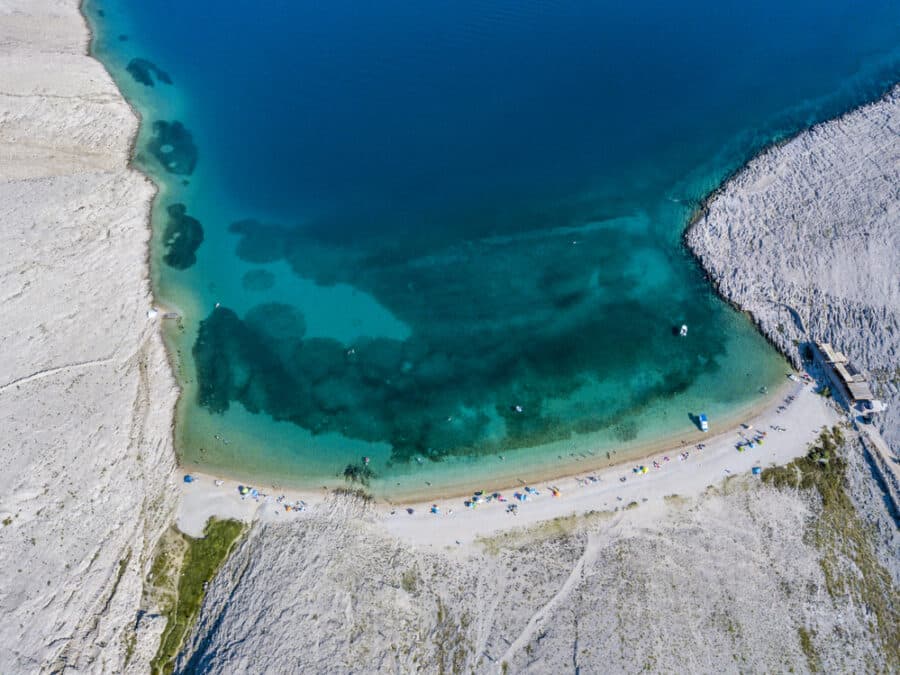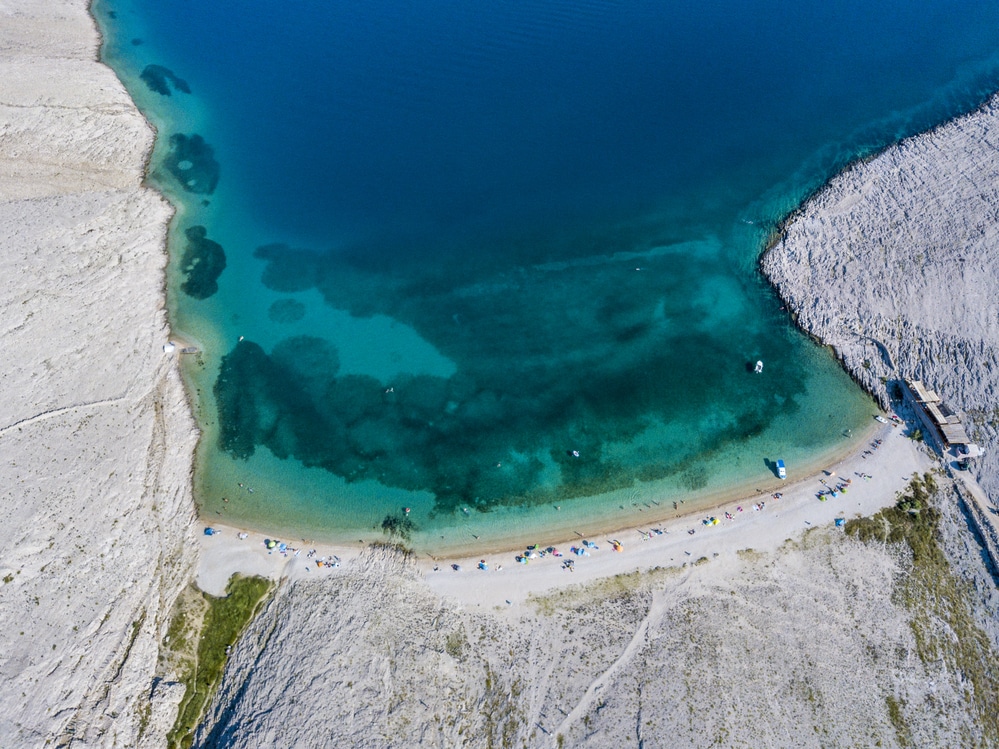 This beach is a unique experience. The crystal-clear sea with the backdrop of the rocky, desolate Pag slopes. The beach combines sand and rock; to get there, you must walk through "the canyon." No facilities are available, so bring everything you need, including shade.
Gjipe Beach, Albania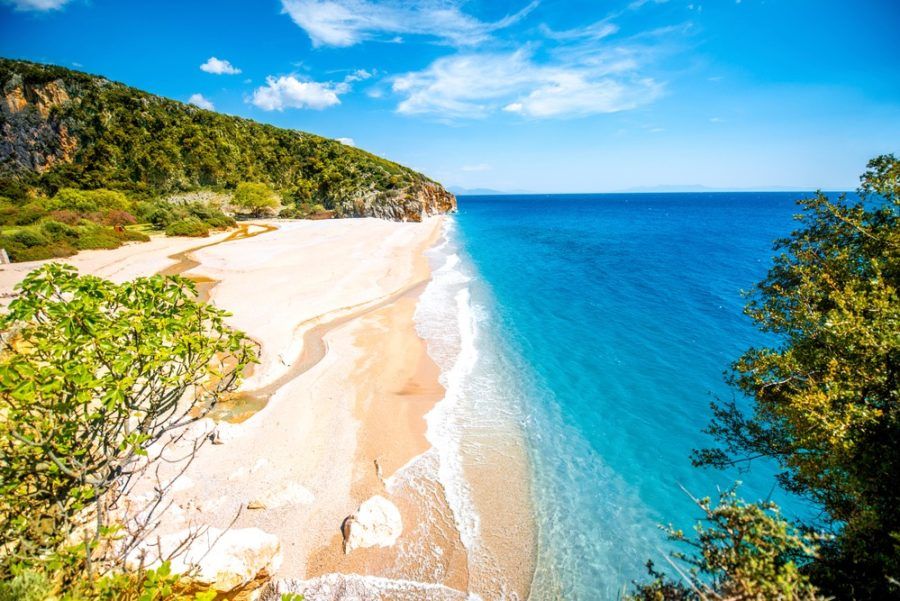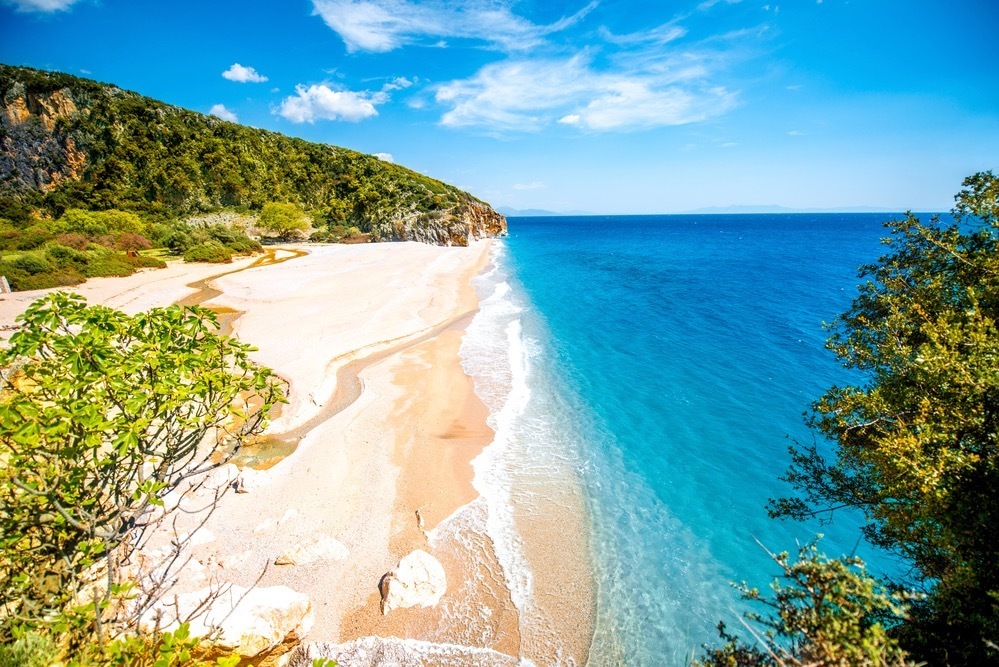 The natural beauty of Albania and the peace that are hard to find elsewhere along the coast are best exemplified by Gjipe Beach. This beach is an exceptional example of an unspoiled Albanian beach. A pebble beach with warm, clear water makes Gjipe a great place to swim. In the summer, you can hire kayaks and stand-up paddleboards; bringing your umbrella is a good idea. If you want to drive down to the shore, you'll need a 4WD; otherwise, you'll have to walk for 30 to 45 minutes from the parking area.
Copacabana Beach Dubrovnik, Croatia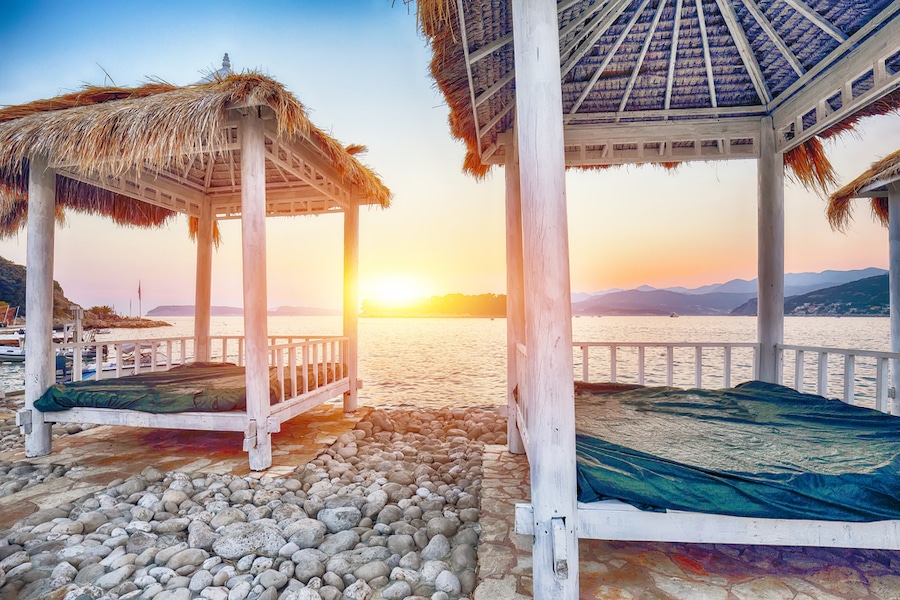 The Babin Kuk peninsula is where numerous hotels are located. A reliable bus line network connects this area with the Old Town, the Pile Gate. Every hotel has its own beach or access to some beach. Arguably the best beach in this area is Copacabana Beach. With the same name as that world-famous beach in Brazil, Copacabana Beach Croatia lies below the Valamar hotels.
This concrete and pebble beach is exceptionally popular, facing the striking Dubrovnik bridge and offering Daksa Island views. The facilities are fantastic and varied. You can do everything from lazing away the afternoon on a lounge chair to renting jet skis and sea kayaks, parachute riding, banana boating, and enjoying cocktails on the beach. This beach gets busy in summer, and it's not hard to see why.
Icmeler Beach, Turkey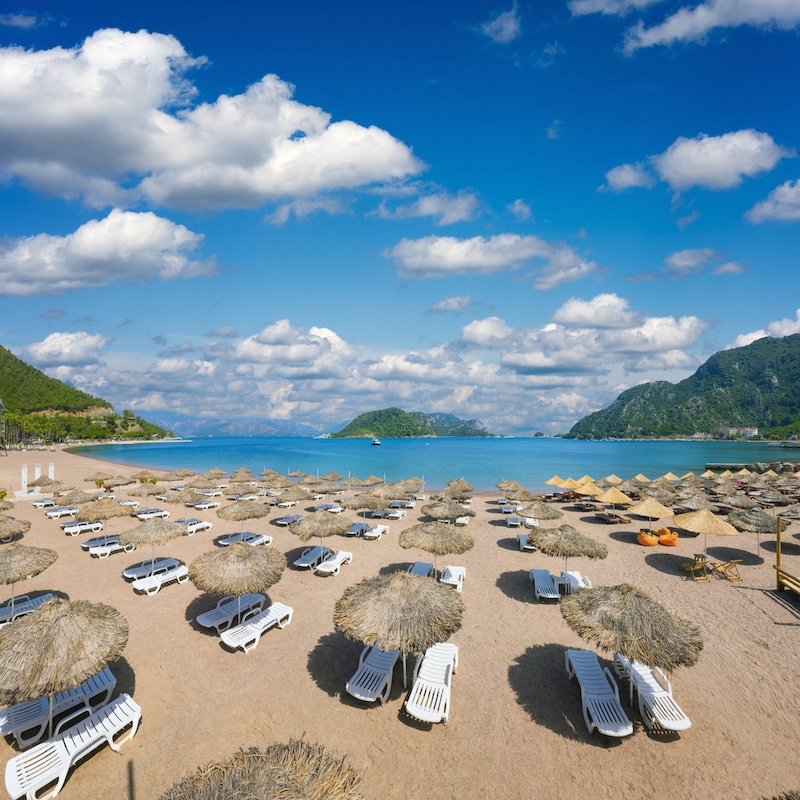 Icmeler Beach is bordered by pine forests and has an unexpectedly Caribbean vibe. You can find excitement and complete relaxation here, in addition to a wide variety of taverns and eateries. The beach is peaceful, with small waves, ideal for extended swims and sunbathing. If you are an aquatic sports enthusiast, you have various options to choose from parasailing, jet skiing, and scuba diving.
Pasjača Beach Dubrovnik, Croatia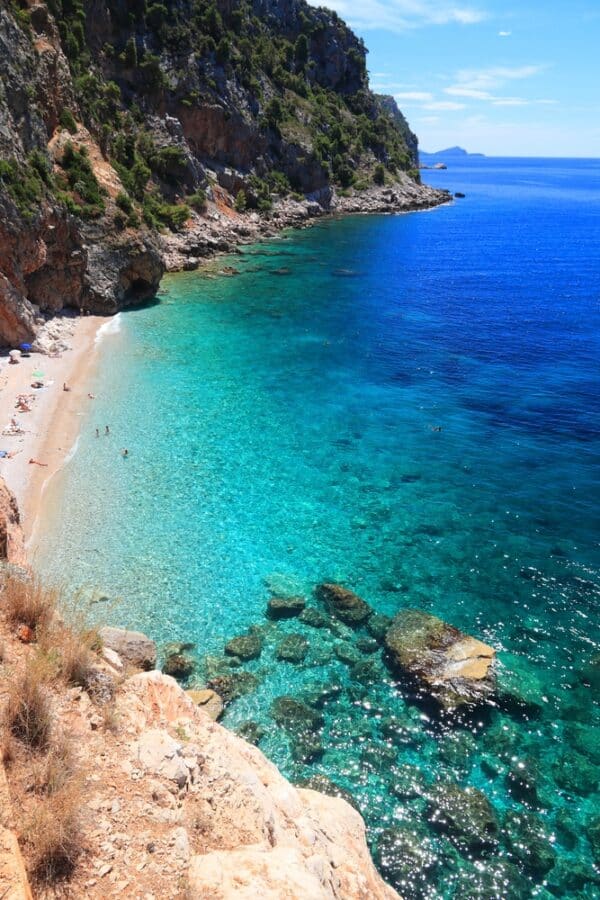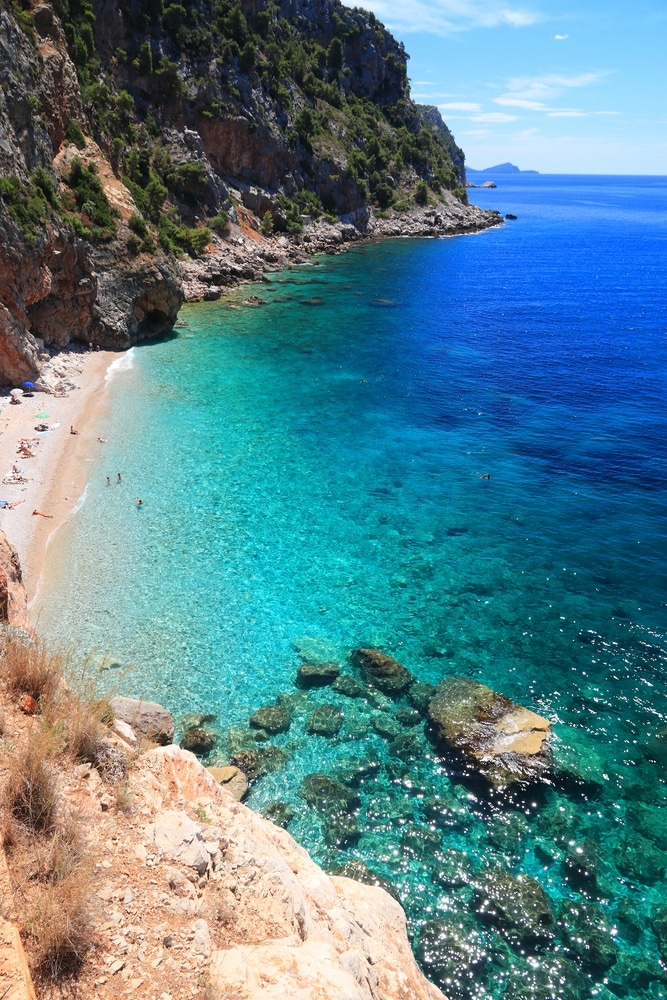 Pasjača Beach is a hidden beach in the Konavle region southeast of Dubrovnik. This is one of the best Dubrovnik beaches, a secluded stretch of small pebbles and azure-blue waters in terms of sheer beauty. It's also a very small beach, located 250 meters down a steep coastal cliff—you get there by descending a flight of stairs.
You can find shade against the towering cliffs or lay out a towel and soak up as many Adriatic sun rays as you want. A world away from the hustle and bustle of Dubrovnik, this beach does not have any bars or restaurants or any facilities at all, really. There is, however, an expansive parking lot at the top of the cliffs.
Unlike most other beaches near Dubrovnik, this is not a natural beach. In fact, it's almost entirely the result of human activity. After several tunnels were dug during World War II, the excess rock and sand were deposited by people, which created a human-made beach. Because the sea continues to reclaim it, occasionally, locals maintain it by adding additional pebbles and sand to ensure that this gorgeous beach continues to be enjoyable for all tourists and locals alike.
Lindos Beach, Rhodes, Greece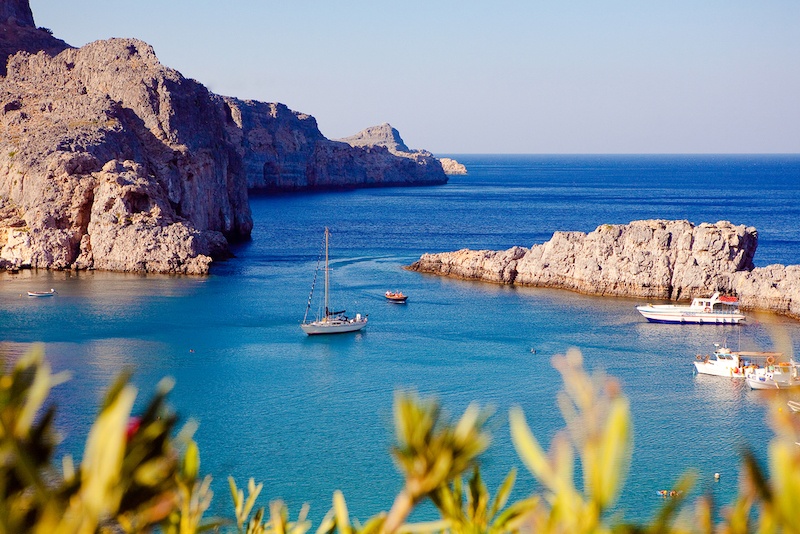 Rhodes, a well-known island in Greece, is renowned for its spectacular Mediterranean beaches and abundant scenic, cultural, and seaside attractions. With clean, shallow water that is suitable even for young children, Lindos Beach is excellent for leisurely swimming, water, and beach activities, snorkeling, and scuba diving.
TRAVEL COMPANIES WE USE AND TRUST
Final Word On The Mediterranean Beaches
What draws you to the Mediterranean as a terrific summer destination? We know it is hard to choose from among the best beaches to visit in the Mediterranean, as the beauty itself speaks for all. So, for your ease, we have compiled the names of the top-notch and excellent beaches you will love to visit. Get ready to explore the unhidden beauty and true gems of the Mediterranean.
MORE BALKANS TRAVEL BLOGS