We may earn commission from affiliate links →

Best Compression Socks For Flying Long-Haul
If you have read anything about long-haul travel recently, you will undoubtedly have heard three little letters being bandied about, D, V, T – Deep Vein Thrombosis. Preventing DVT when flying is something you need to educate yourself on.
DVT can be caused by prolonged periods of immobility, e.g., sitting in the economy on a long flight. When combined with other measures, one way to help prevent this is wearing a good quality pair of traveling compression socks for flying.
What Are Compression Socks For Air Travel?
You might wonder, "why do I need compression socks in the first place?" or "what are compression socks good for?" or "do compression socks work on long flights?" The answer is as simple as it is crucial.
A pair of compression flight socks are a pair of long socks that come in various levels of tightness or compression and increase the blood flow in your lower legs, thereby reducing the risk of blood clots and swollen feet from flying. Thankfully, compression socks for plane travel are also much more attractive than they used to be, which is always a bonus!
Do I Only Need Flight Compression Socks For Long Haul?
If you are going on a long-haul flight, you will be immobile for an extended period, which means you are at a higher risk of developing a DVT during the journey. We're going to talk about a few other ways to help minimize the chances of this happening, but wearing flight socks can help knock down the chances massively. When it's your health at stake, it's not a risk you should take.
Even on a shorter flight, you can wear them. It's the old saying, "it can't hurt," right?
The Best Compression Socks For Flying Long Haul Comparison Chart
We looked at dozens of travel socks, compared the features and price, and made this easy-to-use table to help you review and decide the best compression socks for travel. If you're trying to figure out where to buy compression socks for flying, this post is where you need to be.
Click on any heading to sort the table accordingly.
Best Compression Socks For Long Flights Reviews
We've narrowed down the best flight compression socks for you; take a look and see which you love best.
PLAN AHEAD TO GET THE BEST DEALS
Travelon Compression Travel Socks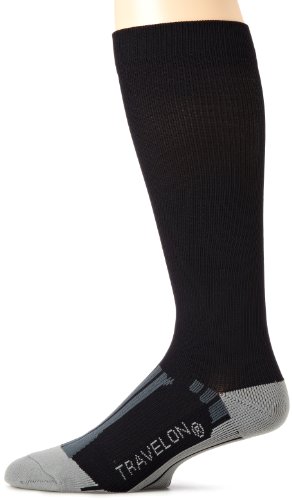 This pair of Travelon compression socks for traveling is an excellent low-budget option, available in three different colors (white, black/gray, and brown/black). Ideal for long haul flights, times when you are sitting for an extended period, and sports, these circulation socks for long flights are a flexible piece of clothing for your travels. The downside is that they are available in only one size, limiting who they are known for, with a low compression rating of 15-20.
Maternity Compression Socks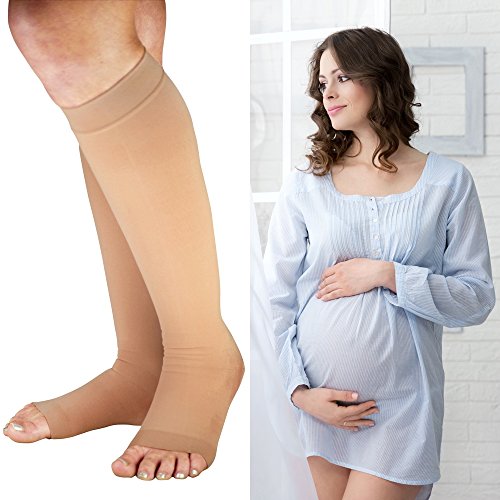 This pair of compression socks for pregnancy are available in small, medium, large, and extra-large sizes. Made of nylon and spandex, they are designed to stimulate blood flow, with a compression rating of 15-21. These compression stockings for travel are also gradual compression and high medical grade, which gives you confidence and helps to boost blood flow to mom and baby.
The material is breathable, anti-slip, and anti-bacterial, with an open toe area to avoid that rather annoying 'sweaty foot' problem! These are definitely among the best compression socks for women on the market.
Go2 Compression Socks For Women And Men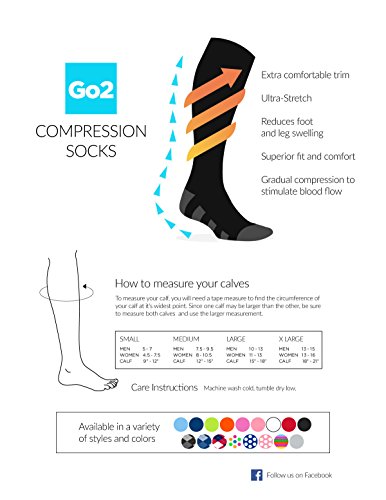 Available in countless different colors and patterns, you can easily tailor your new pressure socks for travel to your sporting outfit! These travel socks for men and women are available in small, medium, and large sizes.
They are specifically designed for sports, and with a compression rating of 20-30, they are graduated in compression. The socks are machine washable and have a high user rating, giving you peace of mind.
SB SOX Compression Socks For Traveling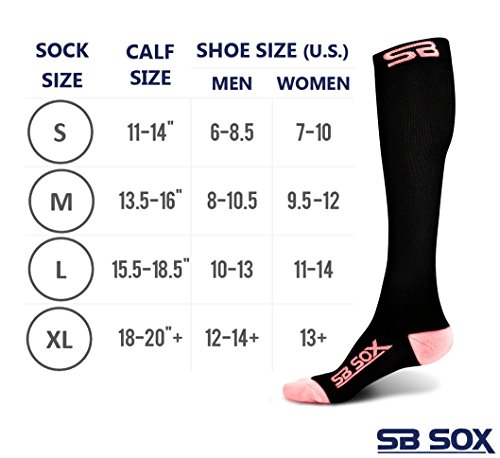 This excellent all-rounder compression sock is available from small to extra large. They are available in three different color combinations and have an excellent compression rating of 20-30.
You can wear these on long haul flights, but they are also ideal during pregnancy and for sports. The socks are designed to help reduce the build-up of lactic acid, which happens when you are static for too long or exercising, which is another benefit.
Pretty Polly Women's On The Go Compression Stockings For Air Travel

Pretty Polly is a big-name brand and produces these beautiful compression socks for women. They come in two colors, black or hot pink, and one size only, which could be an issue for some people. These compression stockings for flying are made of nylon and elastane and are hand wash only. They come up to the knee to give extra protection.
CompressionZ Compression Socks 30-40 mmHg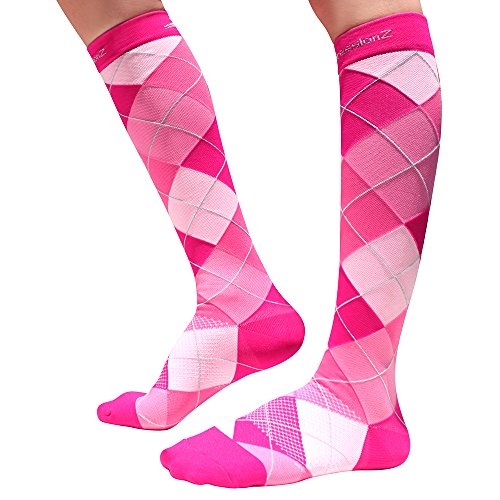 This pair of flight compression socks for travel is ideal for sports or travel and is suitable for both men and women. They come in four color patterns, including a blue, pink, and patterned option.
Small, medium, large, and extra-large are the size options of these CompressionZ foot sleeves, and they have graduated compression, which gives you support where you need it the most. The material of these great airplane socks is lightweight, breathable, and anti-bacterial to avoid any issues when you are on the go.
Travelsox TSS6000 Graduated Compression Travel Socks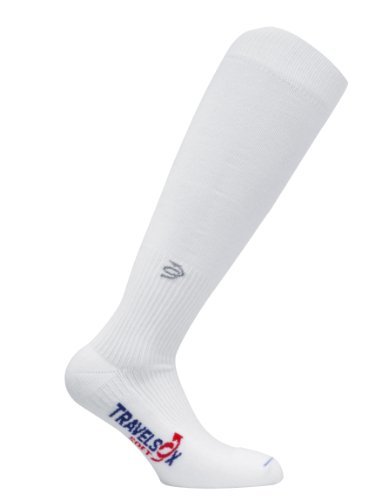 Available in six different color choices, these compression flight socks are ideal for travel and sport and are suitable for both men and women. The compression level is 10-18, and they are made of a mixture of Silver Drystat, Lycra, and nylon to give the best protection against moisture and bacteria. These socks for airplane travel are graduated compression, which, again, gives you the support where you need it the most.
Acel Designer Compression Socks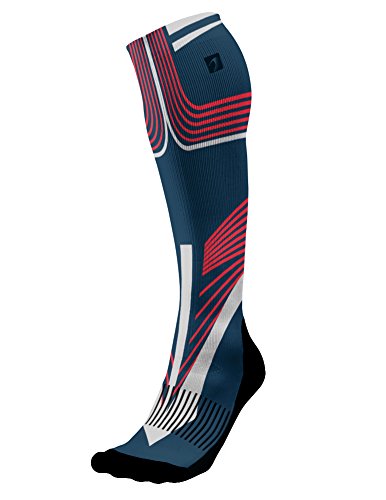 Choose from a huge range of colors with this particular set of high-quality, fancy compression socks for traveling, which have many positive reviews. The compression level is high at 20-30, making them ideal for either travel or sporting fun and suitable for both men and women. The material is anti-bacterial and moisture-wicking for total comfort.
Additionally, there is an arch support to help you stay supported throughout. These are unquestionably awesome socks for sports, but they're also one of the best socks for travel on the market.
Wanderlust Air Travel Socks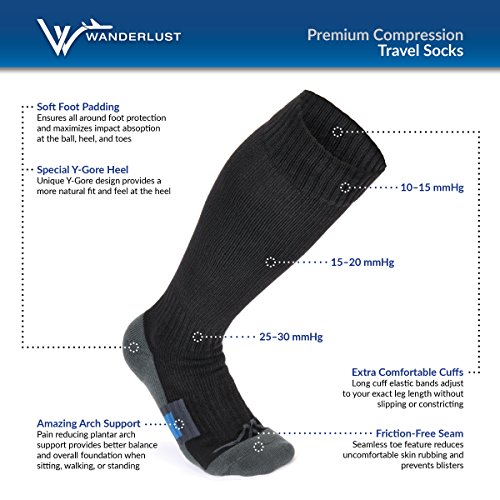 Ideal for long haul travel, this pair of support socks for flying is ideal for your long haul journey. AvailSuitable for both men and women, the socks are graduated in compression, with breathable material that is comfortable to wear. Available in two sizes, medium to large and large to extra-large, these socks have a 15-20 compression rating, which is undoubtedly supportive enough for a long journey. Suitbutton url="http://www.amazon.com/s/?field-keywords=Wanderlust%20Air%20Travel%20Compression%20Socks&tag=compressionsocks0d-20″ target="blank" background="#00aaa4″ size="7″ center="yes" radius="0″ #FFFFFF" rel="nofollow"]Check The Price + See More Compression Sock Reviews[/su_button]
Fytto 1020 Compression Travel Stockings For Women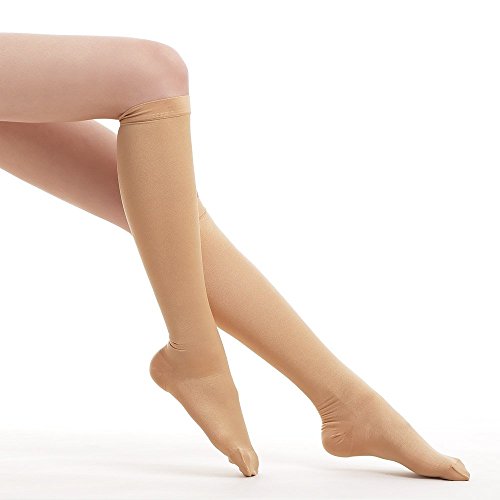 This pair of compression socks for air travel is aimed primarily at women and can be used for various purposes, including travel and extended periods of immobility, perhaps at work. The socks are latex-free to avoid sensitive skin problems, while the material is breathable and thick for warmth.
These support stockings for air travel are graduated in compression and made of a mixture of spandex and nylon in several colors.
Physix Gear Athletic Fit Sport Men's & Women's Compression Socks For Travel
These well-designed compression socks can be used for a variety of purposes. Comfortable materials and thoughtful construction made them ideal for various endurance sports, from running, hiking, and cycling to snowboarding and cross-country skiing.
They also make for fantastic compression socks for flying thanks to their fashionable look, multiple color options, stitch-free design, ankle support, and durable 20-30 mmHg sleeves. Additionally, the fabric's moisture-wicking properties help these socks air dry in just a few hours. Super-handy while on the road! Suitable for both men and women.
Laite Hebe Running, Sports, And Air Travel Compression Socks (3 Pairs)
These amazing compression socks for air travel make your long-haul flight significantly more comfortable. Combined with fashion, style, science, and technology, these knee-high compression socks offer great support, are durable and supportive, and are moisture-wicking.
They prevent blood clots while sitting for long periods, such as on long-distance flights and while working at your desk. Their 360-degree stretch, breathability, and high-performance nylon (40 to 85%) fabric make them great for sports. This set includes three pairs and comes in a massive variety of color and pattern combinations. This makes them an excellent option for both women and men alike.
What Features To Look For When You Buy Flight Socks For Travel
Pressure Rating
When you try to find the correct pressure rating, you must consider a few things. There are different compression ratings for various lengths of time you travel and those with existing circulation issues, such as varicose veins, etc. The firmest type of compression sock, the 30-40 mmHg, is for those who need extra pressure, such as anyone with varicose veins and venous deficiencies.
Anyone with circulation problems is advised to consult their doctor before using airplane pressure socks. The lightest type of pressure socks for flying is 8-15 mmHg for those at low risk.
Graduated Compression
Graduated compression socks are flying socks with different compression levels for other leg parts. For instance, additional support and pressure is located near the ankle, decreasing as the sock moves up the leg.
Size Of Socks
The right size of flight support socks for your leg will ensure that the compression socks fit properly and, as a result, that the support is where it is supposed to be and at the right level.
Price Of Compression Socks
You need to stick to your budget. However, travel compression socks are generally inexpensive.
Other Long Haul Flight Essentials
As well as your compression travel socks for long flights, what else do you need for your long haul flight? We made this list:
Part one is about what to pack for your long-haul flight to ensure you have a safe and comfortable flight. In part two are 14 tips to help you pack carry-on only. It's the ultimate carry-on packing list, with all your needs met.
Whether you're opting for carry-on only or checking in a suitcase to the hold, certain things are 'must-haves,' which we call 'long haul flight essentials to have to be in your cabin bag. Forget something important, and your long-haul journey will not be as much fun as it could have been. And it certainly won't be as comfortable as it could have been!
As for your carry-on packing list, I know it can be overwhelming. I was bamboozled with all the carry-on packing tips I saw on YouTube and Facebook. There are arguments for rolling clothes, special folding techniques, stuffing things in shoes, and everything in between. However, do not worry; below are 14 of the best carry-on tips you'll ever need.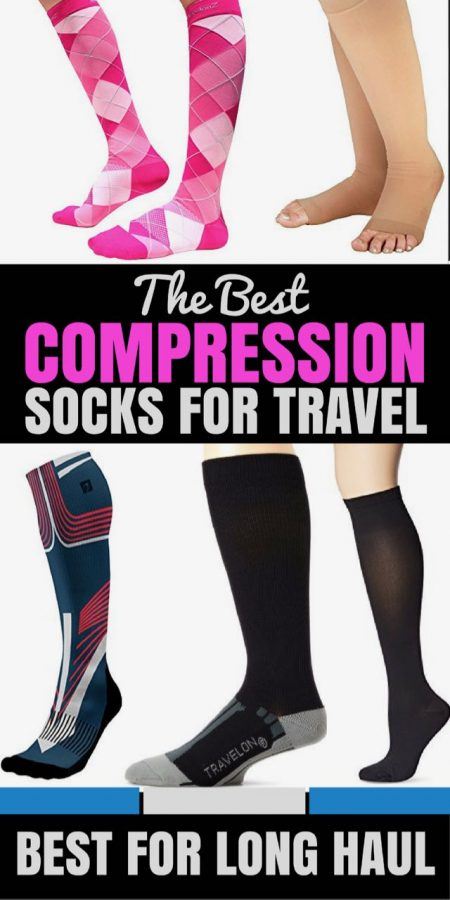 How To Reduce The Chance Of DVT When Travelling
Stay hydrated with water throughout the journey
Get up and walk around the cabin regularly
Circle your ankles regularly
Wear compression socks on the plane during the journey
Make sure your compression socks fit properly
Benefits Of Compression Socks For Travel
They help to minimize the chances of developing DVT and swelling
They contribute to keeping your feet warm while traveling!
They are available in a variety of different levels of compression so that you can tailor them to your needs
There are several compression socks for flying benefits. Still, the primary use is that compression socks help minimize the chances of developing edema (swelling) and increase blood flow in the lower legs. By the way, a DVT is a blood clot that forms in the leg and causes redness, swelling, and, in severe cases, can be life-threatening. Therefore, wearing compression socks while flying dramatically reduces the chance of developing a dangerous DVT.
Now you can see how essential compression socks for long flights are, right?
Negatives Of Compression Socks For Travel
Well, they're not the highest fashion piece in your wardrobe! On top of this, if you don't get the size and compression level right, you will be uncomfortable throughout your journey. To find the right size, you need to consider your trip's length, the size of your feet and legs, and take into account advice from your doctor.
We Also Have Lot Of Packing And Travel Products Tips, Including The Following