Some posts contain compensated links. Please read this disclaimer for more info.
Travel Croatia: Plitvice Lakes National Park UNESCO Site
No trip to Croatia is complete without a visit the oldest national park in Southeast Europe; Plitvice Lakes National Park. When I was last at the lakes it was autumn; the leaves had already changed color, and the lakes were full from recent rains. It was a fantastic experience.
I loved listening to the sound of the humming waterfalls and wandering across the wooden pathways surrounded by fir, beech and spruce trees. Plitvice is mother nature at her best.
So, when my sister announced that she was coming to visit me, I insisted a day trip to Plitvice Lakes as a must-see site on her vacation. Plitvička Jezera as it's known in Croatian is the largest of the eight national parks in Croatia, and it has to be one of the most delightful ways to spend time with visiting family.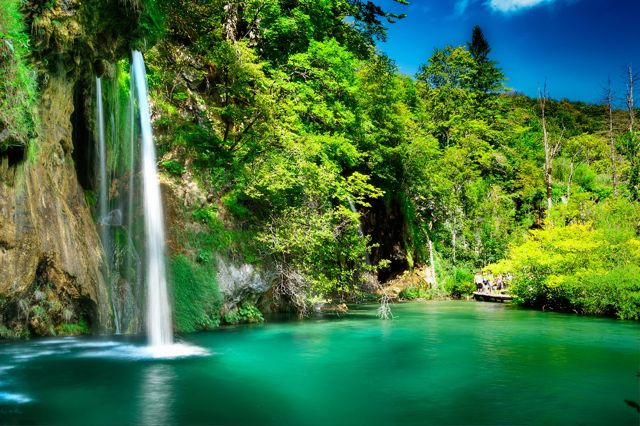 We made our way from Zadar to Plitvice Lakes on a guided tour as I was too lazy to drive.
The excruciating sound of the beeping alarm woke me, but unlike waking up for work, where I hit snooze and roll over and hope the world will end – I sprang out of bed enthusiastically. Having been to Plitvice Lakes before, I knew what awaited us – easy to follow wooden walkways which zigzag and wind around the Plitvice Lakes and of those eye-popping waterfalls.
Day bag packed (be sure to bring water and a light jacket), we set off to meet our driver, who reached us 5 minutes ahead of the agreed pick up time.
Once onboard the small bus with the other 20 day-trippers, we were greeted by a welcoming guide who explained the plan for the day.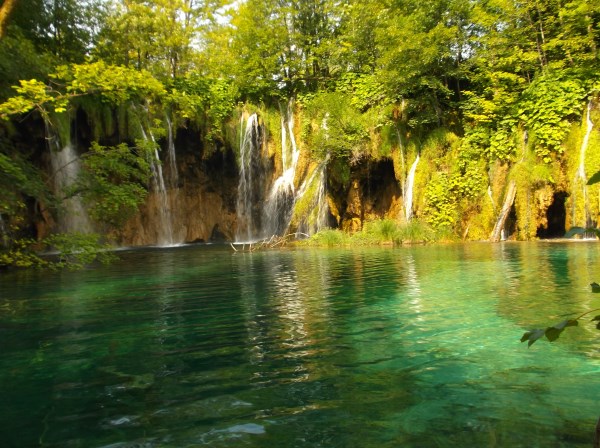 The day was just brilliant; the waterfalls were of course as astonishing as I remember, only this time the volume of people bustling along the trails was excruciating. On a few occasions, I almost fell into the water – which on such a super hot day may not have been a bad thing. Just keep in mind that since 2006, it has been strictly forbidden to swim in the lakes. But, if you want to swim you can, just head to Korana River just outside the park.
You don't need to be a skilled hiker to enjoy Plitvička Jezera – it's a casual walk. There are several areas with stairs, but overall I would rate it as an easy walk, one suitable for children. As you trek along the wooden trail you can take the time to take photos and enjoy the sights and sounds of the waterfalls; your guide will wait for you and the rest of your group a hundred meters ahead of you.
With crystal-clear lakes flanking us, my sister and I had spotted lots of fish, ducks, and other birdlife as we roamed Plitvice National Park.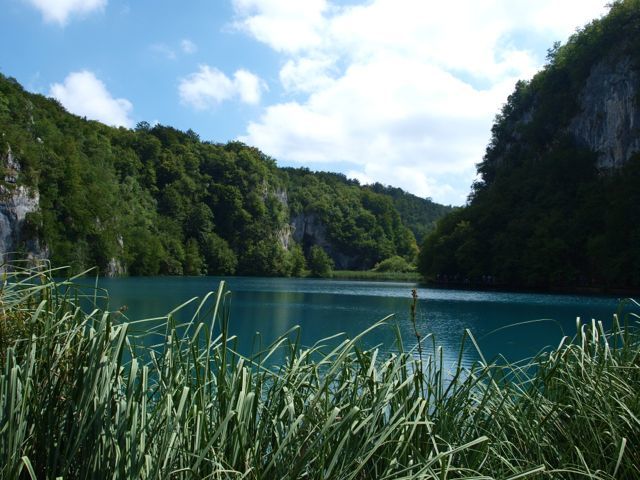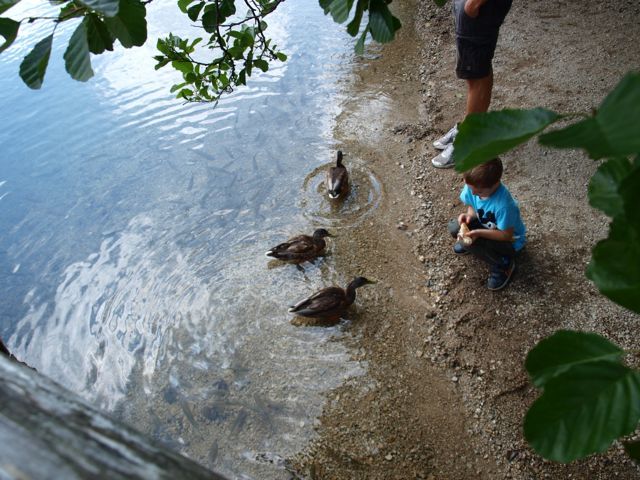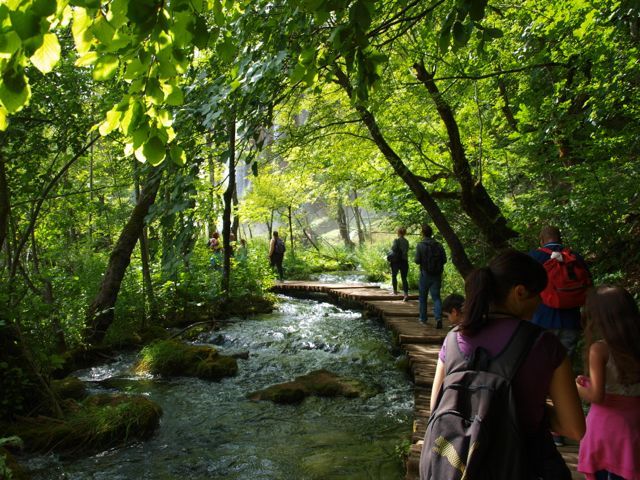 Over a million people visit Plitvice Lakes National Park each year
Jezera in Croatian means Lake, and these lakes are the most stunning in Croatia – some say in Europe.
Plitvice Lakes is a National Park, and in 1979 was awarded recognition as a UNESCO world heritage site. This UNESCO site has sixteen lakes linked together with a series of gushing waterfalls. The lakes are famous for their stunning colors, which change from shades of teal, turquoise, and dark blues to grays throughout the year. The shades vary due to the quantity of minerals or organisms in the water.
Getting to Plitvice National Park
For those not arriving on a tour, Plitvice lies roughly midway between Zadar and Zagreb. Buses are available from the central bus station from either town.
From Zadar it takes 2hrs, and from Zagreb, it takes 2hrs 20 minutes. It is recommended that if you're coming from elsewhere in Croatia that you get buses to one of these towns first.
There are direct buses from Dubrovnik. However, the coaches arrive very early in the morning, and it takes a massive 9hrs to get there.
Another great option to take a private transfer from one of the major cities. A private transfer will pick you up from your hotel, you'll have an English speaking driver to take you directly to Plitvice, and then he will be waiting for you once you have completed your day. A private transfer from Zadar starts from €130 for a vehicle that seats four passengers. Talk to our partners Octopus Transfers for more information.
If you're planning to drive from Plitvice, the route is easy to find and is approx 155 km from Zadar, 130 km from Zagreb, 280 km's from Split and around 465 km from Dubrovnik.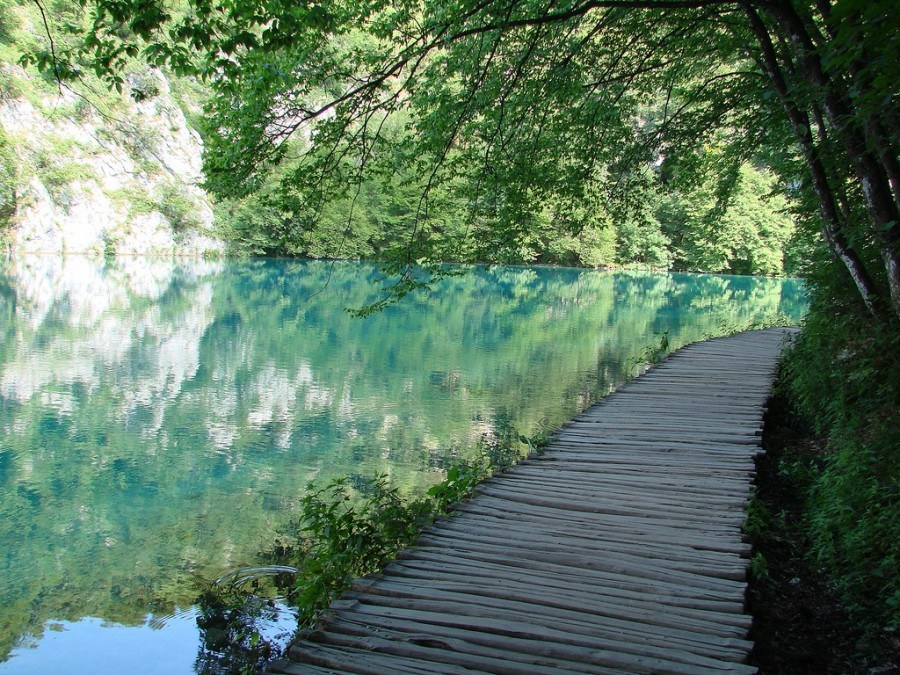 Plitvice Lakes sits approximately halfway between Zadar and Zagreb, which makes taking a day trip from Zadar a no-brainer.
You Could Also Tour Plitvice Lakes With a Group Like We Did
Be guided by a local. We were hugely impressed with our guide; she was, of course, enthusiastic and friendly as any guide should be – but she was also extremely knowledgeable. No question from the group when unanswered and she also had a great sense of humor.
Sit back and relax. Booking a tour means you don't have to worry about public transport or to drive on your own. Taking public transportation can be painful, e.g., Taking a bus from Zadar means arriving with hundreds of people, pushing and shoving their way to the queue to buy a ticket. The same bus leaves just a few hours later, so you don't have very long to enjoy the park.
No queue. Your guide will jump the long lines to buy your entry tickets. We waited less than ten mins.
Small groups. I was expecting the bus to be a coach packed to the brim – it wasn't, and in our group, there were just 22 people. Meaning that you're only waiting for 21 other people.
See more. The bus driver drops you at once entrance and collects you from the second, which means you get to see more along the way instead of having to backtrack.
If you would like more information about Plitvice Lakes, check out our guide to the Plitvice Lakes. You won't regret a trip to Plitvice Lakes National Park when I tell people five reasons why they should not visit Croatia; this is one of them.
Tips while at Plitvice Lakes National Park
If I were to go again, I would like to spend an entire day there, not just a few hours. My recommendation to you would be to arrive early, which you can do by spending a night in either the Hotel Jezero or one of the other accommodation offers nearby.
This way you would not have to rush and have the opportunity for rowing your own rented boat, which costs just 50 kunas per hour. And if you know where to look, you could even have time to spot some brown bears known to live in the park!
I'd also say to bring lunch, the food here is awful and overpriced. Coffee and water are available, so you won't need to pack those.
Be sure to wear comfy footwear for walking on the walkways.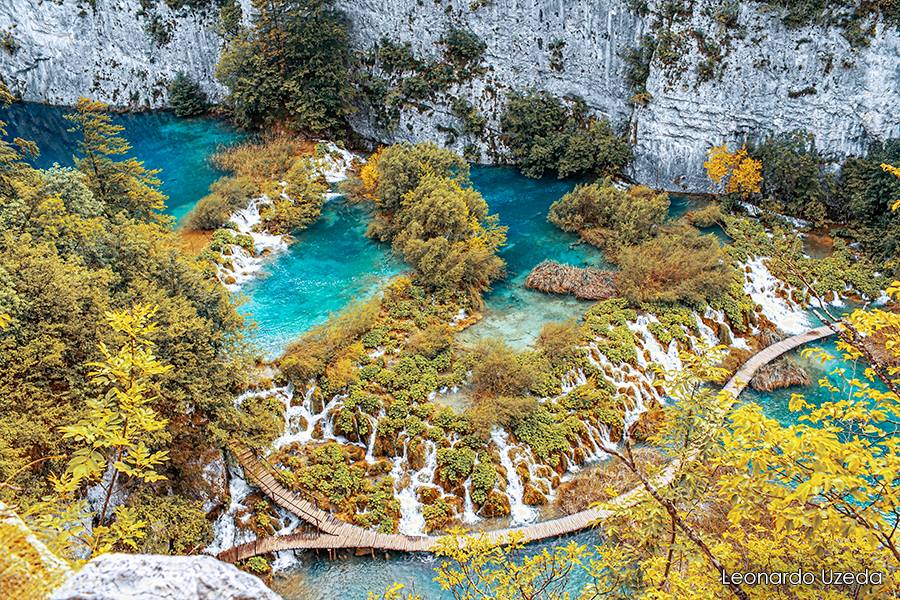 The Trails
Trail A takes 2-3 hours over 3.5km and is rated as easy. This is the lower lakes only as it starts and ends at Entrance 1. Walk to the Great Waterfall and to Kozjaka Bridge.
Trail B takes 3-4 hours over 4 km and is rated as easy. It is similar to Trail A but includes sailing on Lake Kozjaka.
Trail C takes 4-6 hours over 8 km and is rated as moderate. It is an extension of trail B including a visit to the upper lakes.
Trail K takes 6-8 hours over 18 km and is rated as difficult. This Explores the whole park
Trail options from Entrance 2
Trail E takes 2-3 hours over 5.2 km and is rated as easy. This takes on the upper lakes to Proscansko Jezero starting with a short boat ride across the Kozjak Lake.
Trail F takes 3-4 hours over 4.6km and is rated as easy. Here you will walk the upper lakes and sail across Lake Kozjaka, then visit the lower lakes – take the shuttle back.
Trail H takes 4-6 hours over 8.9km and is rated as moderate. You will start with a bus ride to your starting point, walk the upper lakes then sail across Lake Kozjaka, to the lower lakes and then take a shuttle back.
Trail K2 takes 6-8 hours over 18 km and is rated as difficult. This Explores the whole park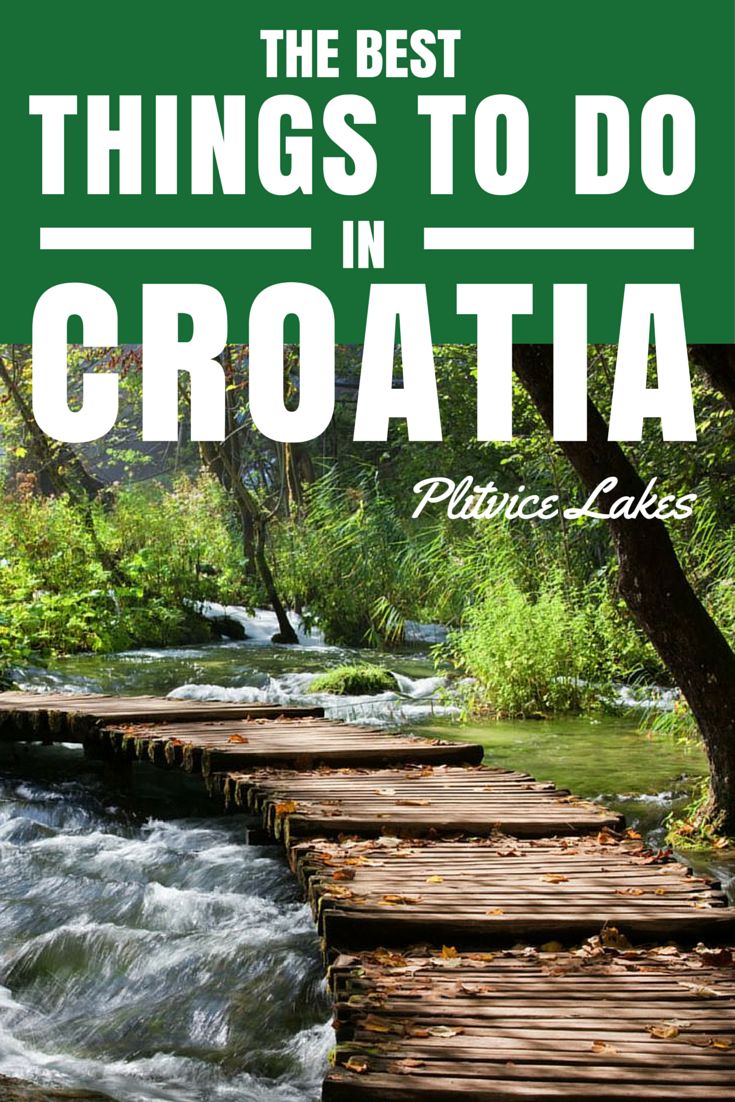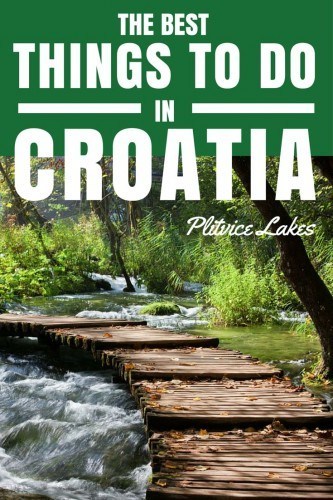 How much does it cost to enter Plitvice Lakes National Park
The price includes electric boat rides on Lake Kozjak and panoramic train rides, visitor insurance, and VAT. The tickets need not be booked in advance for single guests. Booking is recommended for groups.
Visitor category
Period – price per person in Kuna (HRK)
Jan-Mar &
Nov-Dec **
Apr-Jun &
Sep-Oct
Jul-Aug
Adults
55,00
110,00
180,00
Adults – GROUPS*
50,00
100,00
160,00
Students
45,00
80,00
110,00
Students – GROUPS*
40,00
70,00
100,00
Children & teenagers 7 – 18 years
35,00
55,00
80,00
Children & teenagers 7 – 18 years – GROUPS*
30,00
50,00
70,00
Children below seven years of age
FREE
FREE
FREE
Note: The prices were correct at the time of publishing. Please check these with the park directly.
Plitvice Lakes Opening Times & Parking
There is ample parking, to park your car at the lajes it costs 7 Kuna an hour. You'll need to pay for parking just before returning to your car to exit the park, so bring the ticket witn you. Plitvice Lakes National Park is open 365 days a year. During the summer months the park open from 07:00-20:00.
Accommodation at Plitvice Lakes
Ethno Houses Plitvica Selo – Located in the heart of Plitvička Jezera National Park, about 400 meters from the highest waterfall. Check availability here.
Grand Lakes Rooms – Featuring free WiFi Grand Lakes Rooms are just 2 km from the UNESCO-listed Plitvice Lakes entry.
B&B Millenium House – B&B Millenium House is located in Jezerce, 800 meters from Jezerce – Mukinje Bus Station. Guests can enjoy the on-site restaurant.
Check out our post on Plitvice Lakes accommodation for all budgets here!
Have you ever been to this UNESCO site? Plitvice Lakes National Park is also stunning outside of summer, would you consider going in winter?
Share