Some posts contain compensated links. Please read this disclaimer for more info.
What To Know About & Things To Do In Karpathos Island, Greece
This Karpathos Island guide is the perfect companion for those planning to spend their vacations on one of the most beautiful islands in the Greek Dodecanese.
Karpathos sits on the southern portion of the Aegean, halfway between the bigger islands of Rhodes and Crete. Isolated, secluded, and sometimes hard to reach, Karpathos can be the best place to go in Greece if you're looking for a relaxing holiday.
The island, relatively unknown to mass tourism, boasts a unique landscape made of harsh, bare mountains and unspoiled beaches with turquoise, shallow seas.
The few tourists that Karpathos receives every year tend to stay on the island's southern coast, more developed and offering a wider choice when it comes to gastronomy and accommodation, still managing to maintain a reasonably uncontaminated atmosphere.
Karpathos Island is home to exotic beaches, picturesque white villages, and unique trekking paths that allow visitors to discover even more of this little Greek gem.
Wild, unexplored, and off the beaten path, Karpathos is the ultimate Greek destination for peaceful holidays surrounded by unforgettable beauty. Let's see now, everything there's to know to plan a perfect holiday in Karpathos.
How To Get To Karpathos Island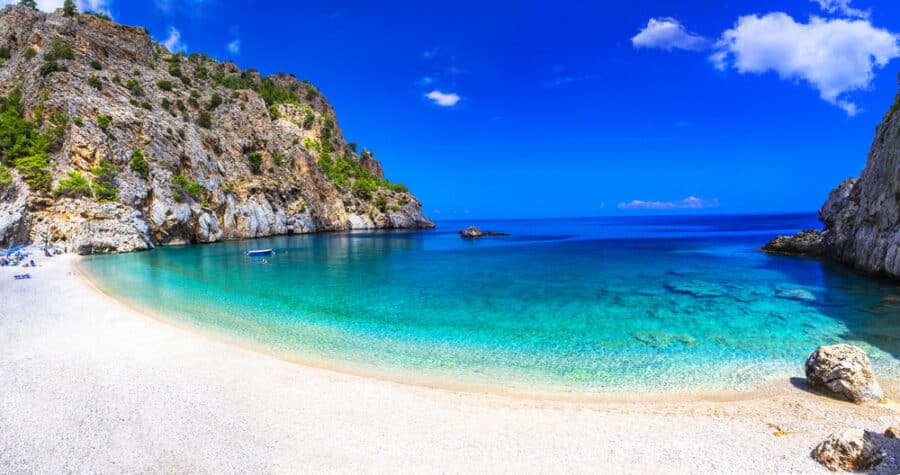 Although the island is small and not so well-known, there are different ways to get to Karpathos.
How To Travel To Karpathos By Plane
Believe it or not, there's a small national airport on the island (AOK). It receives daily flights from Athens during the peak of the season. Sometimes charter flights from central European countries also land on Karpathos in summer.
The small but modern Airport of Karpathos is located on the southern part of the island, about 14 kilometers from Pigadia, the island's capital. To reach the airport, travelers can drive their rental car and take a taxi or the local bus.
Some of the companies traveling to Karpathos Airport are Aegean and Olympic, but also Smartwings, Finnair, Neos Airlines, Austrian Airlines, Sky Express, and Eurowings.
How To Travel To Karpathos By Ferry
As with any other Greek Island, Karpathos is connected to the port of Piraeus in Athens and other Islands.
The companies that operate ferries to/from Karpathos are ANEK Lines, Ageon Pelagos, and Blue Star Ferries. Boats can arrive at the main port of Karpathos, in Pigadia, but some boats also arrive at the smaller town of Diafani.
The trip by ferry from Athens can last between 16-18 hours. If you're planning your own island-hopping itinerary, remember that there are other islands connected to Karpathos via ferry routes: Rhodes, Chalki, Kasos, Crete (from Heraklion and Sitia), Milos, Santorini, and Kos.
What To Do In Karpathos
Although still unknown to many travelers who book their summer holidays in Greece each year, Karpathos is an island that attracts many different traits, but most of all, for its spectacular beaches home of that kind of beauty that is quite difficult to forget.
For that reason, the island also offers a good variety of water sports; some of Karpathos' southern beaches are perfect for diving, snorkeling, and most of all, for windsurfing!
When visiting the island, it's a great idea to devote time to visit the many traditional little mountain villages offering views of unique landscapes. Many of them share typical Greek traits, such as windmills, churches, and tiny traditional houses. In many of these villages, the locals still wear traditional clothes, making for unexpected views for those into photography.
Down here, we describe some of the best things to do and places to see in Karpathos; make sure to add them to your travel list!
Discover The Village Of Olympos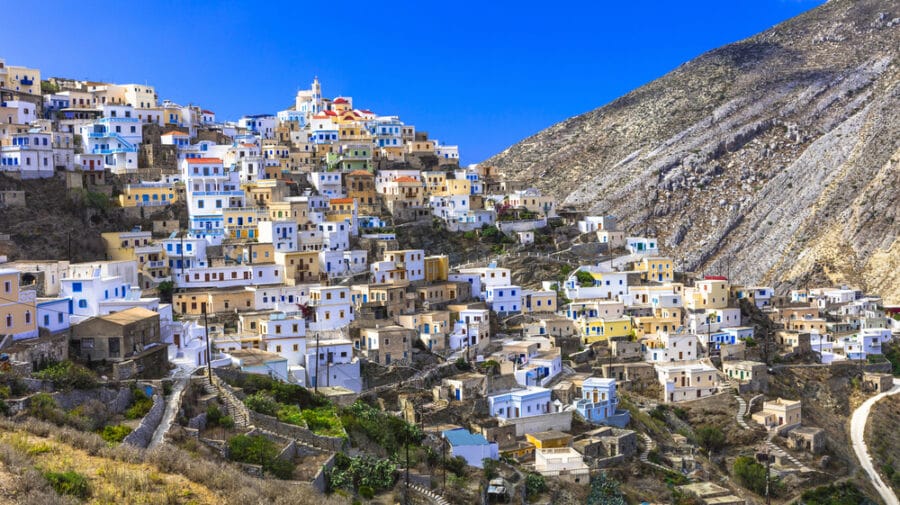 Olympos is a magnificent traditional village. It is located 58 kilometers from Pigadia, Karpathos' capital. The traditional settlement is situated on the slopes of a mountain, with unexpected colorful houses surrounded by a very green landscape.
Arguably the best place in Karpathos to discover the authentic roots of the local inhabitants, the village treasures traditions that have been sadly lost in other areas of Greece.
Home to about 400 inhabitants, Olympos has an agricultural character and an old-fashioned atmosphere. Locals proudly wear traditional local clothes every day while going about their routine activities. A surprising thing to remember? Most homes in Olympos have their own well, windmill, and even church!
The village's main square hosts the ancient church of the Holy Virgin (Panagia), a place that you must visit if you happen to be on Karpathos on August 15.
On this occasion, every summer, the village organizes an important festival dedicated to the Assumption of the Virgin, and it's an excellent opportunity to discover the local gastronomy, dances, and musical instruments and join the locals in the joyful celebrations.
Explore Ancient Vrikous
If you cannot manage to spend your holidays just lounging on the beach, worry not, there's a lot more you can do in Karpathos. A visit to Ancient Vrikous is a perfect activity for those who enjoy learning about history.
Not far from Olympos is Ancient Vrikous, which used to be one of the most important cities in Karpathos. The settlement saw its most prosperous times during the fifth century BC. visitors can now explore the remains of this antique village, including old walls and parts of ancient houses,
Check The Ancient Acropolis Of Arkasa
Situated about 23 km from Pigadia, the Acropolis of Arkasa is another historical site you should not miss when visiting the island. This archaeological site is located right by the sea, offering inspiring views of the coast and the nearby Kassos Island.
Back in the fourteenth century BC, the island of Karpathos was occupied by the Mycenaeans, who built an imposing acropolis with unique walls on the headland. Also known as Paleokastro (meaning old fortress or castle in Greek), the citadel had already been inhabited since prehistoric times, and according to different studies, it was probably occupied until the late Byzantine times (1200-1400 ca.).
Sail To Saria Islet
If looking for a piece of heaven, then do not miss a visit to the stunning islet of Saria. This small island is on the northern area of Karpathos and separated from it by a long and very narrow straight, so much so that many believe that both islands used to be only one in ancient times, separated by a strong earthquake.
On Saria, visitors can explore what many believe to be the site of an ancient kingdom once settled on this land—known as the ruins of ancient Nisyros, where visitors can check an old temple dedicated to Apollo right on the seabed between both islands.
This small island is perfect for going hiking and admiring the local landscape. But of course, the main reason to visit Saria is the picture-perfect white sandy beaches featuring a breathtaking landscape made of pristine turquoise waters, jaw-dropping cliffs that plummet to the sea, as well as fantastic and mysterious caves, often quite deep.
To get to Saria, visitors need to board one of the several boats departing from Pigadia; the routes are frequent and prices quite affordable.
Enjoy A Walk In The Village Of Diafani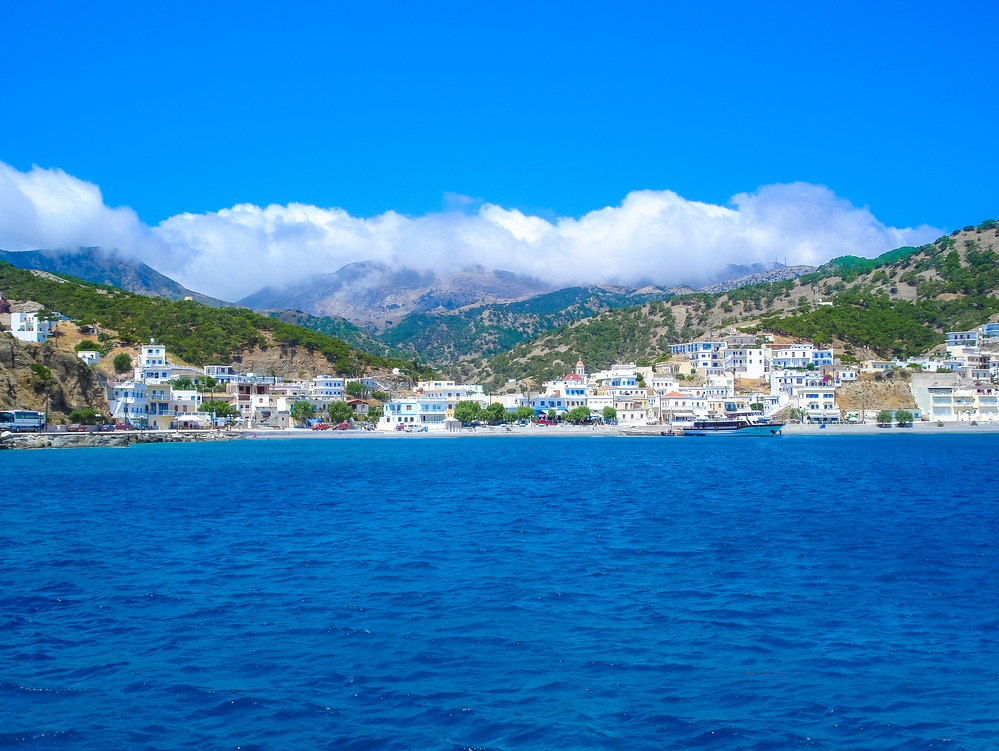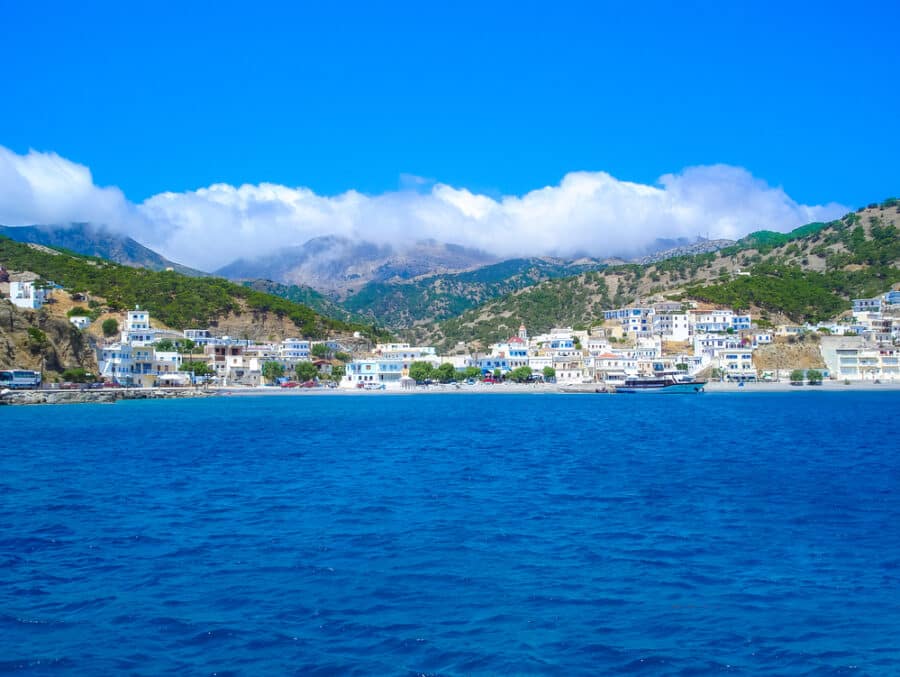 As we already mentioned, there are dozens of traditional villages worth exploring in Karpathos; Diafani is one of them.
Built amphitheatrically around a picturesque bay, bather by the blue waters of the Karpathian sea, Diafani is the second most important port of Karpathos, although it remains a bit secluded from other villages.
The landscape is made of traditional houses with colorful roofs and beautiful churches. Diafani can be found in the northern region of Karpathos, about 67 kilometers from the main village of Pigadia,
Olympos is quite close to Diafani, about 10 kilometers away, so why not visit both traditional villages on the same day?
Once in Diafani, you can explore the small fishing port or have lunch in one of the many seaside tavernas serving the catch of the day. And if you'd like to spend some days in this area, there are some simple hotels and rooms to rent too.
Check Out Karpathos Former Capital
Aperi is a remarkable village 8 kilometers north of Pigadia; it stands on the slopes of Mount Hamali, at a bit more than 300 meters above sea level, surrounded by an imposing green landscape.
The village is quite extensive and, as the former capital, used to be the place where the wealthiest families on the island would dwell. This has left behind an impressive heritage of refined, elegant homes built by nobles and Greek immigrants coming back from the diaspora.
When visiting Aperi, take a look at the magnificent Venetian castle on the top of the mountain, as well as the ruins of a tower dating back to the year 3.000 BC.
Several paths leave the village to reach amazing nearby beaches, such as Achata, Ambelia, and Kyra Panagia.
Explore Some Of The Best Beaches In Karpathos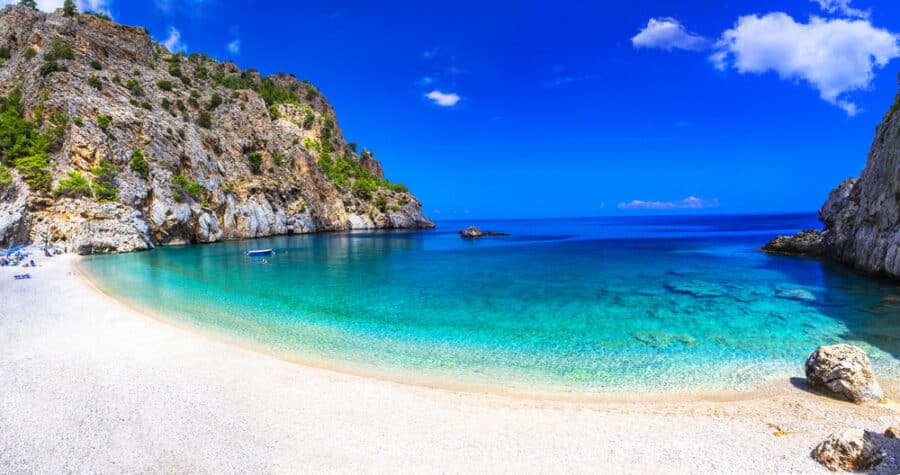 The beaches in Karpathos can be considered among the most important reasons to visit the island. There are several enchanting beaches to discover in Karpathos.
Since the island is not that popular yet, they tend to be isolated even during the most popular months of the hot season (June – September).
Kyra Panagia Beach
Kyra Panagia is a gorgeous sandy and pebbly beach located about 15 kilometers from Pigadia. It is a small cove surrounded by mountains featuring beautiful smooth pebbles mixing with clear, fine sand. There is some organization, a small beach tavern, umbrellas, and sunbeds to rent too.
The waters are immaculate and often calm, which makes it the perfect destination for families too. Due to its striking beauty, this is often listed among the best beaches in Greece. You can drive to the area or get there with a boat departing from Pigadia.
Apella Beach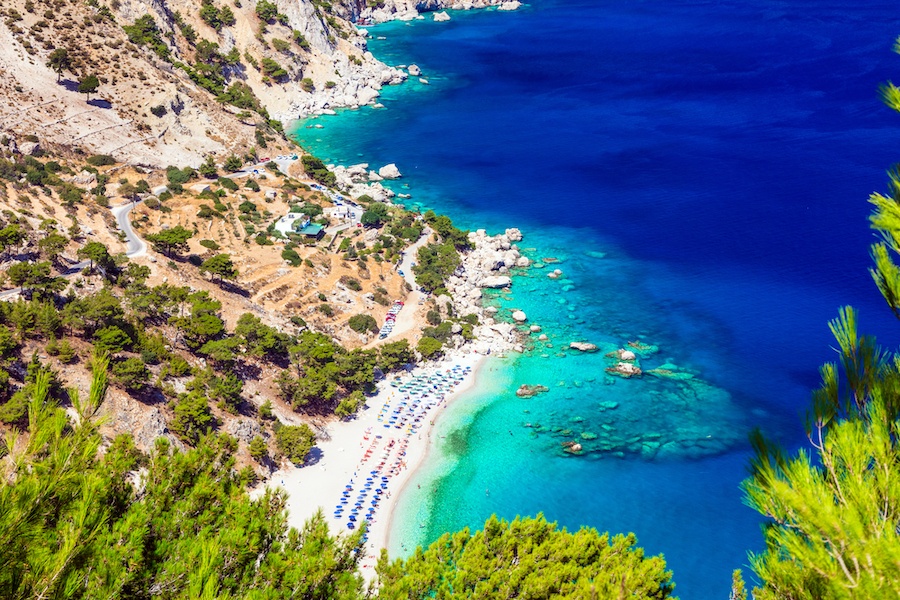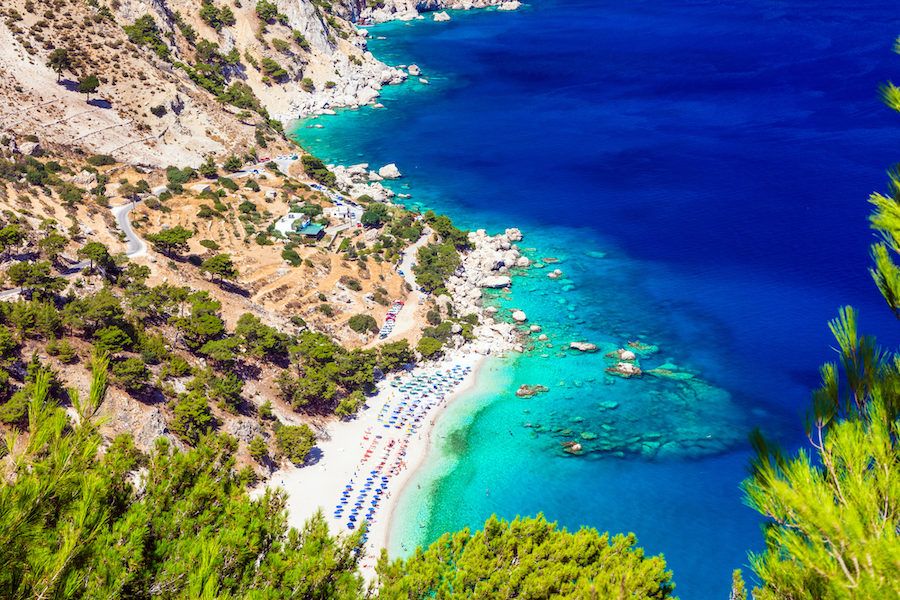 Another beautiful shore in Karpathos is Apella (also known as Ambella), not far from Kyra Panagia Beach, so much so that both beaches can easily explore both in one day if traveling by boat, as a matter of fact, Apella can be difficult to reach by car, while sailing there can be the best option.
This is another sandy beach (about 18 kilometers north of Pigadia). Over here, the sand of this cove is fine and white in stunning contrast with the deep blue of the sea.
The beach is still wild and features no organization, so get ready and pack all your beach necessities if you're planning to spend the day.
Achata Beach
Family-friendly and relaxing, Achata Beach is a quiet spot on Karpathos featuring a mix of white pebbles and clear sand.
Also, this shore is quite close to Agia Panagia Beach, and it can be reached easily by car. This beach impresses due to its idyllic atmosphere, impressive emerald waters, and a beautiful green background.
There is a small traditional tavern on the coast, perfect for those who don't really like traveling to the beach with lots of supplies.
Diakoftis Beach
Another super-family beach you can visit in Karpathos is Diakoftis, about 21 kilometers from the capital of Karpathos, Pigadia. Diakoftis features a fantastic landscape made of golden sand and green waters.
Although the landscape seems remote, barren, and exotic, it is pretty easy to access the beach from Pigadia, following the road along the airport.
Finiki Beach
Partly organized and family-friendly, this beach is in a small picturesque and settlement about 18 kilometers from Pigadia. The shore features a tiny port, and due to its sheltered position, it is often calm and perfect for small kids.
Finiki features soft sand and crystal clear waters and several shops and tavernas by the sea. Many tourists choose to rent accommodation in the area since it is easy to access from the capital.
More Amazing Karpathos Beaches
We have just mentioned some of the great beaches you can visit in Karpathos, but the list by no means ends there.
There are countless beautiful beaches to visit, some easier to reach than others, depending on how to plan to move around on the island.
Certainly, car or motorbike rental is a great option to explore more since the bus system can leave many of these shores out of their circuit.
To explore Karpathos beaches better and at your own pace, then do not hesitate and rent your own vehicle. This way, you'll be able to visit beaches such as Votsalakia and Megali Amopi, both in the same area.
Other beaches worth discovering include Arkassa, west of Pigadia, the beautiful sandy beach of Lefkos, the small and secluded Christo Pigadi Beach, or Argilopotamos, a gorgeous white sand beach, shallow and quite close to Pigadia (about 20 kilometers) safe for kids but completely lacking organization. From here, the views of Kassos Island are impressive.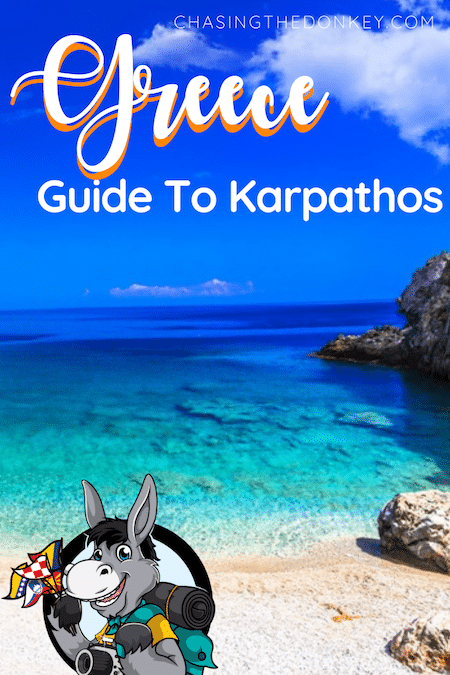 Karpathos With Kids
Kids who love to spend time in nature will fall in love with Karpathos. The island offers the possibility to practice water sports, such as windsurfing or snorkeling. Karpathos is a top location for children who love to spend time on the beach; many shores have very shallow waters, while white, fine sand is ordinary.
Afiartis is a beautiful bay to spend time on windy days, here all the family can experience windsurfing and discover new, exciting ways to spend their holidays by the sea. There is also a marine park located between the islands of Karpathos and Kassos, where diving is permitted.
Hiking is another developed sport on Karpathos; the island counts with well-marked trails and signposts on paths leading to picturesque mountain villages, old churches and settlements, and lesser-known beaches, all of them with fantastic scenes and views of the sea.
Kids can also have fun at Potideon, another Mycenaean ancient site dating back to the fourteenth century B.CBC. Here, they can marvel at the rocky acropolis standing high over the sea.
Instead, in the village of Othos, it is possible to explore the Folklore Museum that exhibits objects belonging to the traditions of Karpathos. These objects include traditional costumes, musical instruments, old photos, kitchen utensils, and much more!
Best Karpathos Hotels
Budget Places To Stay In Karpathos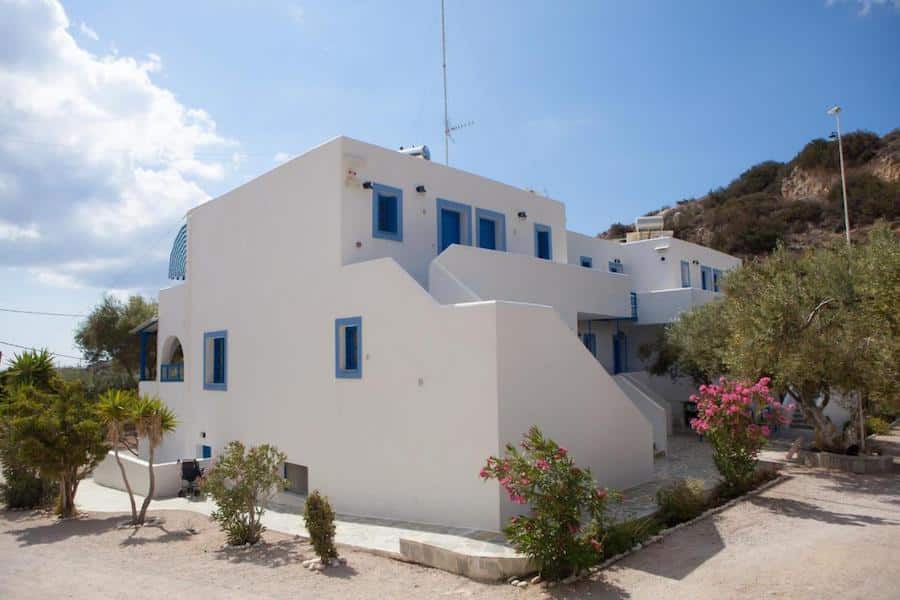 Vardes Hotel Studios is a very convenient place to stay in the village of Amoopi, not far from the sea. These comfy, family self-catered studios are just 400 m from the beach. Guests can enjoy public parking in the area, as well as transfer to & from Karpathos airport and port.
The rooms offer great views of the surrounding mountains or the sea, a comfortable kitchenette with a fridge and kitchenware, and a very convenient laundry service. Every morning, guests are served a buffet breakfast. In the area, there are mini markets, restaurants, and bars. More information here.
Alex Hotel is a budget as well as a comfortable hotel in the center of Pigadia. Guests love the lush green surroundings, the outdoor swimming pool, a garden, and the facilities featured, including a bar, a barbecue area, and a reading room.
The hotel has been recently renewed, and rooms offer private balconies and other perks and amenities such as wireless internet access for guests who have a laptop computer. More information here.
Mid-Range Hotels In Karpathos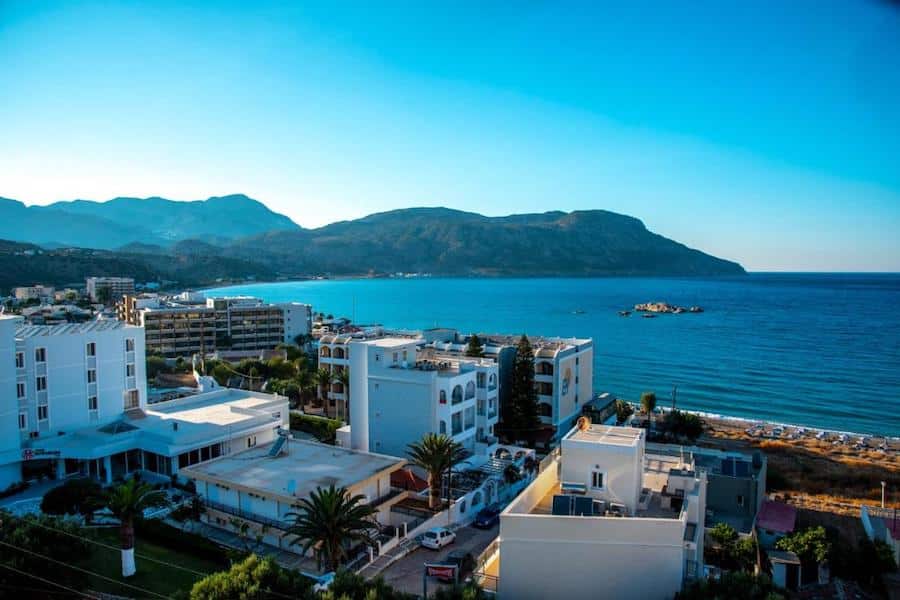 Hotel Astron Princess is in Pigadia, the capital of Karpathos. It is exceptionally well located if you want to enjoy the nightlife, explore nearby villages, rent a car, and more.
This hotel is within 350 meters from Pigadia Beach, on a somewhat elevated position, therefore boasting panoramic views over the Aegean. The hotel also features a swimming pool, a wellness center, and elegant suites with a spa bath.
The hotel serves an American breakfast every morning while light meals, snacks, and drinks at the snack bar. BBQ nights are organized every week too. More information here.
La Villa di Zazopetra is perfect for travelers who want to live their holidays in a local home rather than in a hotel. Located only 8 kilometers from Karpathos' Airport, this villa features air-conditioned accommodation, balconies, a gorgeous garden, and free private parking.
The home features two bedrooms and a bathroom, a fully equipped kitchen, and a patio with a barbecue. The villa is only 8 kilometers from Karpathos Town and less than 50 kilometers from Olympos. More information here.
Luxury Places To Stay In Karpathos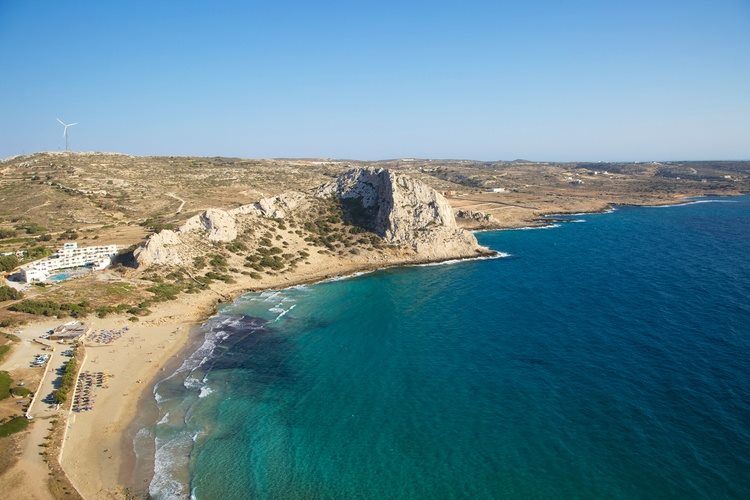 Royal Beach Hotel is located in the seaside village of Arkasa. The property features a pool with a poolside bar overlooking the sea.
Rooms and studios are elegant and classically decorated, with balconies with sea or garden and pool views, a kitchenette with fridge and air conditioning.
Guests can enjoy snacks and drinks on the poolside or the beach, relax on the sun-lounger terrace or enjoy a game of volleyball on the beach. The place is excellent for families, offering a separate pool and playground for children.
The hotel is 8 kilometers from the airport and 16 from the capital. More information here.
Ble, what about staying in a Traditional Renovated Cottage? Inspiring, romantic, soothing, Ble is a perfect getaway on Karpathos Island! It is situated in the village of Afiartis, and it offers both a beautiful garden and a terrace with great views.
The home is close to Prasonisi beach and features one bedroom and a fully equipped kitchen that provides guests with a fridge, an oven, a washing machine, and a stovetop. More information here.
Where To Eat In Karpathos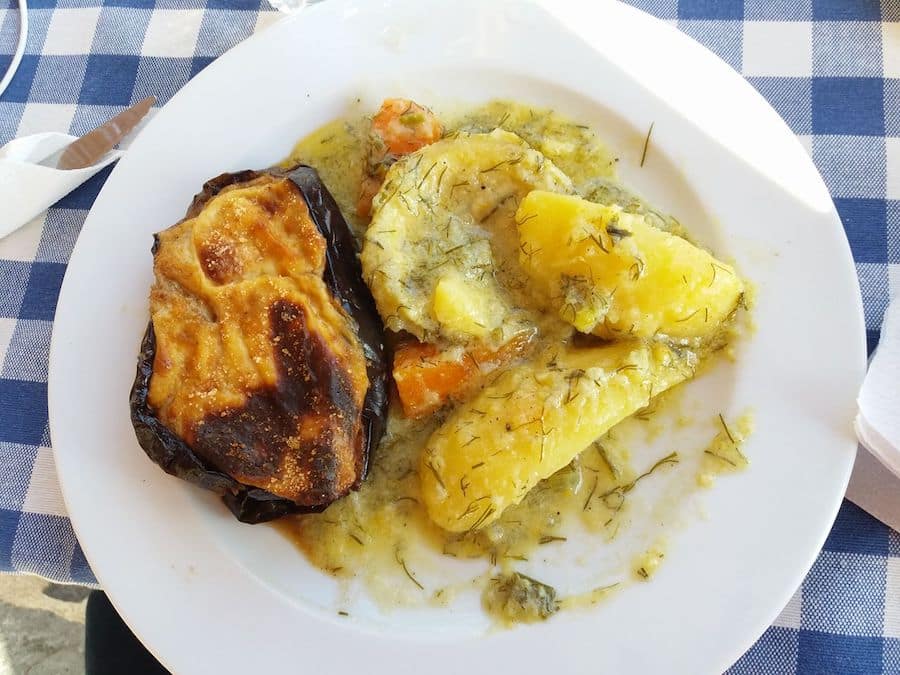 Café Karpathos: Often described as one of the best places to eat on the island, this traditional tavern serves great Greek and Italian dishes but is also an excellent place for an afternoon coffee or a snack. It is located in the capital of Karpathos, Pigadia.
Kedros Traditional Greek Cuisine: Right in the heart of Finiki Village, Kedros is a great place to enjoy not just the views but unique Greek dishes too. The Sunday Grill is spectacular; just be aware that booking might be really needed. Both locals and visitors adore this place!
Stacey's Yum-me Kitchen: Craving some Chinese in Greece? Don't forget to check the super delicious Oriental dishes served at Stacey's Yum-me Kitchen in the center of Karpathos Town. It's located near Karpathos' Archaeological Museum and serves delicious noodles with a stunning sea view
Share