A Guide To Kos Island, Greece
This guide to Kos Island has all of the information you're looking for if you're planning a trip to this amazing Dodecanese Island.
Kos, the third island in the Dodecanese, after Rhodes and Karpathos, is second only to Rhodes when it comes to population. It belongs to the South Aegean region and is one of the most popular holiday resorts in Greece among Europeans.
With more than a hundred kilometers of coastline, Kos is ideal for a beach vacation. It has fairly rugged geography, featuring several capes with romantic landscapes of the sea.
Other than the main village, Kos Town, there are several interesting settlements worth a visit on the island, including Kardamena, Antimakia, Mastichari, and Kefalos.
Besides the attractive beaches, Kos is famous for its lively nightlife and rich history. There are several remarkable archaeological sites to visit and ancient ruins and castles to admire.
Those travelers who can't stay still and enjoy moving from one place to the other when they are on holiday can easily cross the border and reach the touristic resort of Bodrum, in Turkey, leaving from the port in Kos Town.
A visit to Bodrum can be a fantastic day trip experience as well as an optional two-country holiday if you wish to combine a visit to Greece and Turkey during the same trip.
Let's now dive into this Kos Island guide to discover everything about it.
How To Get To Kos Island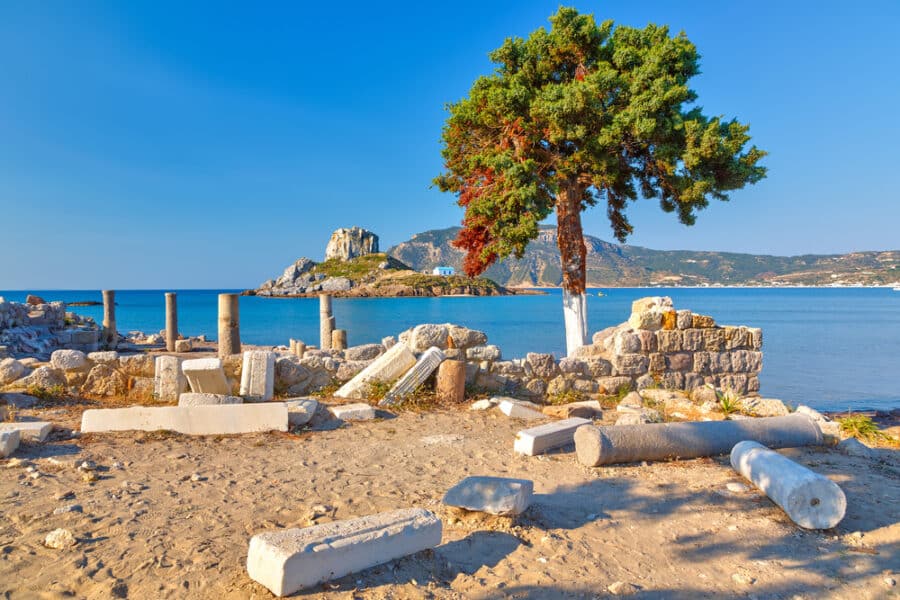 Since Kos remains one of the most visited destinations in the Dodecanese, traveling to the island is not difficult.
How To Travel To Kos By Plane
Kos is home to Hippocrates International Airport, receiving flights from Athens all year round; the trip lasts about an hour. Although less frequent, the island also gets flights from Thessaloniki, Heraklion (Crete), Rhodes, and the small island of Astypaleia.
From May to September, several international flights and charter flights reach Kos from Europe in summer. Since the airport is about 25 km from the main town, booking a rental car in advance or even a taxi for transfer services is always a good idea.
How To Travel To Kos By Ferry
Easy to reach by sea as well, there are ferries from the port of Piraeus (in Athens) several times a week, the trip is quite long though (about 12 hours).
It is also possible to reach Kos by ferry from the ports of the following nearby islands: Rhodes, Leros, and Kalymnos.
What To Do In Kos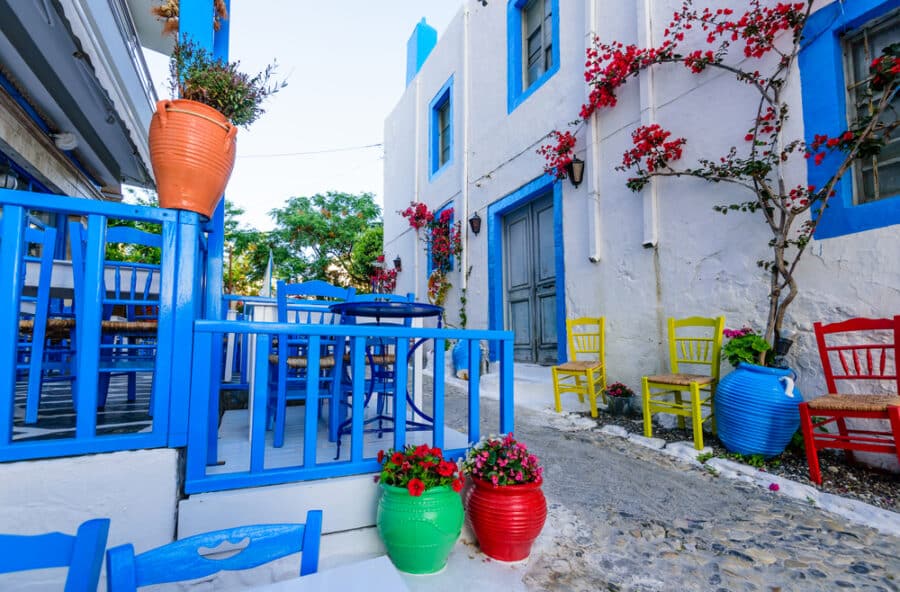 Often described as the perfect destination for all-inclusive holidays, the island is an excellent place for those who look to check in a hotel and do virtually nothing during their time over there. However, this would be an unforgivable sin, there is a lot to see, explore and do on Kos, and it would be really a pity to miss it.
When visiting Kos, it's a great idea to devote time to visiting the imposing archaeological sites that the island is known for. Don't miss a stop at the ancient castle that protects the port in Kos Town, as well as the Italian Forum, Hippocrates Tree, or the Ottoman fountains and mosques.
The island is blessed with abundant water resources all year-round; therefore, you will find a much greener landscape that you can see in the rest of the Dodecanese.
If you are a fan of sports, Kos offers plenty of opportunities to practice windsurfing; in fact, there are windsurfing centers on many of Kos' beaches where you can even learn how to windsurf or even rent the necessary equipment.
Kefalos and Mastichari are the best places for windsurfing on the island. Another popular activity is diving, there are several uninhabited islets and interesting old wrecks to discover, so you can either venture on your own or join one of the many organized trips offered on different beaches.
Visit The Old Town
This is undoubtedly the most visited and active part of the city, with plenty of souvenir shops, tavernas, bars, and restaurants. However, it is also a great place to learn about its history. One of the few on the island that survived a powerful quake back in 1933, this ancient area features the Italian market, several squares, and a fascinating ancient Turkish fountain.
The Castle Of The Knights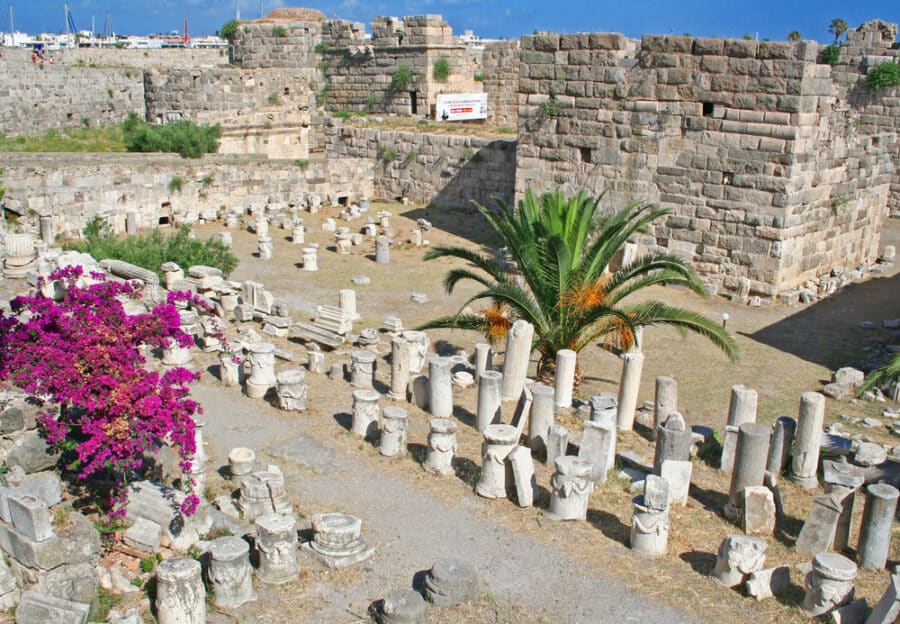 If you're visiting Kos with children, you will share their fascination during a visit to the Castle of the Knights of Saint John, also known as Nerantzias. It features very ancient walls made of local stone and several blazons and columns that belong to the ruins of the old town.
This imposing building dated back to the occupation of the Knights, dating back to approximately 1450, and that lasted for two centuries. This impressive two-precinct castle still features towers, gun ports, and bastions, as well as unique gates, bridges, and dungeons.
Inside the castle, it is also possible to visit the museum, located in the formers warehouse of the castle, inside you will appreciate exhibits such as several sculptures and ancient inscriptions.
Hippocrates Plane Tree
You cannot say to have been to Kos if you don't get back home with a selfie taken by the tree of Hippocrates!
The plane tree of Hippocrates is located right in front of the Castle of the Knights, and it is a famous spot on the island since it is said that Hippocrates used to sit under its shade to teach his pupils. The truth is that the tree is barely only 500 years old; therefore quite impossible for Hippocrates to have sat there since he lived in the fifth century BC.
But don't be disappointed, because you will still find something quite rare; this monumental tree has a 12-meter perimeter, and is surrounded by some beautiful historic walls with inscriptions in Arabic on it, a memory of the Turkish occupation of the island.
Archaeological Museum of Kos
Located in a building of clear Italian origins, the museum of Kos is a great place to admire ancient statues and mosaics. The most important objects that the museum exhibits is a statue of Hippocrates and a magnificent mosaic depicting Hippocrates and Asclepius.
Check The Ancient Agora Of Kos
Situated behind the area of Kos main harbor, in Kos Town, the Ancient Agora of Kos is a huge area dating back to 366 AC.
Unfortunately, due to the different quakes that hit the island over the centuries, the whole excavation area has several findings in ruins; however, there are many architectural findings, a shrine dedicated to Aphrodite, old columns, and arches. Since the Agora is surrounded by a fantastic green park with palm trees, it can be a perfect sightseeing opportunity for the whole family.
Explore The Aesclepieion
Arguably the most remarkable archaeological site to visit on the island, located about 4 km from Kos Town, the Aesclepieion is an antique site believed to be a medical center of the classic period. Dating back to the III century BC, the temple was built in honor of Asklepios, the Greek god of health and medicine.
The sanctuary features different rooms devoted to healing and therapy. It has a terrace with a portico, which is believed to be the place where stood a prestigious ancient medical school.
There are also Roman baths (from the III century BC) and several spaces for patients and families inside the building. There is also a second terrace that holds an ancient altar and some restored columns from an older Greek temple dedicated to Apollo that used to be in the area. There is also a Doric temple and an old church built during the Christian period on the last terrace.
Enjoy A Visit To The Mosque Of Nefterdar And Hanji Hasan Mosque
You will find this Ottoman building in Eleftherias Square, in Kos Town. The mosque dates back to the end of the eighteenth century and is one of the most classic examples of Islamic architecture in the whole country.
Another beautiful Turkish monument is Hanji Hasan Mosque, a two-floor building that boasts a beautiful minaret. The religious building dates back to 1786, and it is only steps from the plane tree of Hippocrates.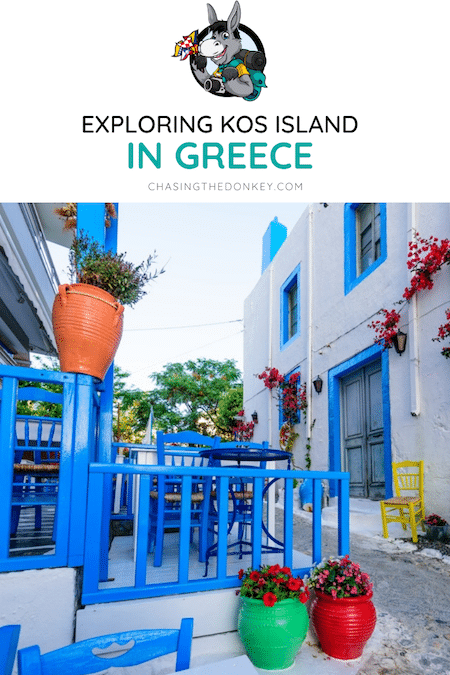 TRAVEL COMPANIES WE USE AND TRUST
Other Remarkable Ancient Places To Visit In Kos
When visiting Kos Town, it is good to explore the Archaeological Museum of Kos, with plenty of exhibits coming from the many archaeological sites on the island.
Also in the city, the Ancient Gymnasium, or Xisto, has both Hellenistic and Roman origins, and it features interesting areas such as an Acropolis, the Hippodrome, and ruins of temples devoted to Aphrodite and Hercules.
Casa Romana is a fascinating excavation site, a perfect example of the architectural style during the Roman Times. The beautiful mansion resembles the ones found in Pompeii, and it dates back to the second century. Also, in Kos Town, you can check the Roman Odeon, a well-preserved Roman Theater, and the imposing columns in the Ancient Temple of Dionysos.
If you move to the town of Mastichari, pay a visit to Hippocrates Garden Cultural Center. It is dedicated to the ancient Greek physician, Hippocrates of Kos, and it is a fantastic replica of a fifth-century ancient Greek settlement, including a house (oikos) and a stone theater.
It is also worthy of paying a visit to the village of Antimachia. Here, you can check the site known as the Traditional House of Antimachia and the traditional windmill. Also, in this town, the Venetian Castle of Antimachia is on a hill above the village and a magnificent place to capture some of the island's best views.
Explore The Thermal Springs Of Kos
If outdoor activities attract you more than archaeological sites and museums, then don't miss a day trip to Kos' Thermal Springs.
The thermal springs, or thermes, are located in Agios Fokas, known as one of the prettiest places on the island. This sea pool with hot springs is located at the end of a long pebbled beach, and it has water with a temperature ranging between 42 to 50° degrees that mix with the cold sea waters. Different studies have shown that the Thermal Waters of Kos have beneficial properties to heal skin conditions.
The Best Beaches In Kos
Kos boasts incredible beaches, among the most beautiful ones in the Dodecanese. These have contributed to the continuously growing popularity of the island. Although some of these beaches can get really crowded during the months of July and August, they remain gorgeous and worth discovering.
Mastichari Beach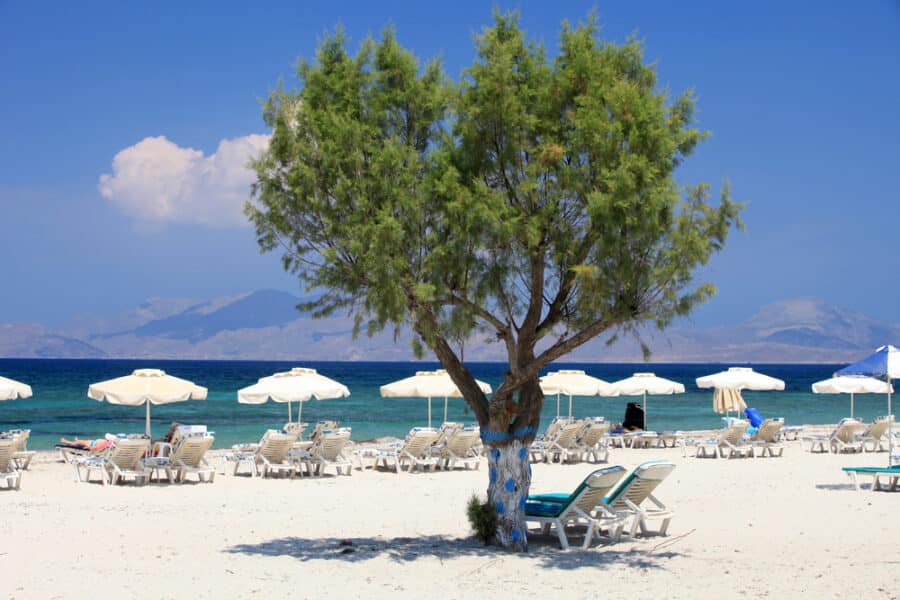 Probably the best-known beach on the island, Mastichari is located about 27 km from the center of Kos Town. It combines white sand and turquoise waters that give it a unique and exotic vibe.
The beach has a few organized areas, and it is also possible to take windsurfing lessons. Mastichari is an excellent area to stay on the island, where you will find hotels, restaurants, and shops.
Kardamena Beach
Another beautiful shore and quite a popular place in Kos, Kardamena Beach is one of the best spots for swimming. The beach is about 30 km from Kos Town and stretches for more than 3 km.
White and soft sand, crystal clear waters and good organization are some of the key elements that attract hundreds of visitors every day to Kardamena.
Thermes Beach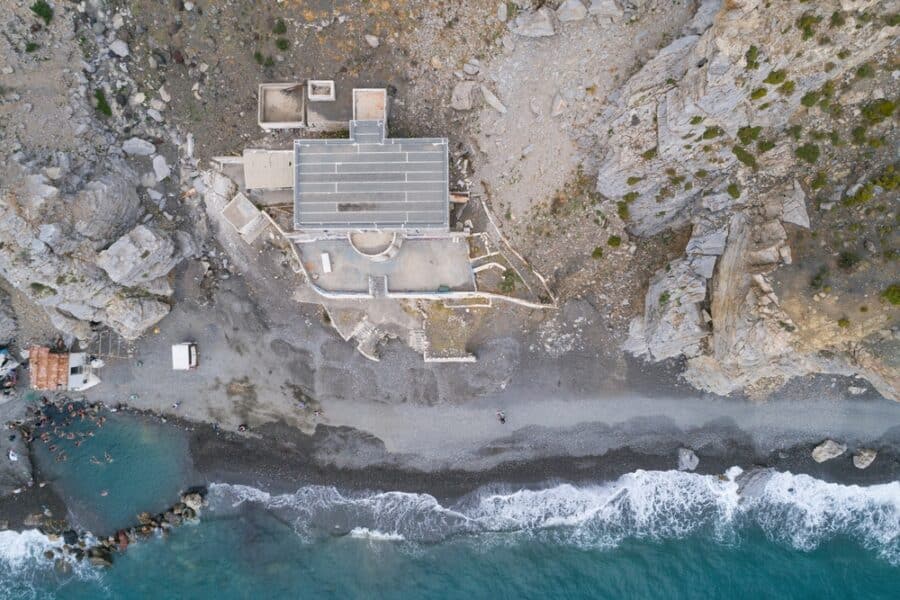 If you're looking for a romantic spot and stunning landscapes, then a visit to Thermes beach is a must during your visit to Kos. The beach is a bit more than ten km from Kos' main town.
Thermes Beach has a comfortable parking area, it is a family-friendly beach with tranquil waters, and it does not get very crowded.
Agios Stefanos Beach
Agios Stefanos is about 40 km towards the south of Kos Town, not far from the village and beach of Kefalos. It boasts an amazing natural landscape with rocks, flowers, and bushes.
It is a shallow and tranquil sandy beach with some areas featuring pebbles. Not far from the beach, some old Christian temples are worth the trip to this region of Kos.
Kefalos Beach
A family-friendly beach, relatively long and quite narrow, Kefalos is one of the most visited beaches on the island. It roughly starts on the nearby coast of Kamari and stretches all the way to Agios Stefanos. Although you can enjoy tavernas and bars in the area, some parts of the beach lack organization. Water sports are also available at Kefalos Beach.
Paradise Beach
Although it can rightfully be considered part of Kefalos, Paradise Beach has its own name. Arguably the most famous beach on the island, fine golden sand, and contrasting blue waters attract millions of tourists every year, making it too crowded and quite noisy.
However, its strategic position is one of the many reasons that will make you want to visit. The beach, which is a bit more than 30 km from Kos Town, enjoys the best position on the island to admire fantastic sunsets, making it a super romantic place to visit in Kos.
What To Do On Kos Island With Kids
Ideal for kids with diverse and multiple interests, children will enjoy plenty of things when visiting Kos Island. Besides the fantastic beaches and the possibility of getting started in water sports, the island is a paradise for those kids fascinated with Ancient Greek History, myths, and legends.
Dotted with all kinds of archaeological sites, many of them relatively well preserved, an island is an exciting place for curious kids.
Places such as the Castle of the Knights, the fortresses, the different museums, and unique religious buildings will undoubtedly ignite your kids' interest when exploring the island.
Moreover, and as if all those weren't enough, there are also two water parks on the island featuring entertaining slides and special pools such as the lazy river and a wave pool; these parks tend to offer activities divided by ages while also featuring entertainment for adults.
Best Kos Hotels
Being such a famous island, it is relatively easy to find the perfect place to stay any time you want to book, even last minute. However, booking early will undoubtedly secure better rates and the best sea views from your suite window or balcony, in case you're after them.
Budget Places To Stay In Kos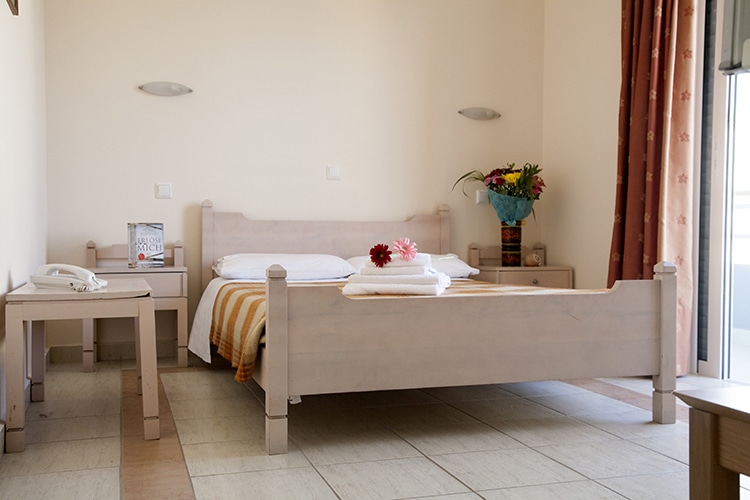 Theonia Hotel is a super convenient place to stay. It's situated in the center of Kos Town, and guests love its comfortable rooms featuring a balcony and comfort details such as satellite TV and fridge.
This hotel has a stunning swimming pool with a sun terrace and a daily buffet breakfast. It is also possible to enjoy a cup of Greek coffee or a refreshing cocktail at the café-bar. Theonia is also close to the beach and about 20 km from Kos Airport. More information here.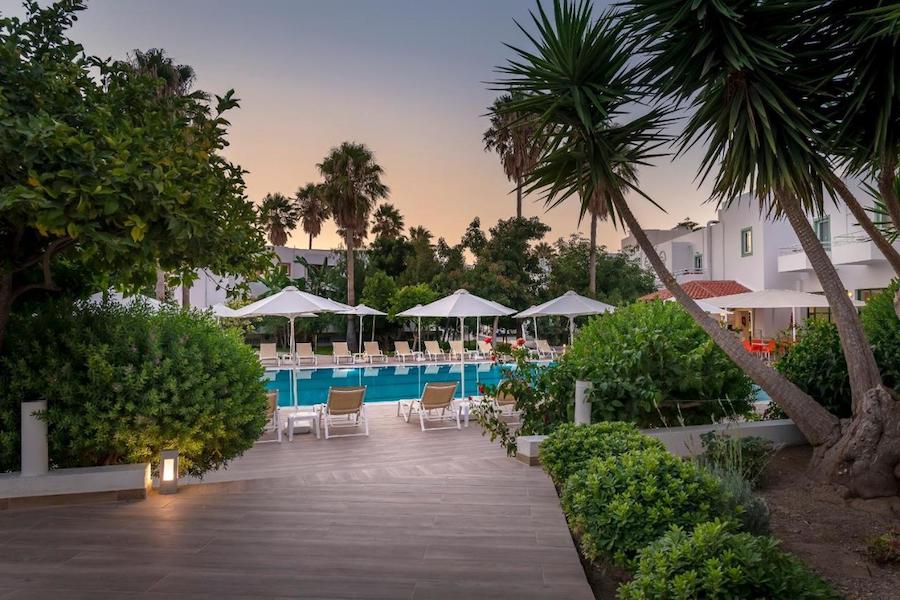 Alexandra Beach is a budget hotel centrally located in Kos Town. It features a tennis court and a large swimming pool with sunbeds and umbrellas while also offering access to a sandy beach. The rooms include balconies with sea or pool and garden views, and they are equipped with a kitchenette with a fridge and coffee maker.
Here, you can start your day with a breakfast buffet and later enjoy snack favorites by the poolside. The hotel's lounge bar serves cocktails and refreshing beverages too. This family-friendly hotel features a children's pool and playground area to keep younger guests entertained. More information here.
Mid-Range Hotels In Kos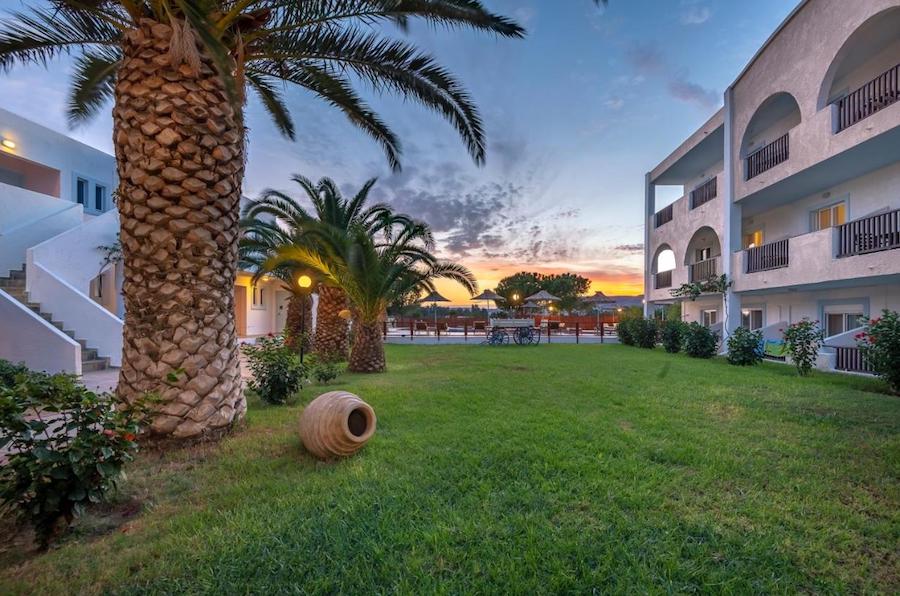 Kalimera Mare is in Kardamena; it is a beautiful property featuring an outdoor pool, a fitness center, and a restaurant. The hotel offers rooms and suites with a private balcony with garden views and some with sea views as well. The hotel is perfect for travelers staying near Kardamena Beach, only meters from the sea.
The onsite restaurant serves breakfast, lunch, and dinner, while local spirits and light snacks can be enjoyed at the hotel's bar. More information here.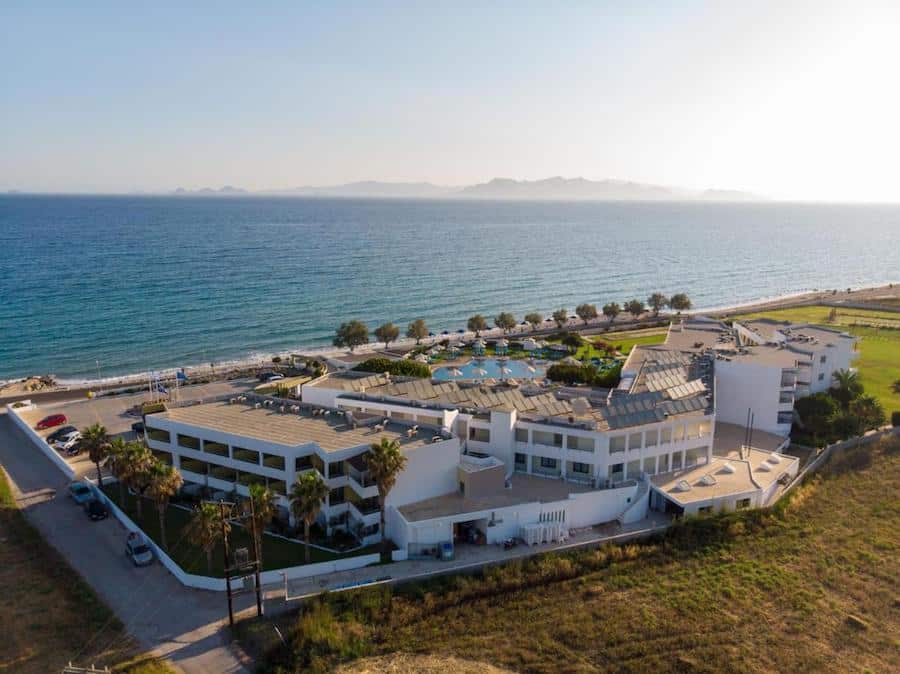 Kos Palace is a little more than a km from the village of Tigaki. Among its amenities, the hotel features an outdoor pool with sun loungers and umbrellas, while all rooms have balconies with unlimited Aegean Sea views.
The spacious rooms are fitted with modern wood furnishings, a satellite TV, and a fridge. They also include a seating area and a marble bathroom. Guests can also enjoy a good selection of Greek dishes at the onsite restaurant. Moreover, massage treatments can be arranged at the in-house spa. For kids, there's a playground and paddling pool available. More information here.
Luxury Places To Stay In Kos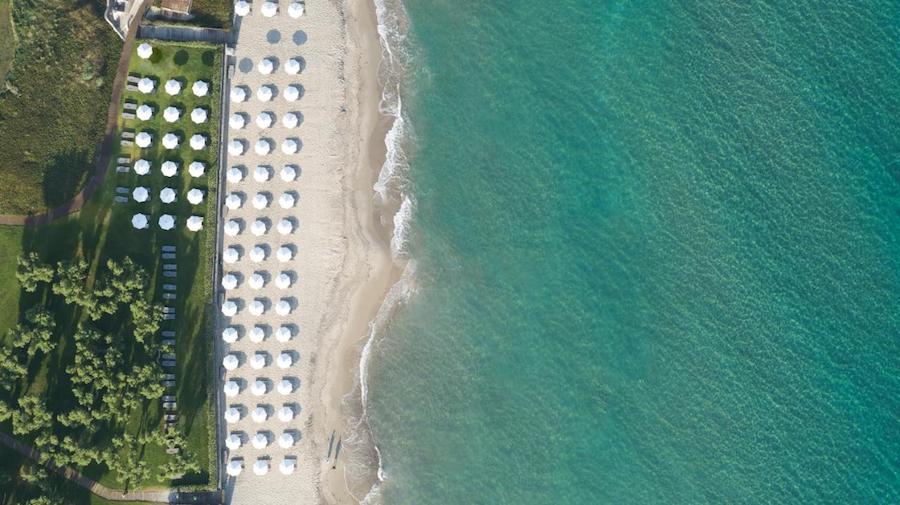 Neptune Hotels Resort is in Mastichari, one of the best places to stay on the island. Only eight km from the airport of Kos, the beautiful hotel stands surrounded by a landscape garden. It features five fantastic swimming pools and seven different bars, tennis courts, badminton, and a spa center. The beachfront hotel complex has rooms and apartments with a balcony or a patio; they are elegantly decorated and include a fridge and coffee-and-tea making facilities.
Greek breakfast is served daily, while there are also five onsite restaurants for you to choose between Greek and international cuisine. The Neptune also offers a secluded beach, a children's pool, and a kid's club for younger guests. More information here.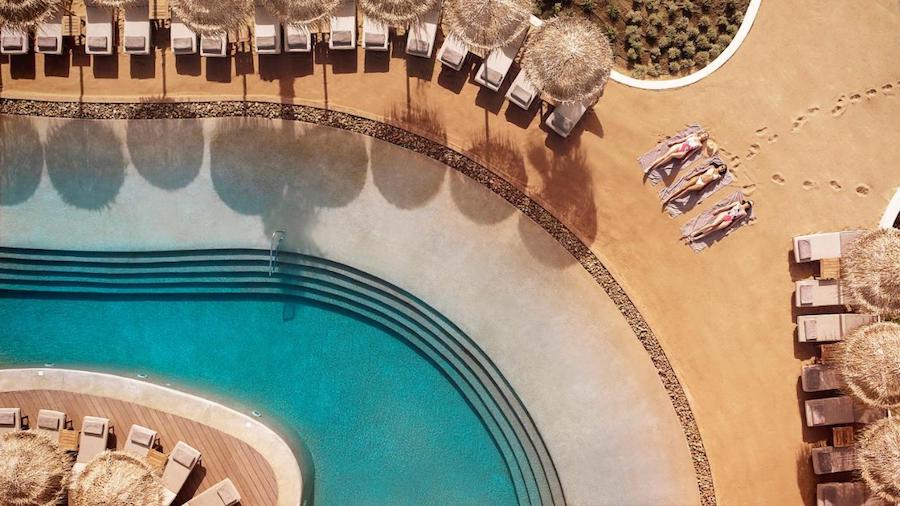 Mitsis Norida Beach Hotel is a five-star sustainable hotel located in Kardamena. This super family-friendly property, right on a sandy beach, boasts an open-air theatre, six restaurants, and seven bars. Guest rooms overlooking its landscaped gardens or the sea have elegant design and modern facilities.
Children can enjoy the kid's pool and water slides, while the relaxation pool is parents' favorite. The endless menu of activities includes a tennis court, beach volley, water polo, and basketball facilities.
The all-inclusive hotel features a Grill restaurant, a Pan-Asian restaurant, a Fish restaurant, plus several other food & beverage outlets scattered around the resort. Here, families can enjoy a dedicated kids and teens program offering imaginative activities for children of all ages. Read more here.
Where To Eat In Kos
Yorgos Fish Restaurant: Impossible to visit Greece without enjoying a delicious fish platter by the sea. Yorgos Fish Restaurant will cater to that and exceed your expectations. It is located in Kos Town and enjoys excellent reviews from dozens of satisfied customers.
Akrogiali: Right in the center of Mastichari Village, this is a traditional Greek taverna serving the staples of the local cuisine. It has a rich menu that features Mediterranean ingredients, fresh seafood, and a typical Greek grill.
Lovemade: Located in Kardamena, Lovemade is the perfect snack place in Kos. It serves delicious cakes and pies, quick sandwiches, coffees, and cold drinks. Perfect for breakfast, brunch, and a quick lunch.