Privacy & disclaimers →

Best Hotels Near Acropolis In Athens
If you're planning a short escape to the capital of Greece and would like to be within a short walk of the main attractions in the city, these hotels near the Acropolis in Athens are not only perfect to reach all the city's major landmarks in a few minutes, but many of them also offer amazing views of the Parthenon and the surrounding area. Let's check out together the best hotels in Athens near the Acropolis for your time in Greece.
Places To Stay In Athens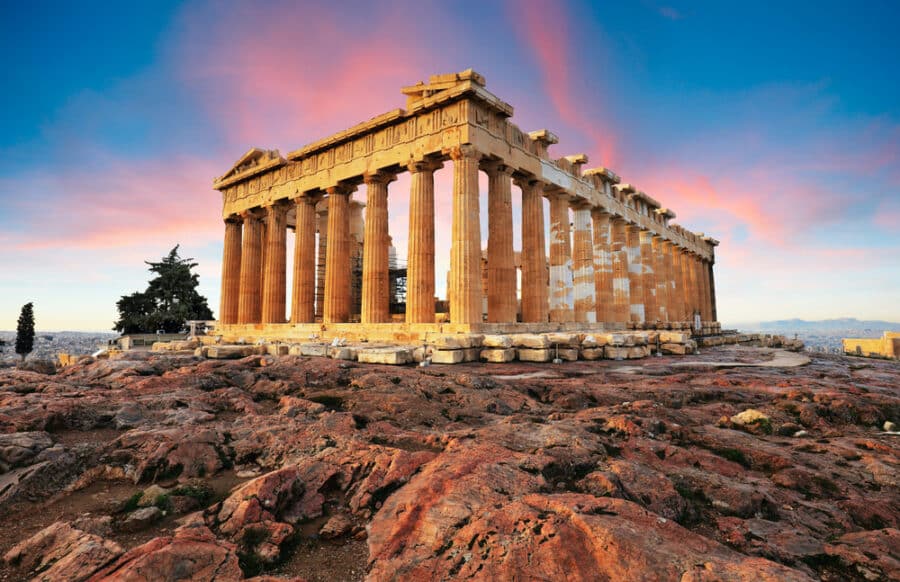 Although Athens can look like an overwhelmingly large city, the truth is that most of the main attractions concentrate in the historic center, just a stone's throw from the city's most visited area, the Acropolis. If, instead, you'd like to explore other districts not exactly close to the Acropolis, check this "where to stay in Athens" guide with a description of different districts and the best hotels in each of them.
It's in the Acropolis where you will find the impressive Parthenon, the Erechtheion, and the Odeon, but also in the nearby area, other interesting attractions include the neighborhoods of Plaka and Anafiotika, the Temple of Olympian Zeus, the Ancient Agora, and within a few more minutes, Monastiraki Square, from where you can board the metro and reach the airport, the port of Piraeus, and many interesting beaches that span the southern coast of the Attica region.
For all these reasons, the area near the Acropolis is a comfortable neighborhood to stay in Athens, mostly if you're staying in town for only a few days and want to make the most of them, visiting as many important landmarks as you can. And even when prices can be a little bit higher than in other districts, the money you'll be saving on public transport makes the area convenient.
When To Book Your Acropolis Hotel In Athens
Always remember to book your hotel right after you've booked your tickets. The more you wait, it will be harder to find availability or good fees. More often than not, hotels raise their prices last minute making it impossible for travelers to find good deals right before their departure. The sooner you book, the better room you will find and at a more convenient price.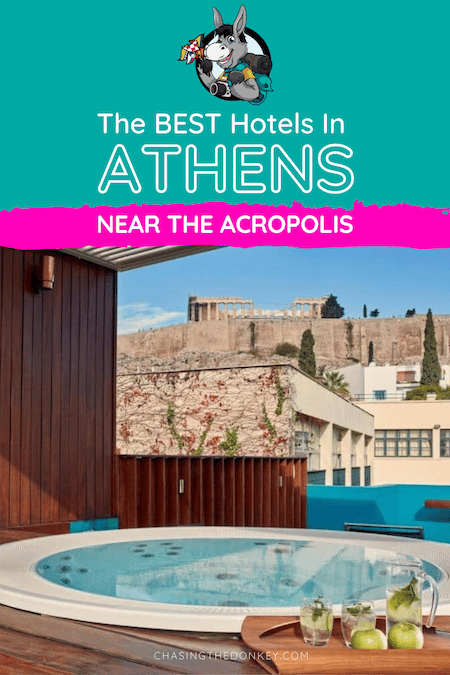 Best Affordable Hotels Near Acropolis, Athens
As you would expect, such a touristic destination offers a wide choice of hotels for all budgets. These are some of the most affordable and best-rated hotels within the low-price range for a stay in Athens near the wonderful Acropolis rock.
Athens Backpackers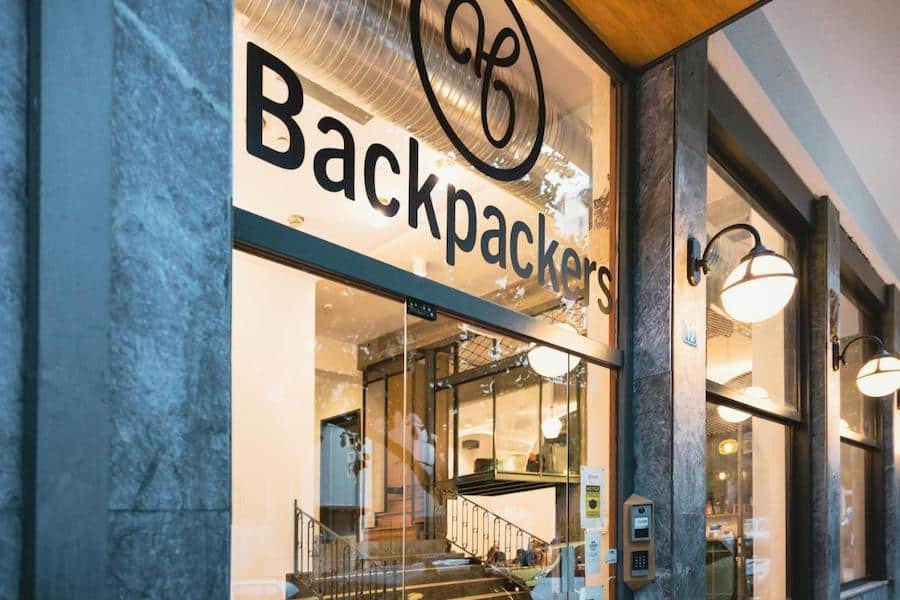 Address | 12 Makri Street, Athens
This is a fairly casual budget hotel that offers non-smoking rooms, air conditioning, and free wi-fi just half a kilometer from the Acropolis and many other major touristic attractions. It also offers easy access to fantastic night venues and pubs as well as traditional Athenian taverns and restaurants. The famous Acropolis museum is just a few meters from the venue.
The hotel features a gorgeous two-level rooftop bar with views over the Acropolis, a lobby bar, and a courtyard. There is free WiFi access throughout and contactless check-in is also available. More of a hostel than a hotel, the property features rooms both with shared and private bathrooms.
The place enjoys ravishing reviews praising the kind staff, the clean facilities, and the convenient nightly fees.
24k Athena Suites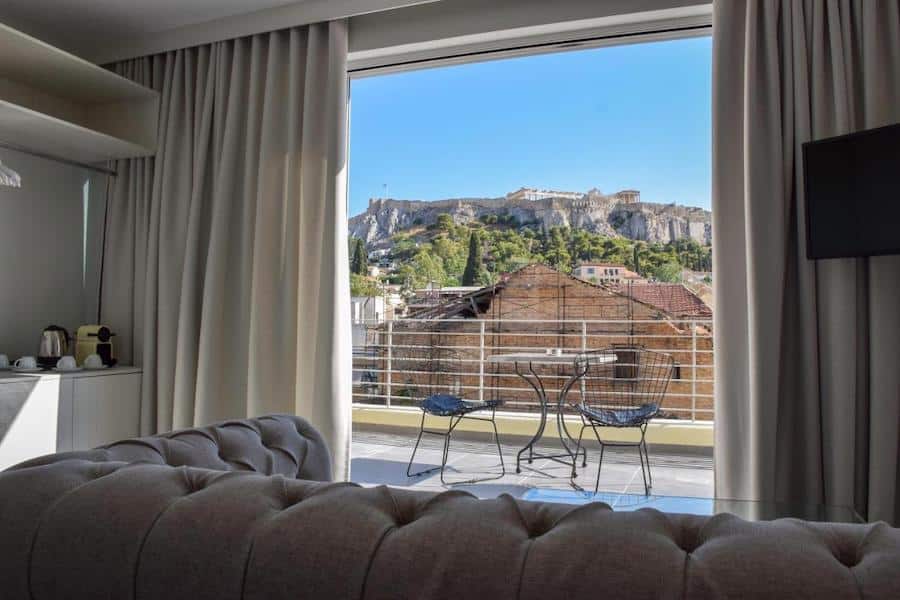 Address | 24 Pandrossou, Athens
This beautiful accommodation is just minutes from the Acropolis and the Ancient Agora of Athens and the Roman Agora, two of the most stunning archaeological sites you can visit in the capital of Greece.
The suites are within walking distance from Monastiraki Square, which makes it a really convenient place to stay in the center of Athens. The place features accommodation in air-conditioned units with free wi-fi and a comfortable seating area, perfect to sit and relax after all the sightseeing Athens has on offer for you.
In each unit, you'll find a flat-screen TV, a kitchenette with a fridge and a stovetop, a safety deposit box, and a private bathroom.
L'Avventura Athens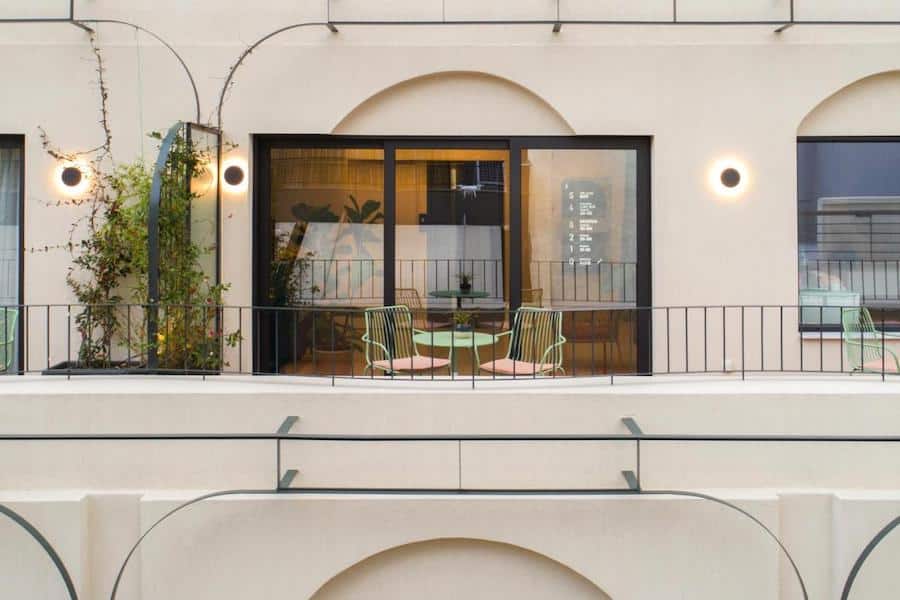 Address | 6-8 Avliton, Athens
Another budget place near the Acropolis with excellent reviews and very convenient nightly fees, L'Avventura Athens is within 200 m of Monastiraki Flea Market and is just one metro stop from the Acropolis.
In the property, you will find a terrace with amazing views of Athens' skyline, allergy-free rooms, and free WiFi throughout the property. Important attractions near the property include the Roman Agora and the Acropolis.
The rooms have air conditioning and include convenient amenities such as a kettle, a minibar, a coffee machine, and a safety deposit box. Some rooms feature also a patio. The venue also offers the possibility to enjoy a hearty à la carte Greek breakfast every day.
For further convenience, there are extra services available that you can pay for at the property, including airport transfers and bicycle rental.
Athens Market Portrait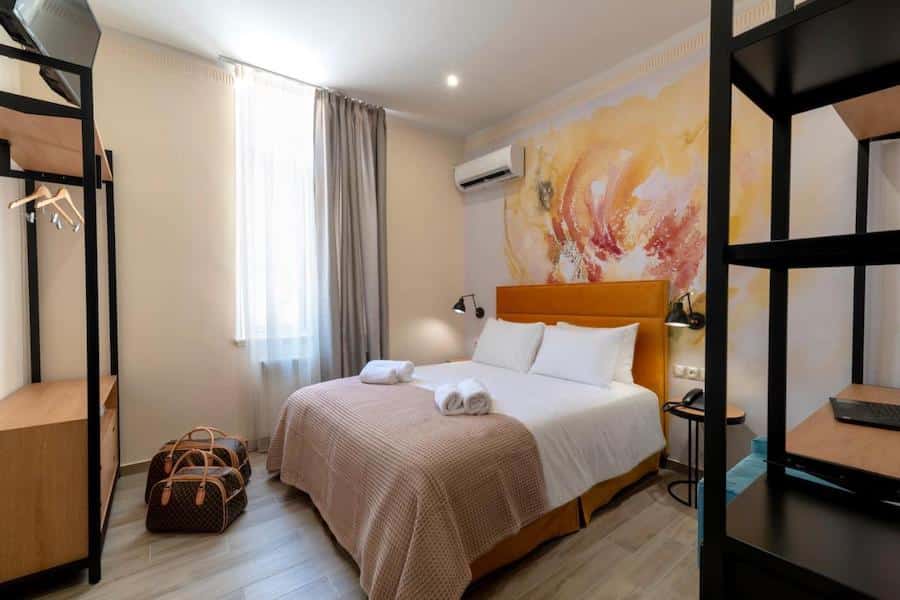 Address | 40 Evripidou, Athens
Although the hotel is a little further away from the Acropolis when compared to the previous options, it's still just under 0.9 km from the ancient archaeological site, which makes it quite a convenient and well-located place to stay near the Acropolis on a budget.
As its name suggests, the hotel is situated in the center of the Agora of Athens (Agora means market in Greek), just 400 meters from Monastiraki Square and its fantastic flea market.
The property features tastefully appointed rooms with air conditioning and a flat-screen TV. During your stay, you can also choose to enjoy the rich continental breakfast in the morning, before heading to the popular shopping area of Ermou Street, only steps from the hotel.
Guests love the location, the variety of bars and restaurants situated within walking distance, the friendly staff, and the varied breakfast buffet which can also be enjoyed on the roof terrace.
Athens Studios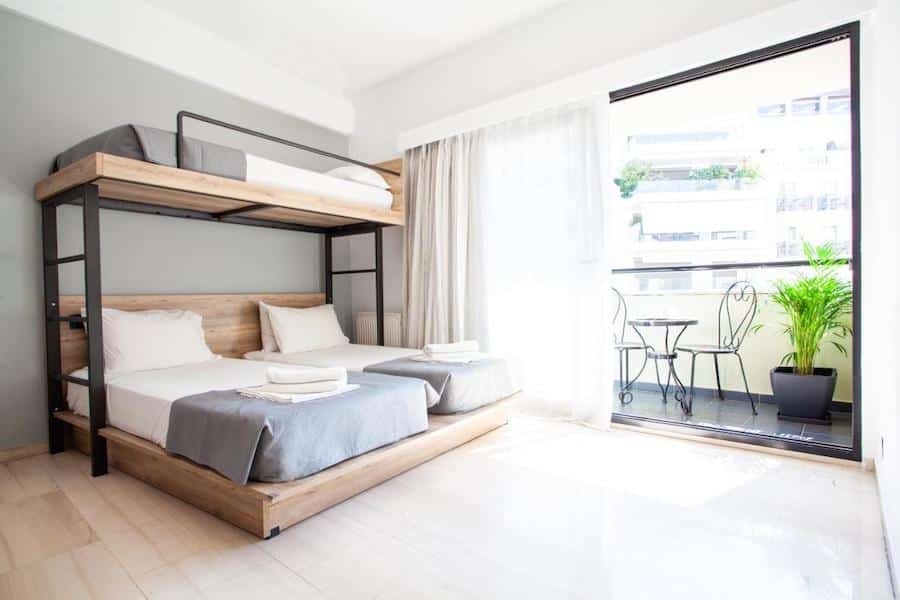 Address | 3a Veikou Street, Athens
Another great value-for-money hotel near the Acropolis, this place enjoys a very central location, only 100 meters from the Acropolis Metro Station, 150 meters from the New Acropolis Museum, and 500 meters from the entrance of the Acropolis.
Guests can find a rooftop area and bar with Acropolis views and bar in the property, as well as both an on-site restaurant and a second bar with craft beers and sports.
The property features rooms fitted with covid-proof smart locks that allow smartphones to be used as the room key. At the venue, you can find ample and modern air-conditioned rooms, studios, and apartments with en-suite bathrooms and a well-equipped kitchenette, most rooms also feature a balcony.
To start the day, there is a free breakfast prepared with local ingredients, while lunch and dinner can also be enjoyed on-site. Looking for more amenities? Check out the 24-hour self-service laundry, a spacious seating area, and locker storage.
TRAVEL COMPANIES WE USE AND TRUST
Best Mid-Range Hotels Near Acropolis, Athens
The following hotels are good value for money, especially for families and groups of friends. They offer a bit more than just basic accommodations within a central location in town, therefore they sell fast. So, if you find any of these available, don't miss the chance and book your stay!
Acropolis View Hotel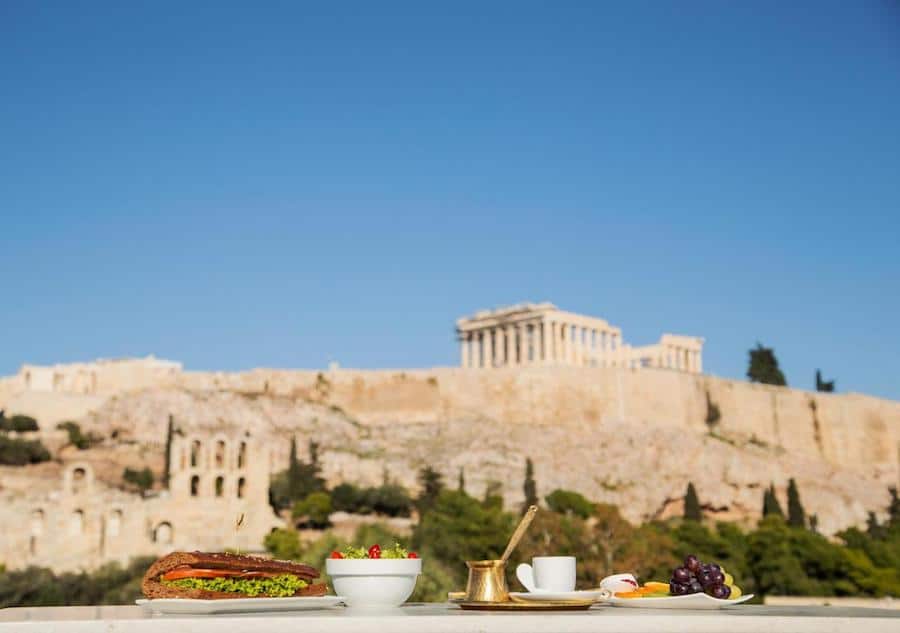 Address | Webster 10 & Robertou Galli, Athens
Acropolis View Hotel is situated in the historical center of Athens and it offers spectacular Parthenon views only 3 minutes from the New Acropolis Museum and the Acropolis metro station.
On the property, all rooms are air-conditioned and equipped with free Wi-Fi access, a satellite TV, and a minibar. Some rooms also have a bathroom where you can enjoy breathtaking views of the Acropolis and also of Filopappou Hill.
If you're coming from the States, you'll be happy to read that there is an American breakfast served daily in the breakfast room and there is also a rooftop terrace where you can relax with a drink while enjoying the sun setting over the Acropolis.
The hotel offers in-room tea and coffee-making facilities and is well known for its delicious morning breakfast.
Acropolis Select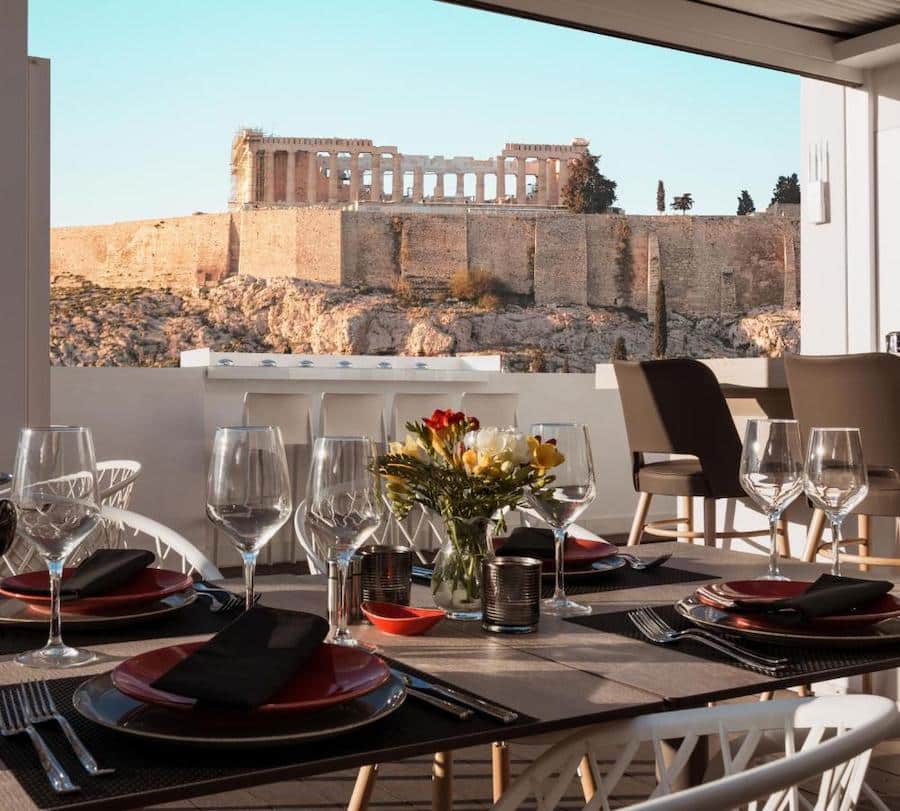 Address | 37-39, Falirou, Athens
Enjoying an ideal position in town, this hotel is very close to the Acropolis and Plaka district and it offers comfortable rooms only 50 meters from the metro station.
All rooms are decorated in a contemporary style, with spacious areas and tasteful Italian design furniture. Each room offers modern bathrooms with bathtubs.
On site, you can have snacks and drinks, or savor delicious Mediterranean cuisine on the rooftop restaurant with Acropolis views. The property takes pride in its friendly and professional staff that is available 24 hours a day to offer suggestions for day trips and helpful travel information.
The hotel is also steps from the lively roads of Plaka, where there are plenty of tavernas, bars, and restaurants, as well as dozens of interesting souvenir shops. The new Acropolis Museum is only 150 meters from the hotel.
Acropolis Hill Hotel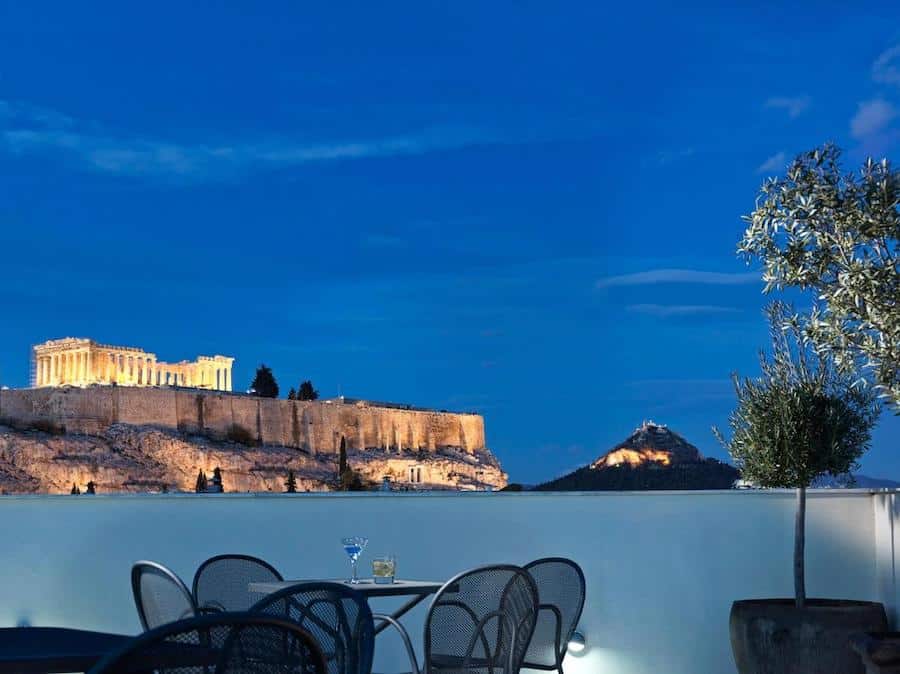 Address | 7, Mouson Athens
Are you looking for a modern hotel? This newly-built property might be just the right place for you! Featuring non-smoking rooms, the venue is in the area around Acropolis as well as near the new Acropolis Museum and the historical center of Athens.
Among the amenities offered to the guests, there is a fantastic outdoor swimming pool and a communal roof terrace with overwhelming sights of Acropolis Hill.
Guest rooms are stylish and contemporary, featuring gorgeous wooden floors and comfortable beds, some of them with Acropolis views. On the premises, there is also an on-site restaurant where a delicious American buffet breakfast is served daily.
Acropolis Museum Boutique Hotel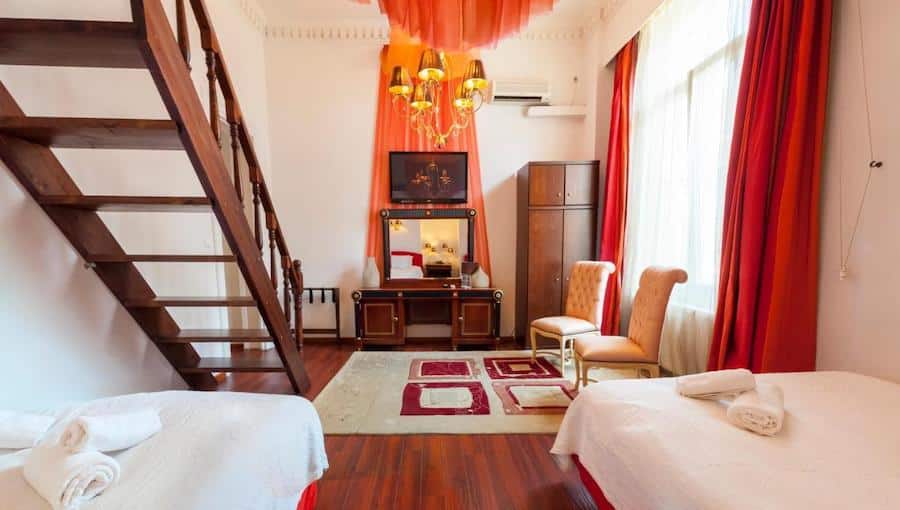 Address | 48, Syggrou Ave. 48, Athens
Amazing reviews also for this unique hotel located in one of the finest areas in Athens. The hotel features charming accommodation a short walk from the Acropolis and the Plaka neighborhood.
All the rooms in the property have been decorated in a simple, luxurious style, with natural and earthy colors, featuring classy high ceilings, wooden floors, original paintings, and comfortable queen-size or double beds with ecological mattresses.
The hotel is highly praised by its guests for its rich breakfast buffet served daily as well as by the internet corner available.
The hotel is located at the foot of Acropolis Hill, within walking distance of the Parthenon, the Temple of Zeus, Hadrian's Arch, and other important historical sites.
If you're staying on the property, you can easily walk to Syntagma Square, and the exclusive Ermou and Kolonaki shopping areas.
Acro Urban Suites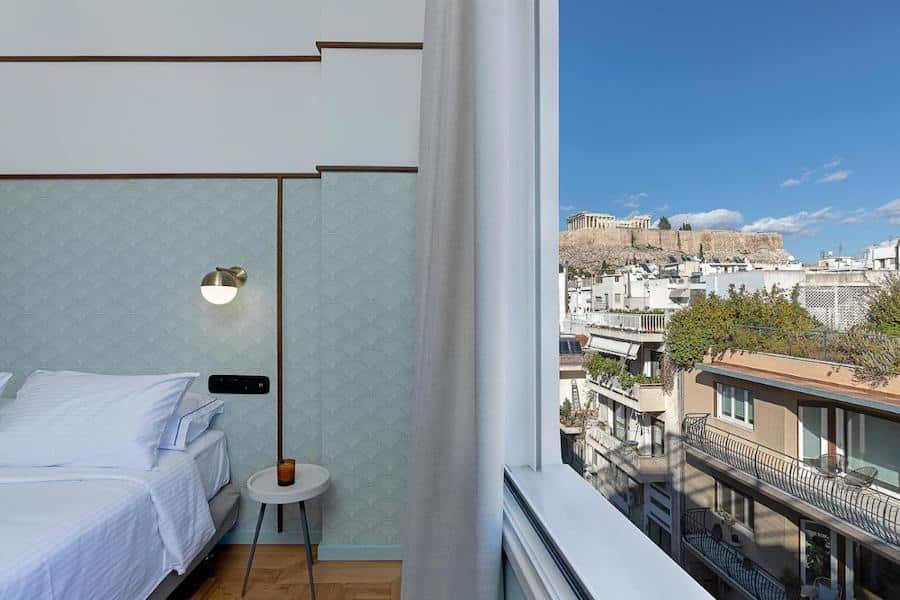 Address | 28 Propileon Fainaretis, Athens
The hotel enjoys a convenient location only 300 meters from the Odeon of Herodes Atticus and the entrance of the Acropolis, as well as 400 meters from the Acropolis Museum. The suites offer accommodation with free Wi-Fi, air conditioning, a shared lounge, and a terrace with gorgeous views.
All of the units are self-catered and equipped with a kitchenette, fridge, kettle, coffee machine, minibar, and stovetop. The units feature parquet floors and are fitted with a flat-screen TV and a safety deposit box.
The property offers a convenient bicycle and car rental service as well as a paid airport shuttle that can be booked at the premises.
A.P. Acropolis View Apartments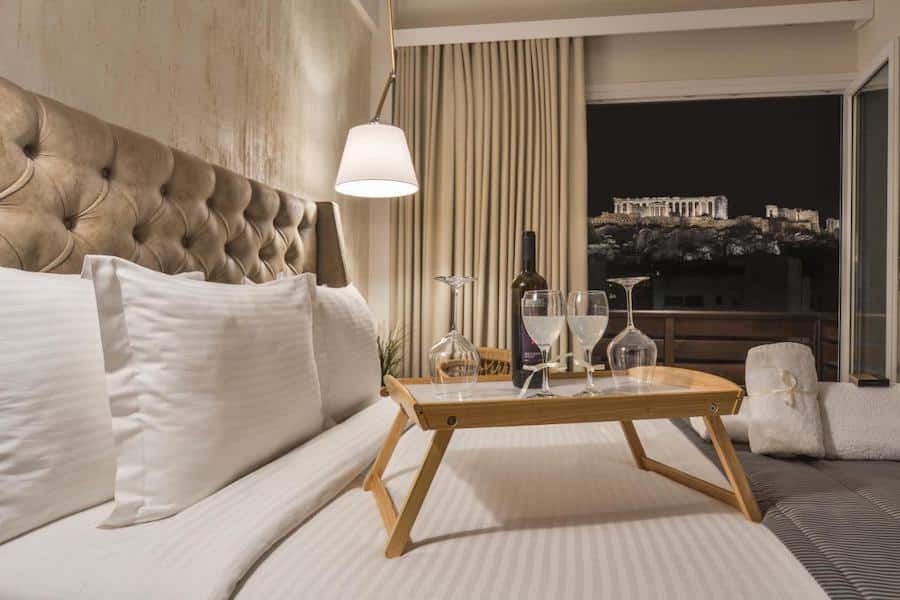 Address | Sarri 23, Psyrri, Athens, 10554
Located just feet from the Monastiraki bus and rail stations, these units are great for those looking to utilize public transport while in Athens while also enjoying a home base filled with luxurious comfort.
Units feature modern decor and plush beds and linens. Rooms have city views, including the wonderful Acropolis skyline. Some rooms also feature balconies with seating areas.
The Aparthotel offers guests dining options, an indoor pool, a fitness center and bicycle & car rentals. Truly a space you can rest, recharge, then hit the city sights again!
Best Luxury Hotels Near Acropolis, Athens
Although fees can be quite high within this category, most rooms come with stunning Acropolis views, paired with top amenities, and state-of-the-art facilities.
Often featuring great restaurants (some of them situated on spectacular terraces) and top-class cuisine, these hotels are the perfect excuse you'll find to splurge in Athens.
Herodion Athens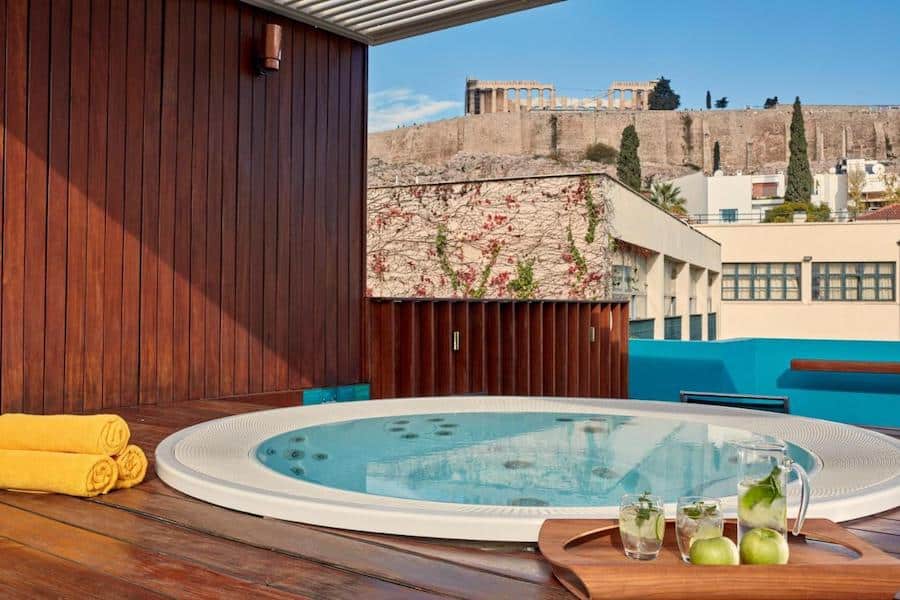 Address | 4, Robertou Galli, Athens
Probably among the best-located hotels in Athens, the Herodion is situated at the foot of the Acropolis. The hotel offers elegantly decorated air-conditioned rooms with light wood furniture and soundproofed windows. From the rooms, you can enjoy top views of the Parthenon.
On site, there is a fantastic roof garden with sun loungers and 2 hot tubs boasting spectacular views over Athens as well as a fine dining restaurant with a decked terrace, serving Mediterranean cuisine with Greek influences, and a variety of cocktails, snacks, and homemade desserts. American breakfast is also served every day on the premises.
Hotel Herodion is just a few steps from the new Acropolis Museum and a 15-minute walk from the central Syntagma Square. The Acropolis Metro Station is 200 meters from the hotel.
Canis Major Suites Acropolis View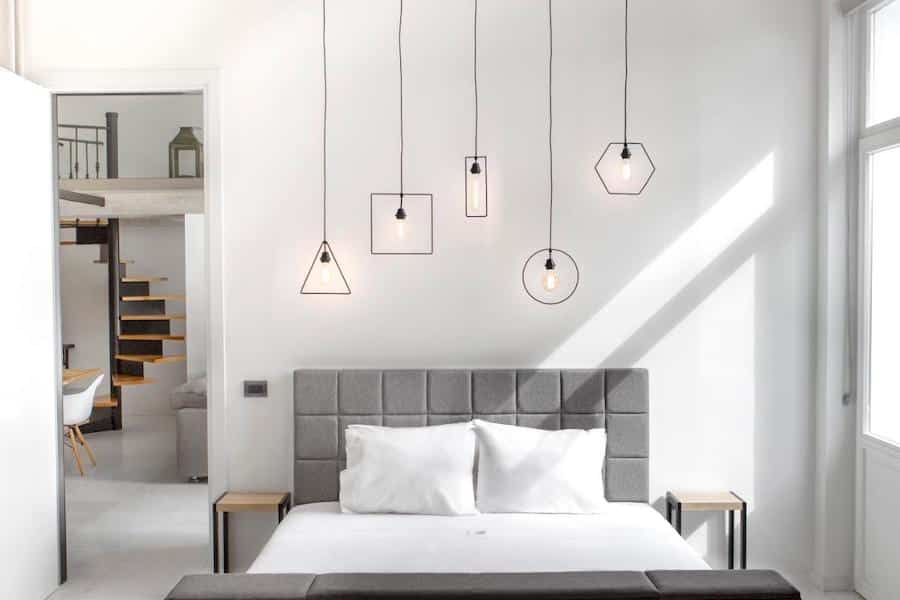 Address | 82, Mitropoleos, Athens
If you're looking to stay in an apartment, then check out this place with great reviews thanks to its convenient location, only 90 meters from Monastiraki Square and 600 meters from the romantic Anafiotika district, in the center of Athens.
Canis Major Suites Acropolis View offers accommodation with free WiFi and seating areas, featuring a flat-screen TV, a living room with a sofa, a well-equipped kitchen with a dining area as well as a dishwasher, fridge, oven, kettle, and coffee machine. For your convenience, the property offers a paid airport shuttle service.
Athens Was Design Hotel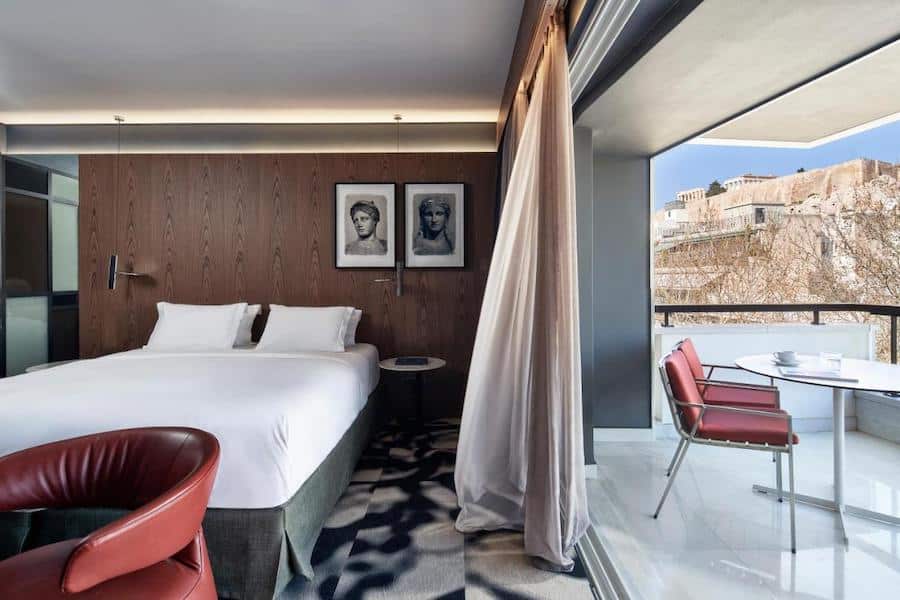 Address | 5, Dionysiou Areopagitou, Athens
One of our favorite hotels in Athens, this venue has been designed in line with the core principles of classical Modernism featuring natural materials and elegant style. Each room opens out to a furnished veranda and has a working space, a minibar, flat-screen TV, safety box, and a Nespresso coffee machine.
The property has spectacular views over the Acropolis and the city of Athens, and hosts one of the best fine dining restaurants in the capital, serving modern Greek cuisine.
In the hotel, the Modern Brasserie offers a delicious a la carte restaurant as well as a delectable selection of comfort food, cocktails, and Greek wines.
Extra amenities include laundry services, a business center, a fitness room, and a car rental service. Moreover, the hotel offers transfer services to and from Athens Airport and the port of Piraeus.
Athens Utopia Ermou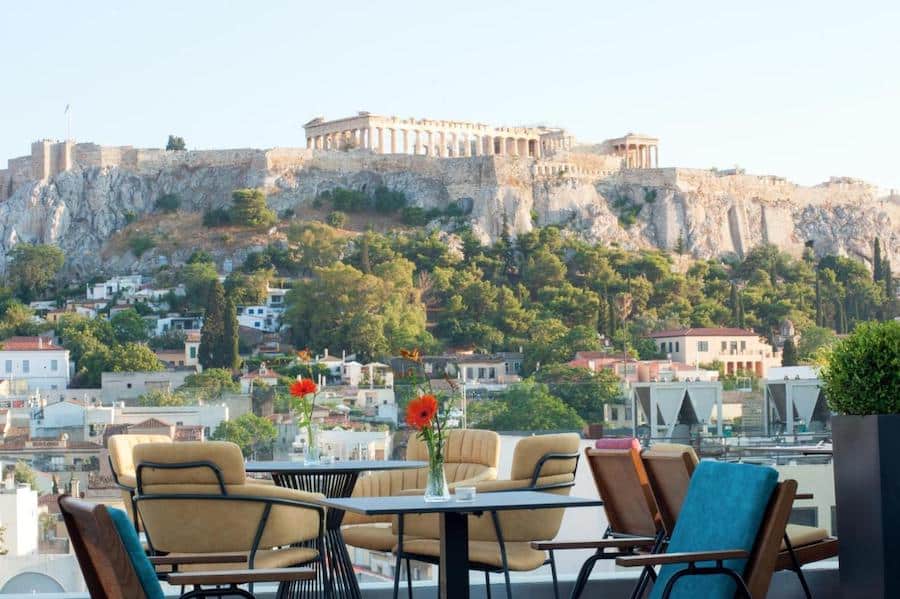 Address | 46 Ermou and Evaggelistrias, Athens
Featuring a bar and a pretty terrace area, this apart-hotel is just 400 meters from Monastiraki Square and Syntagma Square, and only minutes from the Acropolis Hill and the Roman Agora of Athens.
Rooms feature air conditioning, flat-screen TV, and a delicious, daily buffet breakfast. Other facilities include a tour desk, bike rentals, and a business center.
A paid airport shuttle is available, while the property also offers a convenient currency exchange service on site.
A77 Suites By Andronis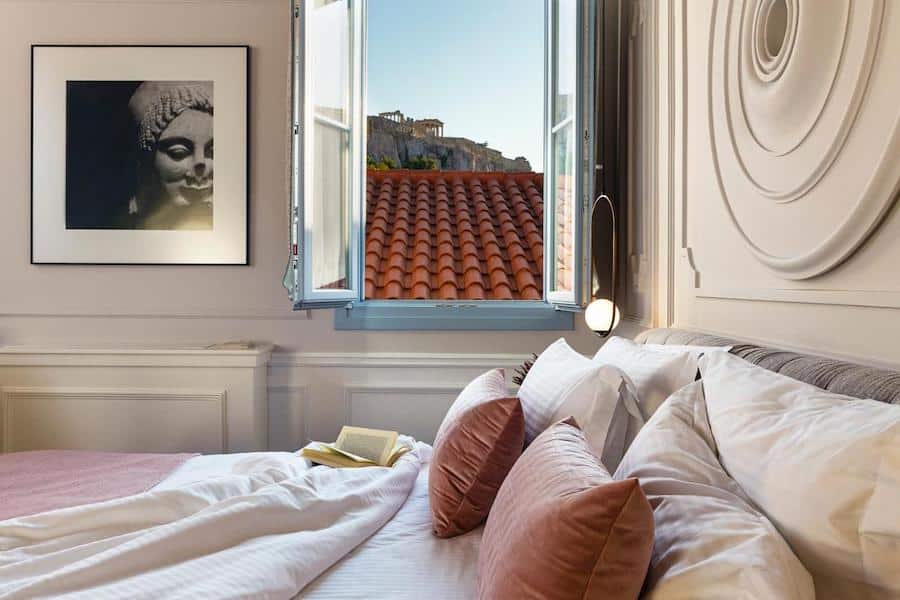 Address | 77 Adrianou, Athens
Just 800 meters from the Roman Agora, A77 Suites by Andronis is part of the Small Luxury Hotels of the World.
The hotel features impressive views of the Acropolis and the city of Athens and it is located close to the famous Ermou shopping area, Syntagma Square, the Plaka district, Anafiotika, and the Parthenon.
All units at the hotel have a comfy seating area with a flat-screen TV while some units also feature a well-appointed balcony.
Looking for more? What about a daily breakfast offering a variety of 6 exclusive menus served in the room? A77 Suites by Andronis also features a paid airport shuttle service.