Your best guide on how to spend 3 days in Athens. We show you what to see and do and how to best plan your 3 day Athens itinerary.
You can't go wrong with a weekend getaway in Athens. The Greek capital is steeped in history, has a fascinating cafe scene that won't take long to get sucked into, and is home to one of the most famous European landmarks, the Acropolis.
Three days in Athens is a perfect amount of time to explore the ancient city without rushing too fast, as long as you don't try to cram too much into your schedule. You might not get to see everything you want, but you will get to tick off some of your bucket list sights.
Planning your three-day Athens itinerary before you arrive will help you maximize your time. Be sure to book tickets ahead of time for key attractions such as the Panathenaic Stadium, especially if you're visiting during the high season.
In this post, we will show you exactly how to visit Athens in three days so you can hit the ground running when you arrive. Whether you're a first-time visitor, a bit of a shopper who loves a splurge, or an avid foodie, this itinerary will help you plan your upcoming trip.
Will 3 Days Be Enough In Athens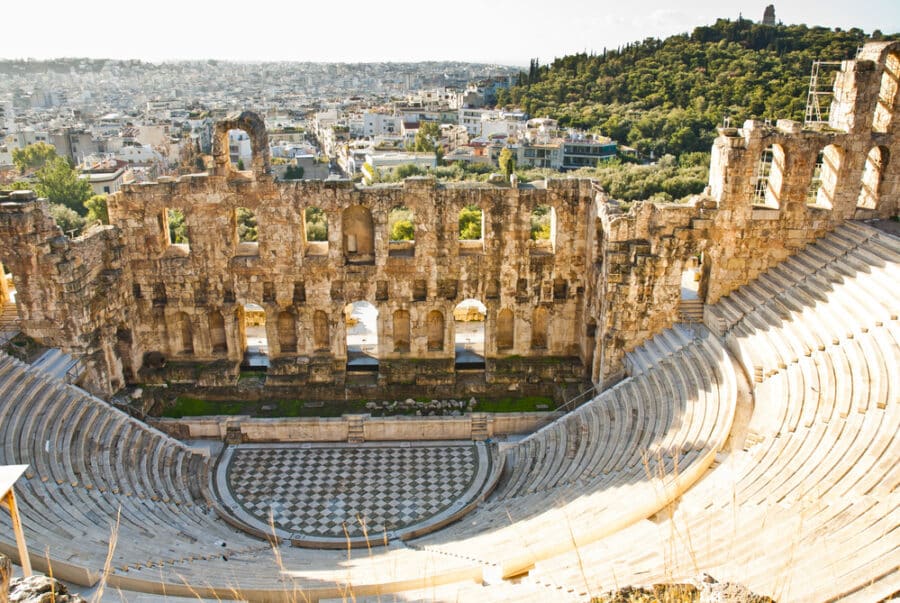 We often get asked, "How many days do you need to spend in Athens?" and the answer really depends on what type of trip you're going on. If you're heading away on a city break with your family or a couple of friends, then three days is a fantastic chunk of time.
But if you wanted to go out to the suburbs and see what they offer, there would be no harm in adding on an extra day or two, so you don't have to rush around.
To some people, three days are nothing, but with the right preparation, you'd be surprised by what you'll see in that short space of time.
3 Days In Athens, Greece Itineraries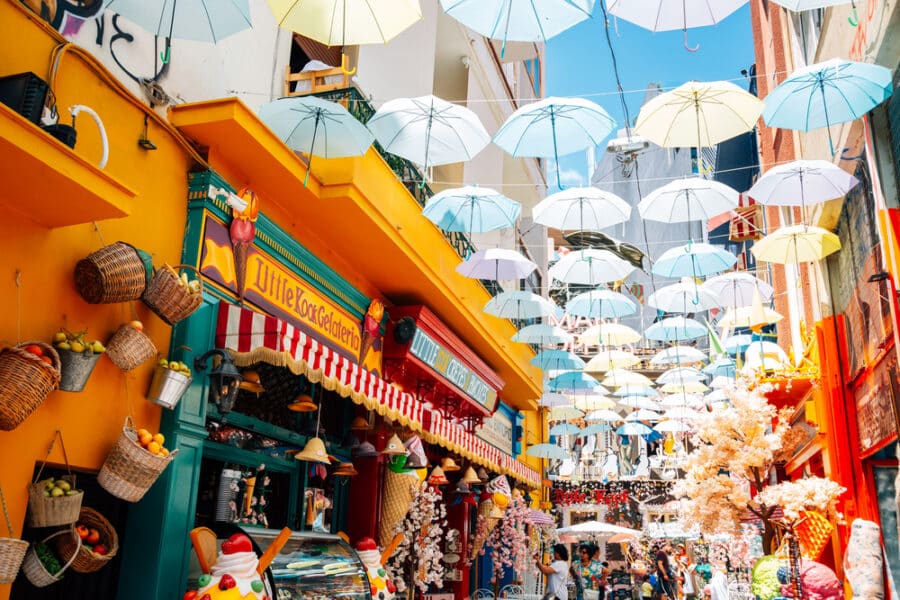 Everyone's trip to Athens will be different, so we have carefully designed three unique Athens itineraries for specific trips you can use for inspiration for your upcoming Greek vacation.
First Time In Athens Itinerary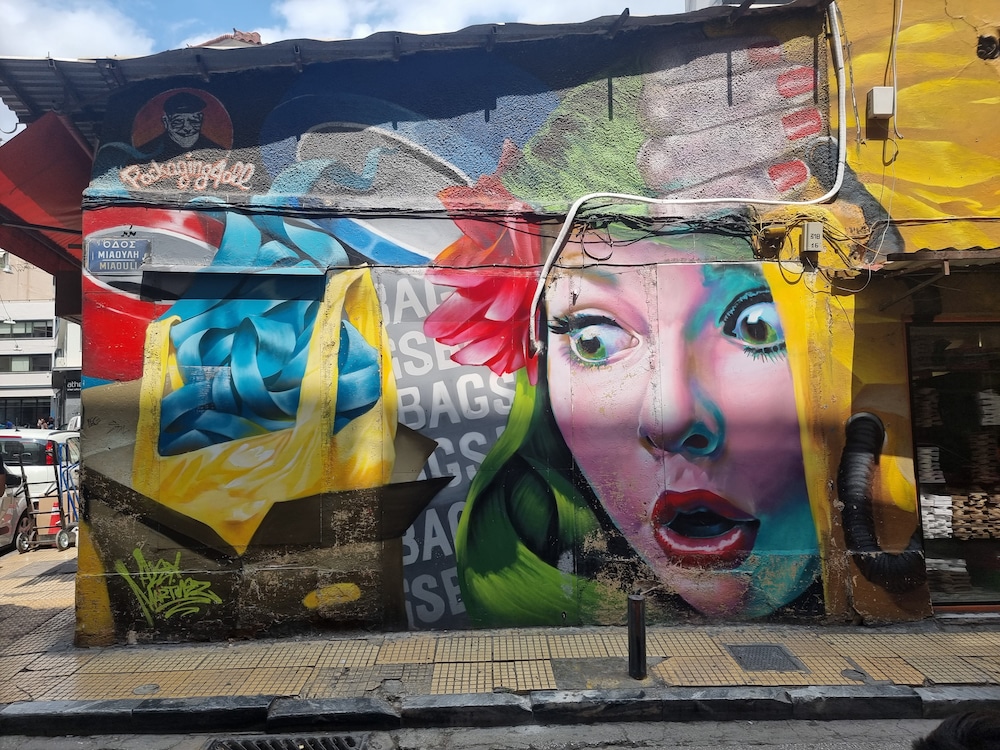 Day 1: visit the Acropolis, check out the Acropolis Museum, walk around the Roman Forum, admire the Temple of Zeus, and explore Plaka
Day 2: get your photograph taken at Syntagma Square, run around the Panathenaic Stadium, go and see the Byzantine and Christian Museum, and have a picnic in the National Gardens
Day 3: grab a Greek breakfast at Kolonaki, walk through the National Gallery, catch a sunset up the top of Mount Lycabettus, and end the evening by watching a show at the Athens Concert Hall
An Athens Itinerary For Shoppers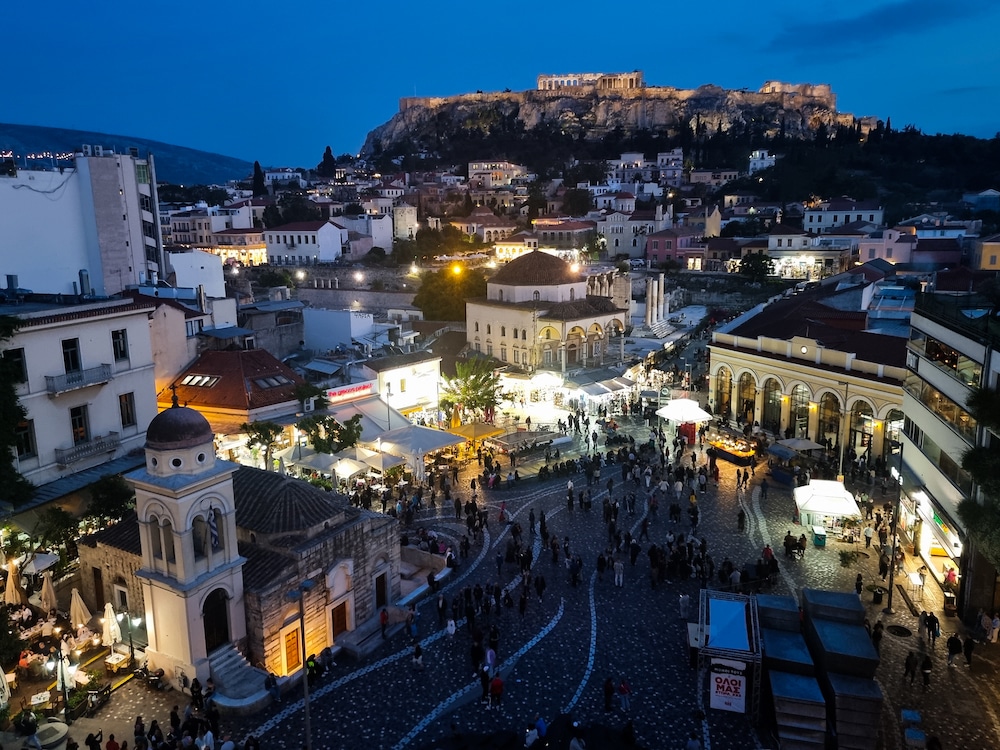 Day 1: walk through Monastiraki Square, get your hands on some goods at Ermou Street, and discover some bargains at Exarcheia
Day 2: head to Kolonaki and scout out places like Voukourestiou St, Irodotou Street, and Ploutarchou Street
Day 3: take the train out to the Athens Mall in Marousi for the day
A Foodies Itinerary For Athens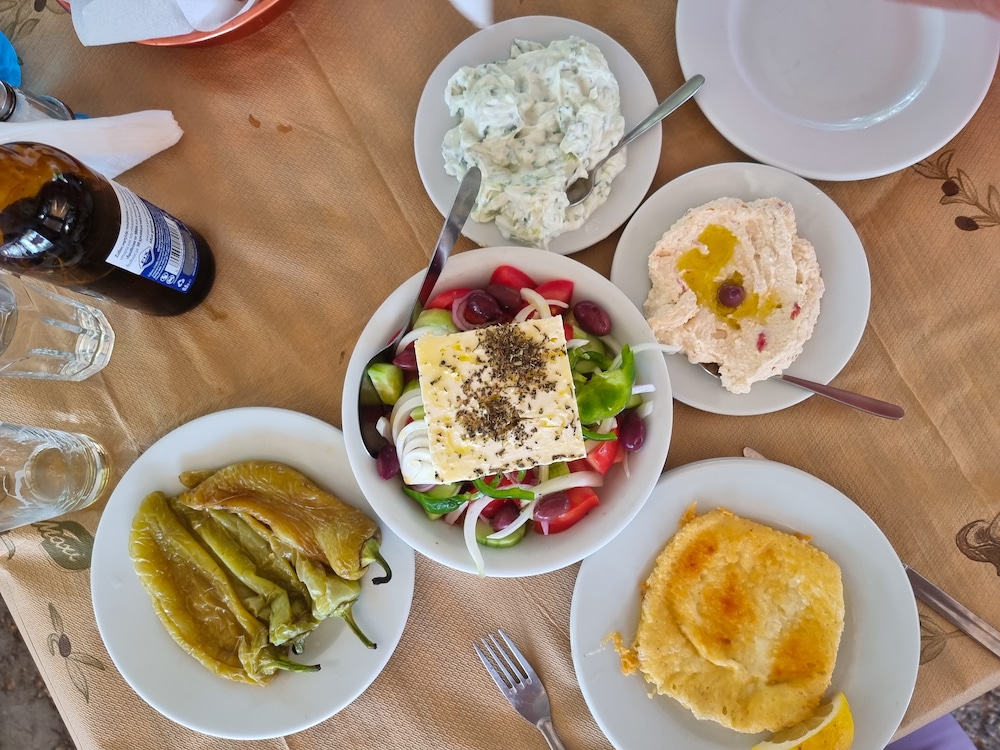 Day 1: book yourself onto a walking food tour from Syntagma Square, and indulge in some desserts at Kolokotroni
Day 2: sample some Gyros around Koukaki, try out a tasty Greek Salad in Monastiraki, and finish up with a stroll through the central Athens "Varvakios" meat markets
Day 3: join an Athenian cooking class where you shop for ingredients and venture back to the studio to put your skills to the test
TRAVEL COMPANIES WE USE AND TRUST
Should I Add On Extra Days In Athens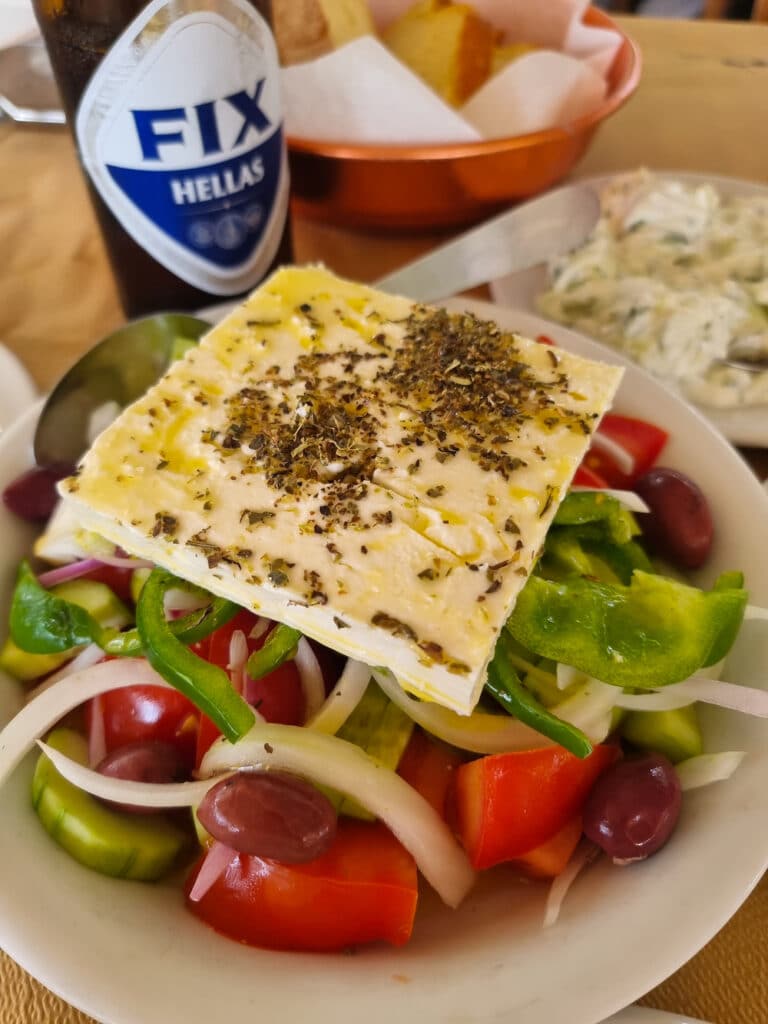 As we have already mentioned, three days in Athens will allow you to get a taste of the historical Greek metropolis, but if you could stay for one or two more days, you'll really get the most out of your trip.
The city has a land area of 38 km² and isn't like other European capitals where there are only one or two main sights to see; Athens easily has 15 – 20 world-class attractions you'll want to visit when you're there, and three days might not be enough time.
After that, you'll have to look at the time it takes to get between the places you want to see. Many of the main ancient sites, like the Temple of Olympian Zeus, the Acropolis, and the Ancient Agora of Athens, are in and around the same area.
Once you start looking at going to the Museum Ship Averof out by the coast, that will take up a good chunk of your time. And it would be best if you still allocated time to walk around gorgeous localities like Plaka.
Traveling to Athens shouldn't be a race to see how fast you can see everything. You want to enjoy your trip and return home feeling like you've grasped the culture and seen how daily life is on the ground. You can still do that in 3 days, and we're going to show you how.
Transport Options In Athens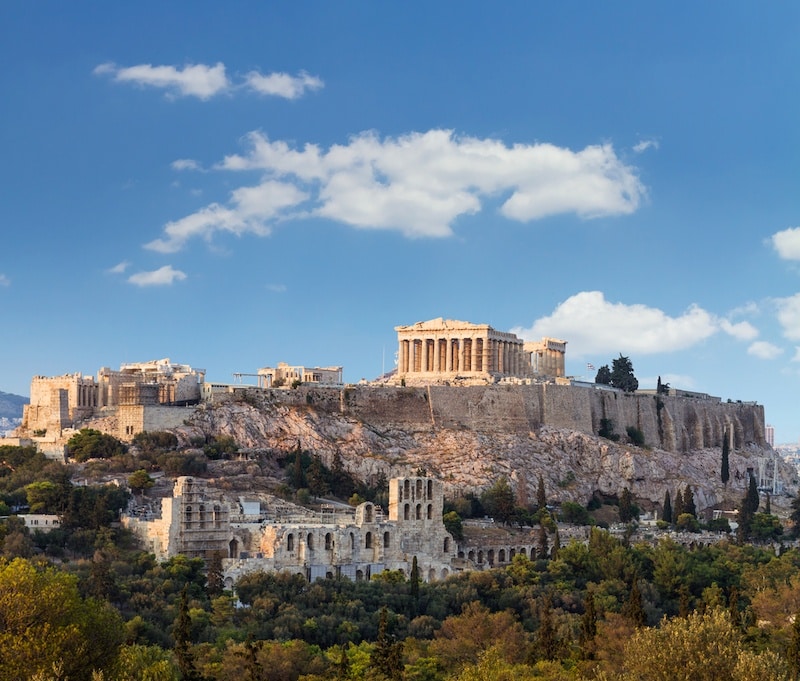 Athens has a well-established transport system that connects visitors to all corners of the city and is quite affordable to use.
Within half an hour, you can go from strolling around Syntagma Square to sunbathing on Kalamaki Beach out by Piraeus Port. Whether you love riding on the underground metro or prefer to take a taxi from A to B, you'll find an option that suits you.
Here are the best forms of transport you can use for getting around when you're in Athens.
Metro
The metro is undoubtedly the most popular means of transport as it's incredibly fast and allows you to beat the traffic, particularly during rush hour. You'll often find yourself using it on your trip to Athens. The city's metro system comprises three lines: green, red, and yellow, all connecting to different selected tram and bus routes.
The stations are labeled with a light blue symbol representing an "M" and usually have steps on either side of the street for passengers to enter. Riding on the metro is possible from 5 AM until 12 AM every day, and on Fridays and Saturdays, the red and blue lines stay open until 2 AM.
Buses
City buses are a great way of seeing the best of Athens, cruising through the winding streets while seeing all the action outside the window. They connect the main center to the suburbs and operate during the same time as the metro, from 5 AM until 12 AM.
A 24/7 express bus service runs to the airport from popular areas like Syntagma Square. Be aware that a couple of bus numbers normally stop at one bus stop, and they're pretty frequent, so if you miss your ride, you can wait around for another.
Trams
Athen's tram system is the gateway between the main center and the coastal areas like Voula and Pireaus, where the port has the main ferry routes going out to all the islands.
The tram lines are labeled T6 and T7; the T6 route goes out as far as Faliro, whereas the T7 will go to Piraeus. All the trams in Athens are well-maintained and super clean, making the journey out to sea nice and comfortable.
Taxis
Every once in a while, we want the convenience of hopping into a car without waiting around at a bus stop or an underground station. Taxis are everywhere in Athens; fares are usually charged by the kilometer with a starting fee of €1.29, and all taxis (should) have meters, so make sure you get the driver to turn it on before you take off.
If you're struggling to get around, download FreeNow, a mobile taxi application that shows you nearby taxis in your area. Sometimes it can be even cheaper than hailing a cab, so weigh up your options.
Highlights From Our Athens Itineraries
See below for some of the highlights of our listed itineraries that you may want to include in yours, whether you're feeling peckish and fancy a bite to eat or want to see the remains of Ancient Greek Civilization.
The Acropolis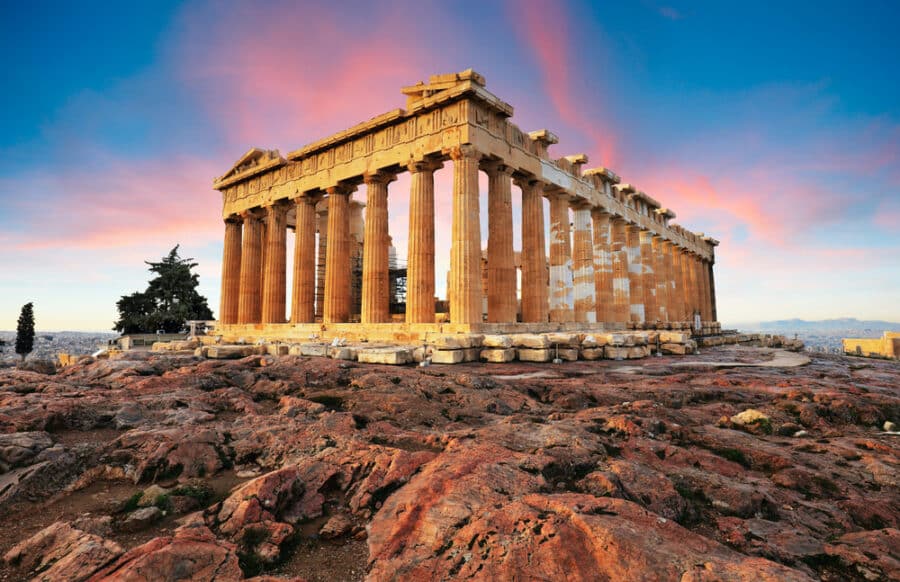 Nothing on this planet is like the Acropolis; seeing it with your own two eyes is truly special. Perched on a hill overlooking the capital, this archaeological site comprises several significant sites, including the Pantheon, a limestone-made citadel that was once a mythical fortress during the Neolithic times and a place where people could worship the legendary gods.
Additionally, you'll also be able to see other key landmarks nearby, like the Erechtheion, the Odeon of Herodes Atticus, the Theater of Dionysus, and the Temple of Athena Nike.
As you already know, the Acropolis is the face of Athens, so the entry lines can be long, especially on the weekends and throughout the summer months. Purchasing your ticket online beforehand will cut out the main chunk of waiting time, although there still could be a bit of a queue if it's really busy.
The Acropolis Museum
At the bottom of the hill of the Acropolis in the Makriyianni area, you'll find the Acropolis Museum, a facility that history buffs will love. It's a massive collection of over 3000 artifacts that were found in the famous Acropolis archaeological site at the time of its discovery, spread across 25,000 square meters.
Originally, the museum was called "the Old Museum on the Rock of the Acropolis," but it has since been replaced with the "Acropolis Museum." As you walk through the complex, you'll be able to see all kinds of ancient relics, including sculptures like the Parthenon West Frieze and statues such as the Head of a Statue of Alexander the Great.
After you've had your historical fix, you can have a bite to eat at the on-site restaurant/cafe or read one of the books available in the quiet reading areas.
The Roman Forum (Roman Agora)
Wedged in the middle of two of the capital's main districts Plaka and Monastiraki, the Roman Forum dates back somewhere between 19 and 11 BC. Emperor Augustus gave the green light for its construction, and it acted as the city's trade center for many years, even after the Herulian invasion. It survived in some capacity for many years through a handful of occupations, including the Ottoman and the Frankish.
Today, the Roman forum can be seen as you walk through the city streets, or if you'd prefer a more in-depth look, you can pay an entrance fee at the gate €8 during the high season and €4 in the low season. Tour websites like Get Your Guide have a couple of excursions available with a stop there, too, and you get to have a local guide if that's what you're interested in.
The Temple Of Zeus
East of the Acropolis is the remains of the Temple of Zeus, which was constructed in the name of the Chief of Gods, and it took over 13 years to finish due to the rises and falls of various emperors. Funnily enough, the structure was never fully completed, as it was constantly renovated.
What's left today are a few 17-meter-high limestone pillars surrounded by slabs of rubble throughout the archaeological site; it may not be as substantial as what you'd find at the Acropolis, but it's still truly fascinating.
Standard tickets can be purchased at the gate and come with an audio guide. Listen to how Theseus discovered the city of Athens, and step back in time to hear what life was like back then.
Plaka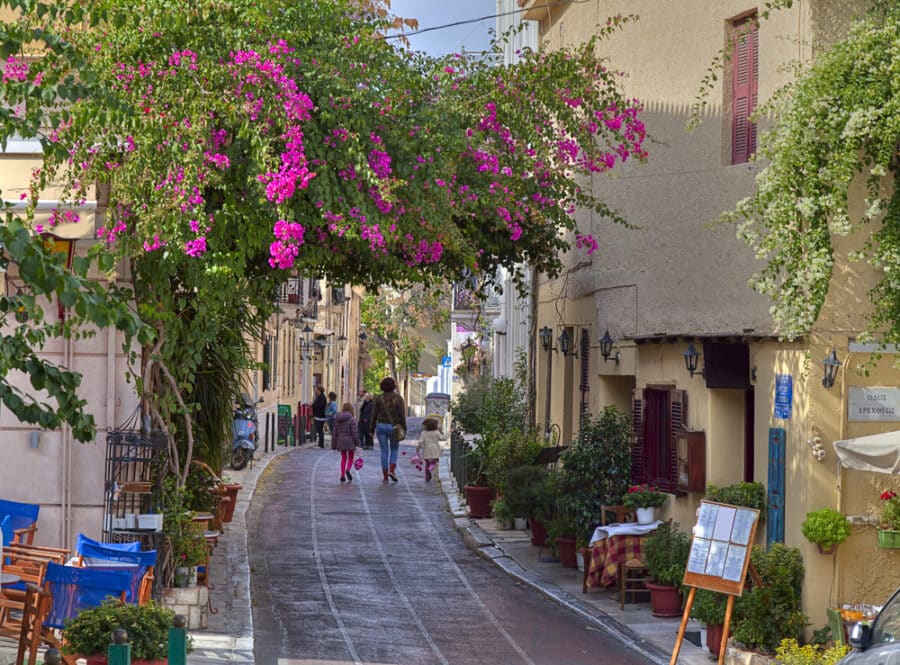 An Athens travel itinerary isn't truly complete without a walk through Plaka, a charming district away below the Acropolis celebrated for its winding streets, adorable cafes, tree-covered buildings, and souvenir shops.
Even though it tends to be one of the city's main attractions in the high season, it still manages to hold on to its beauty and lure tourists after visiting some of the other landmarks in the area.
You could visit Plaka with the intention of only spending ten to fifteen minutes and end up staying for half of the day; it really does have that wow factor.
Treat yourself to a snack in Fotini's Deli, sip a warm cup of coffee at the Melina Mercouri Café, or get your photo taken at Adrianou, Plaka's most famous street. Plaka is unquestionably one of the best places to visit in Athens.
The Panathenaic Stadium
Anyone planning a trip to Athens must include the Panathenaic Stadium on their itinerary. Dating back to the 5th century BC, this stadium is where the first modern Olympic Games were held and is one of the only of its kind made from marble alone.
Entrance tickets for the Panathenaic Stadium are available at the gate, including access to the whole site and an audio guide. Don't leave without getting a picture taken on one of the prize podiums; show your friends back home that you're the real Olympian champion!
Syntagma Square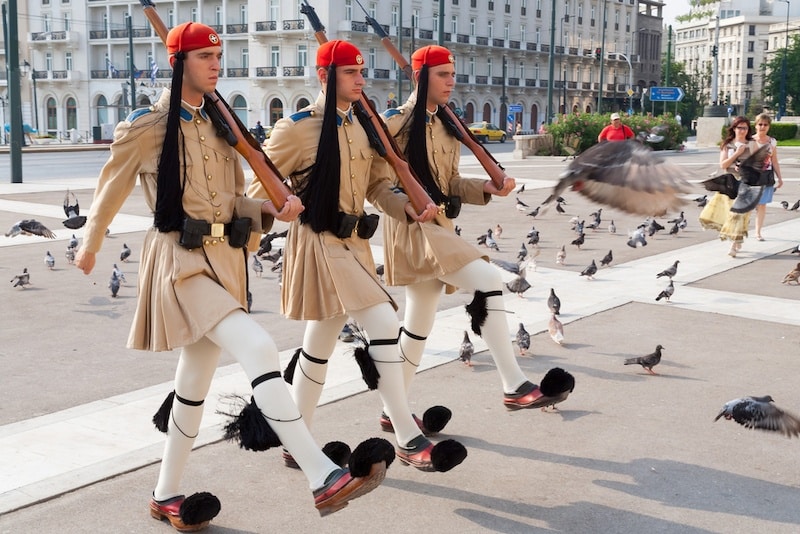 Syntagma Square is Athen's beating heart; it's a location that holds great historical significance, as well as being one of the main meeting points for locals and tourists and a place where many public events are held. Surrounded by elegant rooftop restaurants like GB Roof Garden, retail stores including Nike, and key places of interest such as Monument to the Unknown Soldier, Syntagma Square has it all.
While you're at Syntagma Square, you have to take a look at some of the famous sites in the vicinity. The Hellenic Parliament stands out on the east of the square; it's Greece's main body of legislation, in simple terms, the Greek Parliament.
Positioned on the square's northern side, Hotel Grande Bretagne is recognized as a historical landmark, having been constructed in 1842 and is proudly still standing today.
The Byzantine And Christian Museum
Another one of the great Athens experiences is the Byzantine and Christian Museum. It was set up in 1914 to showcase the best of the Byzantine and Post-Byzantine cultural heritage and now holds 30,000 artifacts, including sculptures, ceramics, jewelry, textiles, paintings, and mosaics.
The museum is split into two sections; the first displays findings dating from the 4th to the 15th centuries AD, while the second exhibits discoveries from the 15th to the 20th centuries.
If you have plans to visit the National Archaeological Museum, Numismatic Museum, or Epigraphical Museum with the Byzantine and Christian Museum, an excellent ticket combo is available, granting you access to all of them for a one-time fee of 15 euros.
The National Gardens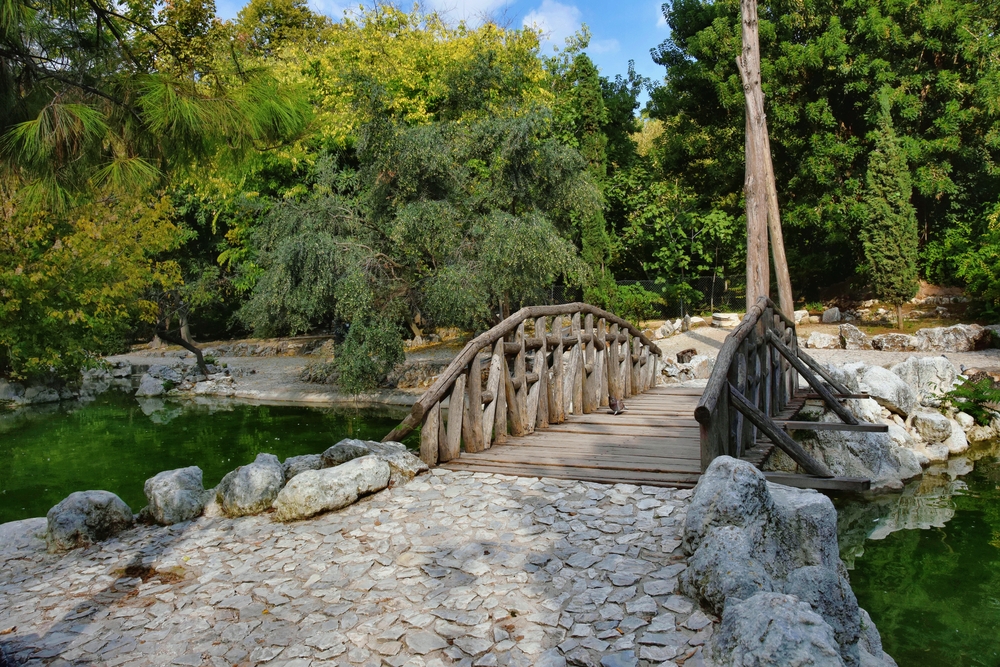 Acting as the halfway point between Syntagma Square and the Panathenaic Stadium, the National Gardens is what you need to finish a perfect day of exploring in Athens.
This secluded paradise is a beacon of calm amongst the chaos of the big city life, boasting 16 hectares of lush green space dotted with resting benches, tiny peaceful lakes, a little animal farm home to chickens, peacocks, and goats, a play area for kids and library.
The National Gardens has three access points at Zappeion Megaron, Vassilissis Sofias Avenue, and Amalias Avenue, and it's free to enter every day from 6 AM until 7:30 PM.
Kolonaki
The affluent hillside district of Kolonaki is renowned for its posh vibe, high-end eateries, sumptuous cocktails, and extravagant boutique hotels. If you're a sucker for modern and neoclassical architecture, you'll love this place, from the uniquely designed buildings to the old-style mansions still standing today.
Kolonaki houses some of Athen's most prominent museums, including the Benaki Museum, the Museum of Cycladic Art, the Children's Museum, the History of Greek Costume, and the Numismatic Museum, so check some of them out if you have time.
Mount Lycabettus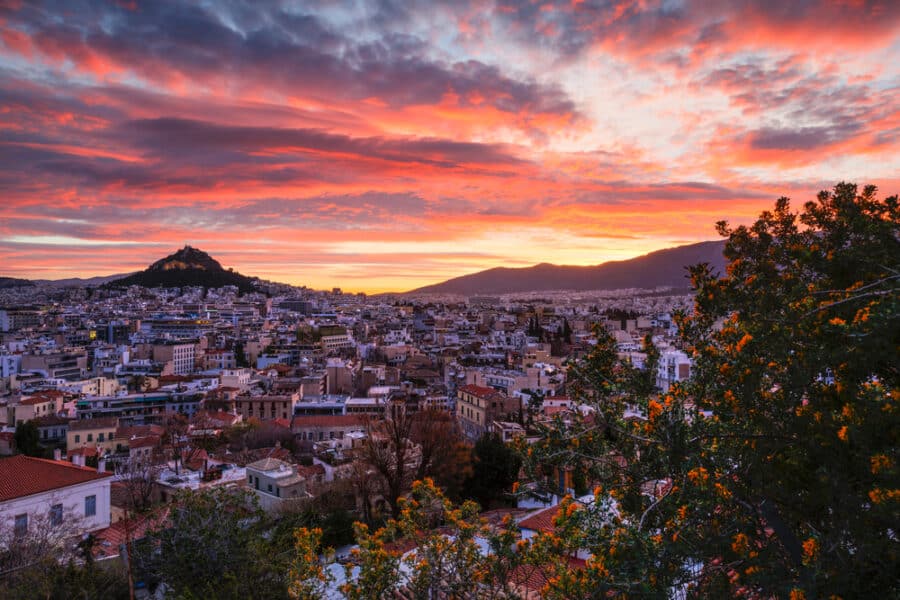 Do you want to see one of the best views in Athens? Mount Lycabettus is placed 277 meters high above the center of the city and is an incredible vantage point for spotting the likes of the Acropolis, Temple of Olympian Zeus, and Panathenaic Olympic Stadium; there's no better spot to catch a sunset.
If the sunshine is getting to you, you can take a cable car up to the top of Mount Lycabettus, which is available at Plutarch Street down in Kolonaki. It's in operation between 9:30 AM and 1:30 AM and runs every 30 minutes with two cars going at the same time. Plus, the journey only takes 3 minutes instead of tackling the treacherous climb.
Athens Concert Hall
The Athens Concert Hall is a must-see for music lovers. The premier venue opened its doors in 1991 and has seen countless top-tier orchestras perform shows for hundreds of visitors over the years.
Tickets for shows at the Athens Concert Hall can be purchased at the Megaron Box Office, located at Athens Concert Hall, and Vas. Sofias Ave. Kokkali Street, as well as online in advance, which is highly advised, especially if a big-name performer is included on that evening's lineup.
Monastiraki Square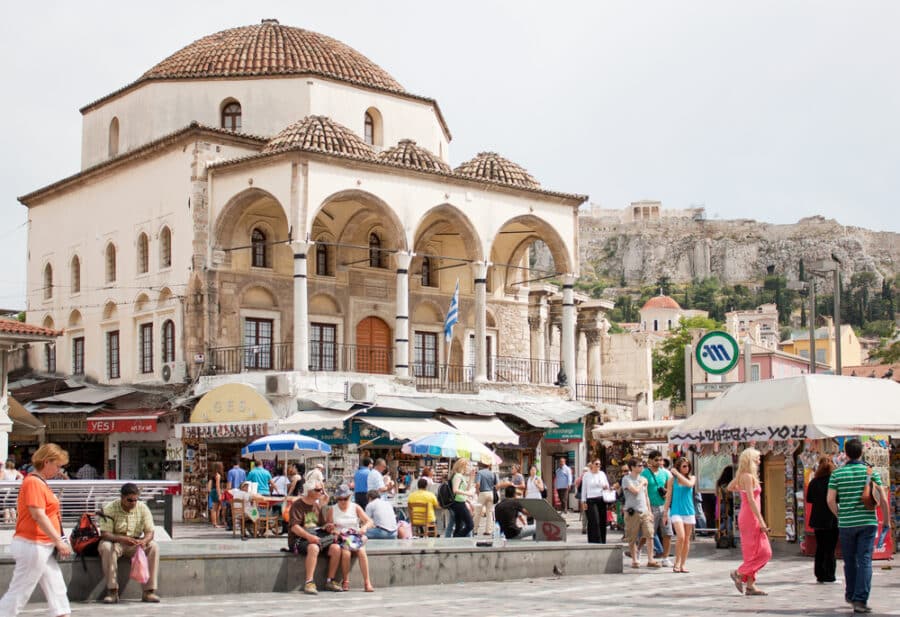 Known as one of the oldest localities in all of Athens, Monastiraki Square is made up of the significant Ancient Agora, the Tzistarakis Mosque, bustling souvenir shops, and one of the busiest metro stations in the whole city.
The well-visited shopping street of Ermou Street is connected to Monastiraki Square and offers a nice mix of retail and souvenir stores with hidden bargains throughout. While it remains crowded with tourists throughout the day, thanks to the establishments keeping their doors open until 10 PM, it's a sight worth seeing, even if shopping isn't your main interest.
The Athens Mall
Often overlooked because of how far it is from the main touristy areas in the city, the Athens Mall is one of the main shopping hot spots with four floors of up to 200 shops made up of big names brands including Bershka, Vans, United Colors,, of Benetton, Tommy Hilfiger, New Balance and many more.
Walking Food Tours Of Athens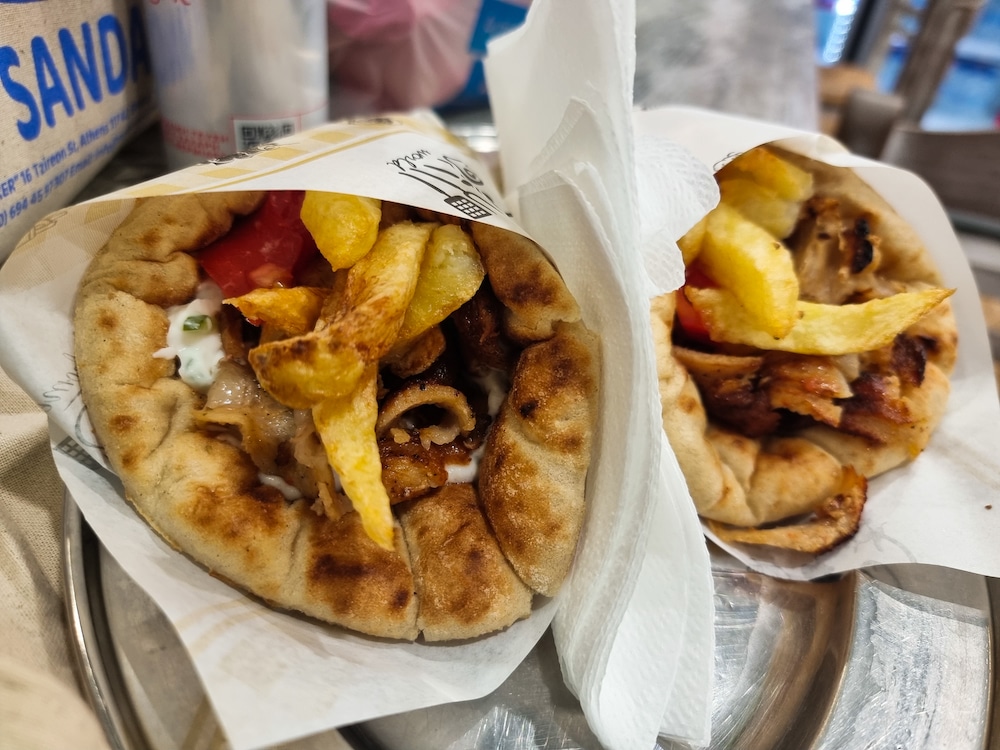 We all know that Greek cuisine is highly regarded all over the globe, and what better way to try the best of what it has to offer than with the help of a local through a walking food tour?
Across the capital, many companies run these outings where you'll get to taste scrumptious street eats like traditional Gyros, Souvlaki, Loukoumades, and lots more.
These excursions can last anywhere from an hour to four hours and are sometimes tailored towards certain aspects of the food scene, e.g., Gyros tastings.
You can see a full list of street food tours available in Athens through tour websites like Get Your Guide and Viator.
What Are The Best Tips To Plan A Trip To Athens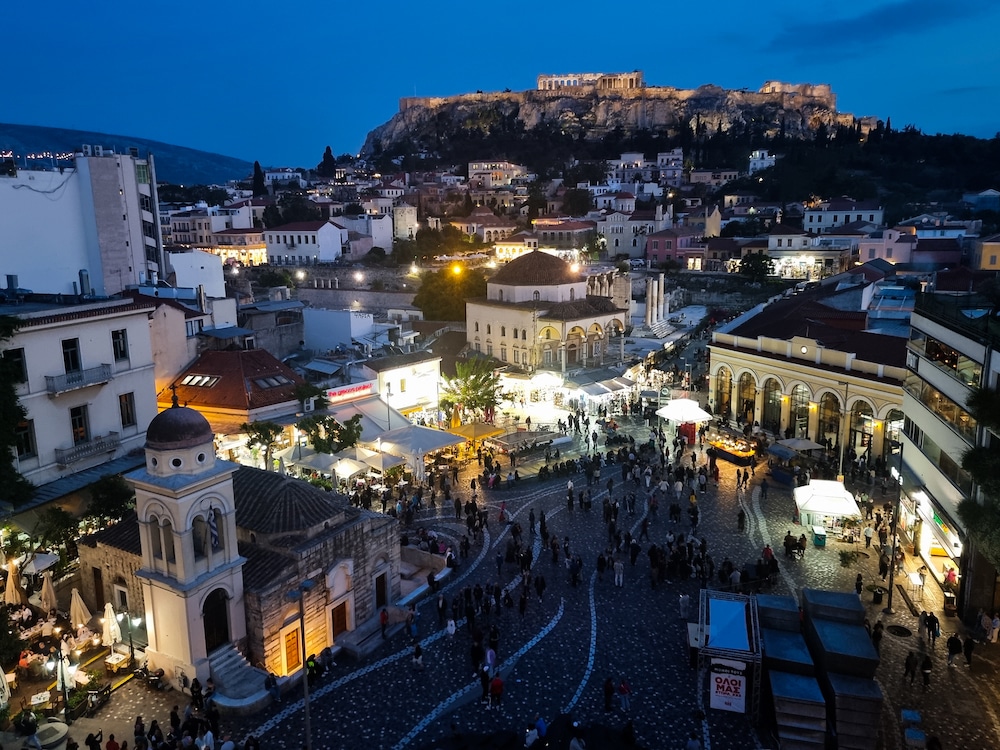 Choose the right neighborhood to stay in that suits your travel needs. You know the type of traveler you are and what essentials you want nearby; for some, they want to be close to nightlife, while for others, it's shopping
The best time of year to visit Athens depends on your preferences. If you're a fan of the sunshine and don't mind spending a bit more money on accommodation, flights, and experiences, well, then the summer months between June and August will be best for you. Anyone who isn't a fan of hoards of tourists doesn't really mind a bit of rain here or there, and wants a budget-friendly getaway will much prefer the winter, from December to February
Knowing what you want to see before arriving is important, especially because you'll only be in Athens for three days. We have listed our recommendations above, but you might not want to stick to the itineraries and choose some attractions from each one, and that's perfectly fine. Still, you need to understand how you'll navigate between the sights so your trip runs smoothly. Researching public transport options, opening times, etc., is essential so you don't have any hassle while there
Budget is everything when it comes to travel. After all, it's what allows us to go on these vacations. It's worth noting that Athens isn't the cheapest city in the world, but if you follow a few simple rules like eating away from the main hotspots and utilizing public transport, you'll get by and save yourself a few euros. The best thing you can do is set a daily spending budget and try your hardest not to go over it; on the days you don't, you can add the funds to the next day and enjoy your money more
That's How You Spend Three Days In Athens, Greece
Now that you know how to visit Athens in three days, you can start putting the plans in place for a memorable trip to the birthplace of democracy.
Three days are ideal for visiting Athens for seeing a few sights on your bucket list, dabbling your feet into the culinary scene, and getting a quick feel of Greek culture. Waste no more time; start making arrangements and book your flights today!