We may earn commission from affiliate links →
Best Rooftop Restaurants In Istanbul (& Istanbul Rooftop Bars Too)
If you visit Istanbul occasionally, you must know how dramatic it looks during sunset. This ancient city has many stories to recount and a great view to admire; this might be why rooftop bars are among the most popular destinations in Istanbul, besides their luxurious decors and sophisticated ambiance.
Rooftop bars are the epitome of luxury, sophistication, and panoramic views. These sky-high oases offer a unique dining and drinking experience that elevates any evening to new heights. Whether looking for a romantic date night or a night out with friends, rooftop bars provide the perfect combination of breathtaking views, delicious cocktails, and gourmet cuisine.
This blog will explore some of Istanbul's most beautiful rooftop bars, highlighting their signature cocktails, food, and panoramic views. Especially when you combine this outstanding experience with an Istanbul trip, you will doubtlessly have a once-in-a-lifetime experience. So grab a glass, sit back, and relax as we take you on a tour of rooftop bars not to miss.
The 4 Best Rooftop Bars & Restaurants In Istanbul
PLAN AHEAD TO GET THE BEST DEALS
Spago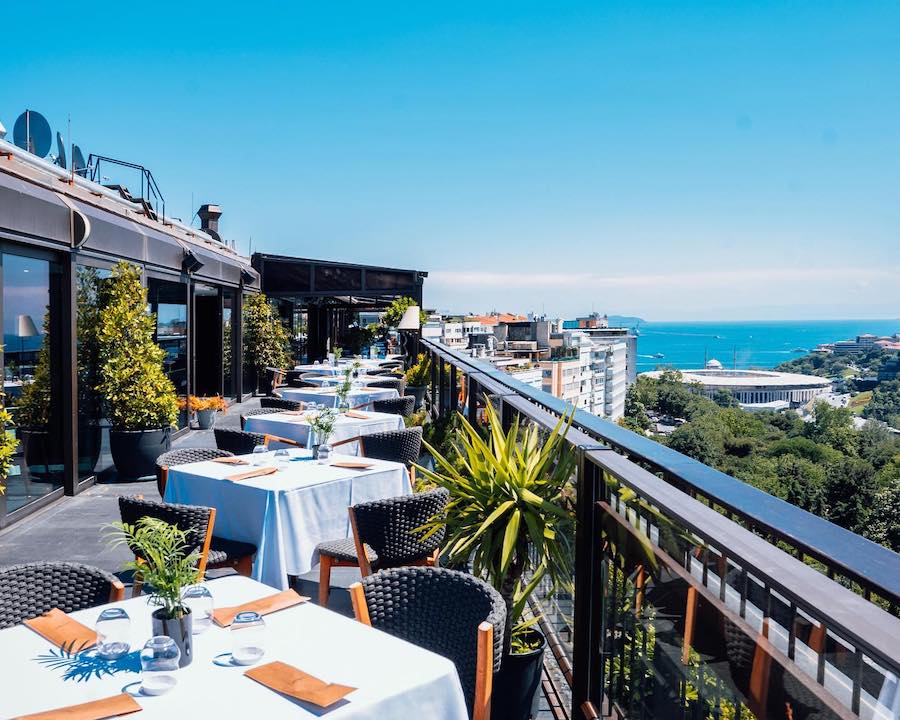 Spago combines modern design with a relaxed atmosphere, making it the perfect place to unwind after a long day or celebrate a special occasion. Nestled atop a towering building, it offers breathtaking panoramic views of Istanbul's skyline.
It's a tad pricey, but you can have a look at the digital menu on the bar's website before visiting the venue.
What Do Visitors Say?
The main problem with the venue seems to be the service speed, which is understandable considering Spago is a popular place, and the kitchen is often busy. The fantastic scenery and delicious taste make up for the few extra Turkish Lira you'll drop compared to a regular bar.
Why You Should Visit
A fantastic service combined with superb views of Istanbul, Spago is a rooftop bar every traveler should visit. We recommend Spago, especially to couples who want to spend a romantic night with their significant other.
IMPORTANT SPAGO DETAILS
Website: https://spago.thestregisistanbul.com/en/
Address: Harbiye, Mim Kemal Öke Cd. No:35, 34365 Şişli/İstanbul
Cuisine: California
Signature Drink: Peace on Earth (Although they don't name a cocktail as their signature on the digital menu, this one is the most popular among visitors)
Amiralto Rooftop Restaurant & Bar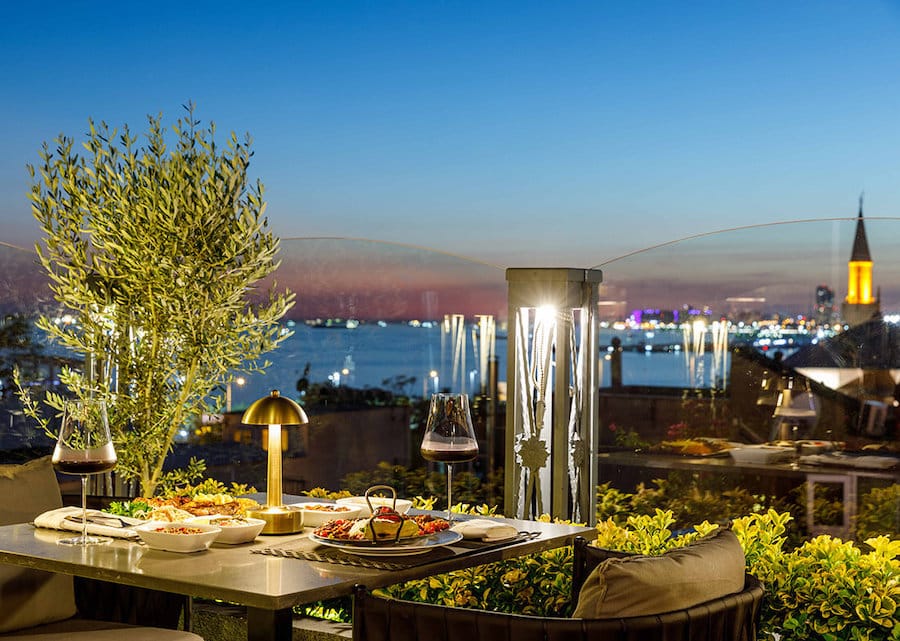 An urban rooftop bar is the best way to see the city's rush from a different angle and even a perfect way to get away from it. At Amiralto, you can drink handmade cocktails while admiring the city skyline and bustling streets below.
The rooftop restaurant blends contemporary design with a unique environment, making it the ideal spot for a night out in the city. The menu includes a variety of delectable cocktails and carefully produced meals made with the finest ingredients.
Amiralto rooftop restaurant guarantees an unforgettable experience with its breathtaking views, outstanding service, and memorable moments, whether you're searching for a romantic date night or a fun-filled evening with friends.
What Do Visitors Say?
Most visitors like the scenery of Amiralto, as you can see the Bosphorus from the rooftop, and this is among the many reasons visitors recommend it. Some people complain about the prices, which seem to be a tad overpriced compared to other restaurants in the area. However, considering the gorgeous scenery and delectable dishes, the prices seem reasonable for such a place.
Why You Should Visit
Amiralto isn't a popular destination, yes – it's less well-known than other rooftop restaurants in the area. Nevertheless, the venue offers a wide range of food and cocktails beside a great view of the Bosphorus. It's the perfect spot for those looking for a rooftop view without the crowds.
IMPORTANT AMIRALTO ROOFTOP RESTAURANT & BAR DETAILS
Website: http://amiralto.com
Address: Küçük Ayasofya Mahallesi, Mustafa Paşa Sk. No: 43, 34122 Fatih/İstanbul
Cuisine: World
Loti Roof Lounge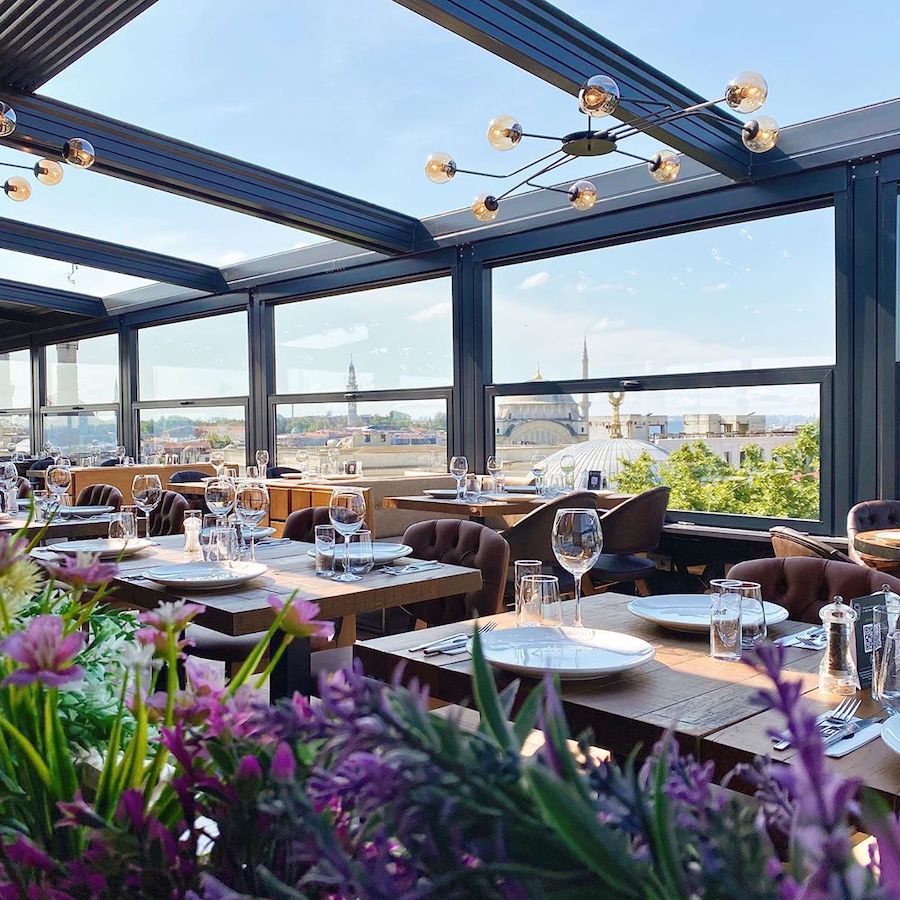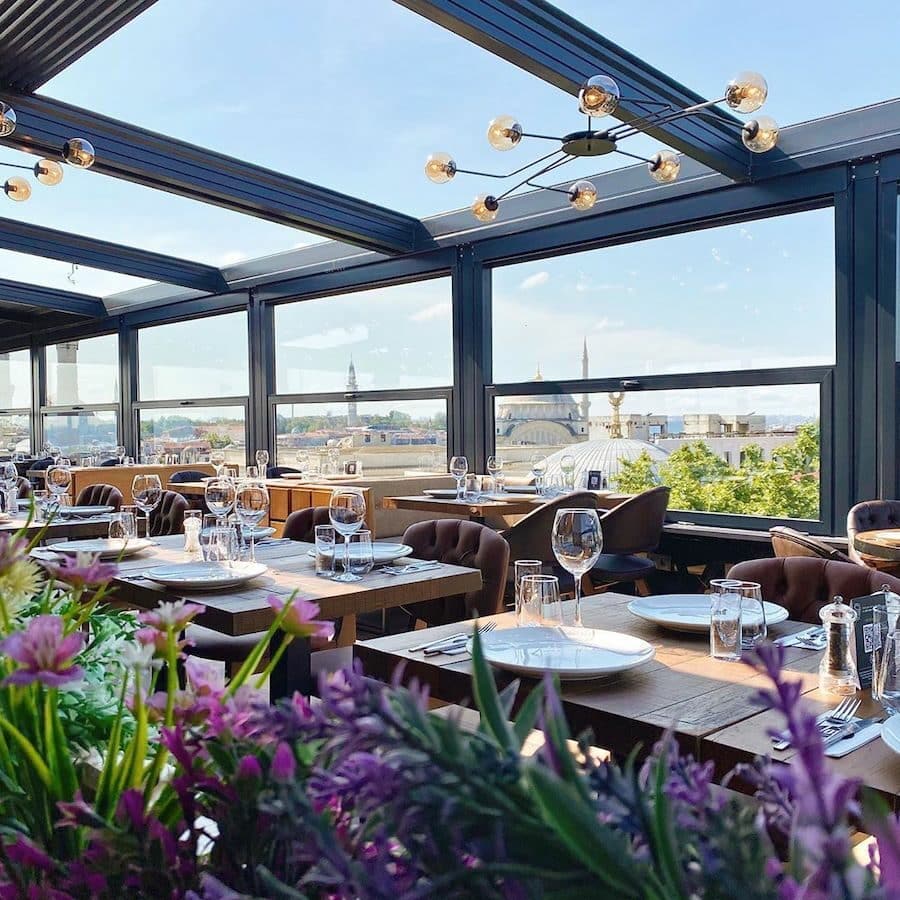 Loti is a luxurious rooftop restaurant with world-class steaks and a rich selection of delectable dishes. It allows you to indulge in the ultimate dining experience with stunning views.
Imagine savoring a perfectly grilled steak while taking in the breathtaking panoramic views of Istanbul's skyline. The menu features a wide range of delicious steaks, perfectly grilled fish, delectable kebabs, and Turkish meatballs.
What Do Visitors Say?
Most visitors liked the energy and liveliness of the venue. The place offers a gorgeous view of Istanbul through the windows and is a perfect way to experience the richness of Turkish cuisine. The venue provides high-quality service, and most visitors are satisfied with the employees.
Why You Should Visit
Loti Roof Lounge is a perfect location for those wanting to have a lovely Istanbul evening. The venue, although not a steakhouse, serves world-class steaks. If you want to spend an enjoyable evening with a perfect view of Istanbul, Loti is the place to go.
IMPORTANT LOTI ROOF LOUNGE DETAILS
Website: https://lotipoints.com/loti-roof-lounge/
Address: Binbirdirek, Divan Yolu Cd. No:27, 34112 Fatih/İstanbul
Cuisine: Turkish
Signature Drink: Although they don't have signature cocktails, some of the most preferred items on the menu are Gingerella, White Lady, Mimosa, Piña Colada, and Negroni.
Daisy Rooftop Restaurant
With an astonishing view of the harbor, Daisy Rooftop Restaurant serves its visitors a rich selection of beer and wine. The staff prepares food with utmost care and attention; every detail is wonderfully arranged, and the decoration is neat. Daisy is like a fusion of contemporary and traditional décor. The venue is perfect for spending a wonderful evening on the Bosphorus.
The scenery makes Daisy an excellent choice for romantic dates and memorable nights. The menu includes a wide range of Turkish dishes and local cuisine, which makes the place ideal for tasting Turkish dishes.
What Do Visitors Say?
Visitors find Daisy Rooftop Restaurant enjoyable and friendly. The place seems to pay attention to what its visitors want and tries to provide them with the highest quality service.
Most visitors praise Daisy for its cleanliness and stunning scenery. The venue's prime location is one of the reasons it's favored; a gorgeous view of the Bosphorus lies behind the customers as they enjoy their delectable dishes.
Another plus about Daisy is the reasonable prices; the restaurant's pricing is almost the same as other restaurants around the corner.
Why You Should Visit
Overall, Daisy Rooftop Restaurant is a perfect location for visitors who want to experience a colorful Istanbul evening. With a beautiful view of the Bosphorus and a rich menu, Daisy offers its visitors everything a rooftop bar should.
IMPORTANT DAISY ROOFTOP RESTAURANT DETAILS
Website: https://online.fliphtml5.com/wpfdt/jsff/#p=1
Address: Küçük Ayasofya Mahallesi, Su Terazisi Sk. No:25Küçük, 34093 Fatih/İstanbul
Cuisine: Turkish
Snog Roof Bar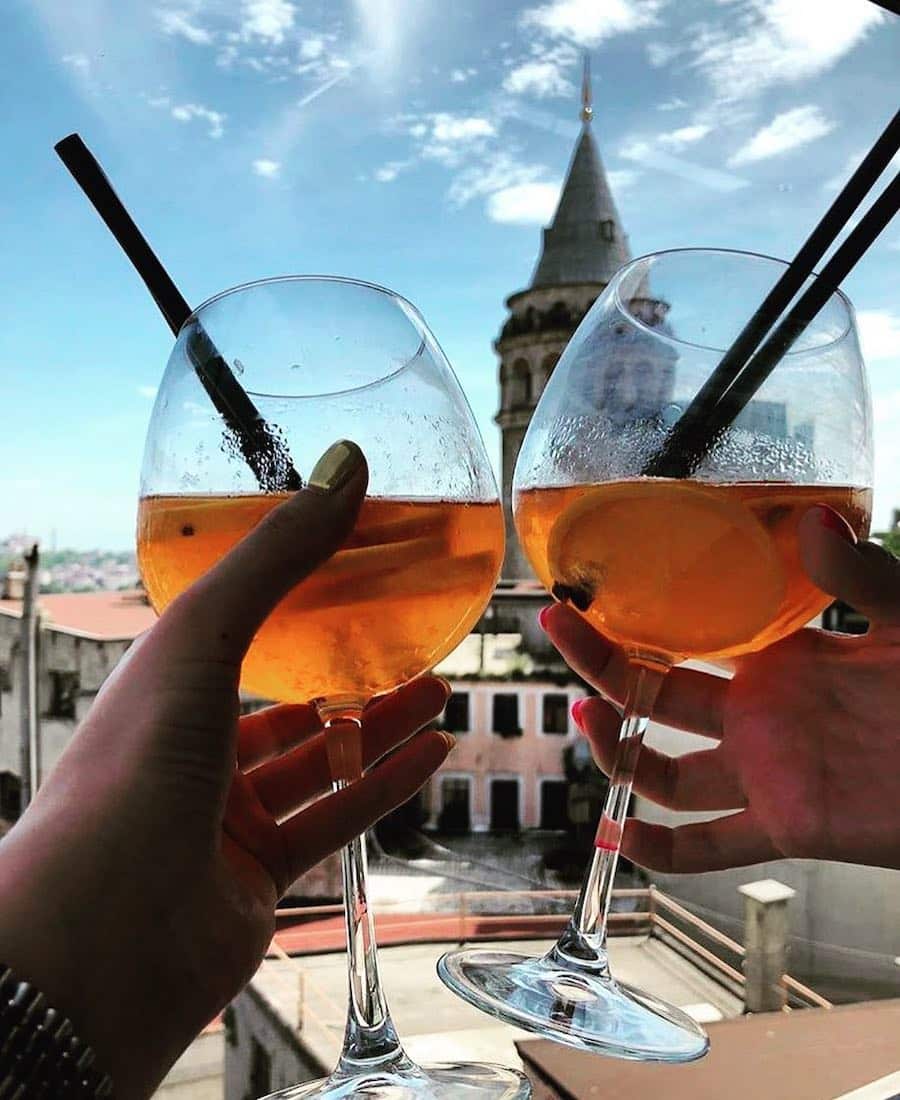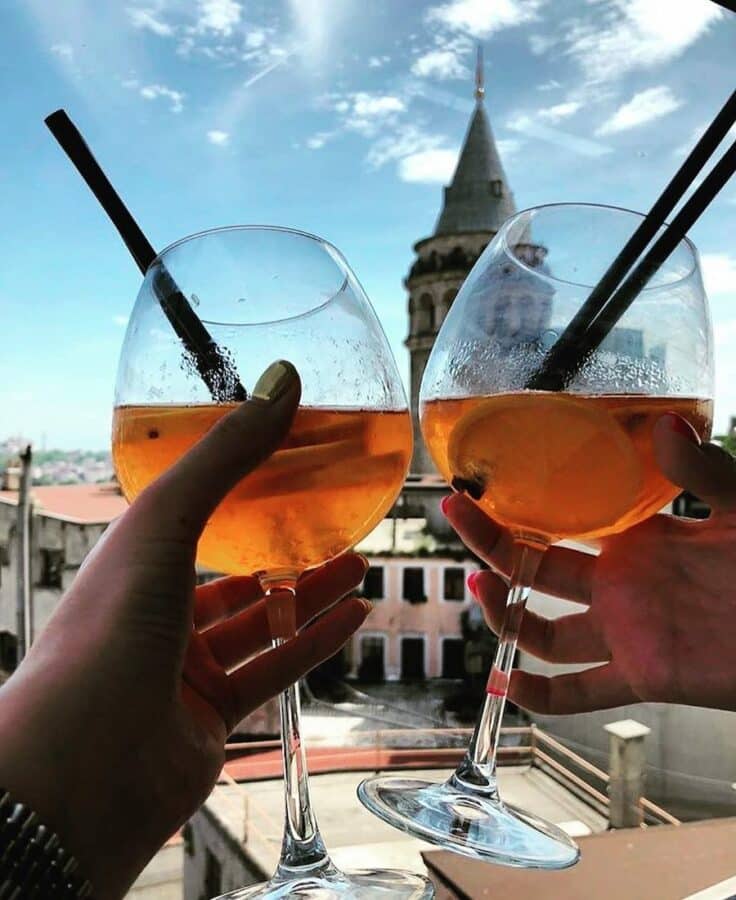 Perched high above the Bosphorus strait, Snog Roof Bar offers an unparalleled dining experience with breathtaking views of the Galata Tower and the Bosphorus. Imagine sipping a refreshing cocktail while taking in the dazzling view of the sunset over the ancient waters of old Istanbul. Away from the crowds and hustle of everyday life, Snog offers you a dramatic getaway.
What Do Visitors Say?
Although the prices are on the high side, Snog makes up the price gap by providing its visitors with unique scenery. Visitors seem to like the view from the rooftop bar. The rich range of cocktails is also another reason most visitors like Snog.
Why You Should Visit
If you want to know how it feels to sip your cocktail while gazing at the most famous monuments in Istanbul, such as Galata Tower, Snog should be your first choice.
IMPORTANT SNOG ROOF BAR DETAILS
Website: https://www.snogroofbar.com
Address: Şahkulu, Galip Dede Cd. No:56 Kat:4, 34421 Beyoğlu/İstanbul
Cuisine: Classic Turkish pub
Signature Drink: Aperol Spritz
Share