Croatia Transfers: Split Airport Transfers
Getting from Split Airport to Split has never been easier. If you are wondering how to get from Split airport to Split or Split to Split Airport in a safe, reliable, and affordable way, look no further; you have come to the right place. With a few transport options available to you, like the Split Airport bus, Split taxi, and Split private transfers, there is something for everyone.
The best part is that competition is fierce, so it's relatively inexpensive to take a private transfer, which is the most comfortable and convenient way to travel. For the price of a Split Airport taxi, you can take a private transfer from Split Airport with the best Split Airport transport company, Octopus Transfers Croatia.
With 20 years of transportation experience in Croatia, Octopus Transfers Croatia have a fleet of vehicles to take you from Split airport to Dubrovnik, Zadar, or any town or city in Croatia. If you are planning a Croatian vacation and arrive at Split airport, we can provide you with the following Split Airport transfer services:
We pride ourselves on our exemplary service, which we believe is the best in Croatia. Our Split Airport Transfer service is safe, reliable, professional, and affordable.
TRAVEL COMPANIES WE USE AND TRUST
Split Day Trips
There is so much to explore in Split and its surrounding areas, from UNESCO-listed sites like Diocletian's palace and stunning national parks to incredible ancient cities and one of the best coastlines in the world. Take a day trip from Split to one of the many sites and see for yourself. Some of these include:
Split Airport Transfers – InterCity Transfers
With Split Airport having the most flights during the peak season in Croatia, many travelers start their Croatian holiday in Split. After you have completed your time in Split, it's time to move on to one of the other Croatian cities; why not take a transfer? Perhaps one of the following:
Split to Rovinj transfer
Split to Venice transfer
Split to Kotor transfer
Split to Ljubljana transfer
Split Airport Festival Transfers
Croatia has become somewhat of a European party hotspot, with huge music festivals happening throughout the summer. We specialize in providing transfers from Split Airport to Novalja, Tisno, or other Croatia music festival destinations. Split to Zadar is also a very popular route, given that many festivals are in the Zadar region. Some of these include:
Split Airport Hideout festival
Split Airport to Spring Break Europe
Split Airport to Sonus festival
Split Airport to Suncebeat festival
Why Choose Us For Your Transfers From Split
Getting you to your destination safely and in a timely fashion is our number 1 priority.
Our vehicles are modern, spotlessly clean, and will exceed your expectations.
Our drivers are certified, experienced, professional, and have extensive local knowledge. We are happy to help.
Our Split Airport transfer prices are very competitive.
We have a 5-star rating on TripAdvisor and are always looking to keep our customers happy.
Contact Octopus Transfers Croatia For A Quote
Things To Do In Split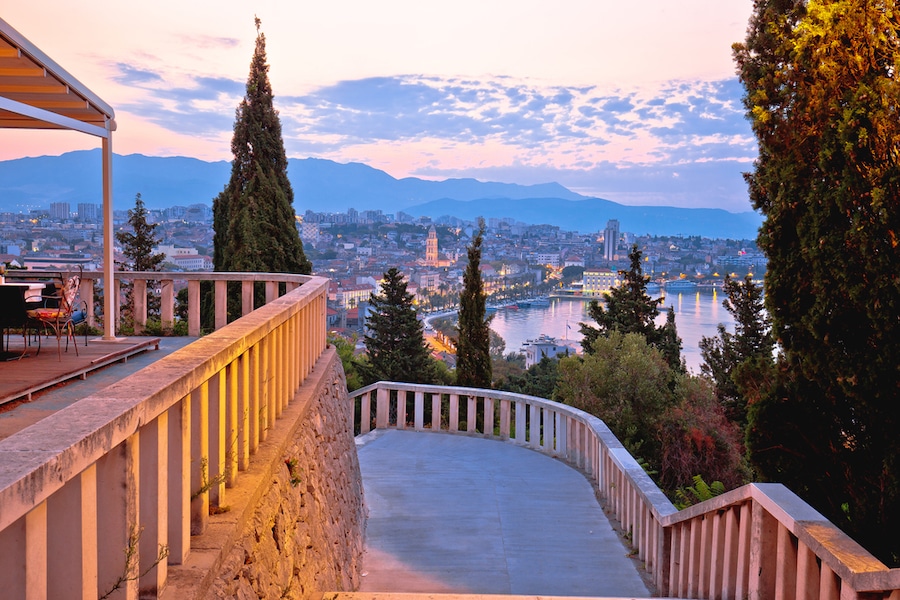 Split is located on the eastern shore of the Adriatic Sea and has a very long and interesting history. It's a city for everyone! Split has a rich culture, beautiful architecture with Greek and Roman influence, and there is no shortage of things to see and do here.
Today, visitors can walk the centuries-old streets and relive history, enjoy the beautiful nature on Split's doorstep or lap up the beautiful Adriatic Sea.
When in Split, be sure not to miss the following:
Diocletian's Palace
Temple of Jupiter
People-watch while sipping coffee on the Riva
Visit the Mestrovič gallery
The Pazar Market
Wander the Palace basement
Talk a stroll up Marjan Hill
Visit the Roman ruins in Solin
Take a Game of Thrones tour
Chasing the Donkey - Balkan travel blog includes affiliate links. If you decide to make a purchase through these links, we receive a commission without any additional cost to you. We appreciate your support helping to keep this site free. Find our disclaimer & privacy policy here.